Top 10 Greece Catamaran Charters for 2023-2024!
Catamarans are a popular way of chartering in the Greek islands. The base charter fee is significantly lower compared to other boats and especially to motor yachts. A yacht charter on the Greek island hopping sailing trip is challenging for novice sailors. So, guests with a larger group opt for a catamaran charter.
Due to the lower sailing speeds of catamarans, the most popular sailing vacation spots to charter are the Saronic Gulf and Ionian Islands, all beautiful greek islands Aegean sea with some of the best beaches, and short distances for island hopping. The Cyclades islands are reachable with a crewed catamaran charter, but weather dependent due to strong "meltemi" winds in the summer.
Inquire about starting your luxury crewed catamaran charter in the Cyclades Islands or the Ionian Islands- we are able to provide a list of yachts that are in the area, available for your luxury Yacht charter vacation in Greece.
Over the last couple of years, we have seen an increase in the popularity of crewed catamaran charters in Greece. Popular with first-time charterers, catamarans are a great entry point into the world of crewed charters. Catamarans have low fuel consumption and can often accommodate up to 10 guests, leaving a higher percentage of the Advance Provisioning Allowance (APA) for food and drinks.
Another trend of the crewed catamarans in Greece is their increasing size. A few years ago, there were only a few luxury catamarans over 50 feet. The new catamarans in the fleet are much longer; some are over 70 feet and feature a jacuzzi!
ADVANTAGES OF
CREWED CATAMARAN CHARTER

GREECE
Catamarans are considered sailing yachts and often can leave port when motor yachts are forbidden to sail. A typical situation is August in the Cyclades Islands, where the Meltemi (strong, annual northerly winds) can keep a significant number of yachts grounded. Choosing catamaran sailing allows the captain to use the leeward side of the islands to navigate in protected waters (as far as wind and waves are concerned), taking advantage of the best sailing conditions in the greek archipelagos.
Athens (possibly the Marina Alimos) is the starting location of a typical crewed catamaran charter. Being lighter than the super motor yachts, catamarans can perhaps reach more of the beautiful beaches and secluded coves scattered around the coastline of the greek islands.
The smaller sailing yachts usually accommodate fewer people than catamarans, making the cost per guest higher, while, the larger sailing boats are often more expensive (due to crew size, maintenance costs, boat size, and berthing fees) and are considered more of a luxury.
On the other hand, Motor yachts can host a similar number of guests (up to 12) but at an even higher cost per passenger. Incorporating the APA – especially the cost of fuel (some motor yachts can consume up to 600 liters per hour) makes the difference even more dramatic.
Top 10 Catamaran Charters in Greece
1. IPHARRA | 102ft
SIPHARRA's expansive flybridge is equipped with a bar, large sofa, and deck chairs providing guests with the freedom to enjoy in the shade or tan in the sun. The open area is the perfect spot to enjoy the chef's creative cooking style for alfresco dining during your sailing holiday. Her captain, Frenchman Frank Ferrey, is a literal sea wolf, having sailed the oceans of the world for the past 18 years, having broken the record of the round the World Jules Vernes Trophy in 2004.
Down IPHARRA's spiral staircase is the ideal venue for both dining and relaxing in luxury with up to 10 guests. As the sun sets, the LED lights on the ceiling sparkle magically in the night.
Toys and Amenities:
IPHARRA has a full selection of water toys for charter guests to take advantage of, including waterskis, sailing laser vago, 2 electric sea bobs, 8 sets of diving equipment, 1 kayak and snorkelling gear. IPHARRA offers two tenders available for use as well.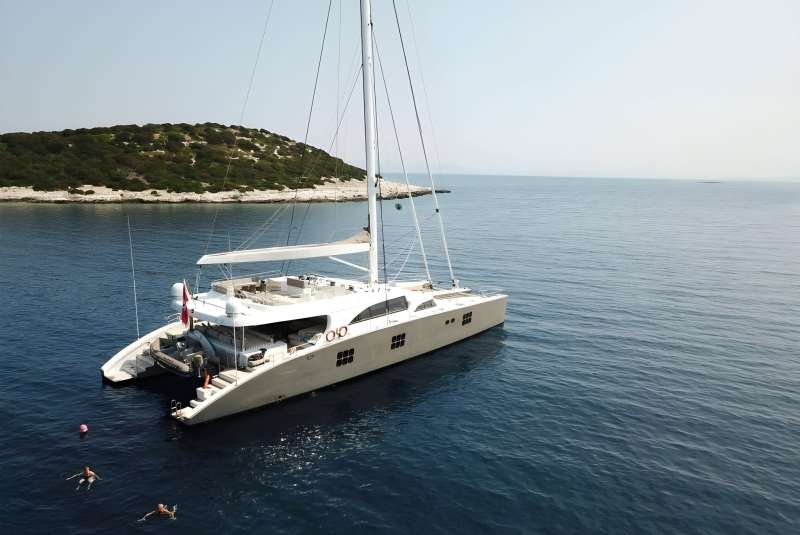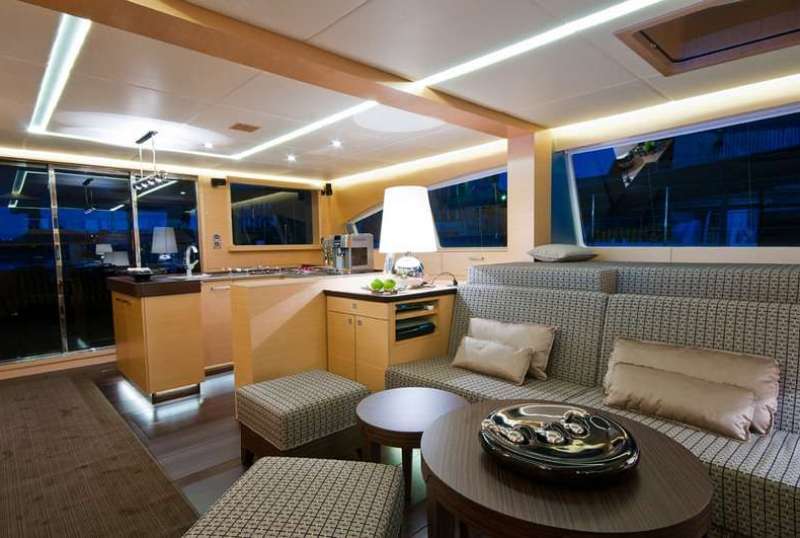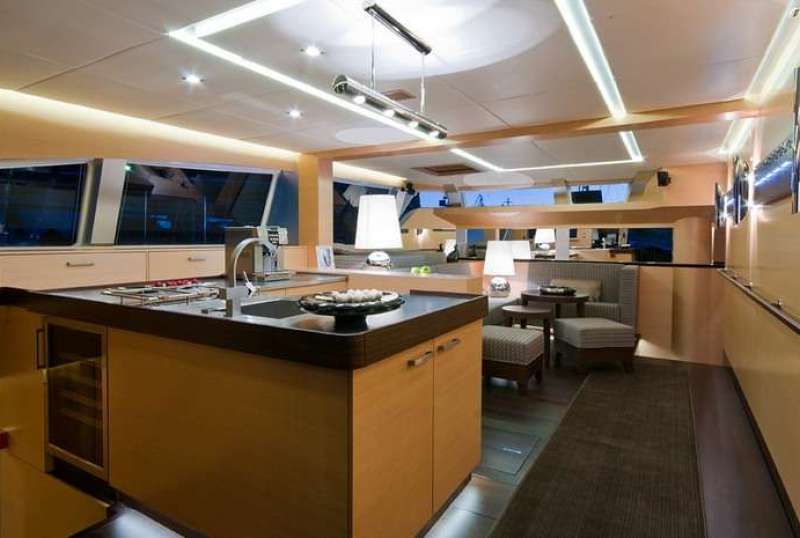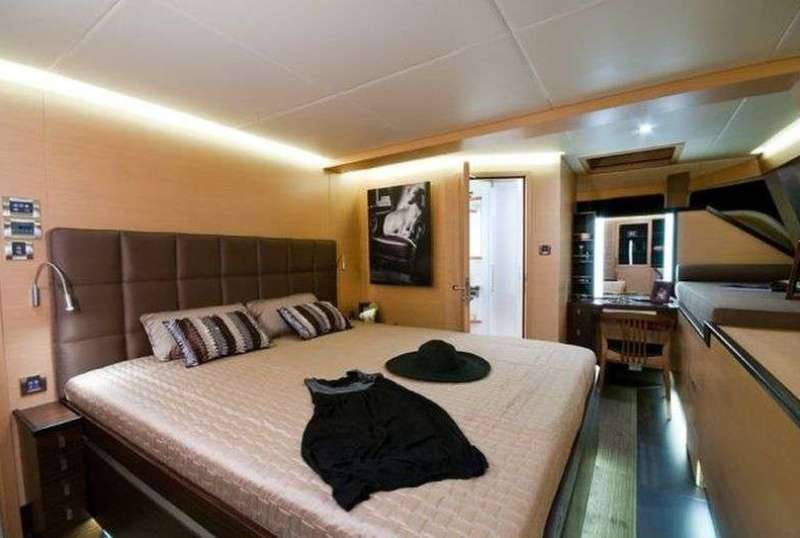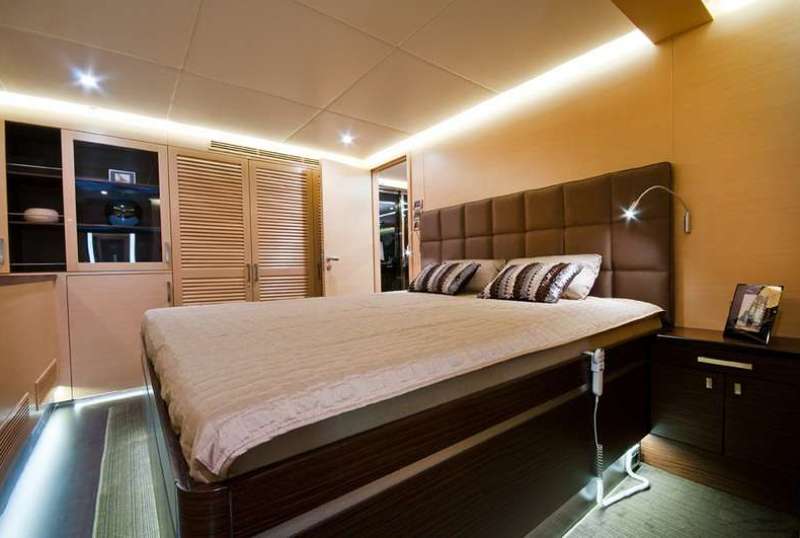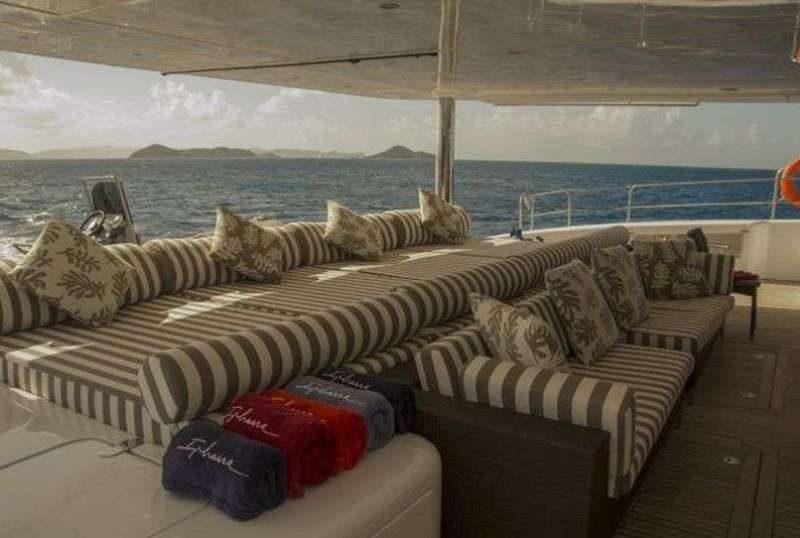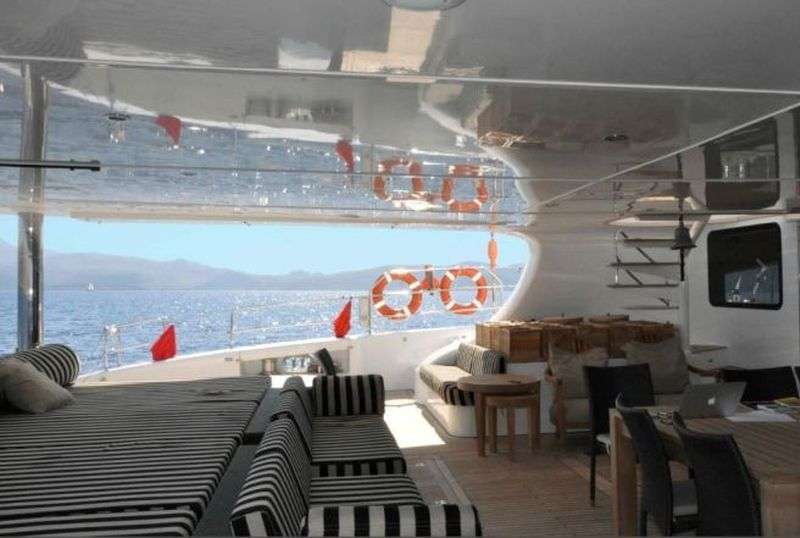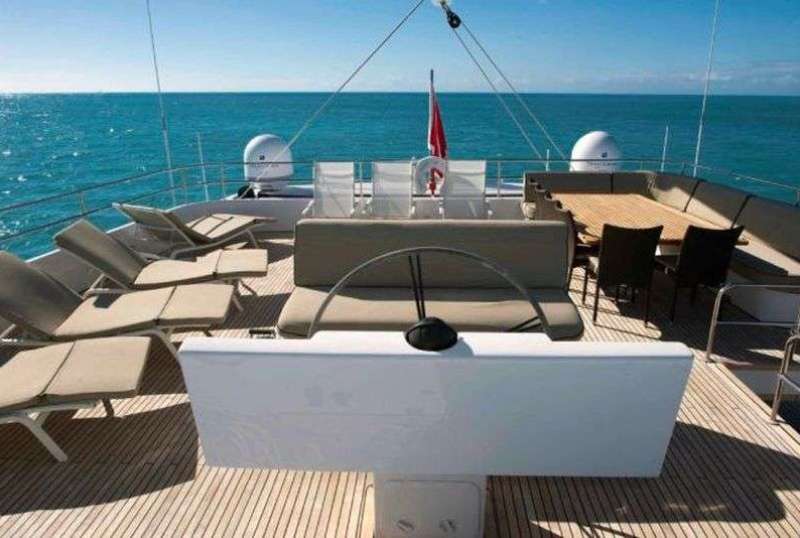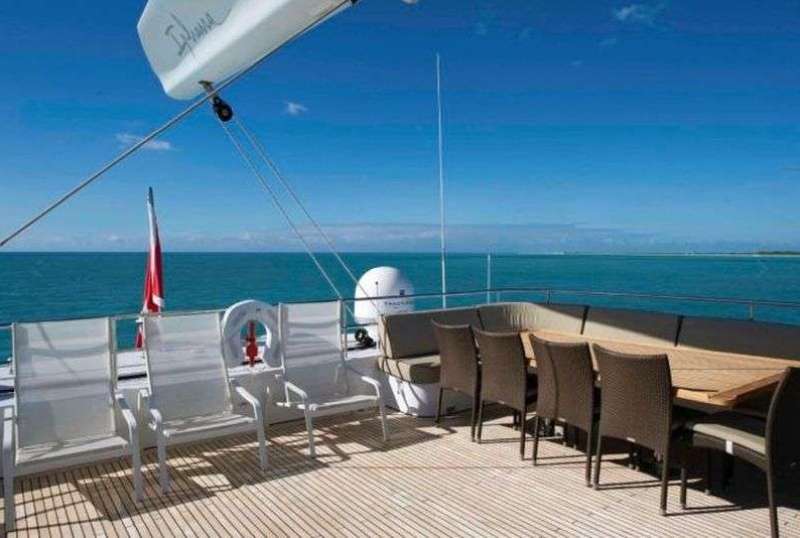 IPHARRA
From €68,000/week
5 cabins
102 ft
Sunreef Yachts
10 guests
Refit: 2017
50 Litres/Hr
2. GRAYONE | 80ft
GRAYONE is a very fashionable dark grey hull colour highlighting her gorgeous exterior lines and the enormous deck area covering the three teak decks.  The luxury catamaran's creative internal layout allows for a front bar complete with a wine cellar to serve guests both inside the boat and on the foredeck. Guests will have a hard time deciding between the aft cockpit, the spacious flybridge, and the upper deck, which features two loungers, integrated seating with breathtaking views of the Greek waters, and a cocktail table.
In contrast to the traditional nautical decor found on other luxury yachts of comparable size, the interior of this one features a light ceiling and floors, dark blue and white tones, and a warm, welcome soft orange utilized in part for the materials.
Toys and Amenities:
A wide electro-hydraulic bathing platform is essential for the luxury crewed catamaran GRAYONE to store the fast tender, which is powered by 110hp and can reach speeds of over 35 knots. Along with the floating deck, the water toys, which include a SeaDoo jet ski, water skis, and a 16-square-meter floating swimming pool, may be securely thrown into the water.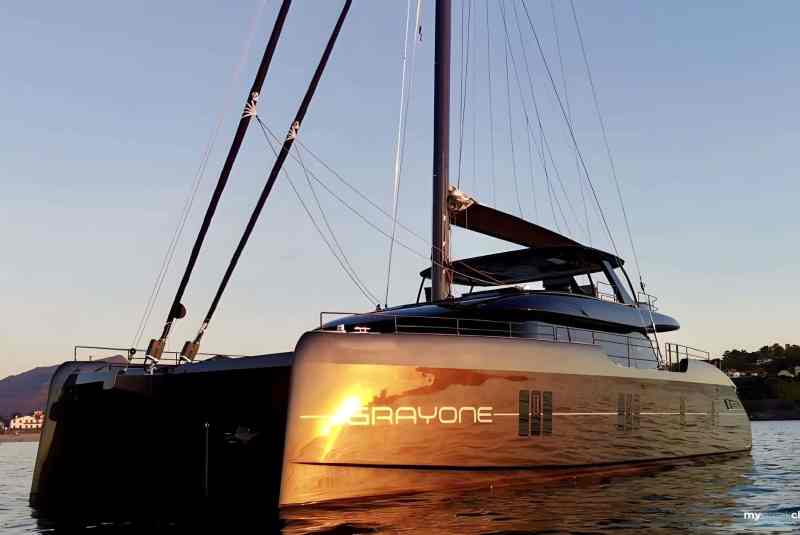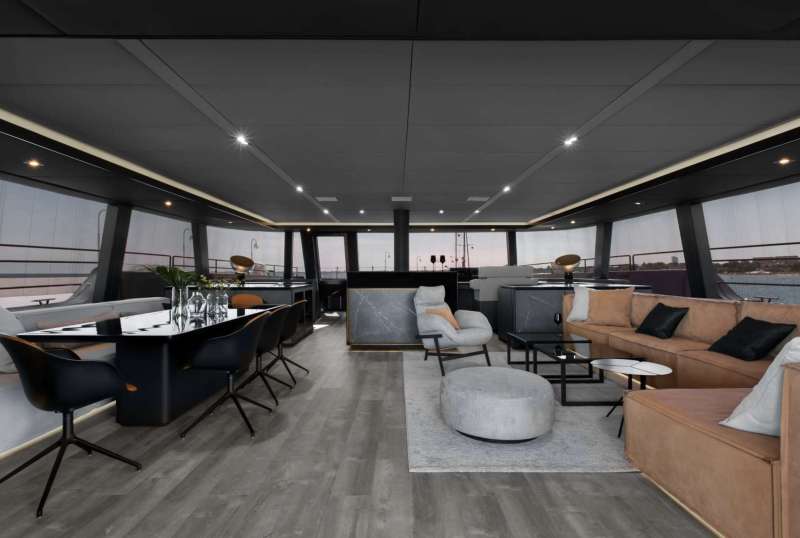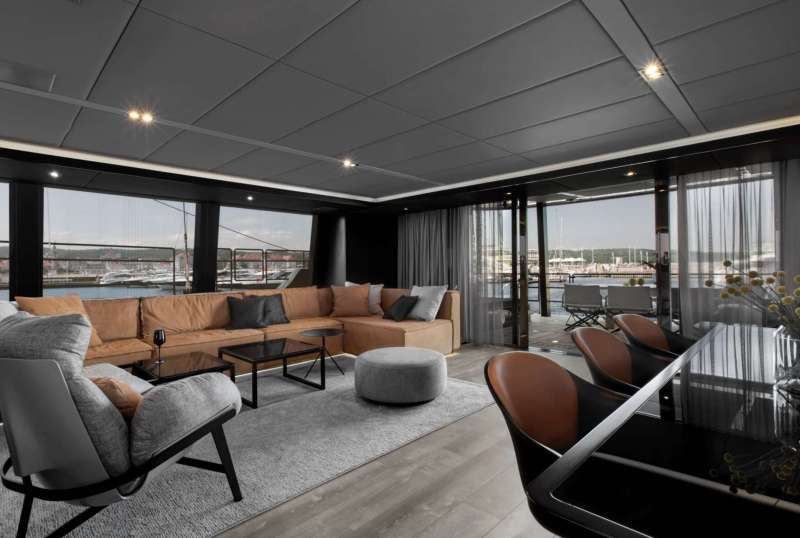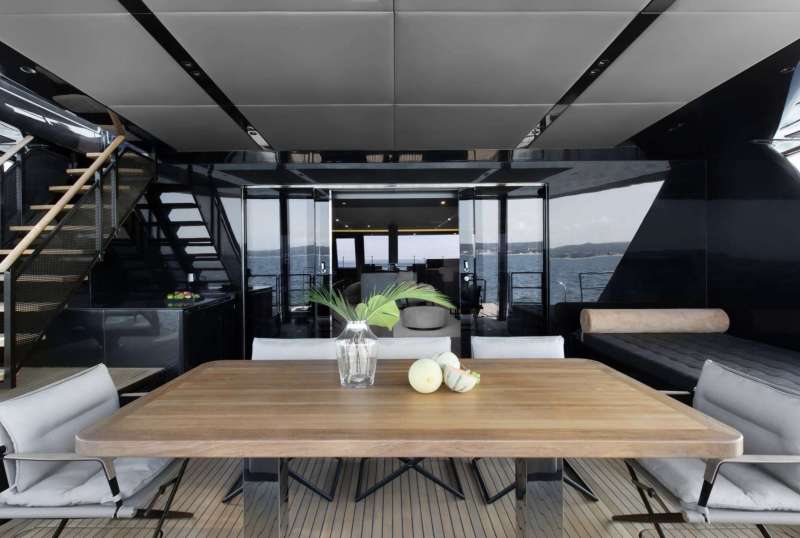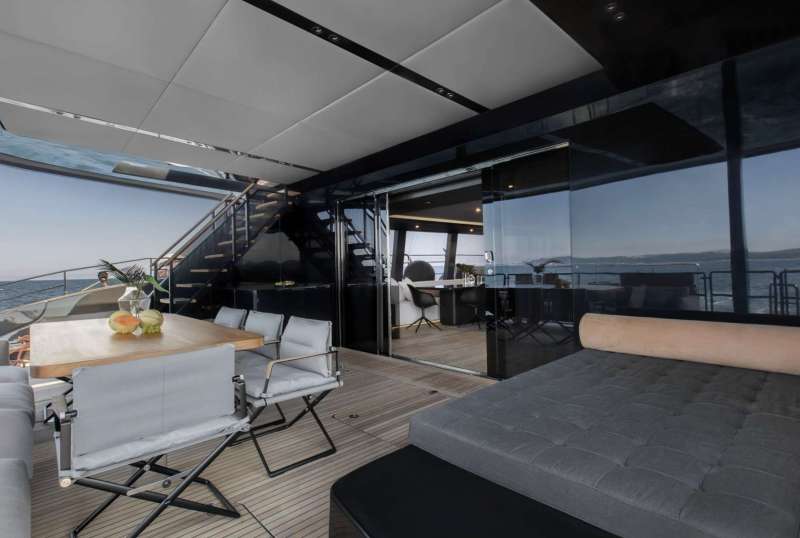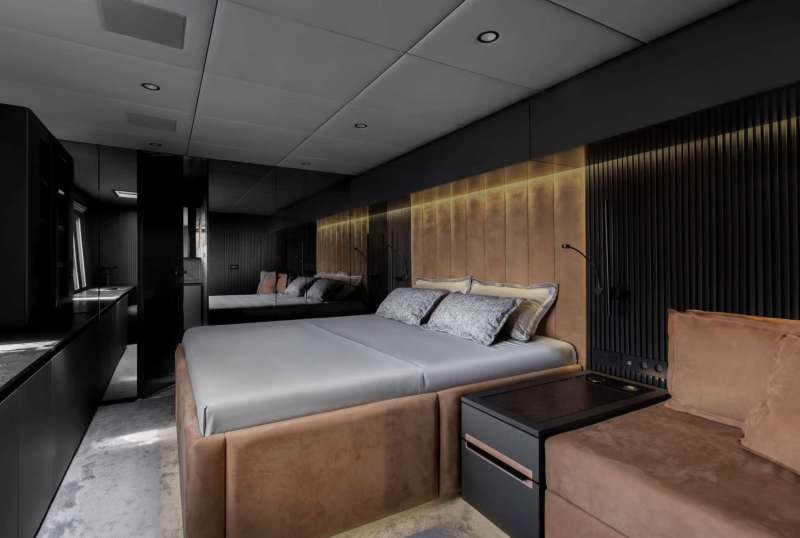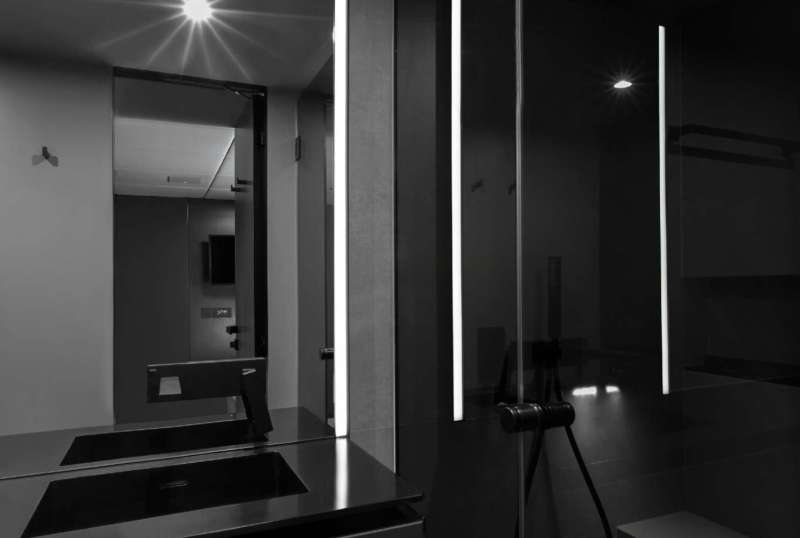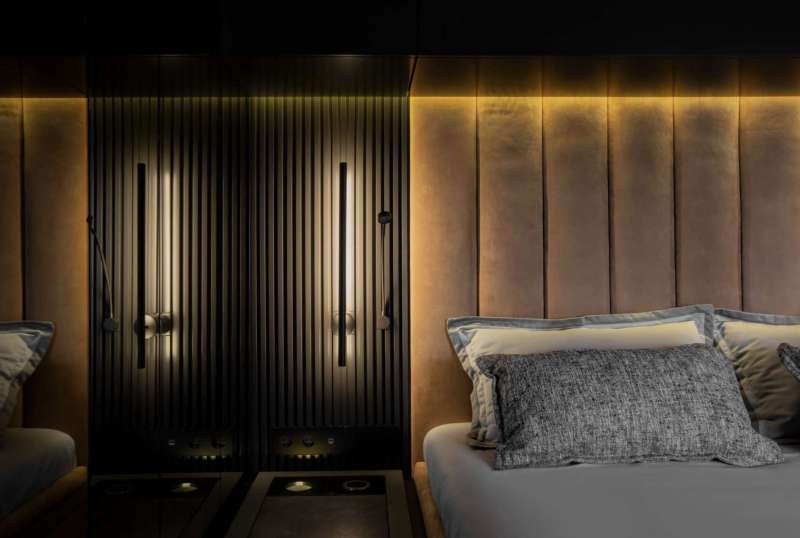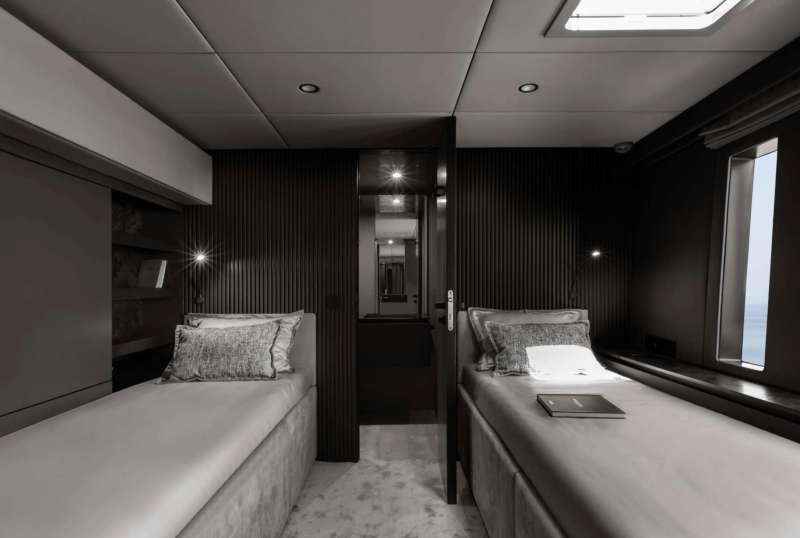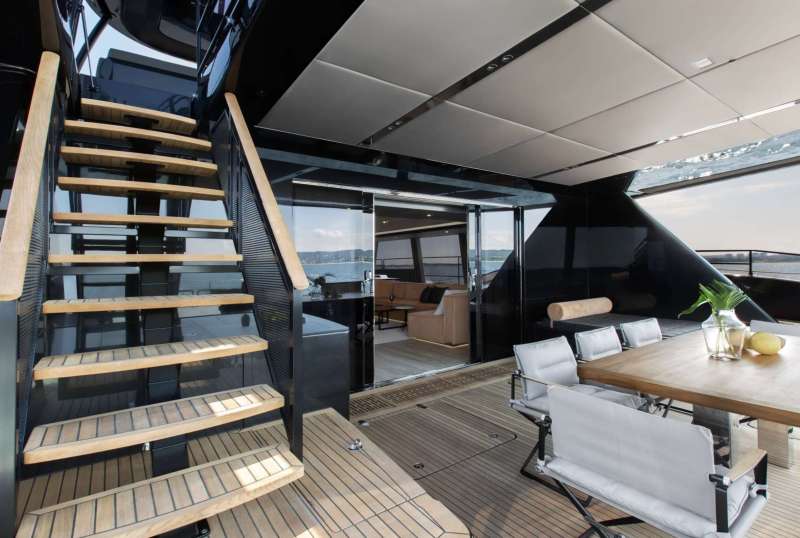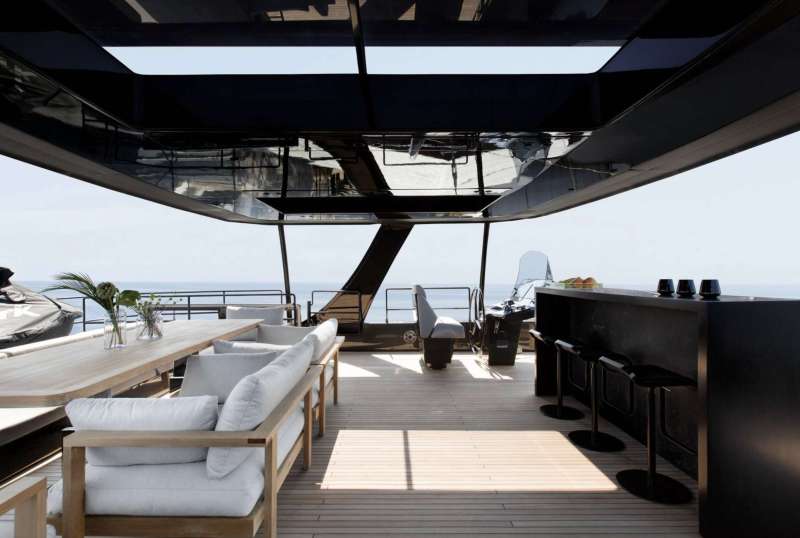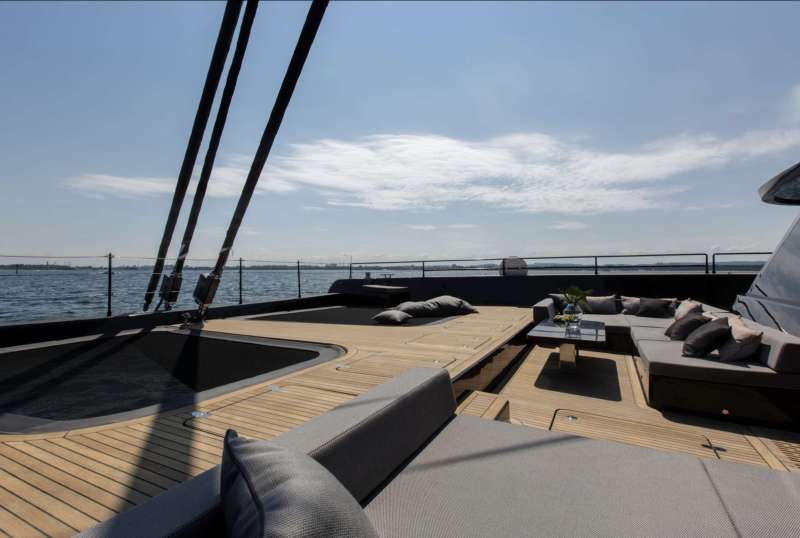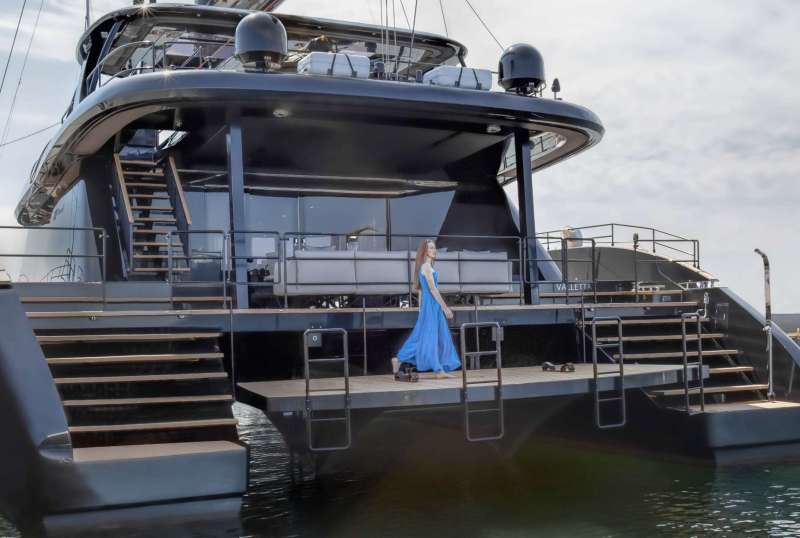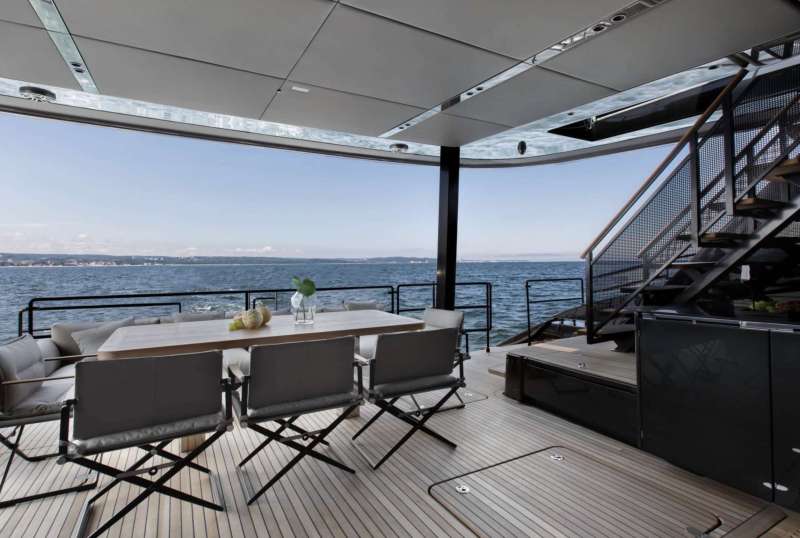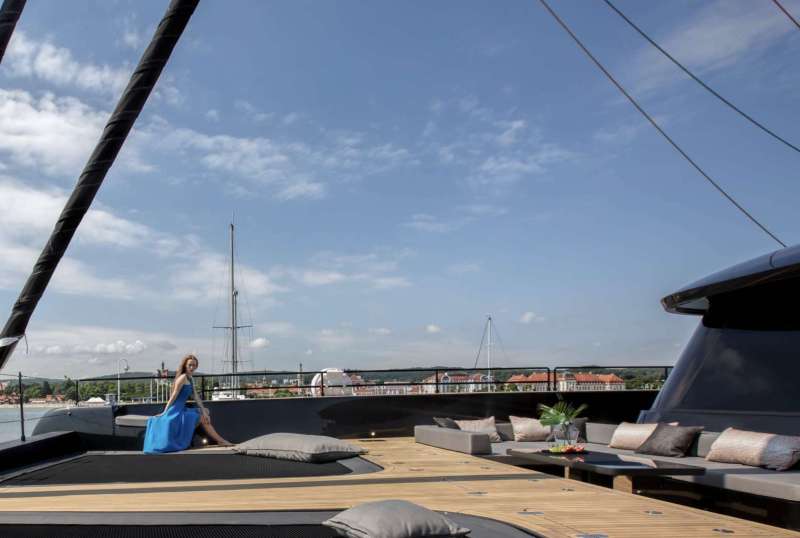 GRAYONE
From €55,000/week
4 cabins
80 ft
Sunreef Yachts
8 guests
Built: 2020
100 Litres/Hr
3. Above & Beyond | 80ft
Above & Beyond is a crewed 2019 Sunreef 80 state-of-the-art sailing catamaran with 340m of living space offering an unmatched level of comfort. Her aft cockpit merges with the fashionable saloon to offer an astonishing panoramic view and dining area where you can enjoy Michelin-star-level meals.
You can get tips and tricks about water activities straight from the captain, who is a pro at spear diving, surfing, and swimming. The incredible crew of the Above & Beyond has an Olympian. He can guide the guests through water sports and sailing on the Greek seas.
Toys and Amenities
She is equipped with a hydraulic platform that transforms into a very nice beach club on the water. Her flybridge includes a dining area, jacuzzi, wet bar, and barbecue as well as sun beds. This luxurious crewed charter yacht offers a variety of water sports and toys, including sea bobs, paddle boards, wakeboards, snorkelling gear and many other fun water activities which will suit guests of all ages.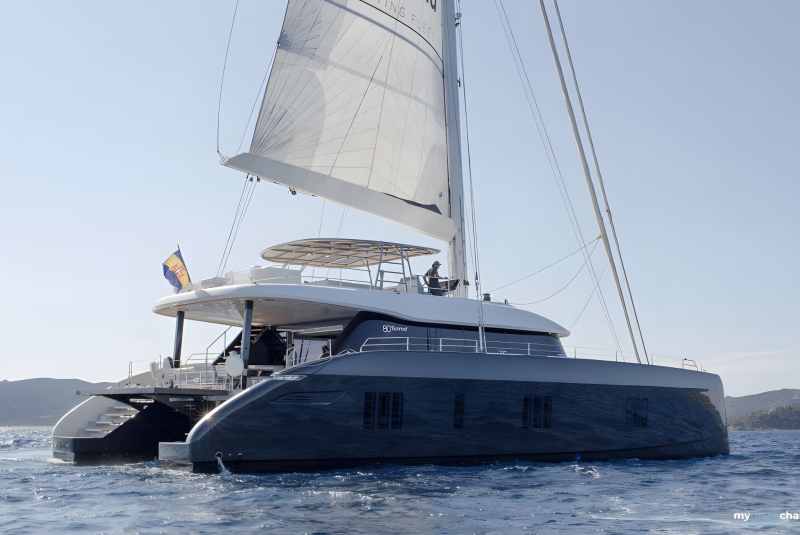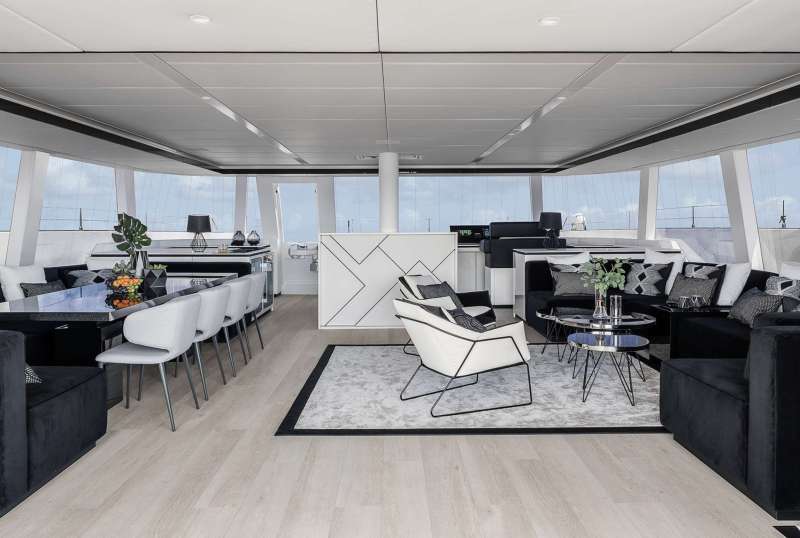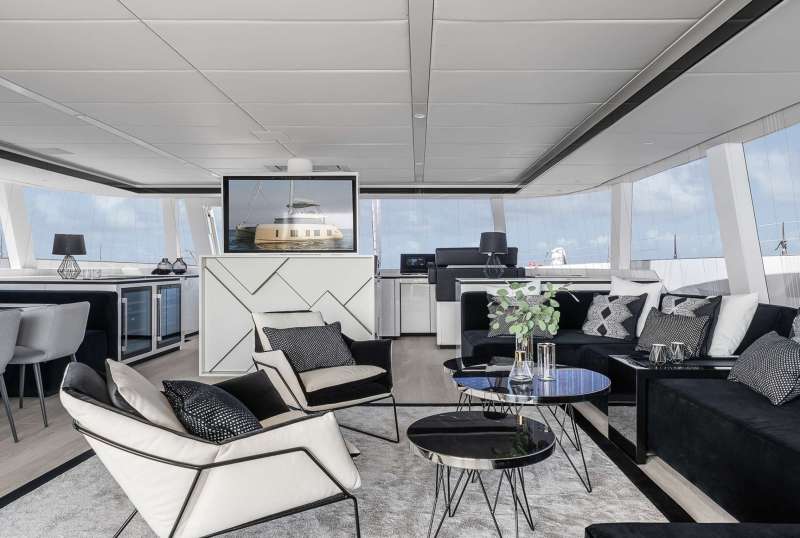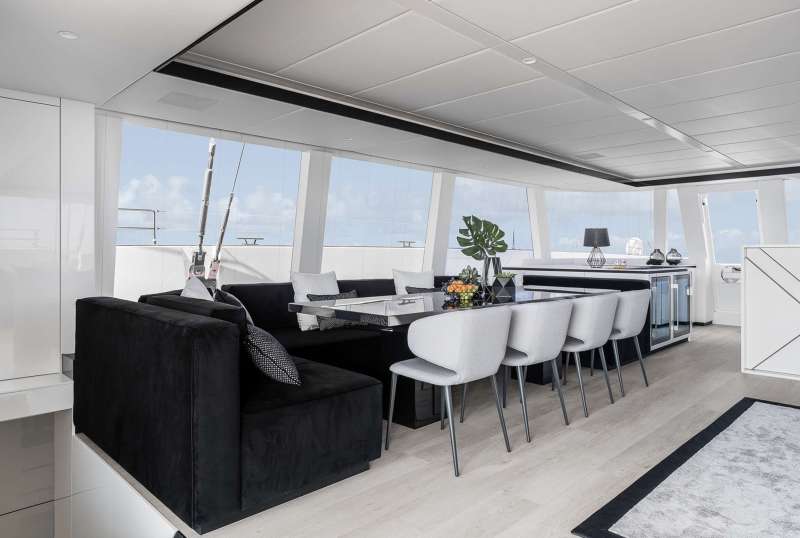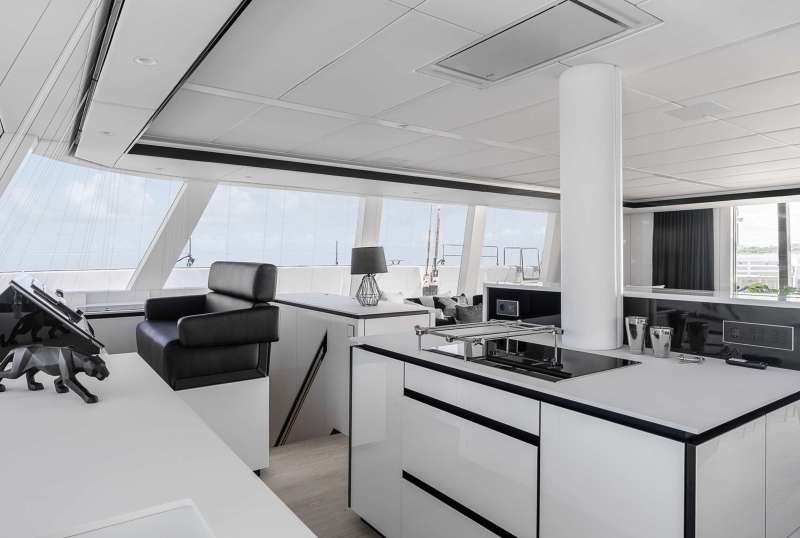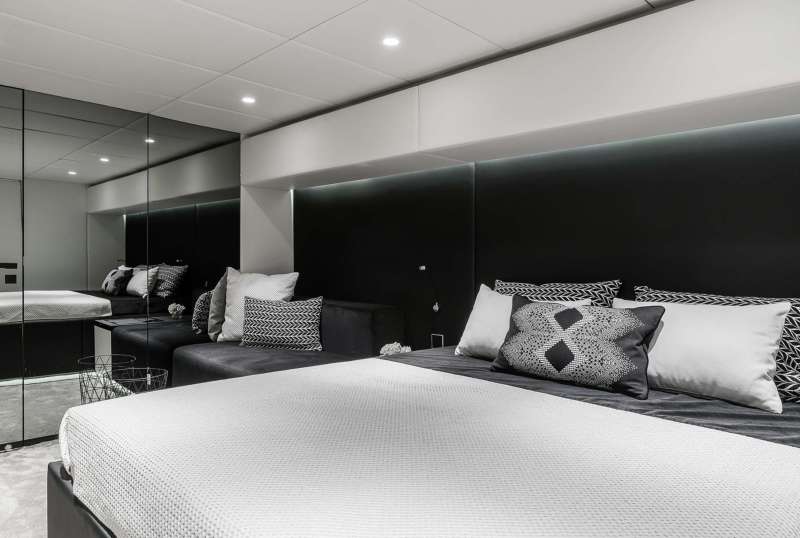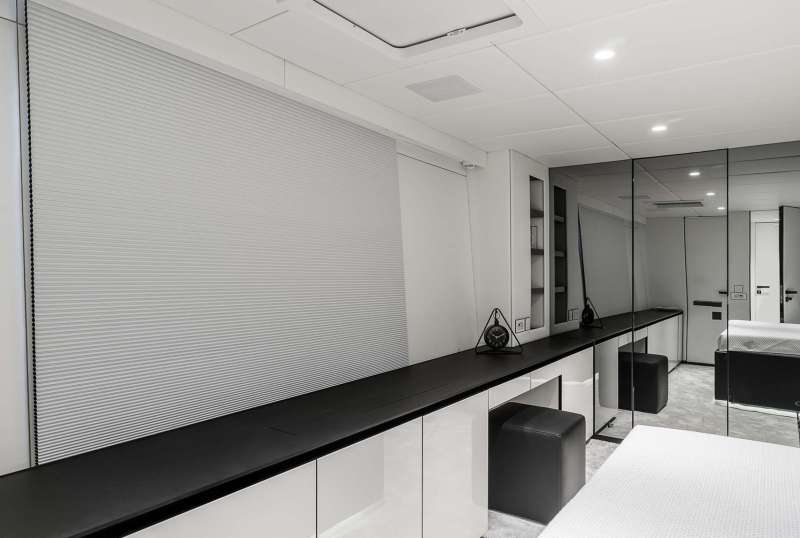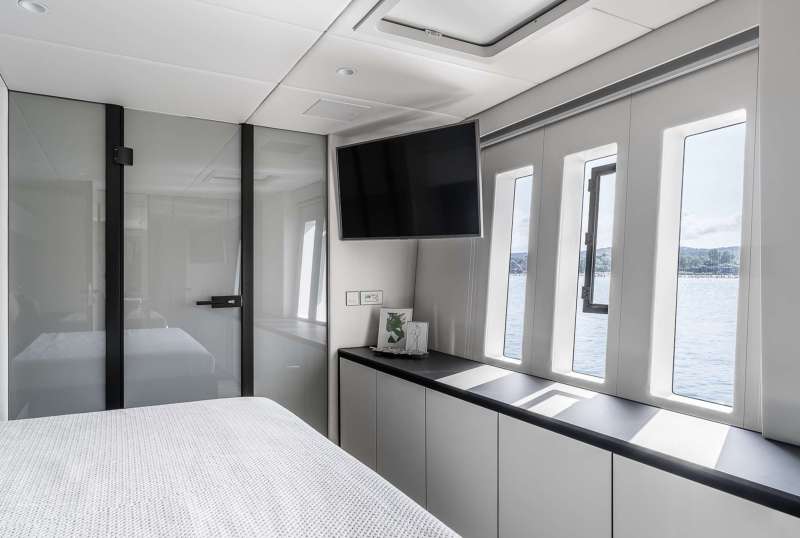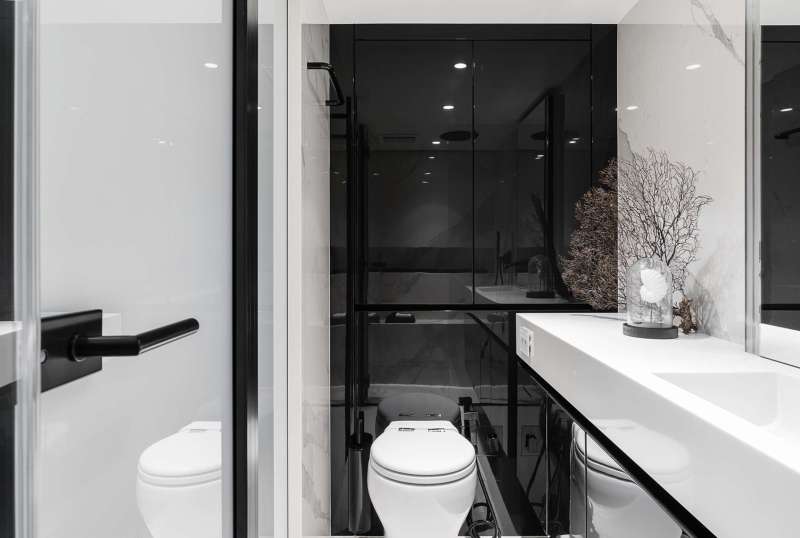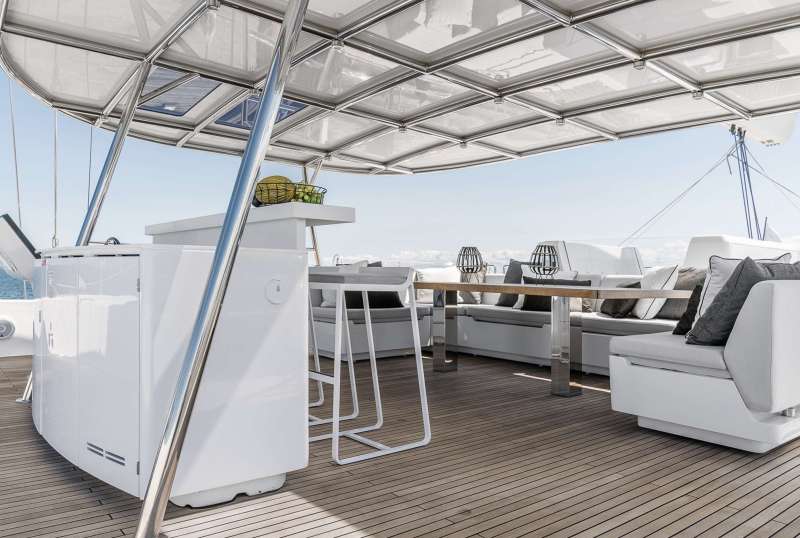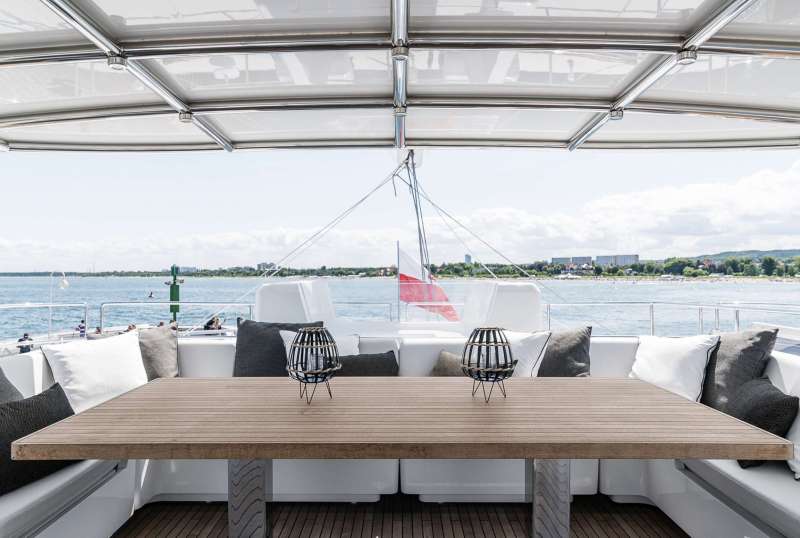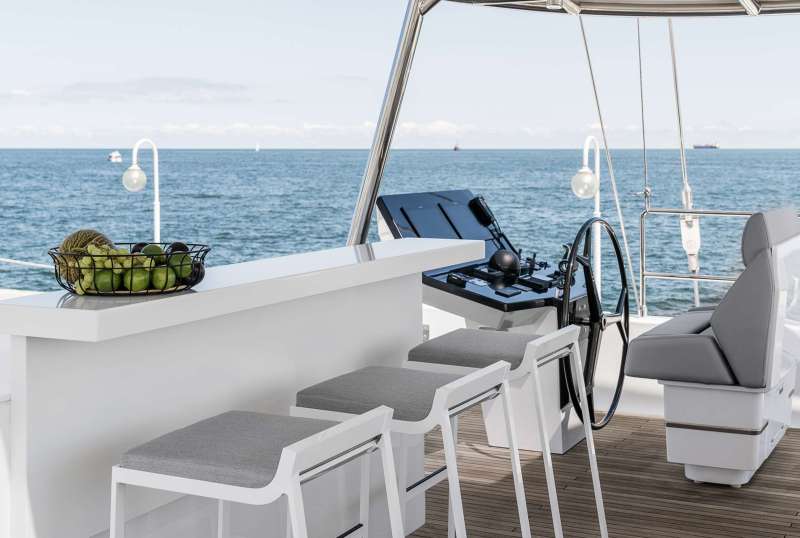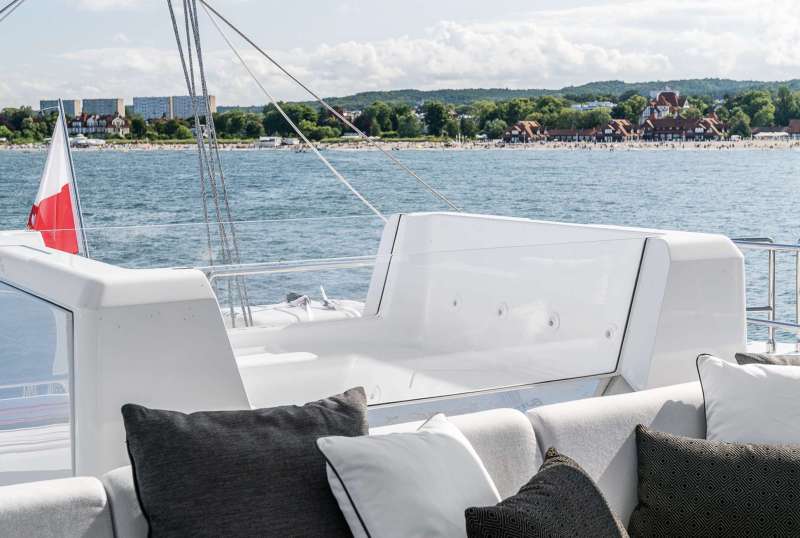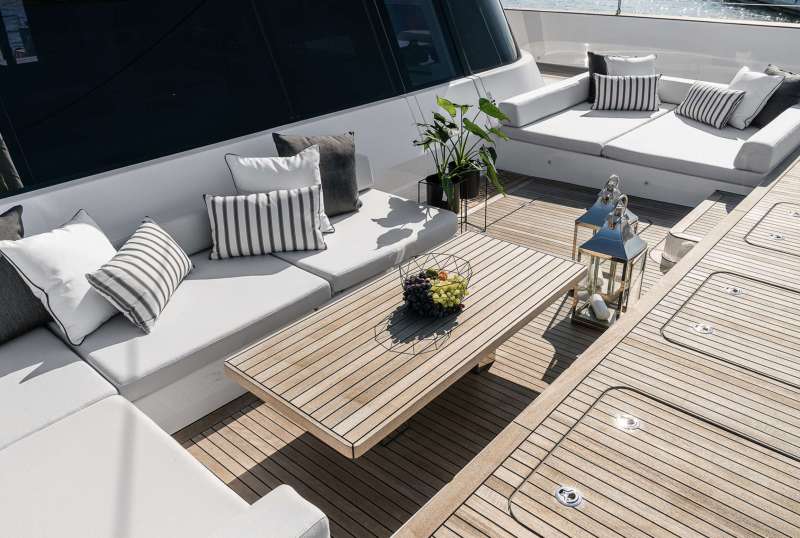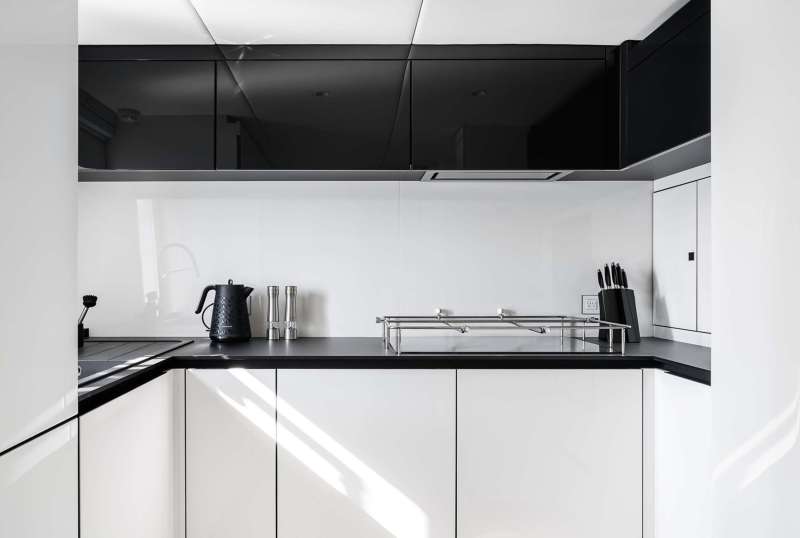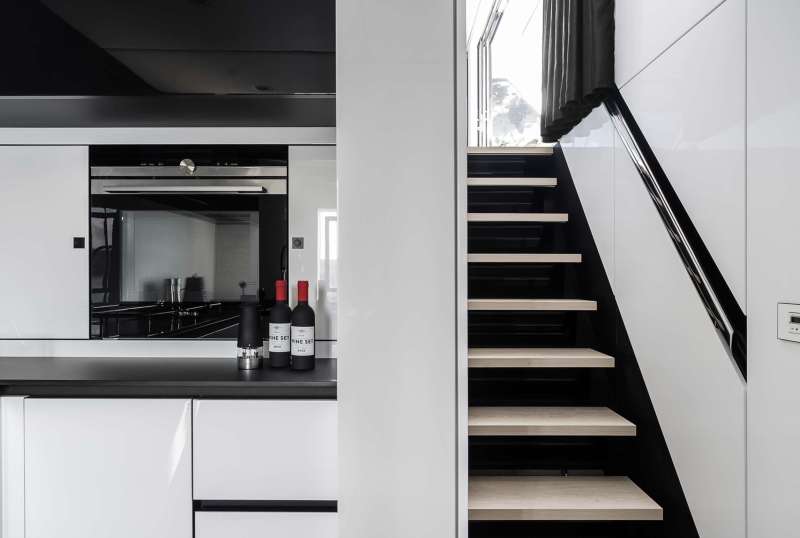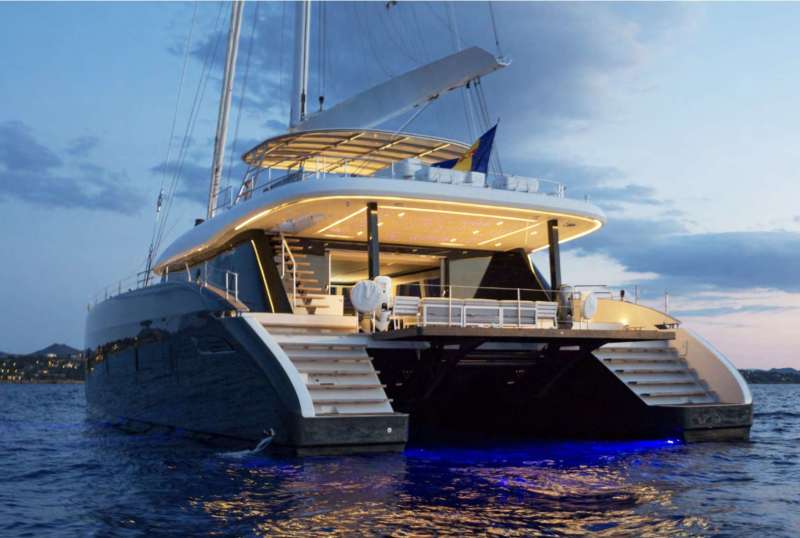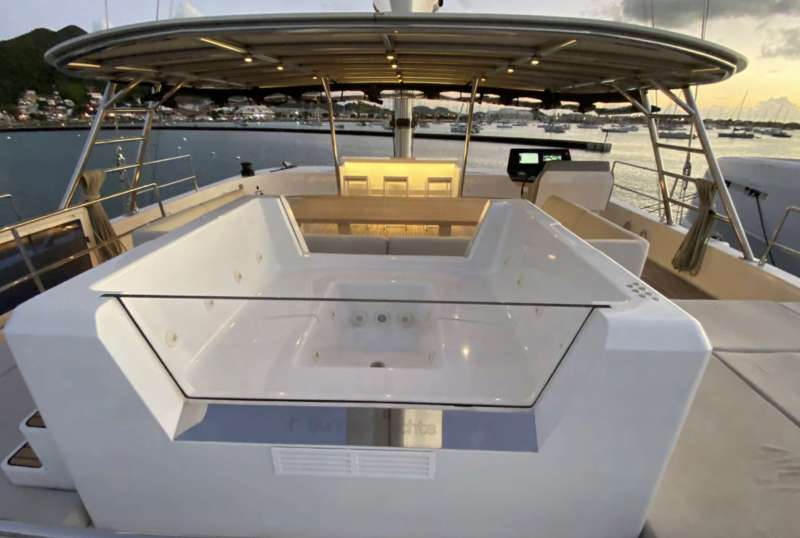 ABOVE & BEYOND
From €50,000/week
4 cabins
80 ft
Sunreef Yachts
8 guests
Refit: 2023
90 Litres/Hr
4. Genny | 80ft
Genny is a high-end, Greek charter catamaran with a Jetski. Have a look at the flybridge area – the deck size and comfort are comparable to motor yachts. Genny is quite new (2021) and clearly shows the trend of the catamarans growing in size in recent years – especially the larger Sunreef catamarans.
The Italian chef Errico underlines the status of Genny, placing it as a cross between catamarans and motor yachts. Not many catamarans have the main saloon featuring a dinner table accommodating all guests. Check our reviews, Genny has a crew of 6 providing a high level of service being able to surprise and plan fantastic activities – on the water as well as on land.
Toys and Amenities:
Genny comes equipped with a 28 ft. motor dinghy and a sailing dinghy, plus kayaks, SUPs, sea scooters, sea bobs, snorkelling and fishing gear. With the guidance of the expert crew members, you can explore hidden charms such as secluded beaches, gardens, and underwater zones.
Guest Experience:
"As a long-time charter guest in the Med and the Caribbean, I can say that you are unequivocally THE BEST IN THE BUSINESS!… What made the trip so fantastic was the skill, dedication, and expertise each one of you provided during the charter. Thank you for making these seven days of PURE MAGIC!"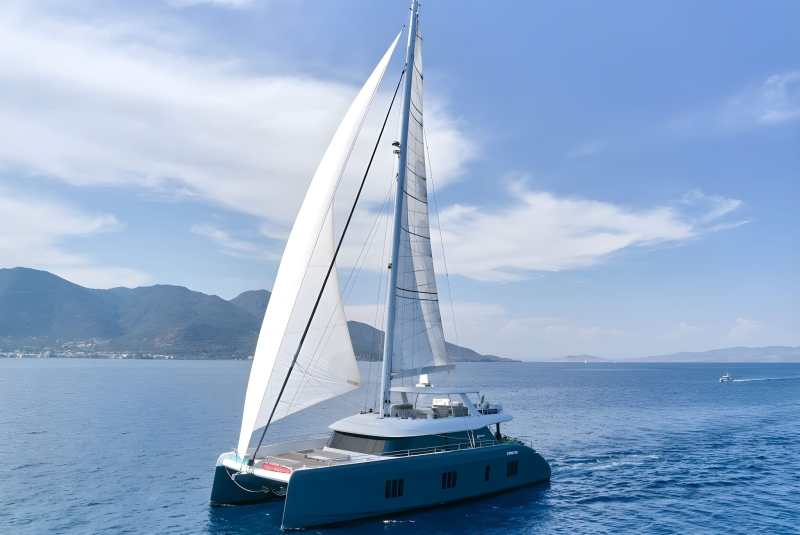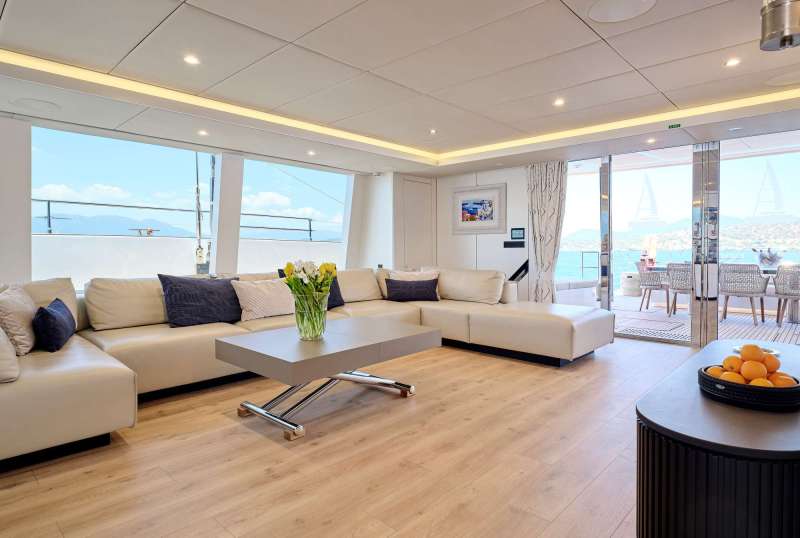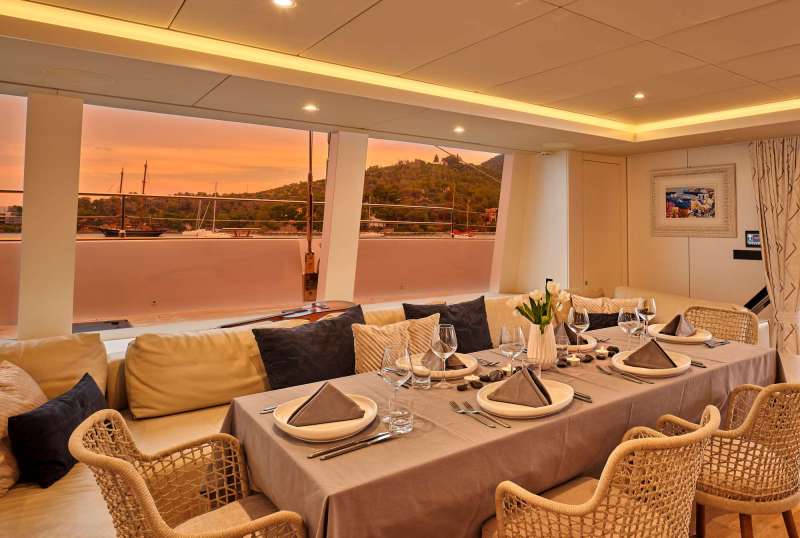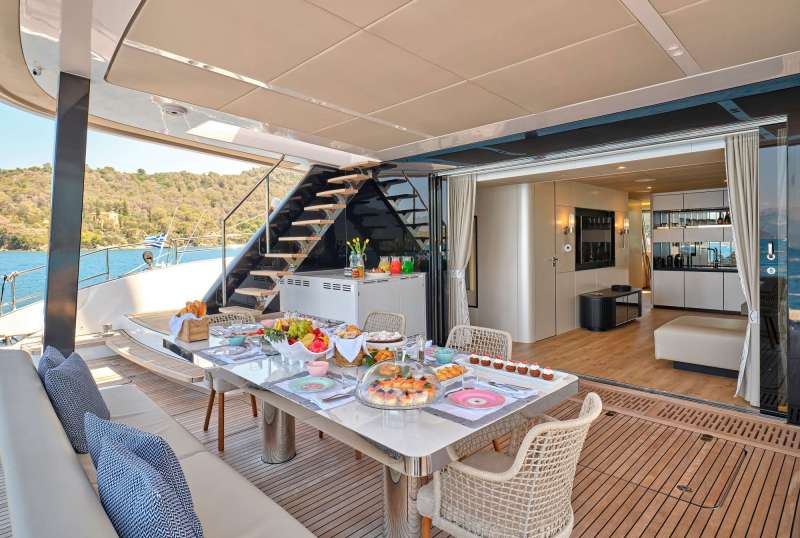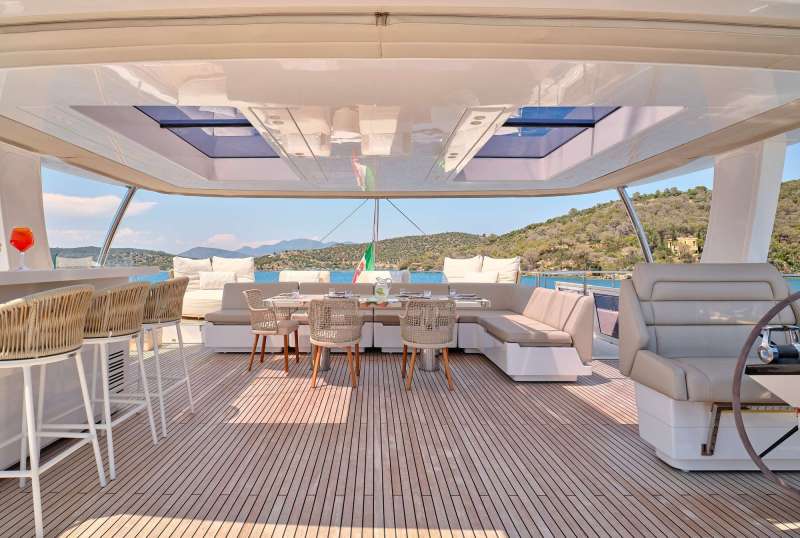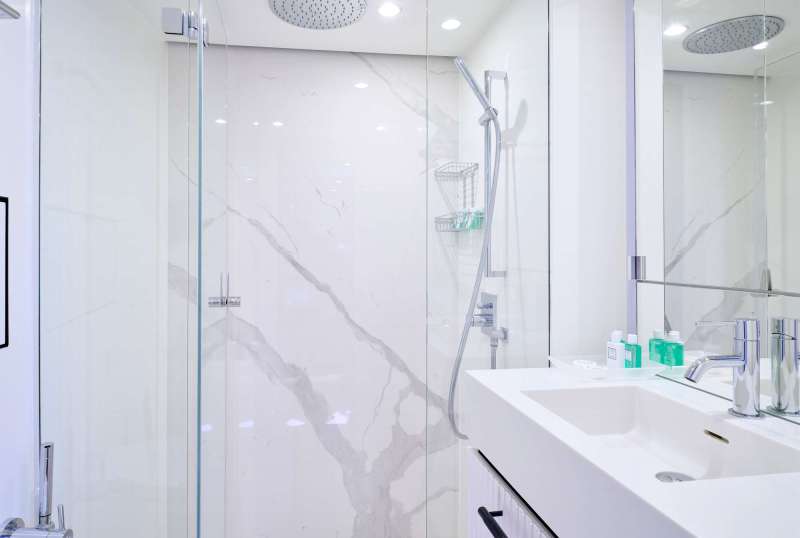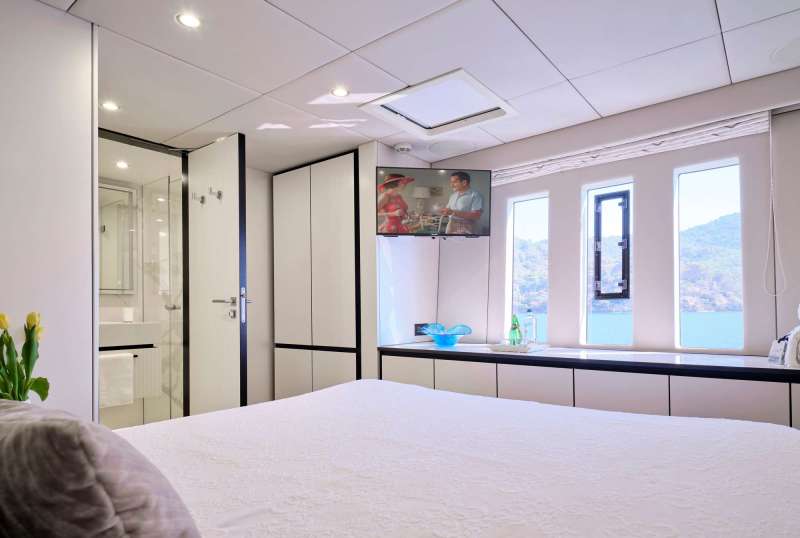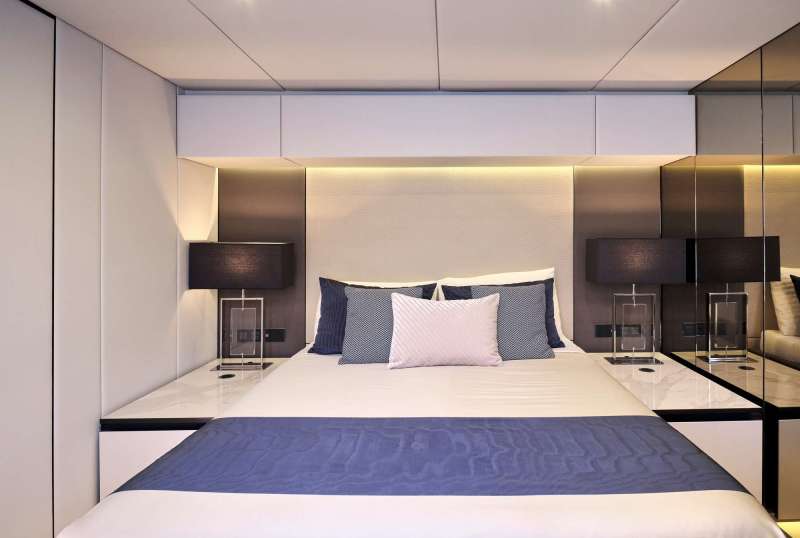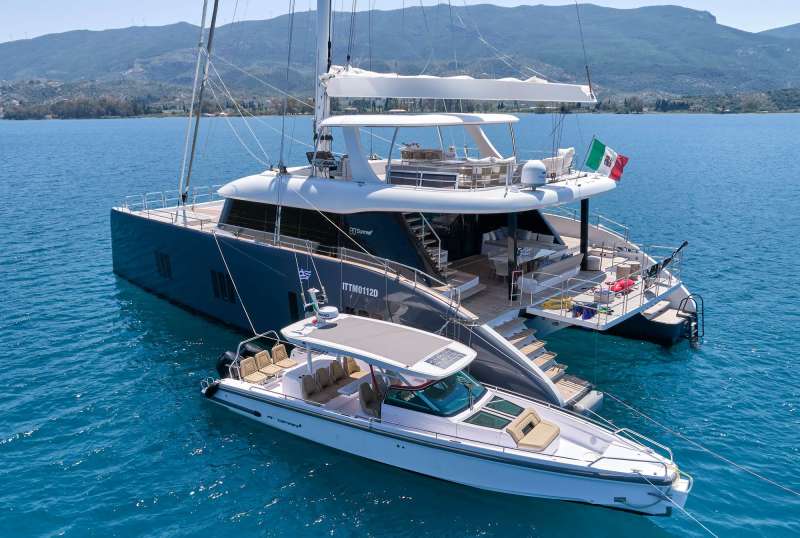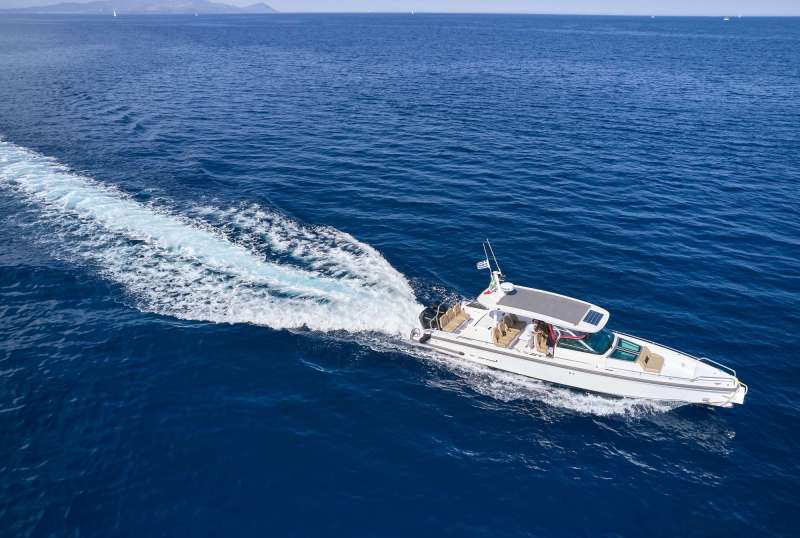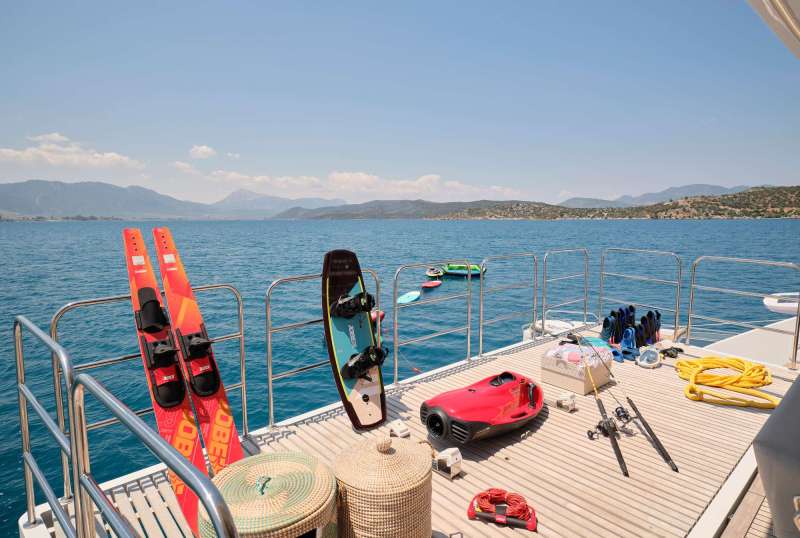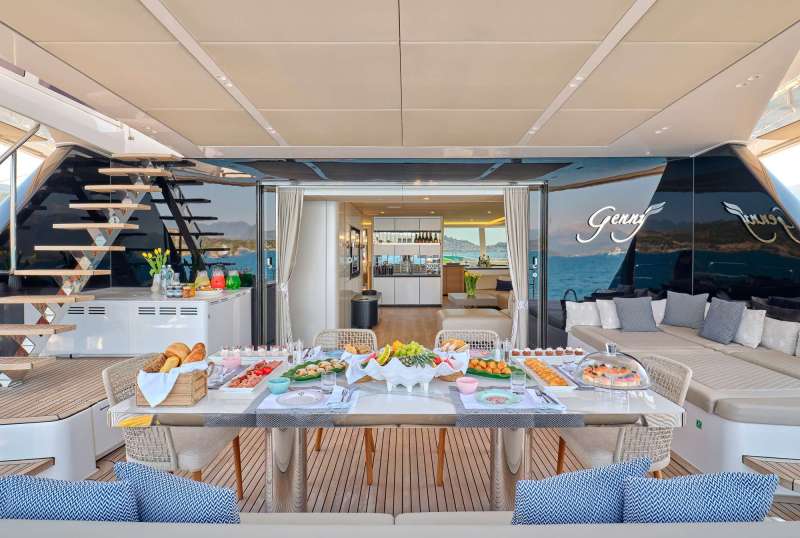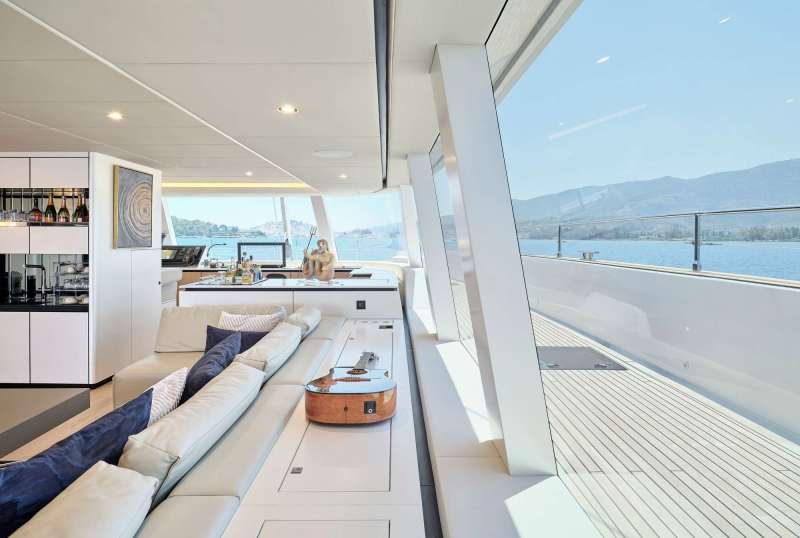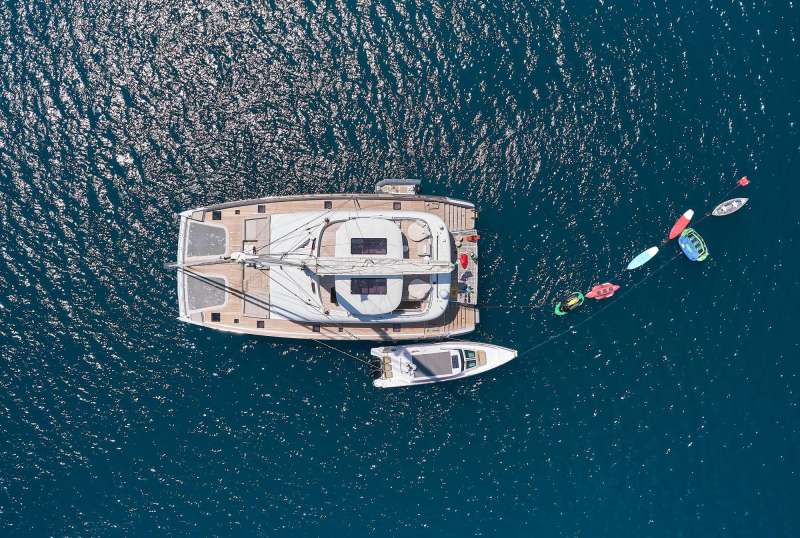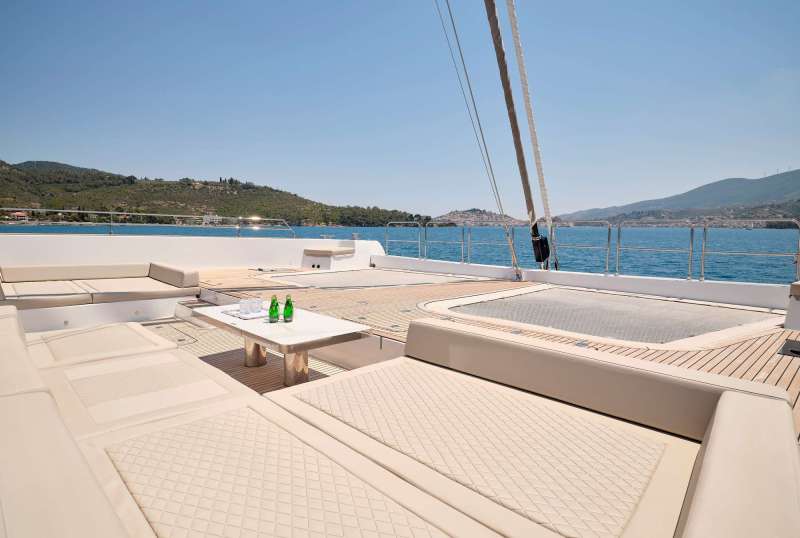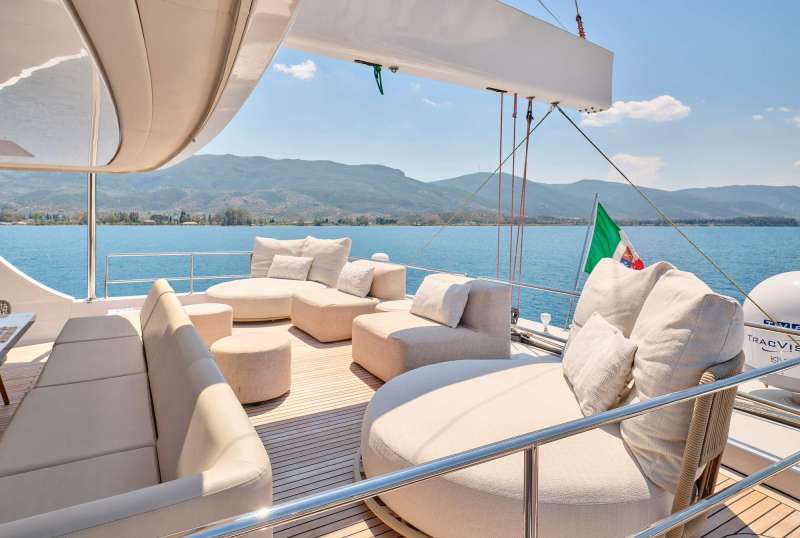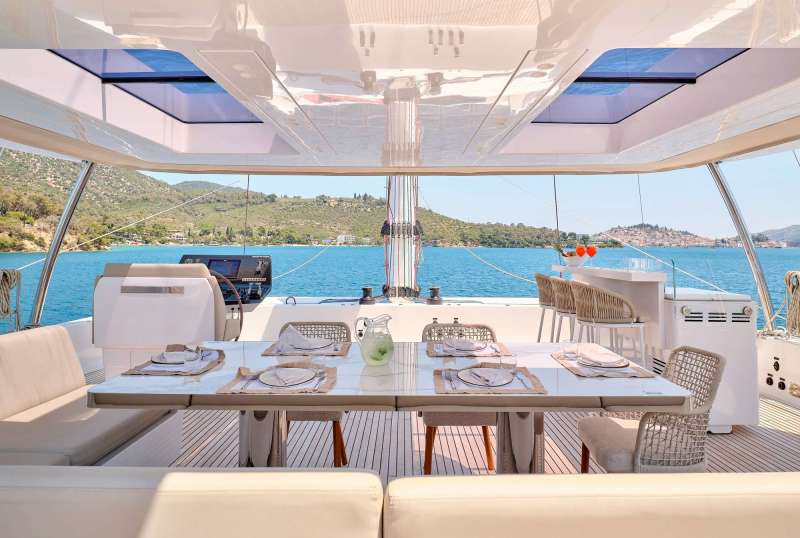 GENNY
From €55,000/week
5 cabins
80 ft
Sunreef Yachts
10 guests
Built: 2021
130 Litres/Hr
5. Ad Astra | 80ft
Ad Astra is a luxury catamaran yacht for chartering in Greece. It features a beach club, and down the elegant flight of steps you reach a platform that stands just above the waterline – ideal for swimmers. This can turn the whole aft area into a huge area for swimmers and sunbathers, or serve as a launch pad for divers and watersports. The aft cockpit offers an incredible entertaining space with multiple sunbeds and a very large dining table.
The large forward cockpit has its own bar and a vast sunbed in order to balance the aft relaxation area. Under the sunbed is a jacuzzi. The flybridge takes on the mantle of an extra deck with an elegant wrap-around sofa which provides a really convivial spot for a big group of friends. It is equipped with a full wet bar, as well as a plancha grill.  A large 3m-long balcony folds down out of the bulwarks on each side of the cockpit, creating an entirely new dimension and adding two 'side cockpits' to the main cockpit.
Toys and Amenities
AD Astra is equipped with a 5-meter dinghy, jet ski, wakeboard, and an assortment of water toys. The crew includes experienced skippers, divers, and water sports enthusiasts- ensuring that the guests can enjoy all the available water sports. Unlike many yacht charters, this boat has water ski gears for children.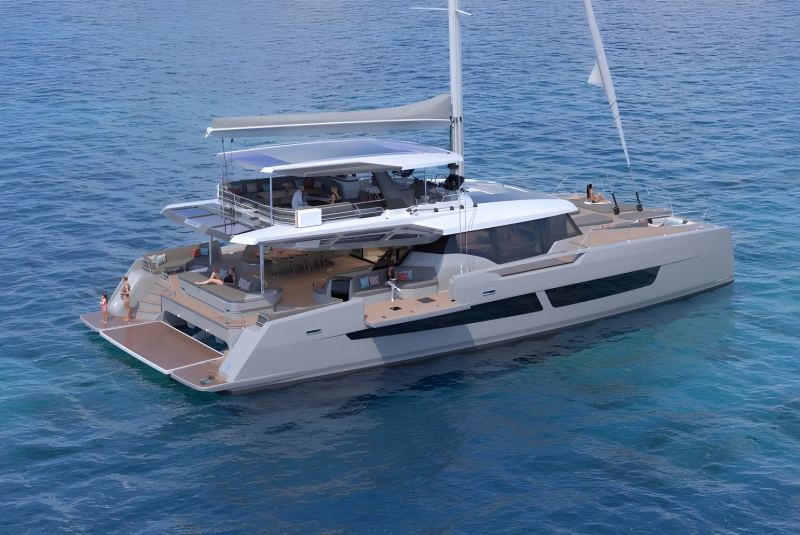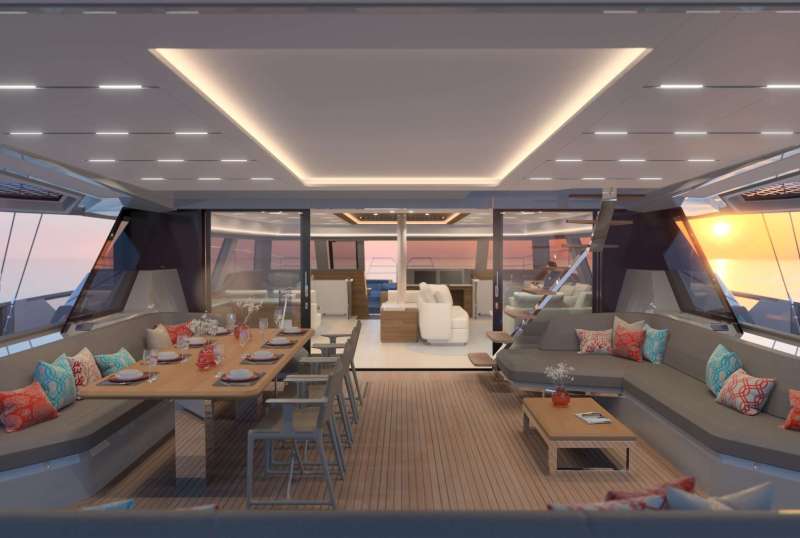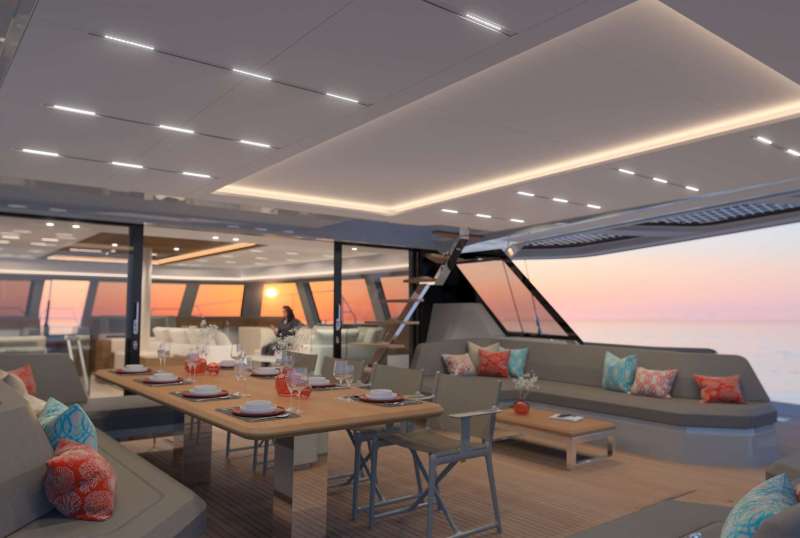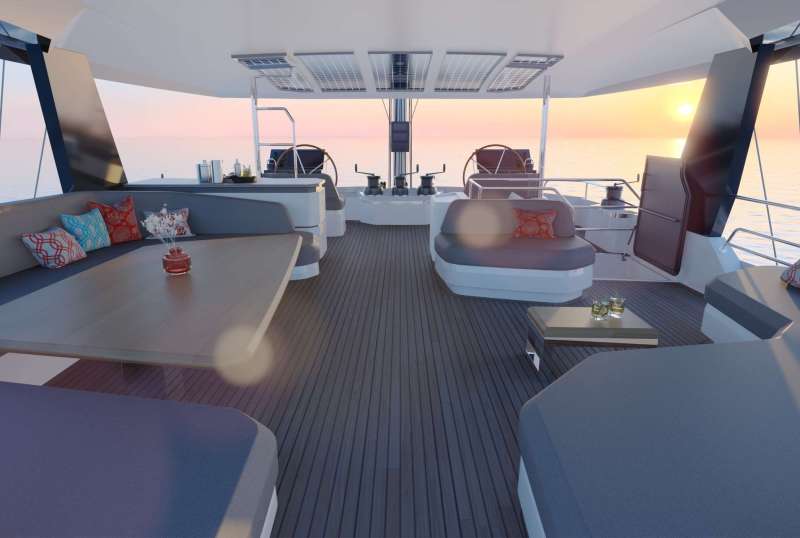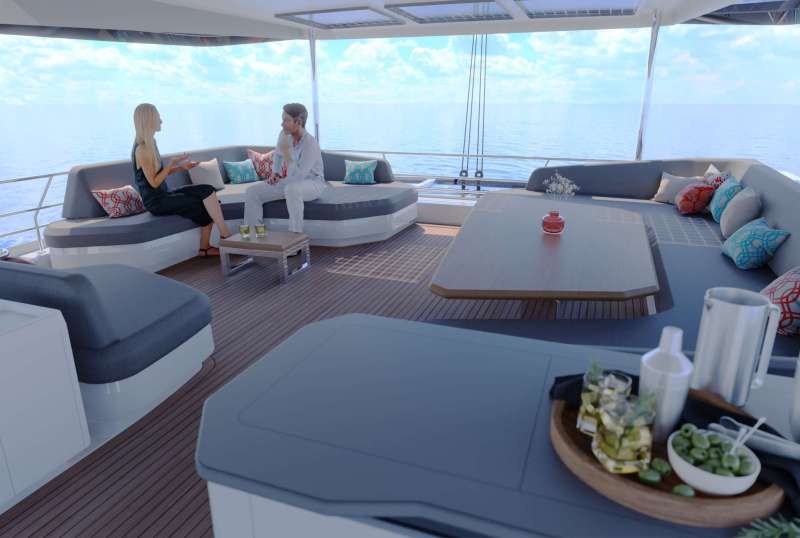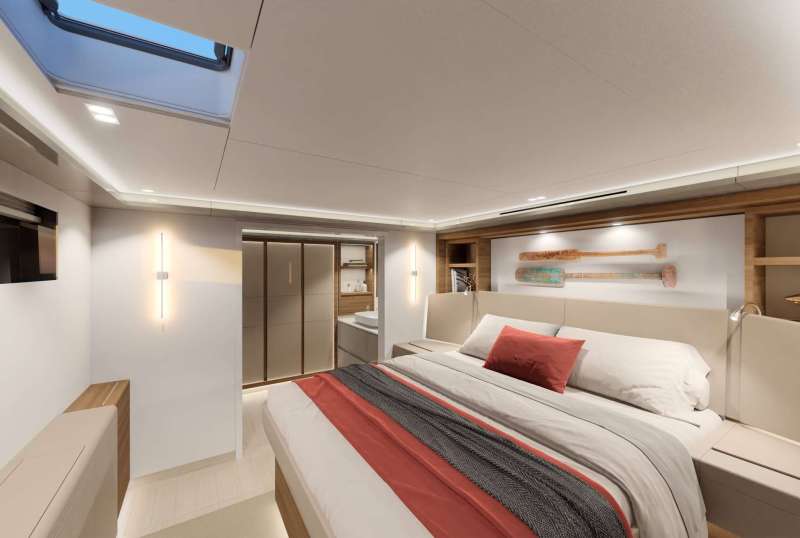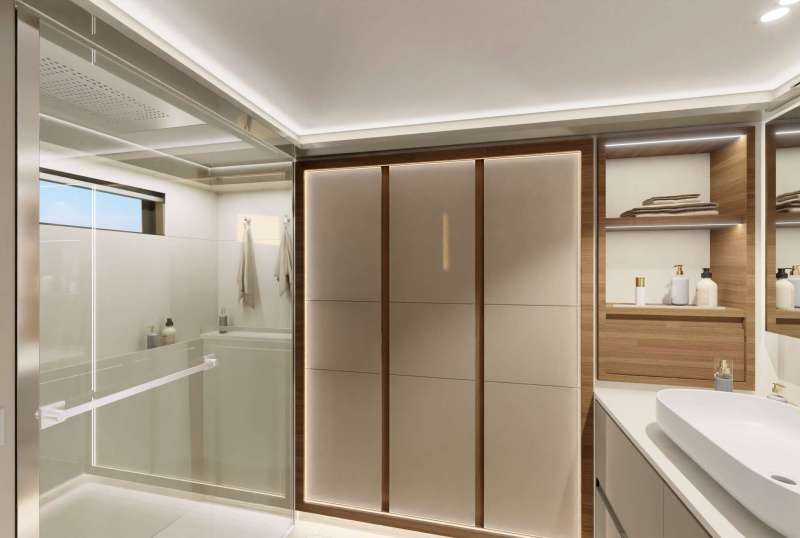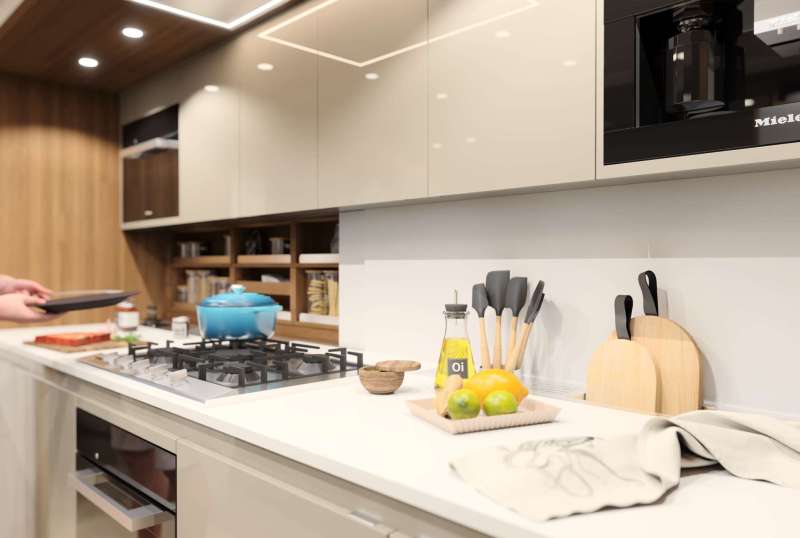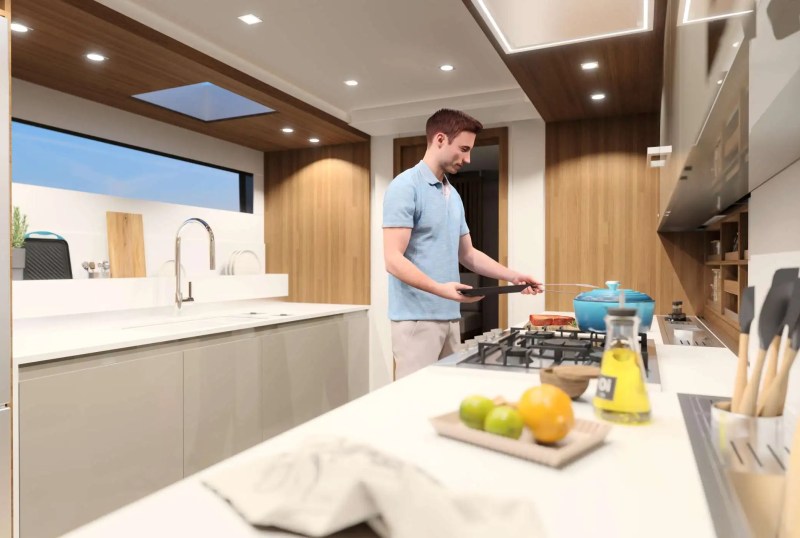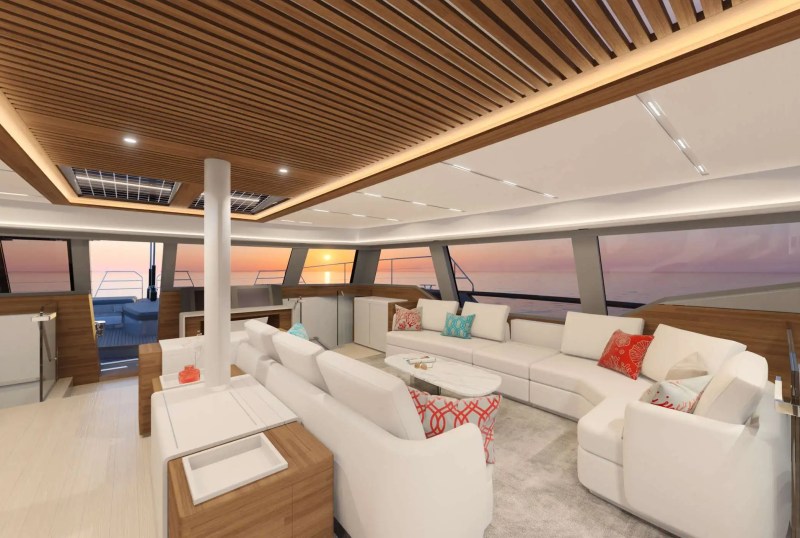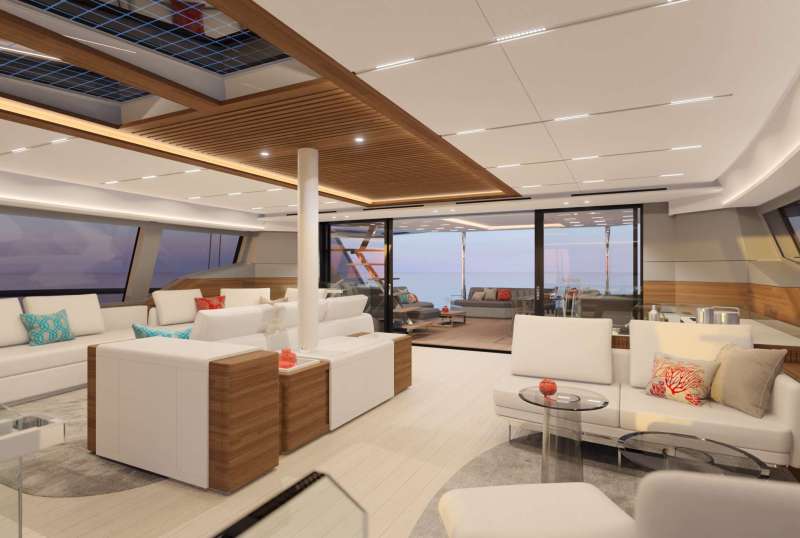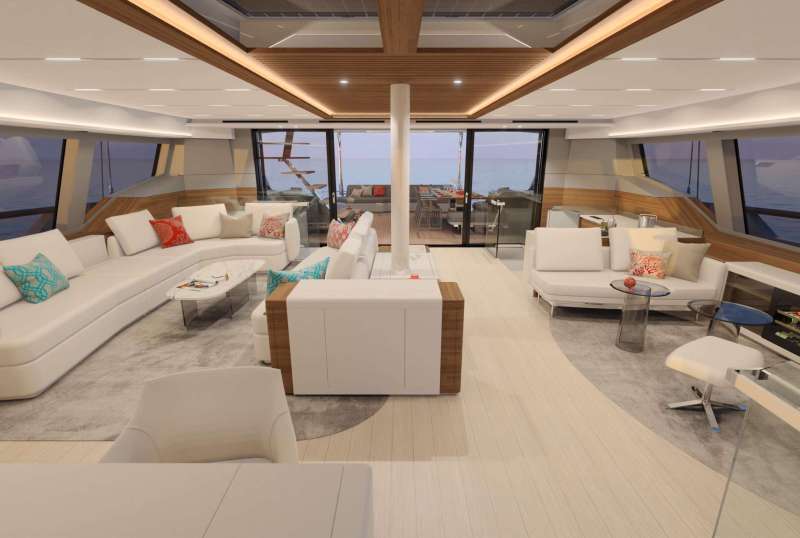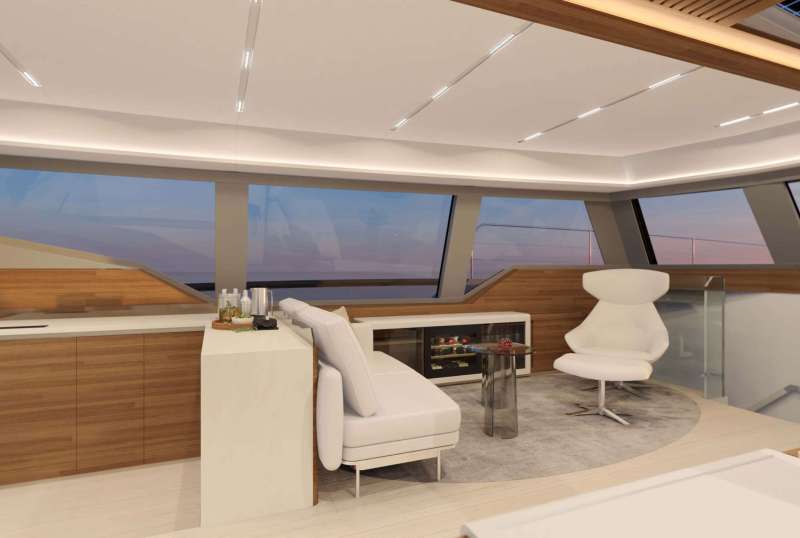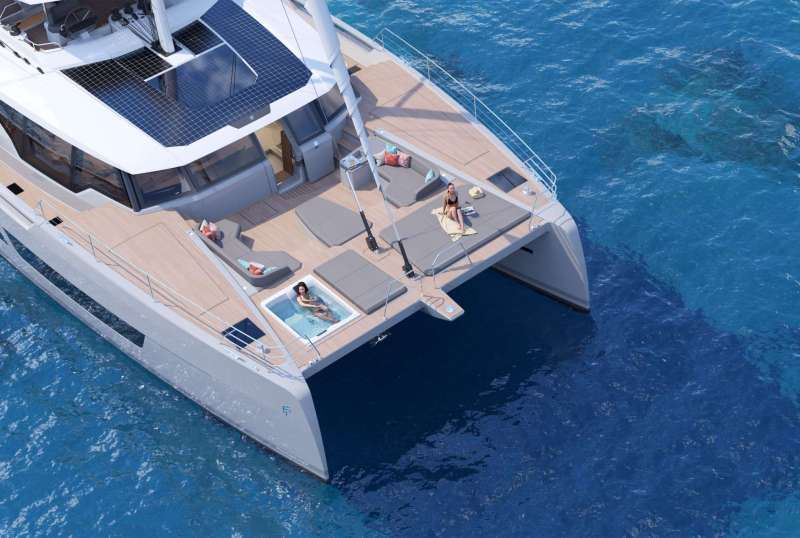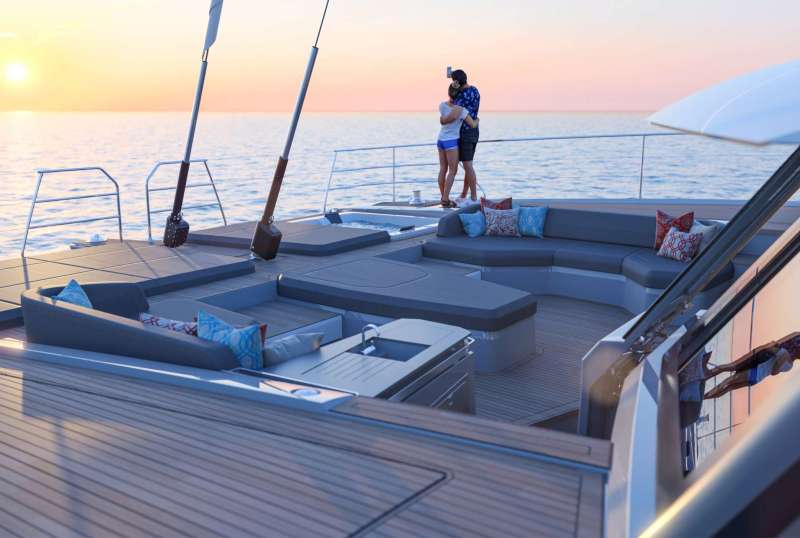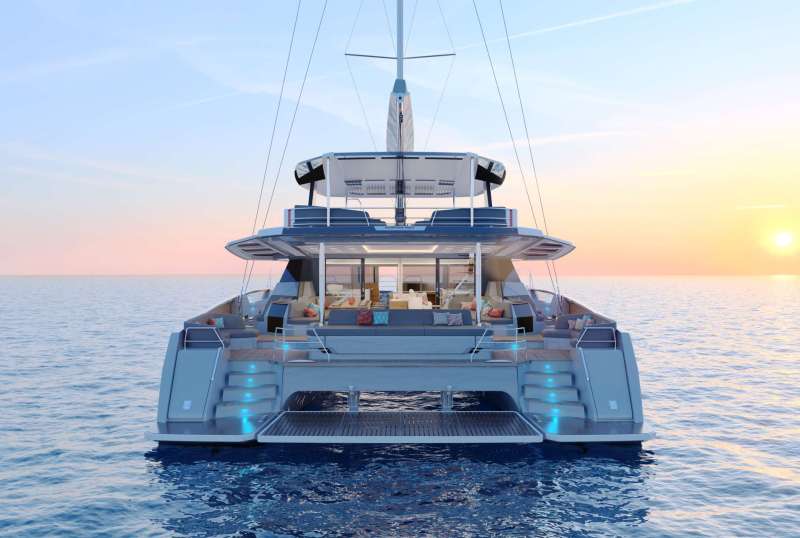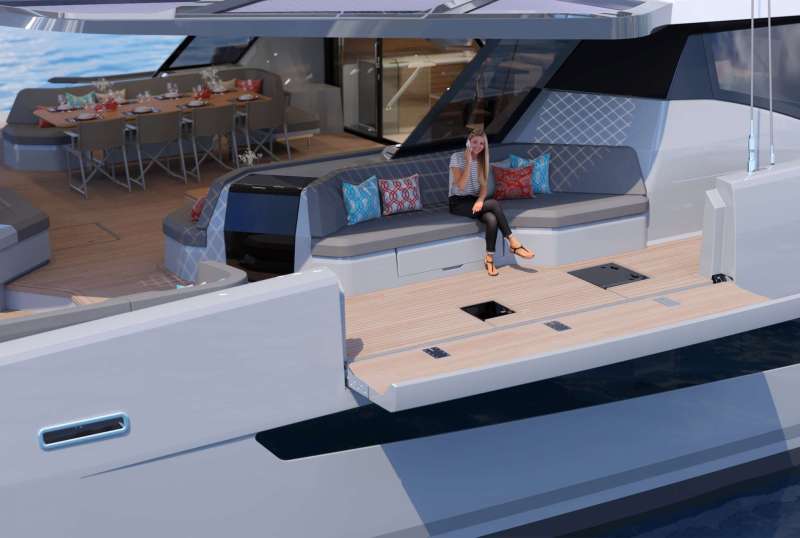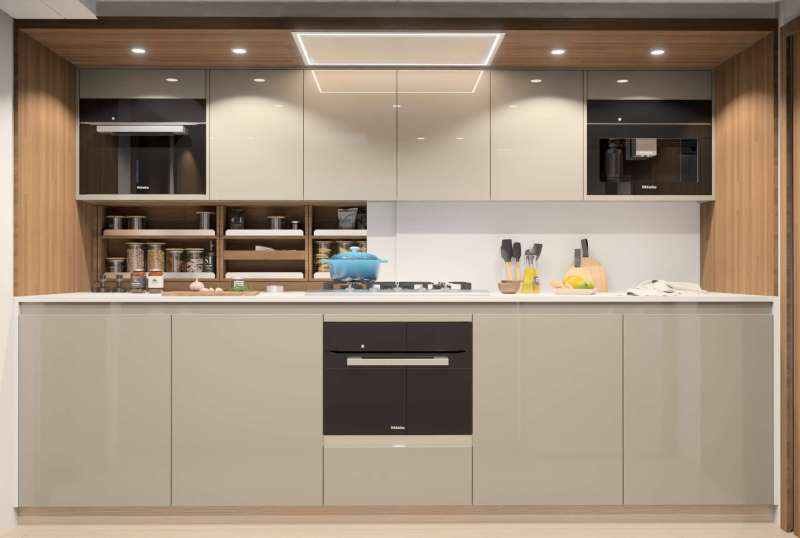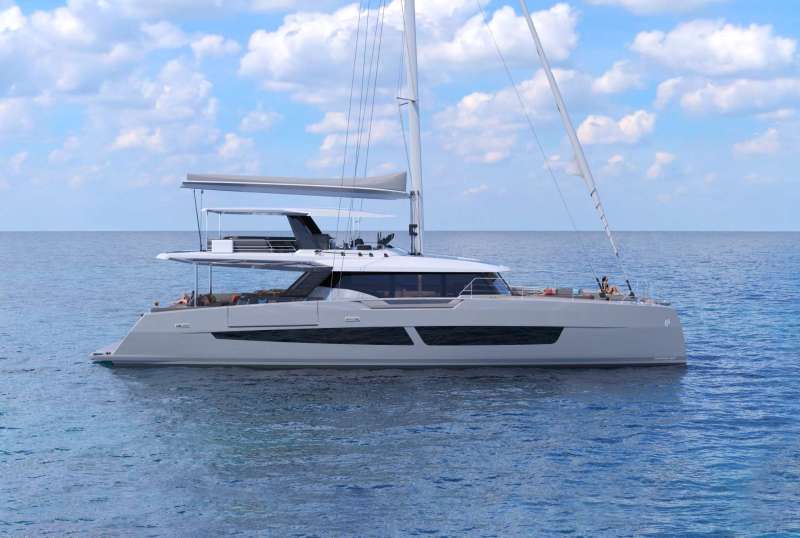 AD ASTRA
From €70,000/week
5 cabins
80 ft
Fountaine Pajot
10 guests
Built: 2024
TBA Litres/Hr
6. Agata Blue | 75ft
Agata Blu strikes a mix of extraordinary comfort, excellent performance under sail, and cutting-edge technology, thanks in large part to her exceptional living areas.  Her flybridge contains a large area that is fifty square meters in size, and she also has a very spacious bow section that includes both lounging and sunbathing areas.
A few words are in order about the yacht's chef, Bulgarian Nikolay Stoyanov Atanasov, a cuisine polymath who has studied and worked at England's Windsor Castle, among other prestige establishments. A right royal culinary experience is guaranteed under the auspices of a chef with a genuine passion for preparing popular, healthy, and nourishing dishes. AGATA BLUE has the best Captain a first-time Greek Island charterer can have. Captain Pignatelli has experience as a tourist guide, charterer, and sailor. So, you can know the history of the places you will visit on the land and water.
Toys and Amenities:
The boat is equipped with a Highfield SP 520 dinghy, a SeaDoo as well as Seabob, 2 SUPs, wakeboard, electric bicycle and fishing gear. Use the floating mats of the yacht to sunbathe and sip your drink or go underwater with the Seabob. No matter what you do, the experienced staff will be there to help you out.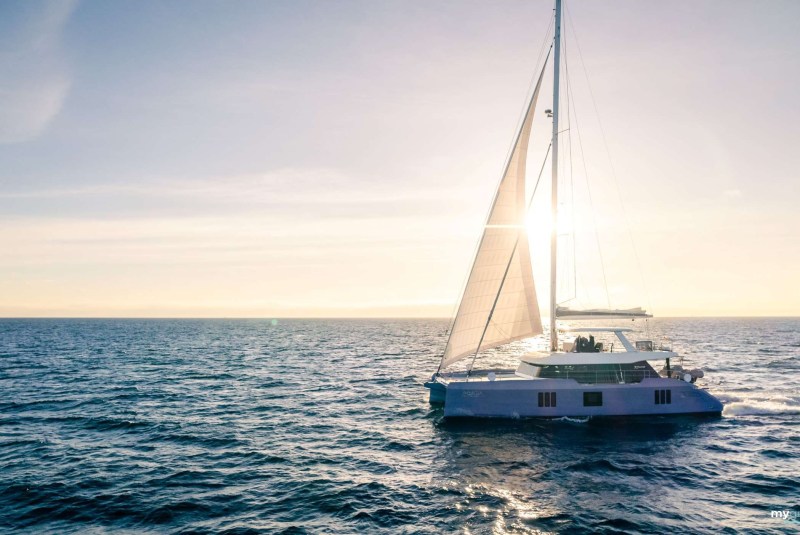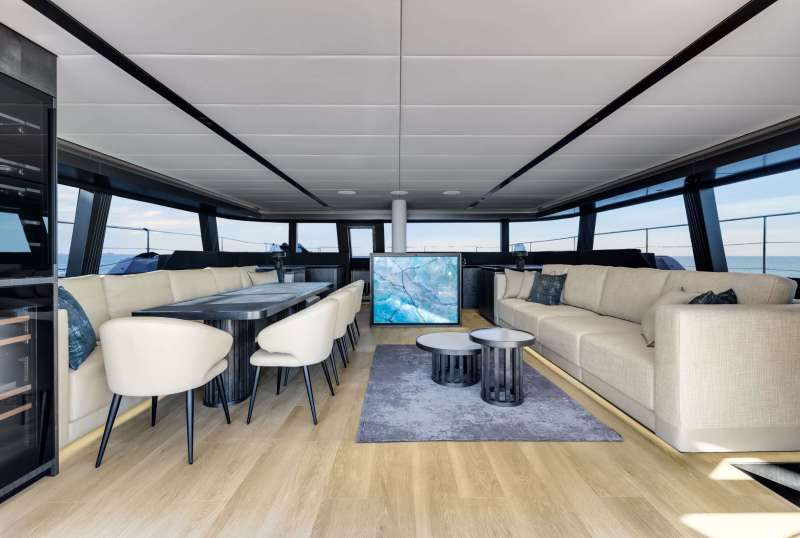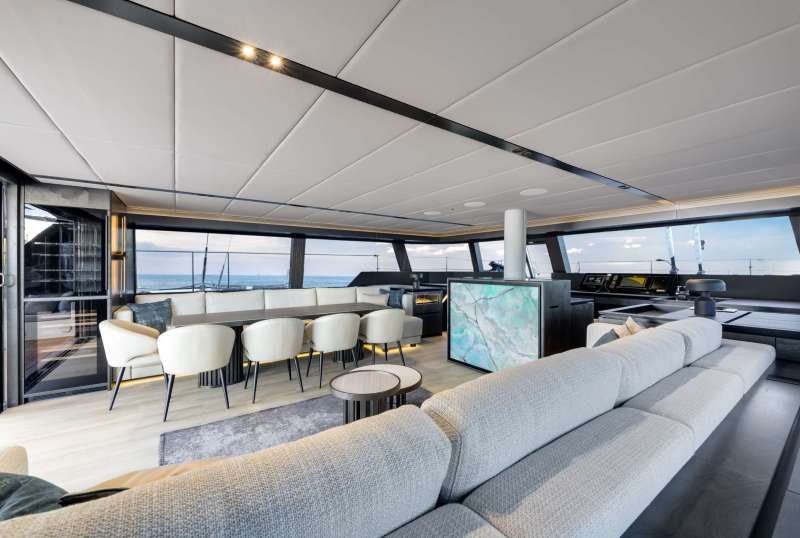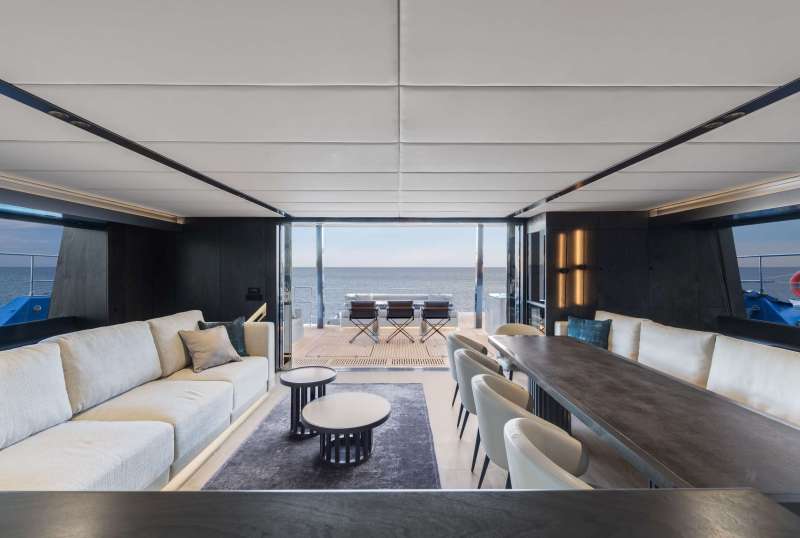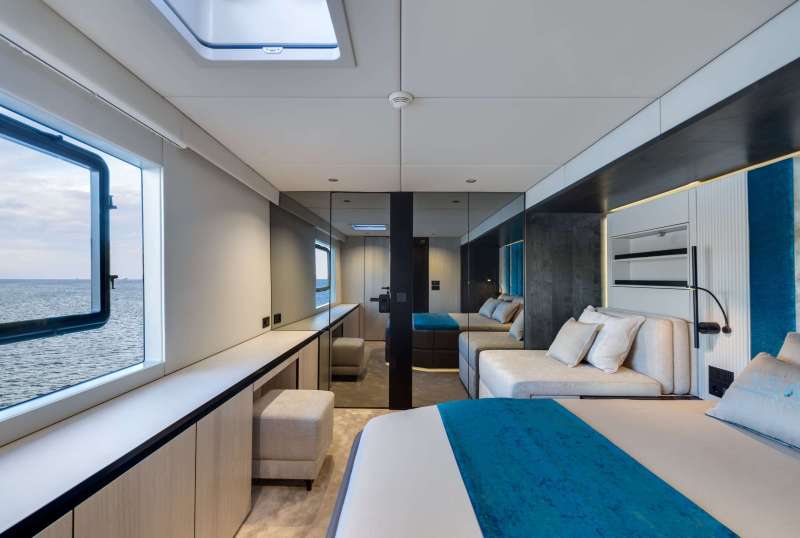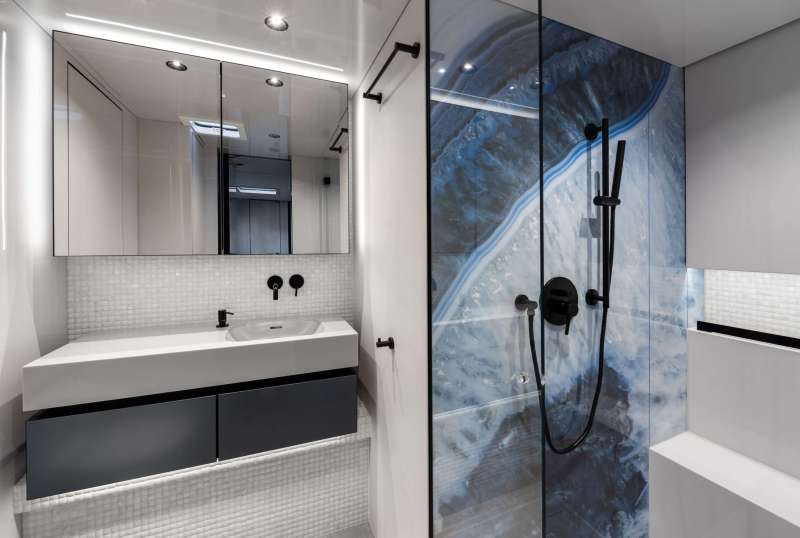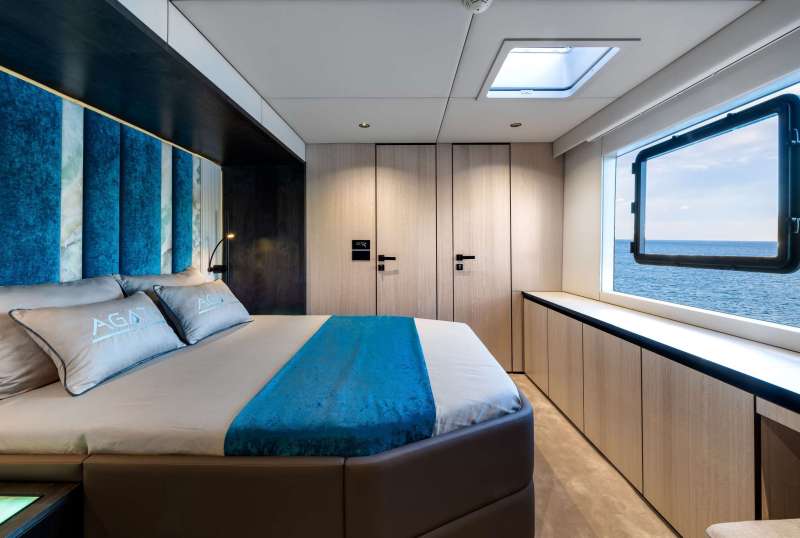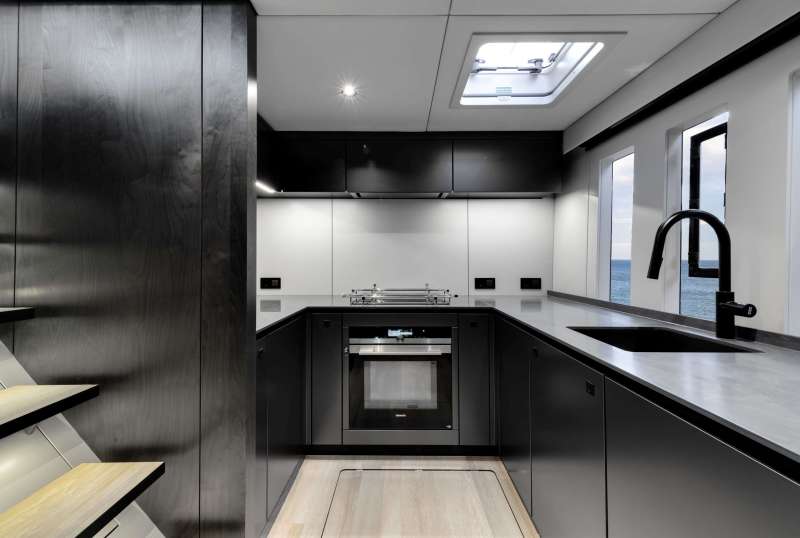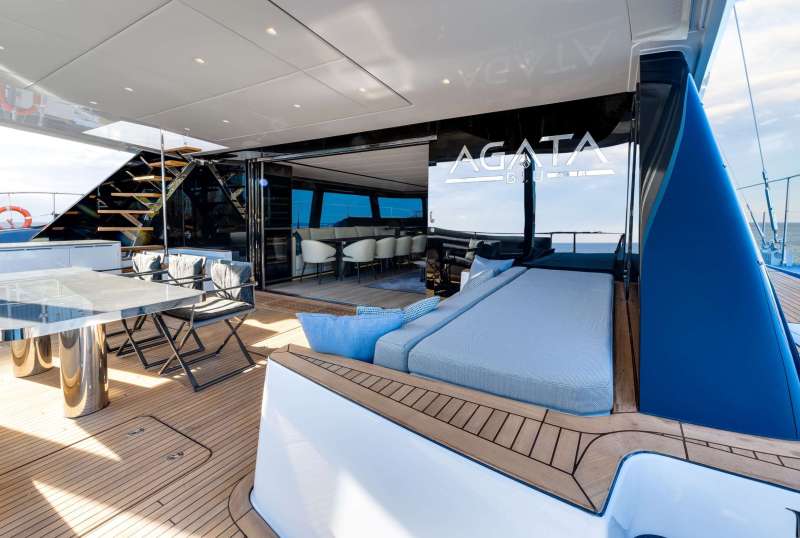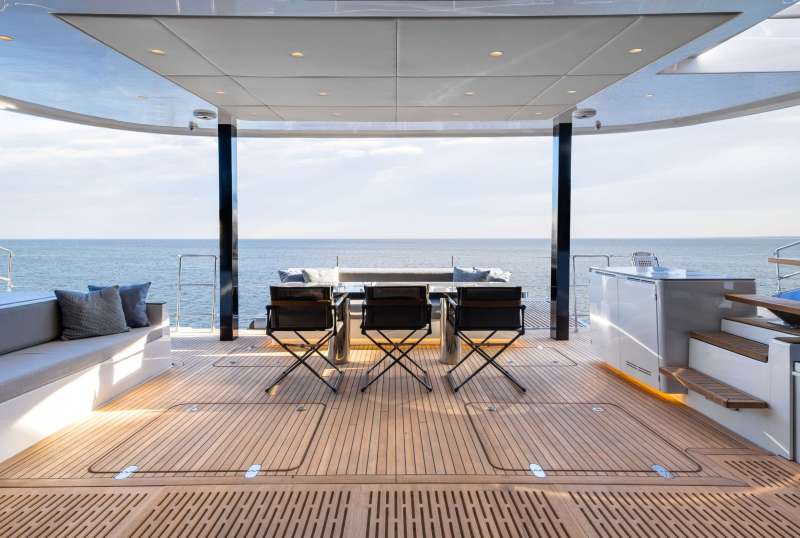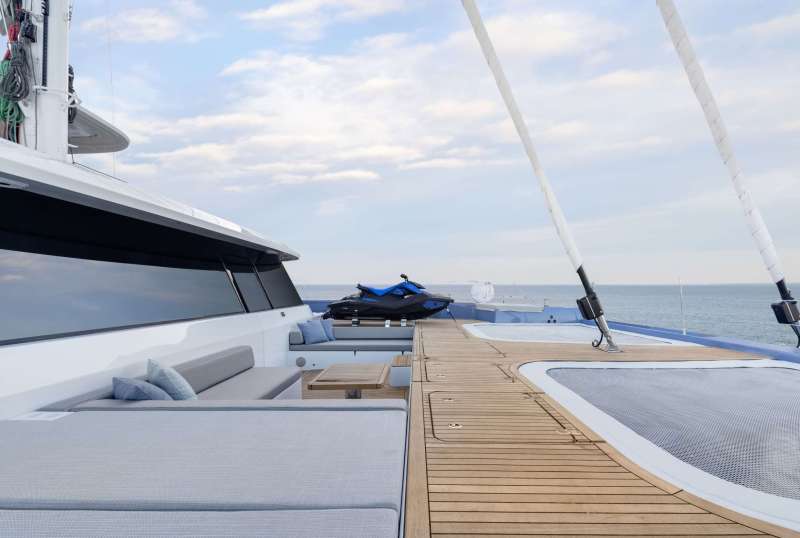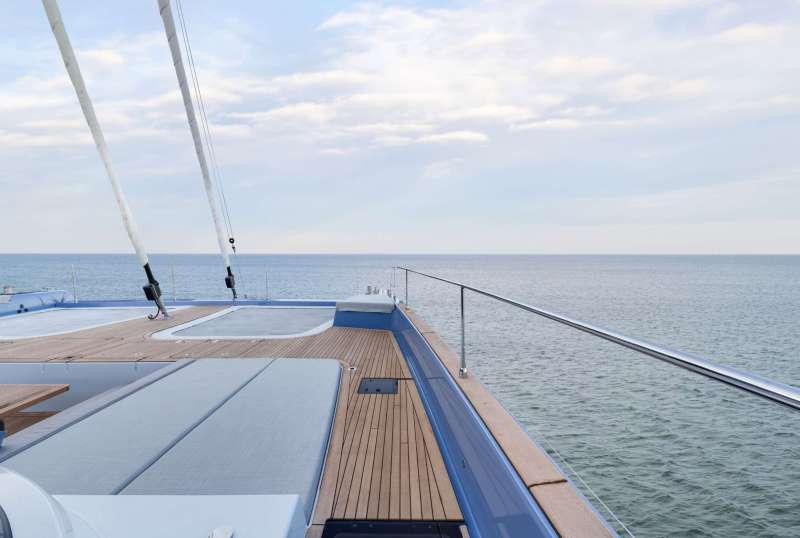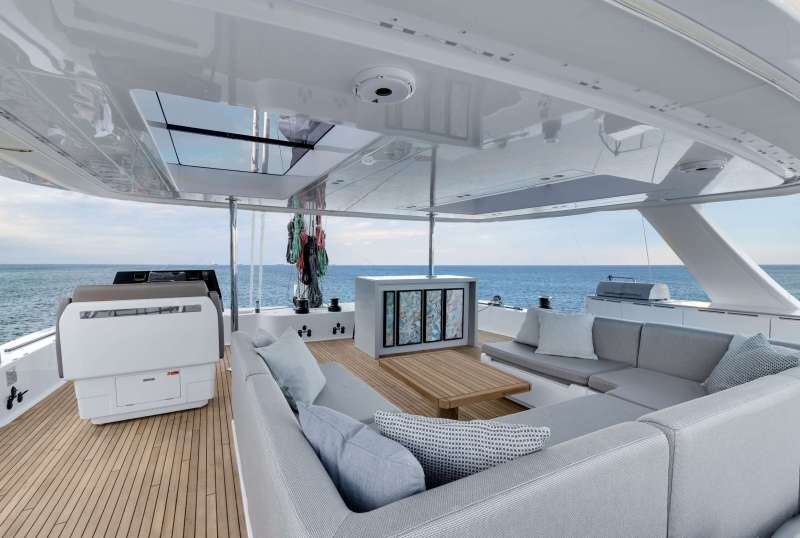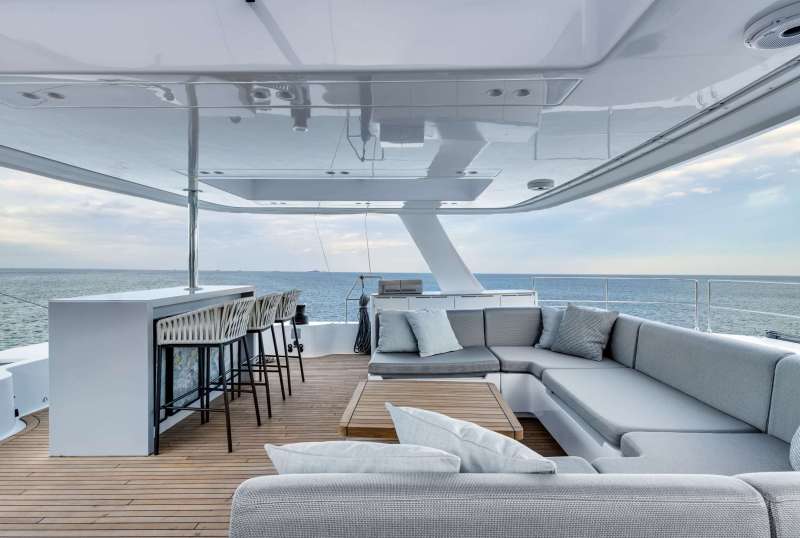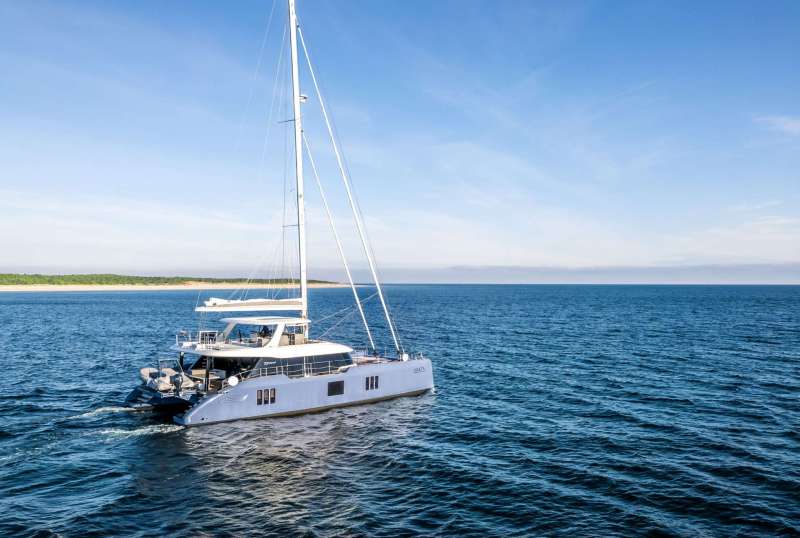 AGATA BLU
From €54,000/week
4 cabins
74 ft
Sunreef Yachts
10 guests
Built: 2023
90 Litres/Hr
7. Oceanus | 70ft
Based in the turquoise waters of the Ionian Sea, Oceanus features an interior of the most luxurious standard with the finest sea views and a fit worthy of a five-star hotel. Offering sublime relaxation spaces including an expansive flybridge, private lounges, fore deck, jacuzzi, a cockpit seamlessly integrated with a saloon featuring panoramic sea views, her Beach Club embedded gangway, and much more.
This is a very scuba-diving-friendly yacht, as both her captain, Englishman James Brown, is a PADI certified assistant instructor and passionate diver, and chef Isabella is a PADI rescue diver, with long experience in diving, watersports, paddleboard and SUP yoga. You might well find her preparing haute cuisine in a wet suit!
Toys and Amenities:
Comes equipped with a 15ft Highfield dinghy for 9 guests, as well as Fliteboard, 2 Seabobs, 2 SUP's and an inflatable kayak. If you want to fish onboard, you have to bring your fishing gear. The crew has experienced divers, wakeboard enthusiasts, and skiers to guide the guests in the water activities.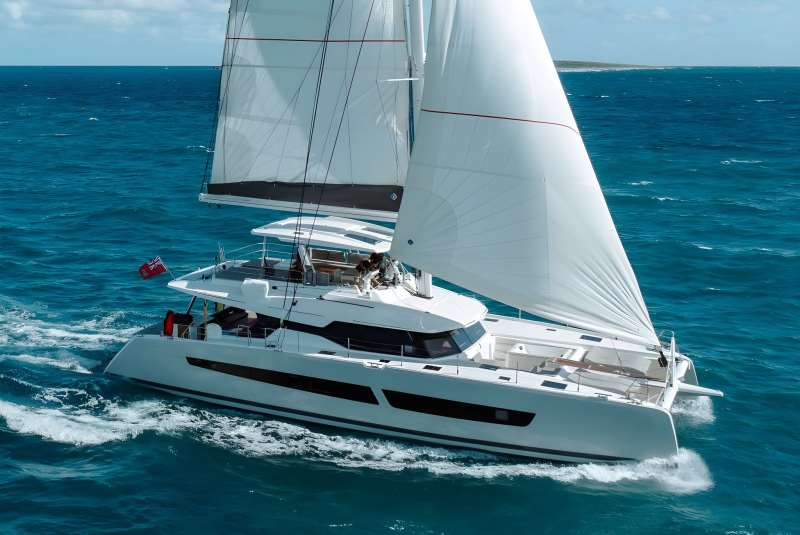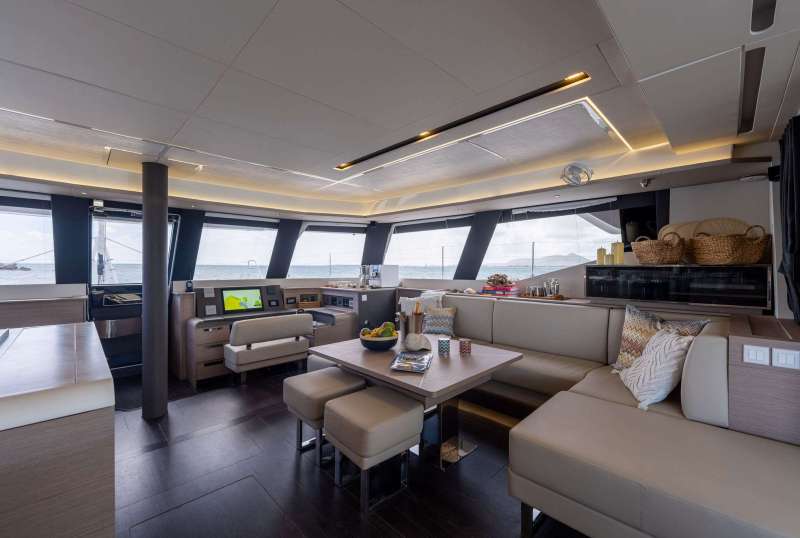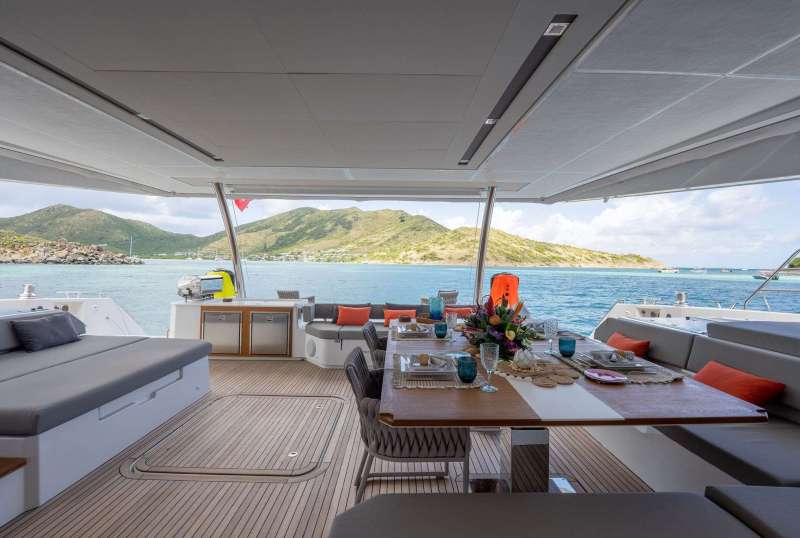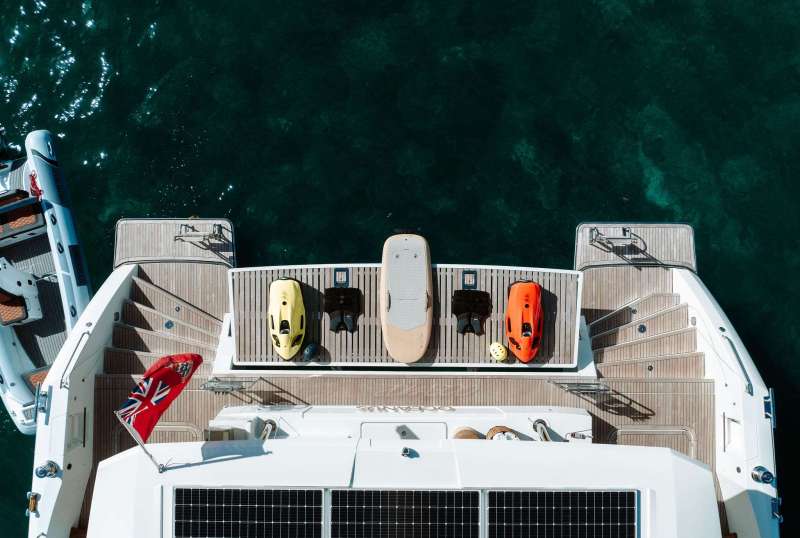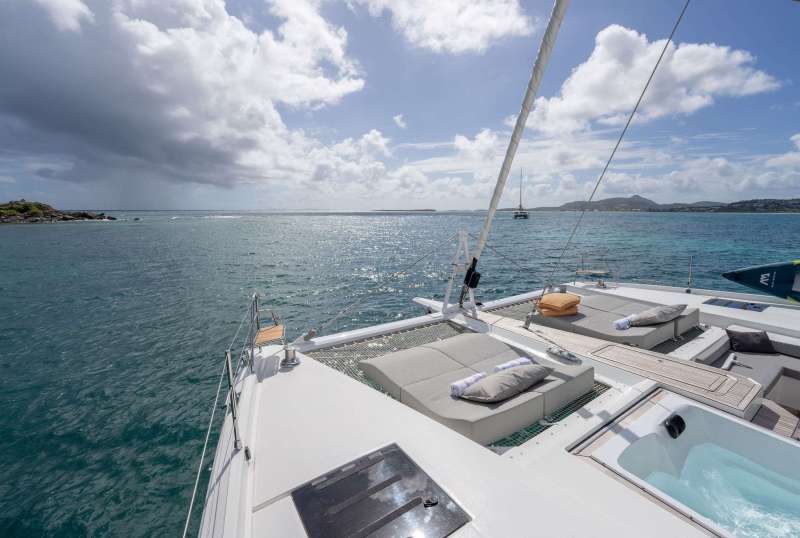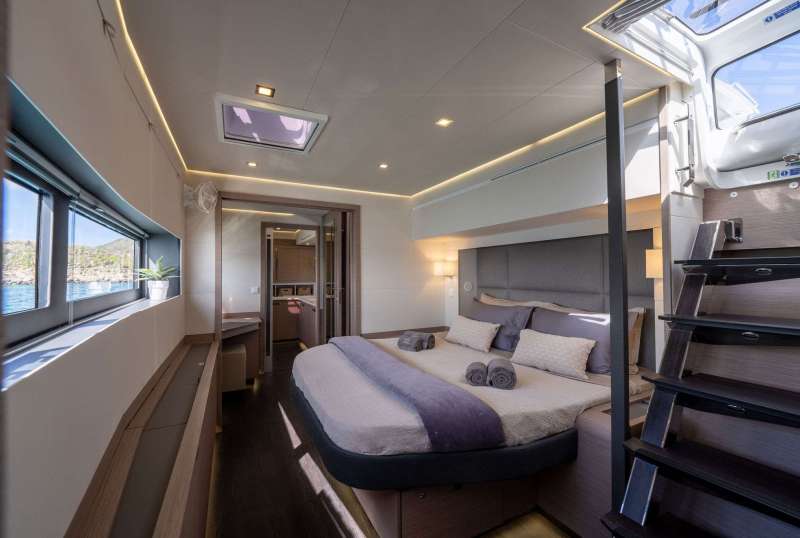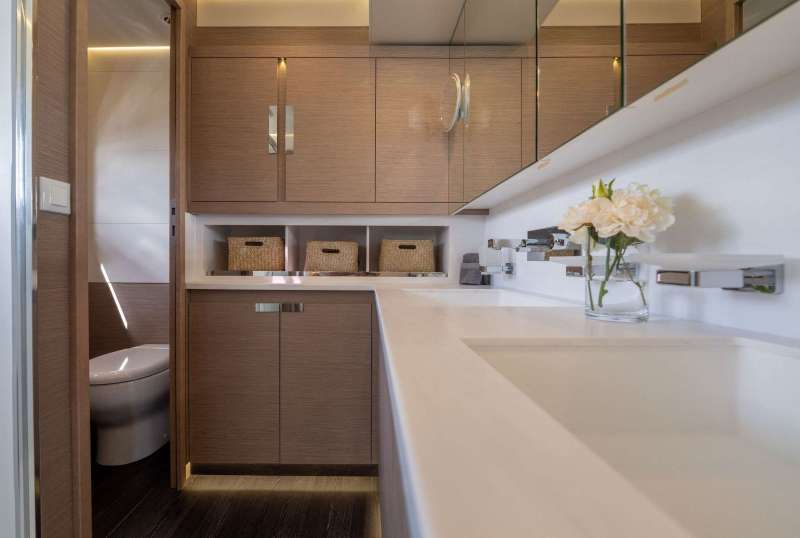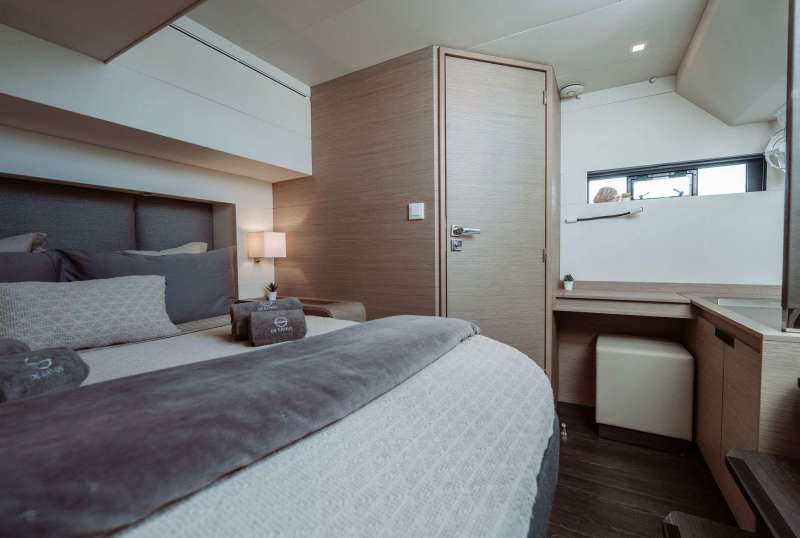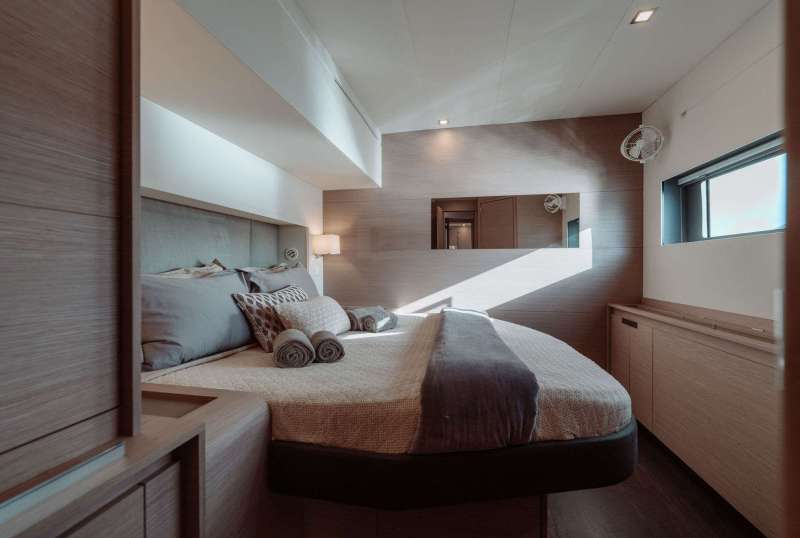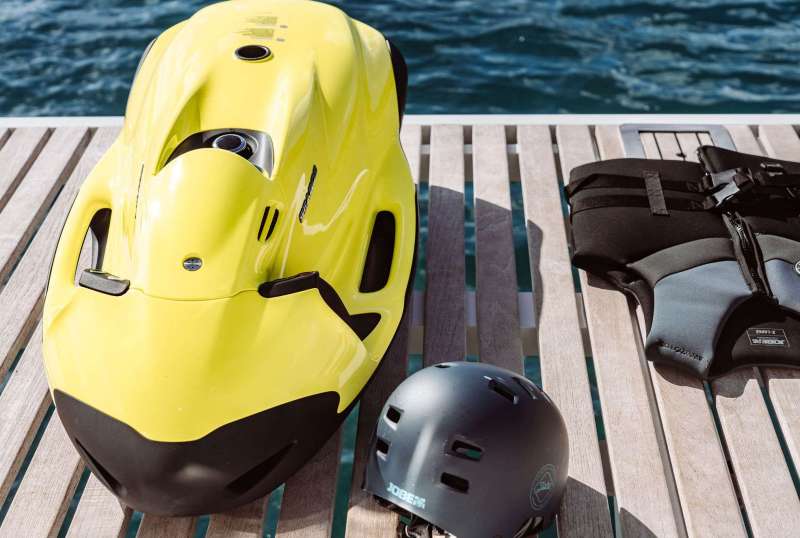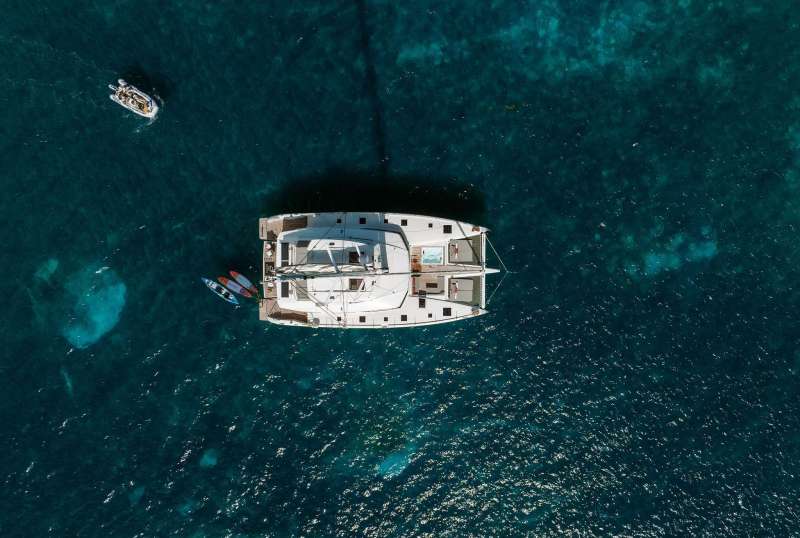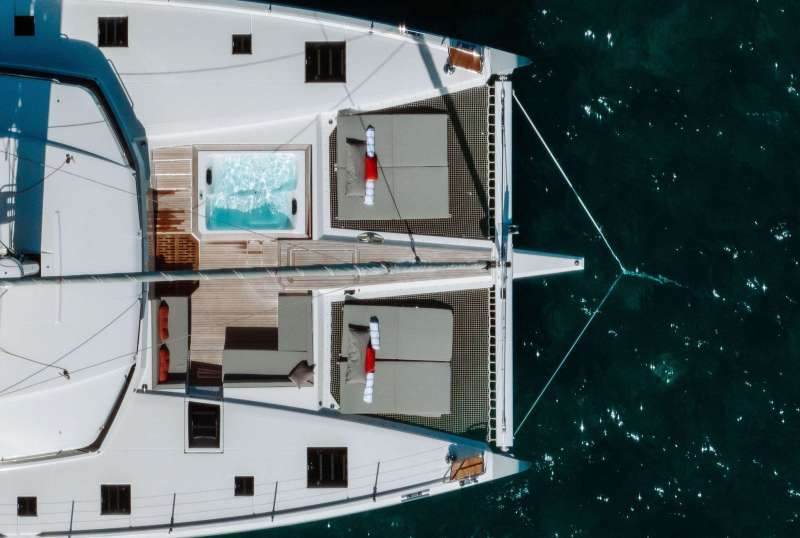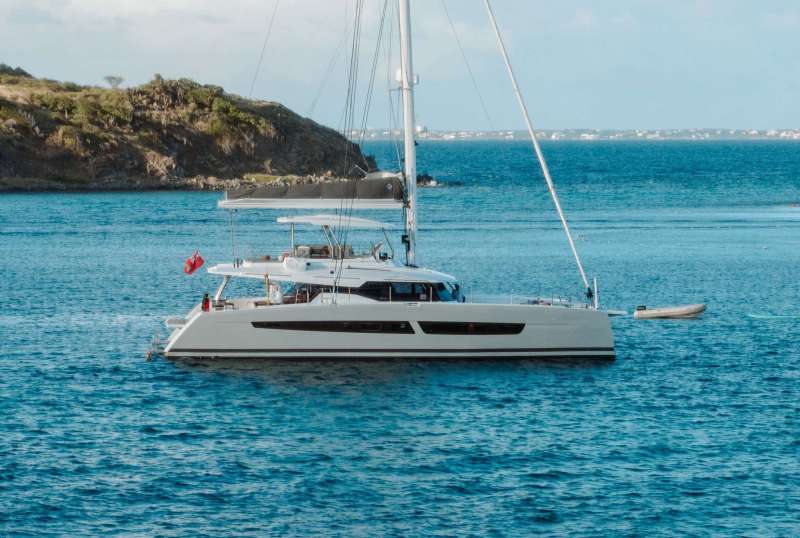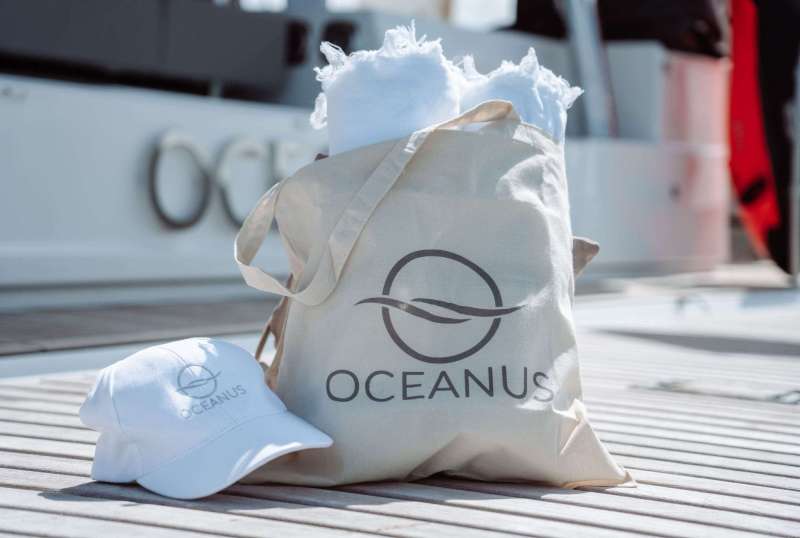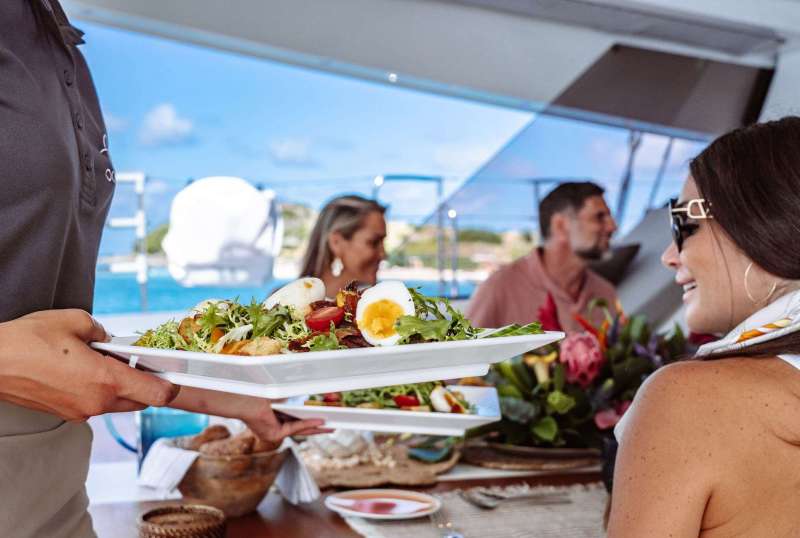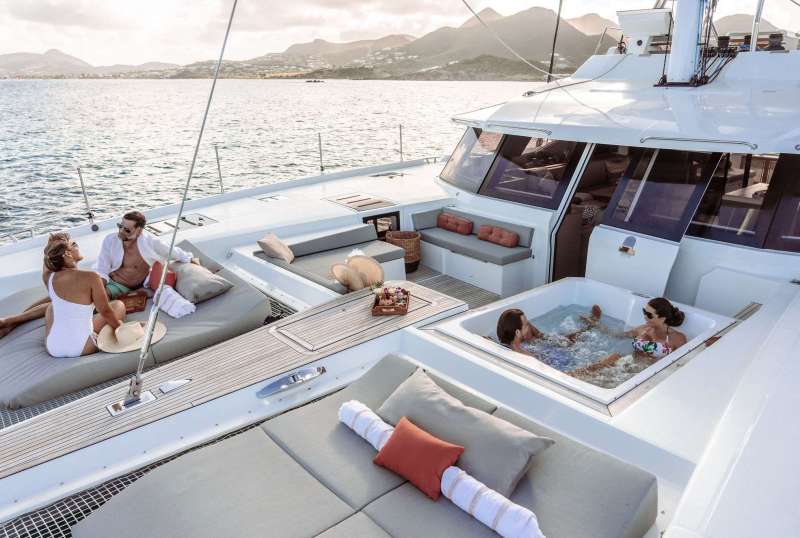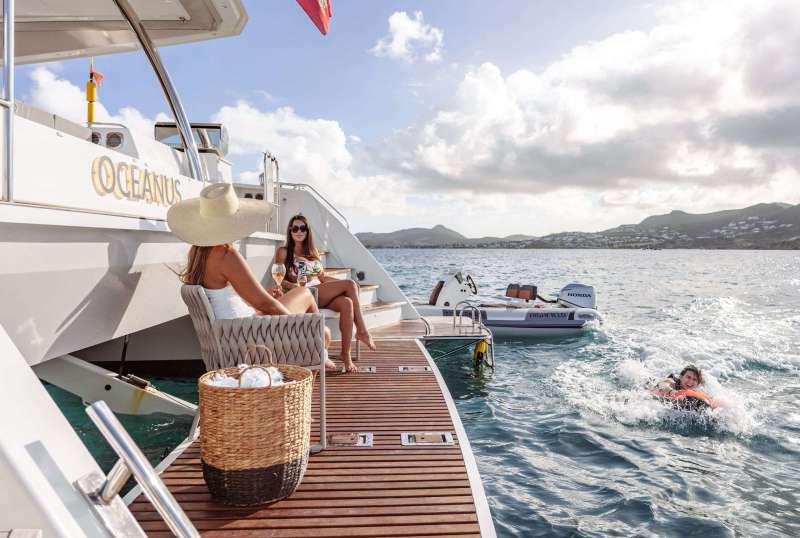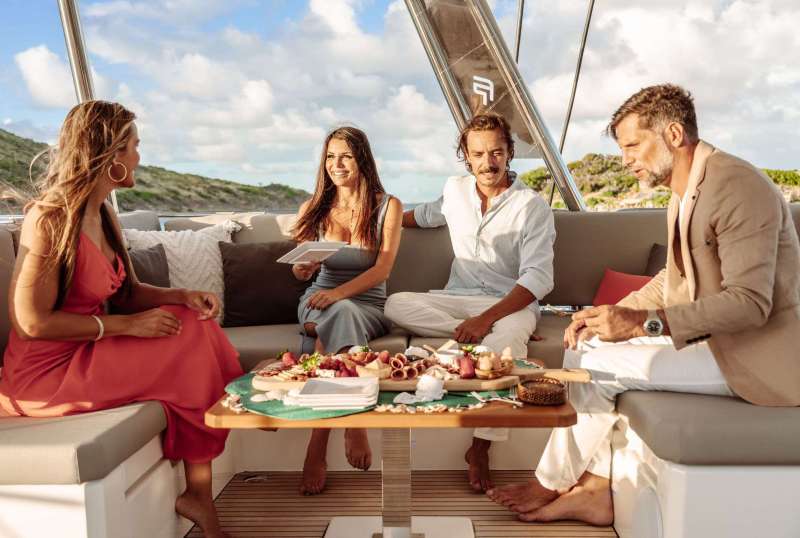 OCEANUS
From €55,500/week
4 cabins
70 ft
Fountaine Pajot
8 guests
Built: 2022
22 Litres/Hr
8. ALOIA | 67ft
ALOIA is pure luxury in a catamaran. Her flybridge with an authentic ocean terrace and a forward cockpit with a jacuzzi are just some of her hallmark features.  Her stunning interior is boldly modern and incredibly spacious to deliver the ultimate in comfort and luxury.
The flybridge together with the forward deck offers plenty of space for sunbathing and relaxing and the aft cockpit is a great area for socializing and alfresco dining. There is also a comfortable, well-equipped gym.
Toys and Amenities:
Aloia comes with a 4,60 m. dinghy, also wakeboard, water skis, sea bob, a kayak, and fishing and snorkeling gear. The crew has members experienced with dinghy and diving. So, you can consult with the Captain to find a great underwater spot and explore the seabed while gliding through the onboard Seabob.
Guest Experience:
"We are experienced travelers – many of us retired airline pilots – and it was the trip of a lifetime. Our captain had absolute command of the boat and was the consummate professional, navigating fierce winds all week with such skill and confidence that we never doubted our safety in his hands. The crew managed to deliver an exceptional experience, service, and food within the confines of our original APA budget. The boat, of course, is a beauty. So gracefully designed and well-appointed, with ample storage space and lots of comfortable places to gather. We loved every minute aboard that yacht."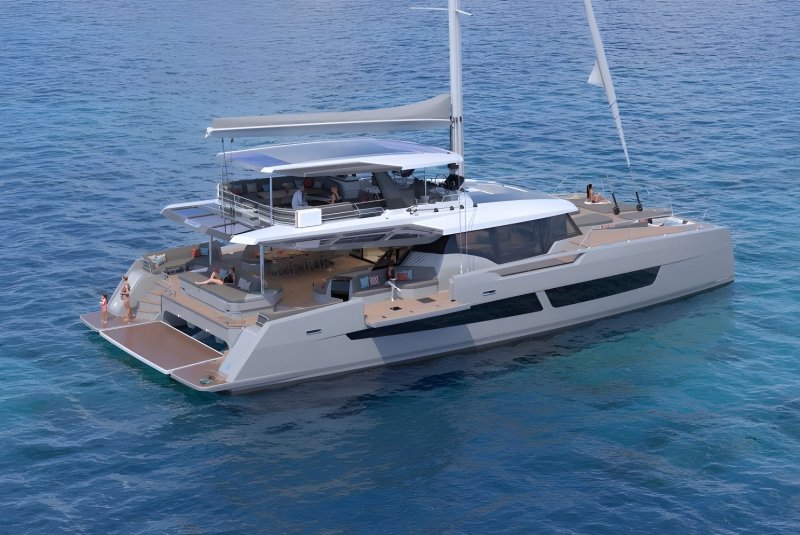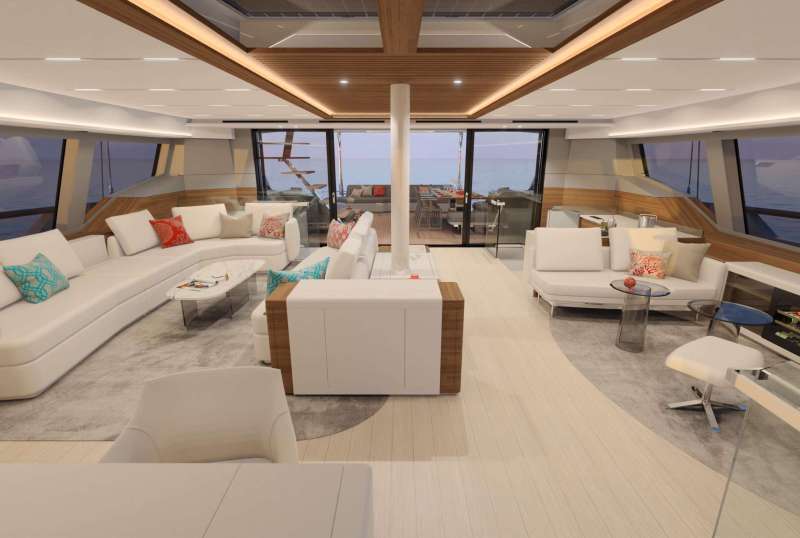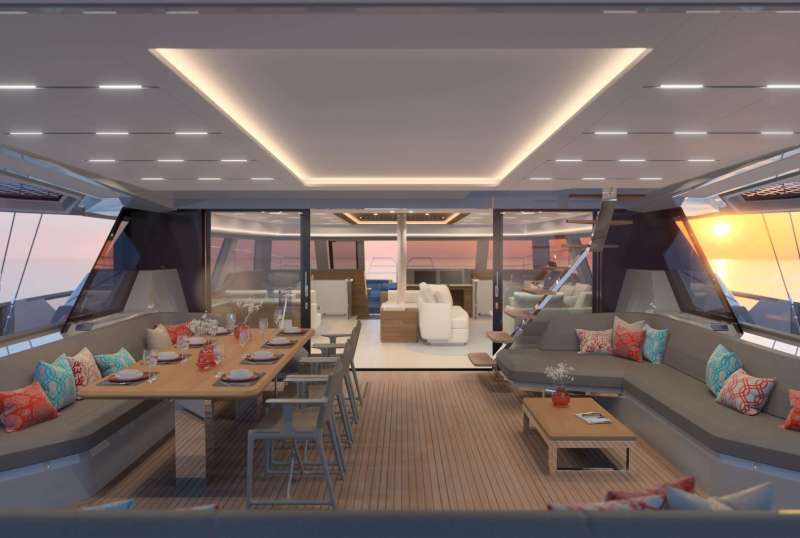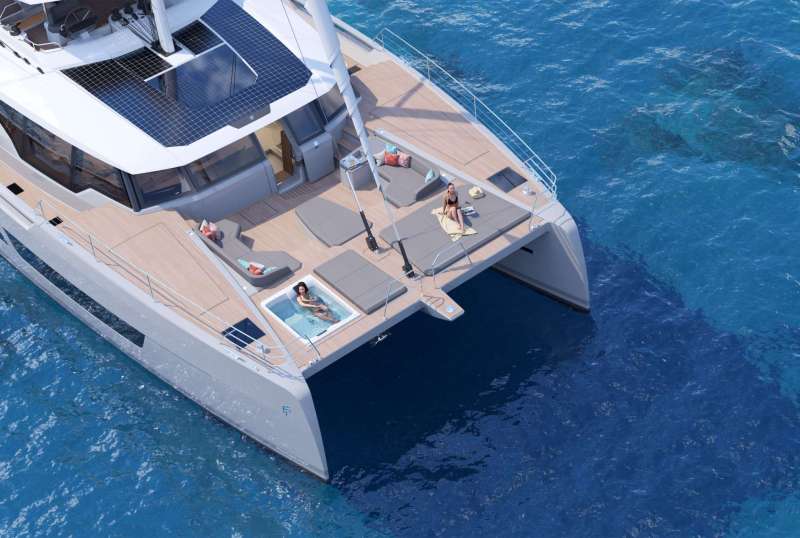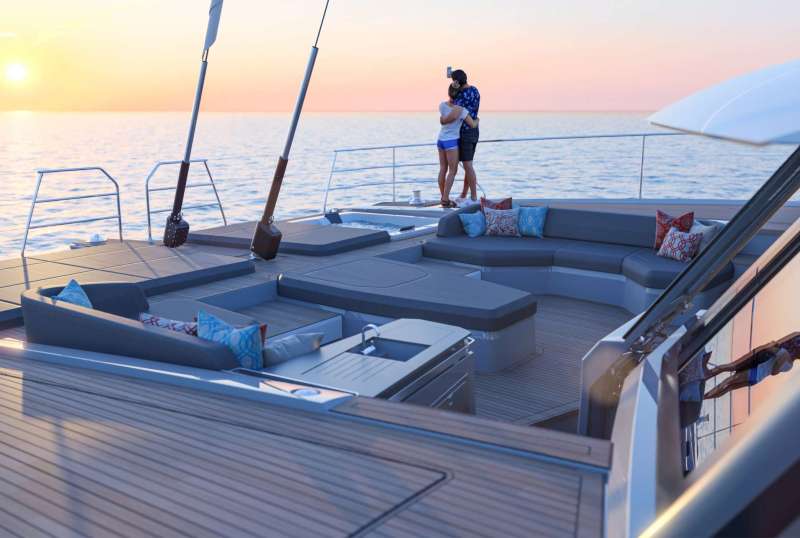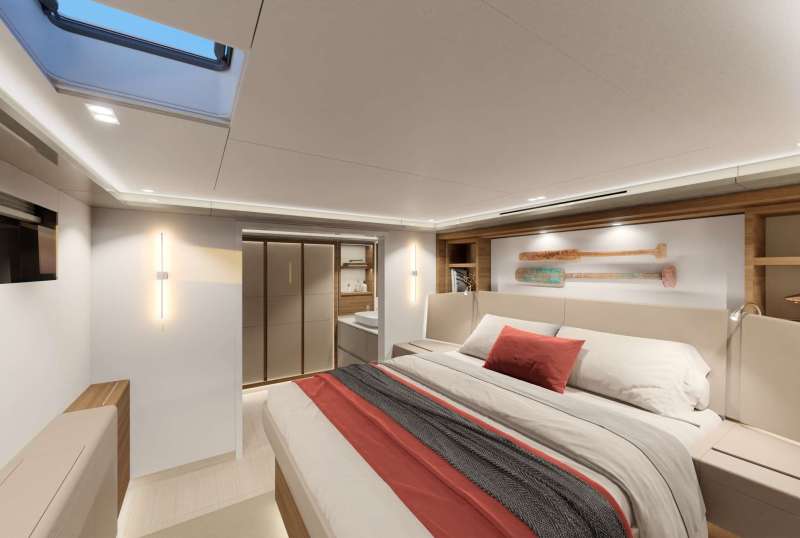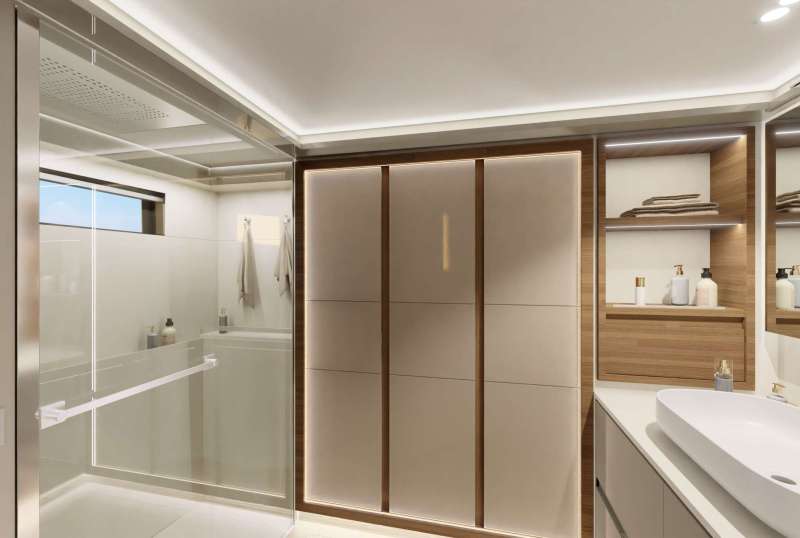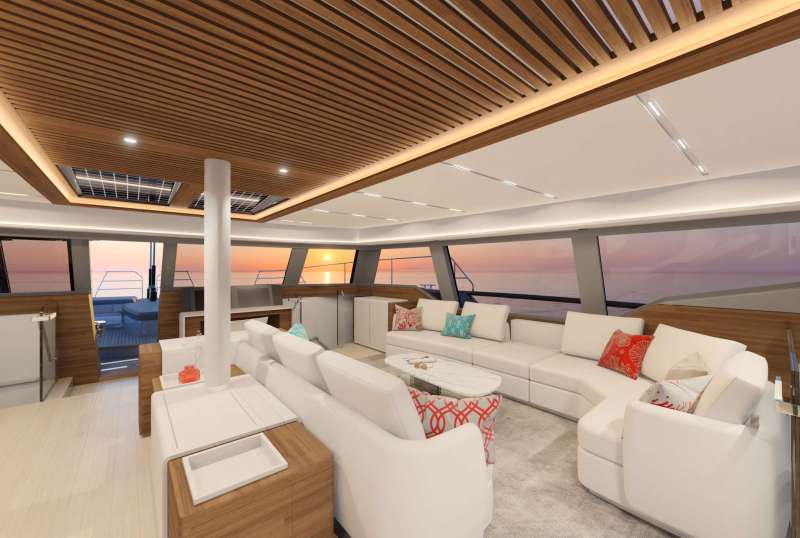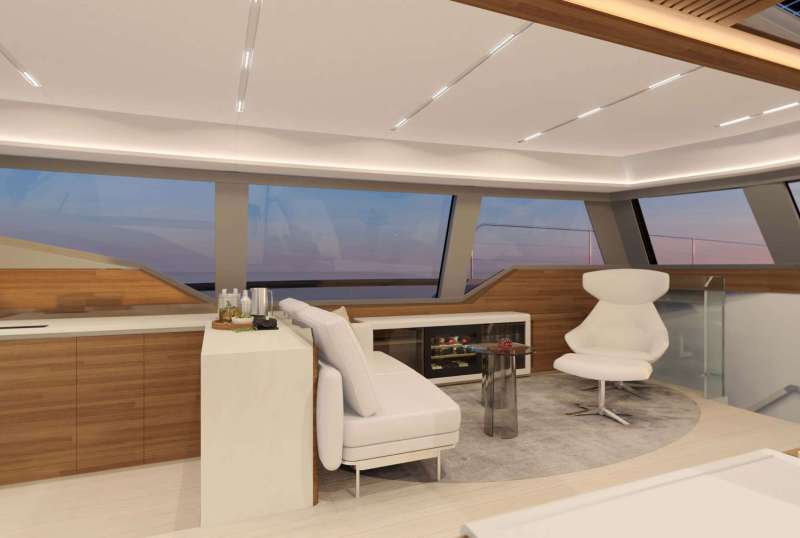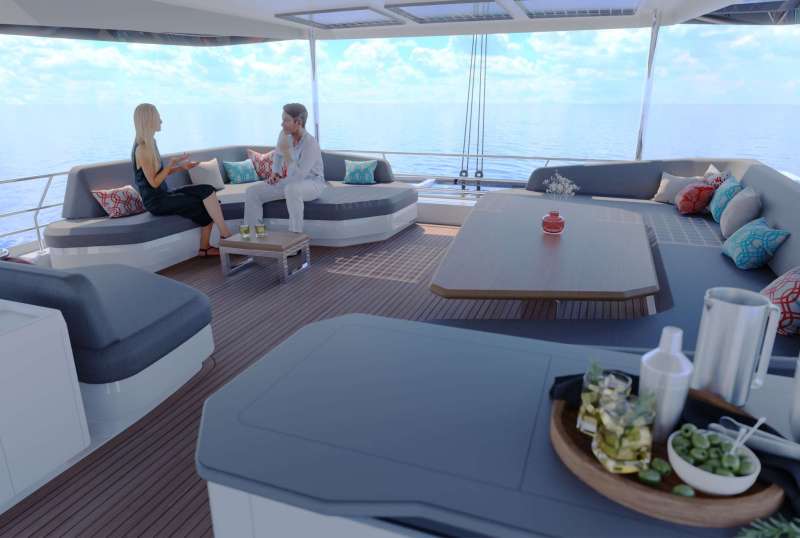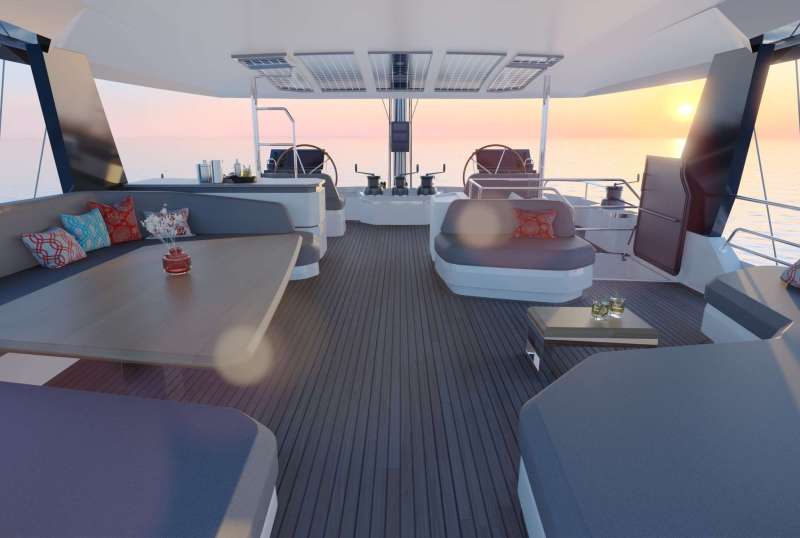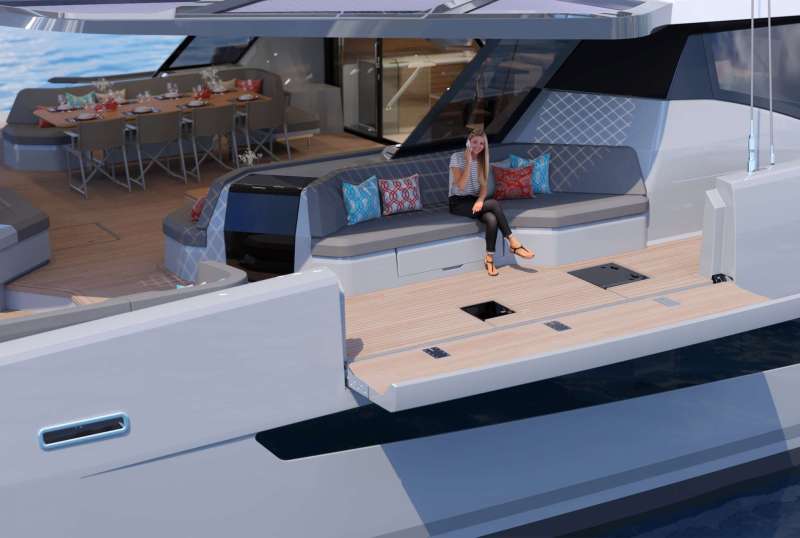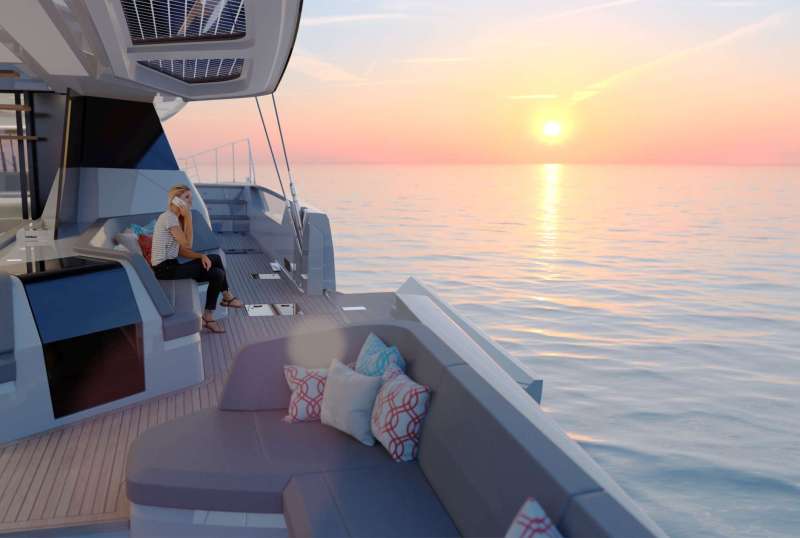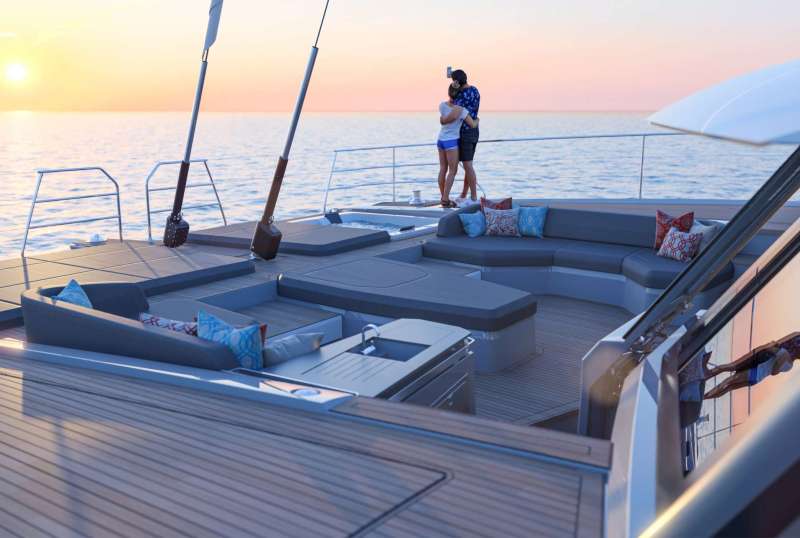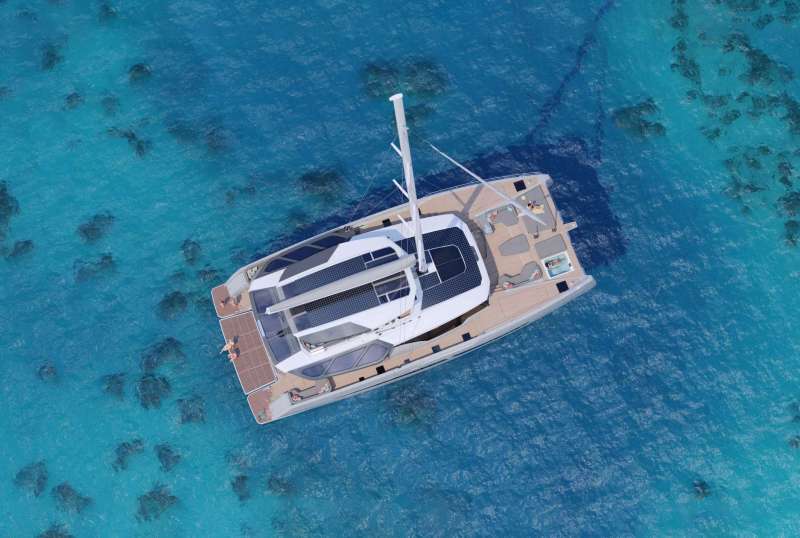 ALOIA 80
From €70,000/week
5 cabins
80 ft
Fountaine Pajot
10 guests
Built: 2023
9. APHAEA | 67ft
APHAEA's interior is strikingly modern and incredibly spacious, providing the ultimate comfort and luxury. The flybridge and forward deck provide plenty of space for sunbathing and relaxing, while the aft cockpit is ideal for socializing and alfresco dining, featuring an outdoor BBQ.
Her captain, Greek Michalis Kassaris immediately makes everyone feel at ease with his cool demeanour and charming smile. His extensive sailing expertise includes everything from boat maintenance to competing in sailing competitions, and because of Michalis' exceptional maritime expertise and his background as a lifeguard, safety will be guaranteed, making your trip even more enjoyable. He is also fluent in both English and Spanish, and he has a great rapport with kids.
APHAEA as the charter comes with green initiatives and a filtration system. APHAEA's captain used to be a lifeguard, so has a vast knowledge of the seas and makes safety his first priority.
Toys and Amenities:
Comes equipped with a 4,60 m. dinghy, two Seabobs, waterskis, wakeboard, kayak and towable.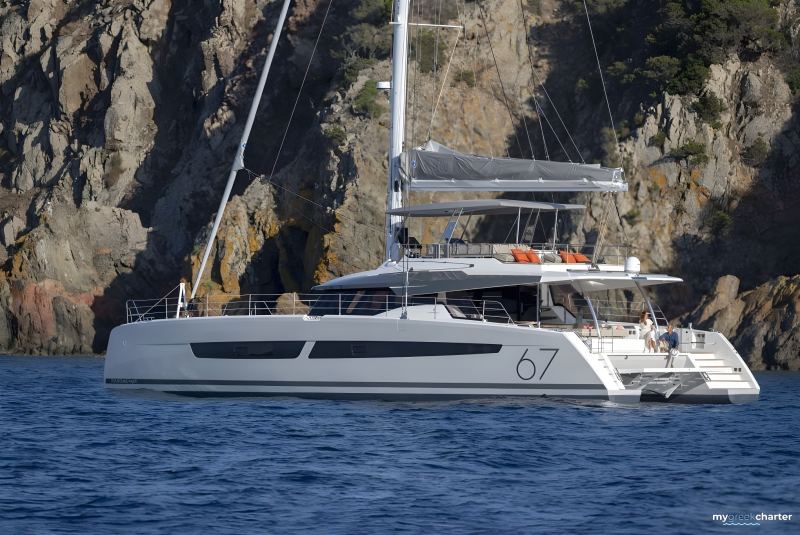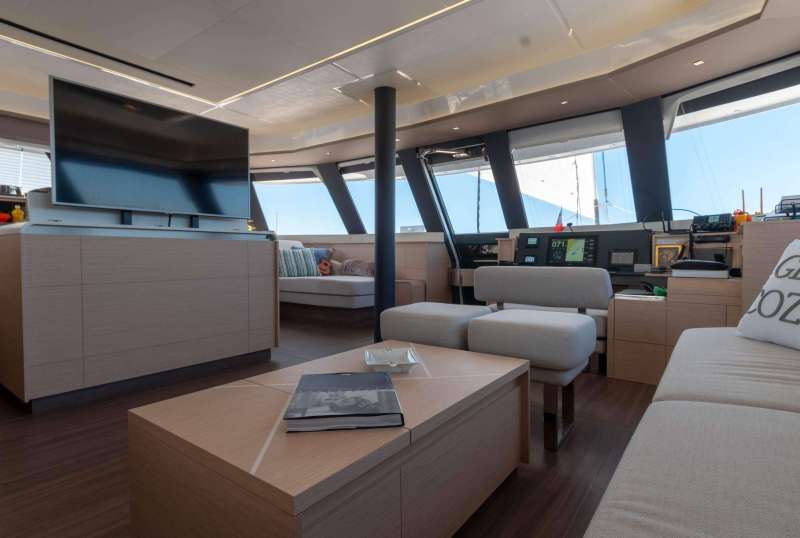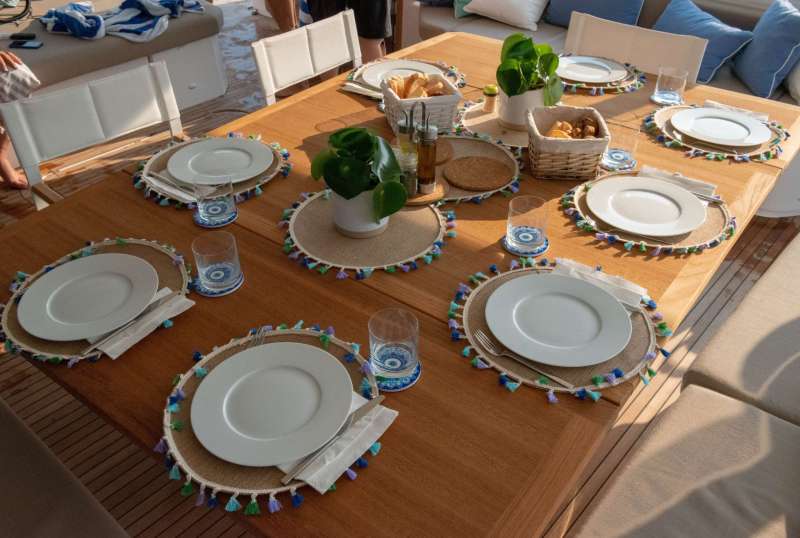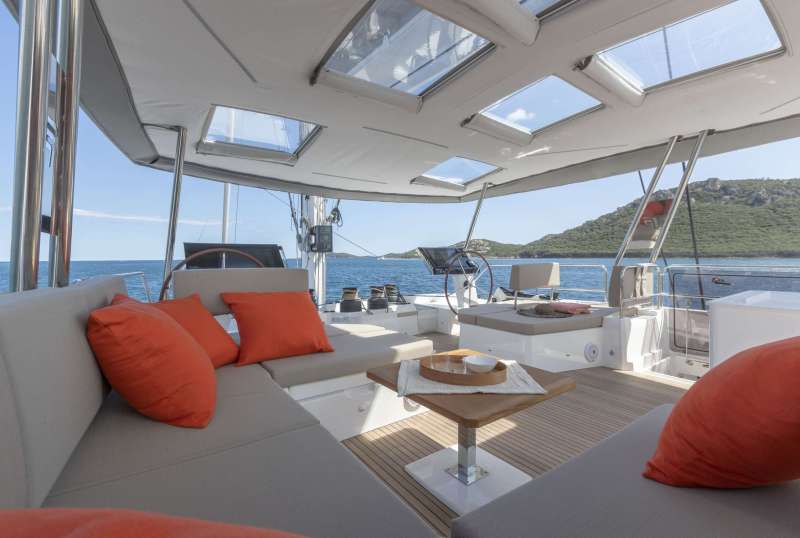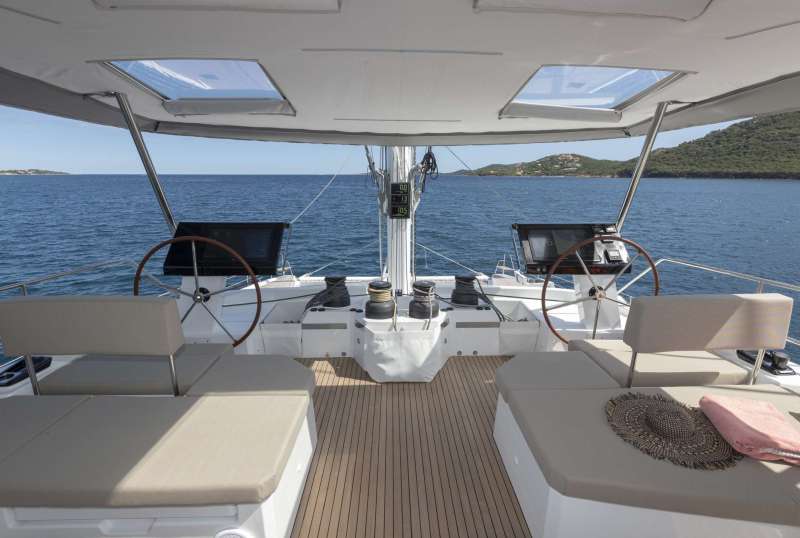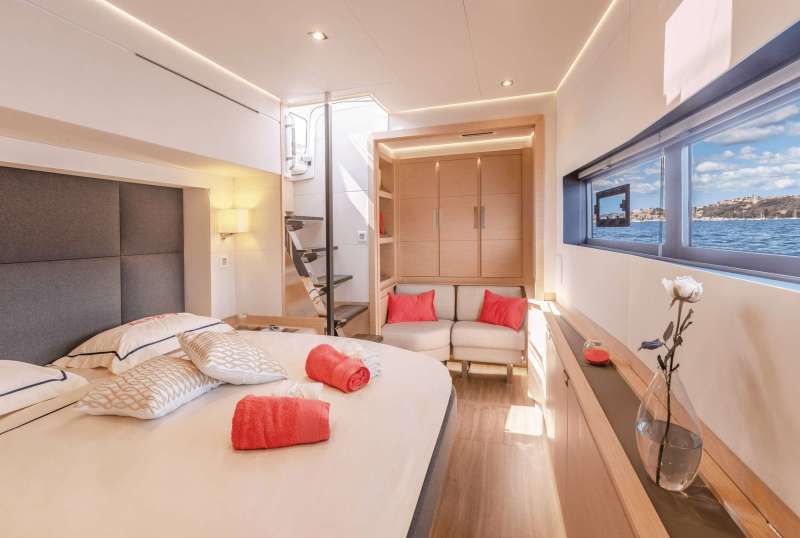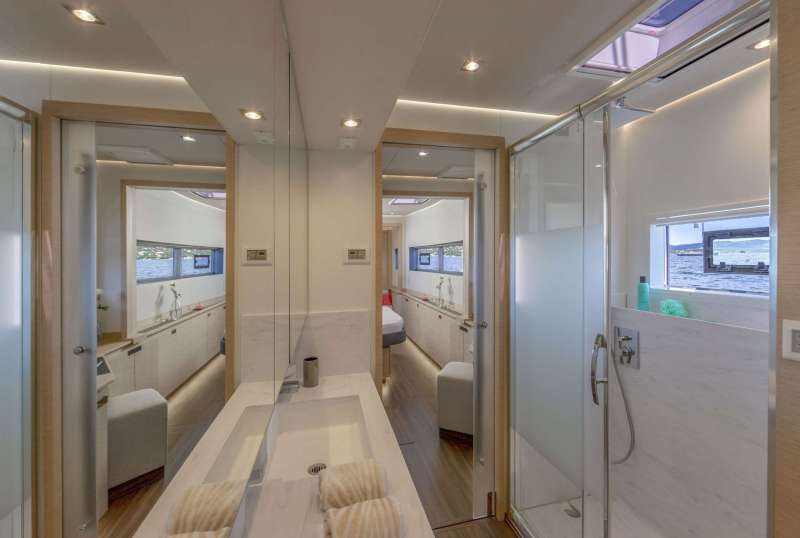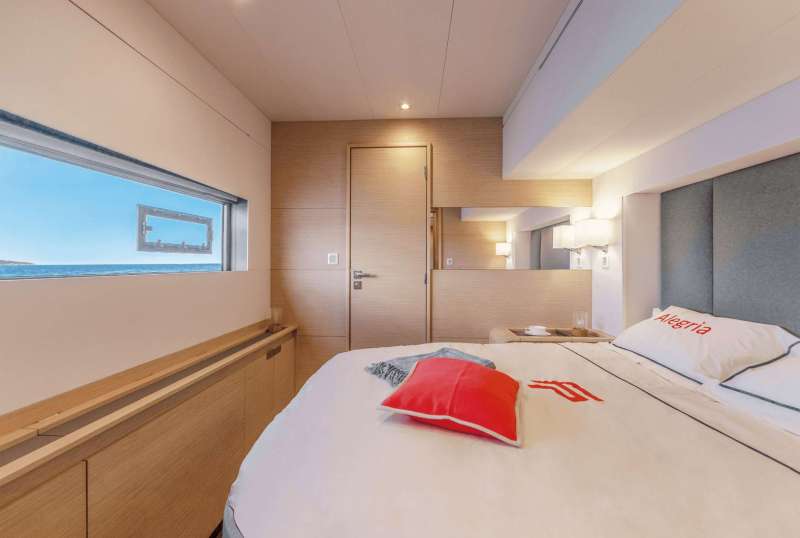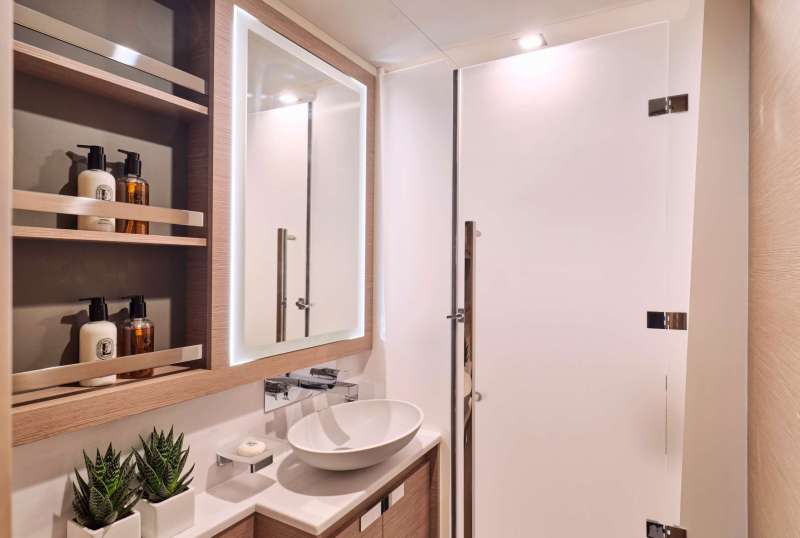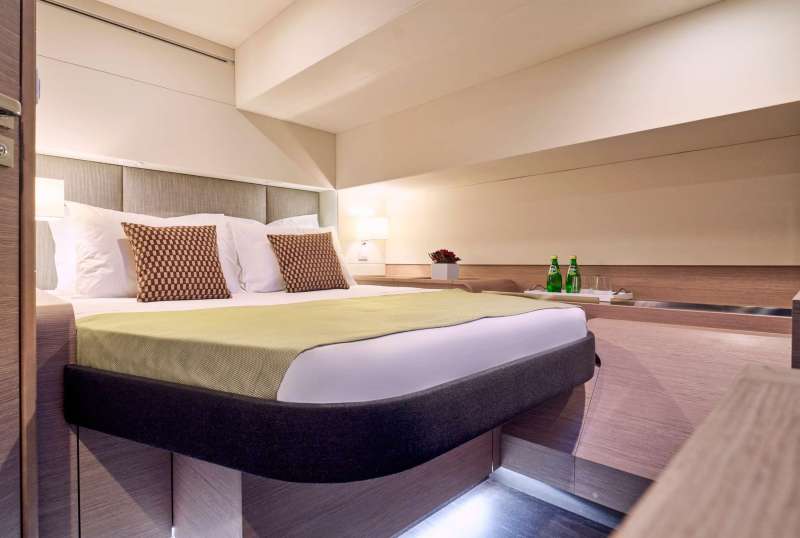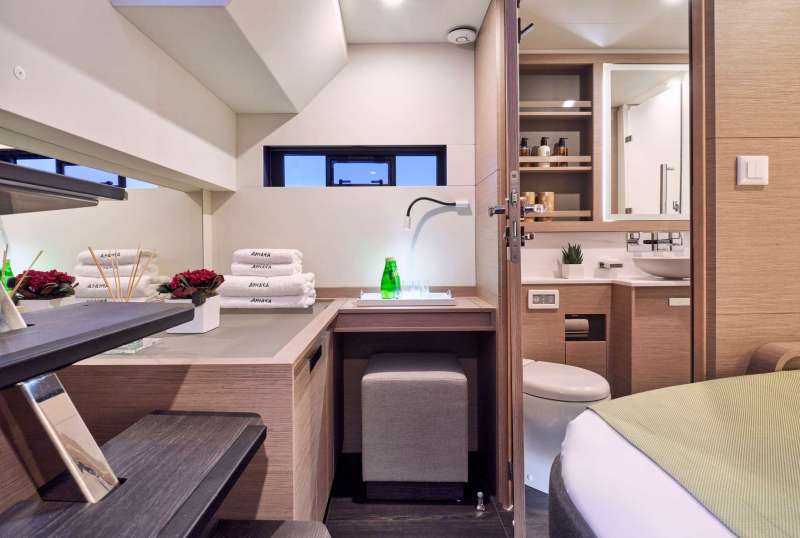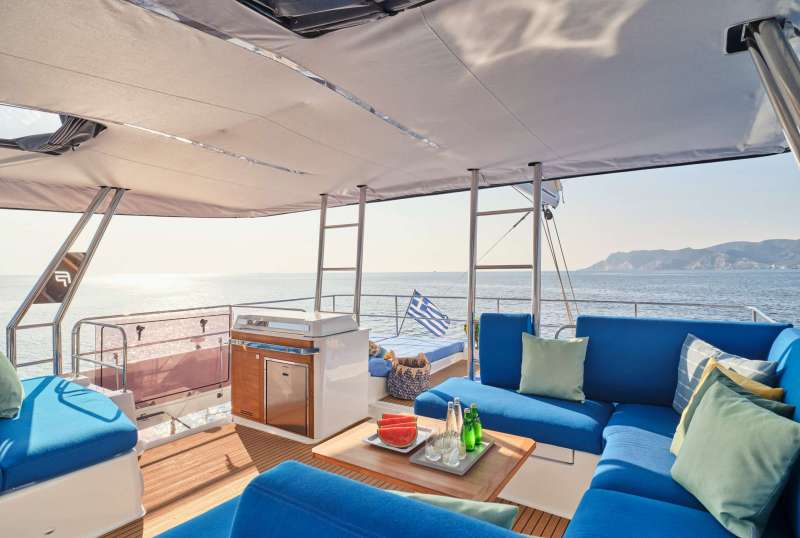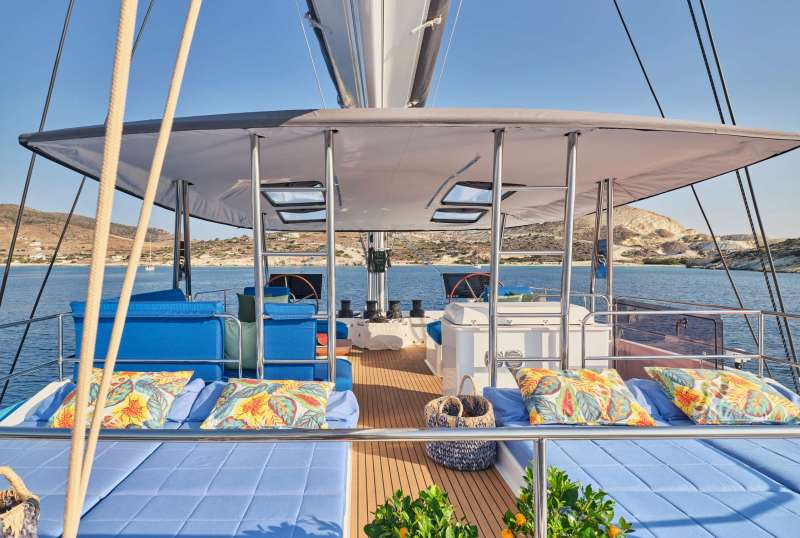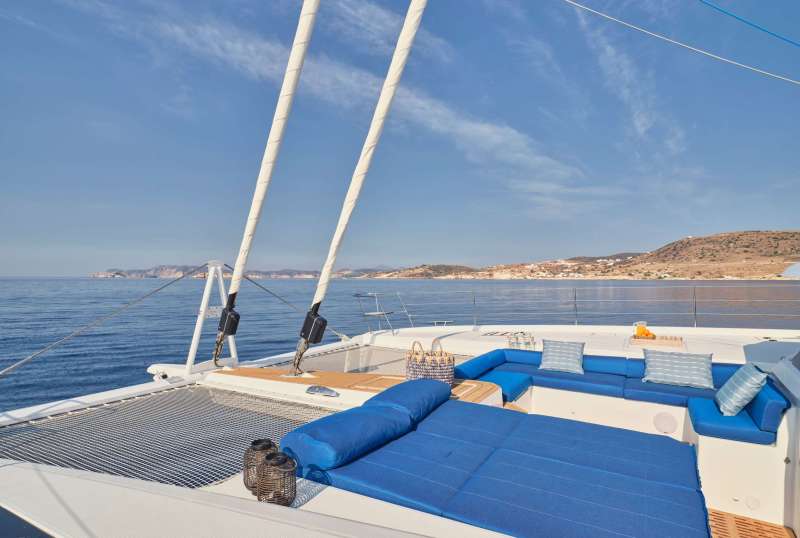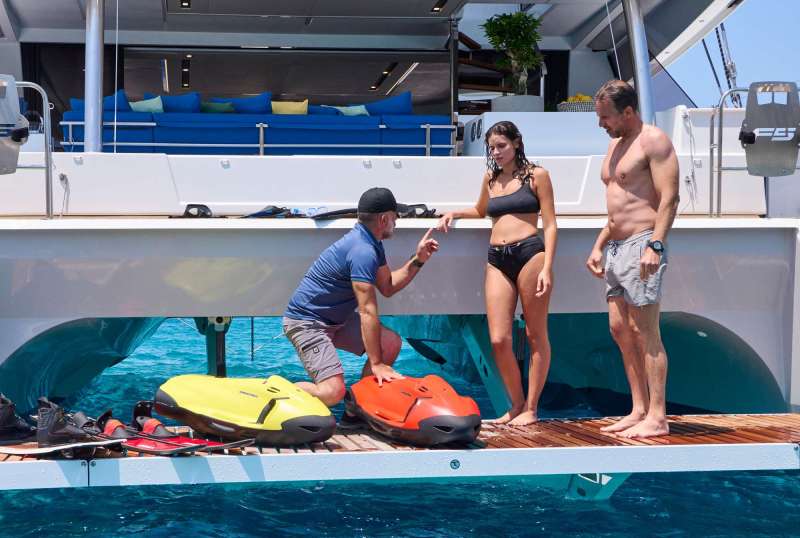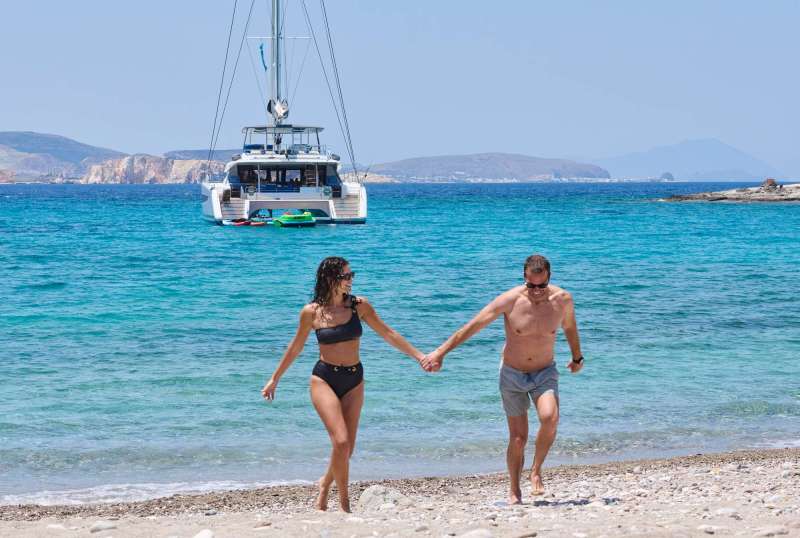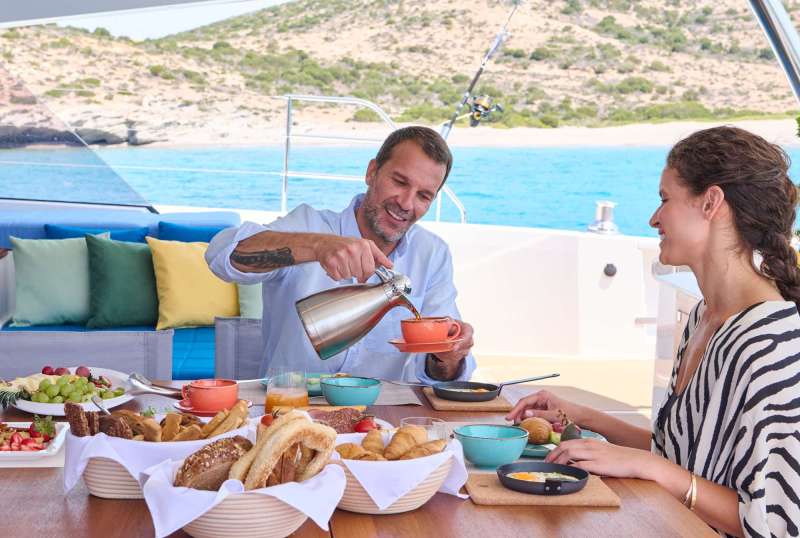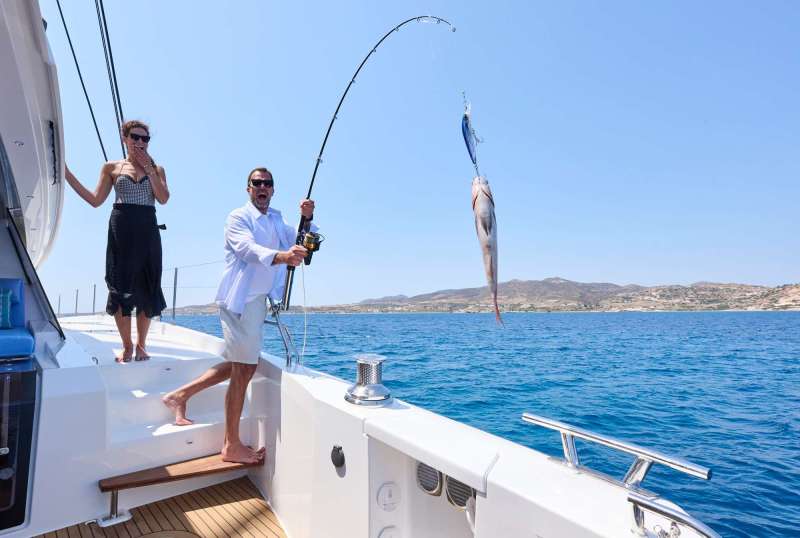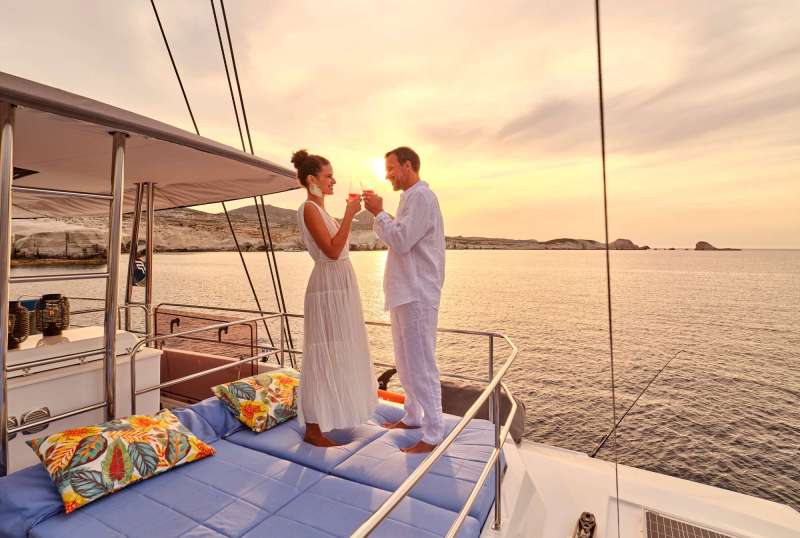 APHAEA
From €32,500/week
5 cabins
67 ft
Fountaine Pajot
10 guests
Built: 2023
30 Litres/Hr
10. Serenissima | 67ft
Serenissima is a luxury catamaran charter for your Greece yacht charter vacation. The flybridge together with the forward deck offers plenty of space for sunbathing and relaxing and the aft cockpit is a great area for socializing and alfresco dining.
After your trip with the Serenimissa crew, you will forge a new friendship with them. The captain will guide you through the secluded attractions, as well as underwater caves. From food, and water activities to the locations, you will have an unforgettable experience.
Toys and Amenities
Serenissima comes with a 4,60 m. dinghy, as well as two folding bicycles, SUPs, water skis, wakeboard, monoskis, inflatables and fishing and snorkelling gear.
Guest Experience:
"We knew from the moment we stepped on Serenissima that our journey with you was going to be memorable. Your complete attentiveness and endless good cheer has sustained a group thrown together for 12 days. It's clear you get on together and enjoy what you do. And we thank you all for making our trip meemorable".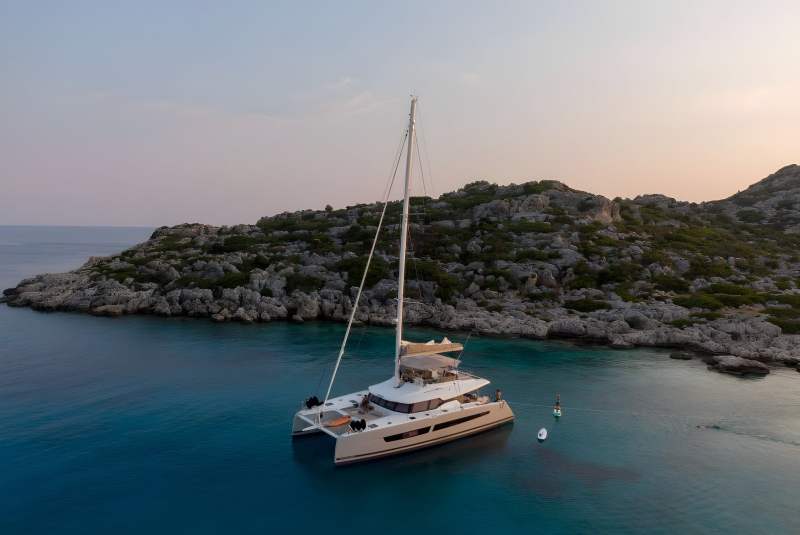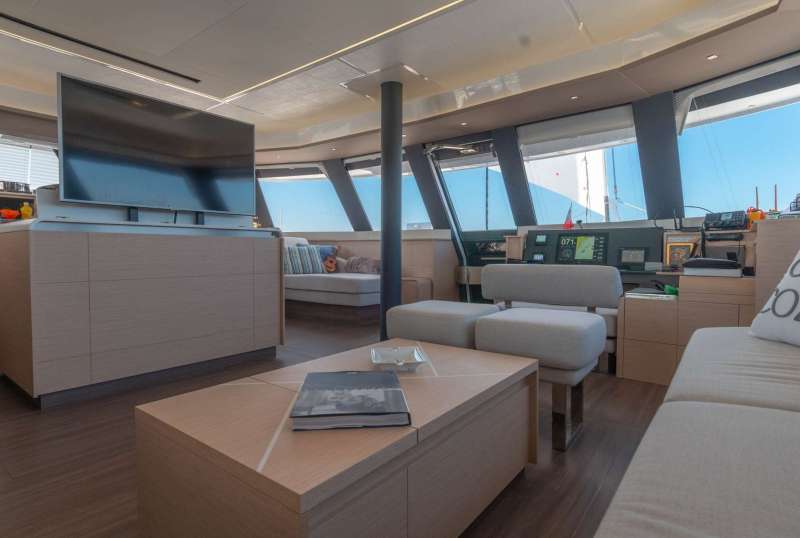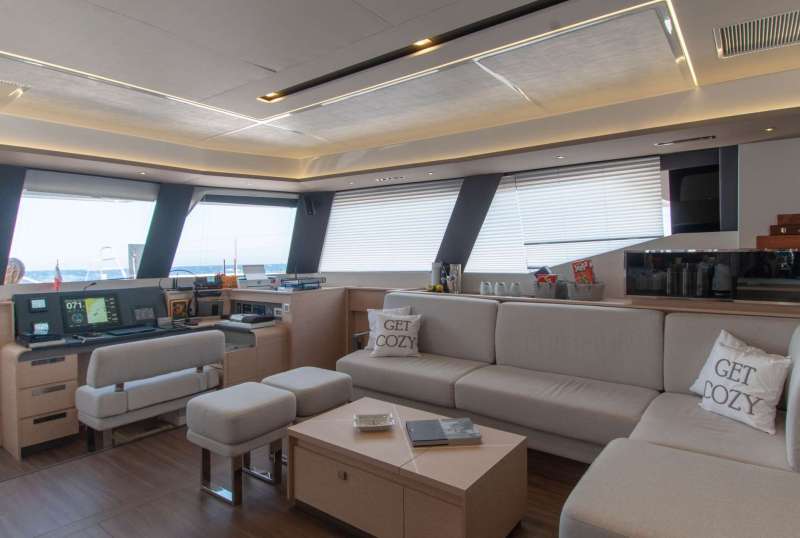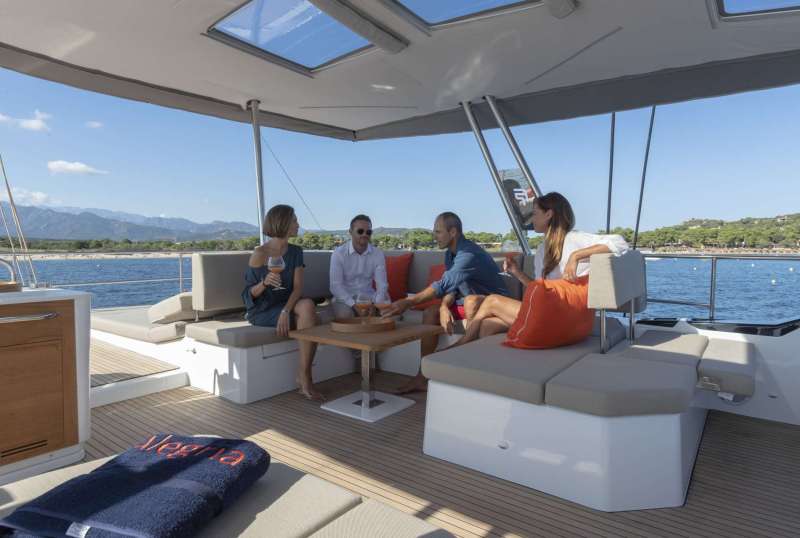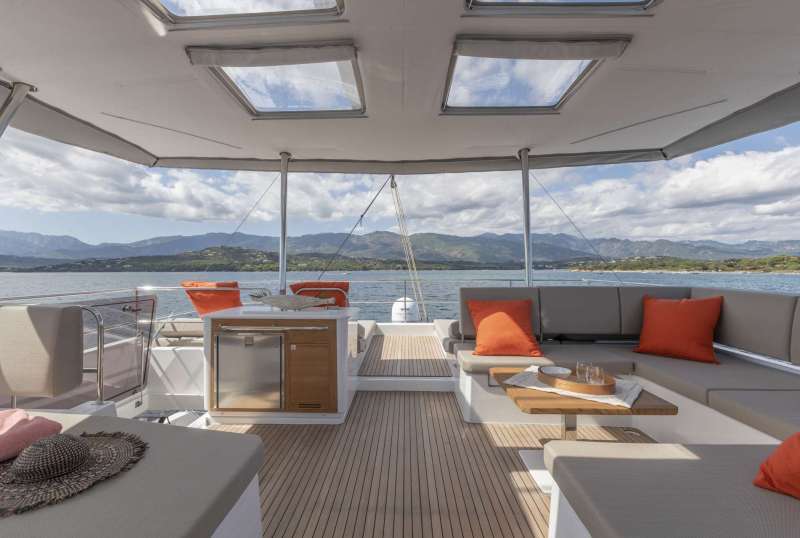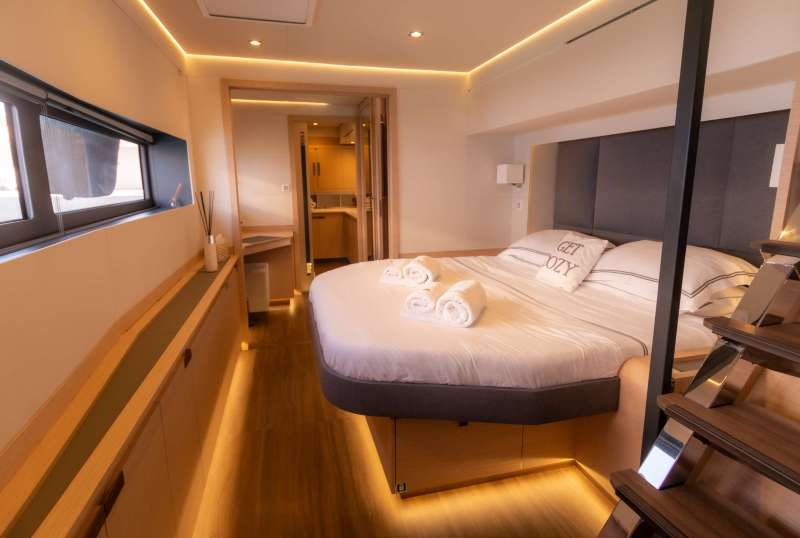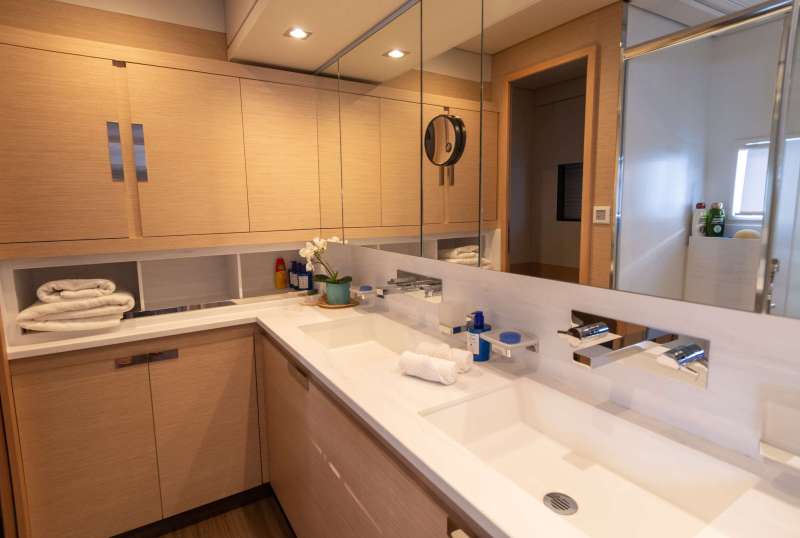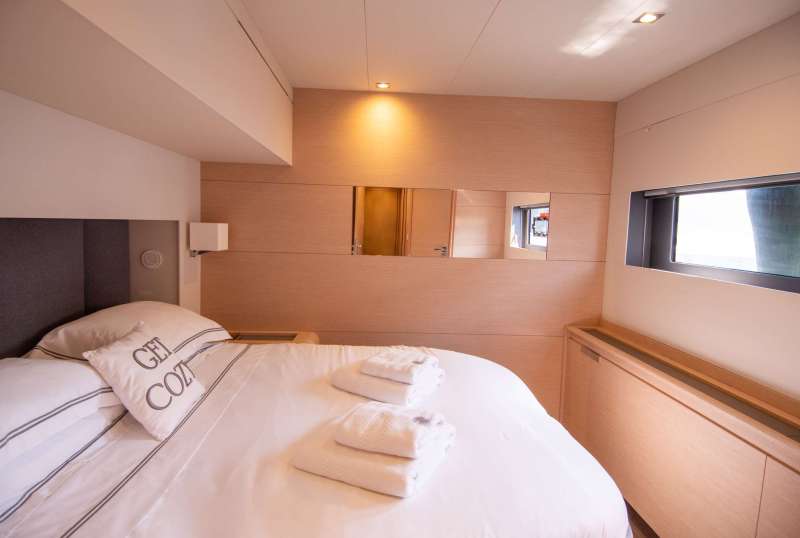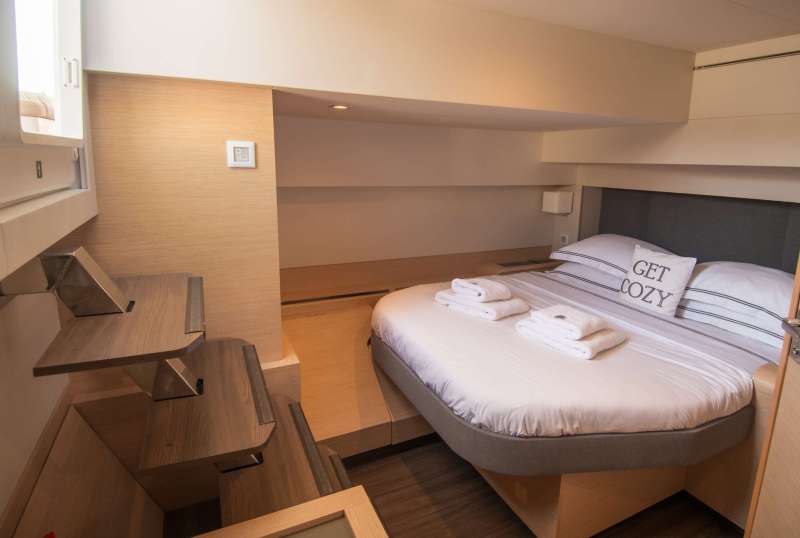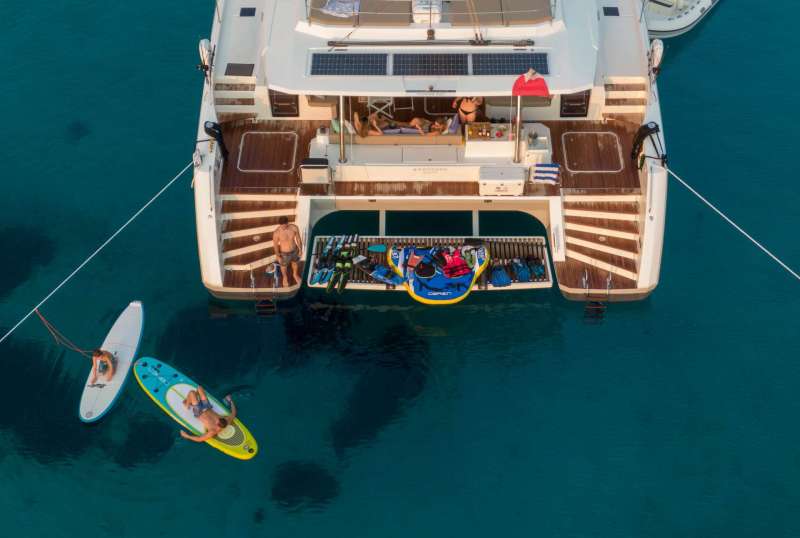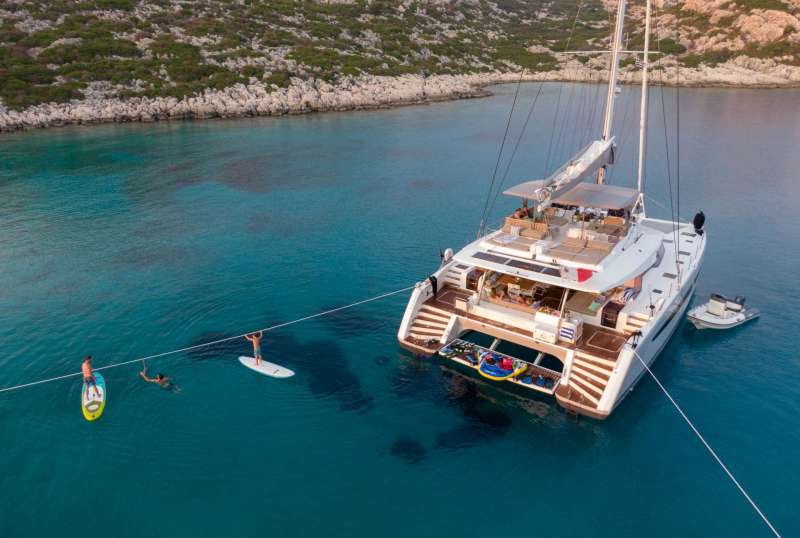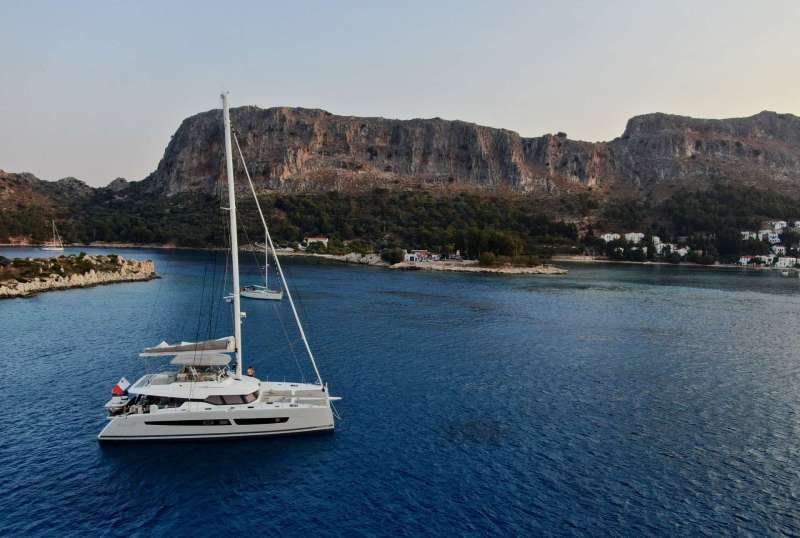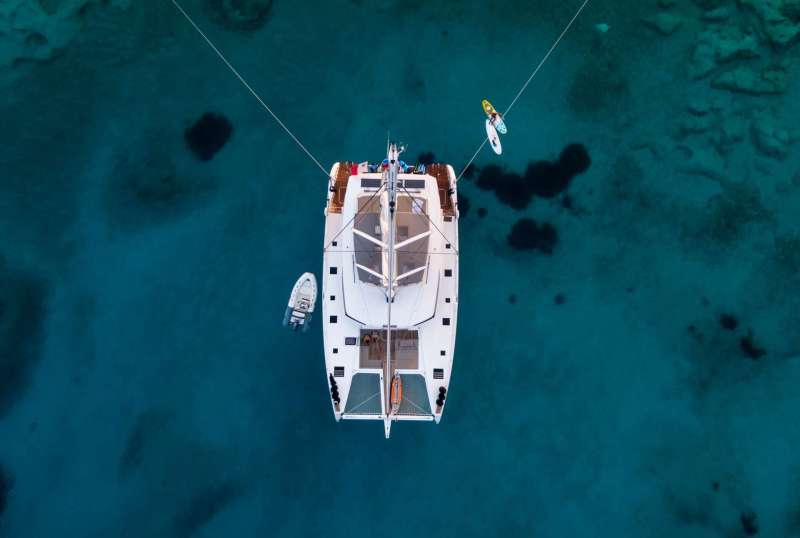 SERENISSIMA
From €30,500/week
5 cabins
67 ft
Fountaine Pajot
10 guests
Built: 2019
30 Litres/Hr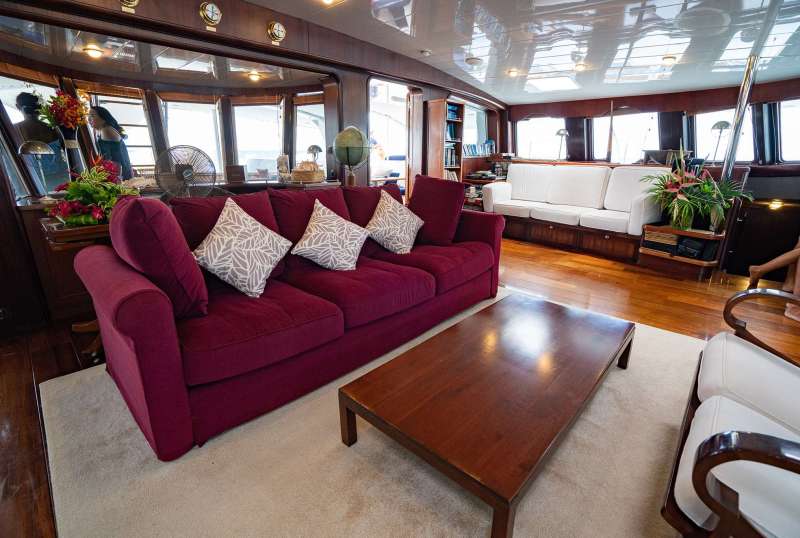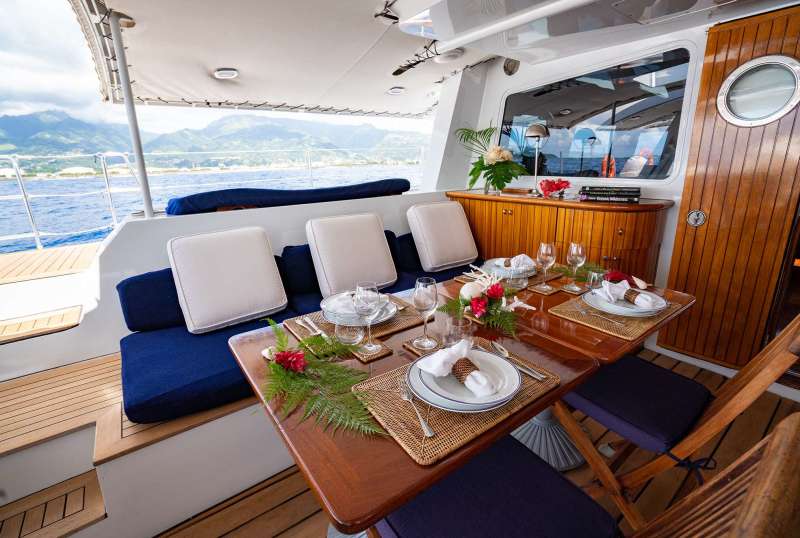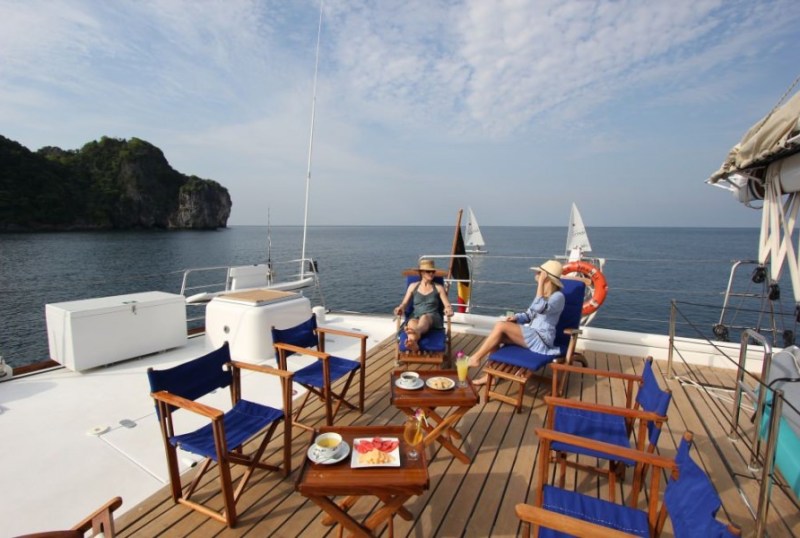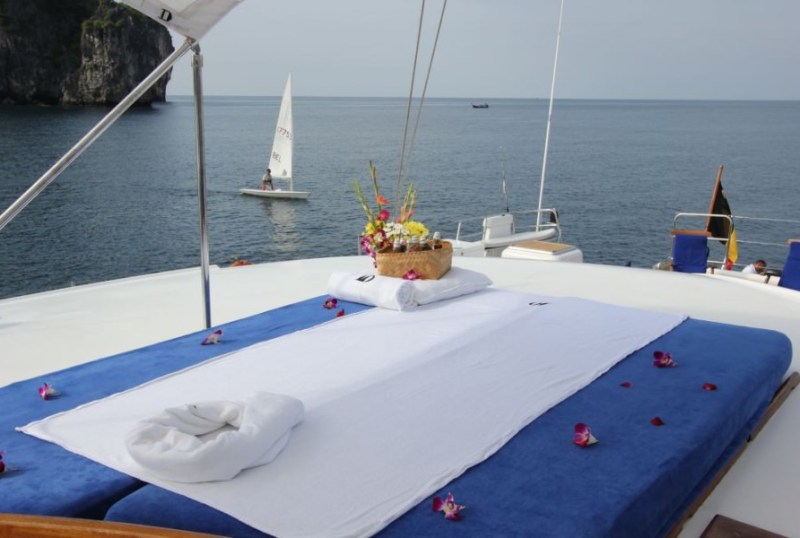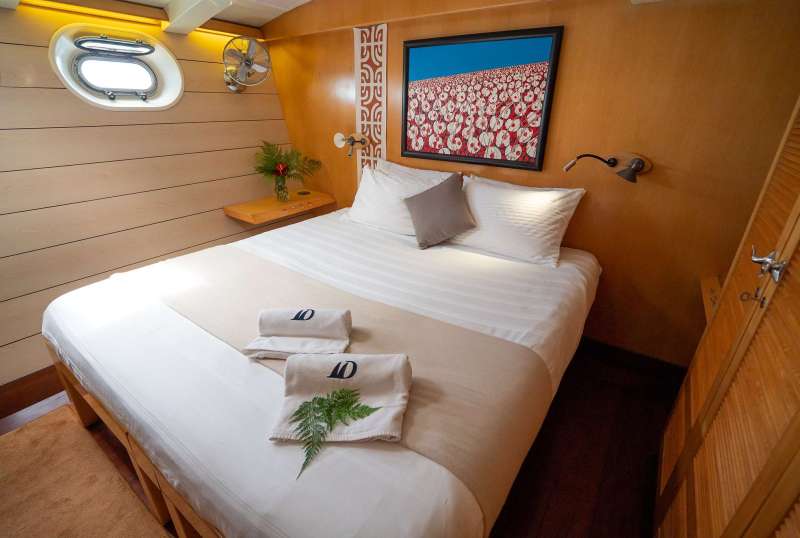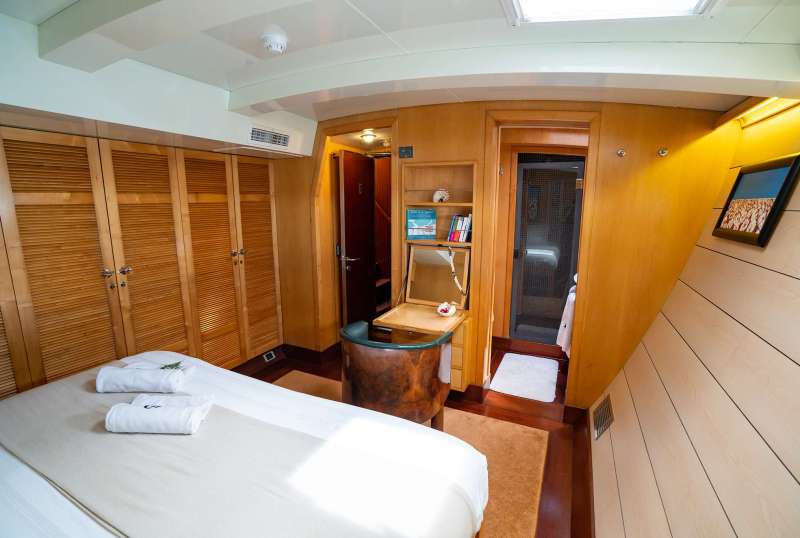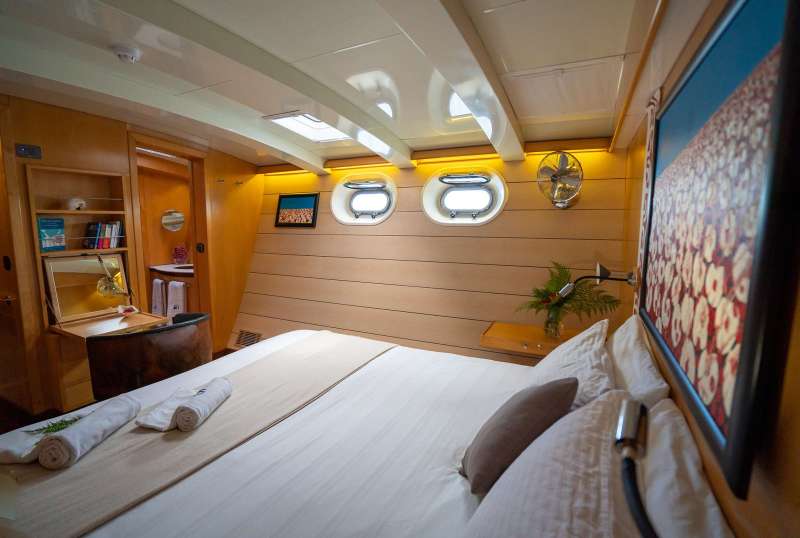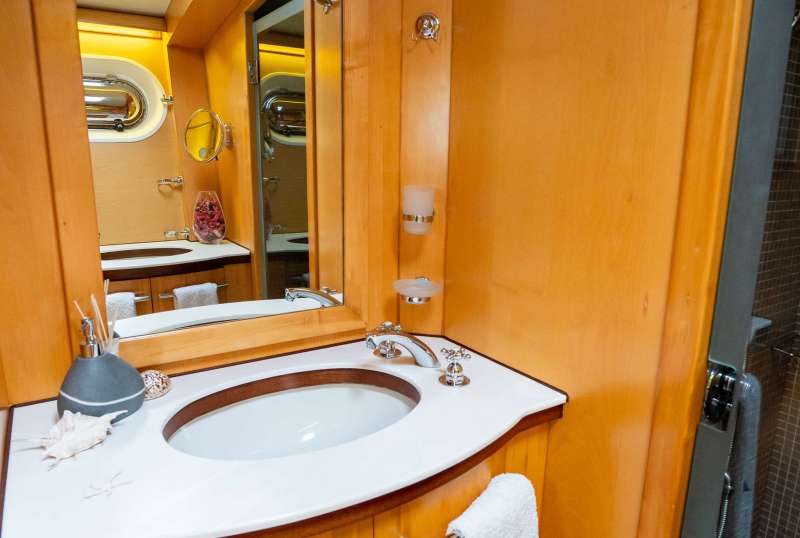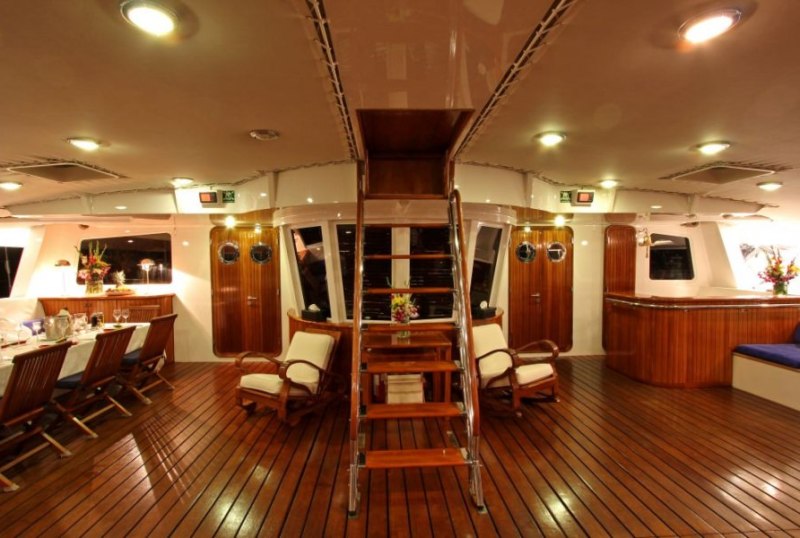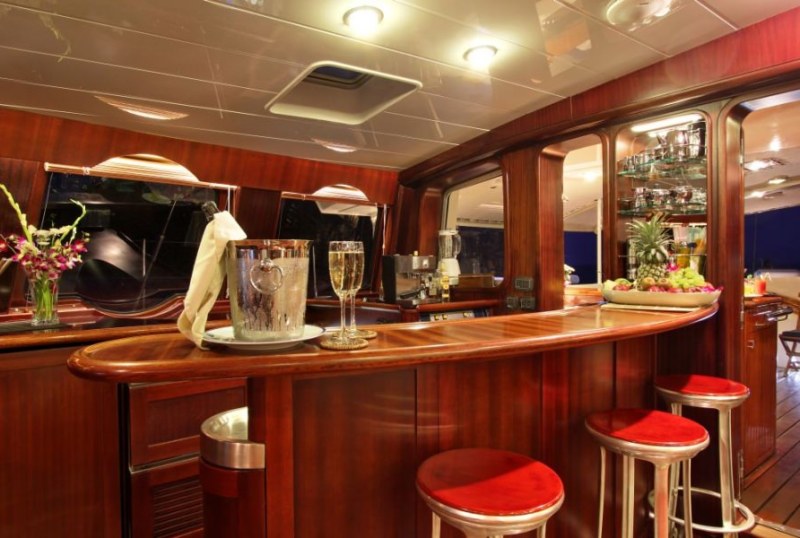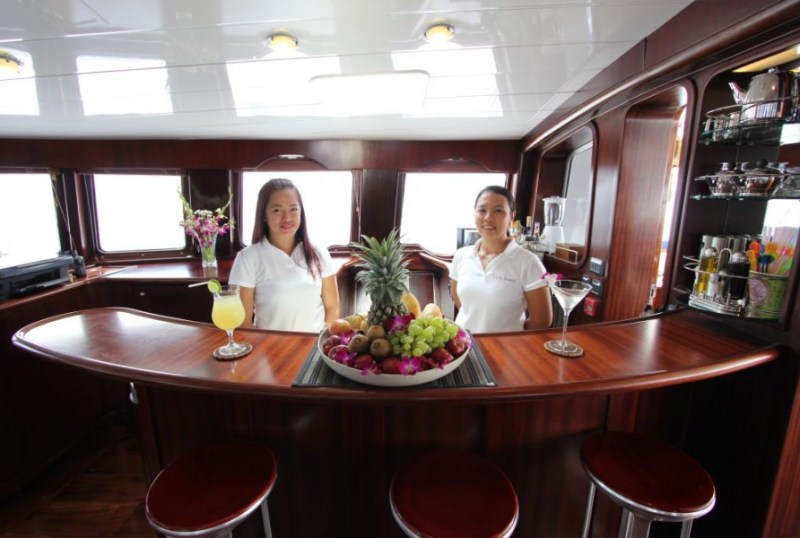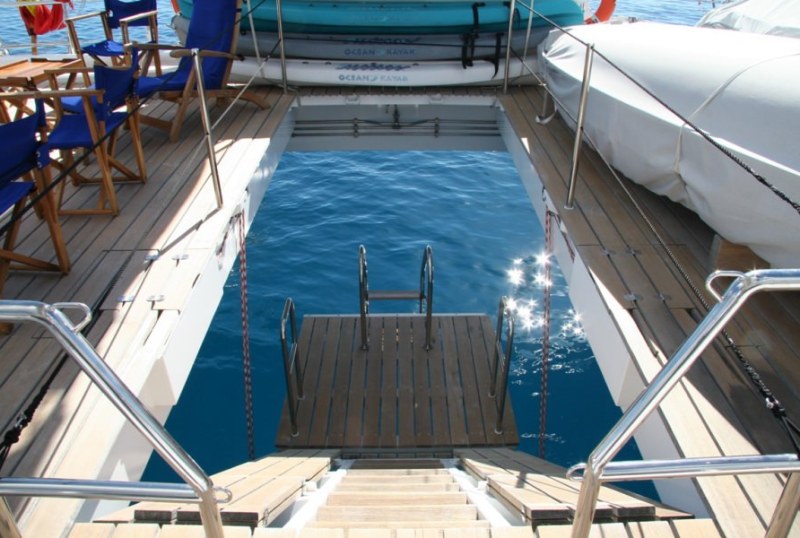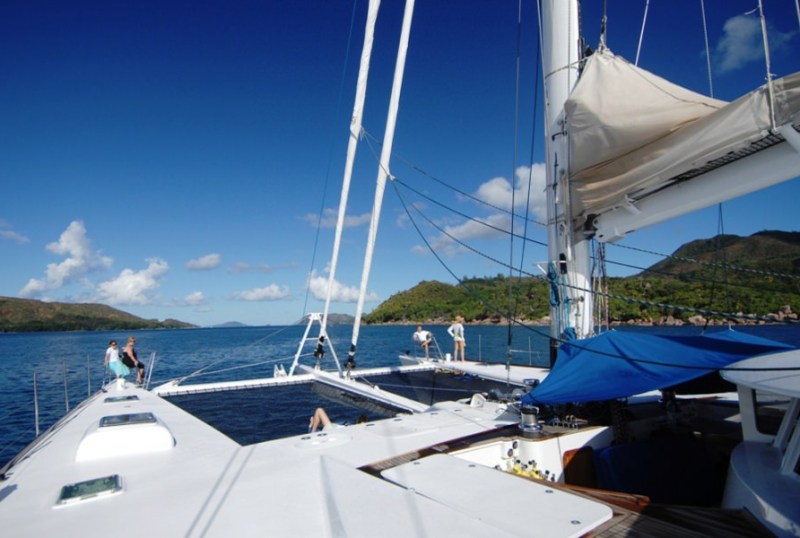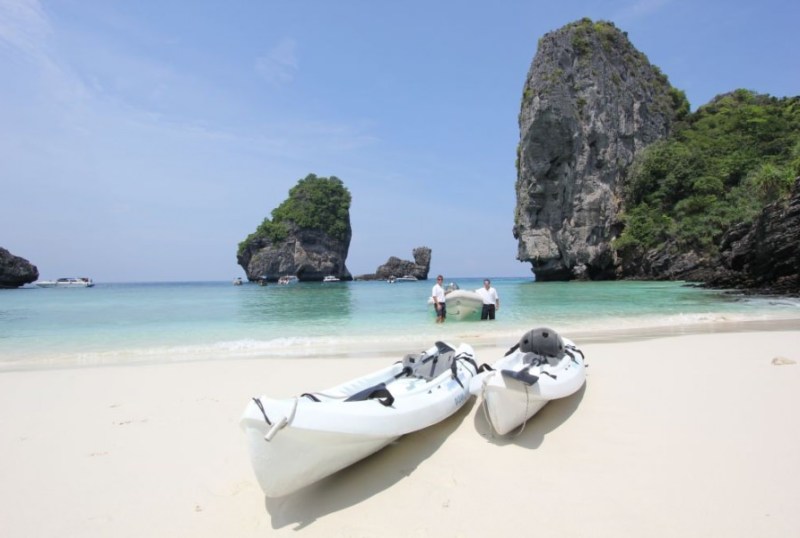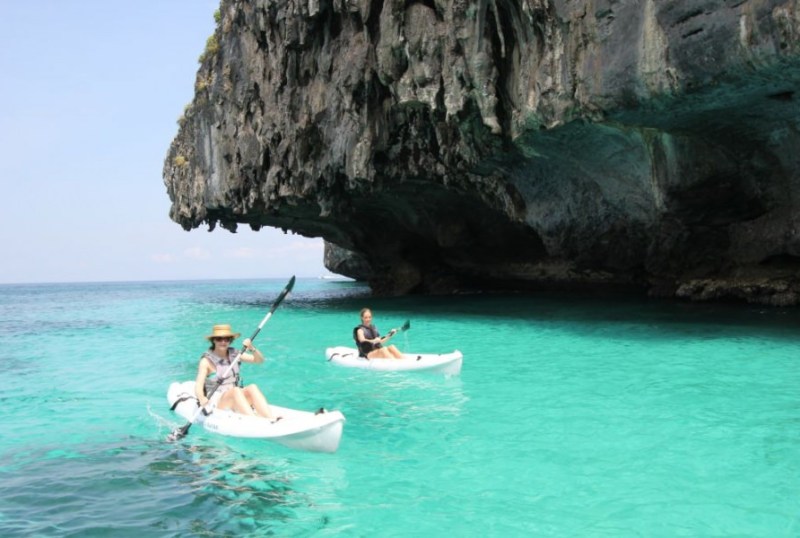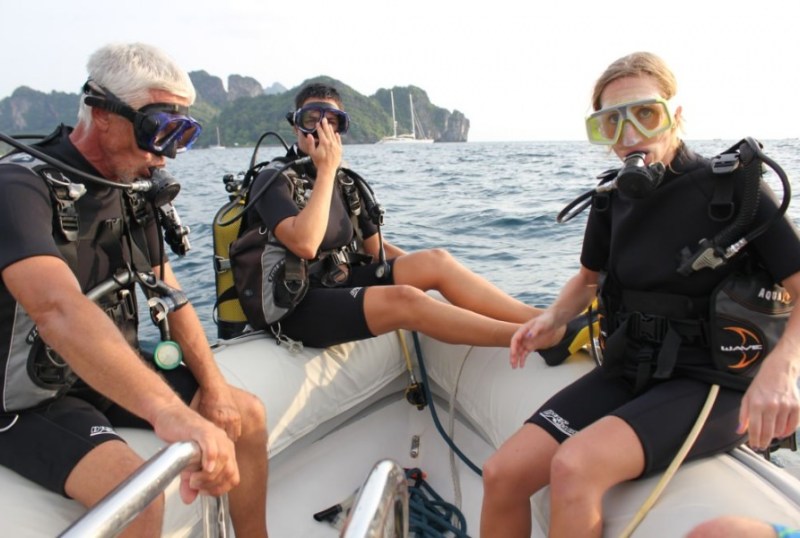 DOUCE FRANCE
From €99,500/week
6 cabins
138 ft
ALU MARINE
12 guests
Refit: 2009 & 2016
60 Litres/Hr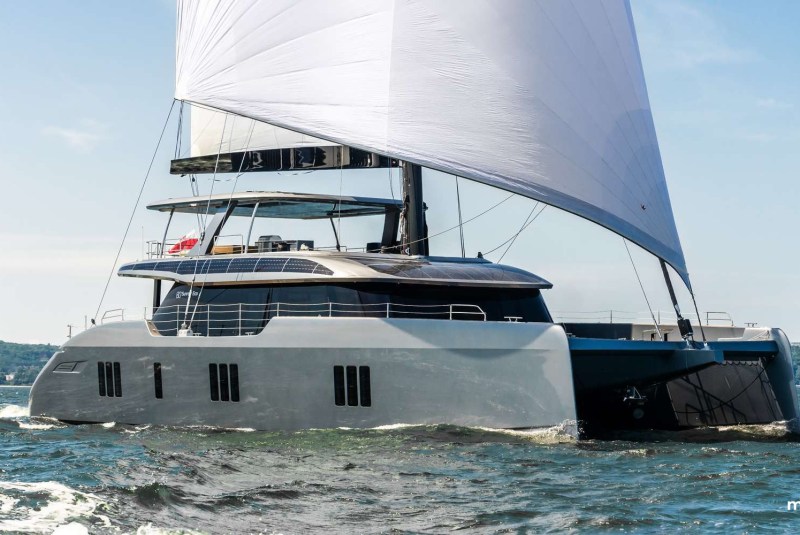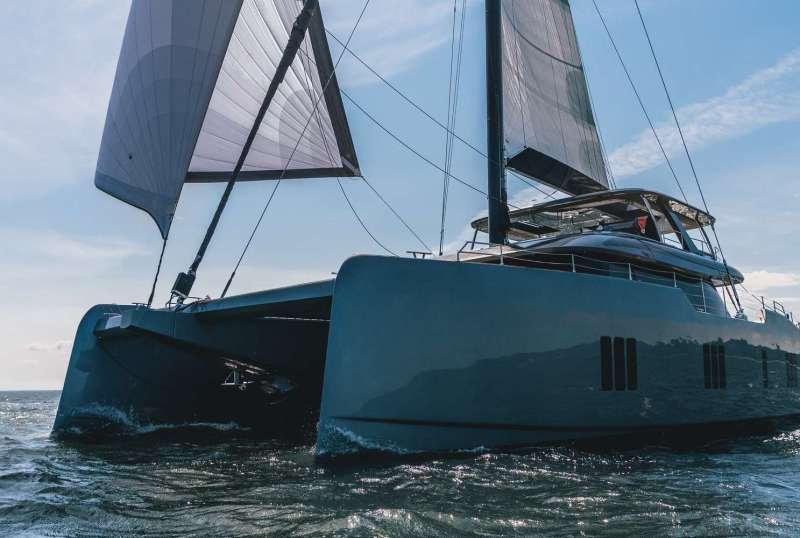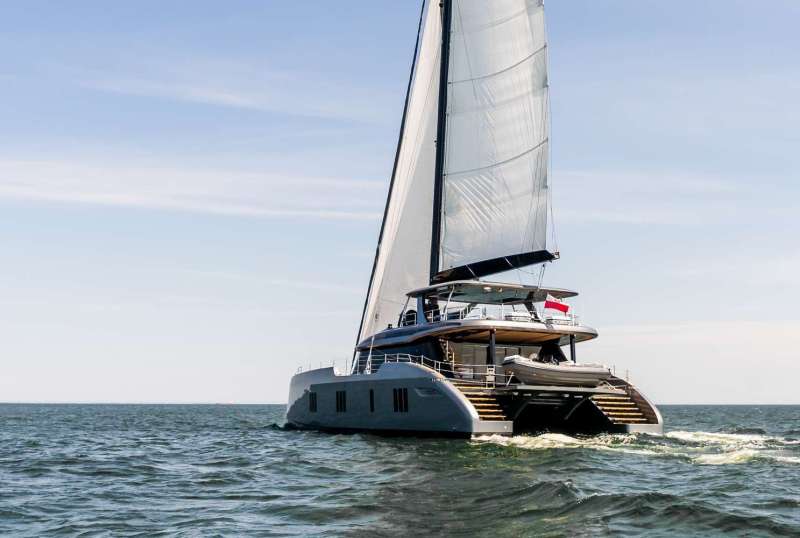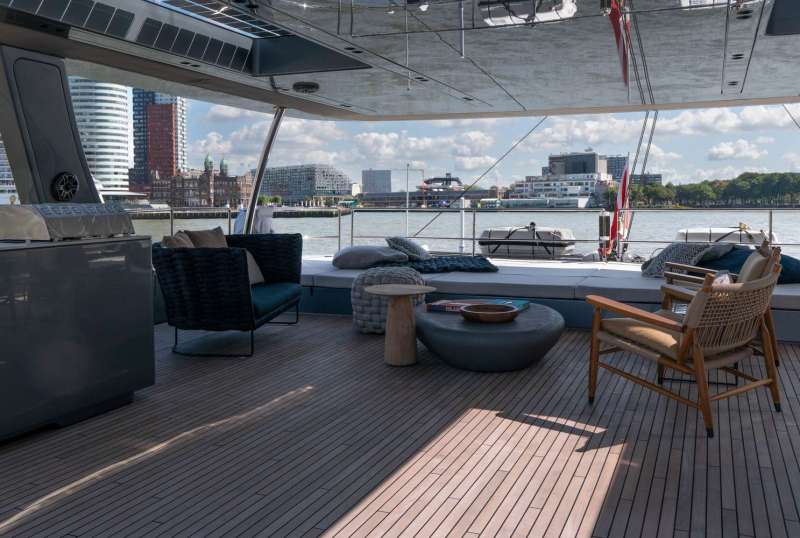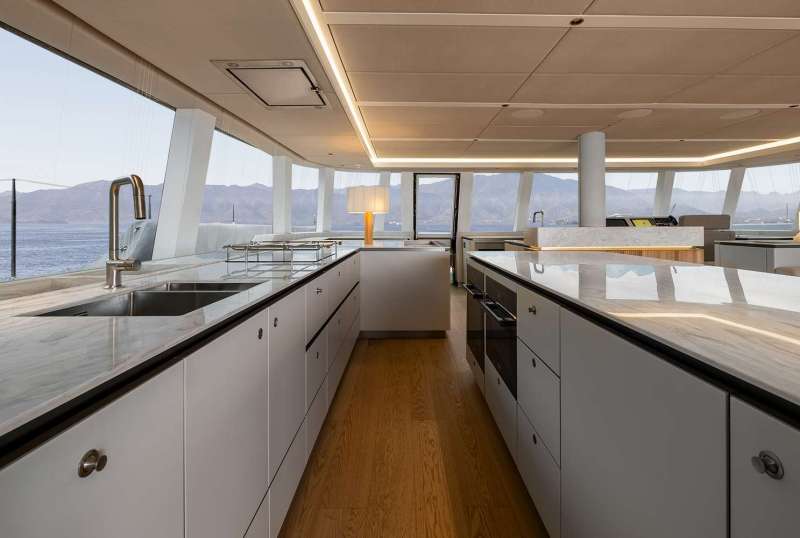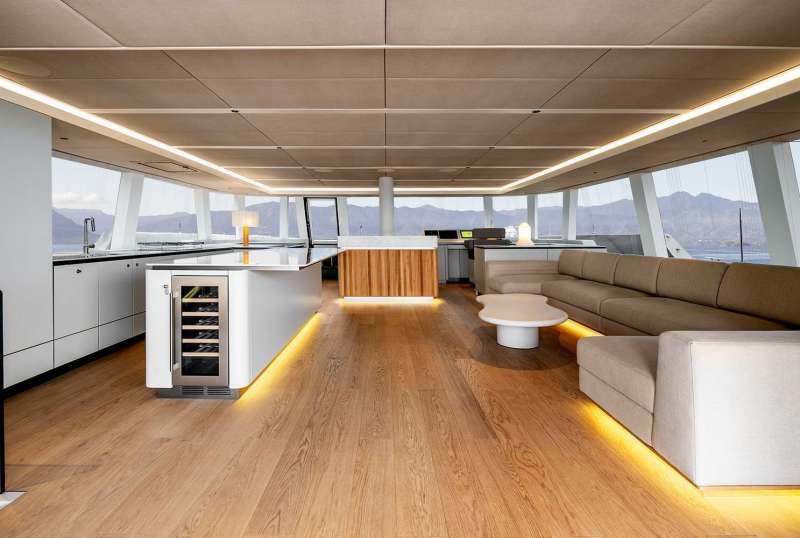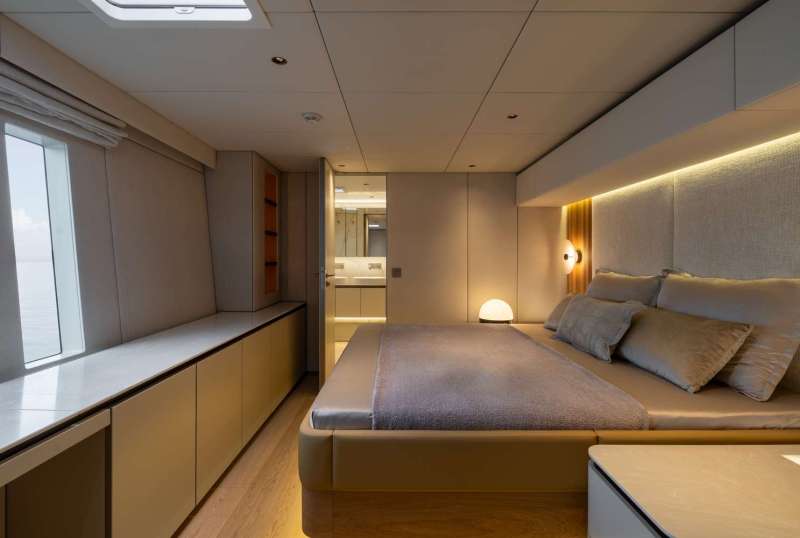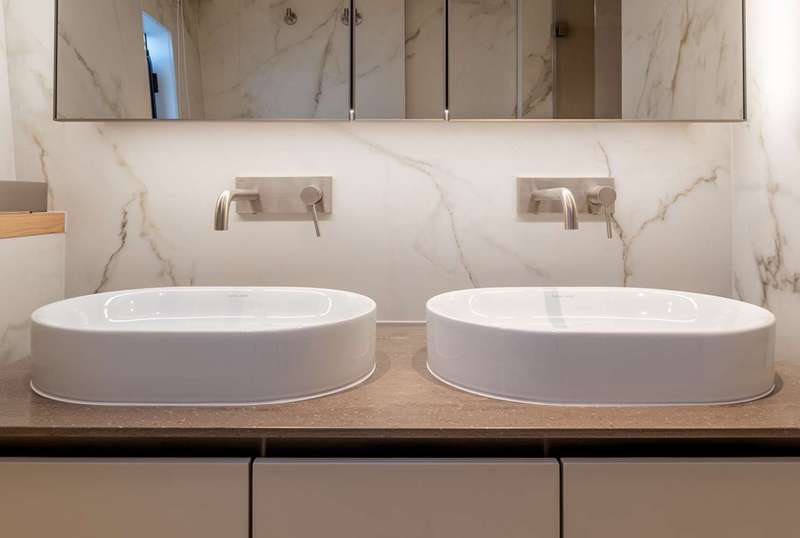 APOLLO 99
From €85,000/week
4 cabins
78 ft
Sunreef Yachts
8 guests
Built: 2023
TBA Litres/Hr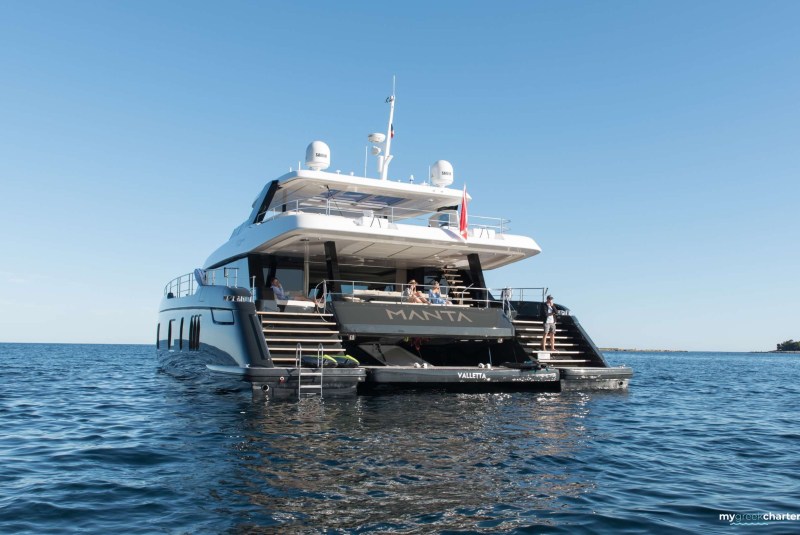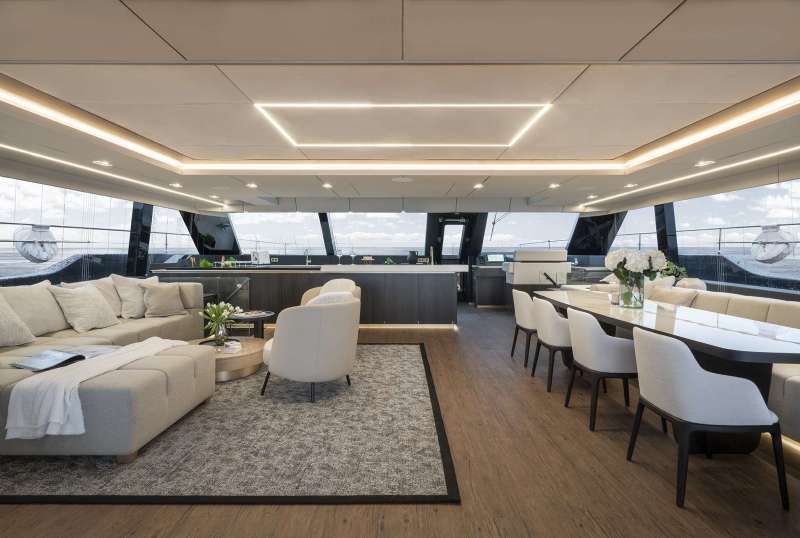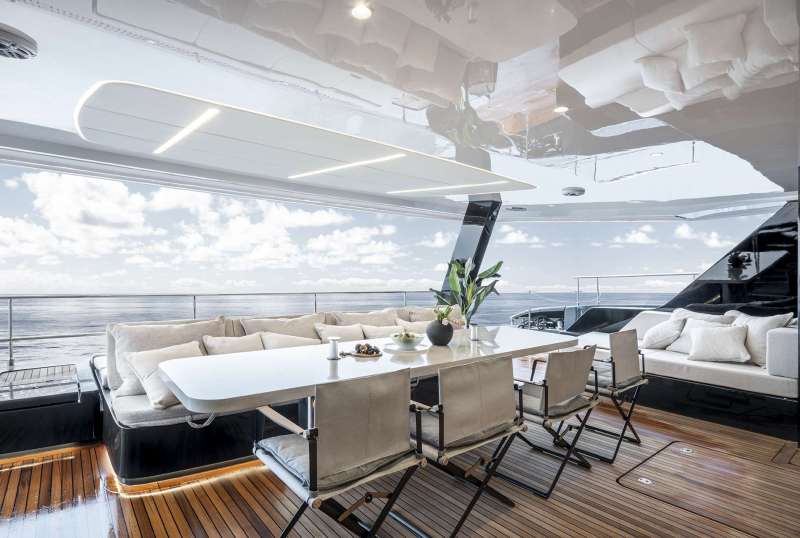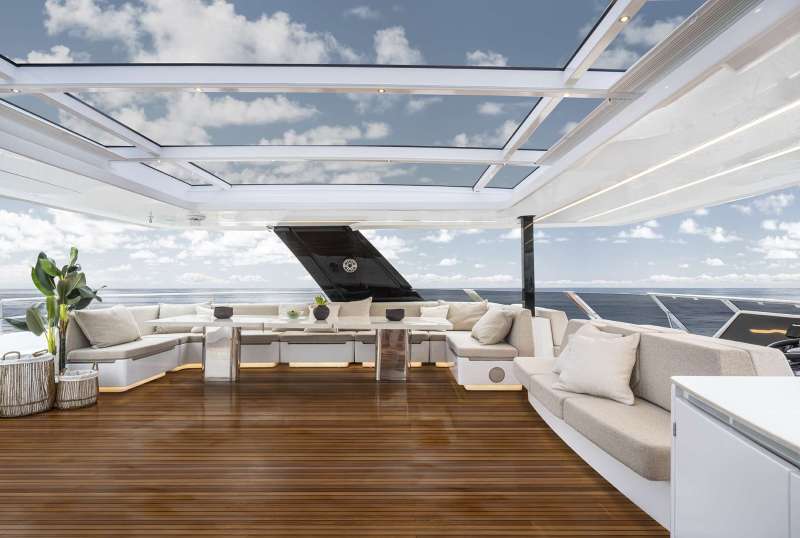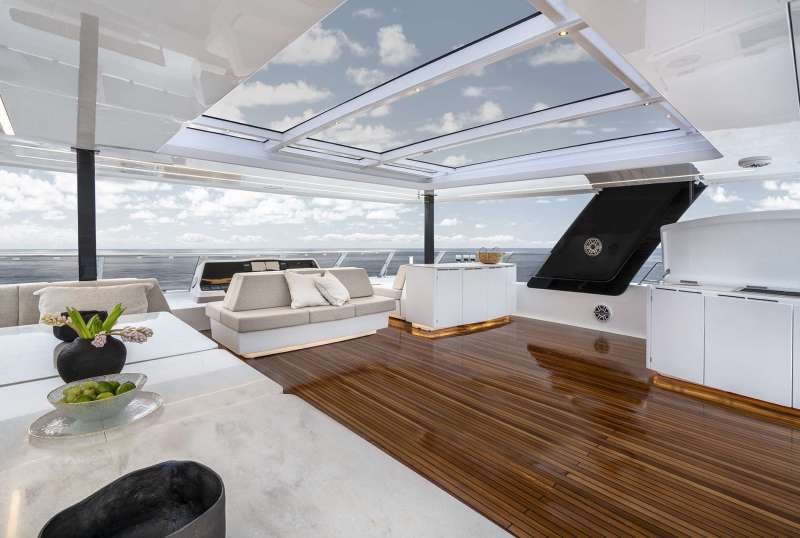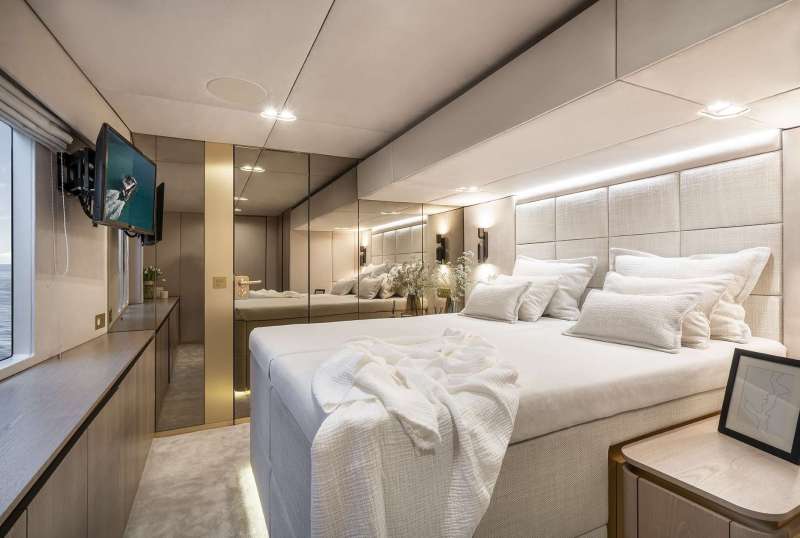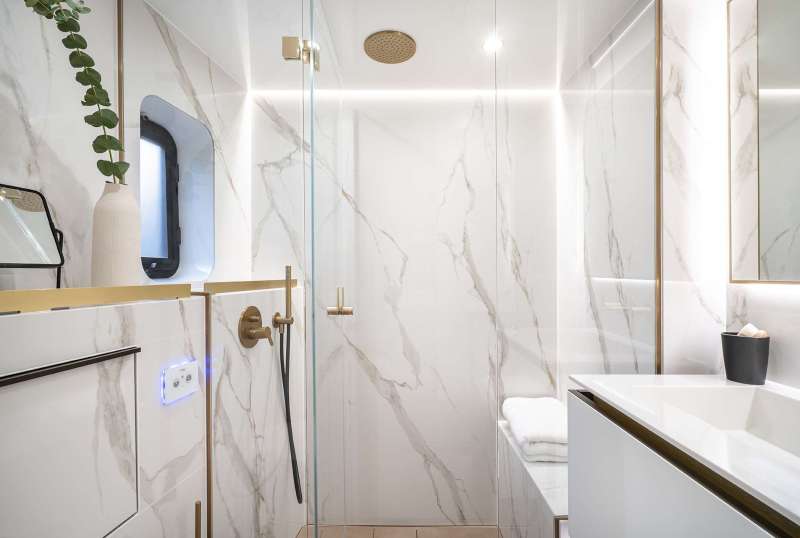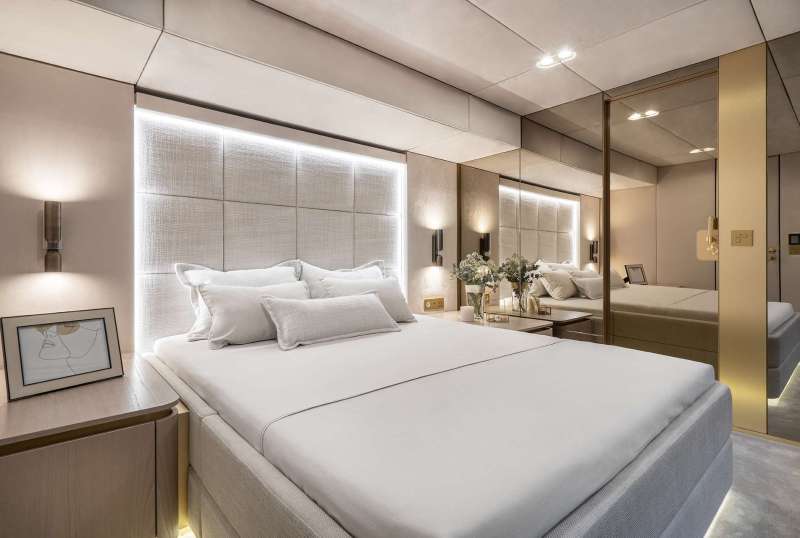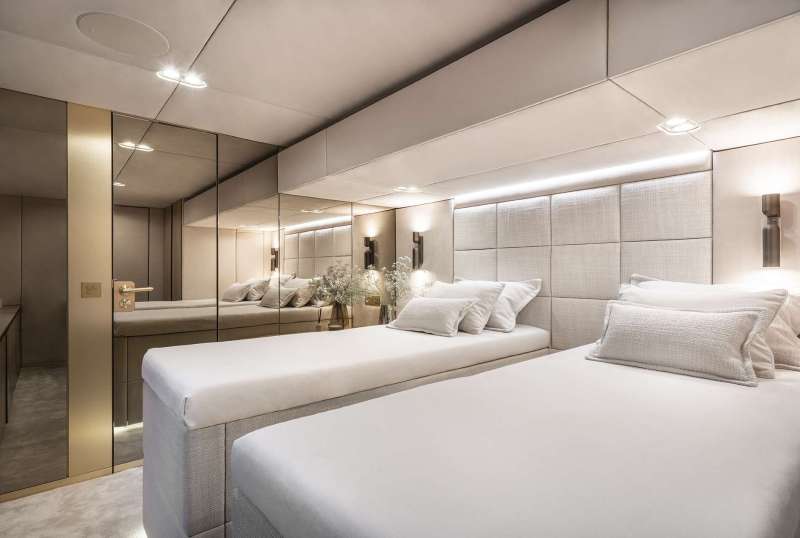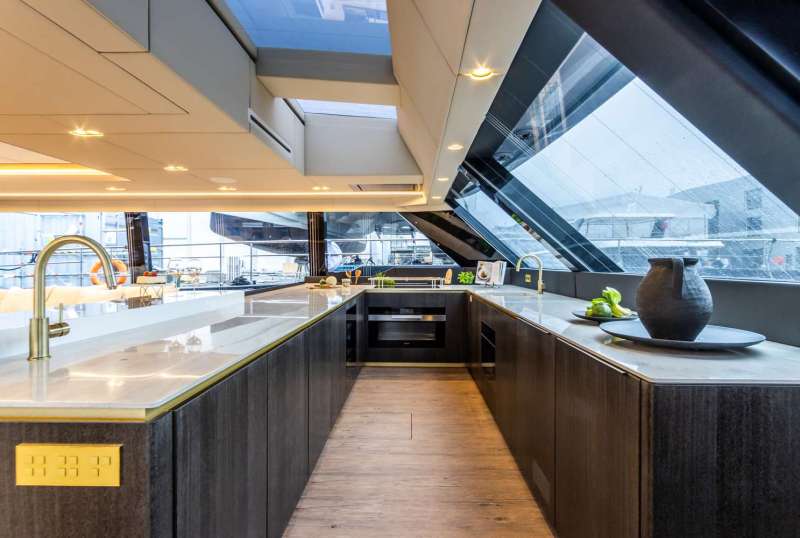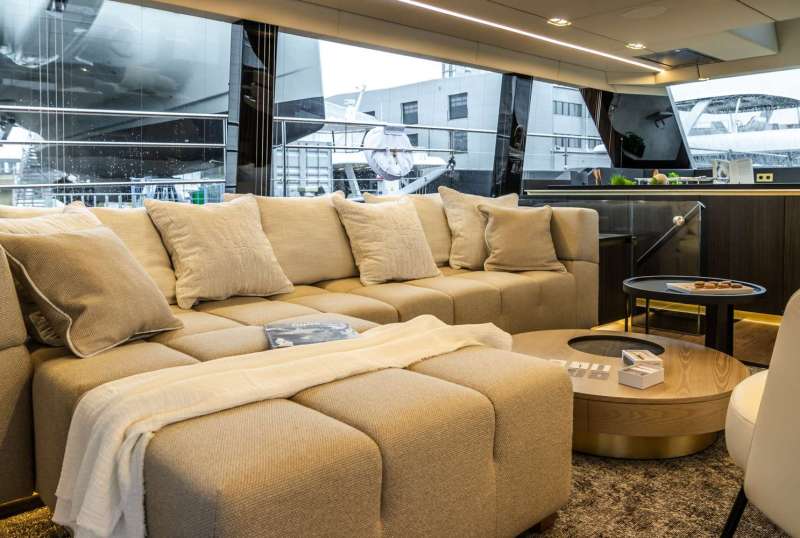 MANTA
From €75,000/week
4 cabins
78 ft
Sunreef Yachts
8 guests
Built: 2022
250 Litres/Hr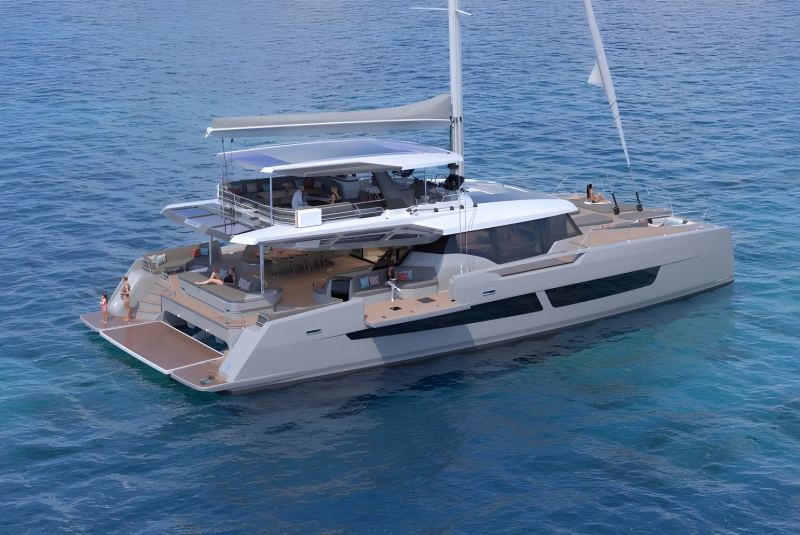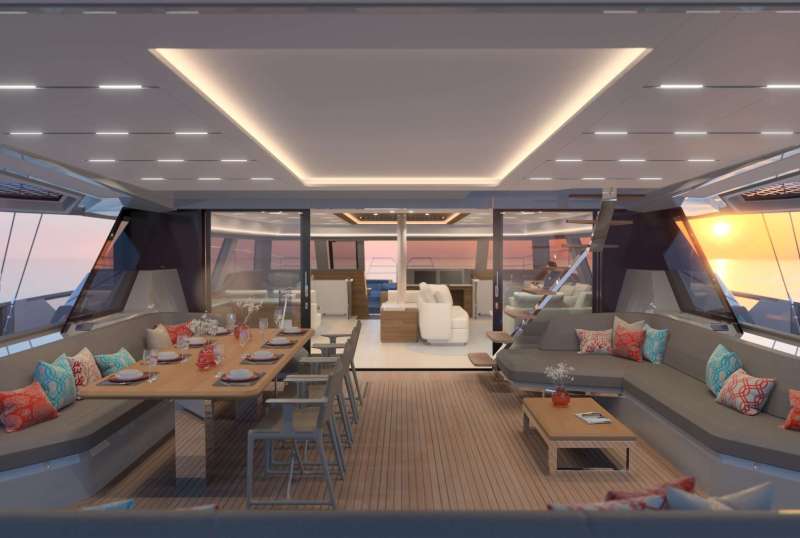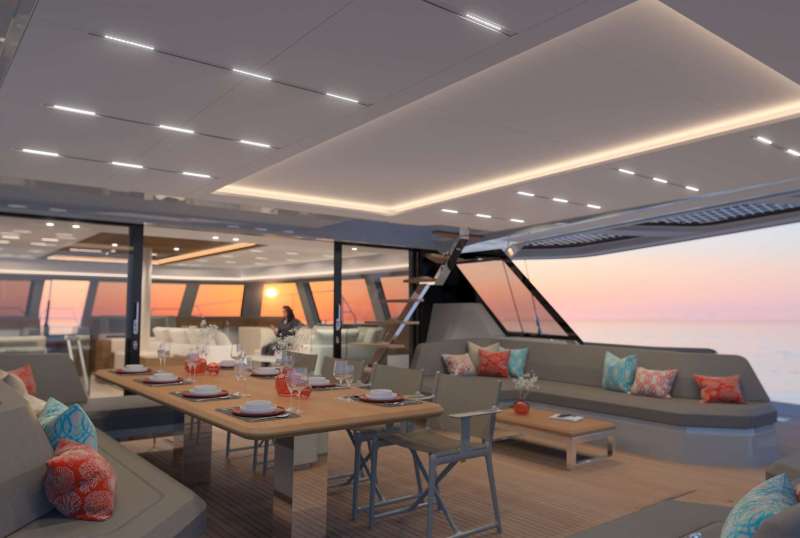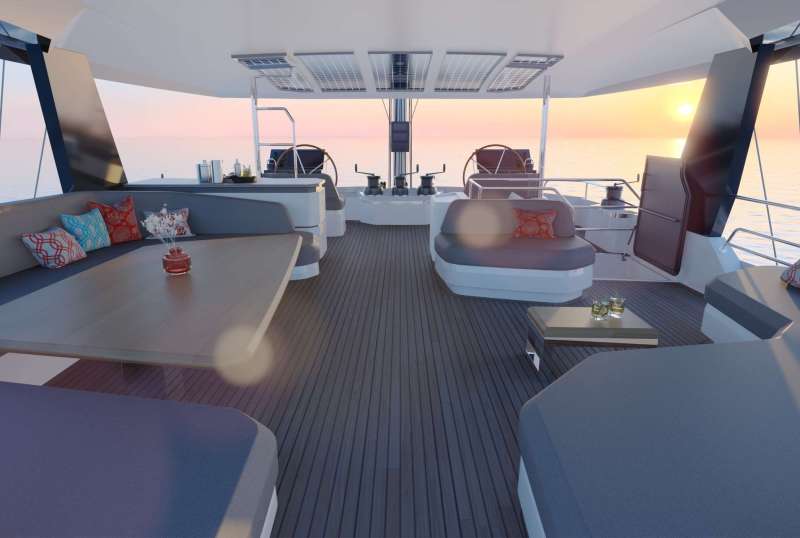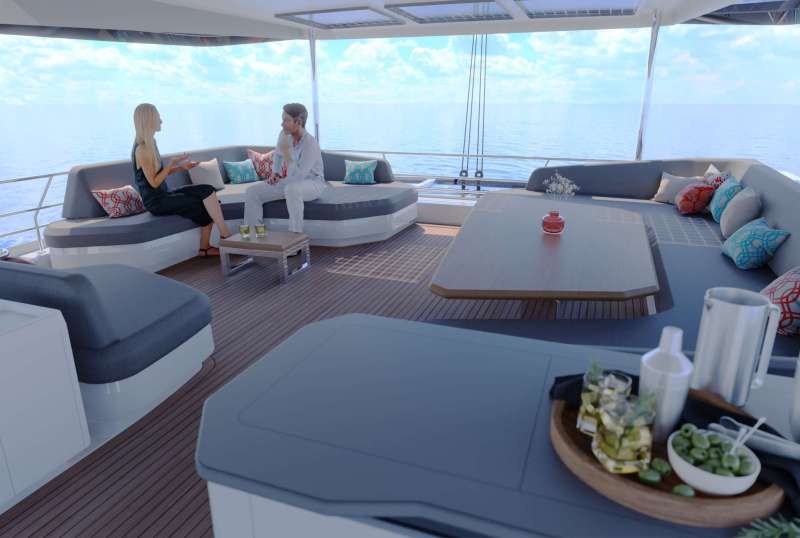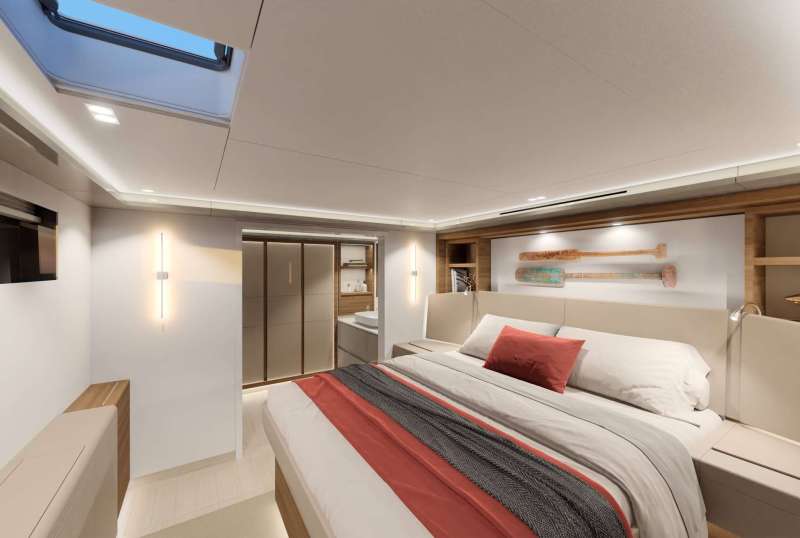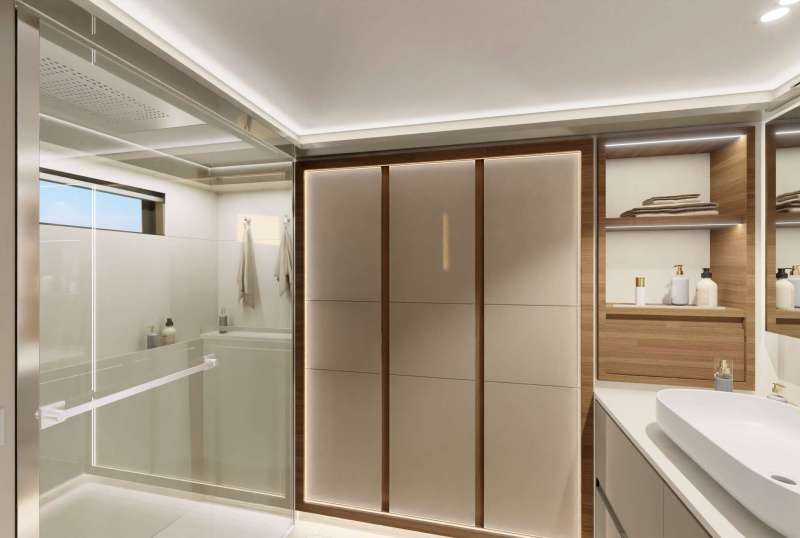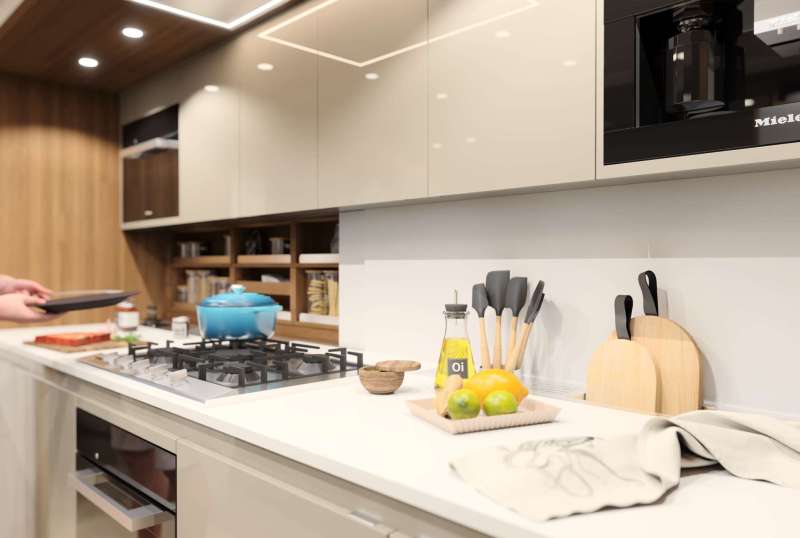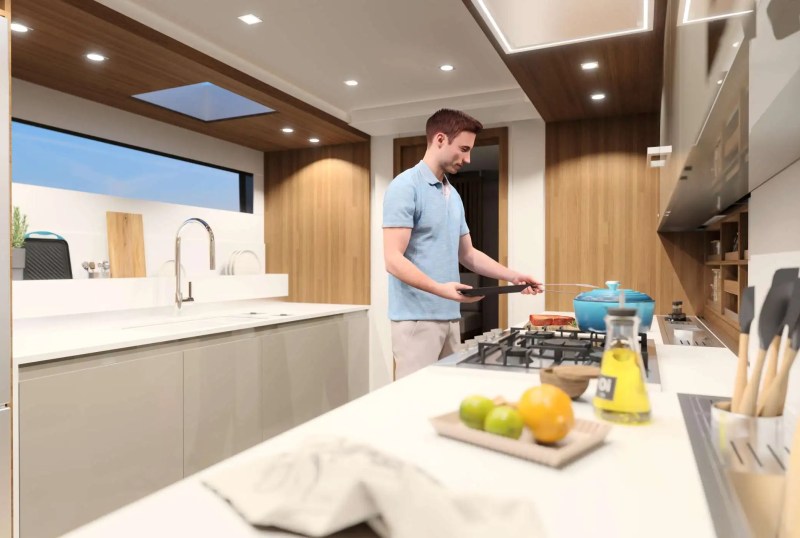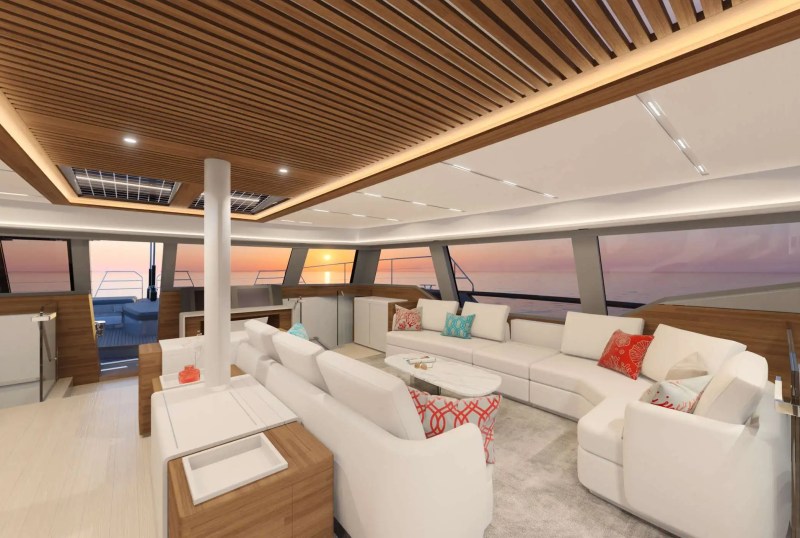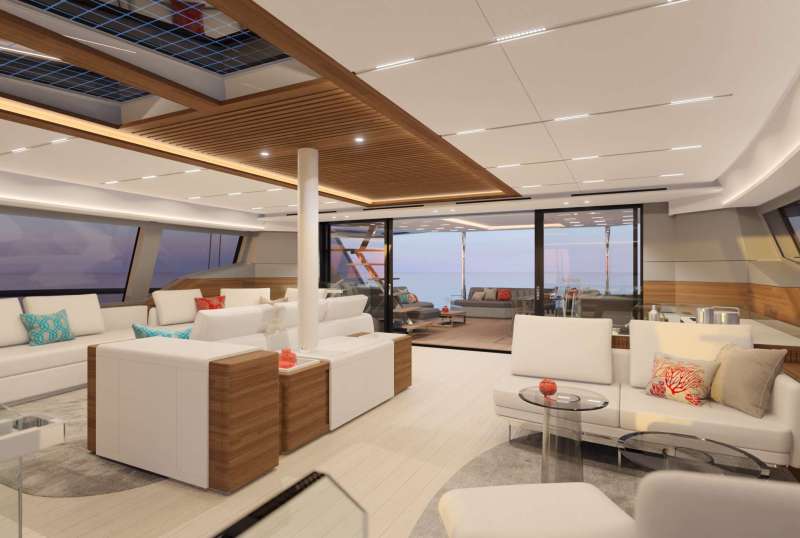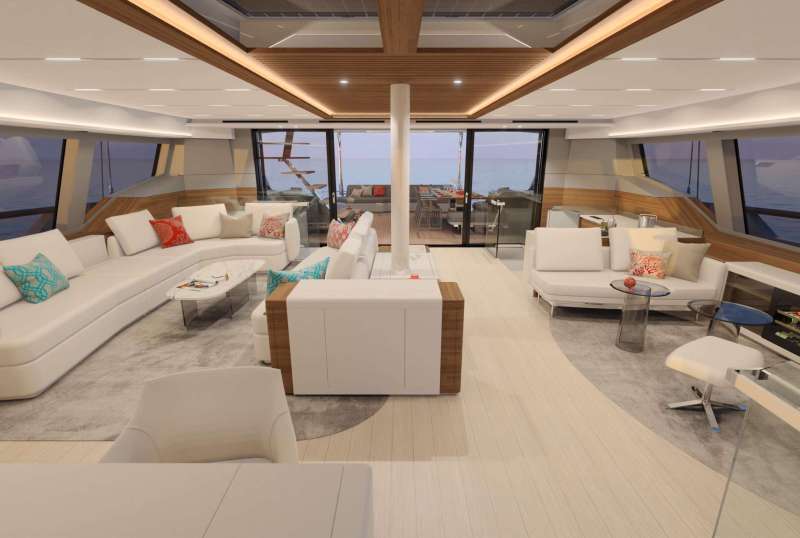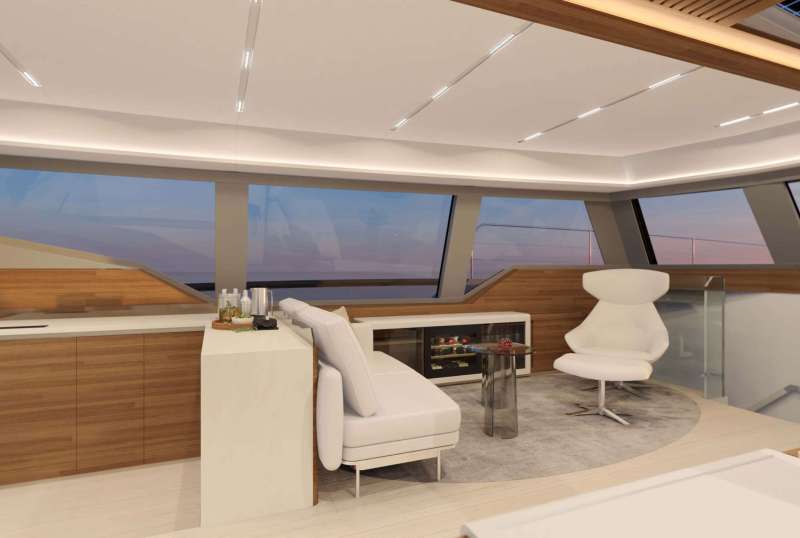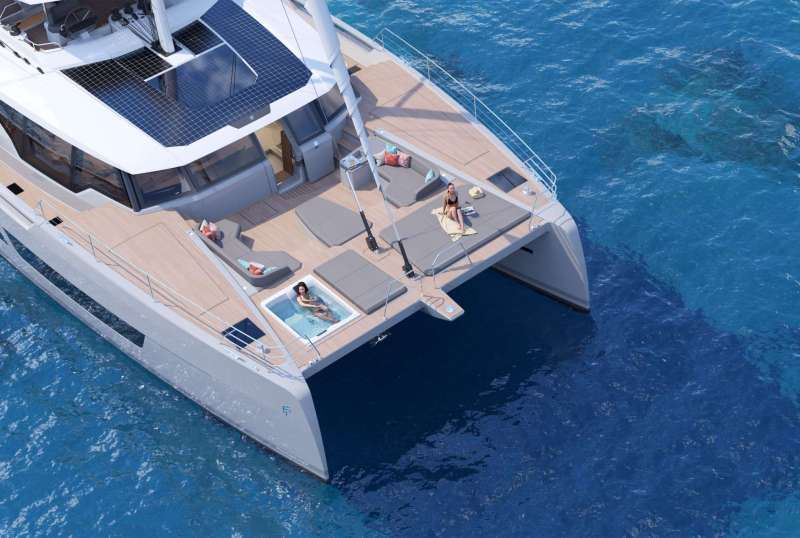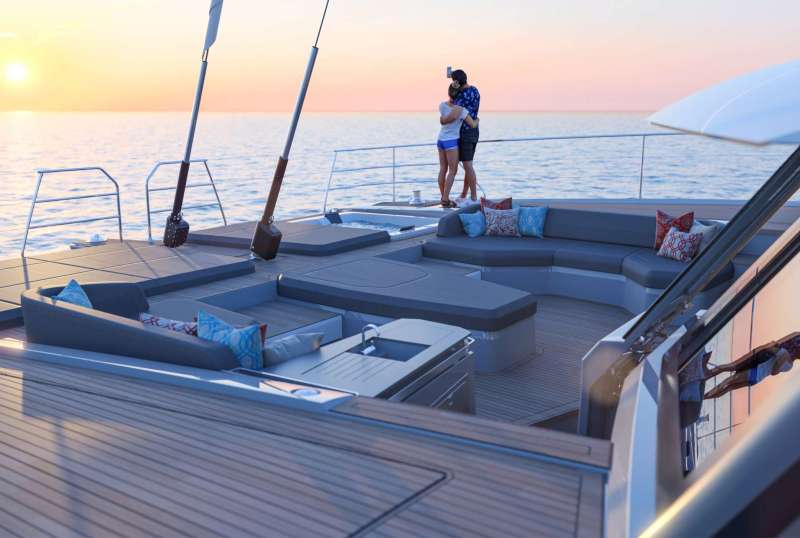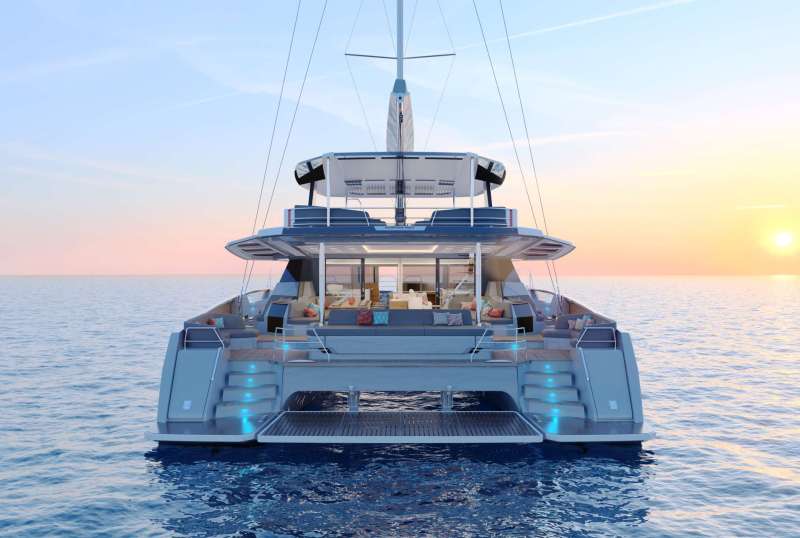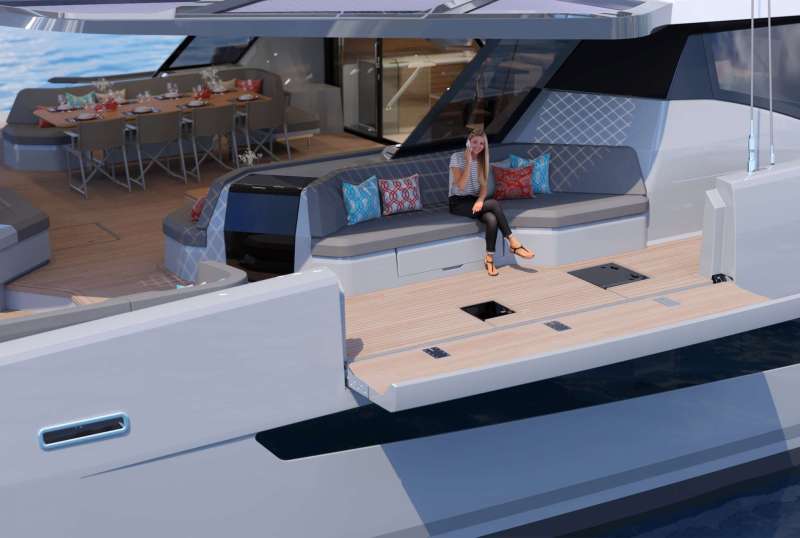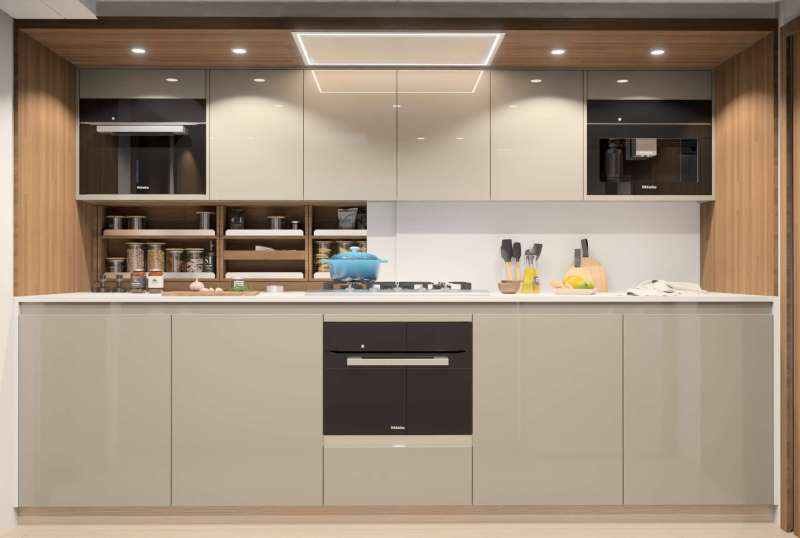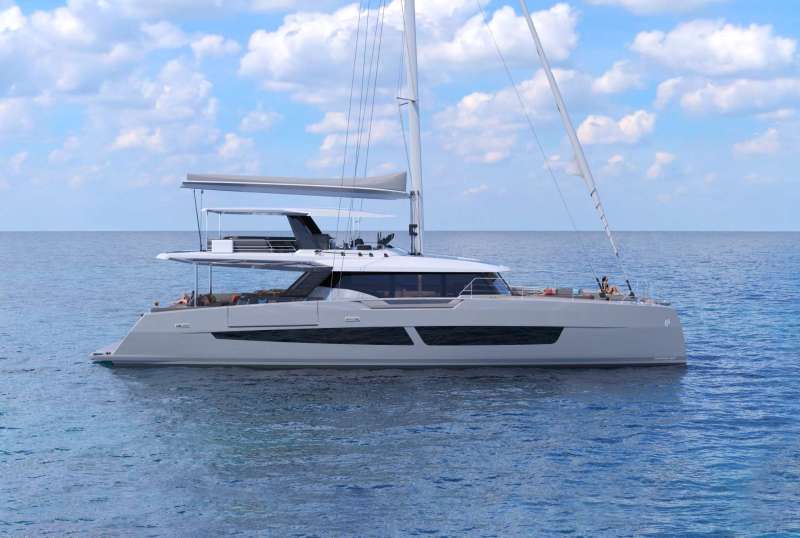 AD ASTRA
From €70,000/week
5 cabins
80 ft
Fountaine Pajot
10 guests
Built: 2024
TBA Litres/Hr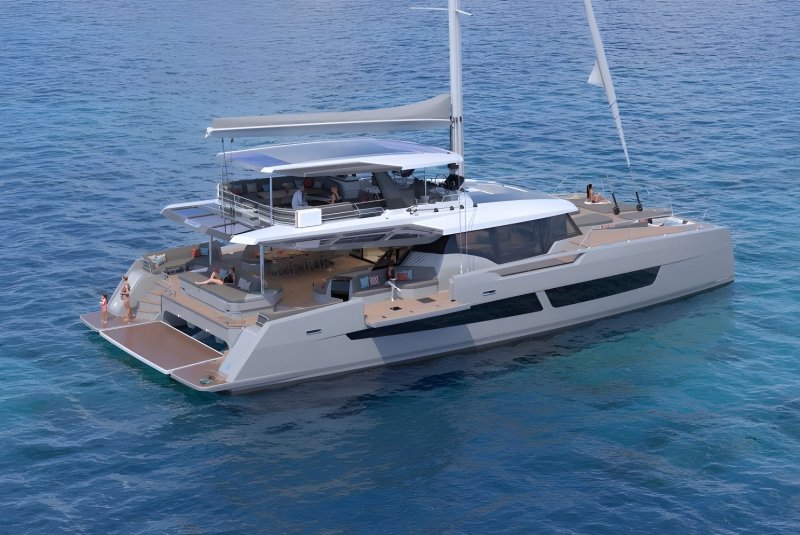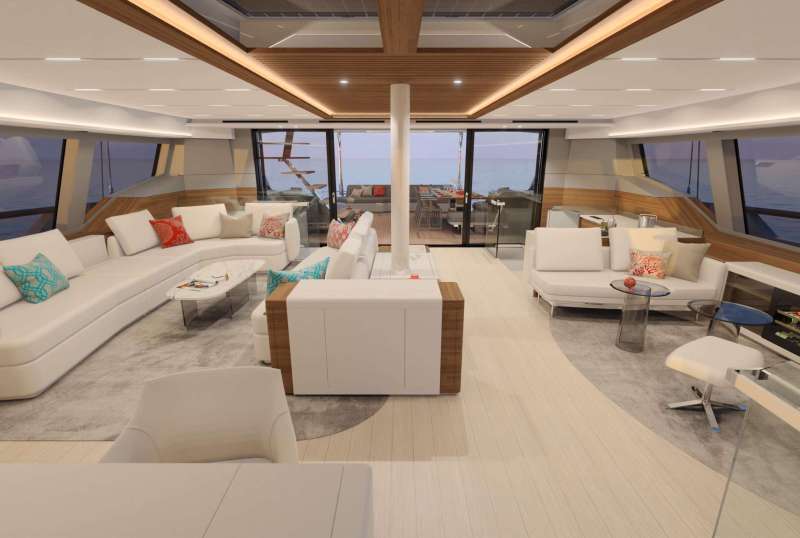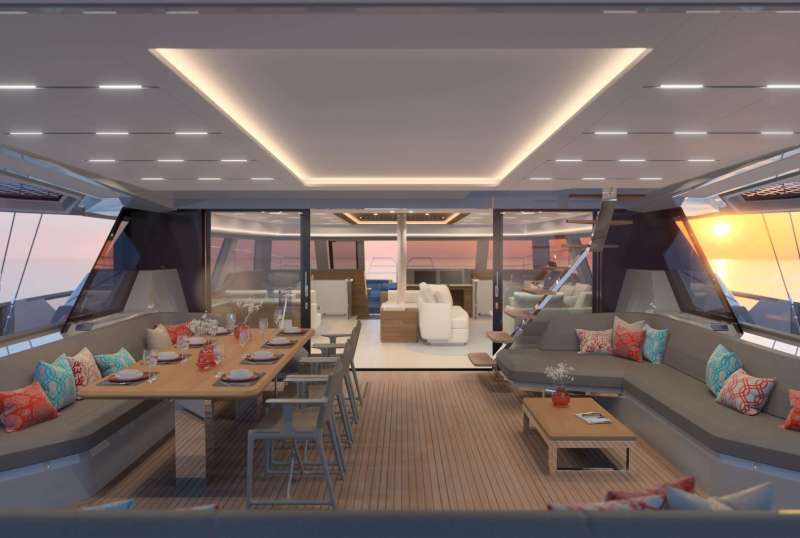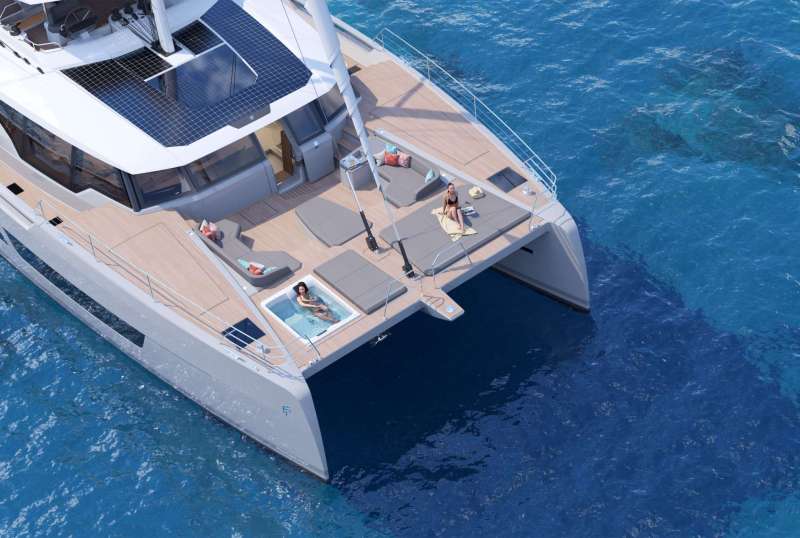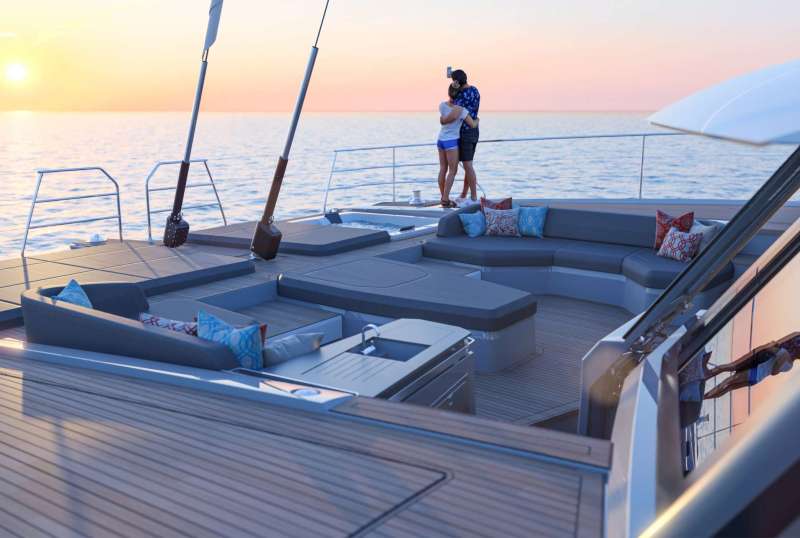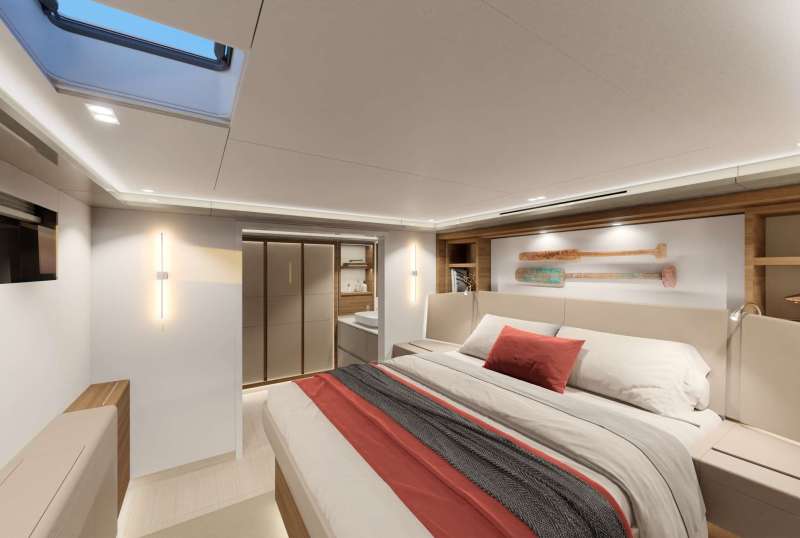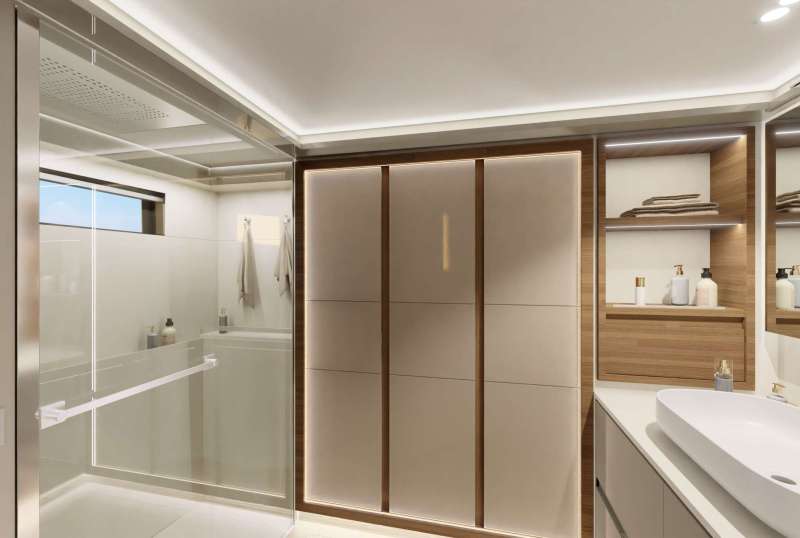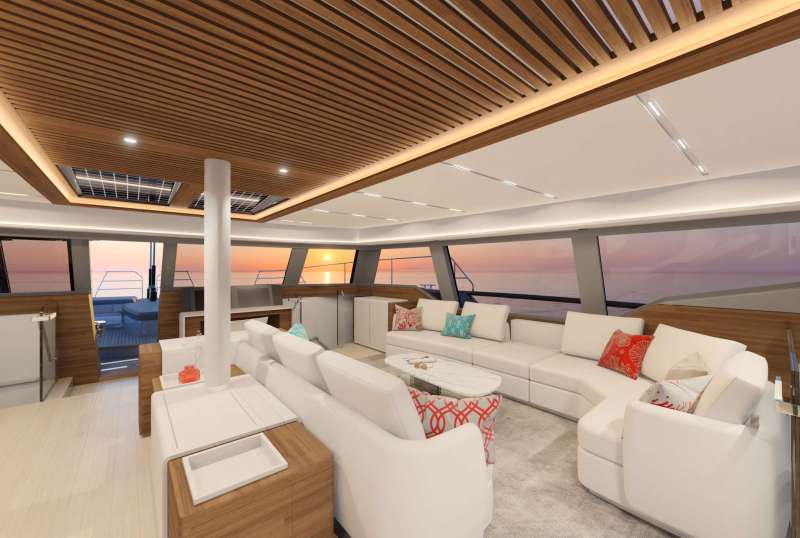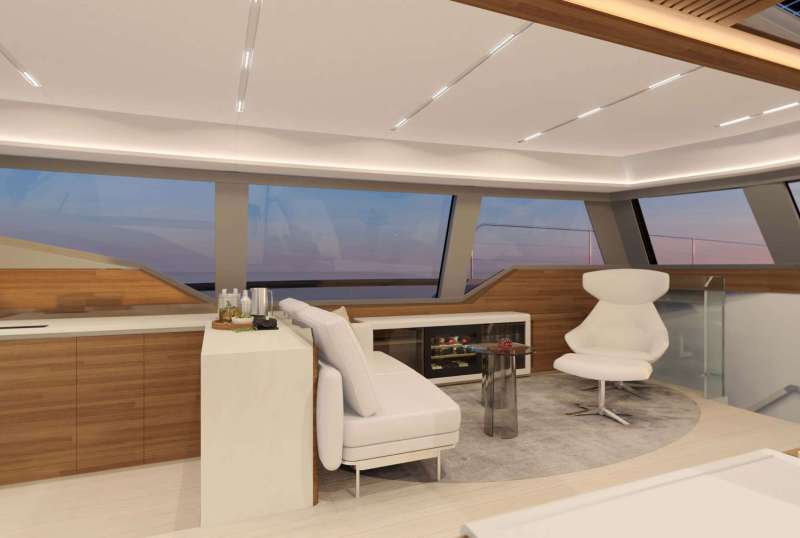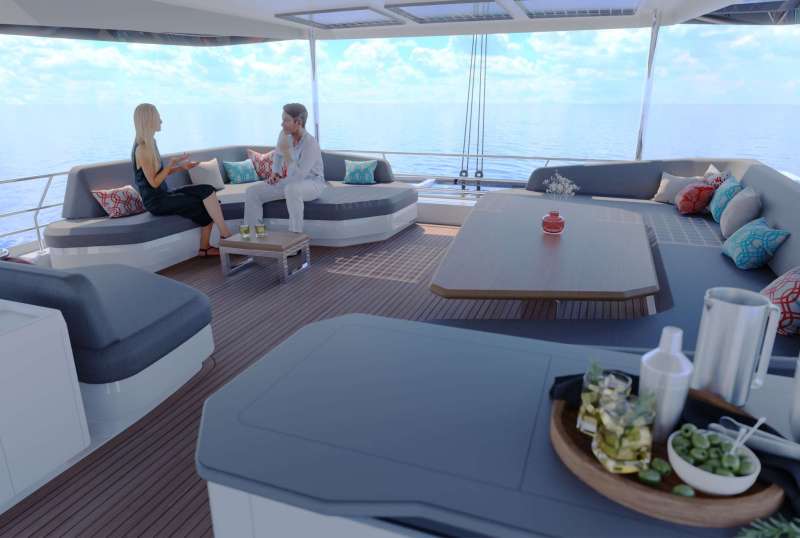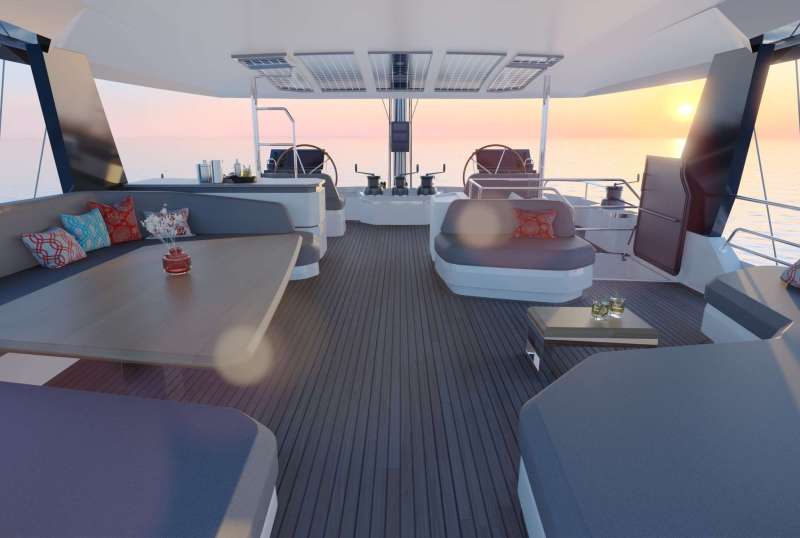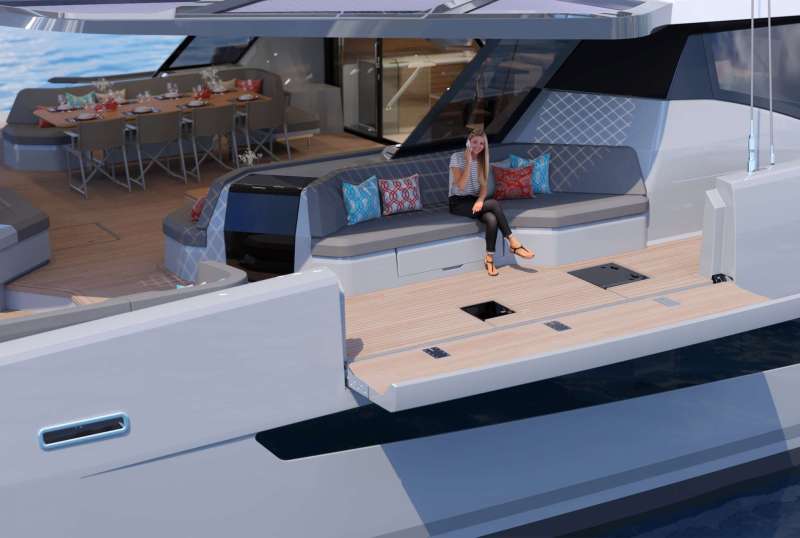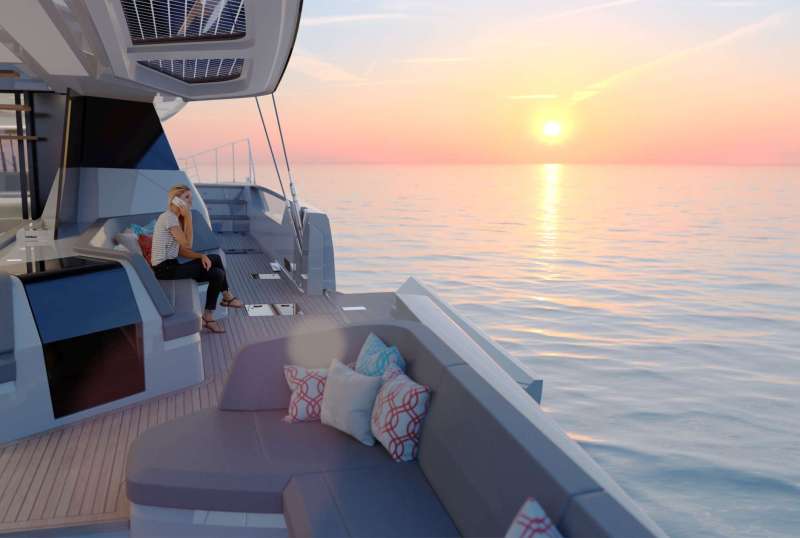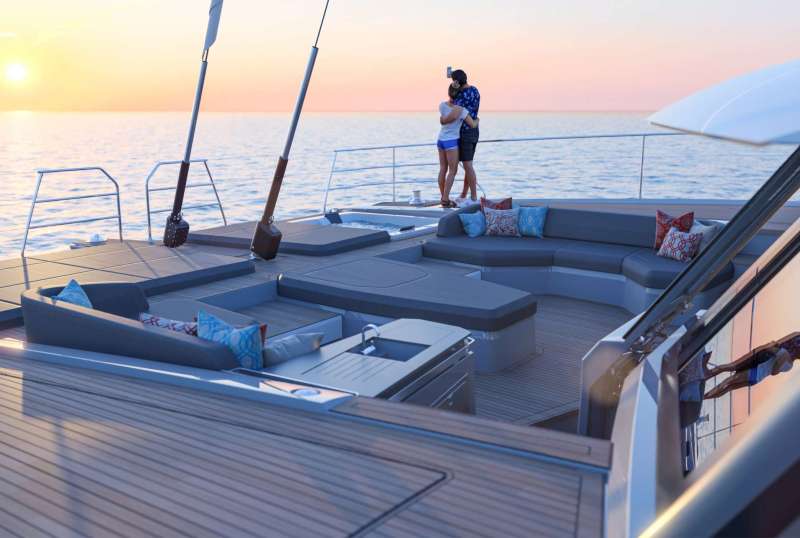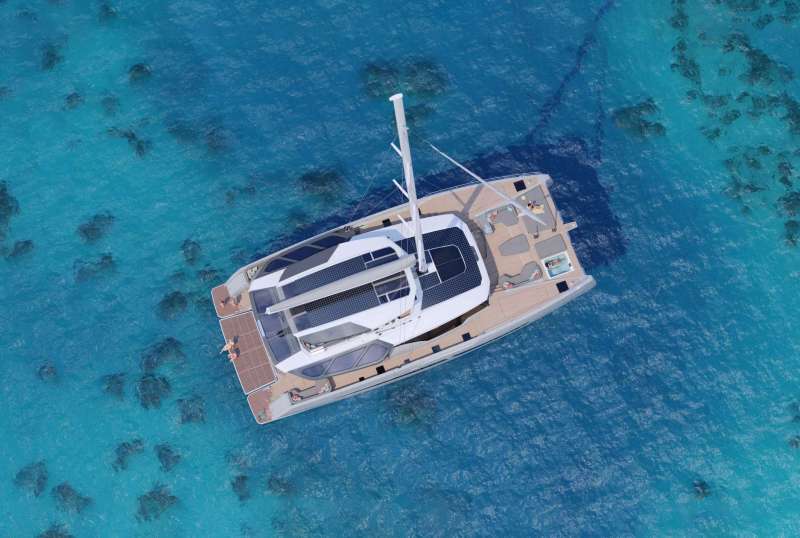 ALOIA 80
From €70,000/week
5 cabins
80 ft
Fountaine Pajot
10 guests
Built: 2023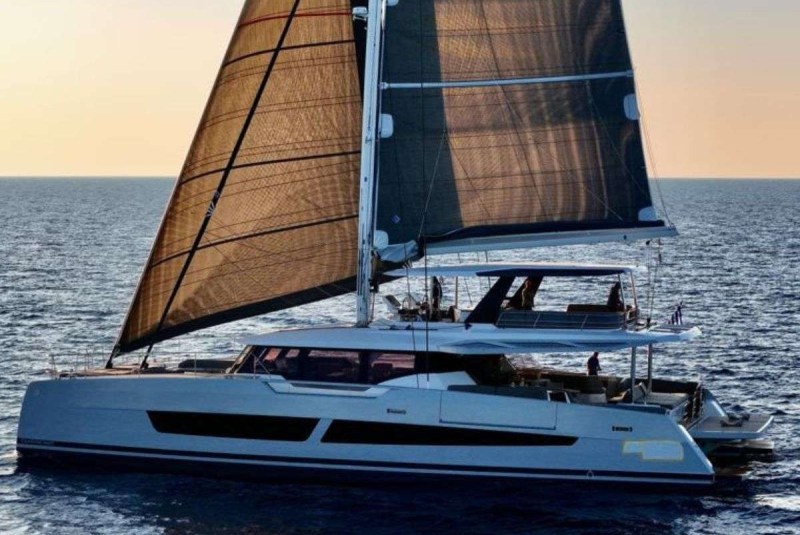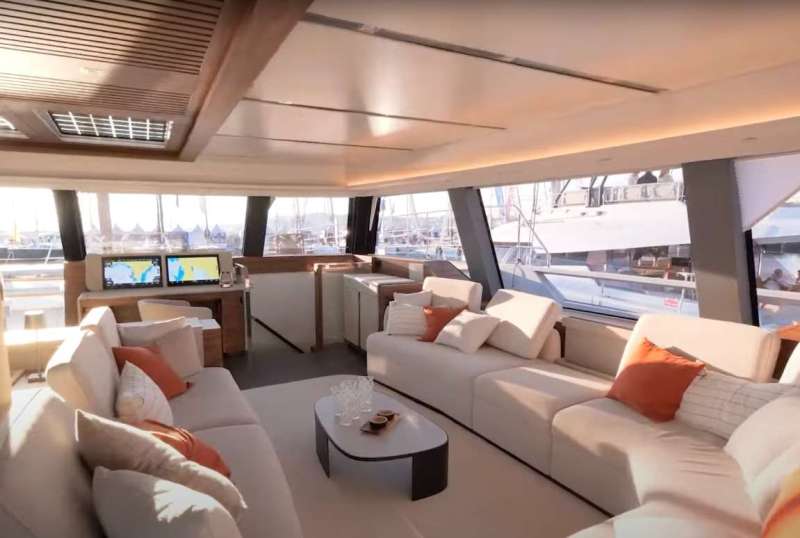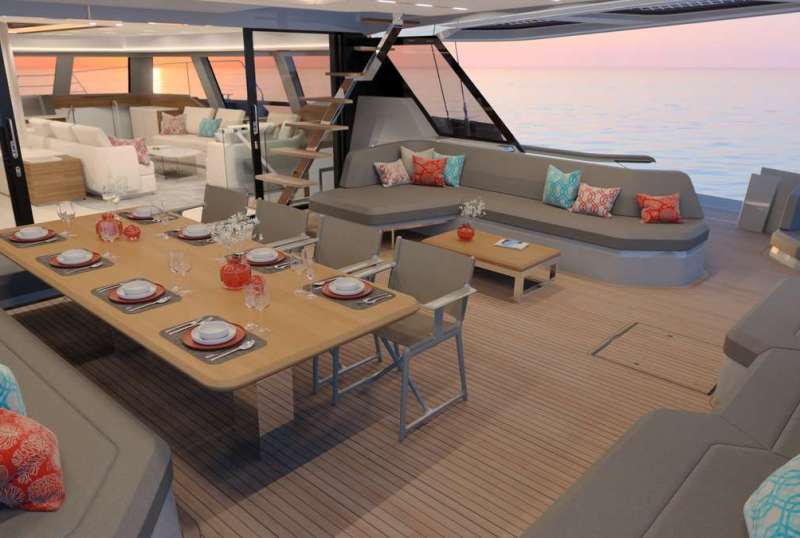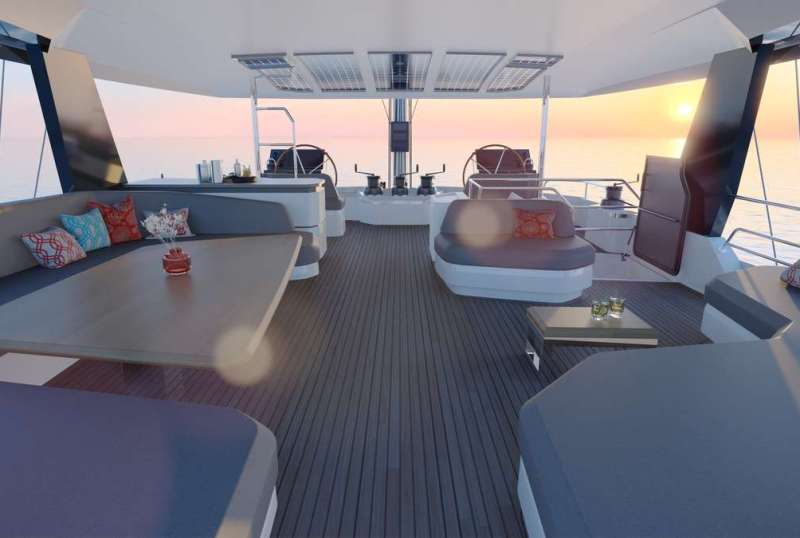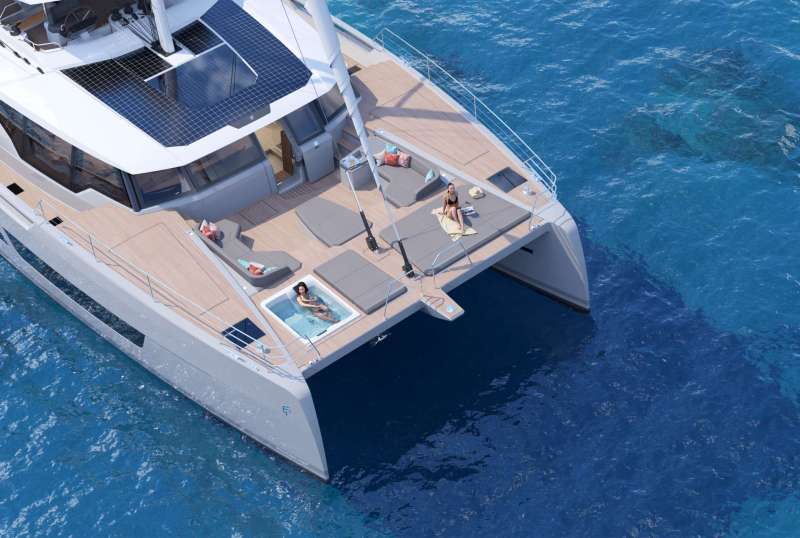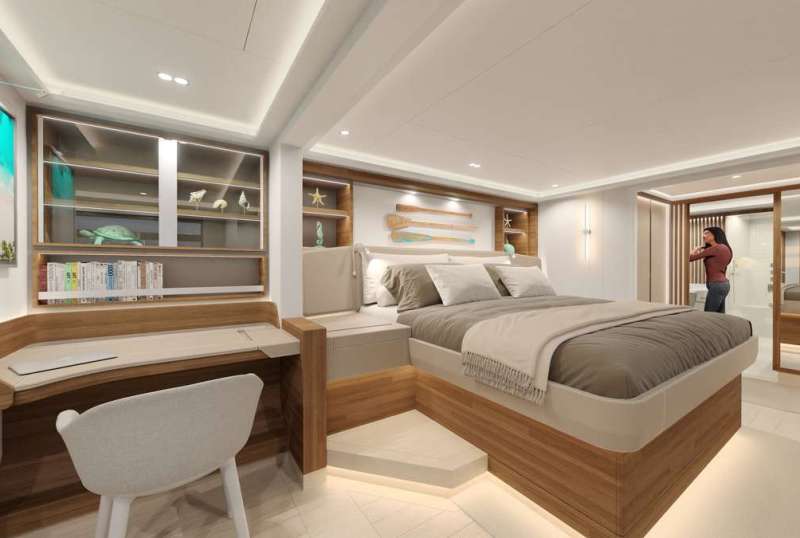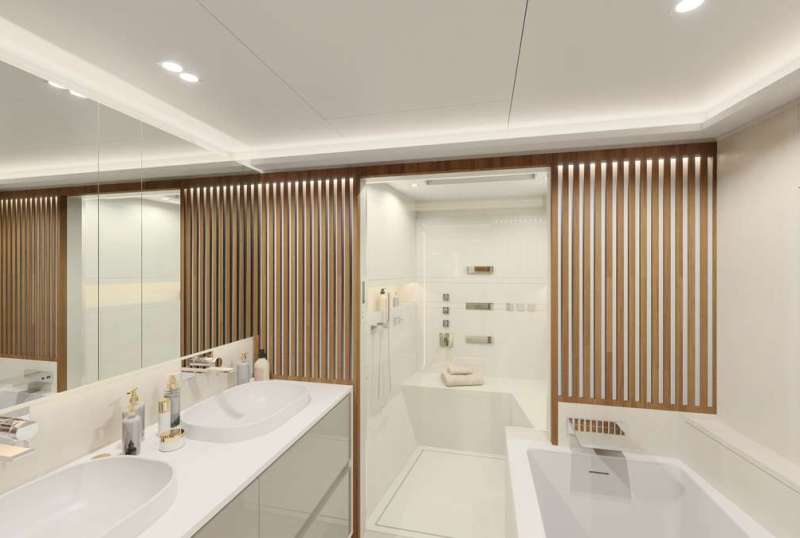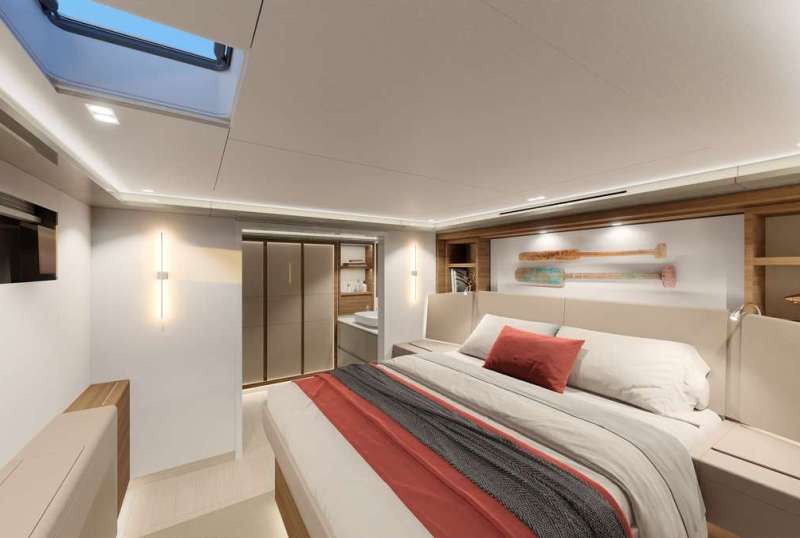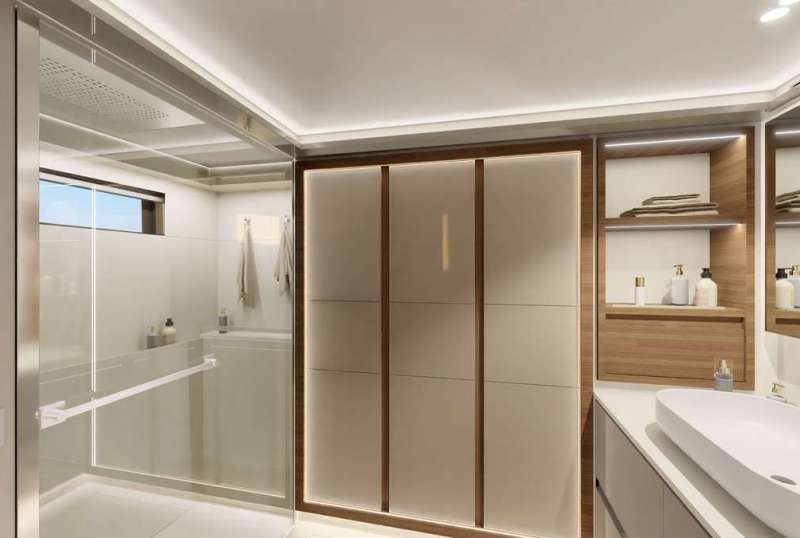 SERENISSIMA III
From €70,000/week
5 cabins
80 ft
Fountaine Pajot
10 guests
Built: 2024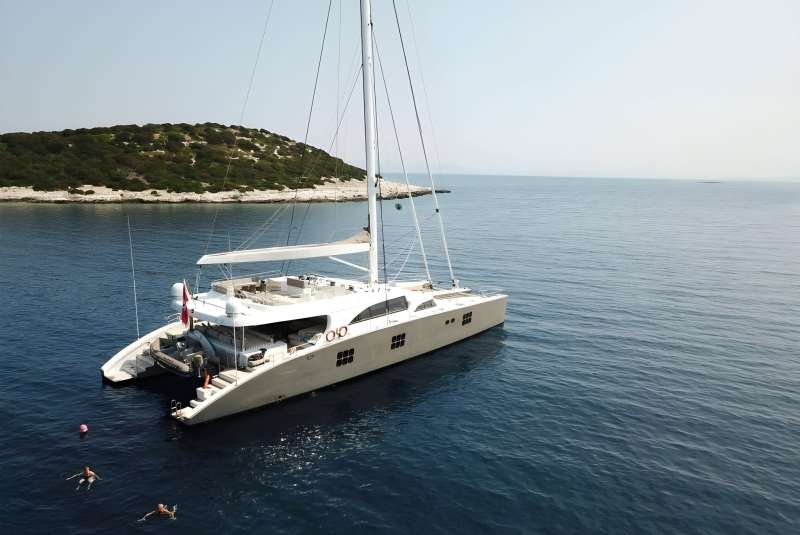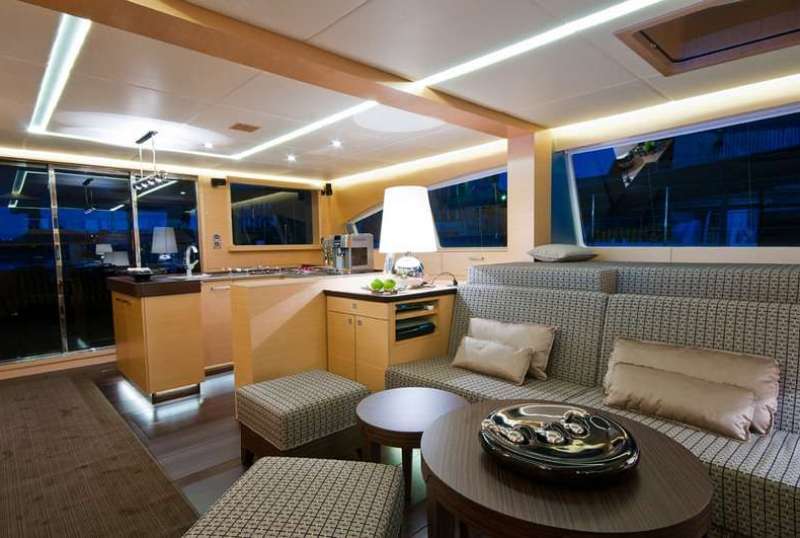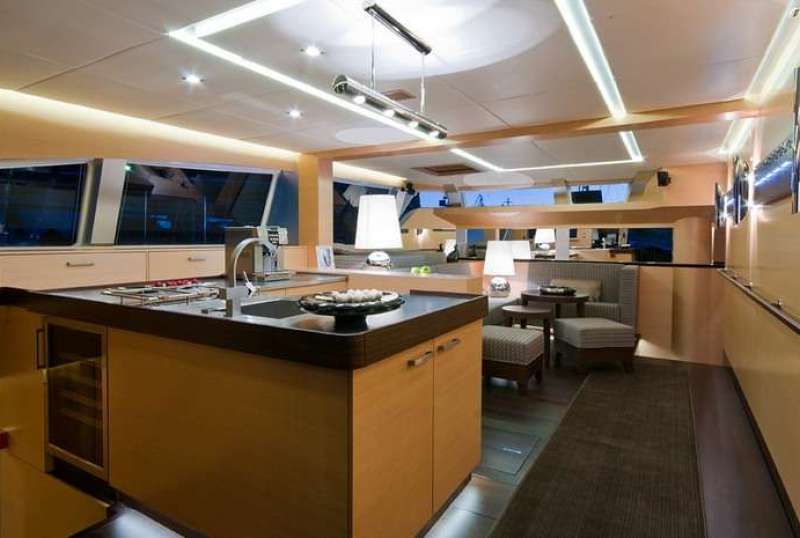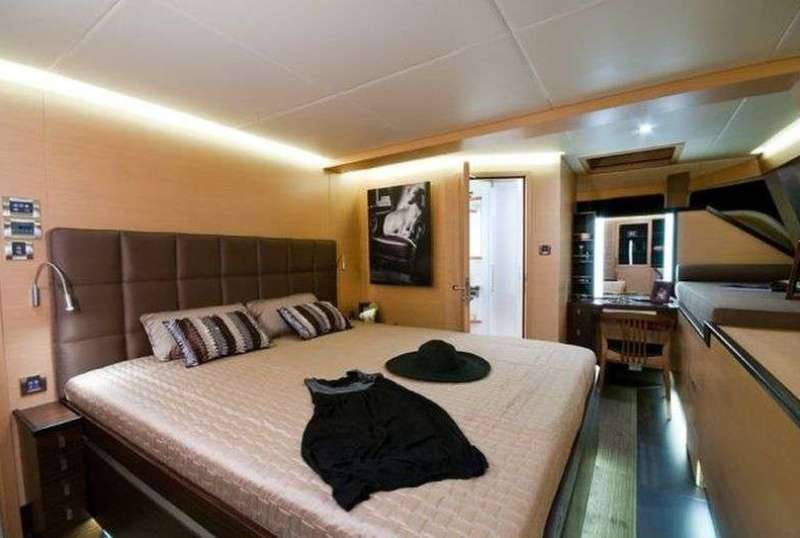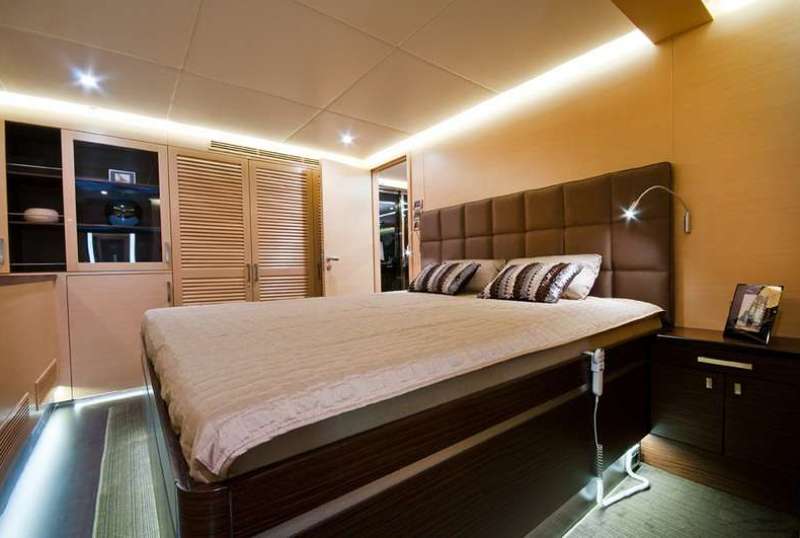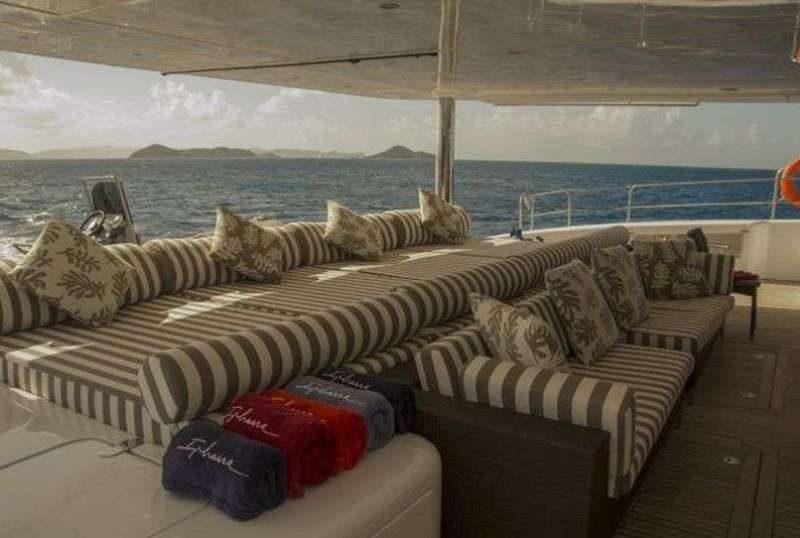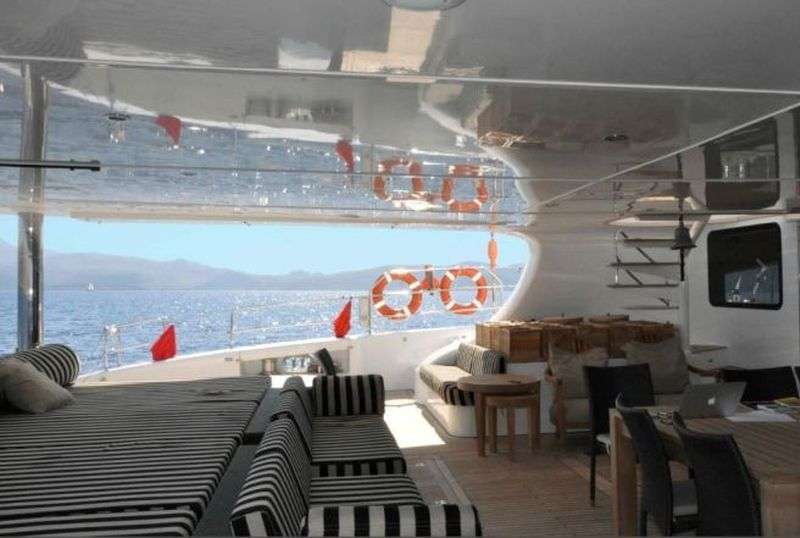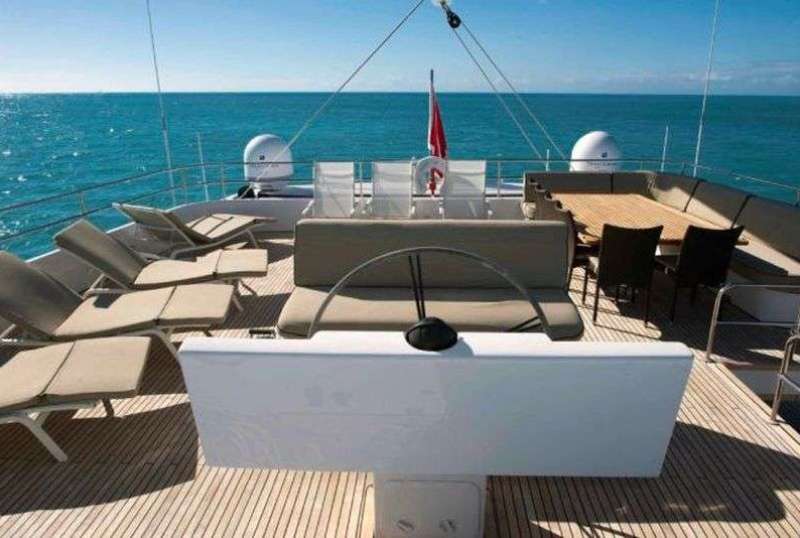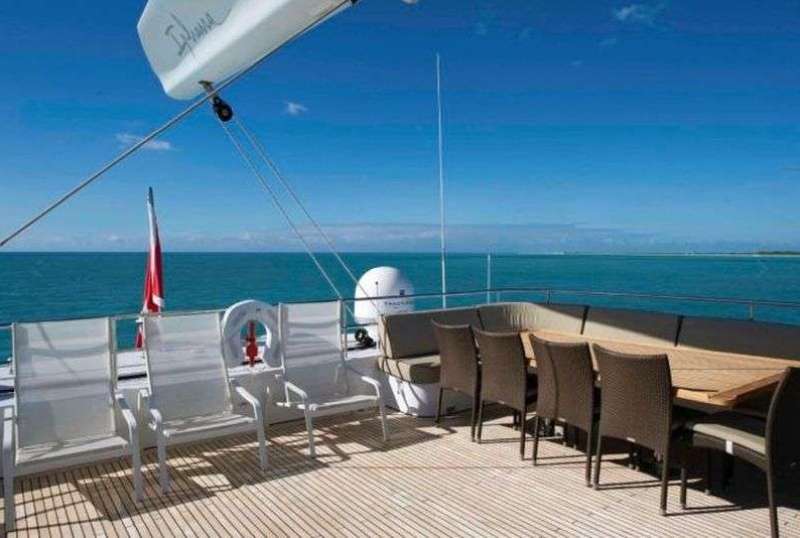 IPHARRA
From €68,000/week
5 cabins
102 ft
Sunreef Yachts
10 guests
Refit: 2017
50 Litres/Hr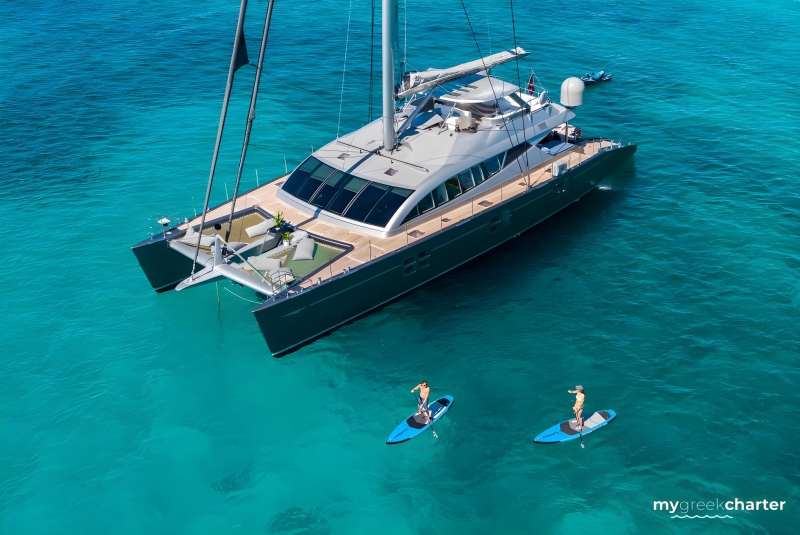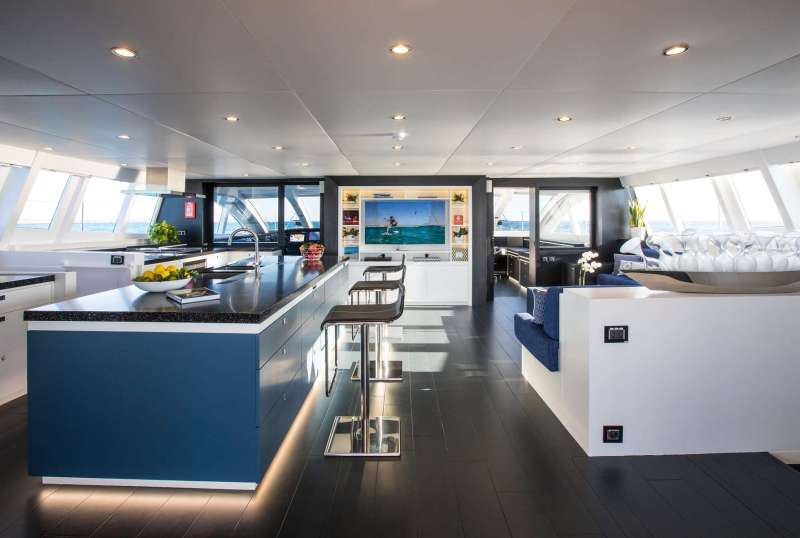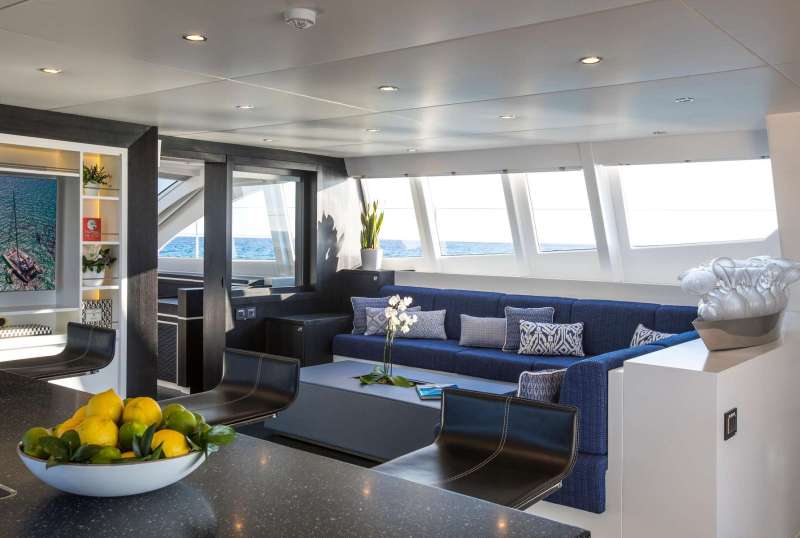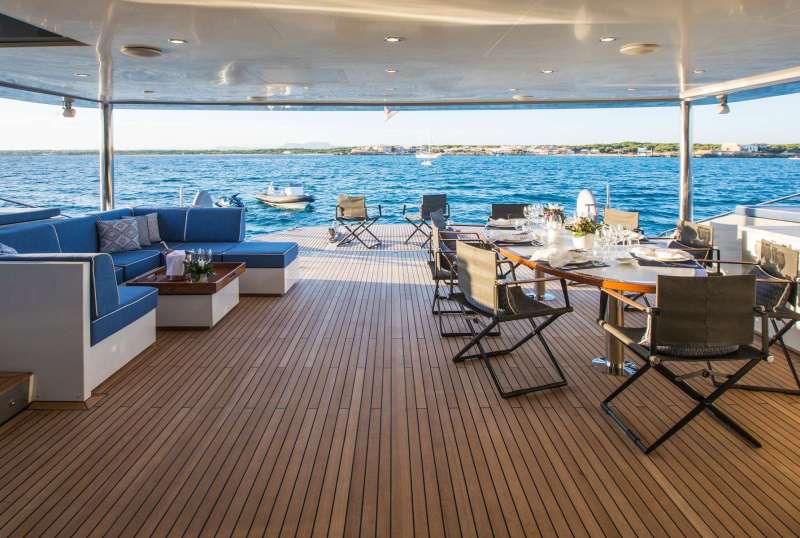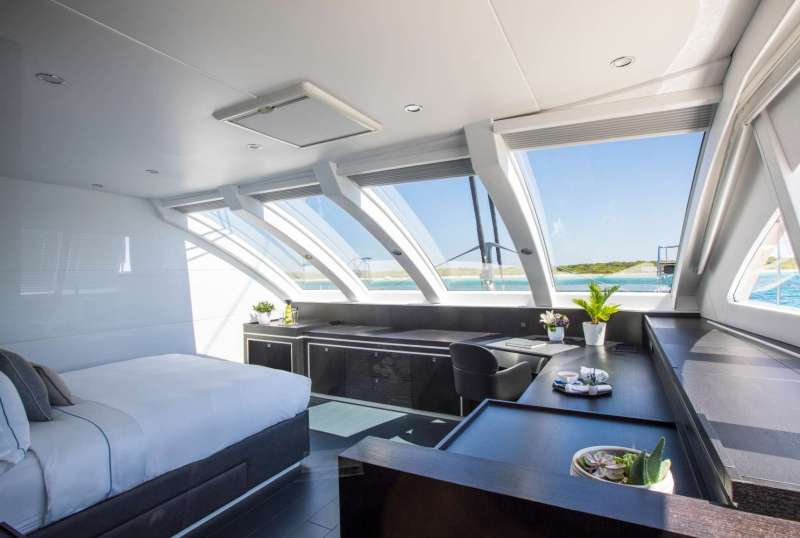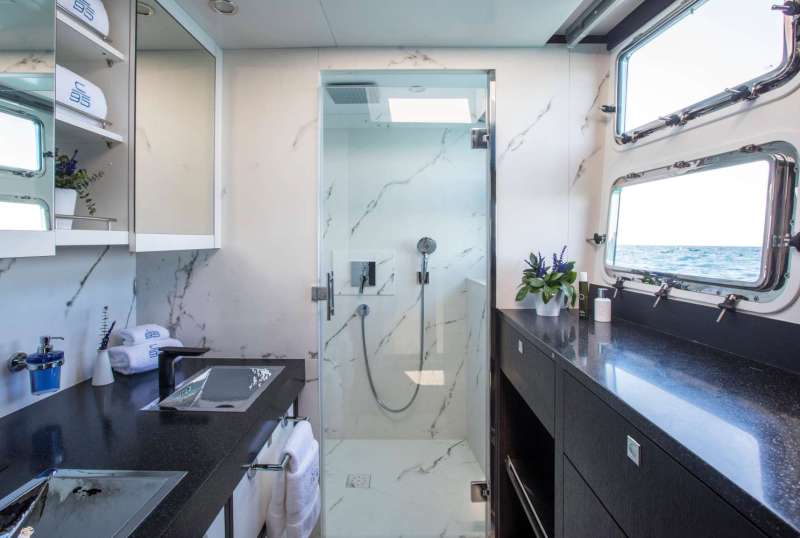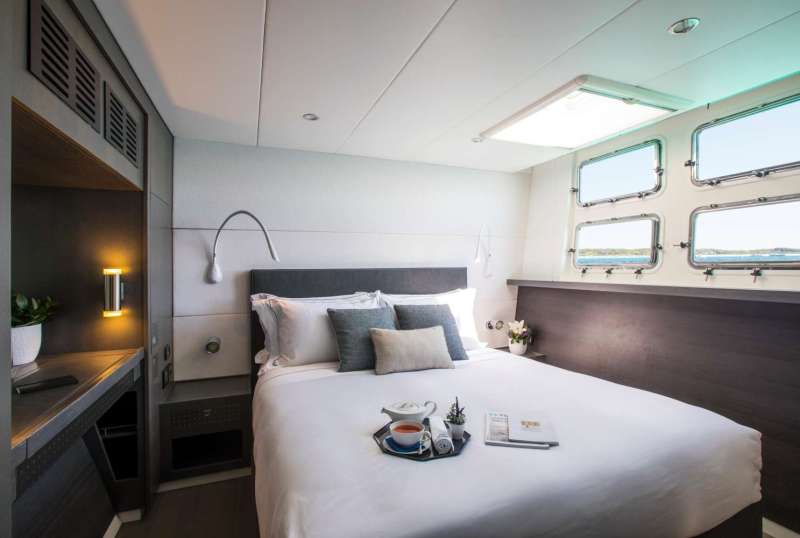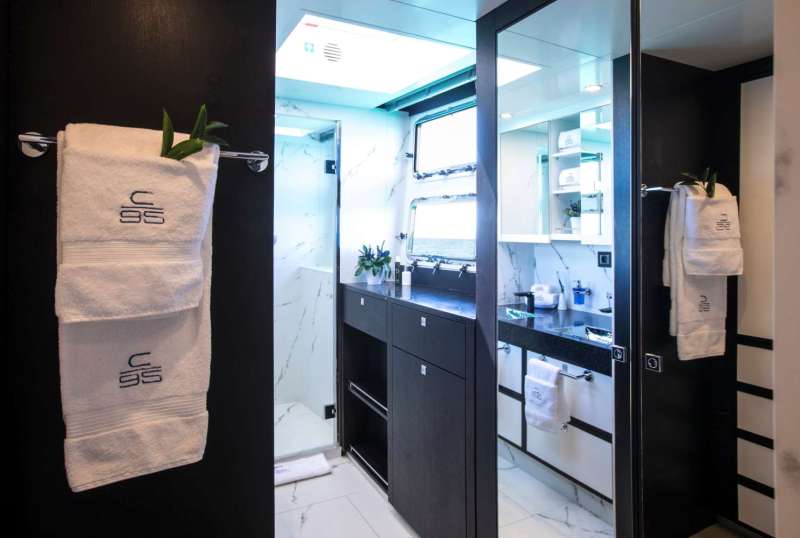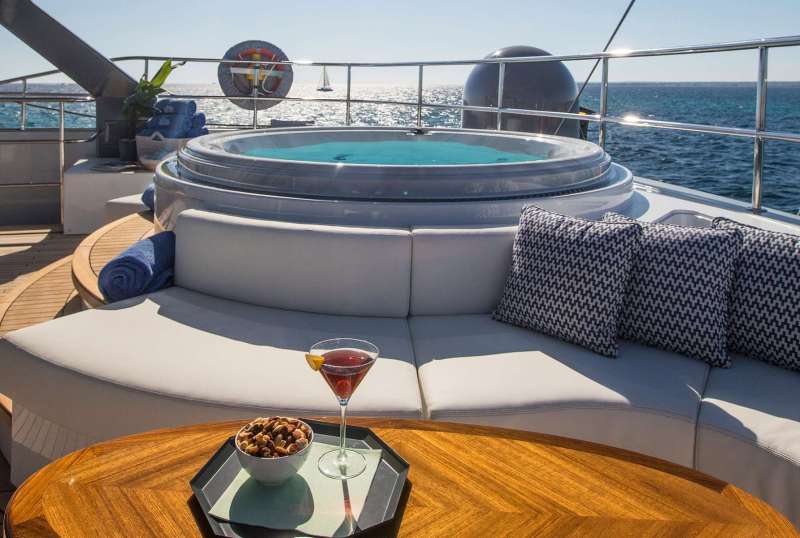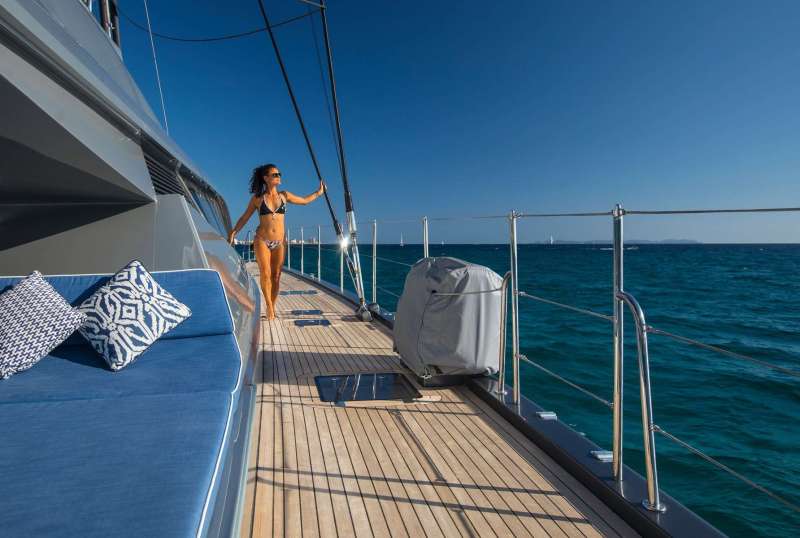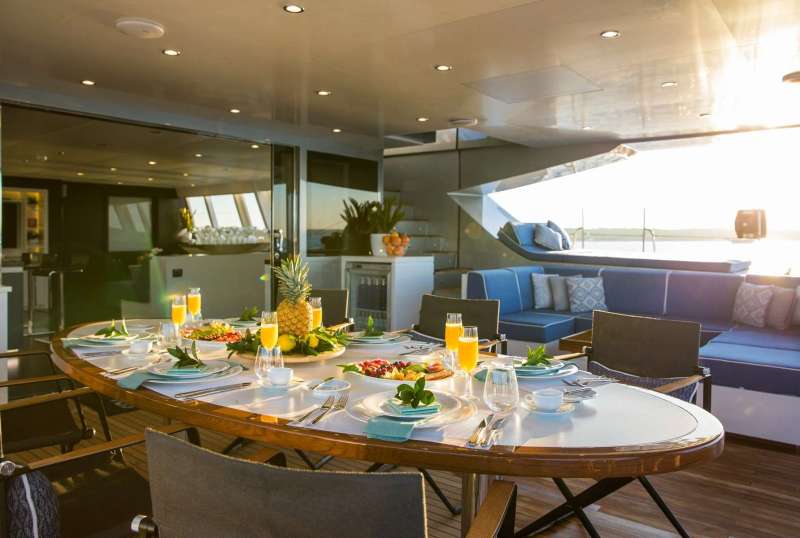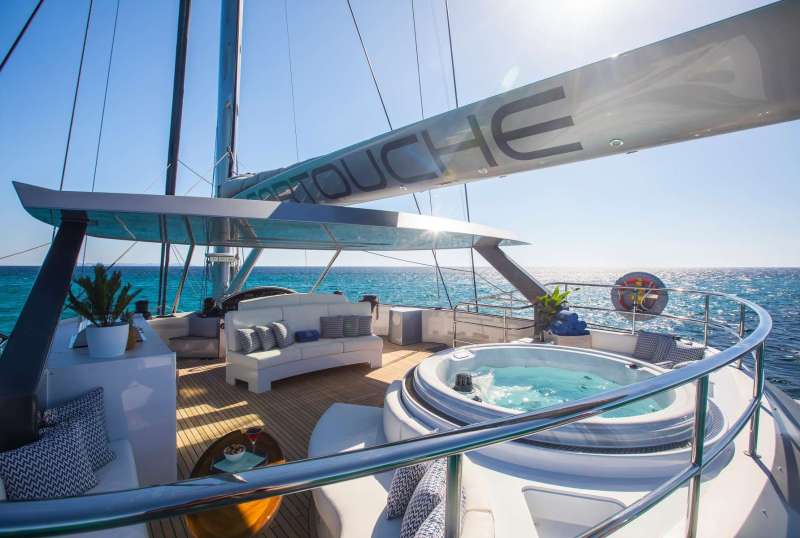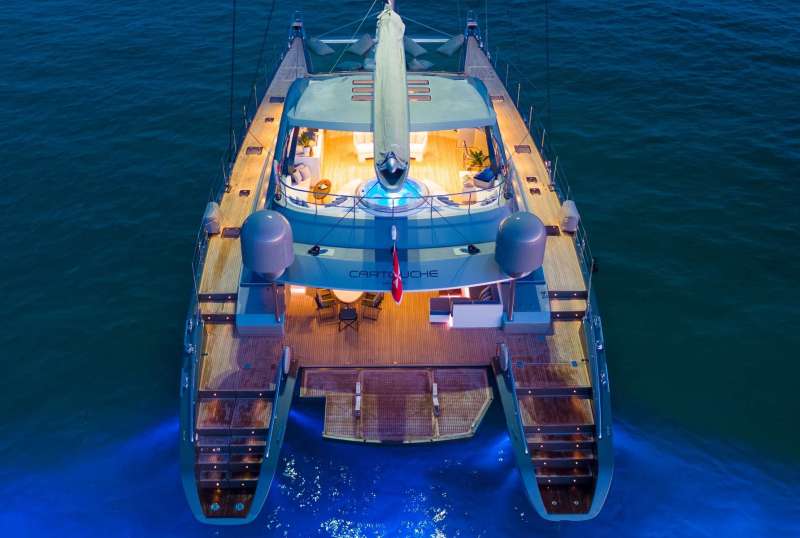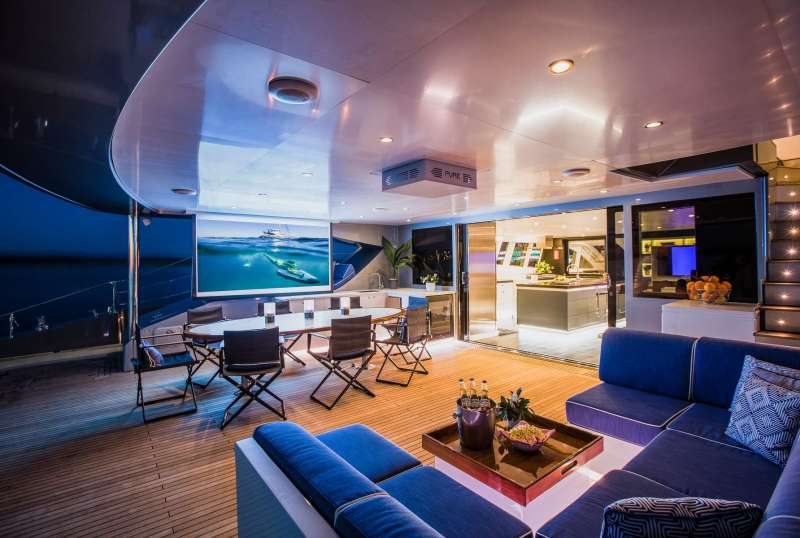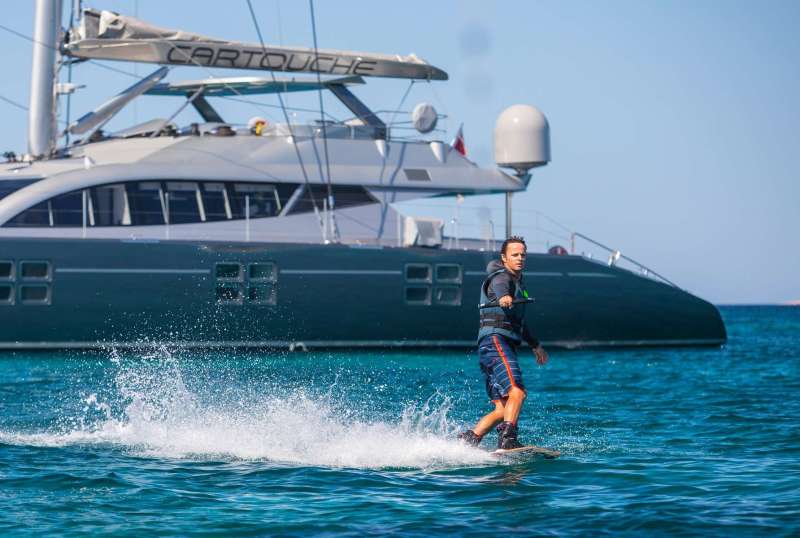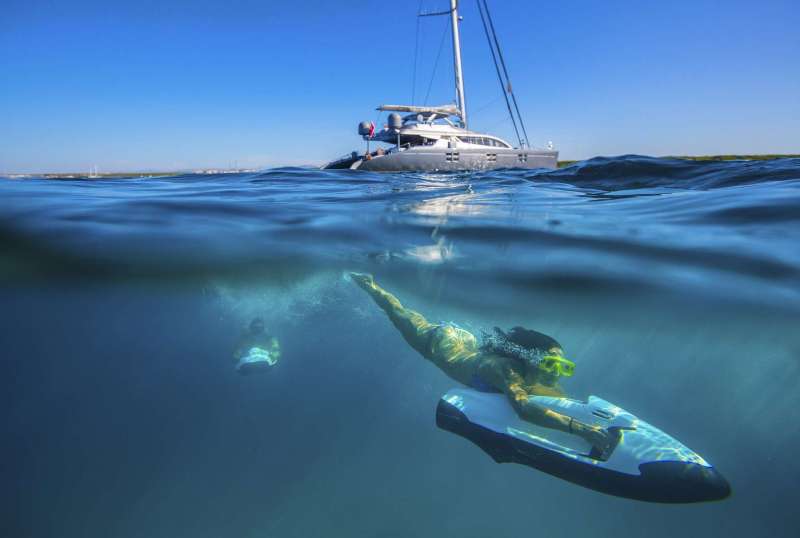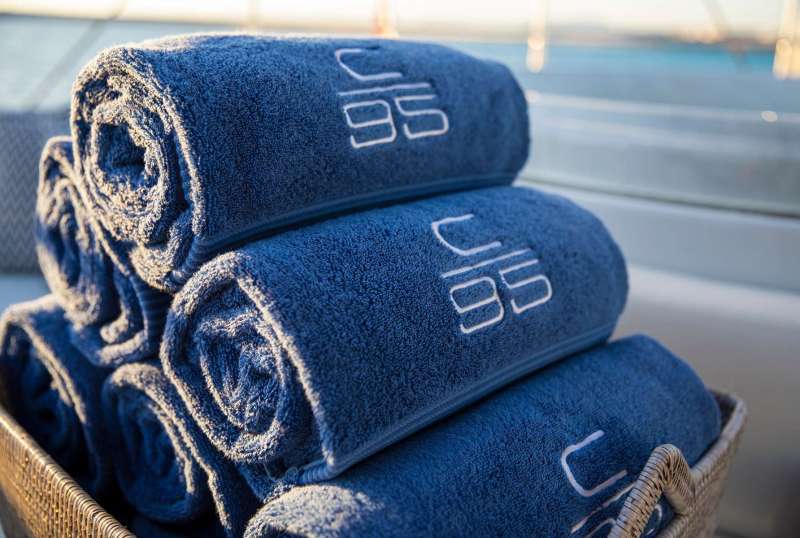 CARTOUCHE
From €60,000/week
4 cabins
95 ft
Jean-Jacque Coste
8 guests
Refit: 2017 - 2021 - 2022
20 Litres/Hr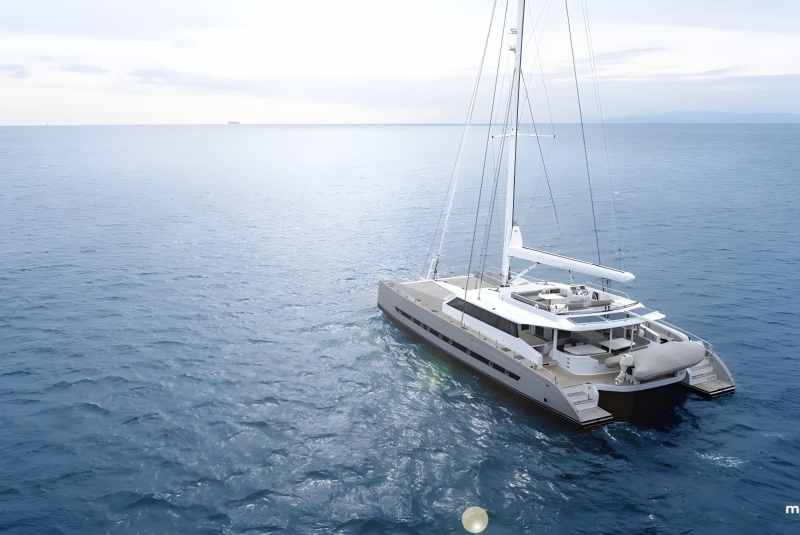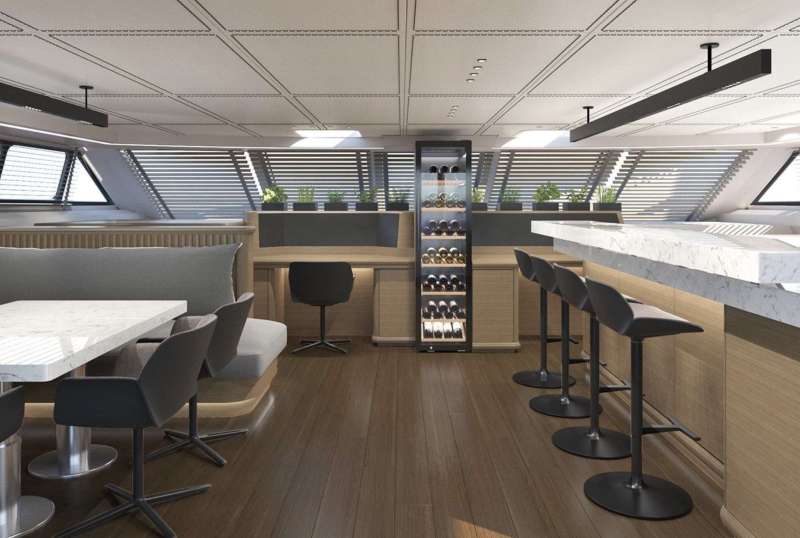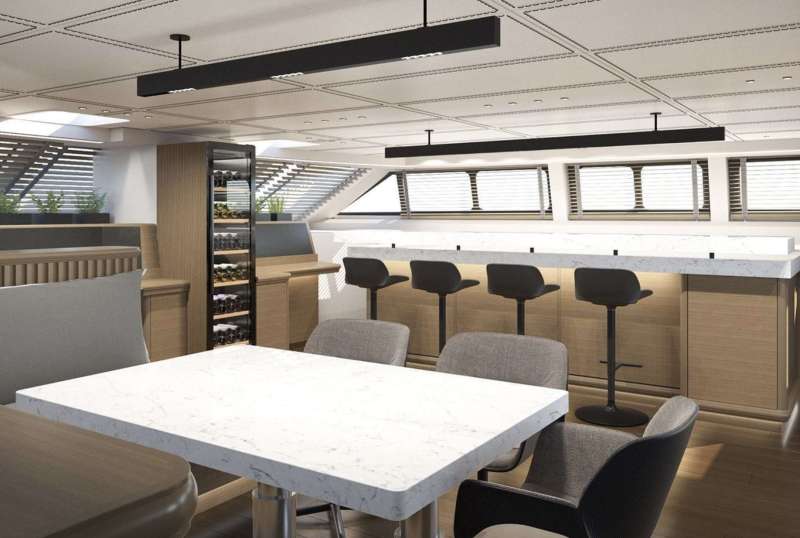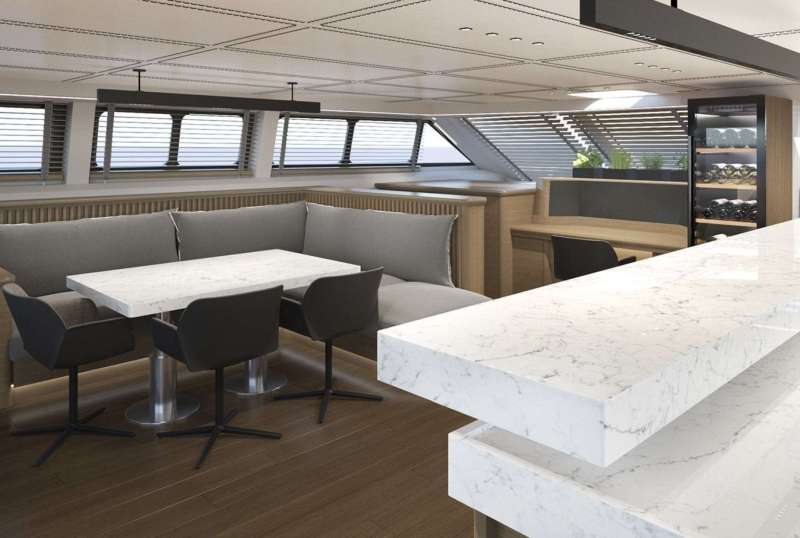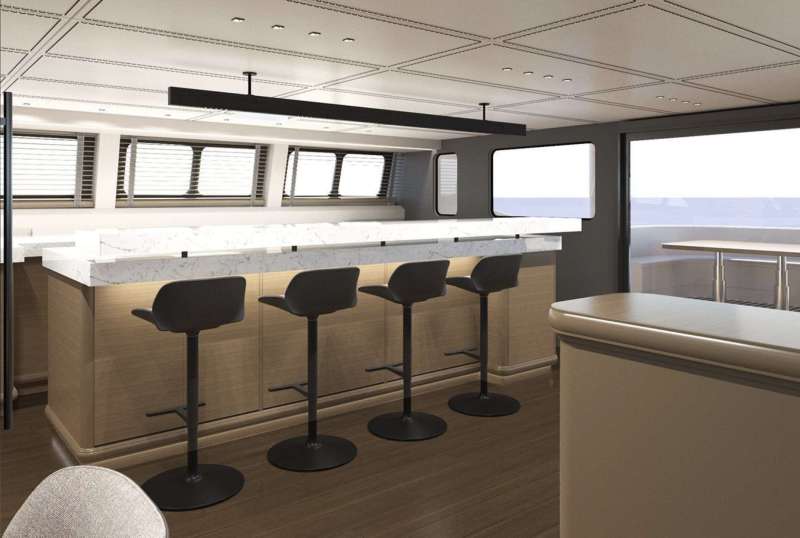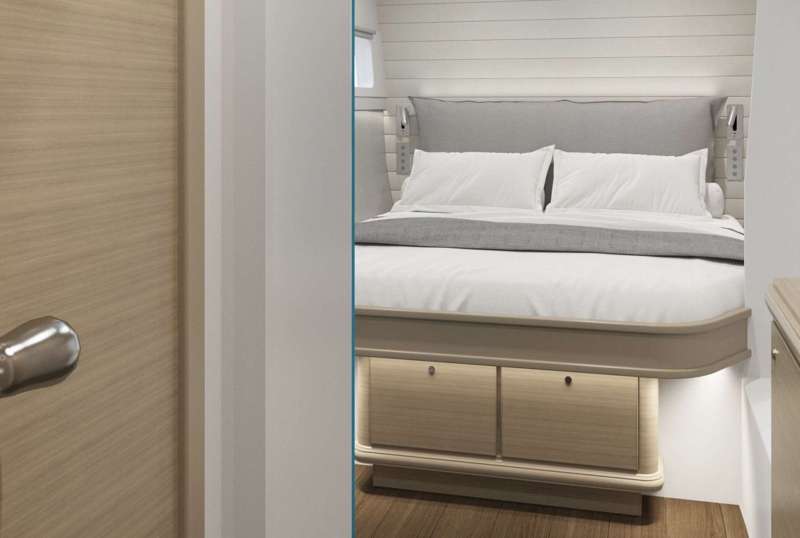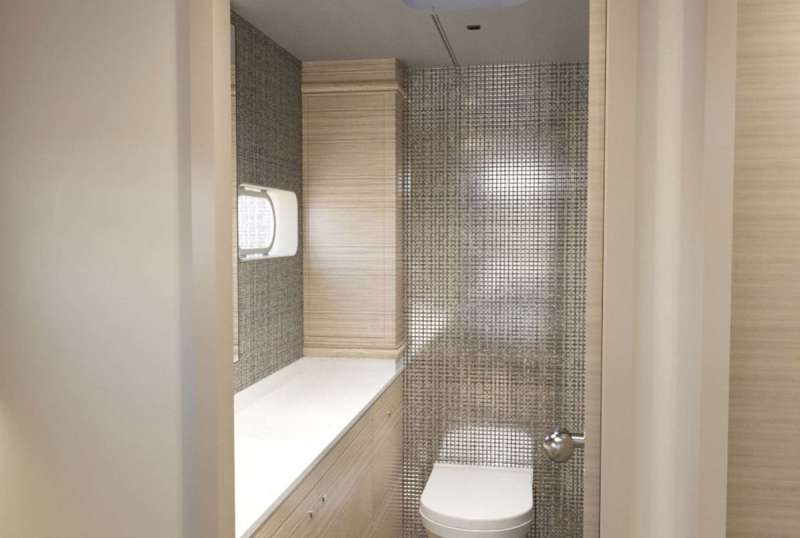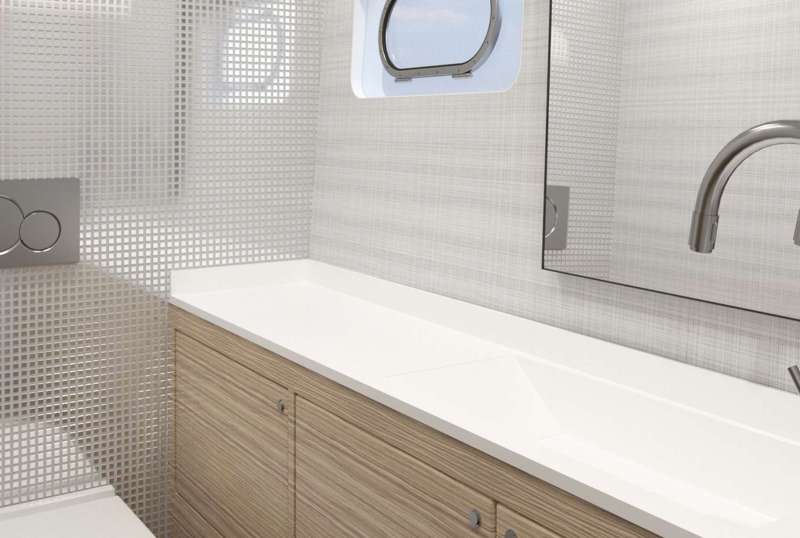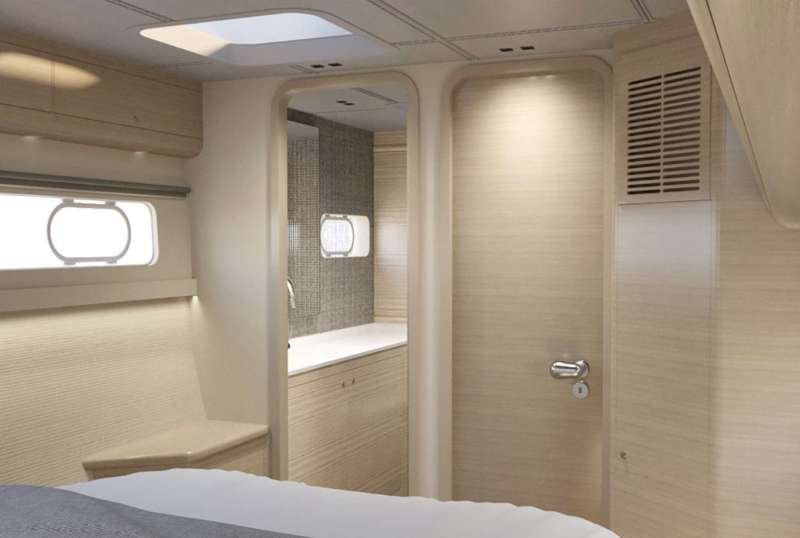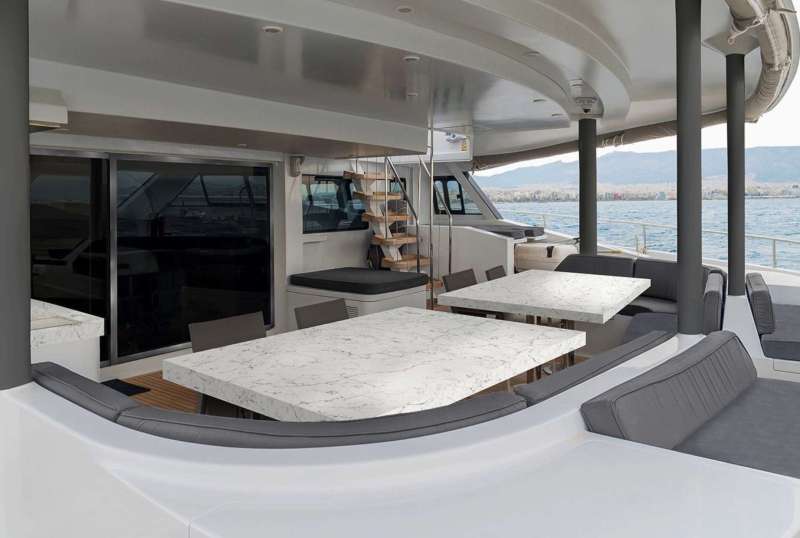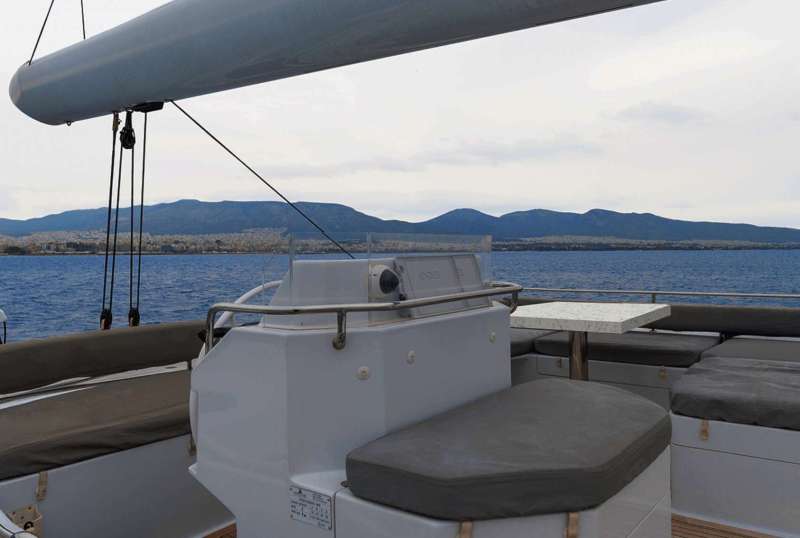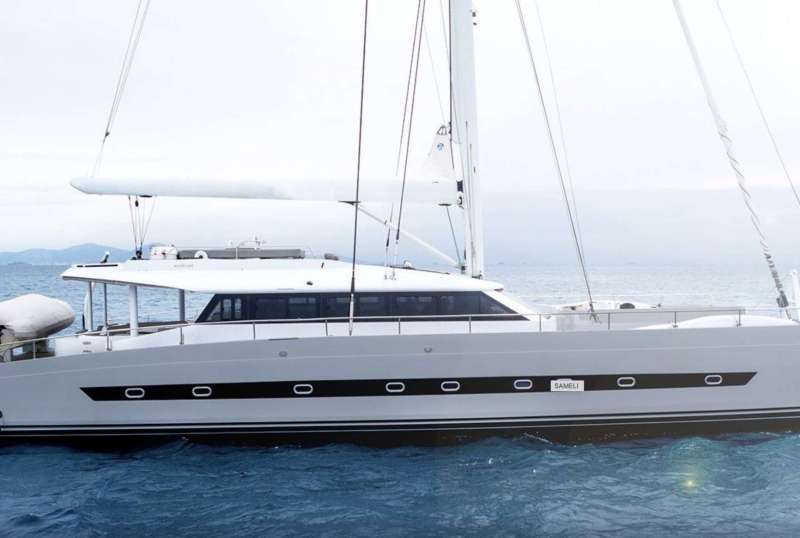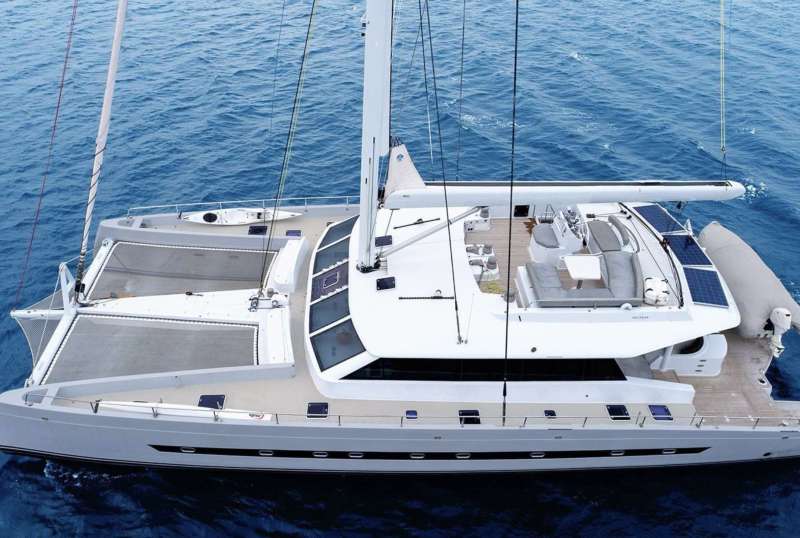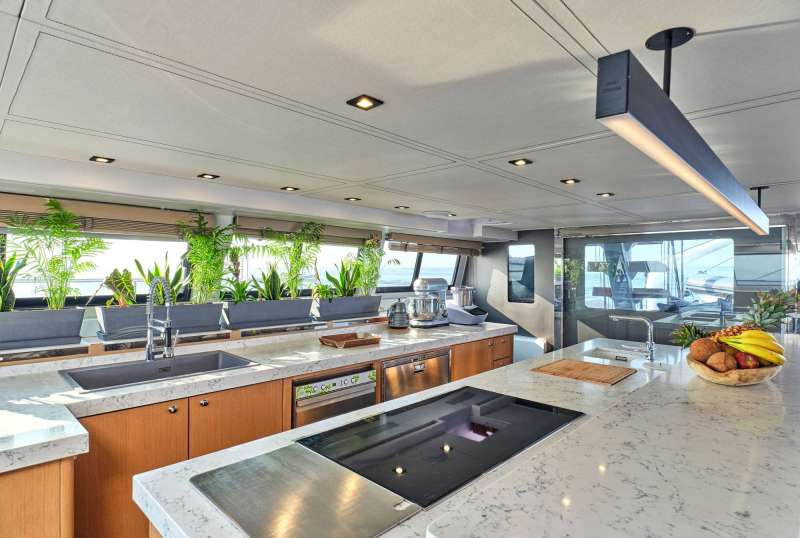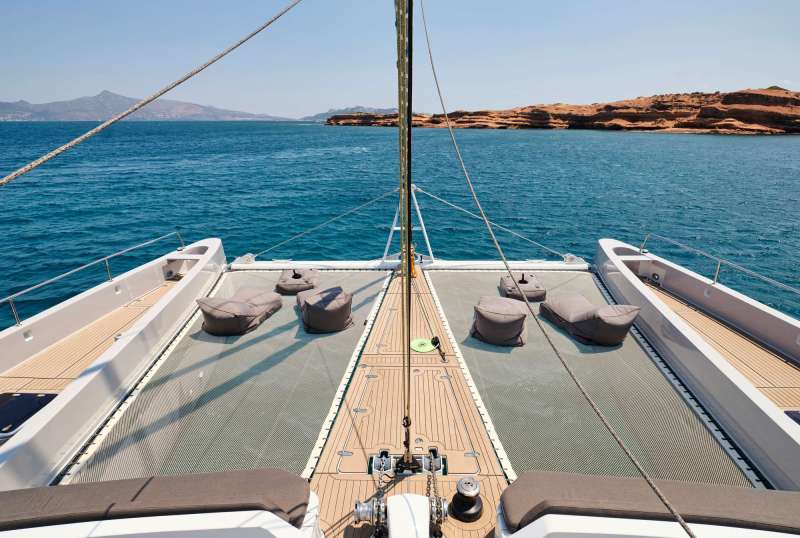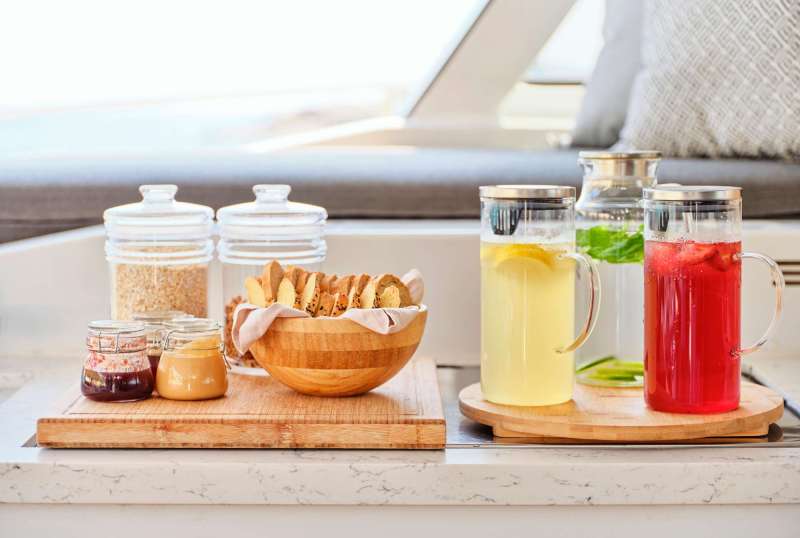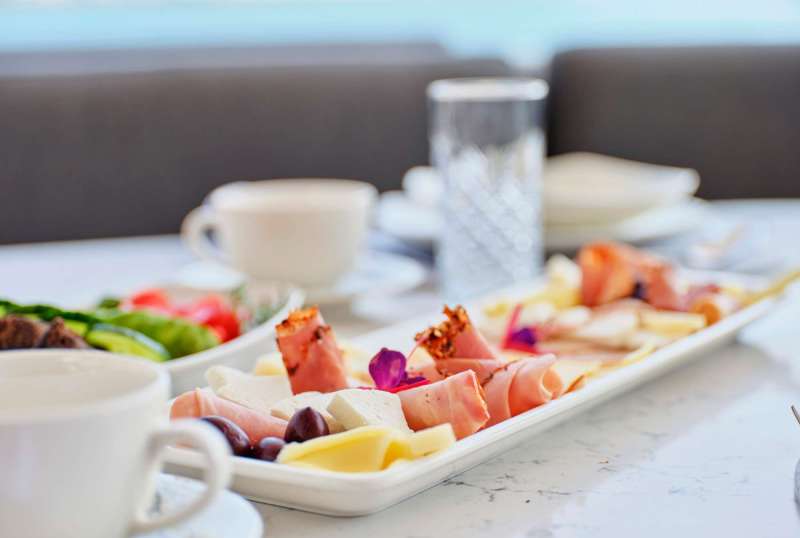 SAMELI
From €59,000/week
5 cabins
75 ft
Two Oceans
10 guests
Refit: 2023
50 Litres/Hr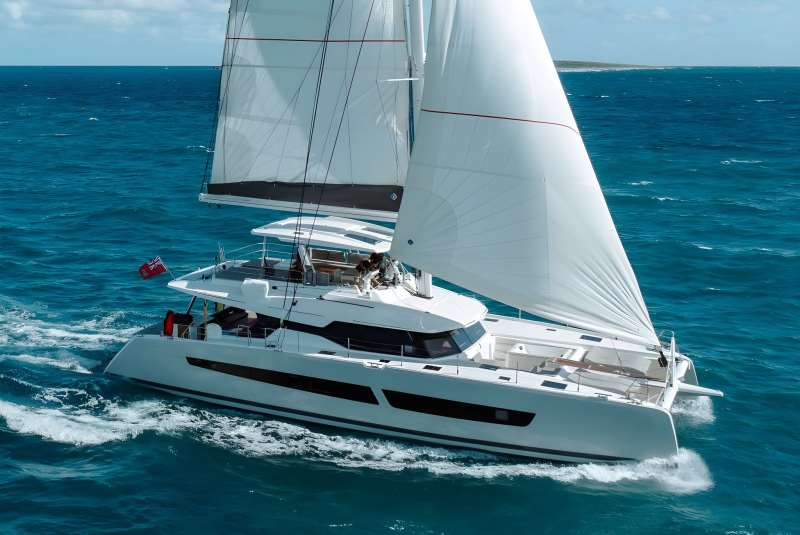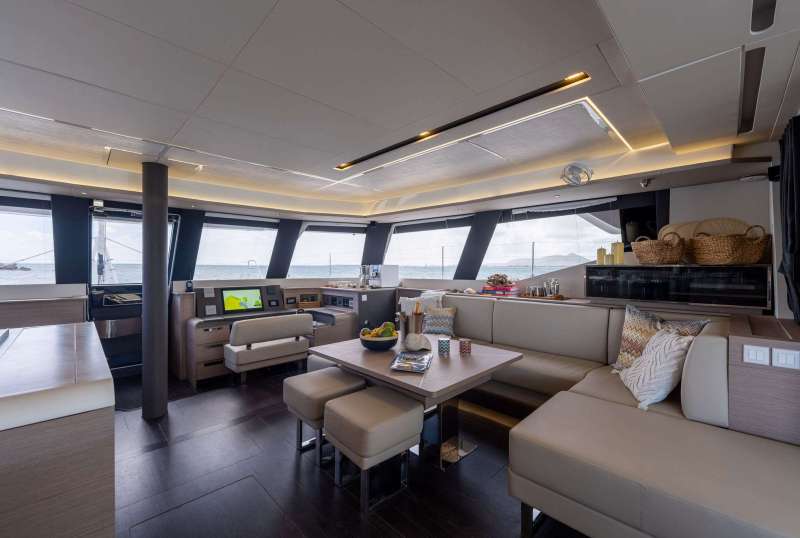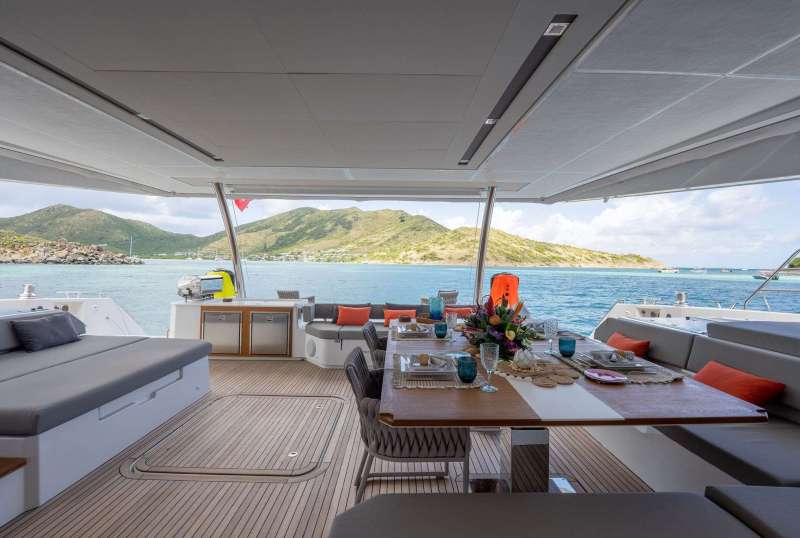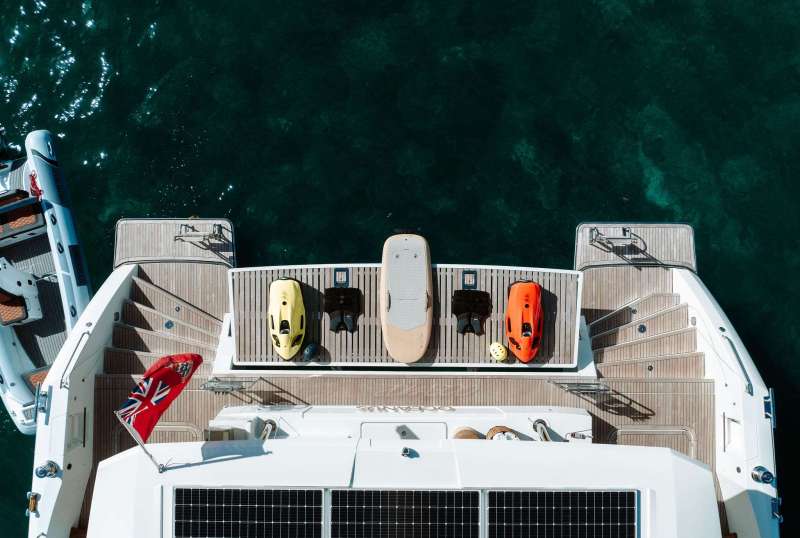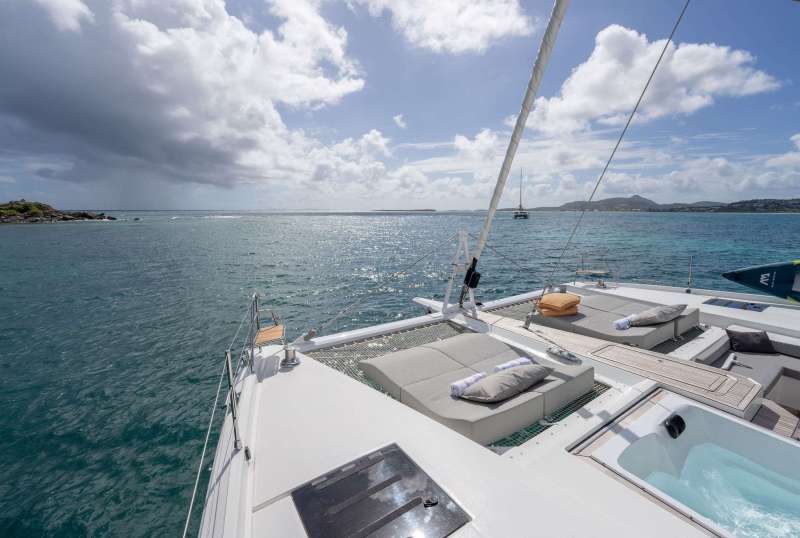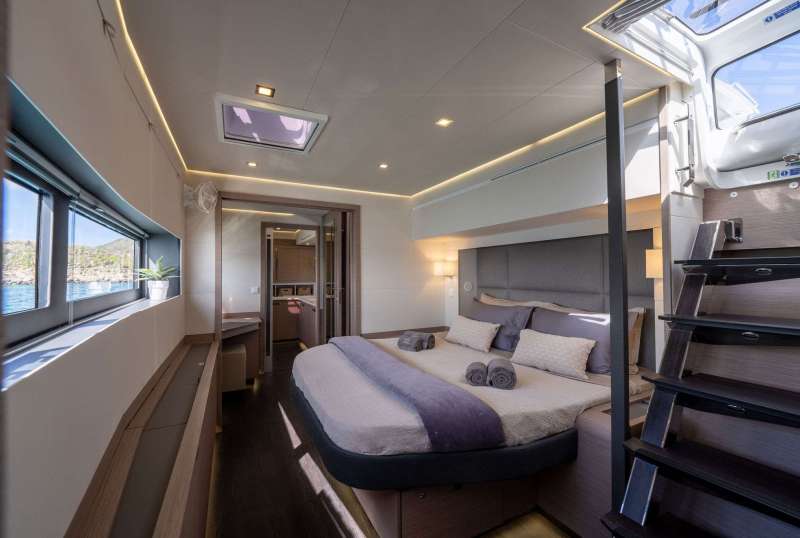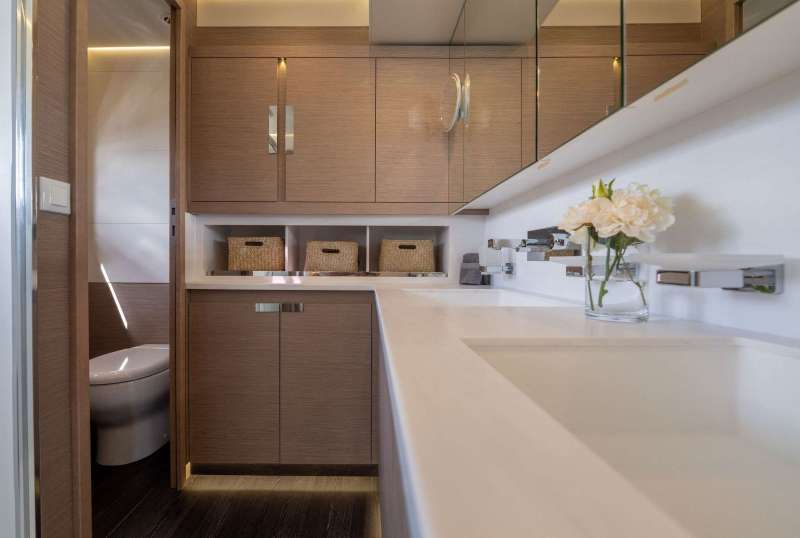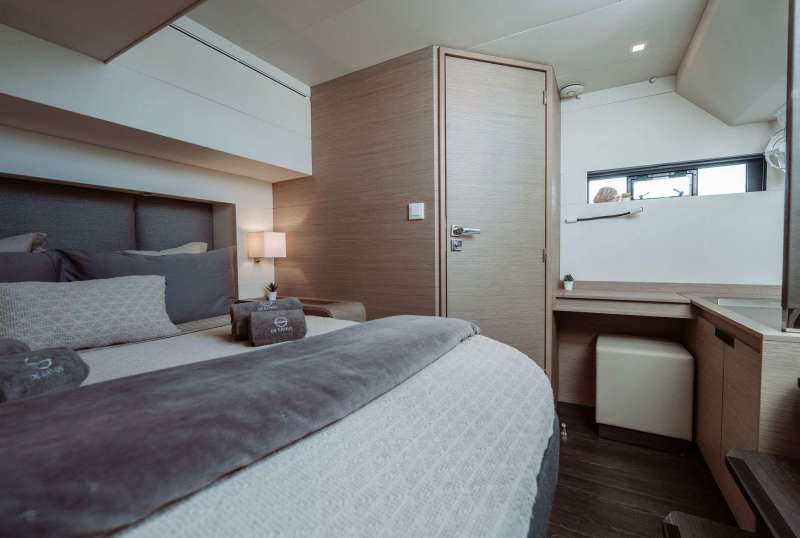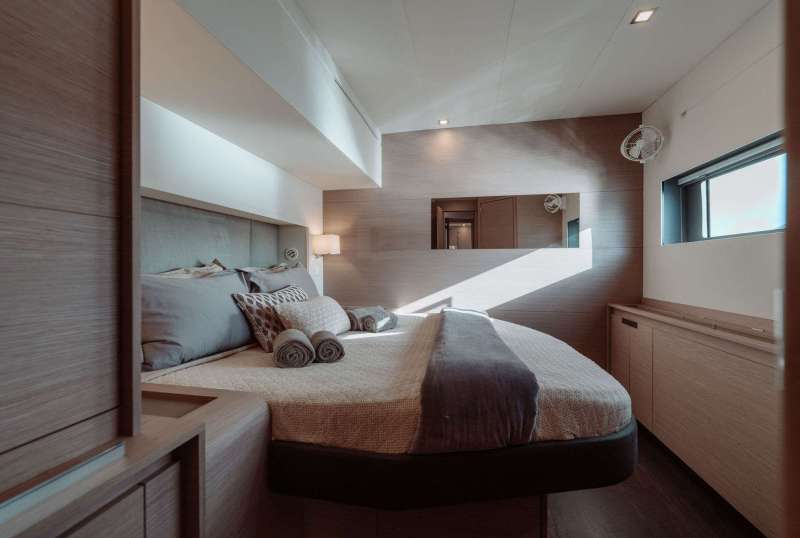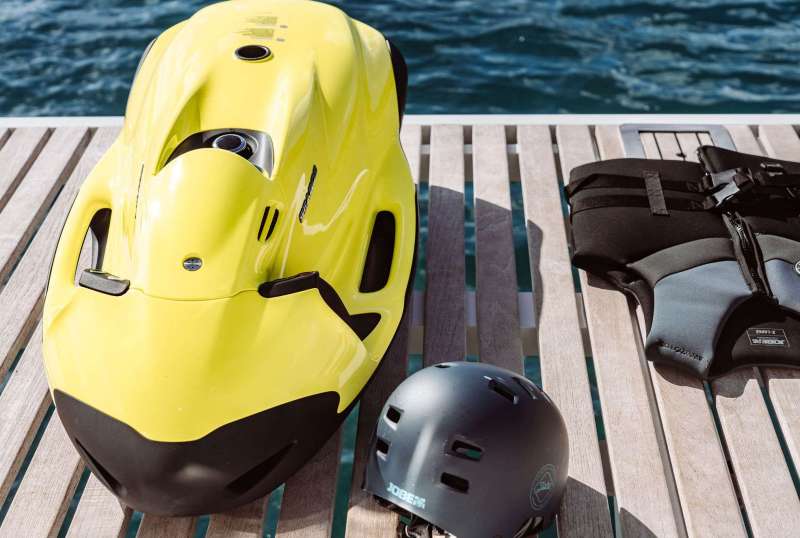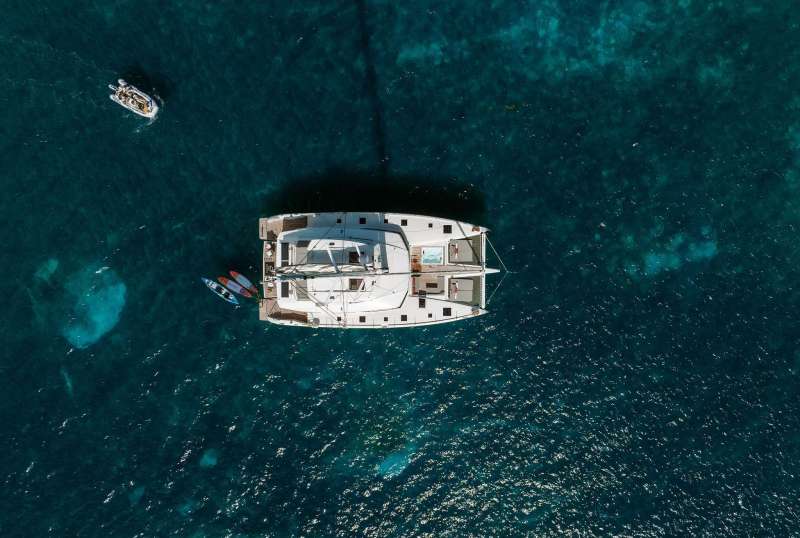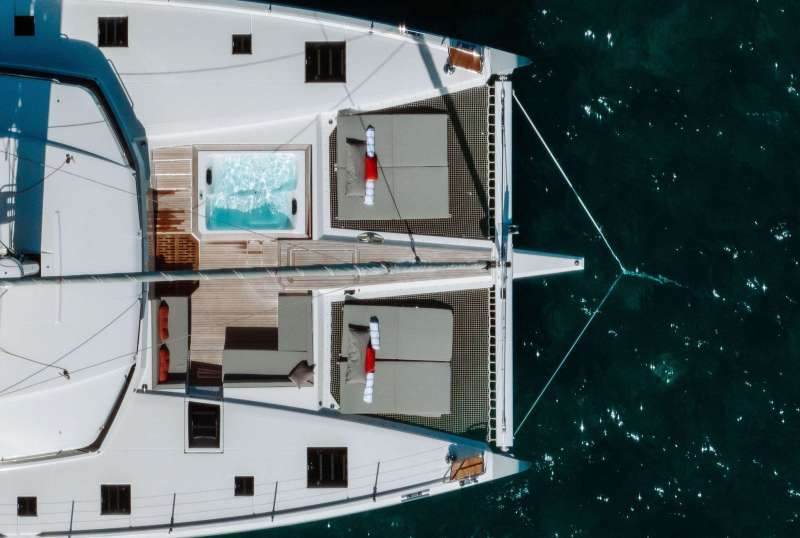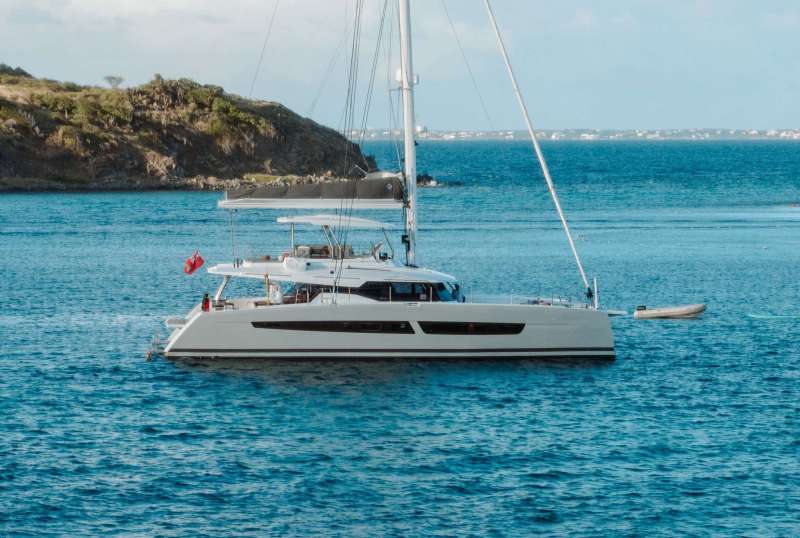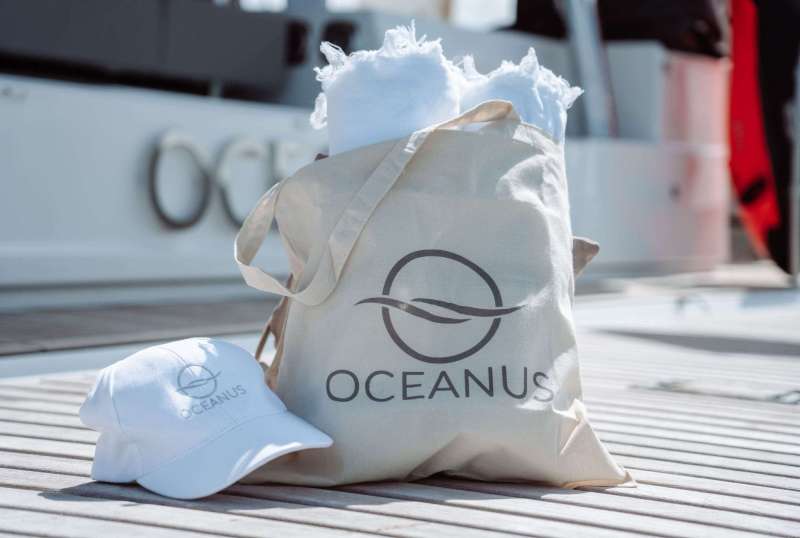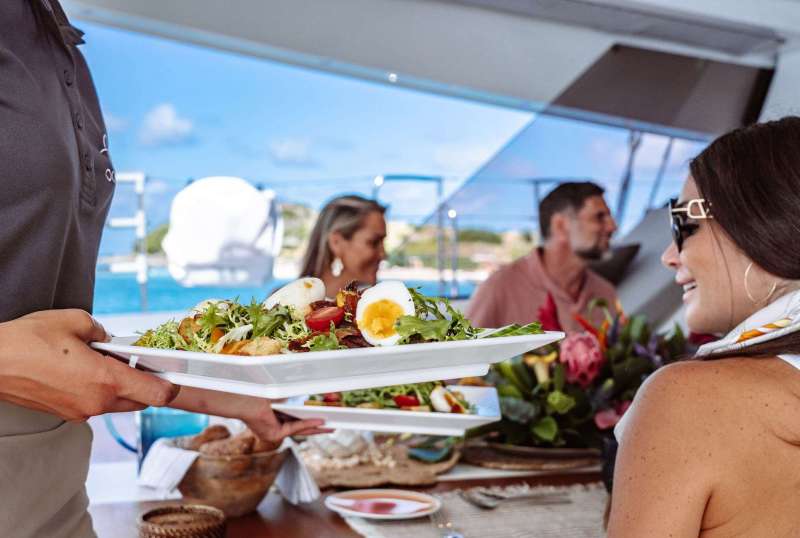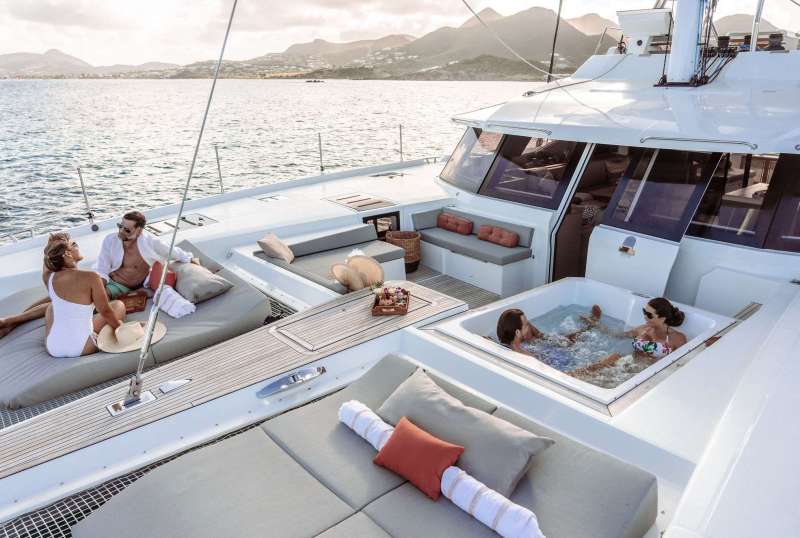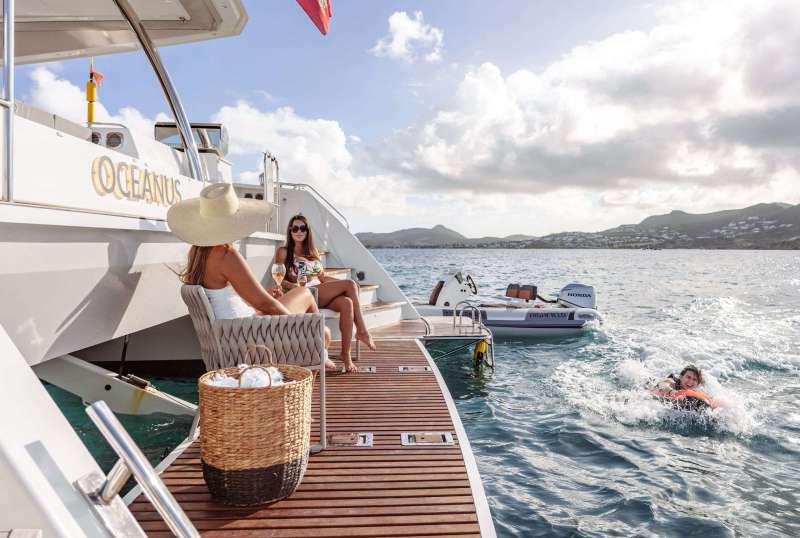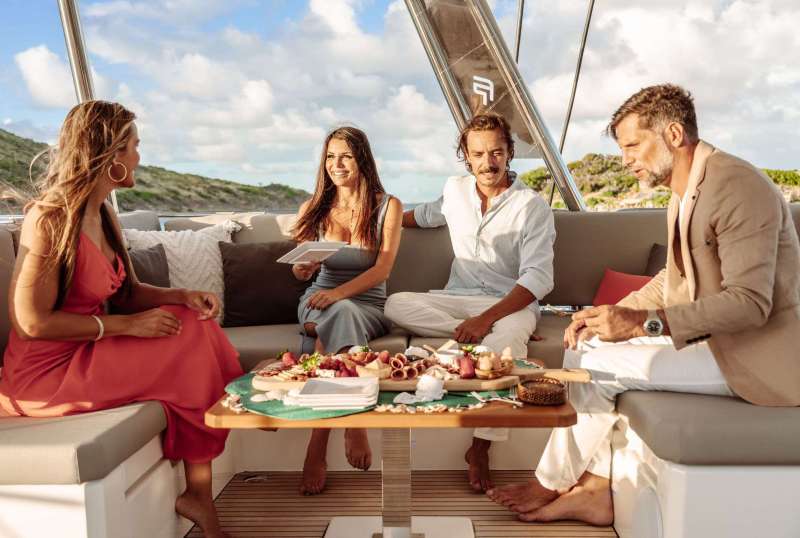 OCEANUS
From €55,500/week
4 cabins
70 ft
Fountaine Pajot
8 guests
Built: 2022
22 Litres/Hr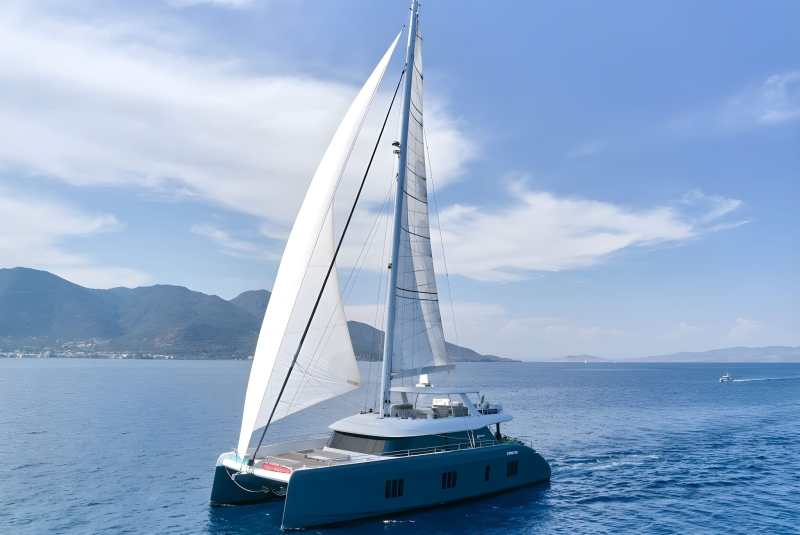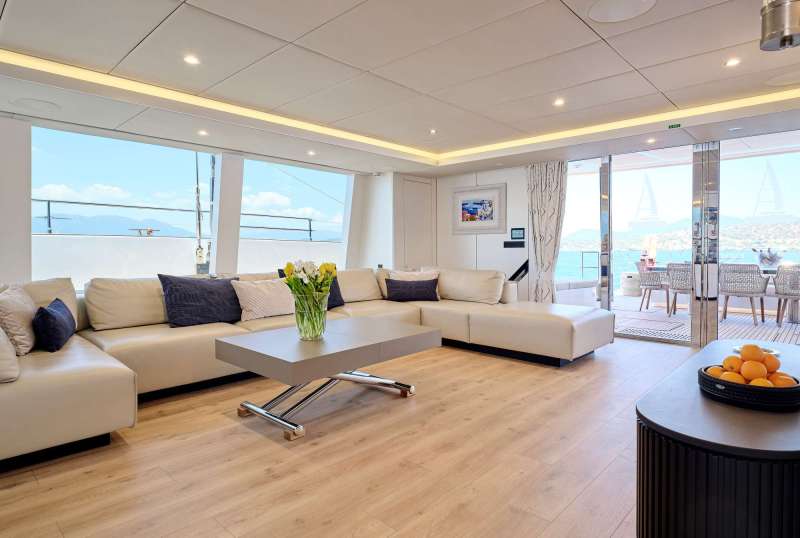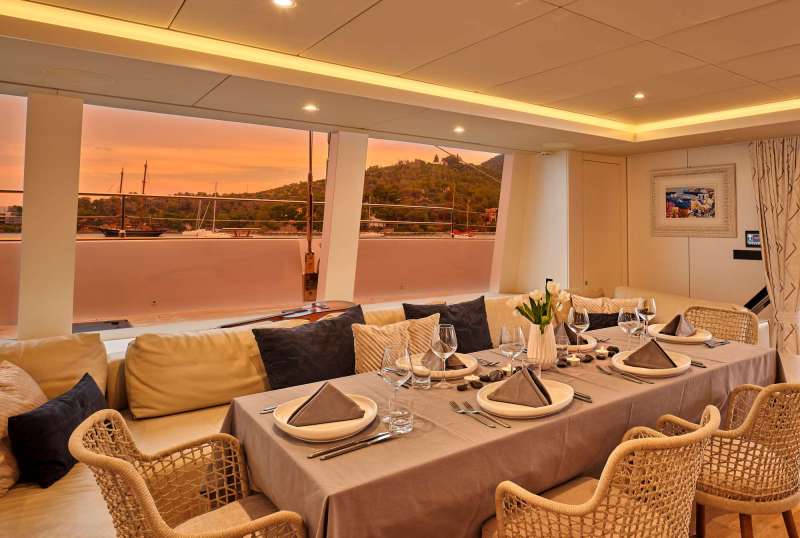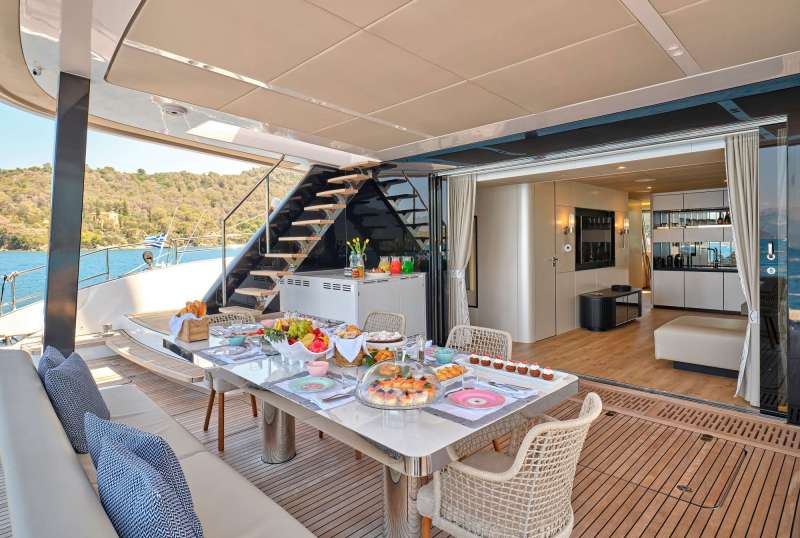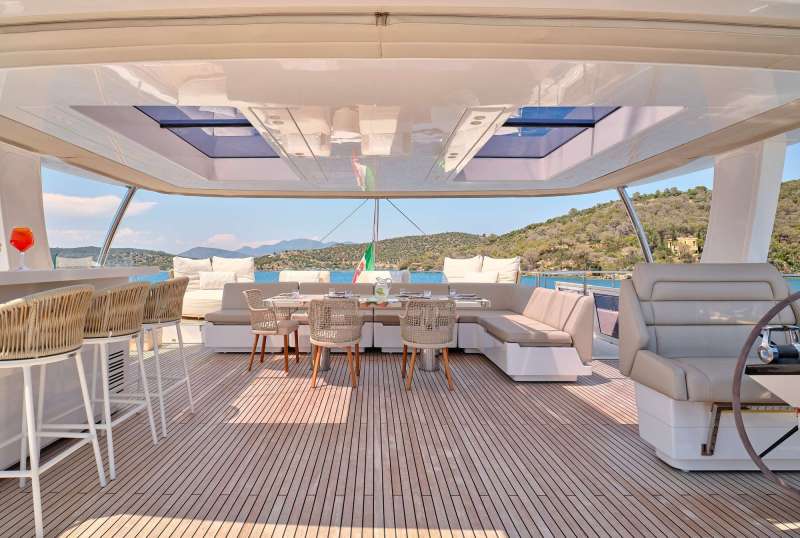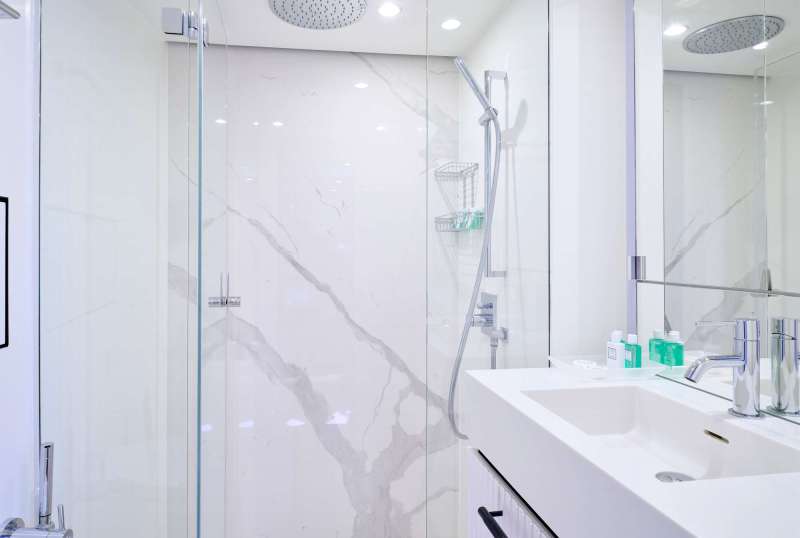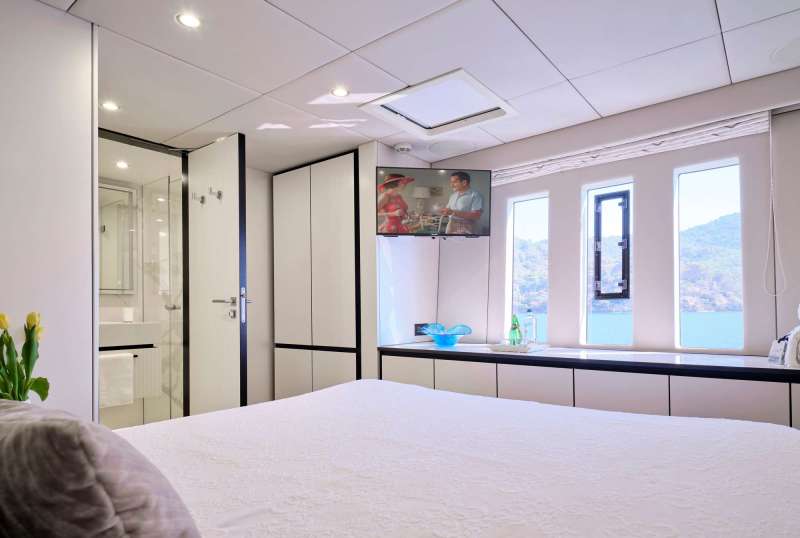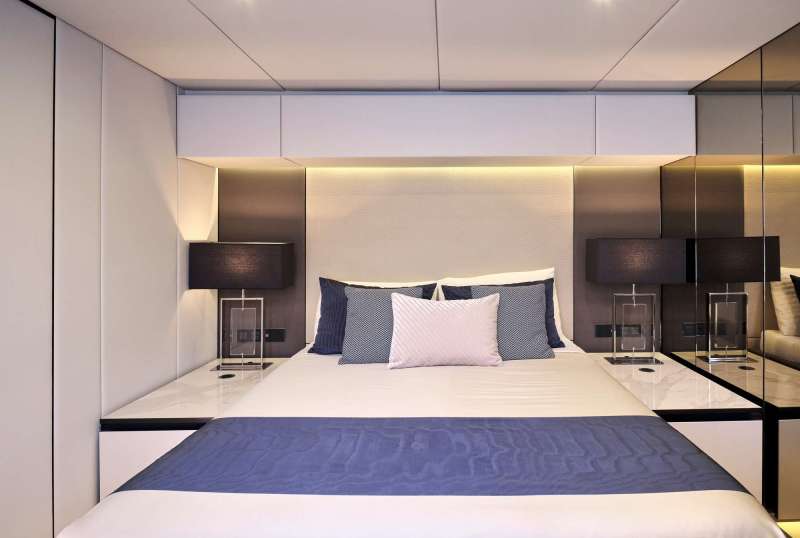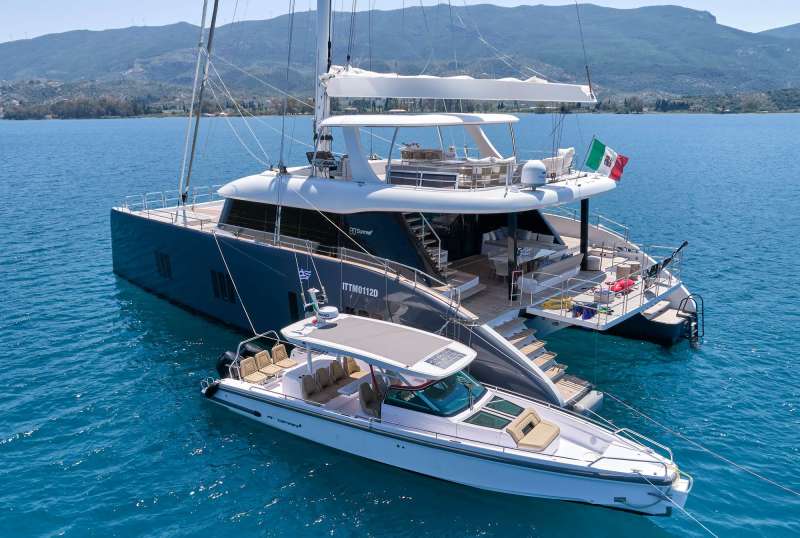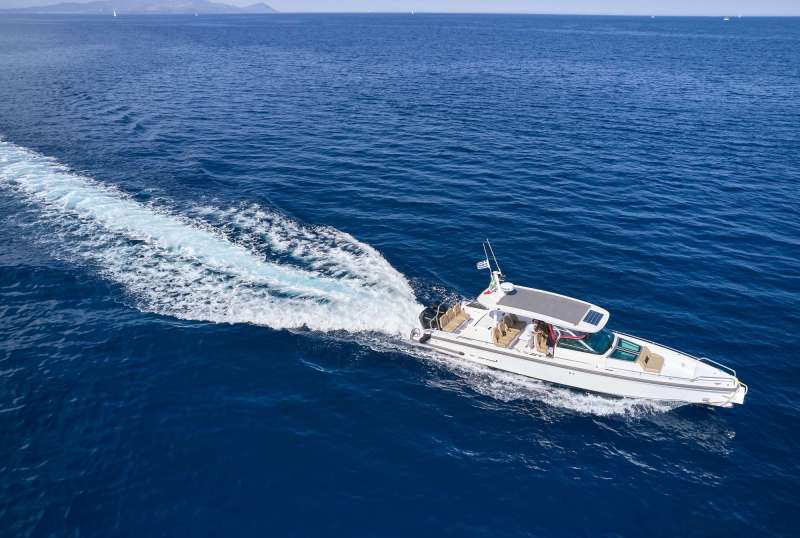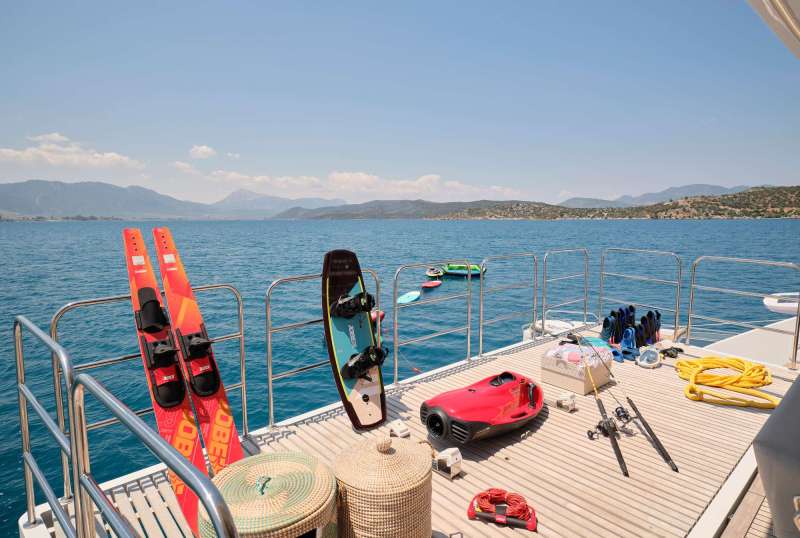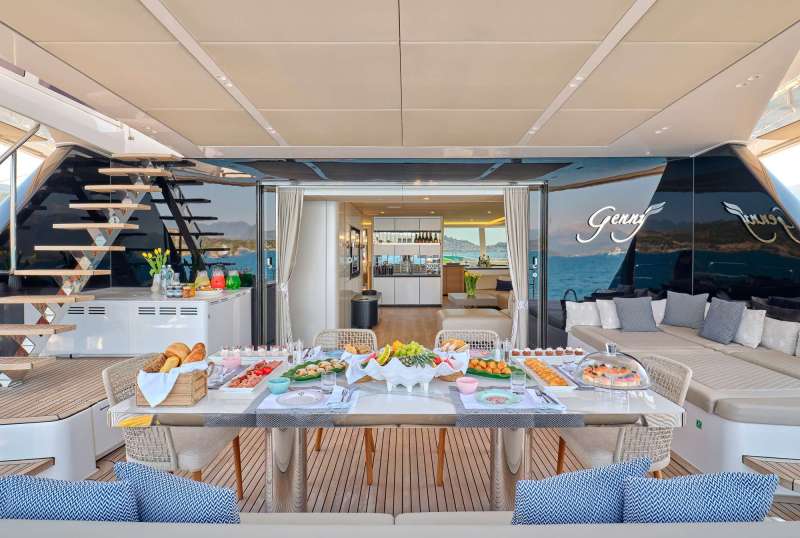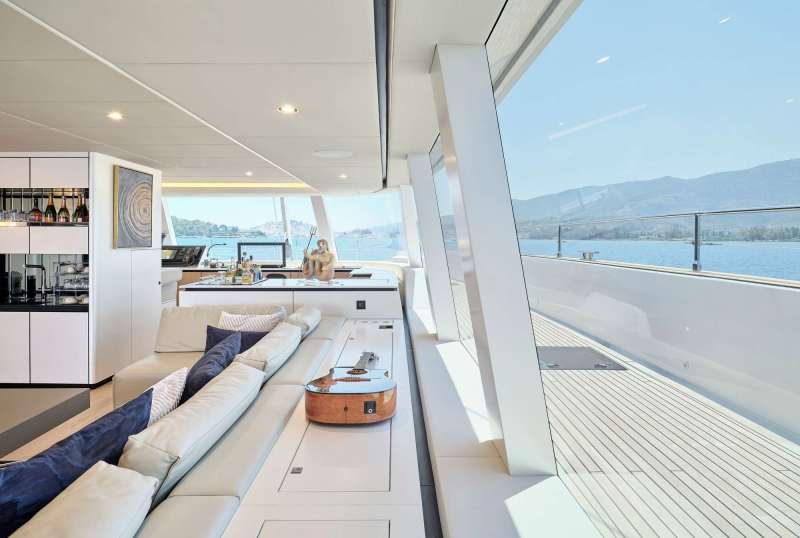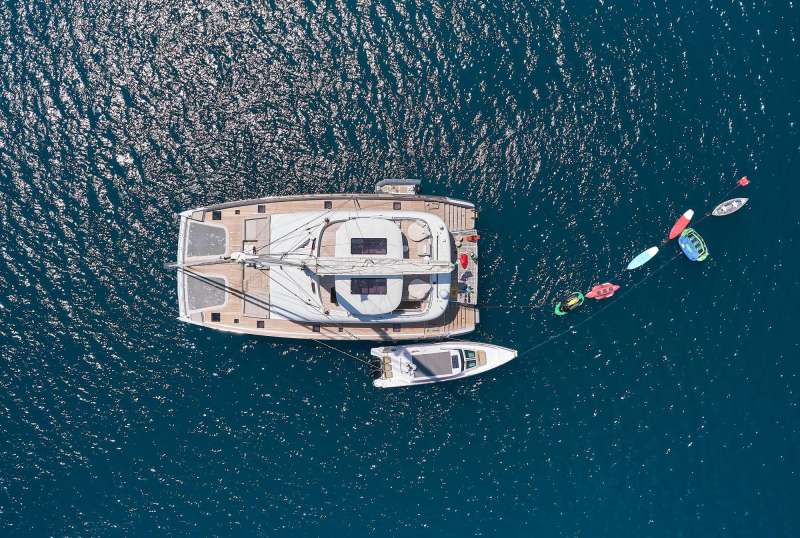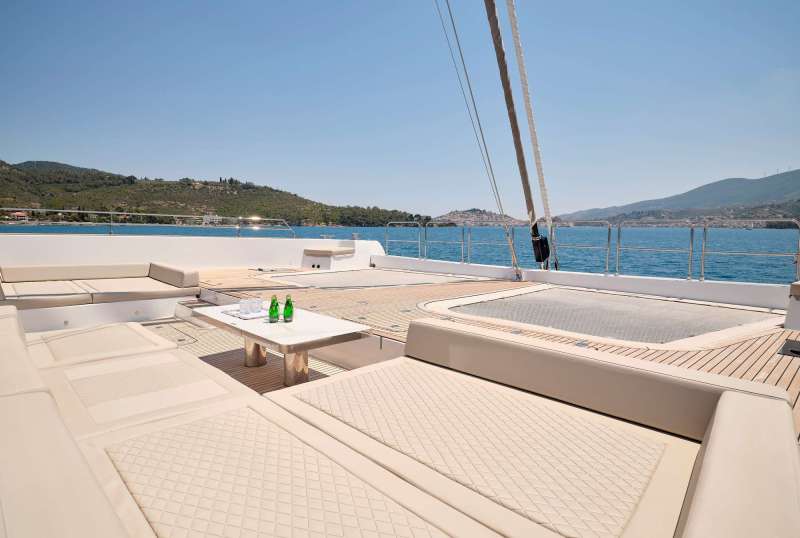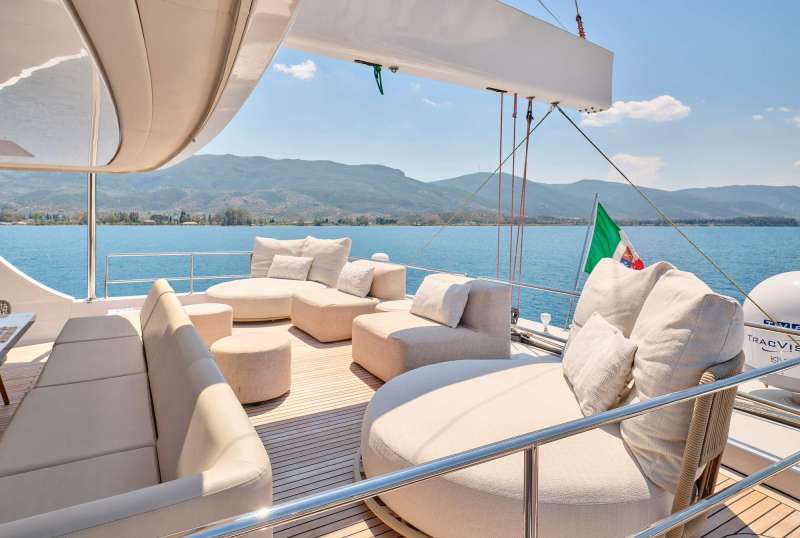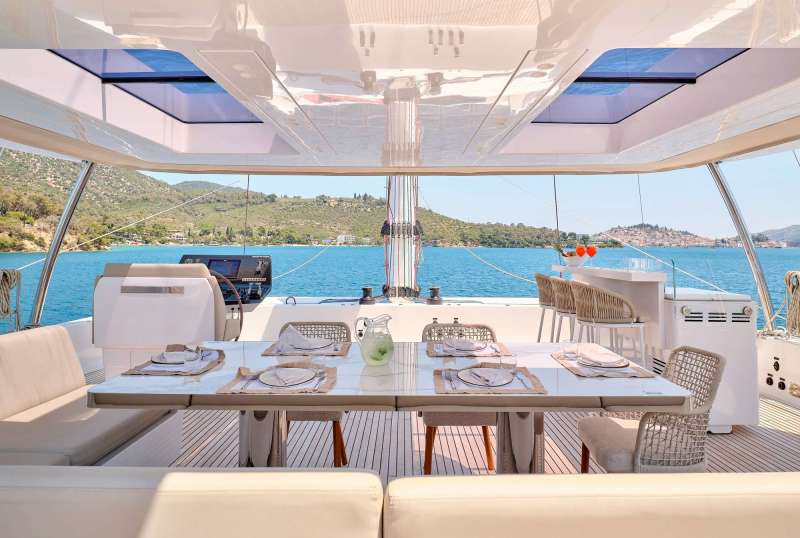 GENNY
From €55,000/week
5 cabins
80 ft
Sunreef Yachts
10 guests
Built: 2021
130 Litres/Hr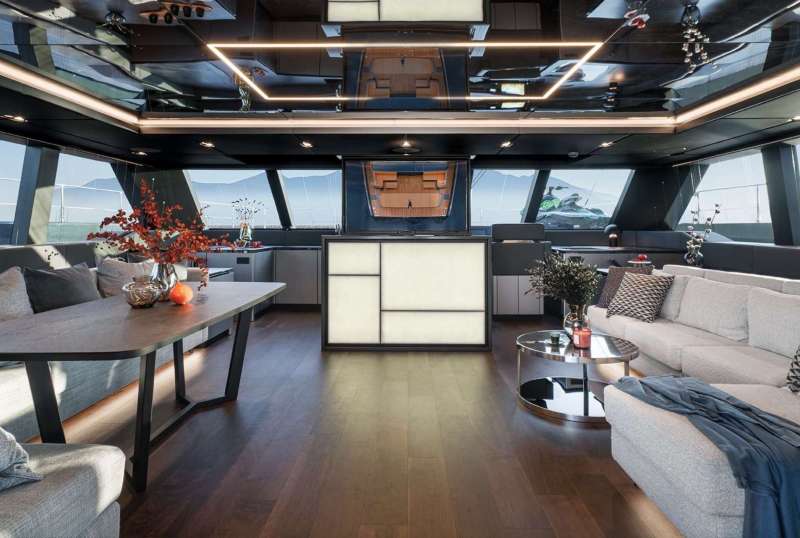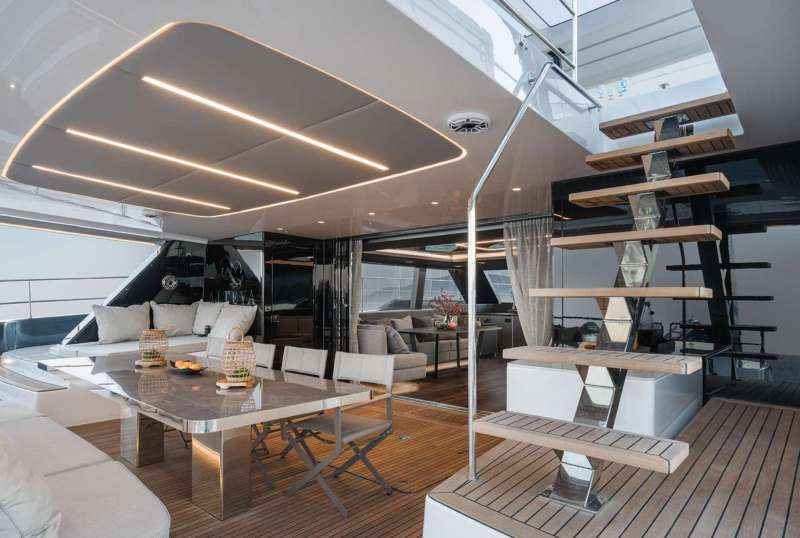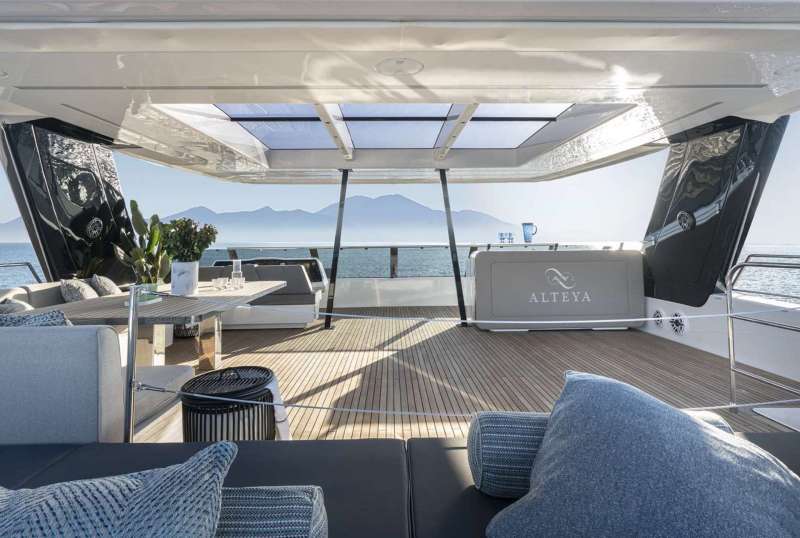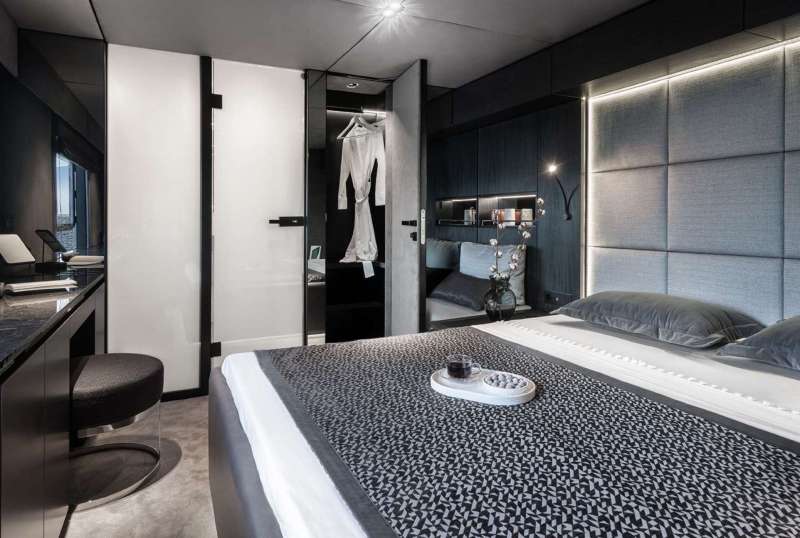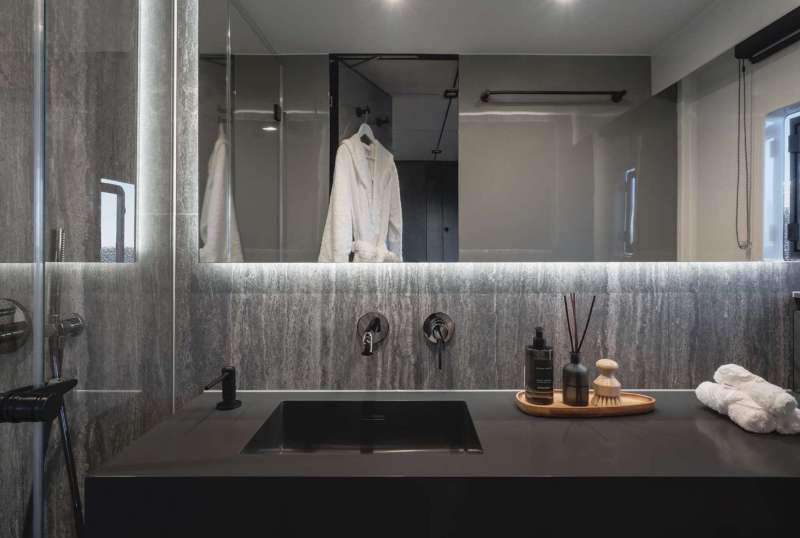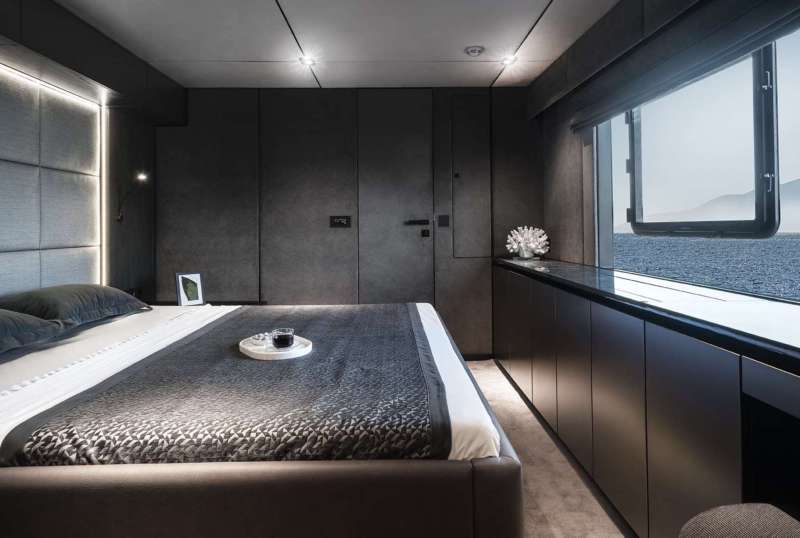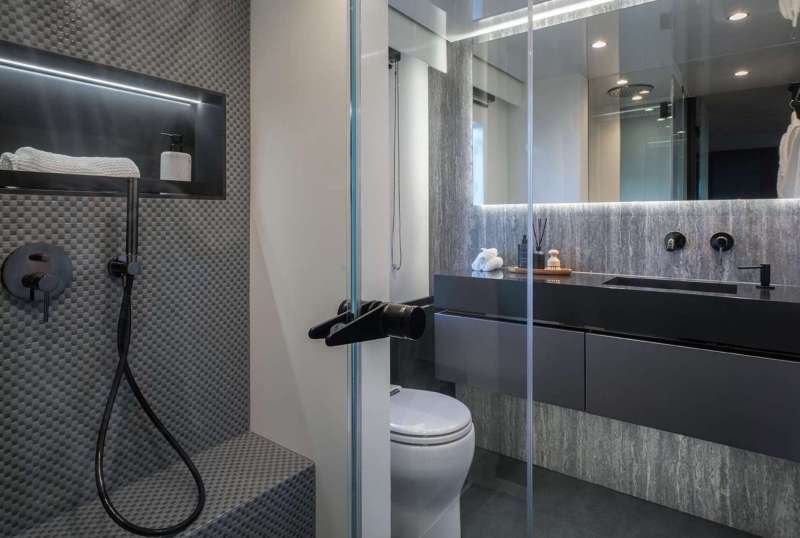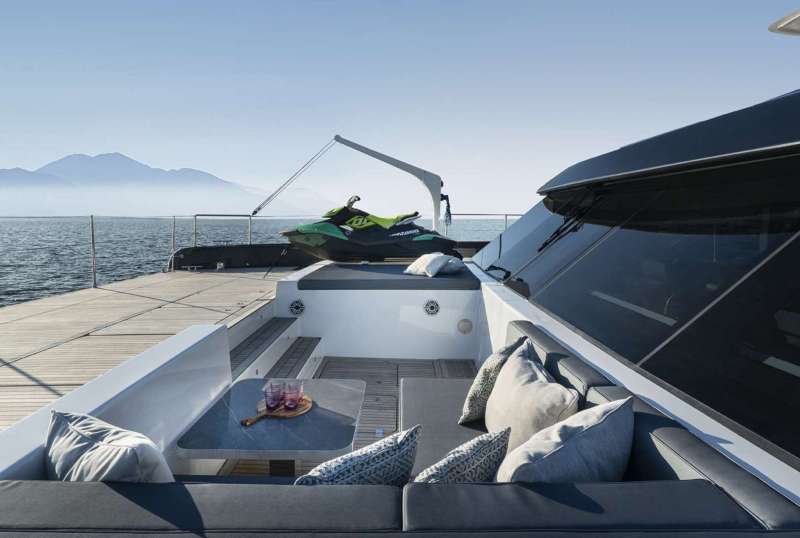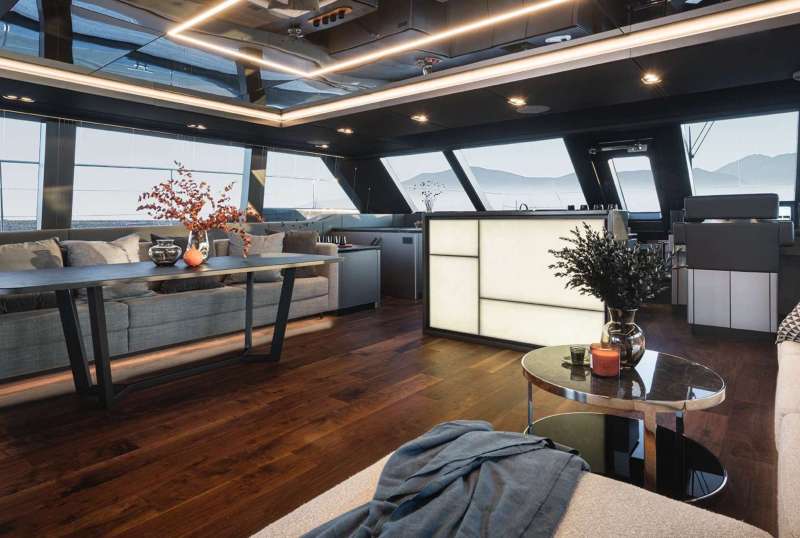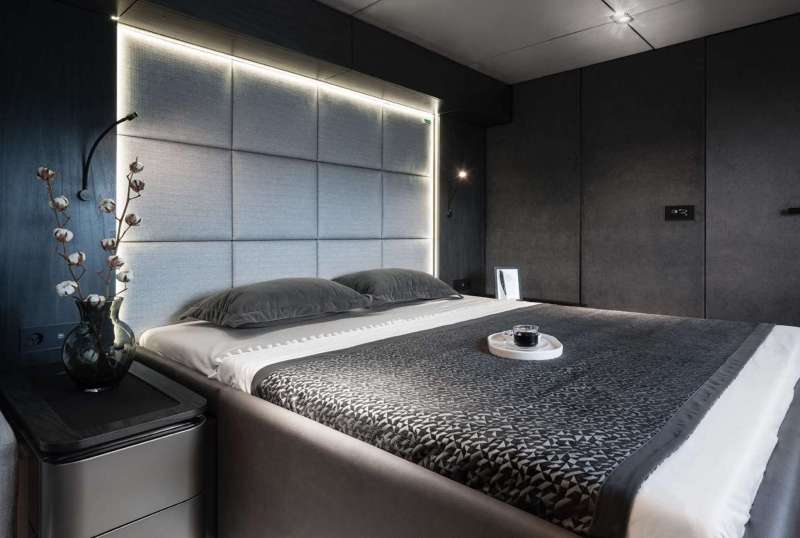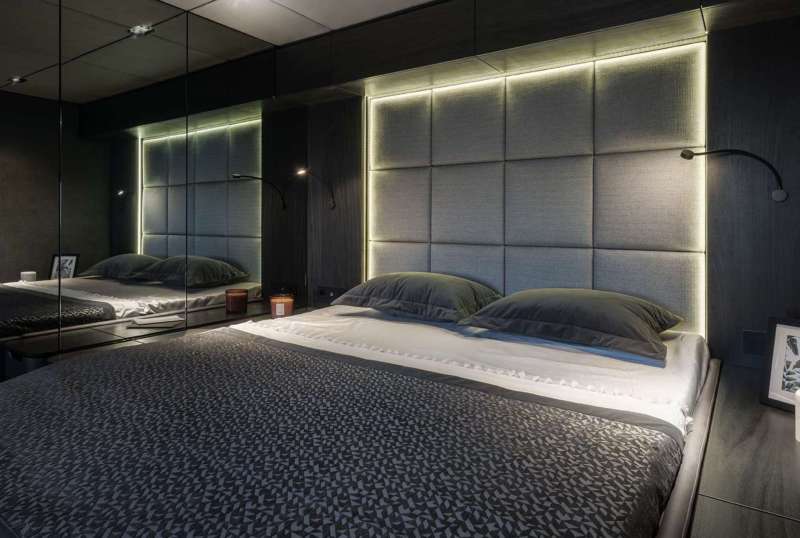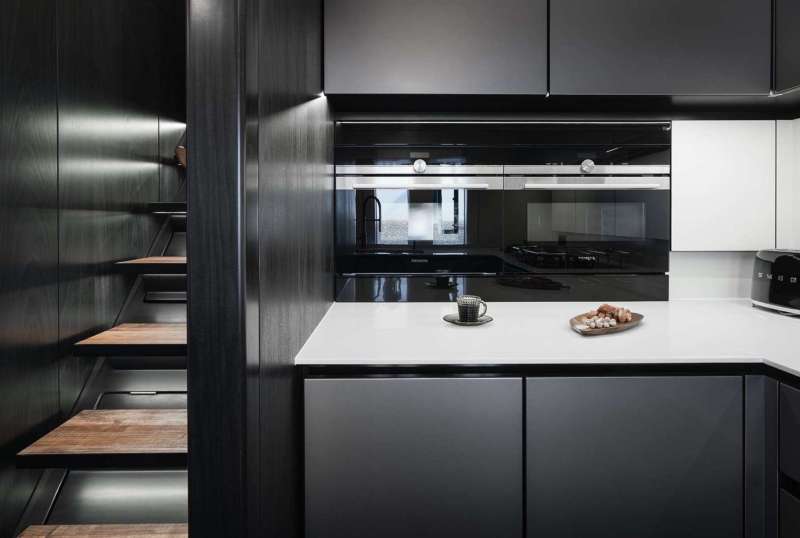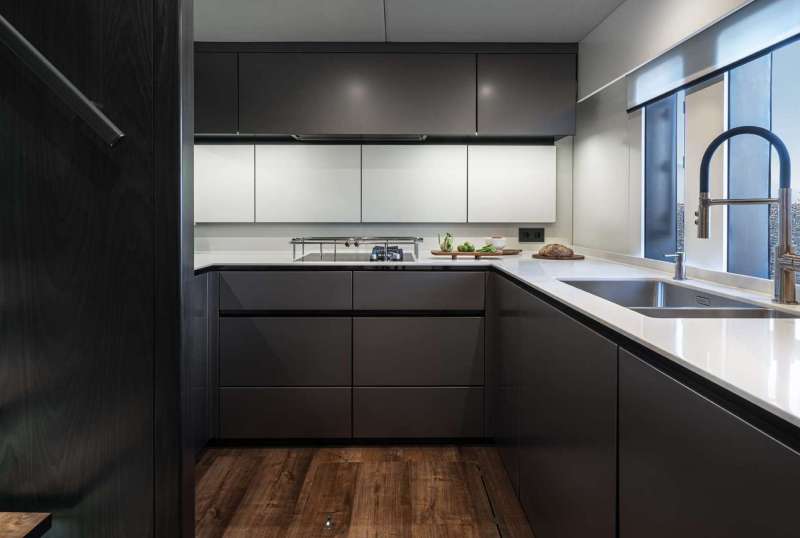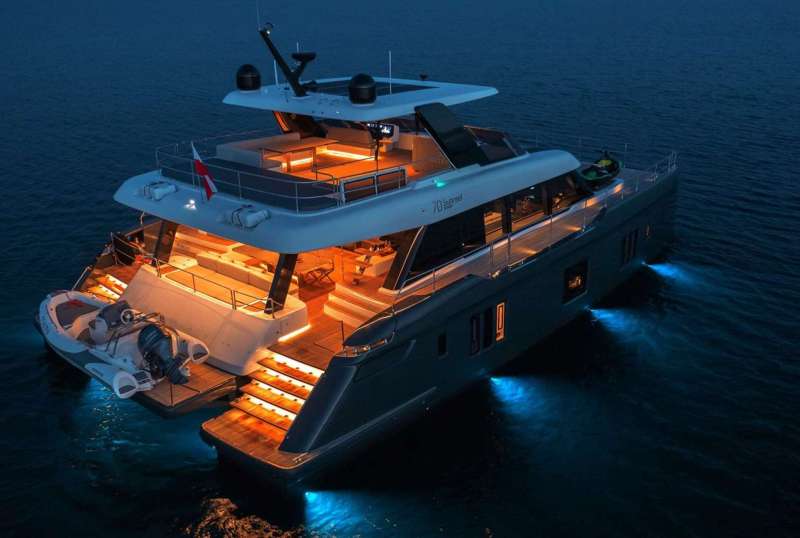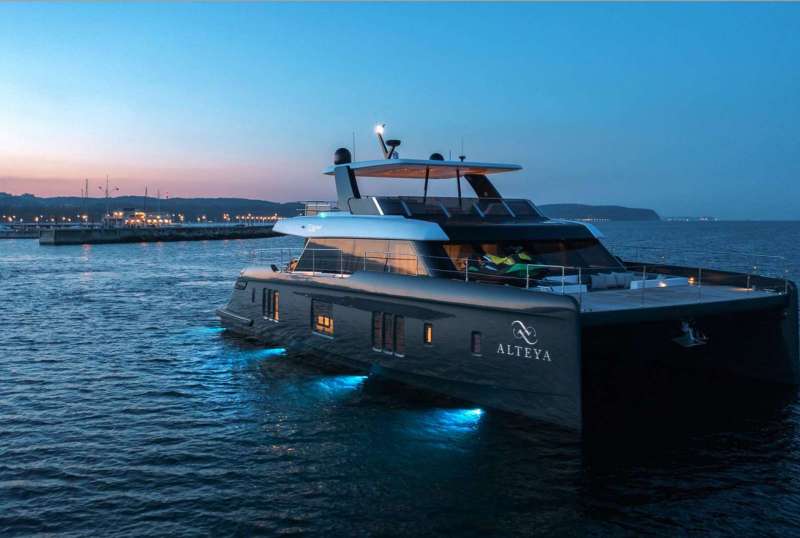 ALTEYA
From €55,000/week
4 cabins
70 ft
Sunreef Yachts
8 guests
Built: 2022
200 Litres/Hr