Top 10 Greek Motor Yacht Charters for Summer 2023-2024!
A luxury yacht charter in the Greek islands is most likely to start in Athens, due to the presence of superyacht marinas like Zea Marina, Alimos Marina or the Olympic Marina. If you want to see as much of Greece and the greek islands as possible in the shortest time and do it in luxury, then a power cruising motor yacht is the ideal choice for a greek yacht charter.
Why charter a superyacht (Luxury Yacht Charter) in Greece?
Only a handful of superyacht charter locations have marinas able to accommodate larger yachts, and those that do are often hindered by stringent bureaucracy, as well as higher tax rates, unlike the island group of Greece. Although the number of luxury yachts in Greece is growing faster than the number of berths available, the superyacht segment is well catered for at the major island chains– in the Ionian islands as well as the Cyclades and parts of the Dodecanese Islands. These are the most popular destinations anyway.
An idyllic Greece yacht charter offers an escape from busy life. From the Ionian Island to the Saronic islands and Cyclades Islands, or even to destinations on mainland Greece, spend lazy days exploring greek culture, historical sites, azure waters, and deserted sandy beaches like the famous Shipwreck Beach, pretty harbors and white-washed fishing villages. Dine on fresh seafood and fresh ingredients at local tavernas and explore ancient ruins, from the Acropolis at Rhodes to the island of Delos to the Olympian temples at Katákolon.
Anchoring a superyacht in the Mediterranean and the Ionian Islands
Numerous Mediterranean locations have started prohibiting larger yachts from anchoring just anywhere, "forcing" the yachts to use the marinas. With docking fees in the high thousands and low tens of thousands of euros (Capri is a case in point, but Greece isn't much cheaper), the ability to take advantage of the yacht's anchor and stabilizers is increasingly important.
Although the newer super yachts are equipped with GPS anchors (motors keep the boat in place to prevent the anchor from dragging and destroying sea life), it is still an advantage to be able to use a classic anchor in most places.
Number of guests
If a superyacht wants to accommodate more than 12 guests (sleeping, and naturally excluding crew), it crosses a threshold for safety that mandates it must be considered a crew ship. This means life rafts, lifeboats, and more security elements and protocols comparable to commercial liners. For this reason, most yachts will accommodate only up to 12 guests.
TOP 10
GREECE MOTOR YACHT CHARTERS

THIS SUMMER

We have selected 10 motor yachts operating in Greek waters for your sailing vacation and ordered them according to their charter cost and size. This way, it will be easier to grasp the price range for sailing yachts with various amenities.
1. SUNDAY | 196.00 Ft
The largest of the fleet, this superyacht is the epitome of a luxury yacht charter, featuring deluxe cabins, four decks, and a huge sundeck with a jacuzzi. Staffed by a multinational crew of 15, led by captain Manolis Liontakis who can boast a wall full of sea certificates of all levels and persuasions! His love for the sea and for all water-related activities enable him to offer an array of activities with his very competent water sports-orientated deck crew. You can also get insider information from Sunday's experienced skipper, Mr. Panagiotis Koutrakis, who has an Advanced Open Water Diving certificate. The crew holds a vast knowledge of greek waters, ensuring an unforgettable experience for his charter guests.
Toys and Amenities:
Sunday Comes equipped with a custom-made Novurania 7.5m tender with 225hp engine, a second custom-made Novurania 5.5m tender with 115hp engine, a 4m Zodiac tender, 2 Sea-Doo GTX, an inflatable canoe, tubes, sofas, SUPs, banana, water skis, and fishing equipment.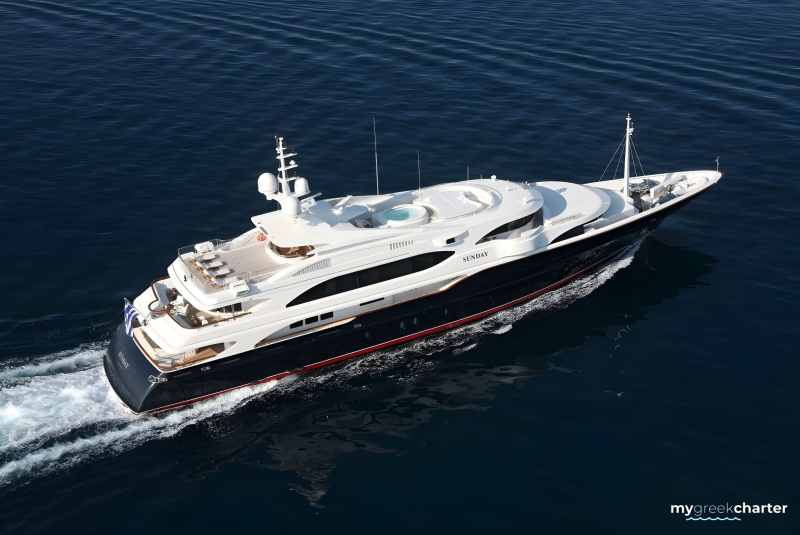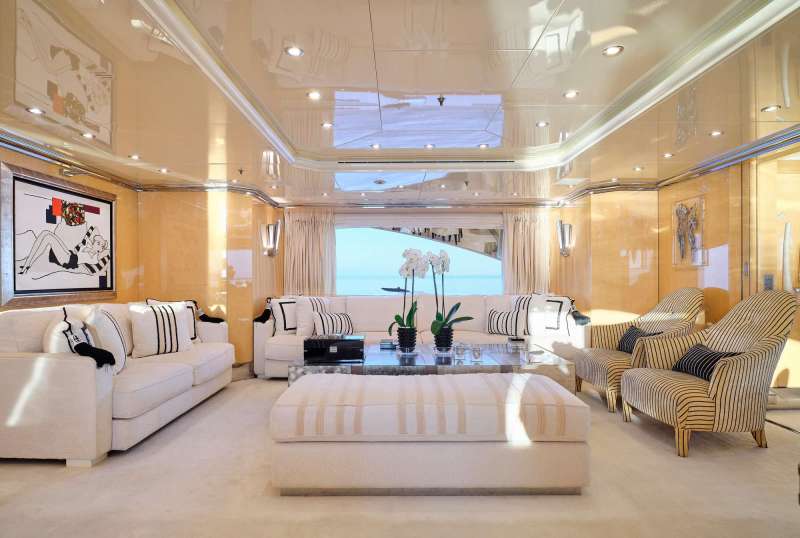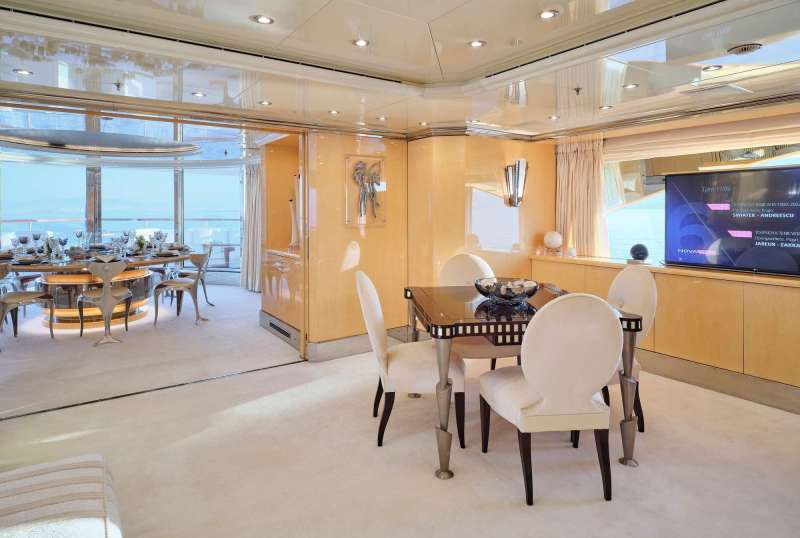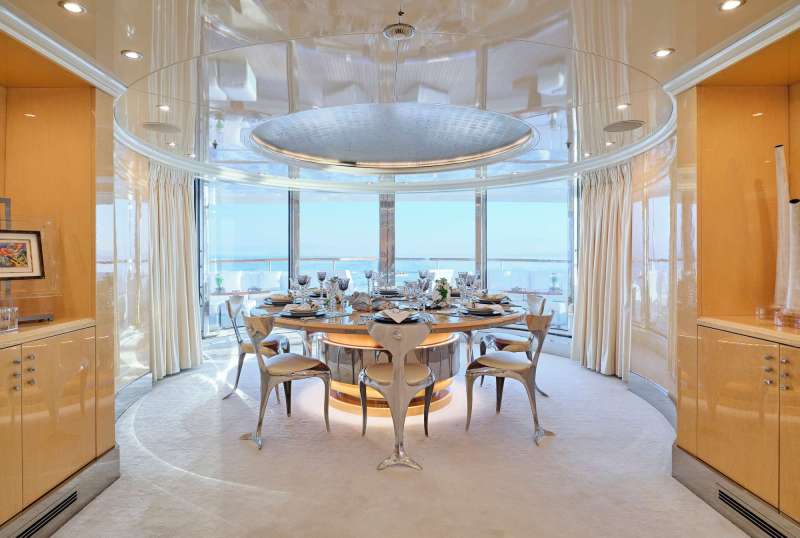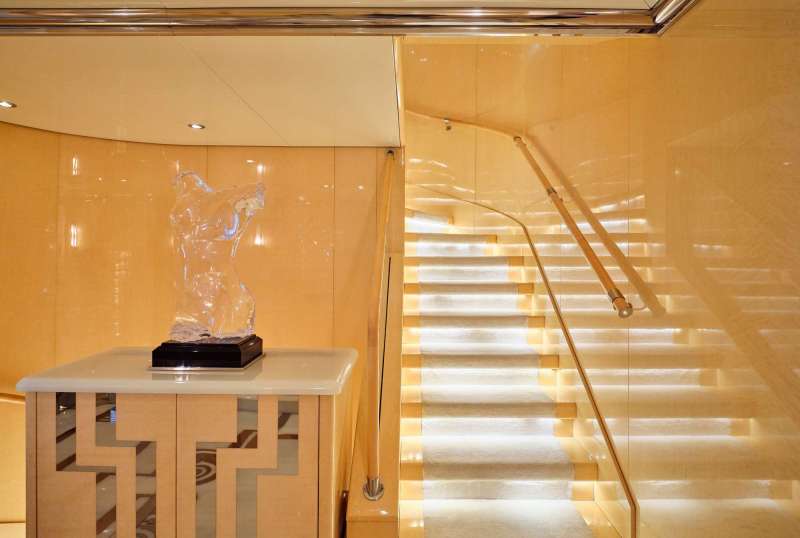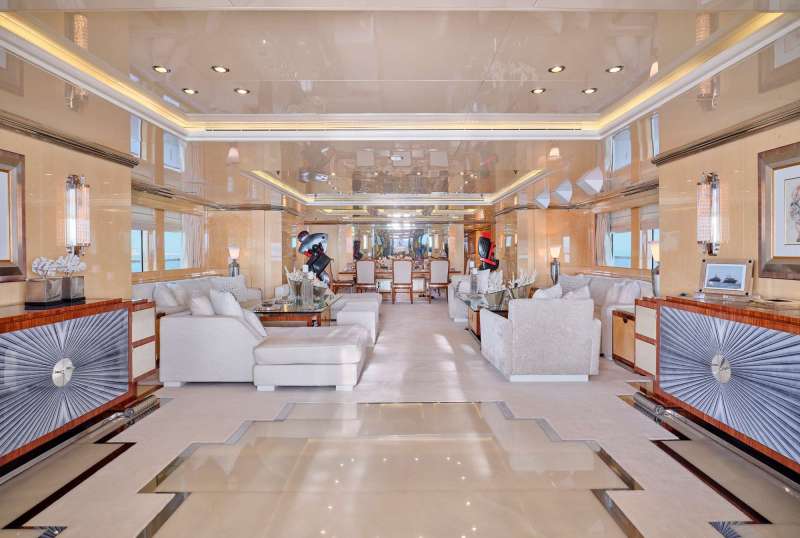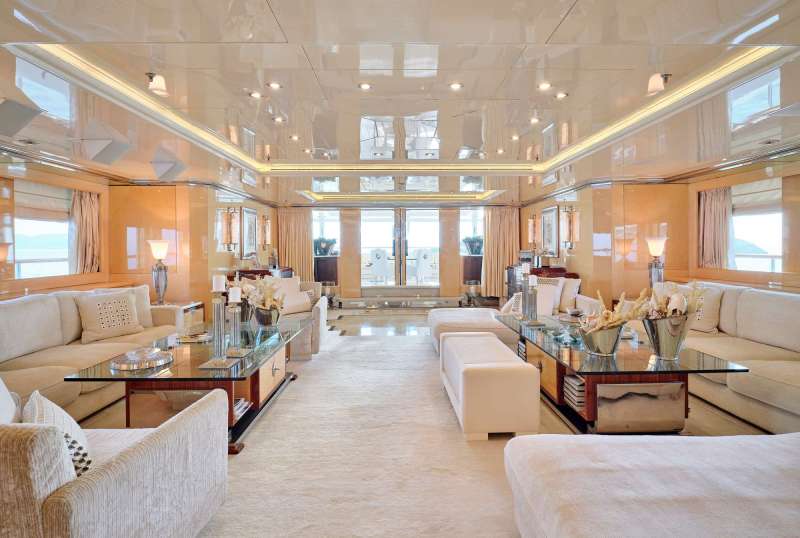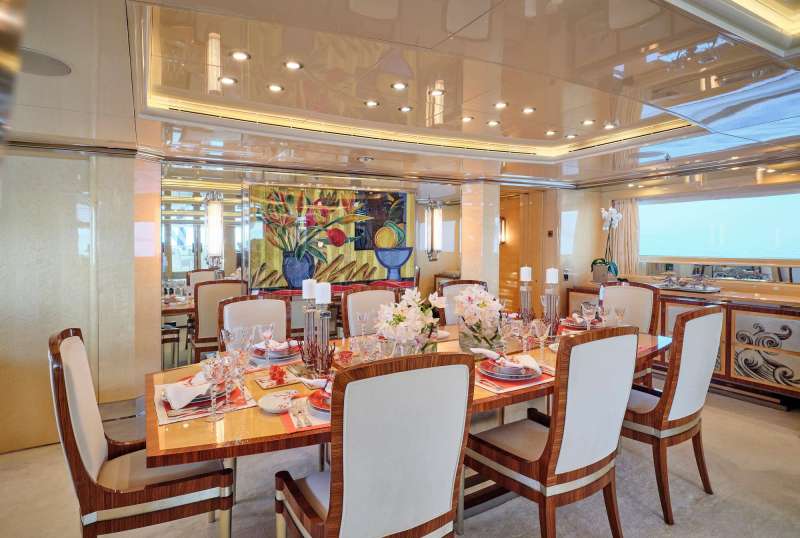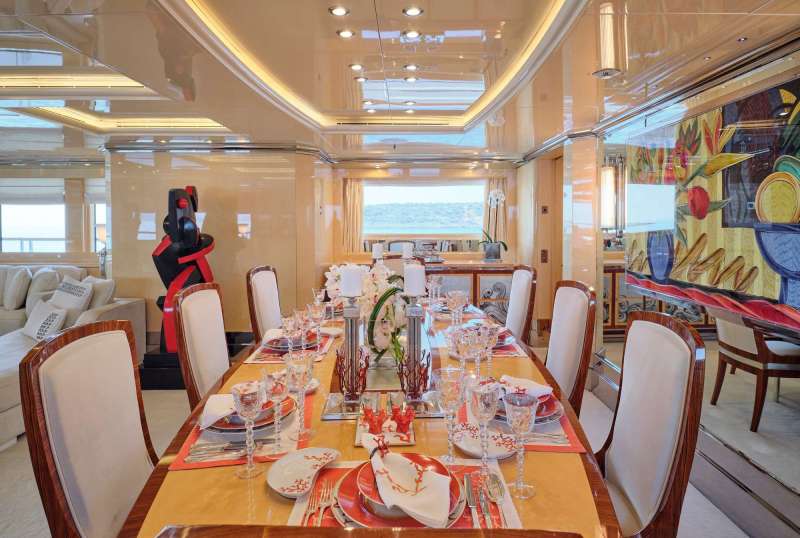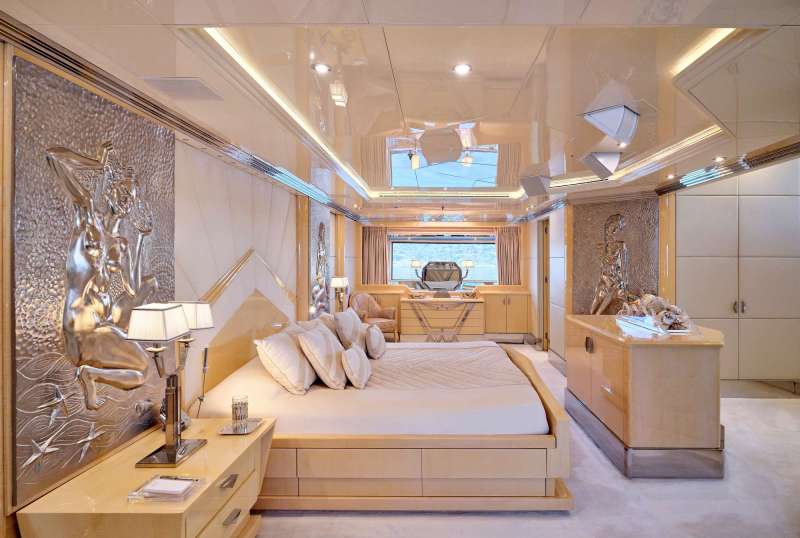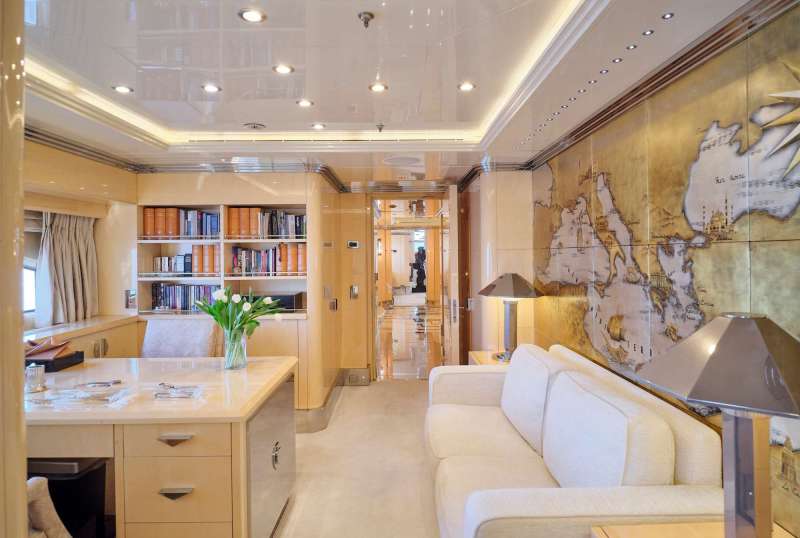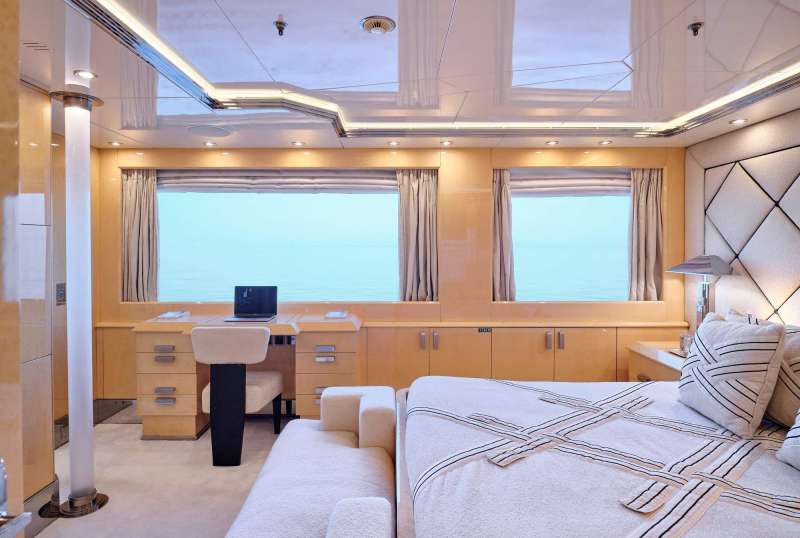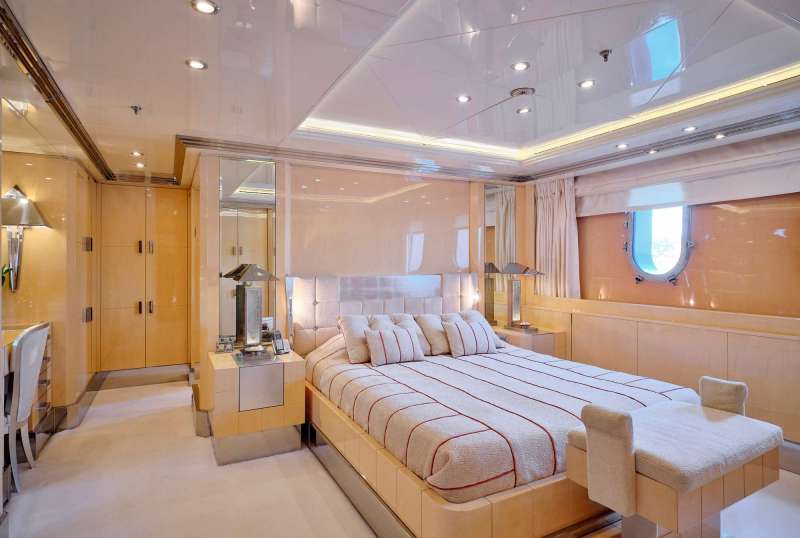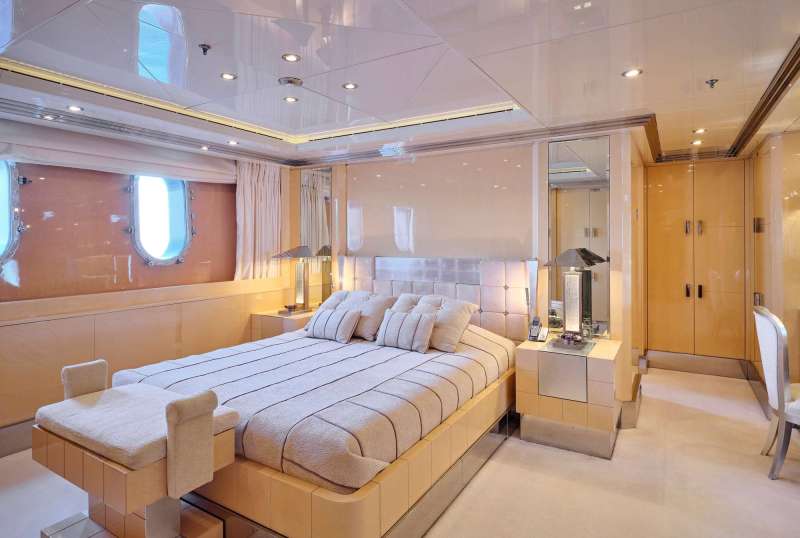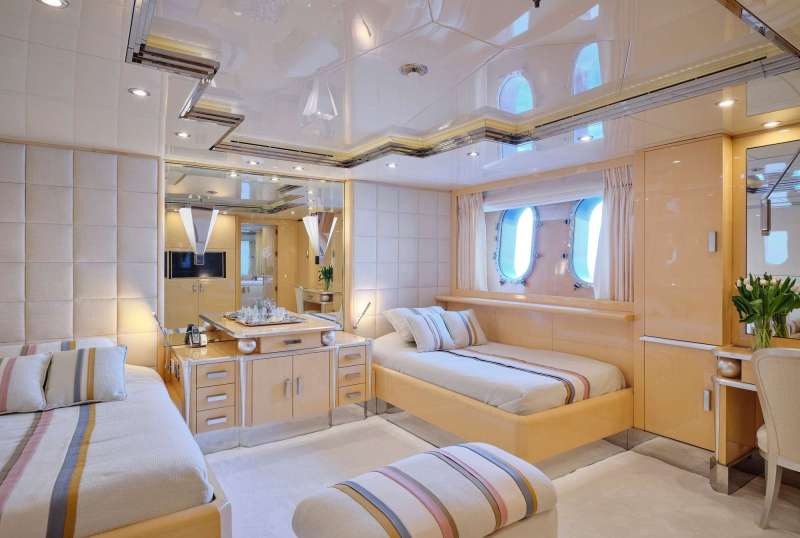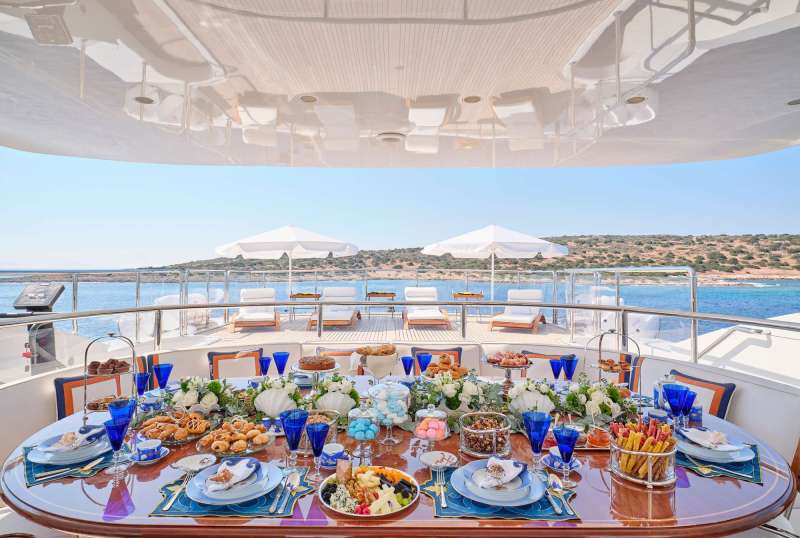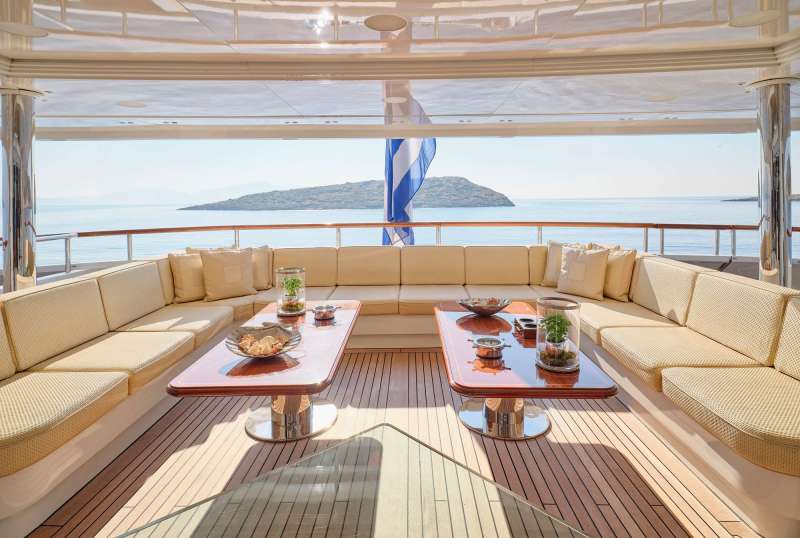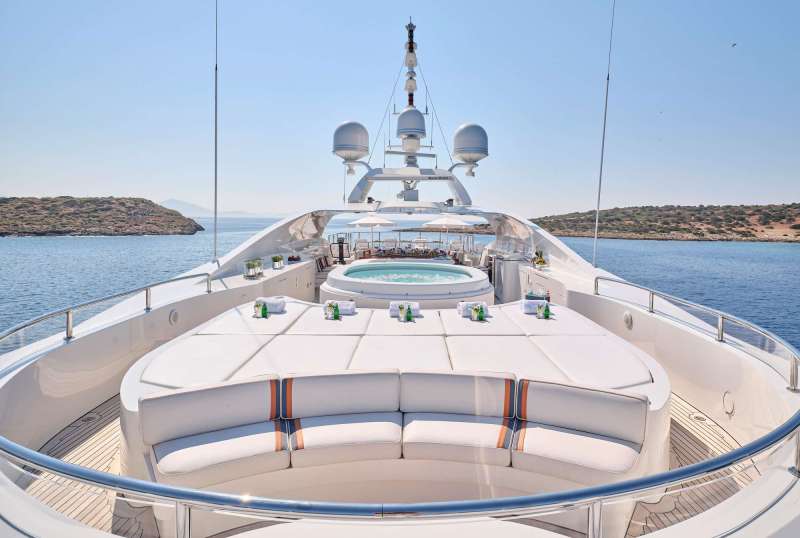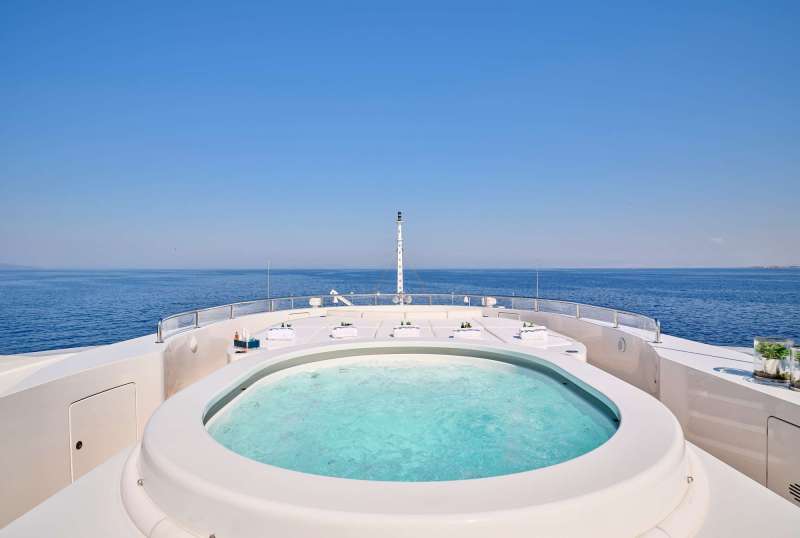 SUNDAY
From €300,000/week
6 cabins
196 ft
Benetti
12 guests
Refit: 2010
480 Litres/Hr
2. PERSEFONI I | 176.00 Ft
Persefoni, daughter of Zeus and Demetra according to ancient Greek mythology, is a super yacht with 13 crew, all Greek and well versed in the art of sailing. Between them, they carry decades of experience in everything to do with the sea, such as scuba diving, free diving, spearfishing, water sports, swimming, power boats, jet skiing, water skiing and a lot more.  Mr. Vougiocas holds a scuba diving open-water license- making it easier for the guests to go on diving trips with proper safety measures.
To make your Greek yacht charter magnificent, the onboard chef has 22 years of cooking experience and whips up anything you would like to try from the local cuisine. If you feel heavy after indulging in the flavorful meals prepared by the yacht's chef, you can use the gym, jacuzzi, massage room, or do yoga.
Toys and Amenities
It comes equipped with 2 dinghies, 2 jet skis, 2 SeaBobs, many inflatables, a wakeboard and kneeboard, plus fishing rods and paddle boards.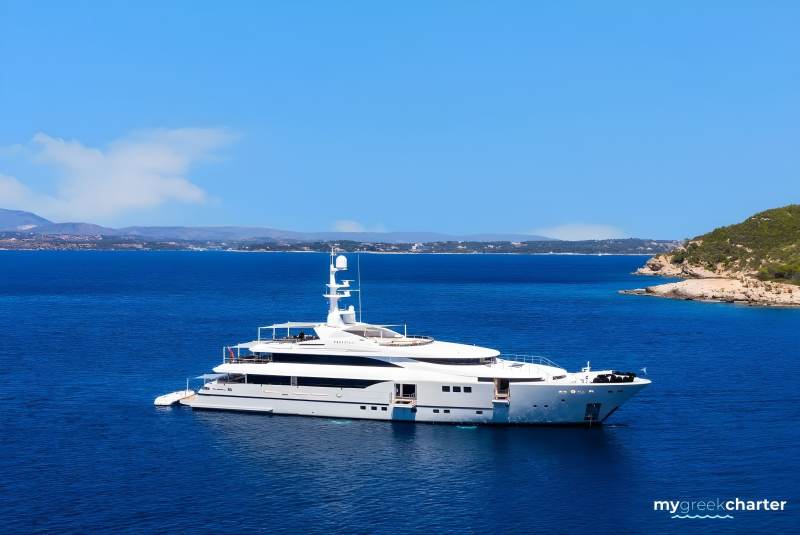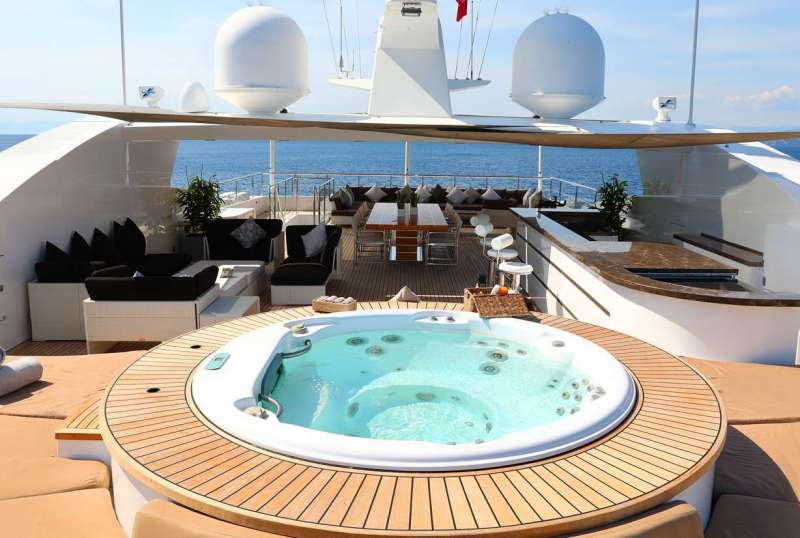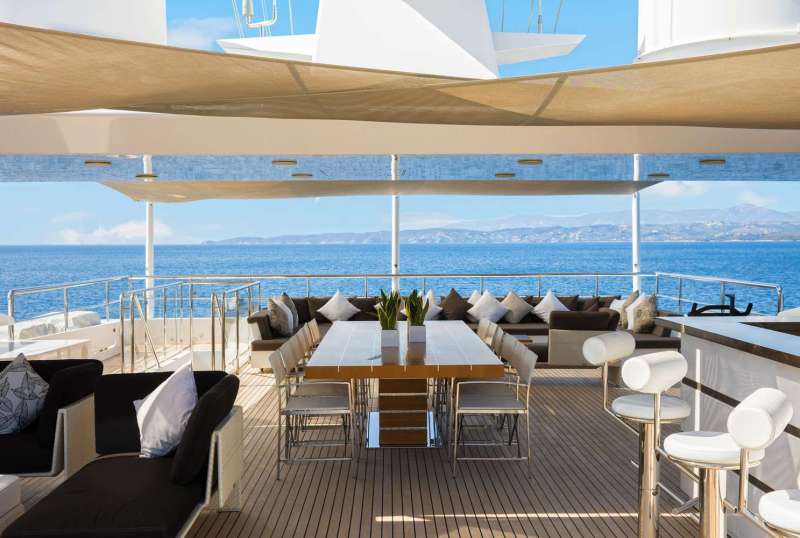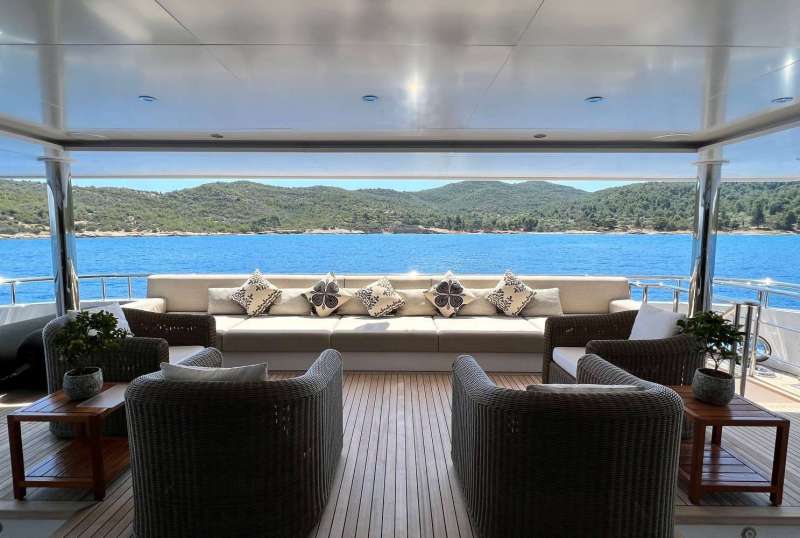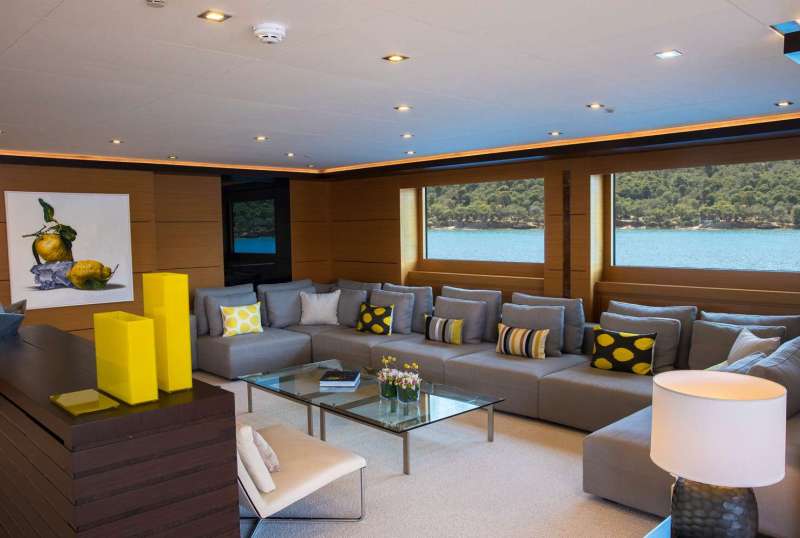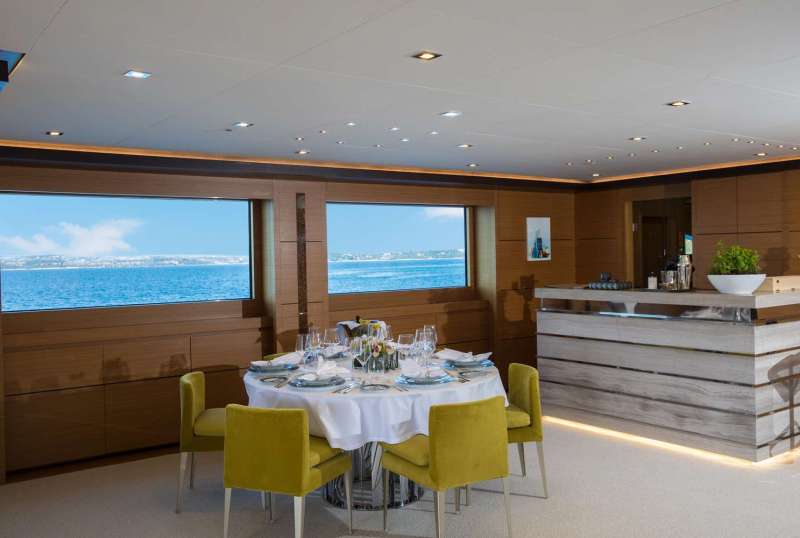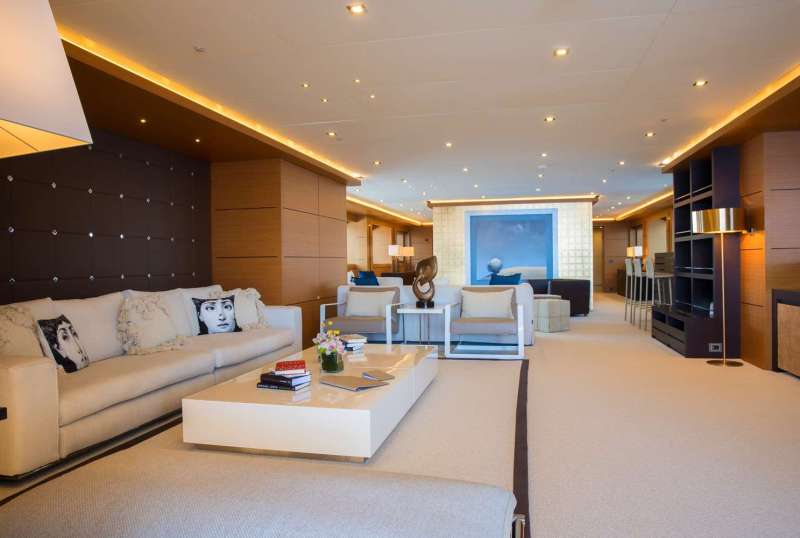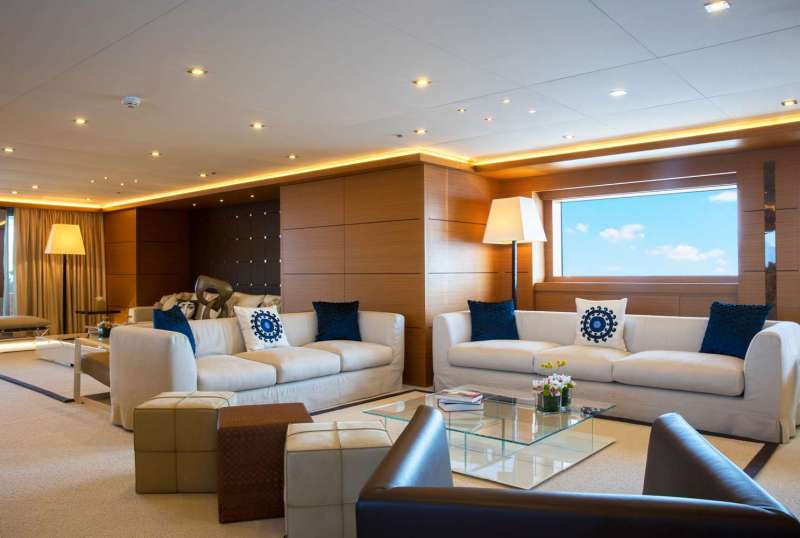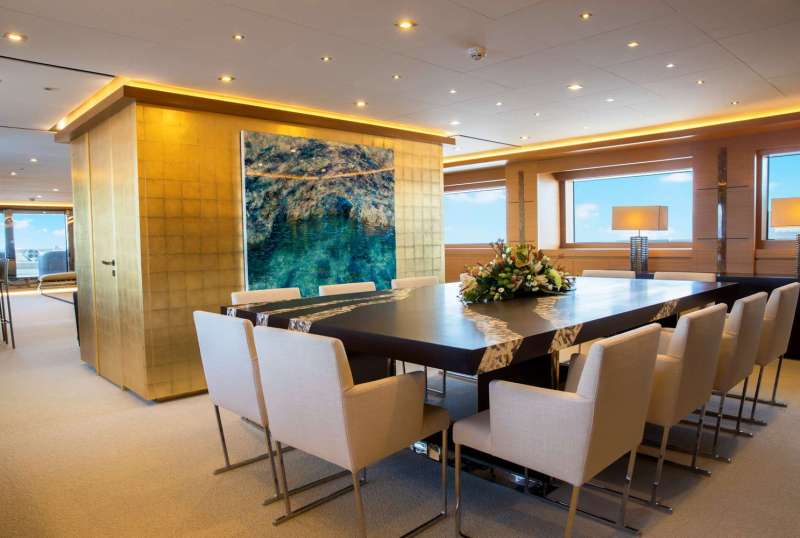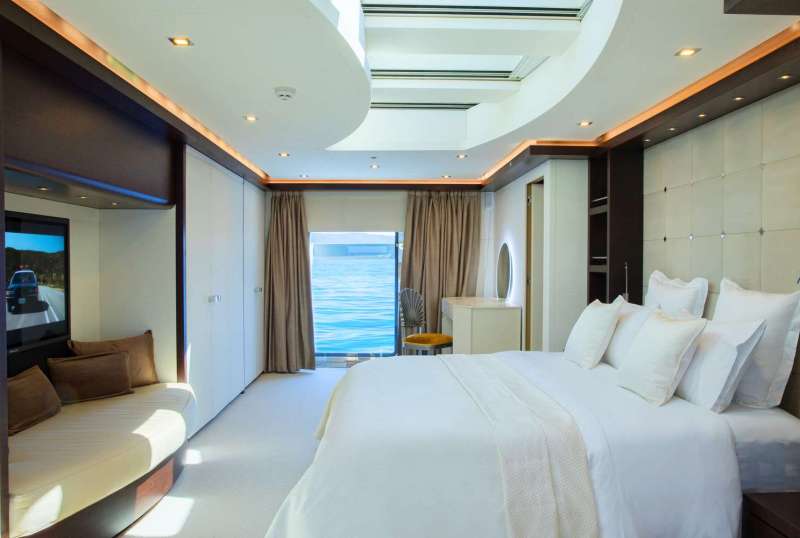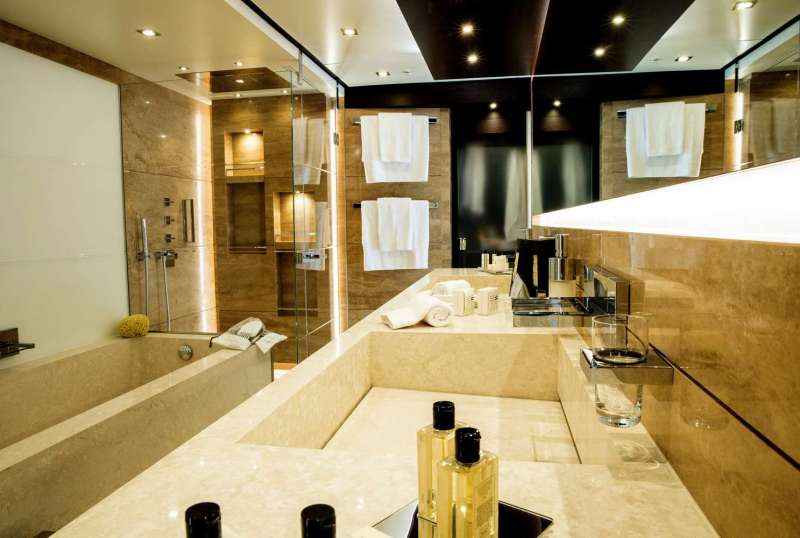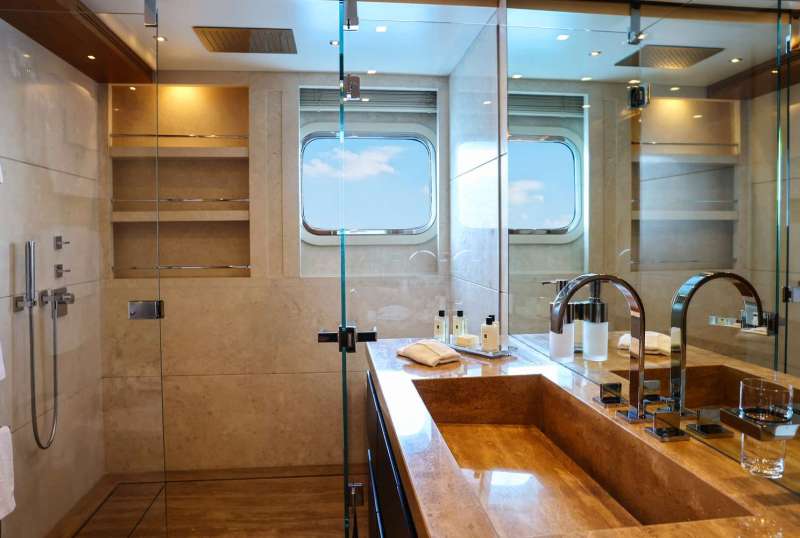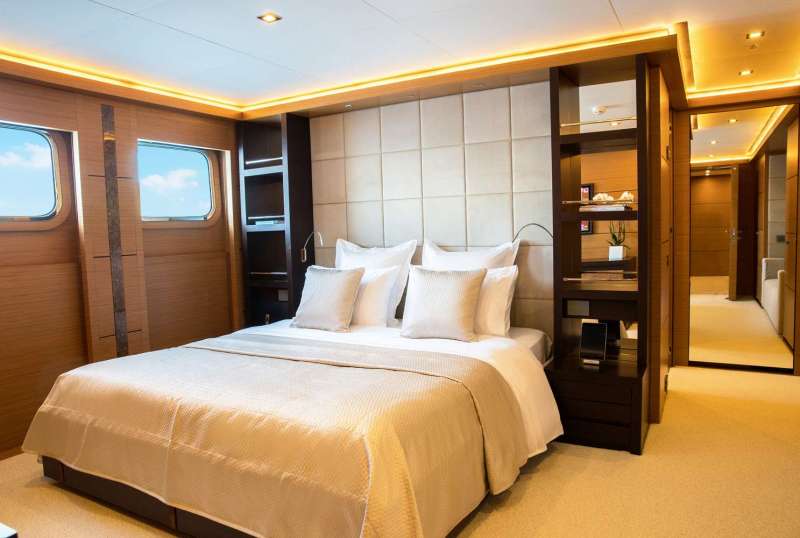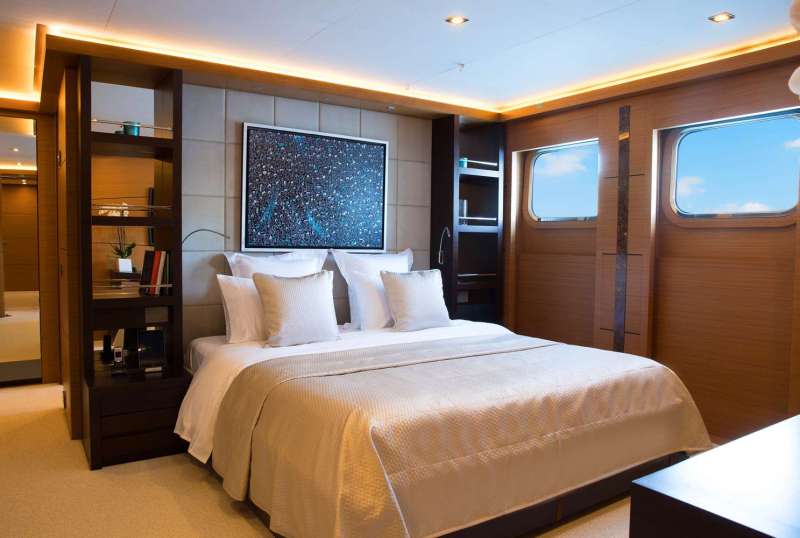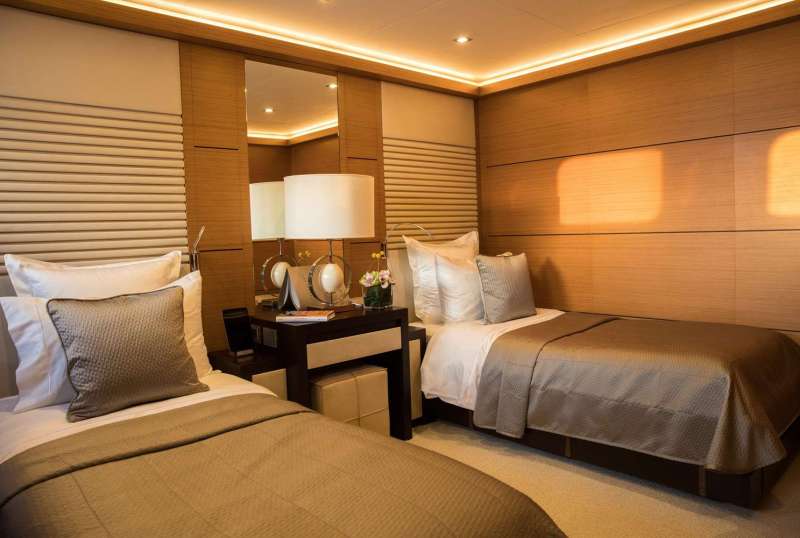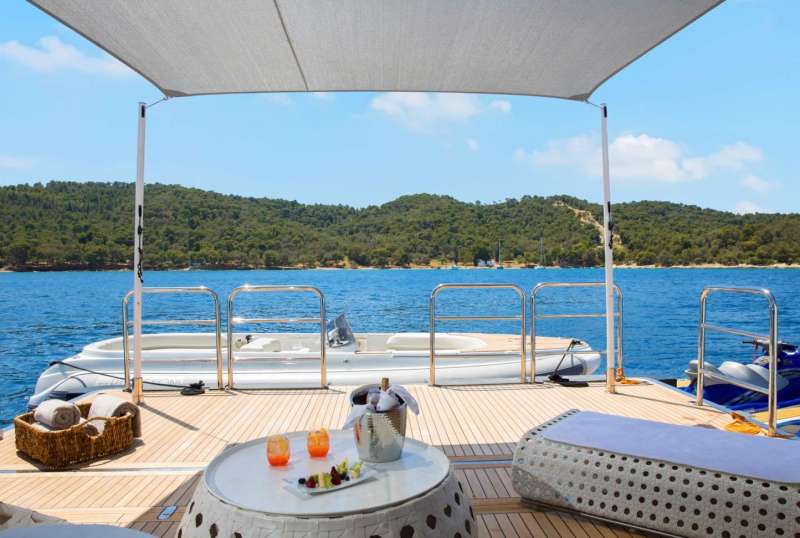 PERSEFONI I
From €250,000/week
6 cabins
176 ft
Custom
12 guests
Refit: 2021
550 Litres/Hr
3. ELEMENT | 140.00 Ft
Italian motor design does not stop at Ferrari and Lamborghini but goes to sea with one of the fastest motor boats in the world: Element is in the top 30% by length overall and in the top 30% by the speed in the world. She is one of only 570 motor yachts in the 40-45m size range, and, compared to similarly sized motor yachts, her cruising speed is 8.74 kn above average, and her top speed is 8.4 kn above average! With a crew of 9, Element has ample dining space on the sundeck, as well as a luscious jacuzzi and sunbathing area with luxury recliners. The Captain has 28 years of experience, so you can discover the hidden gems of the seas.
Toys and Amenities:
It comes equipped with a rib tender, 2 jet skis, 2 SUPs, a variety of inflatables, waterskis, wakeboard and snorkelling sets for all guests as well as assorted fishing gear.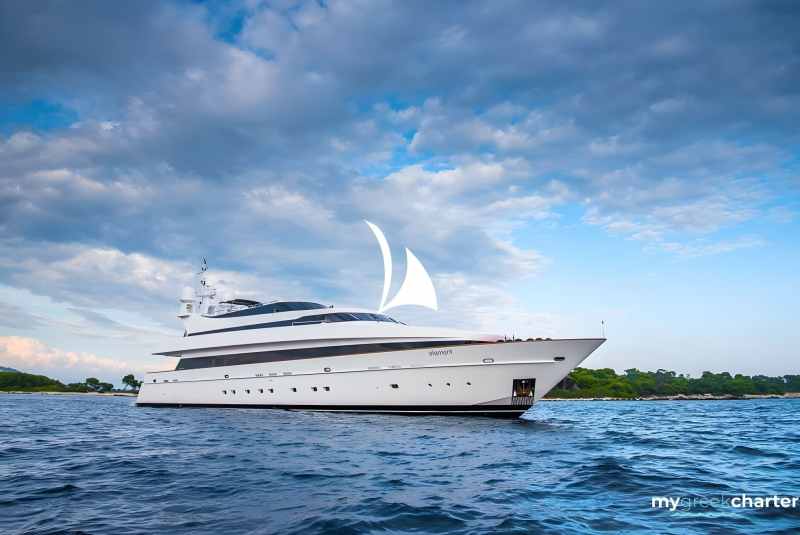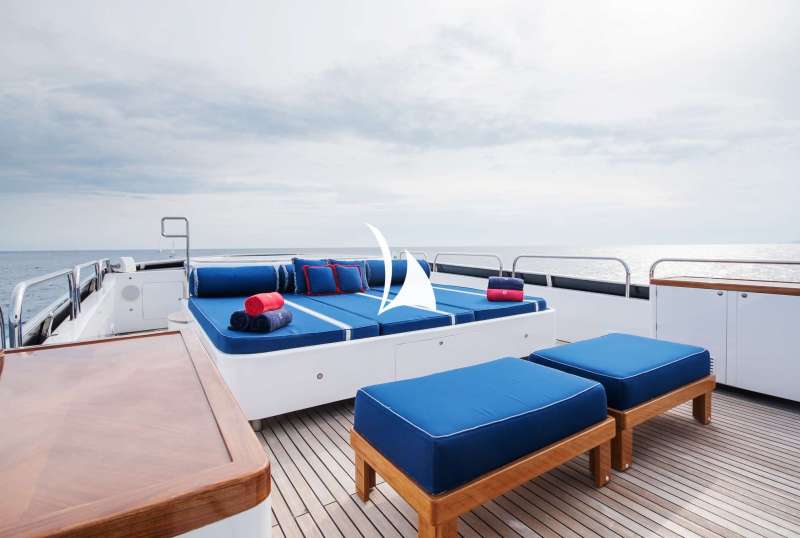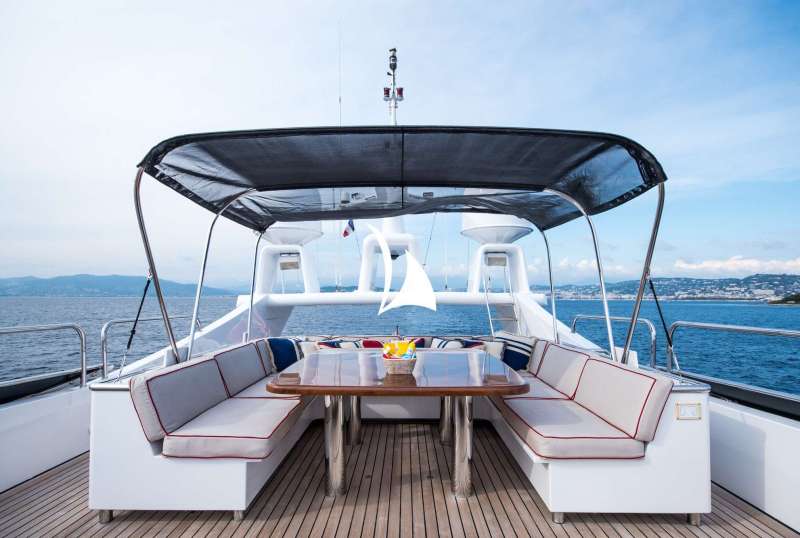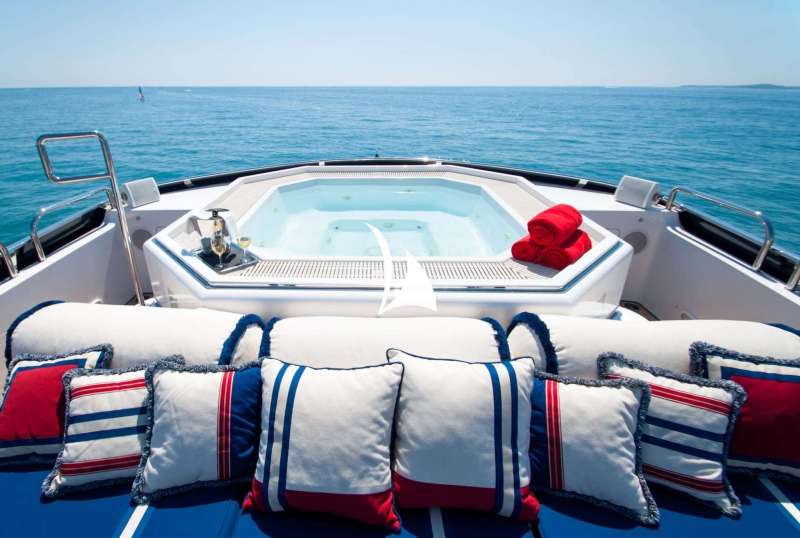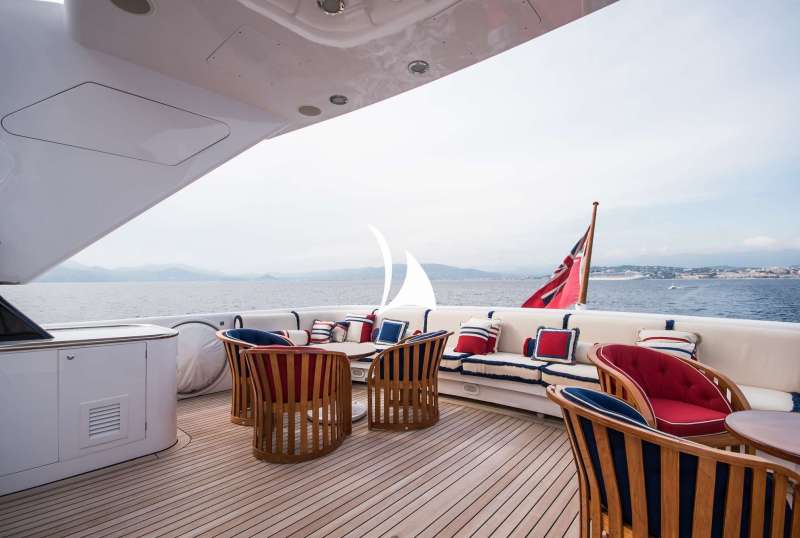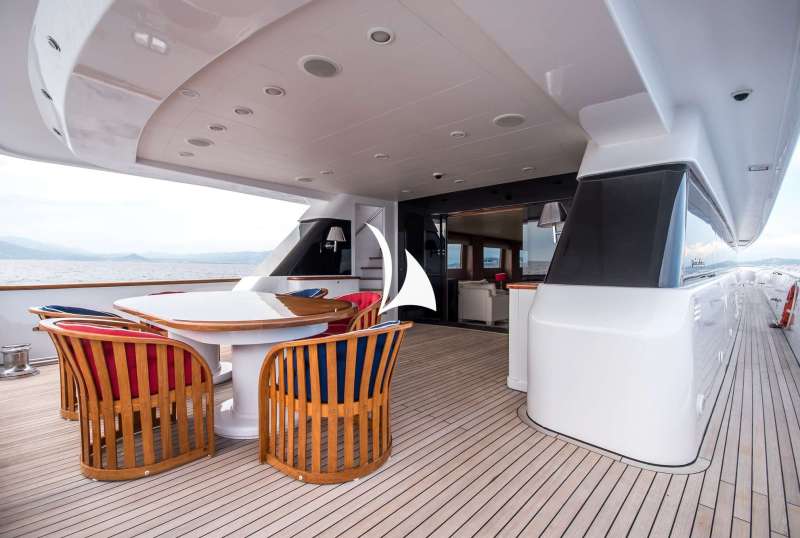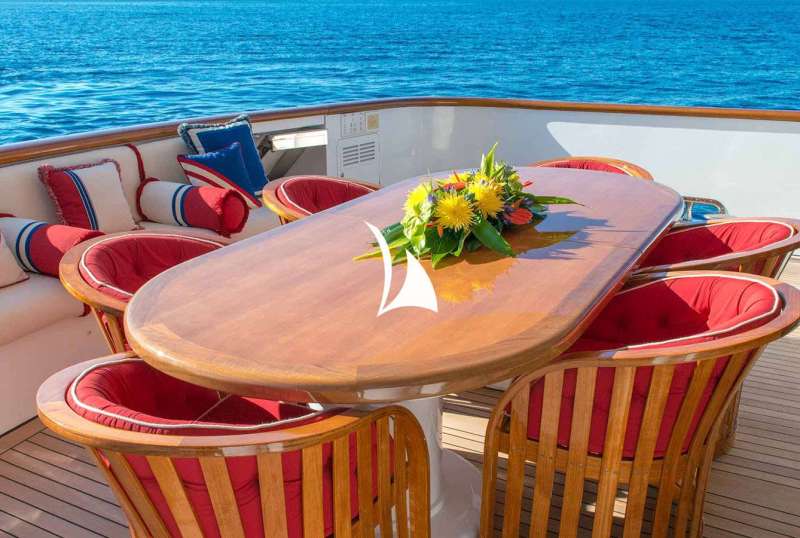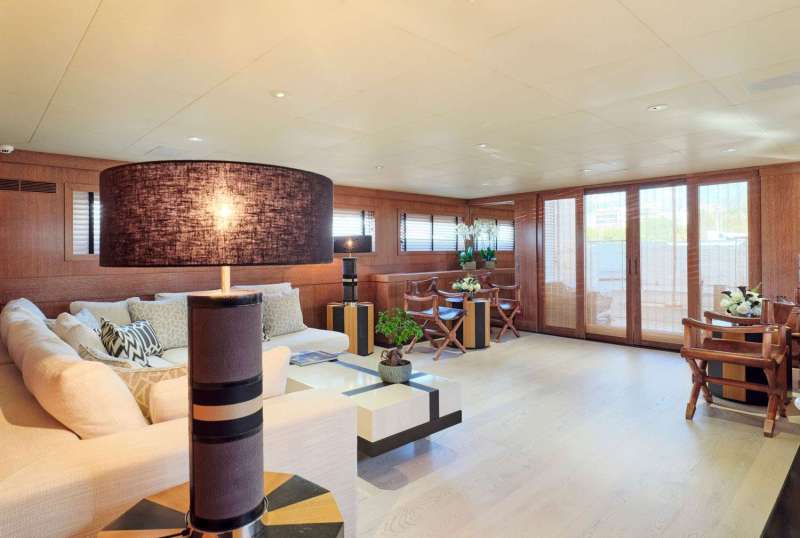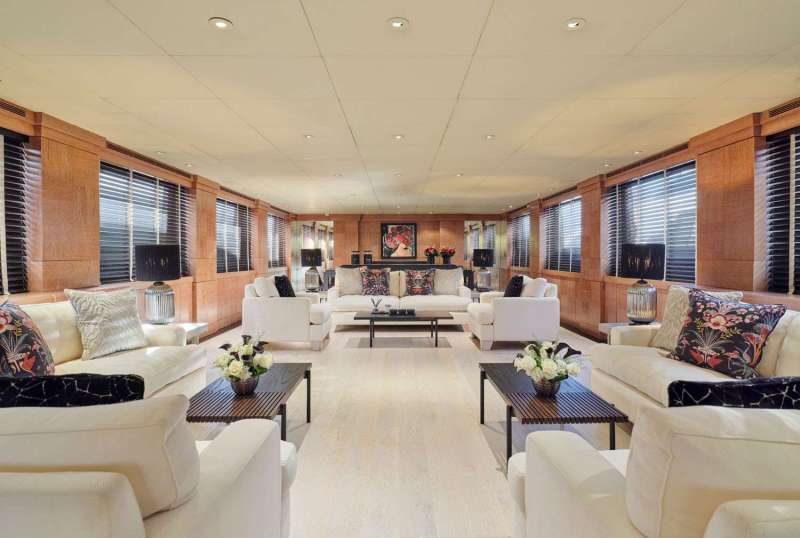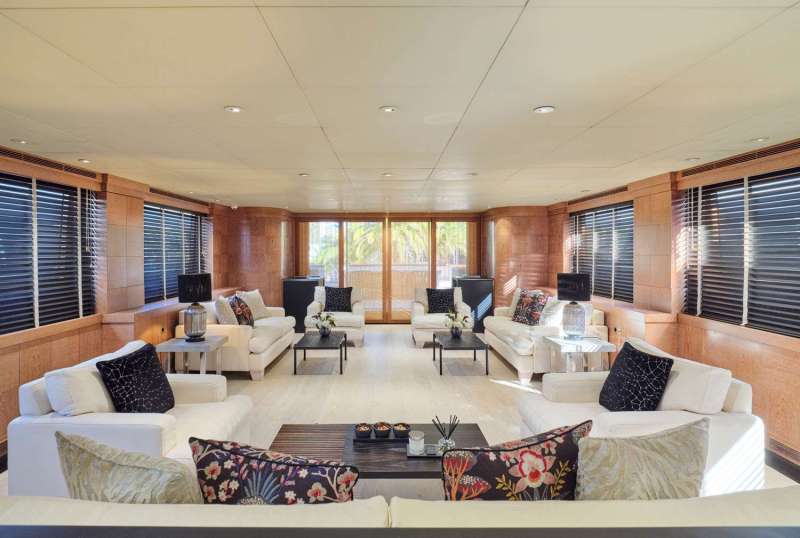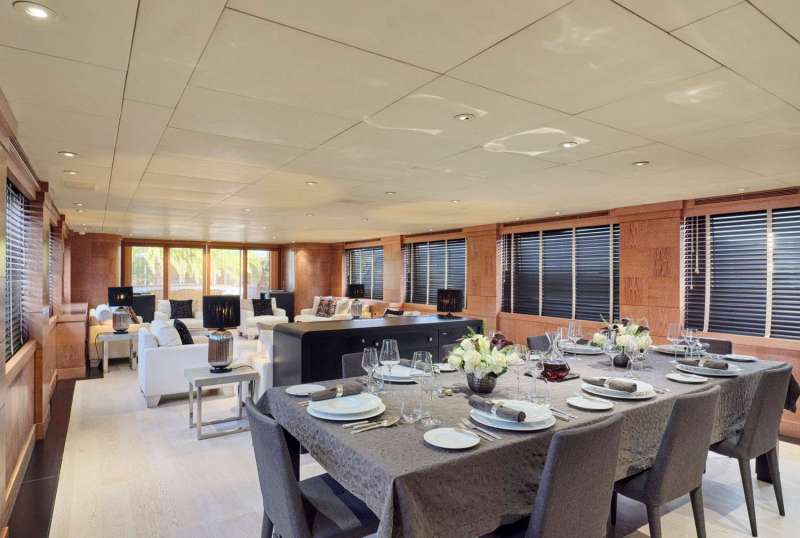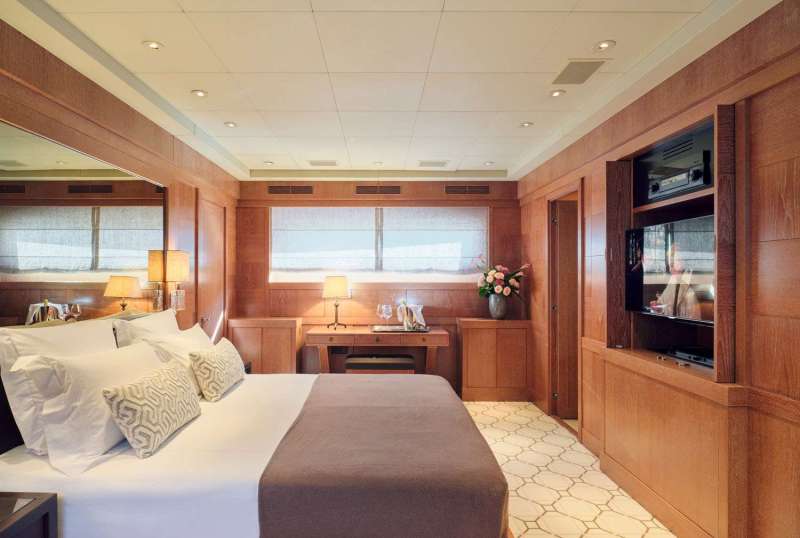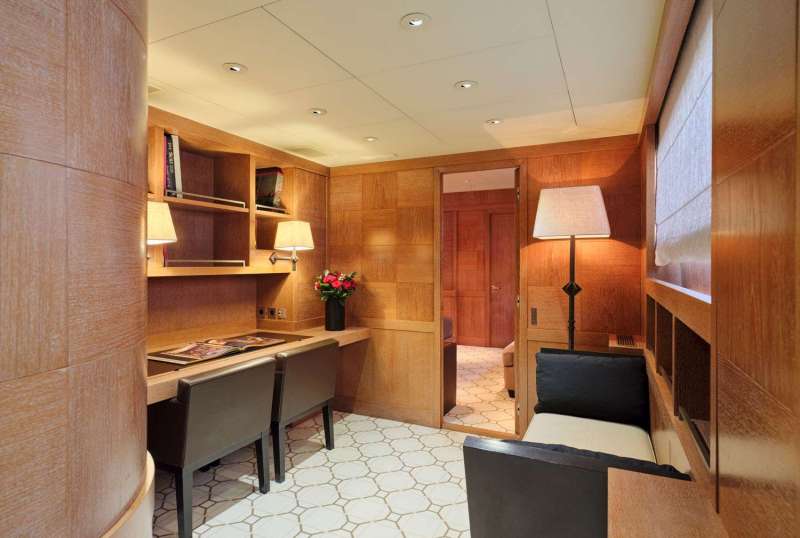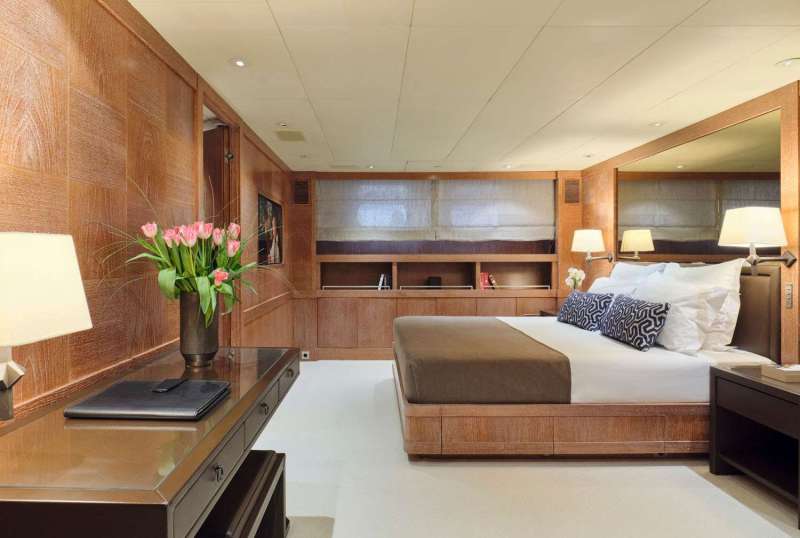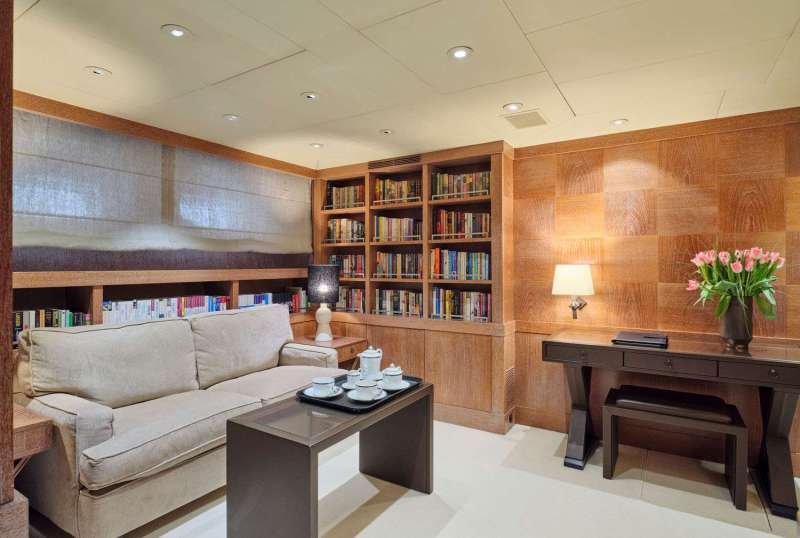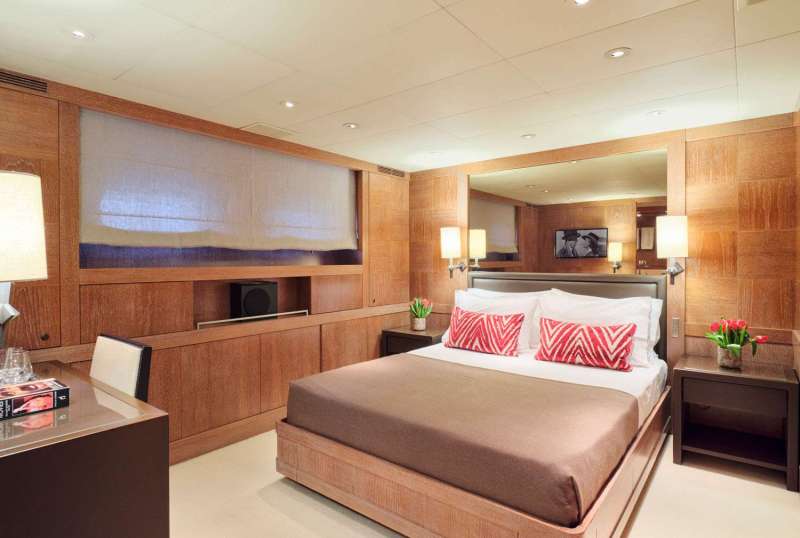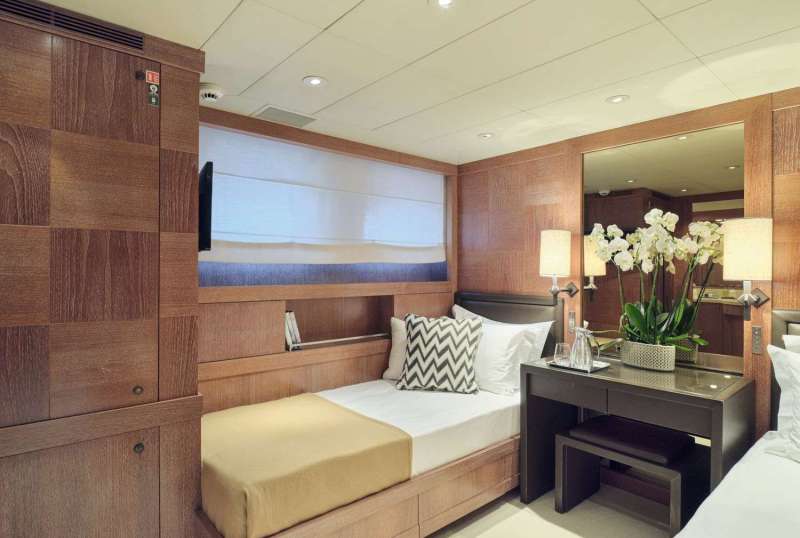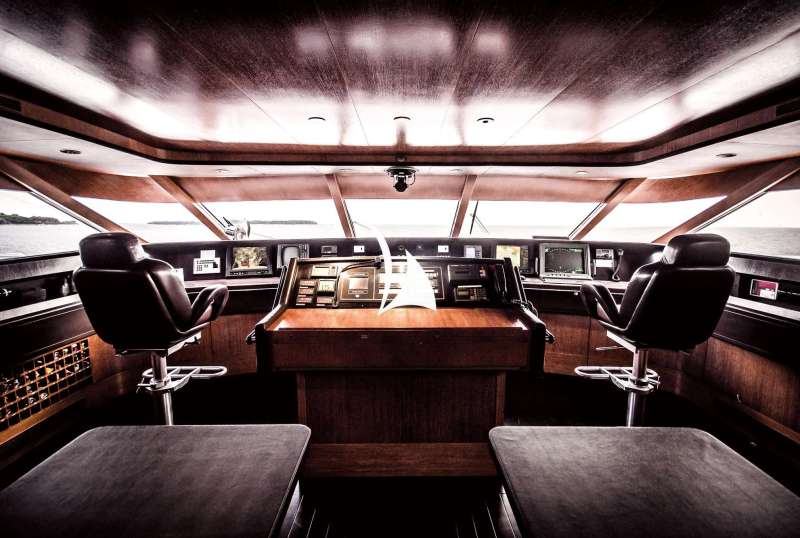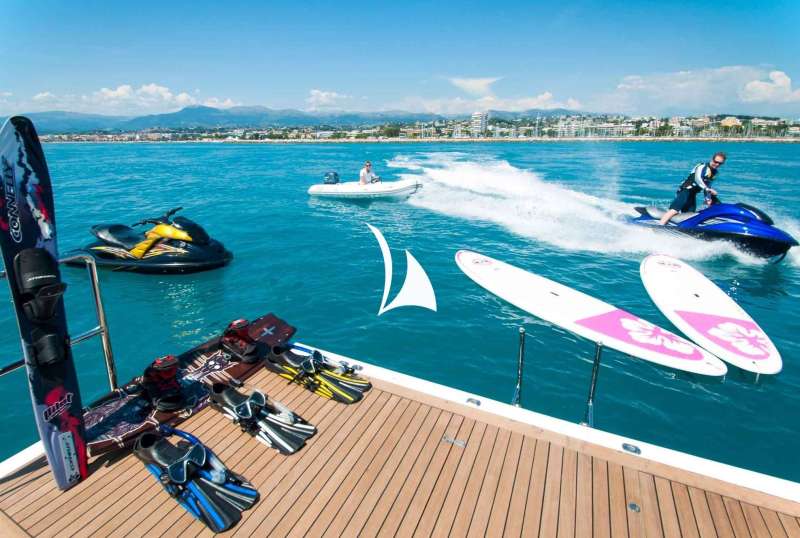 ELEMENT
From €120,000/week
6 cabins
140 ft
Cantieri di Pisa, Italy
12 guests
Refit: 2022
750 Litres/Hr
4. SEA WOLF | 136.00 Ft
SEA WOLF boasts avant-garde interiors featuring Italian timbers and fabrics in a delightful combination that is both sophisticated and playful. The deck space on Sea Wolf is ideal for long leisurely hours socializing or sunbathing. On the sun deck, a lounge area with its illuminated bar will be the choice for entertaining under the stars, enjoying a relaxing dip in the beautiful mosaic-tiled jacuzzi, or soaking up the sunshine.
Toys and Amenities:
Sea Wolf has two tenders, two jet skis, two SeaBobs, three kayaks, also water skis, inflatables and fishing & snorkelling Equipment.
Apart from the water sports and long chats with the crew, you can indulge in dishes from four cuisines –Turkish, Ottoman, Mediterranean, and Chinese.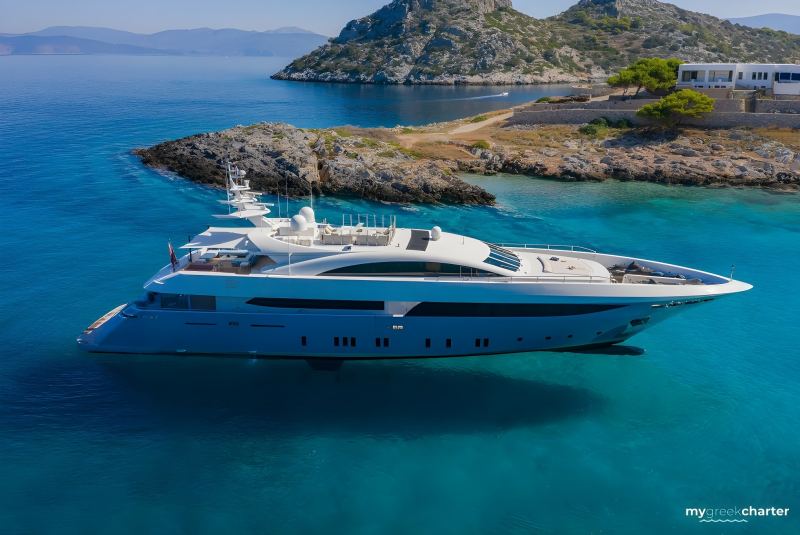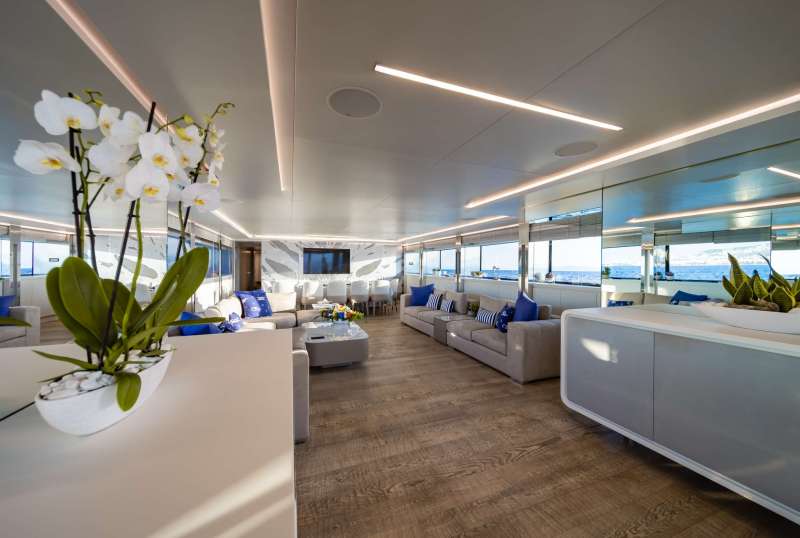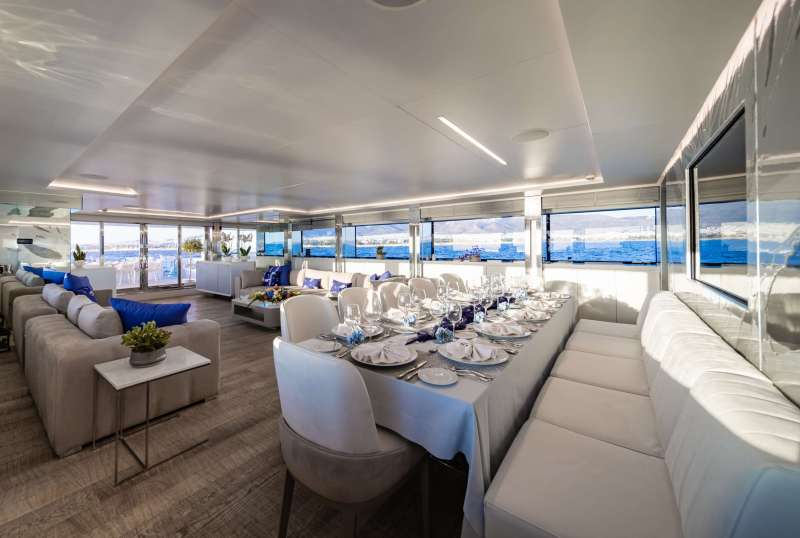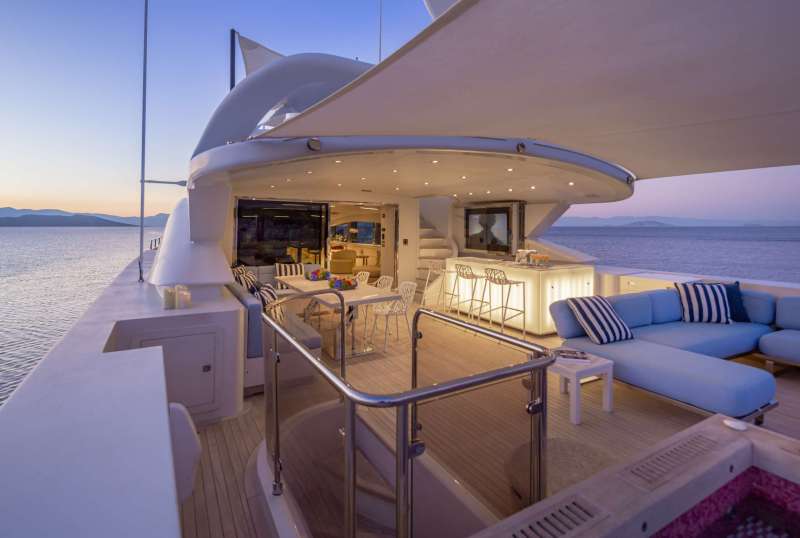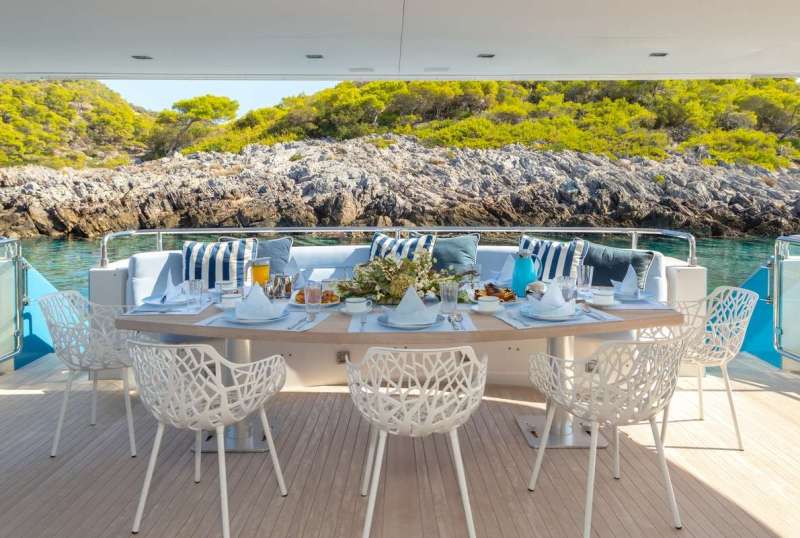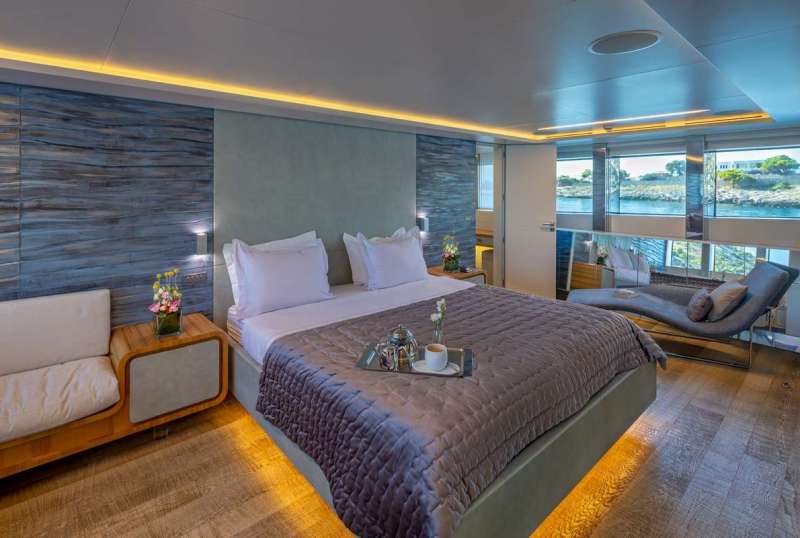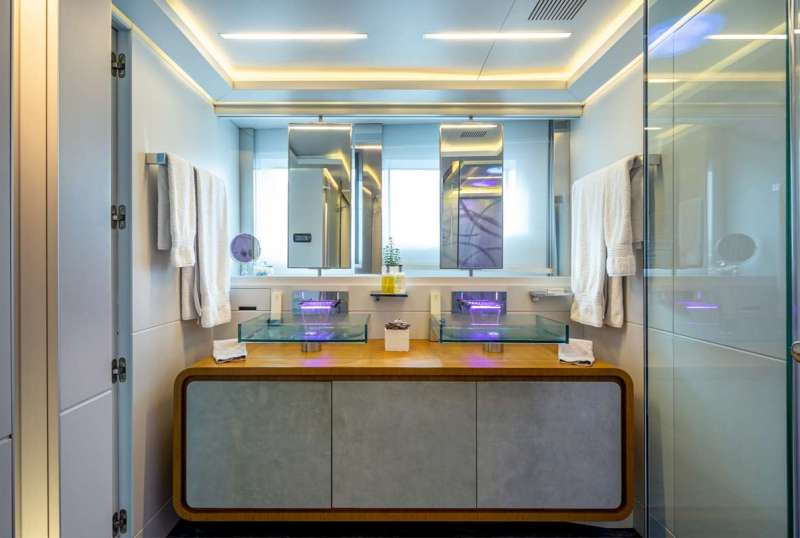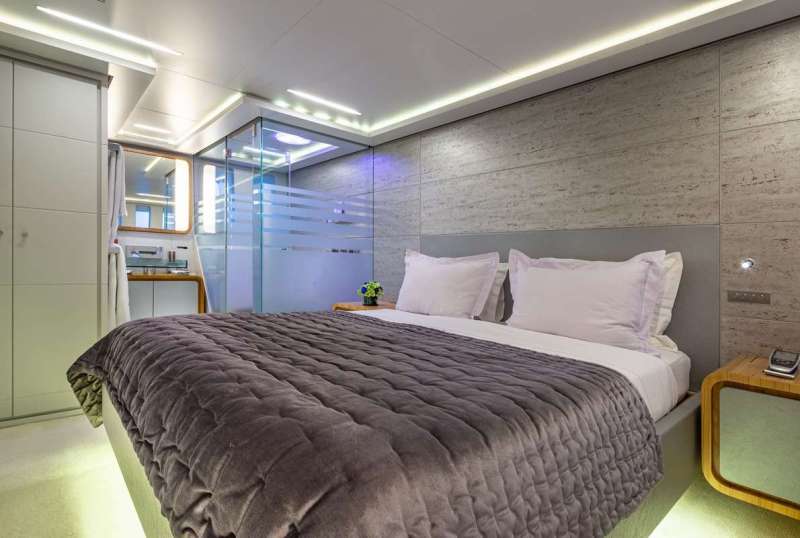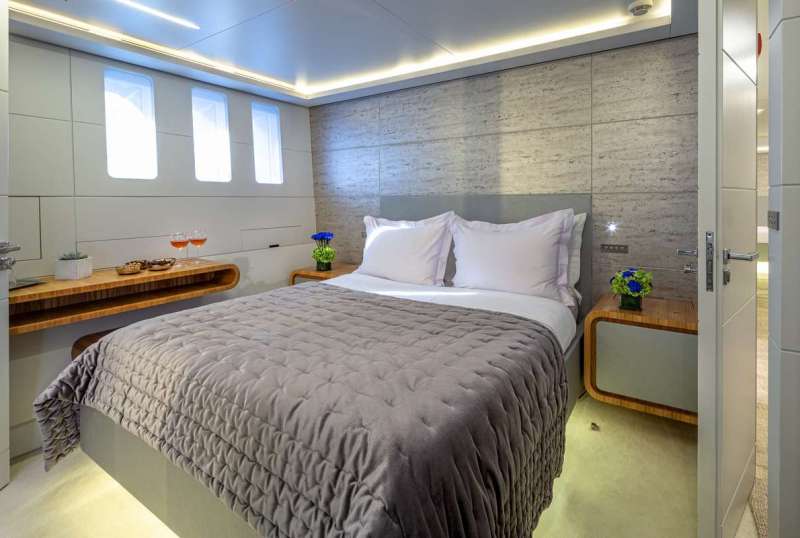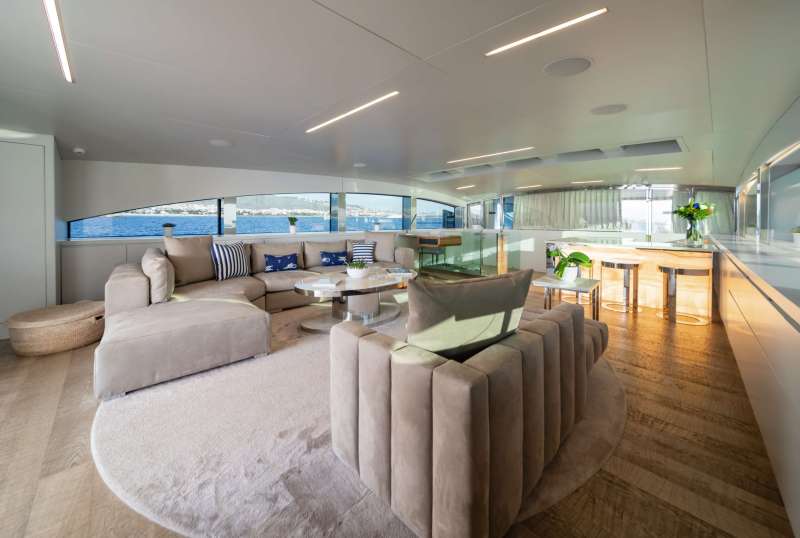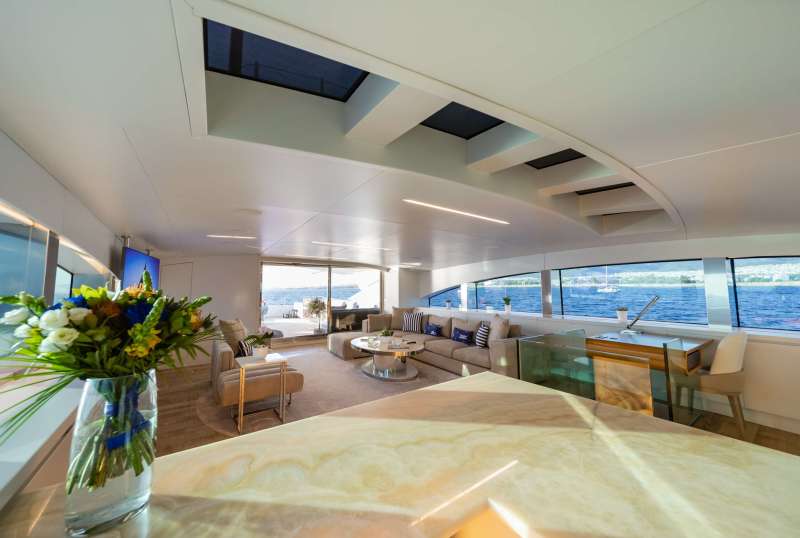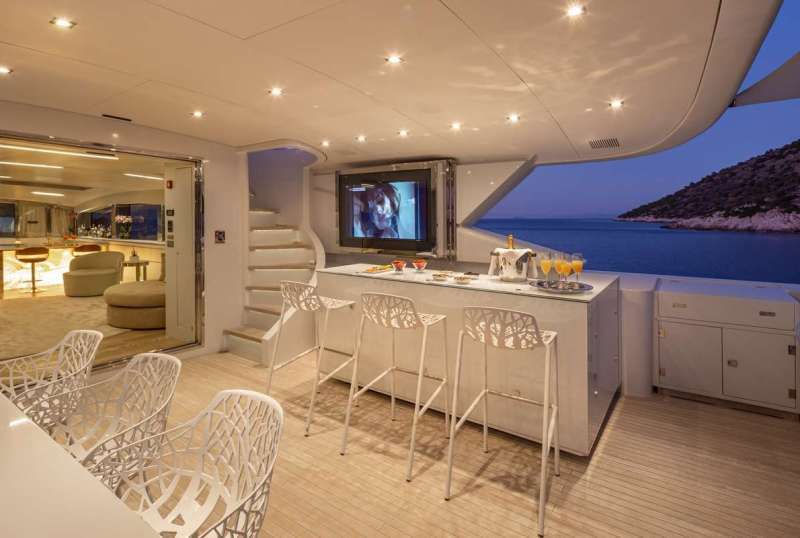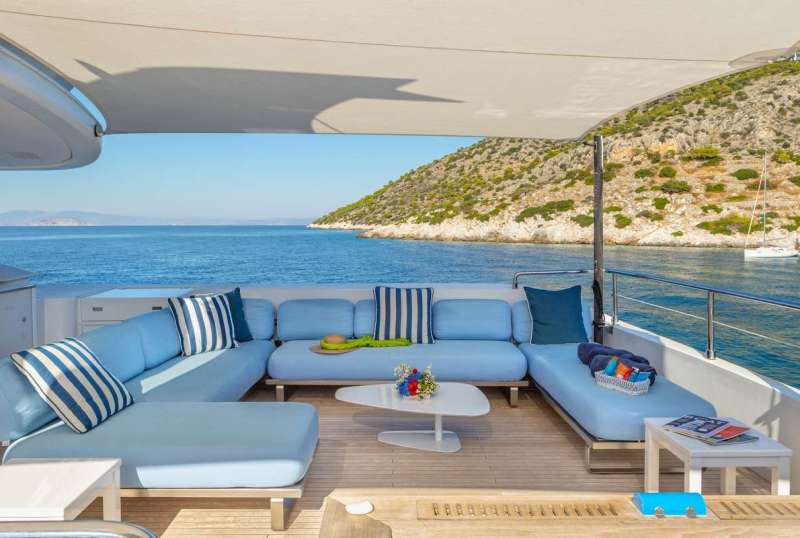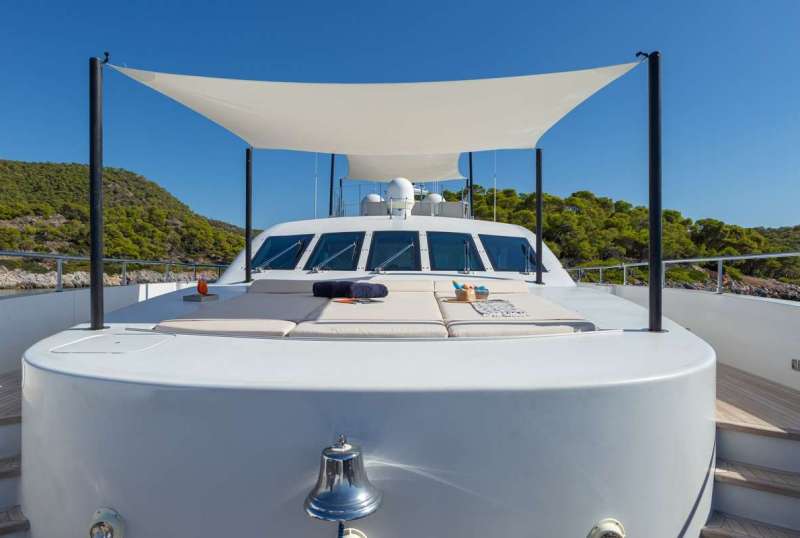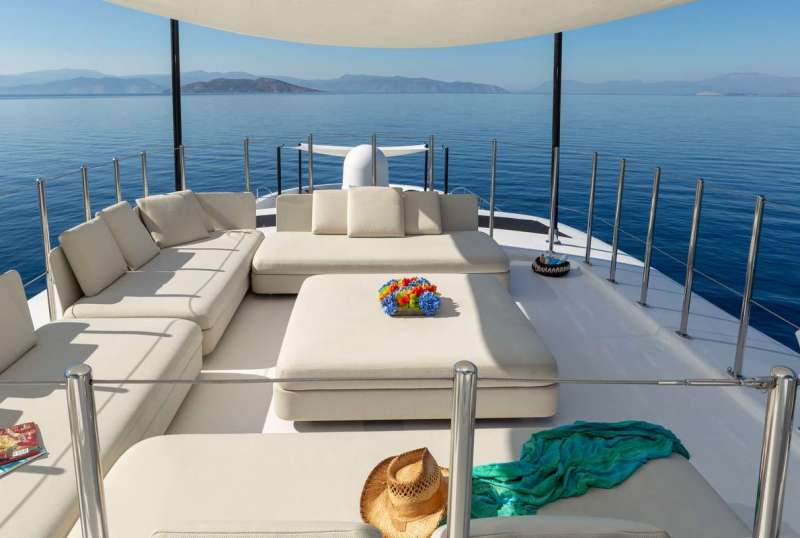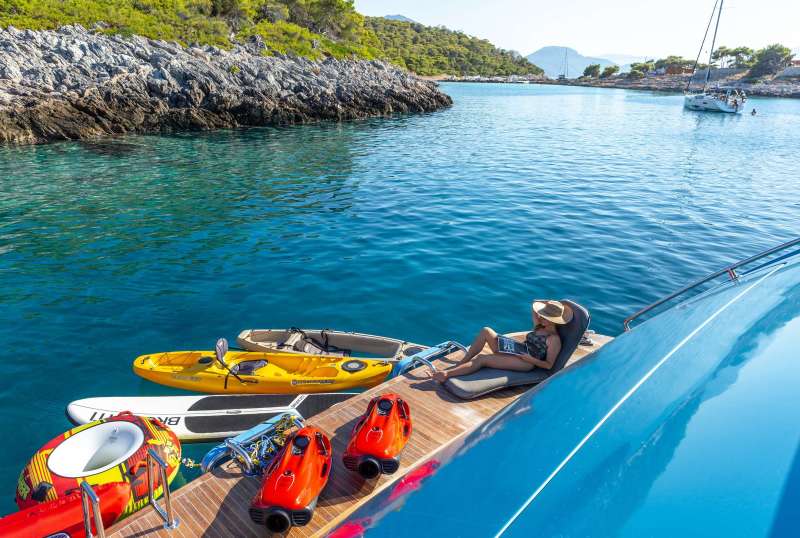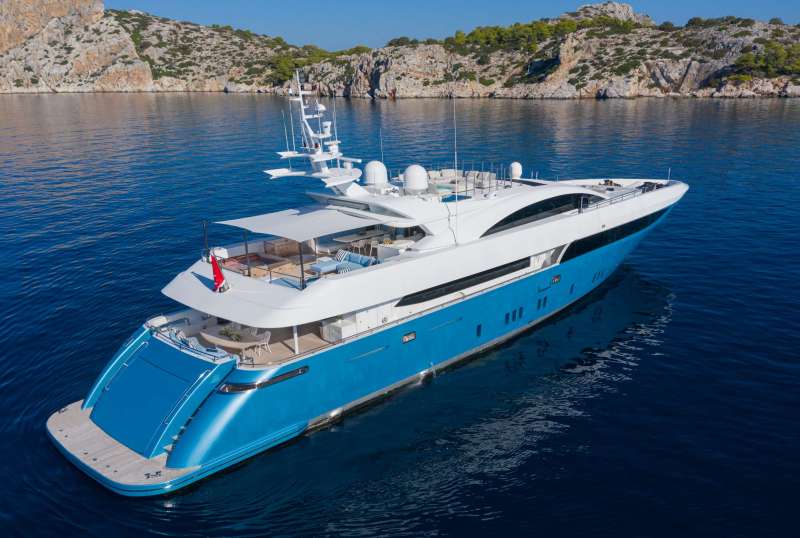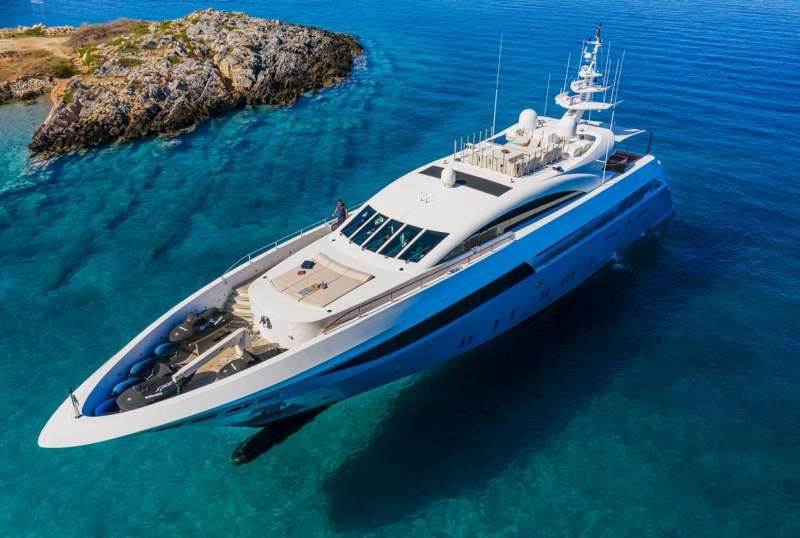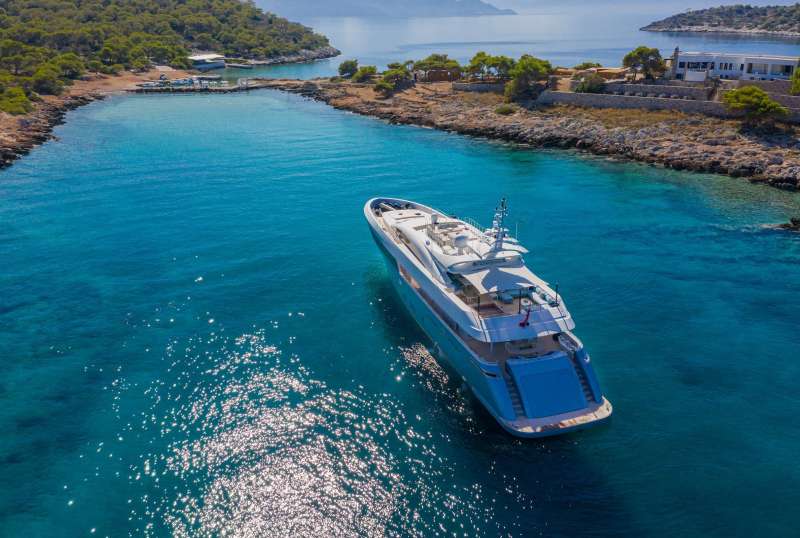 SEA WOLF
From €120,000/week
6 cabins
136 ft
Mondomarine
12 guests
Refit: 2022
650 Litres/Hr
5. AQUA LIBRA | 131.00 Ft
A full beam Master Suite with a king-size bed on the main deck, 2 VIP Suites with a queen size bed and two twin staterooms convertible to double staterooms with king-size beds, one with a Pullman berth, all with ensuite facilities. There is a jacuzzi on the sundeck, and also a huge lounge and sunbathing areas.
You can enjoy all water sport sports with the guidance of the Captain and the licensed skipper. Let it be late-night demands by the guests or finding secluded gems from the Greek sees; the crew will always be at your need.
Toys and Amenities:
It comes equipped with a 5,65 m tender, a 4,5 m rib dinghy, two jet skis, two SeaBobs, jet surf, wakeboard, 2 SUPs, a variety of inflatable water toys and water skis, and fishing and snorkeling gear.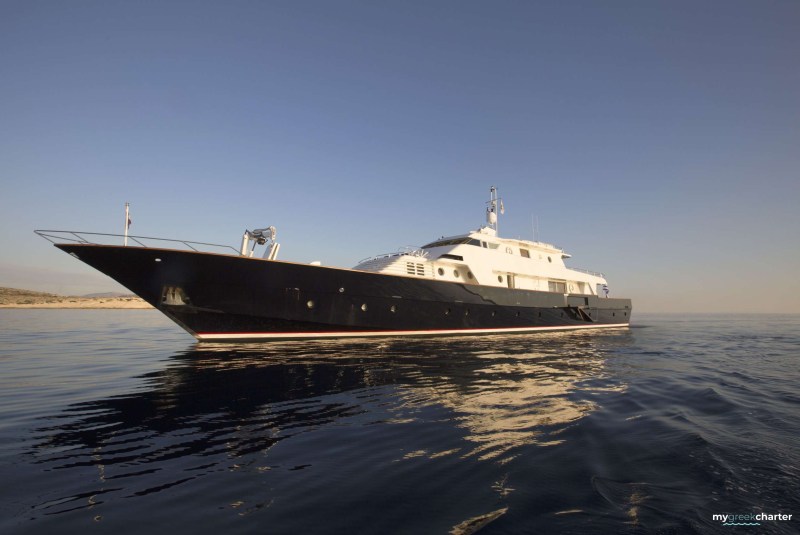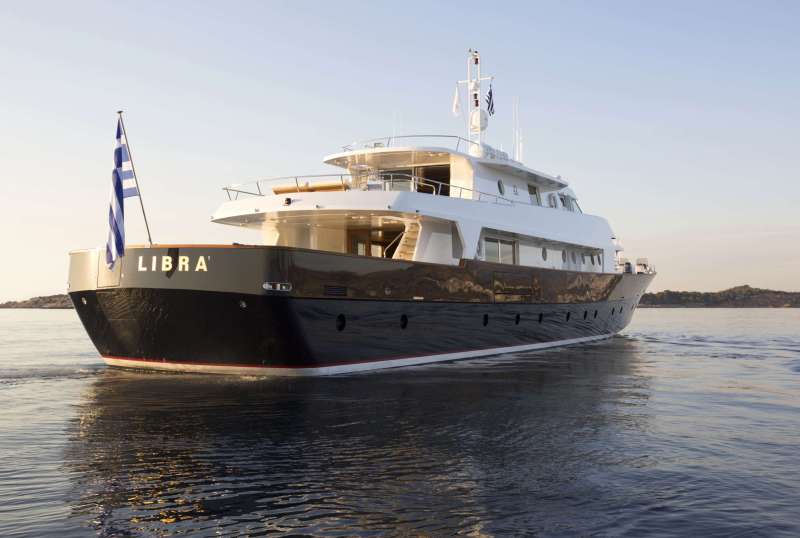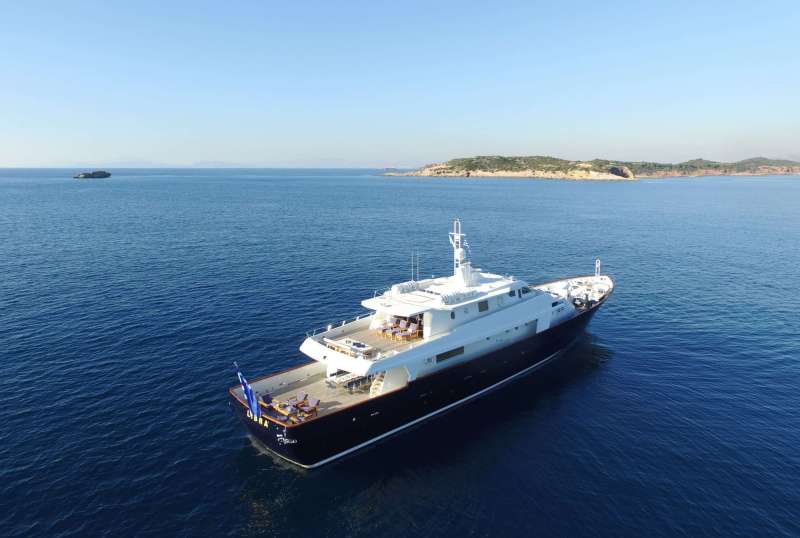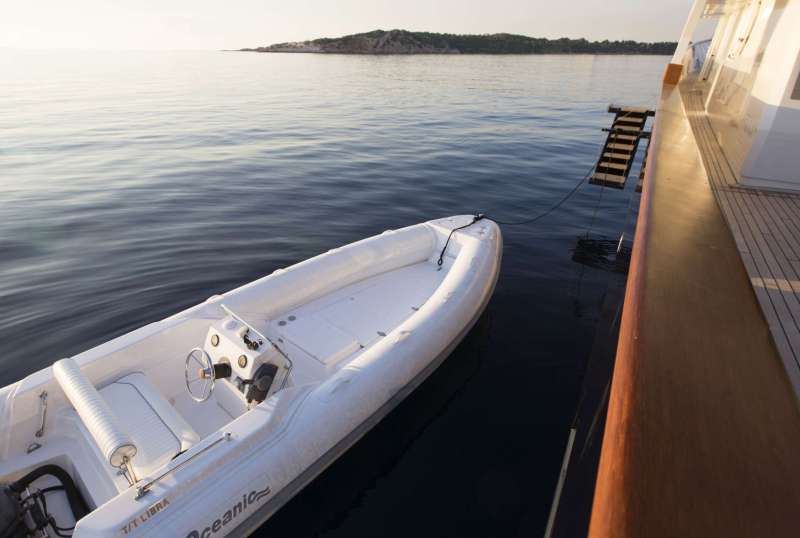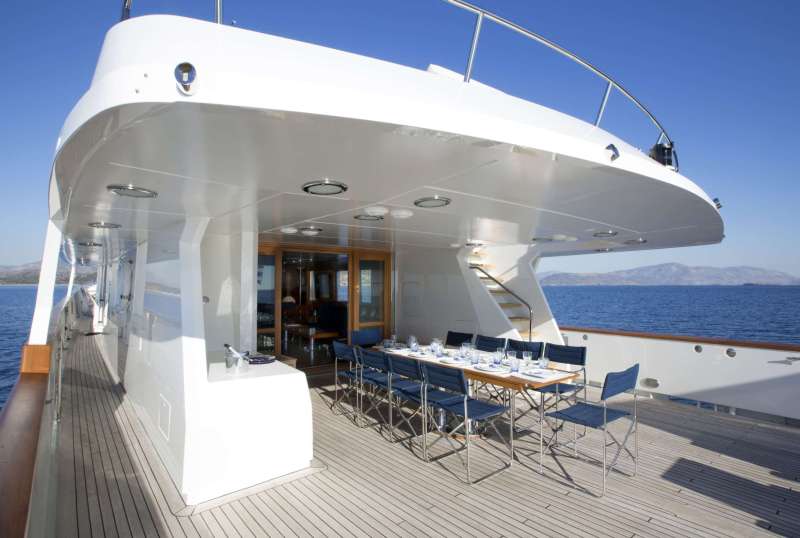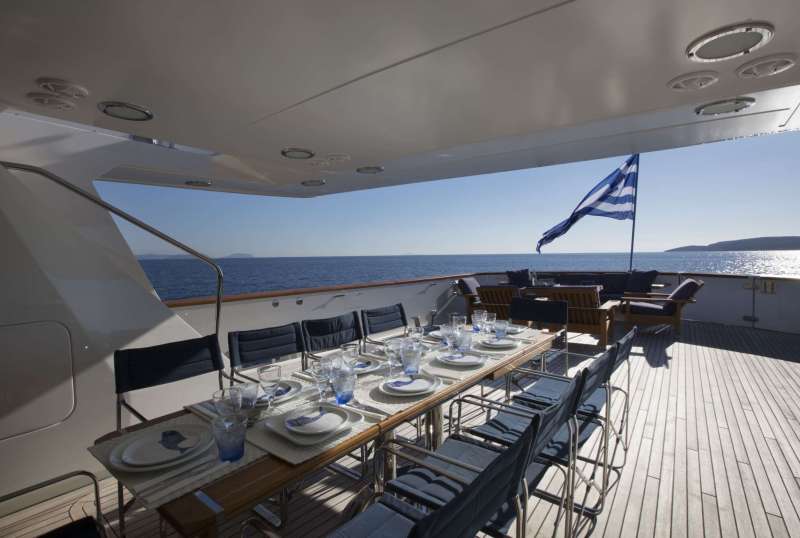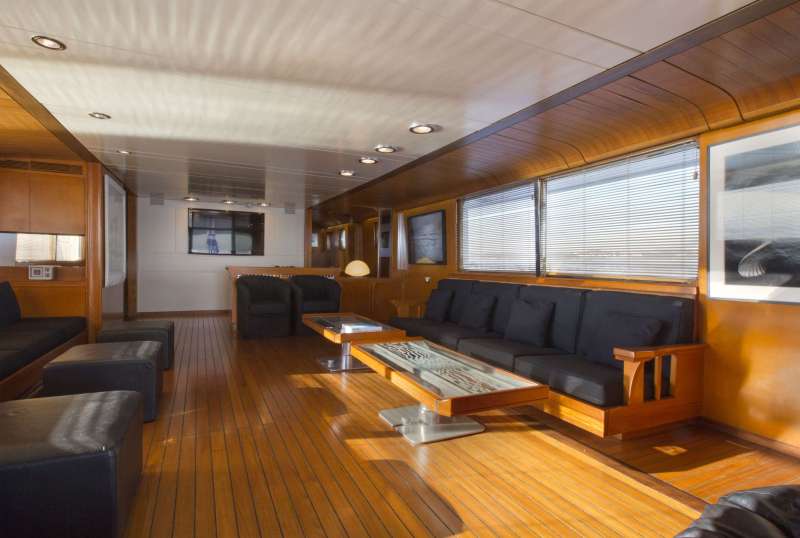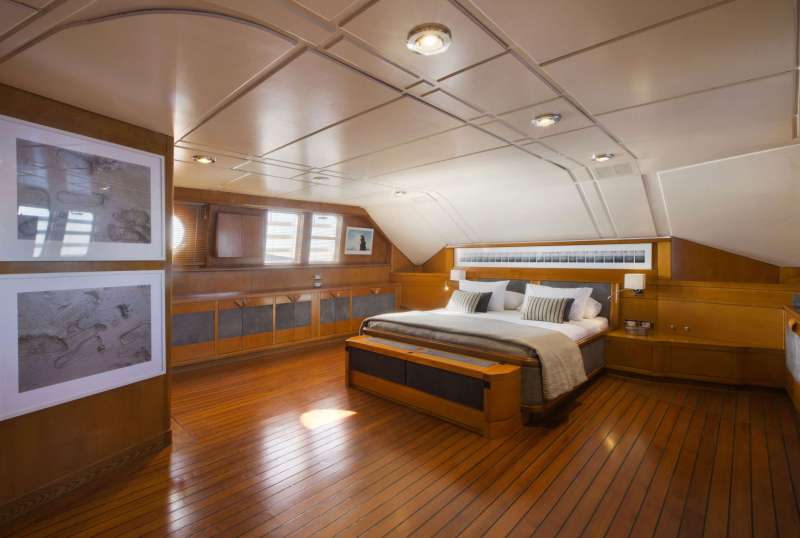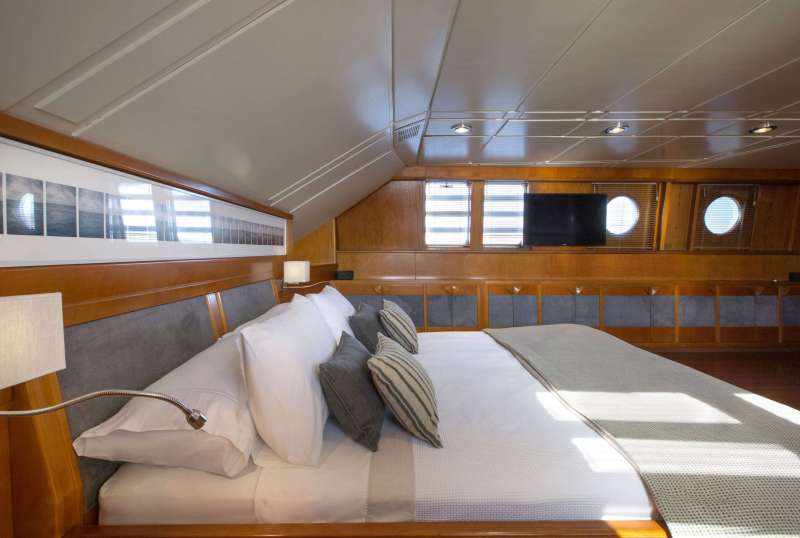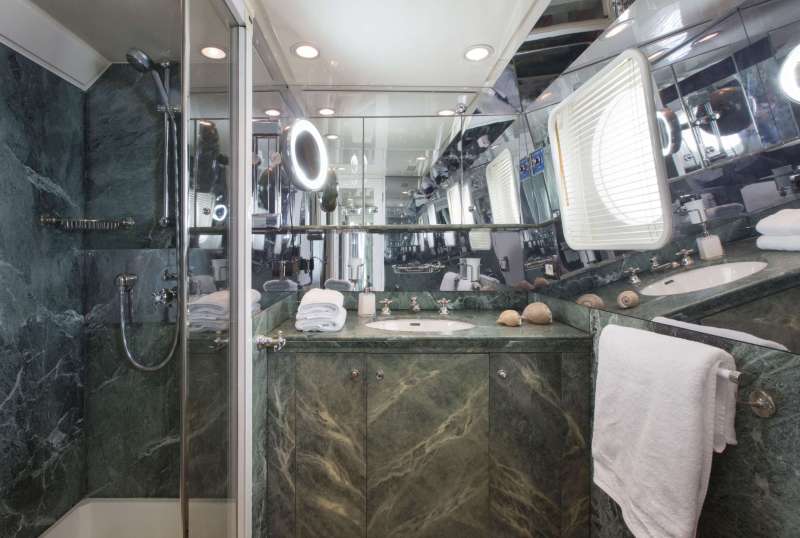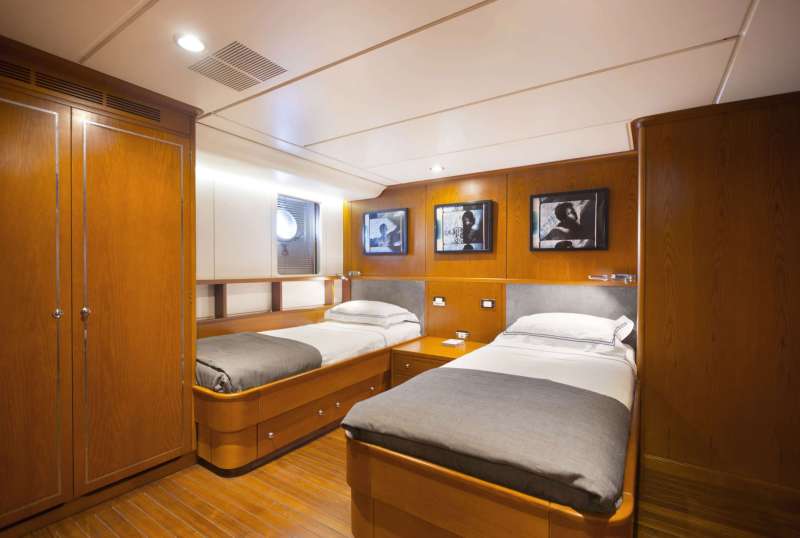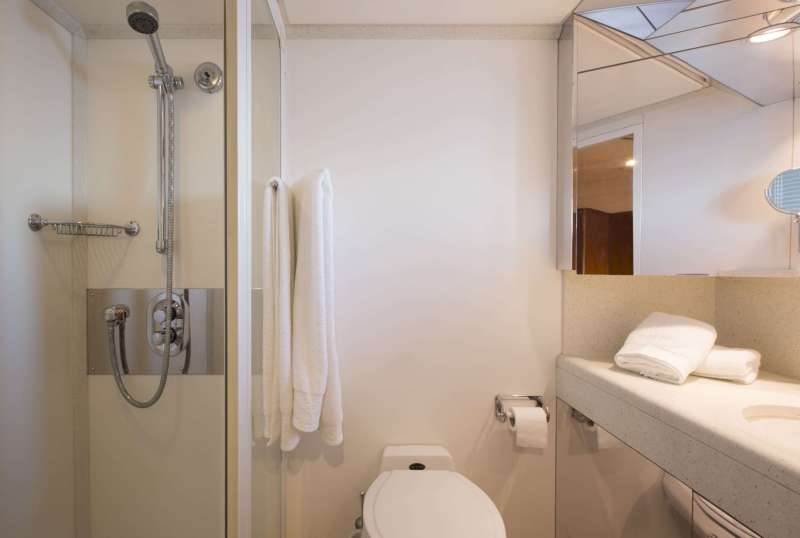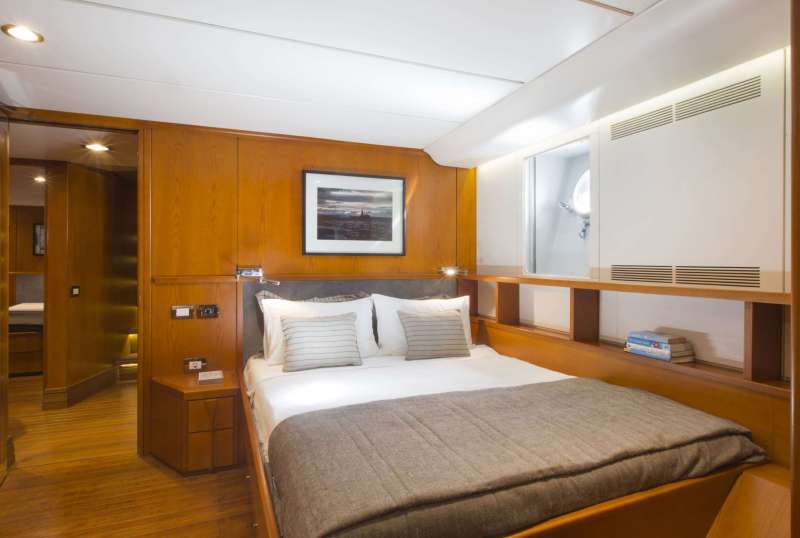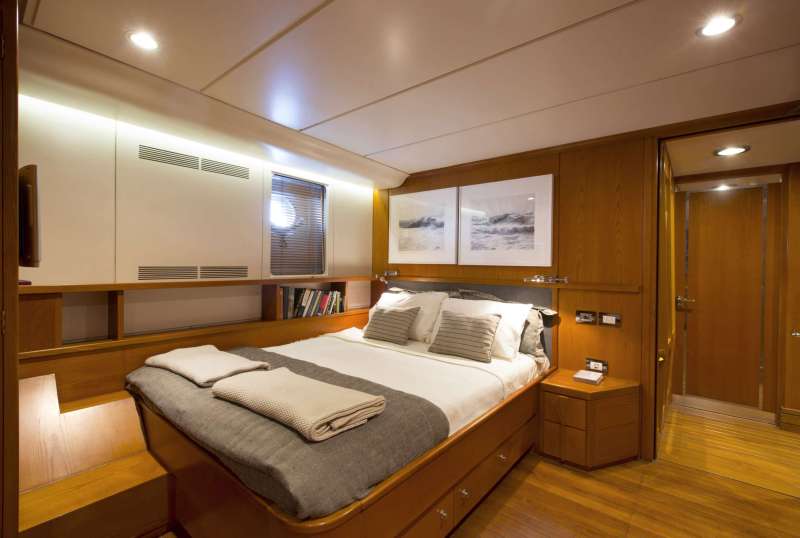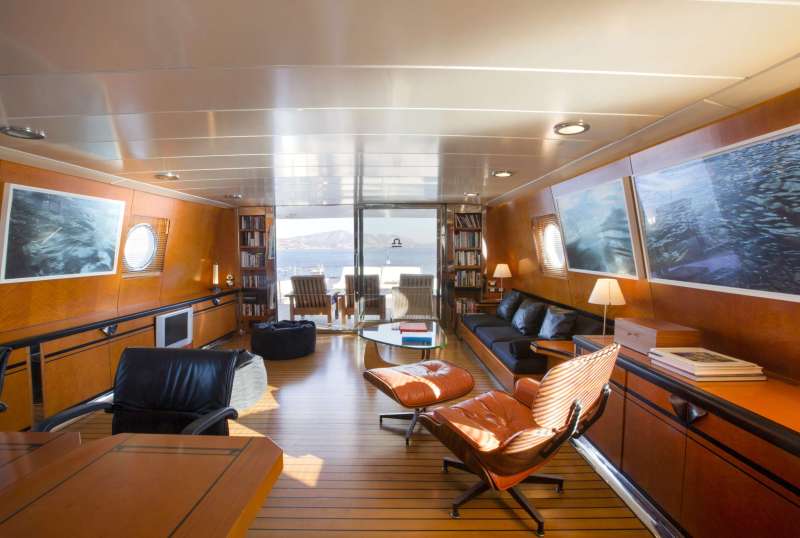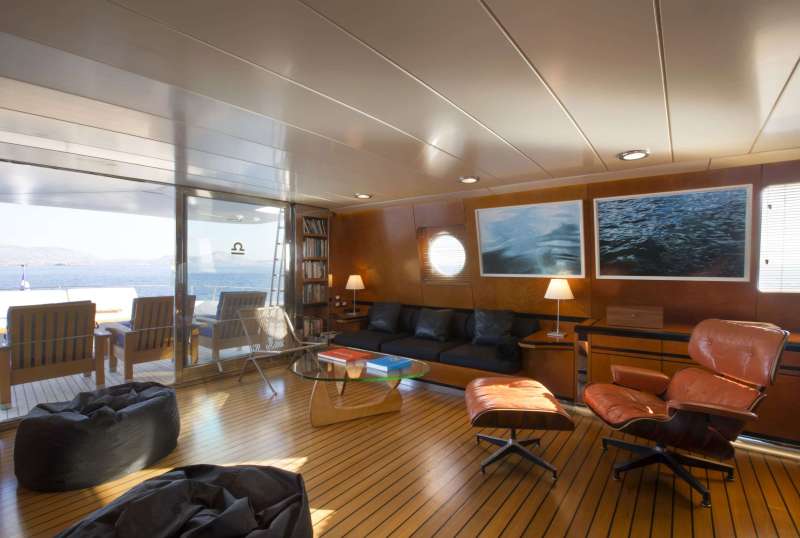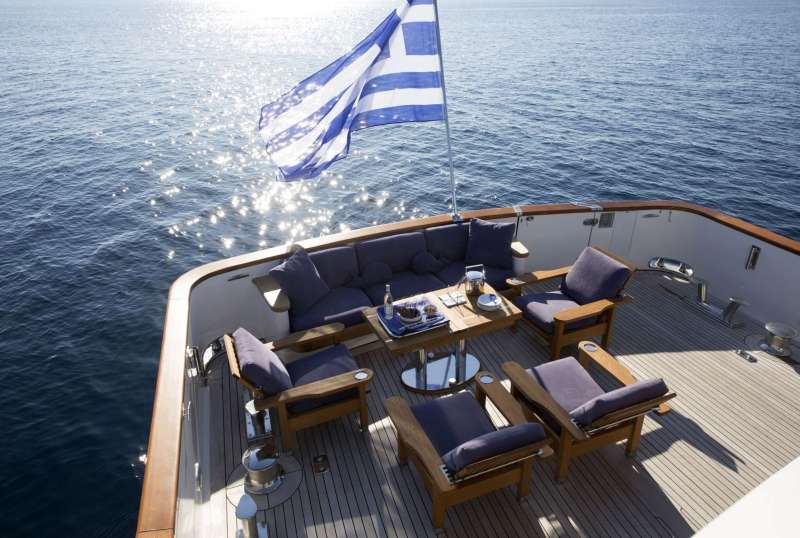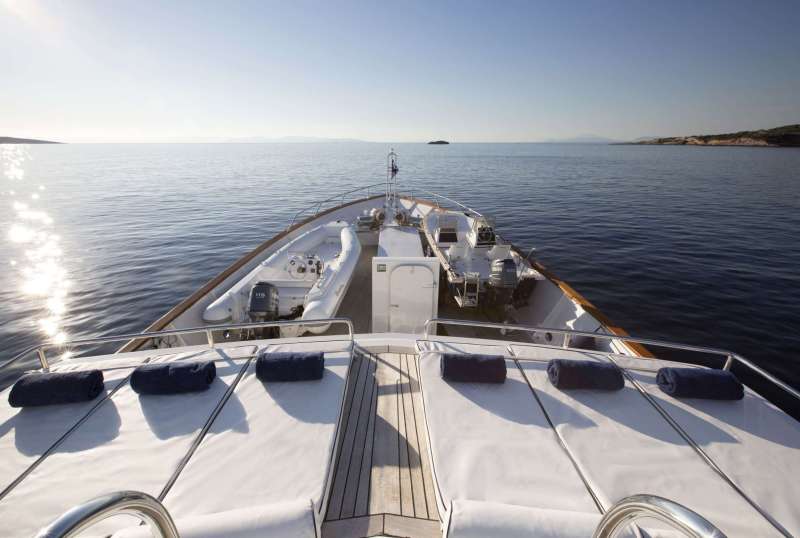 LIBRA Y
From €79,000/week
5 cabins
139 ft
Picchiotti
10 guests
Refit: 2018
485 Litres/Hr
6. PATHOS | 131.00 Ft
With a crew of 8, Pathos features three luxurious and very spacious teak decks and a "beach club" made to help enjoy the natural beauty and turquoise waters of Greece. With her experienced Captain Panos Zorzos at the helm, guests will benefit from an itinerary built from his in-depth knowledge of the Greek Islands. Fine dining is guaranteed, with delectable feasts put together by Pathos' chef who has spent years working alongside Michelin star chefs. Additionally, to get the best from the underwater beauties, you can get the assistance of the Bosun, Mr. Kantzilidis – a qualified rescue diver.
Toys and Amenities:
The boat features two dinghies, 2 jet skis, a water ski set, 2 SeaBobs, 2 SUPs, 2 canoes, inflatables and fishing equipment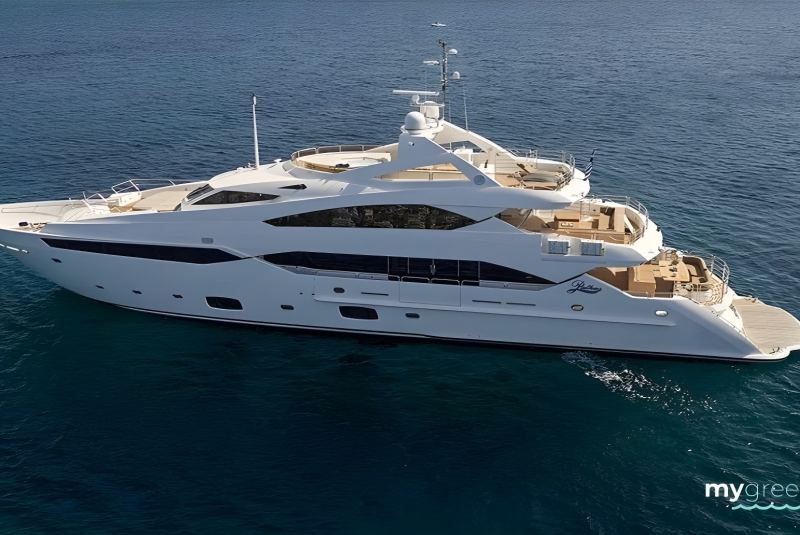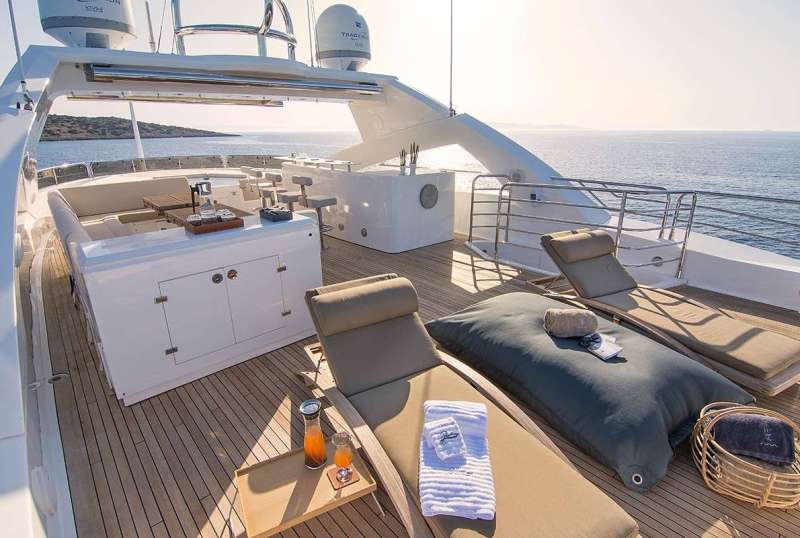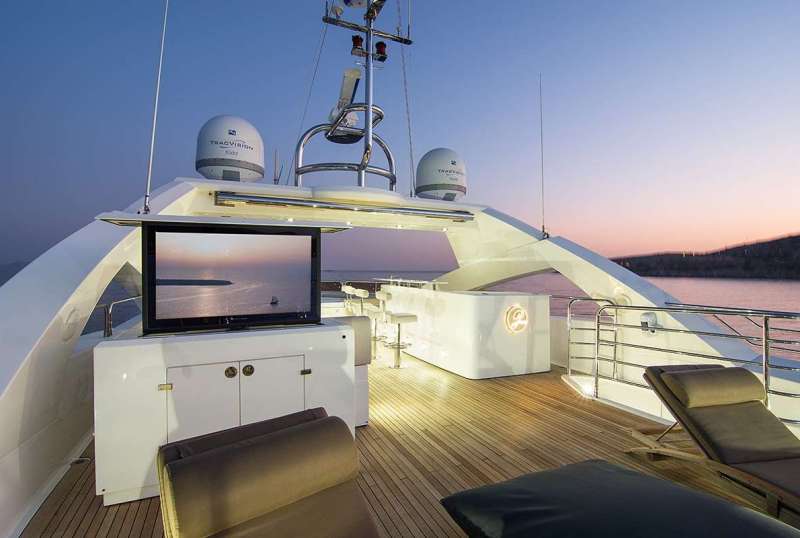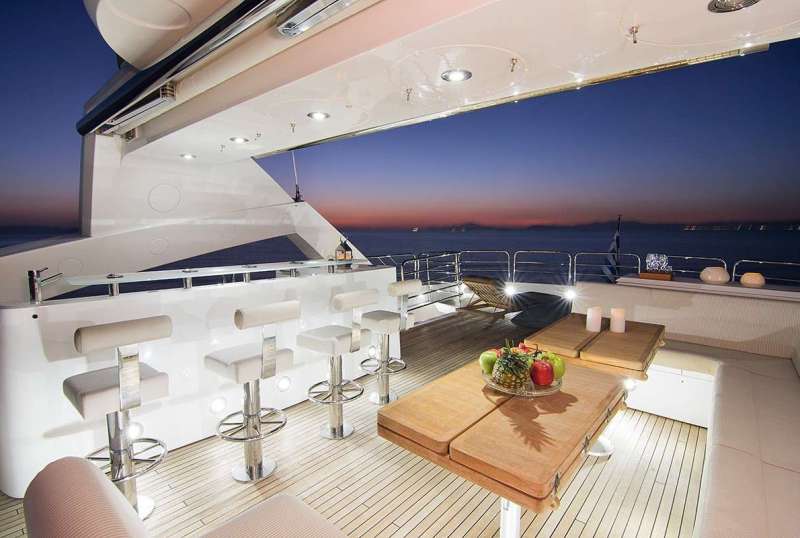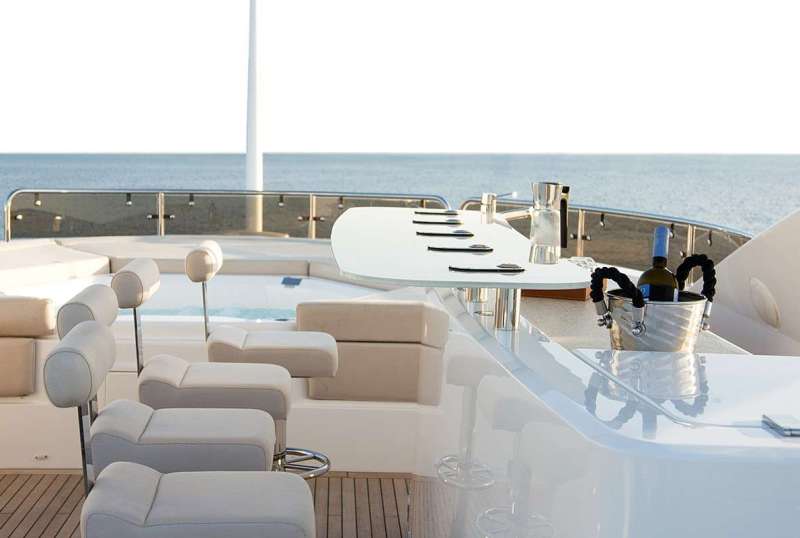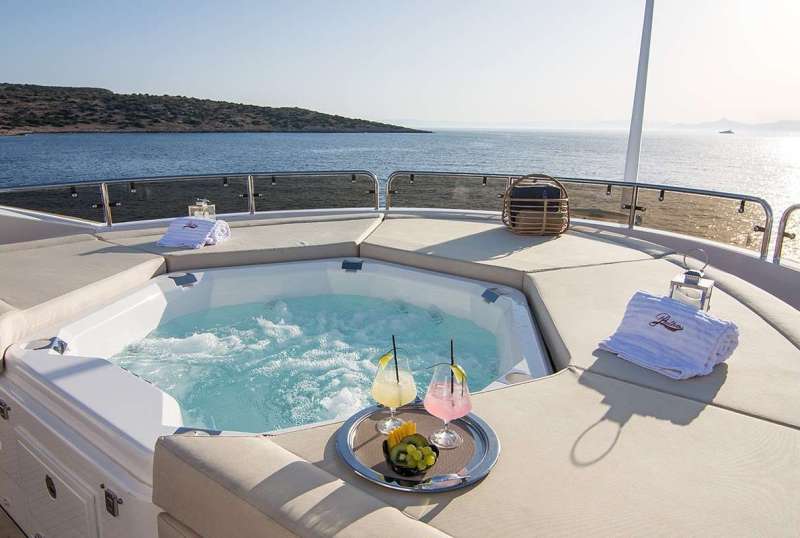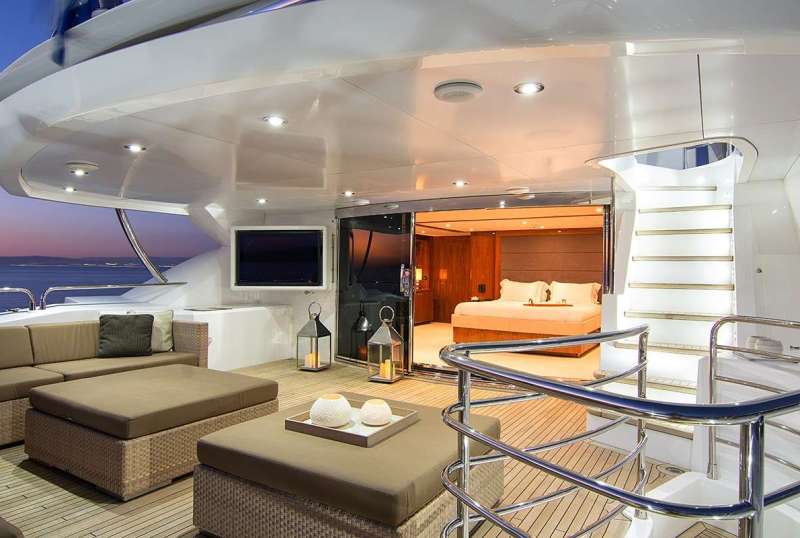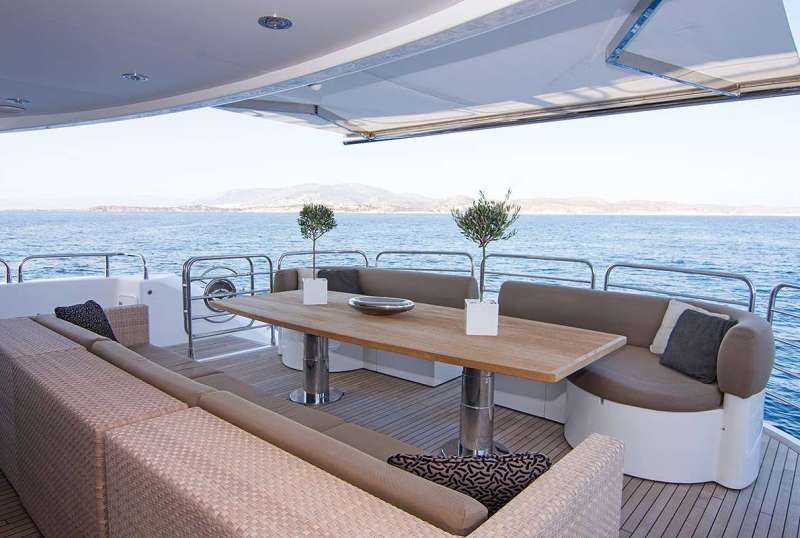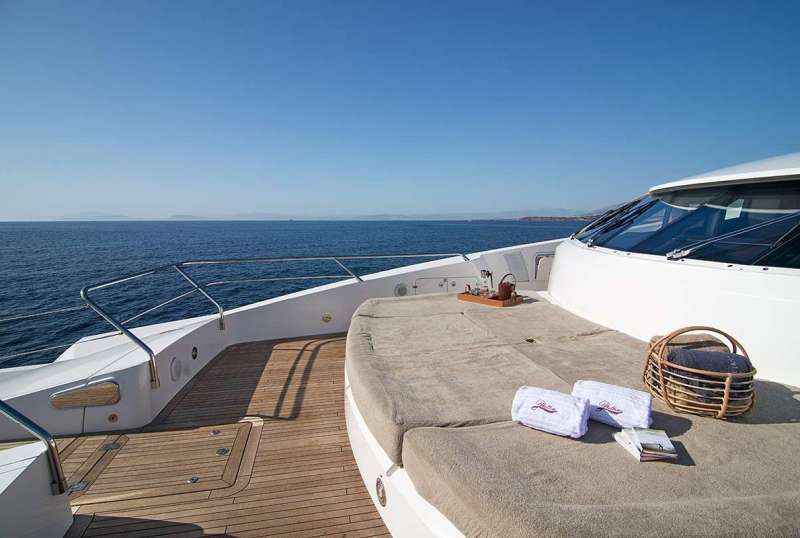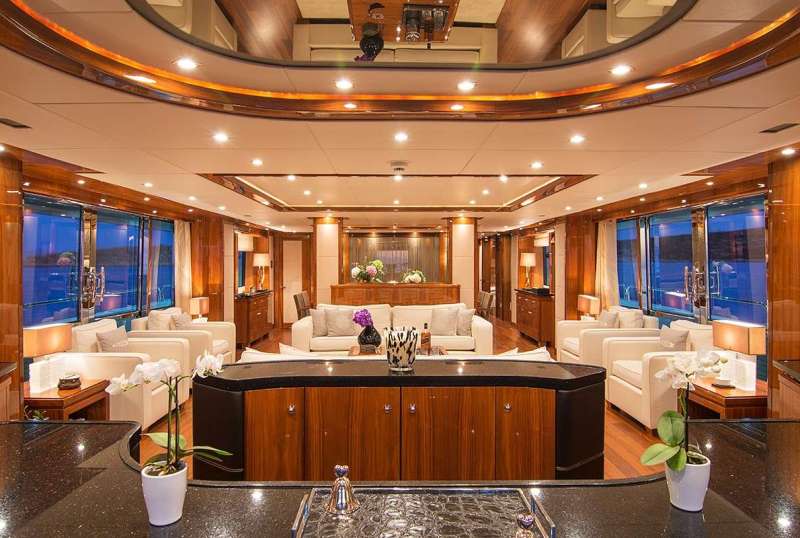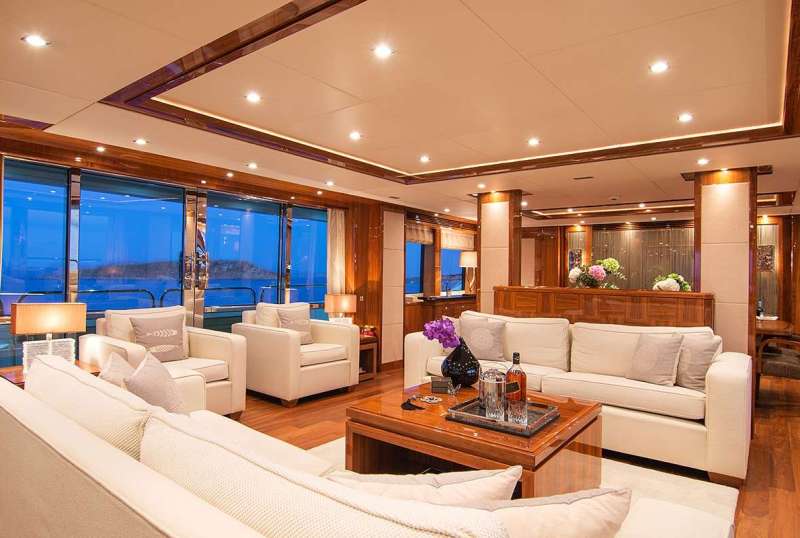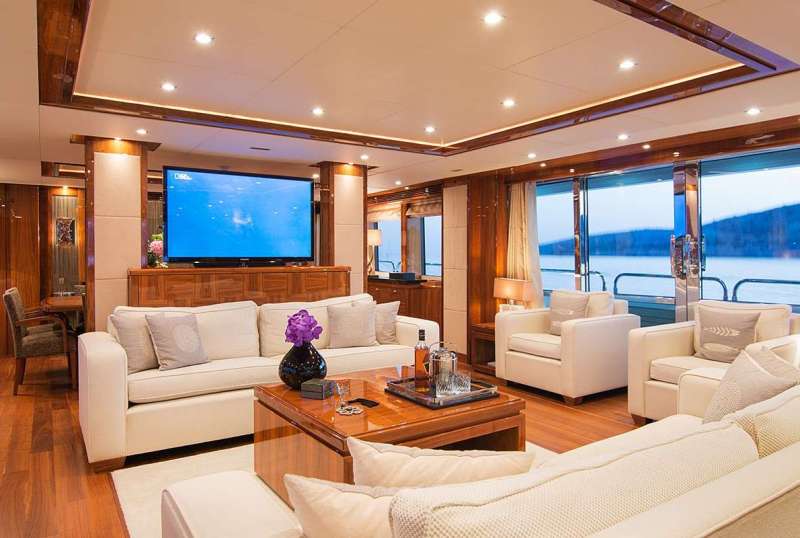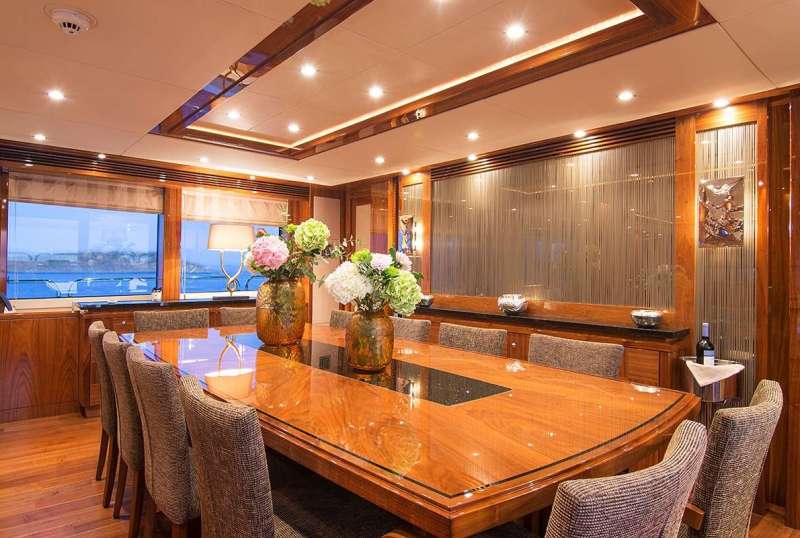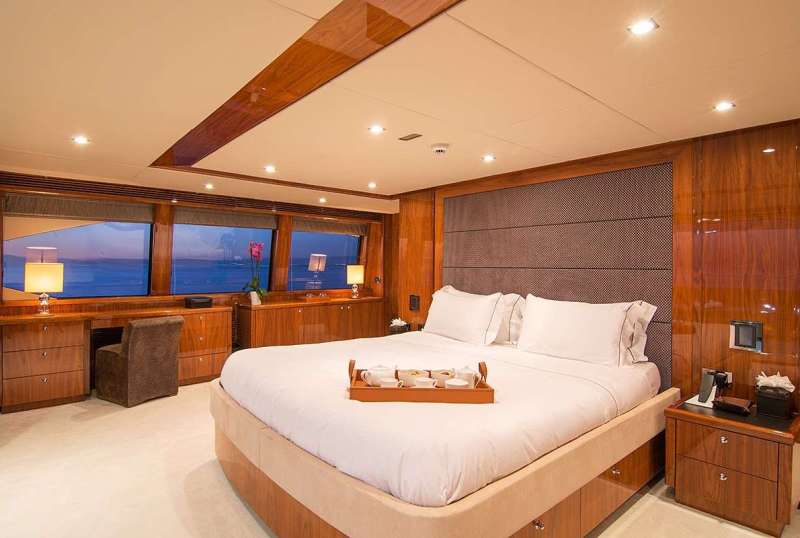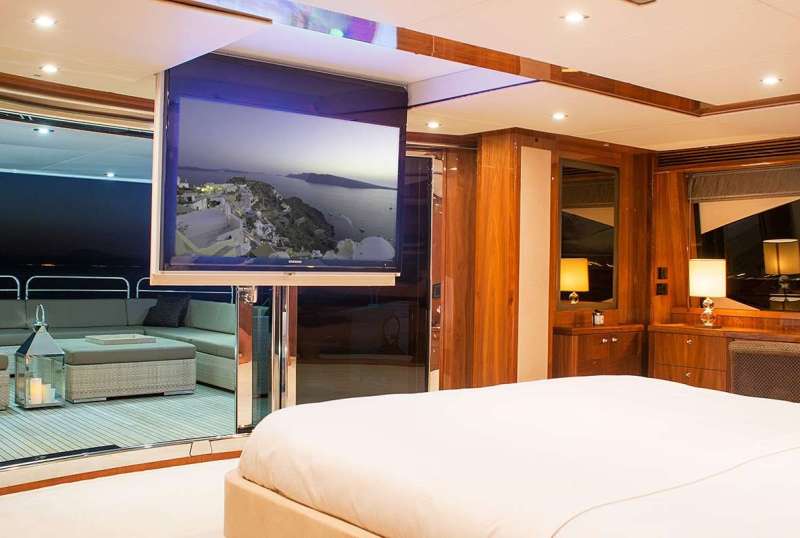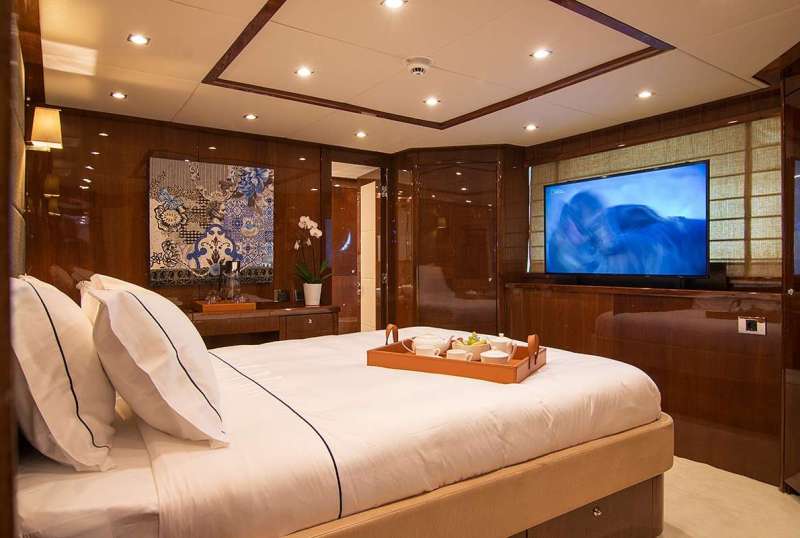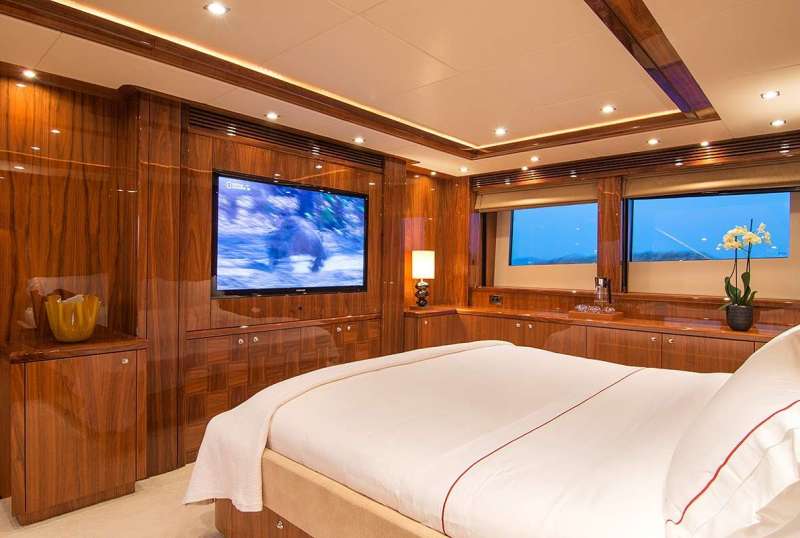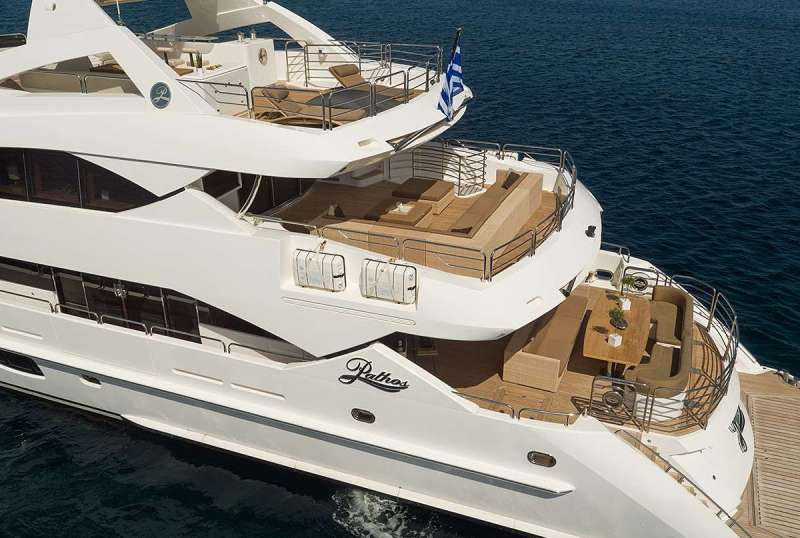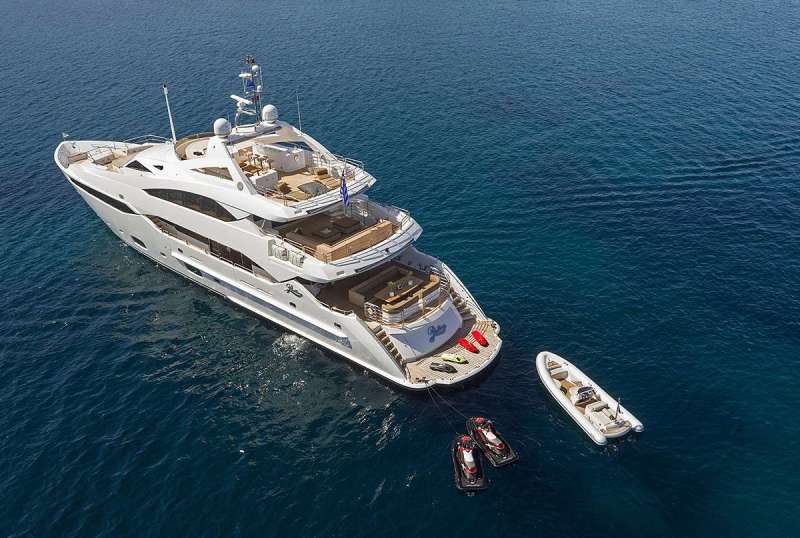 PATHOS
From €130,000/week
6 cabins
131 ft
Sunseeker
12 guests
Refit: 2017
580 Litres/Hr
7. WHITE KNIGHT | 129.00 Ft
White Knight is one of the top yachts in its category, made to explore the amazing coastline of the Aegean islands. You can enjoy freshly made zesty local meals on board at the main deck aft and sunbathe at the two spacious sundecks. Her Captain Lazaros Sofikitis has 14 years of experience working in the yachting industry on 40+m yachts, and an excellent knowledge of the Greek islands, Turkish coasts, Croatia, Mediterranean, UAE, Norway, and Egypt.
Toys and Amenities:
White Knight has very spacious sunbathing areas, a "beach club", plus a rib dinghy, 2 jet skis, 2 SeaBobs, a variety of tow-ables, water toys, an additional platform called an "Infinity Island", and fishing equipment.
Chief engineer Mr. Stylianos, with having Water Skiing Coach diploma and experience in Rallying, Jet Skiing, and Free Diving, knows everything a beginner or an advanced water sports enthusiast can enjoy on the Greek seas.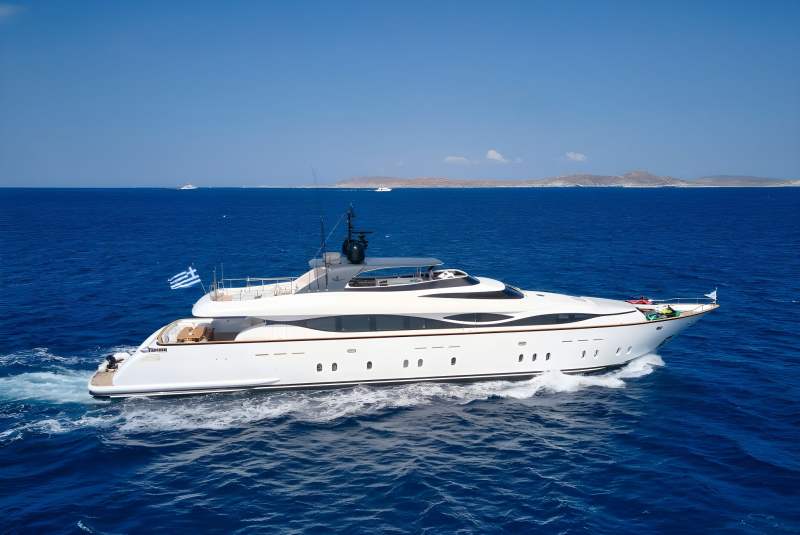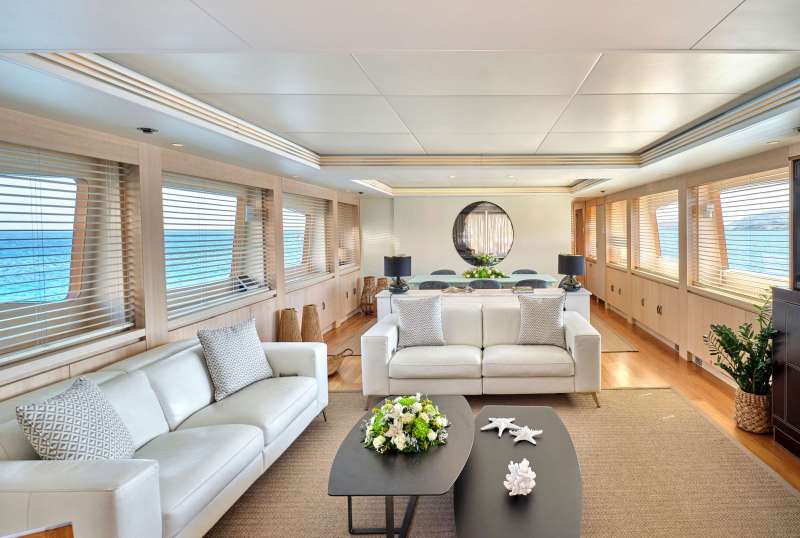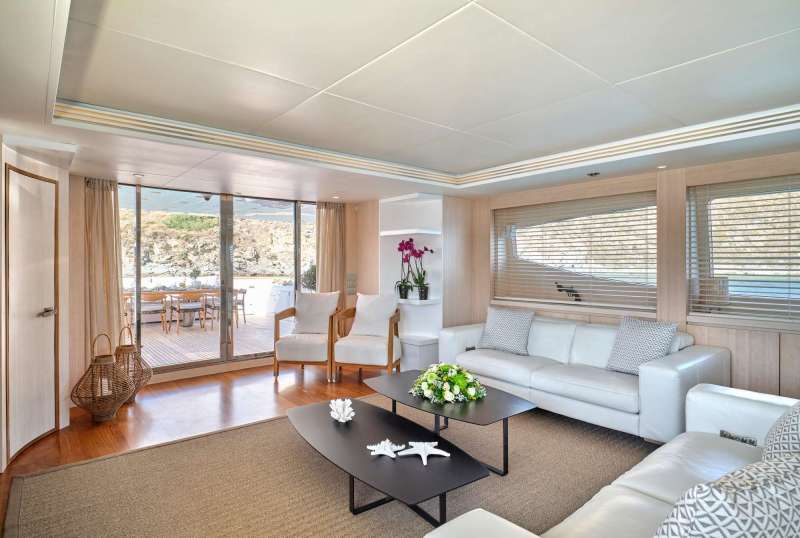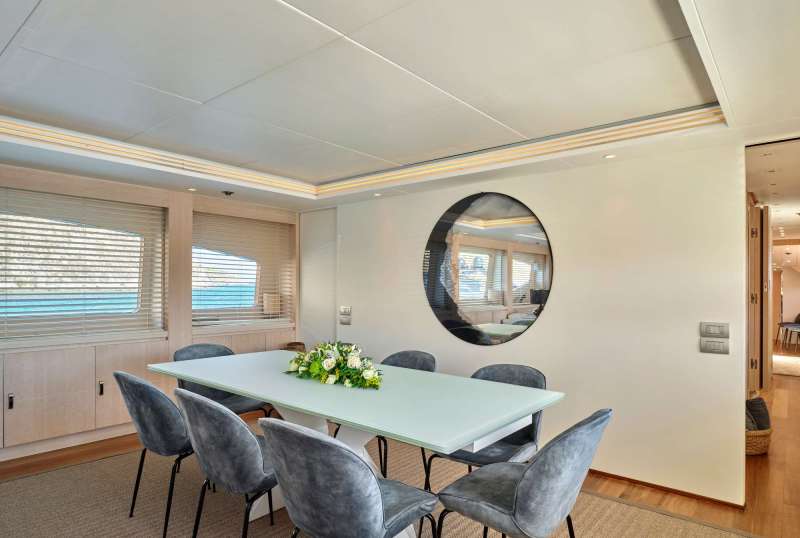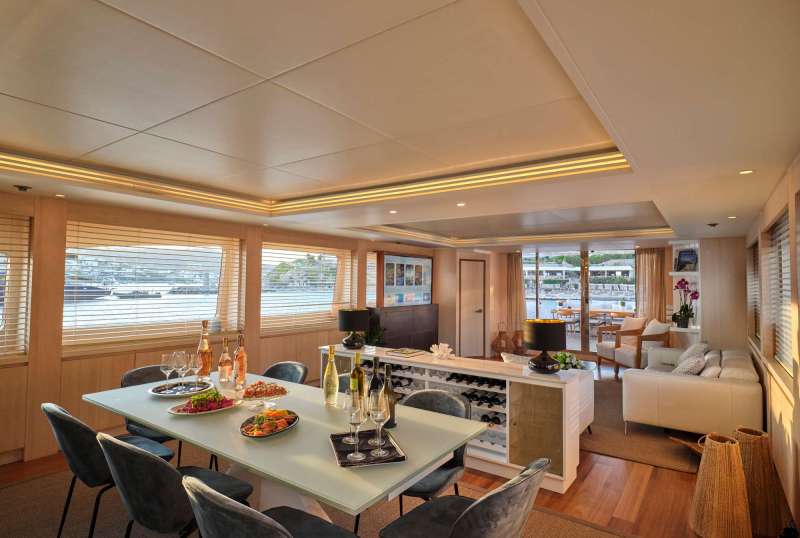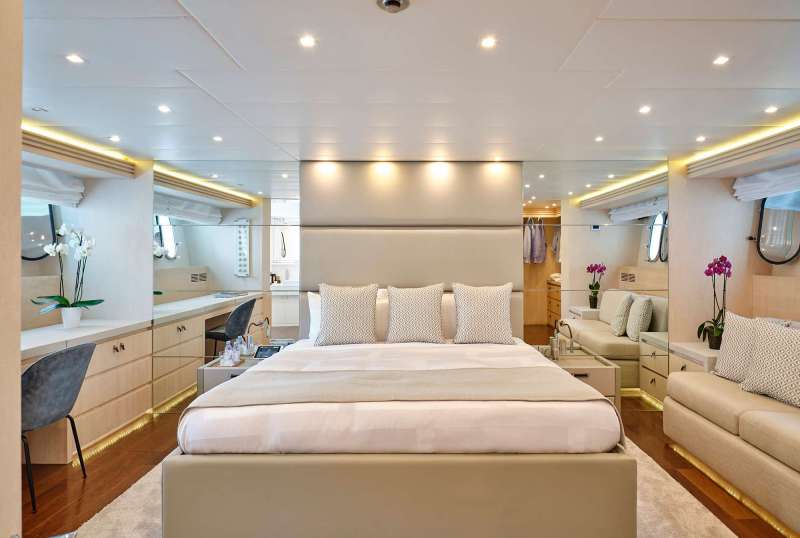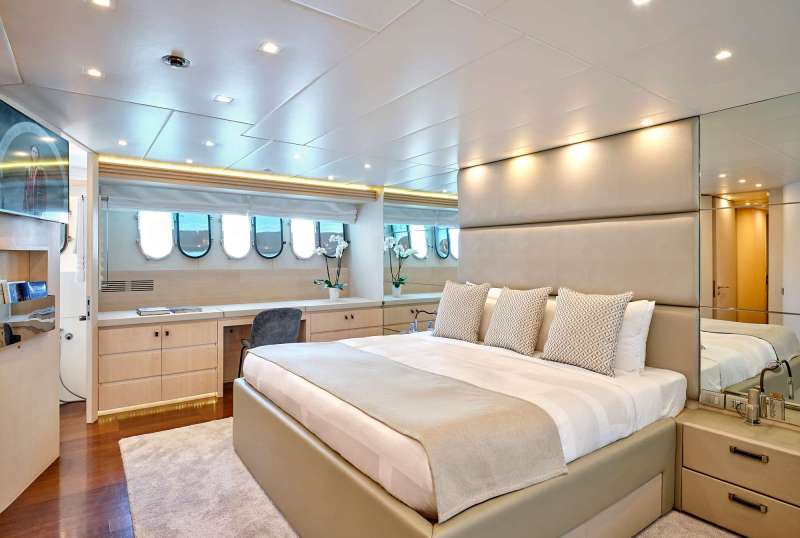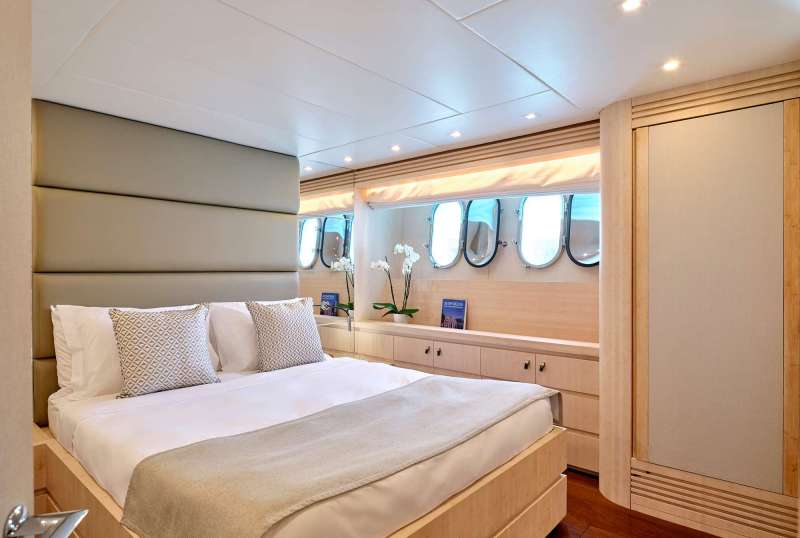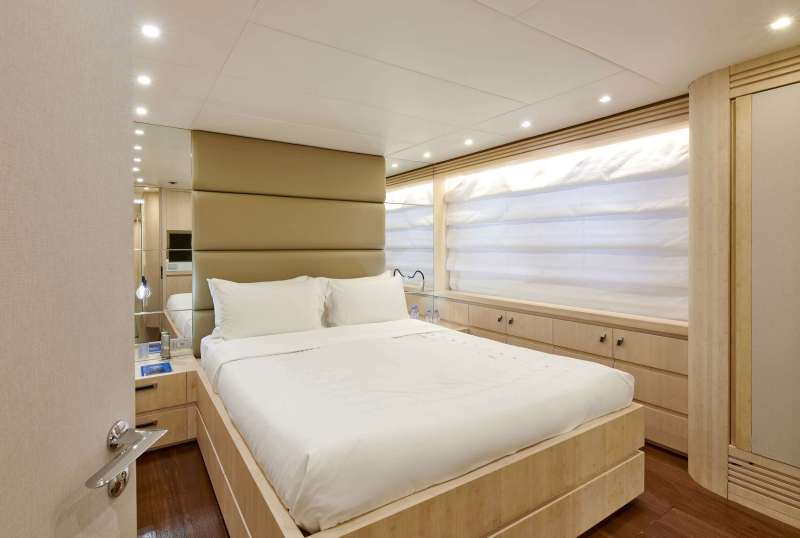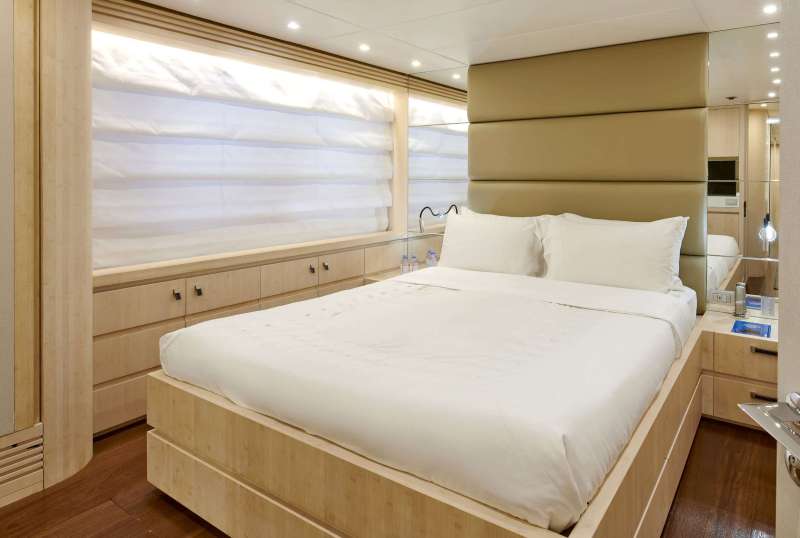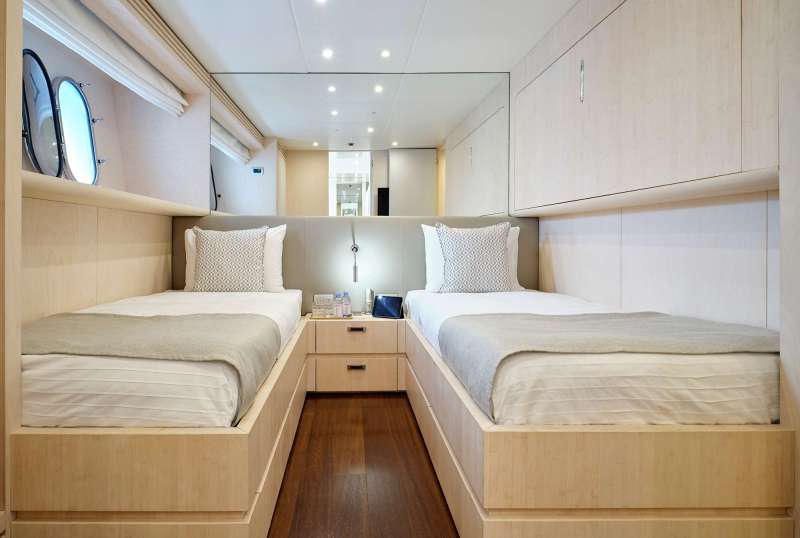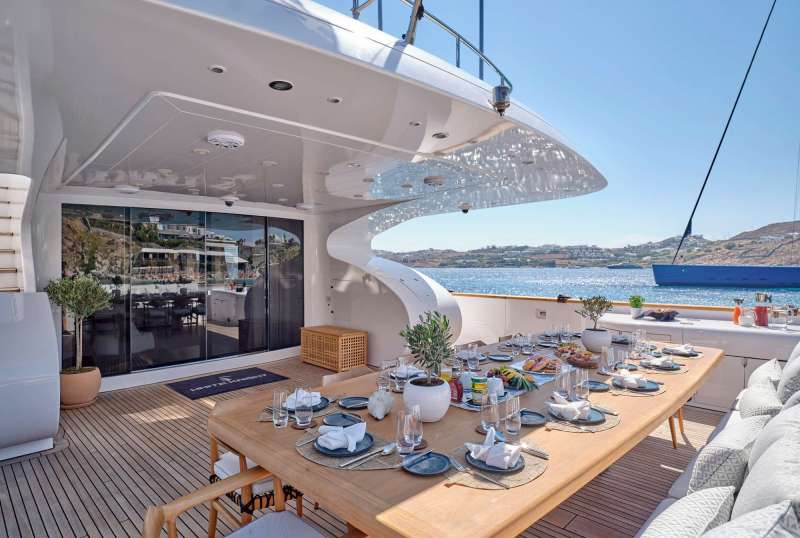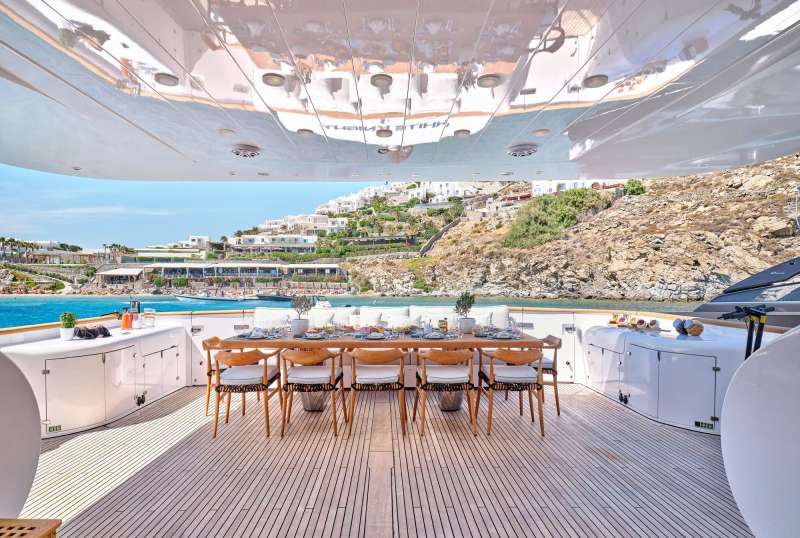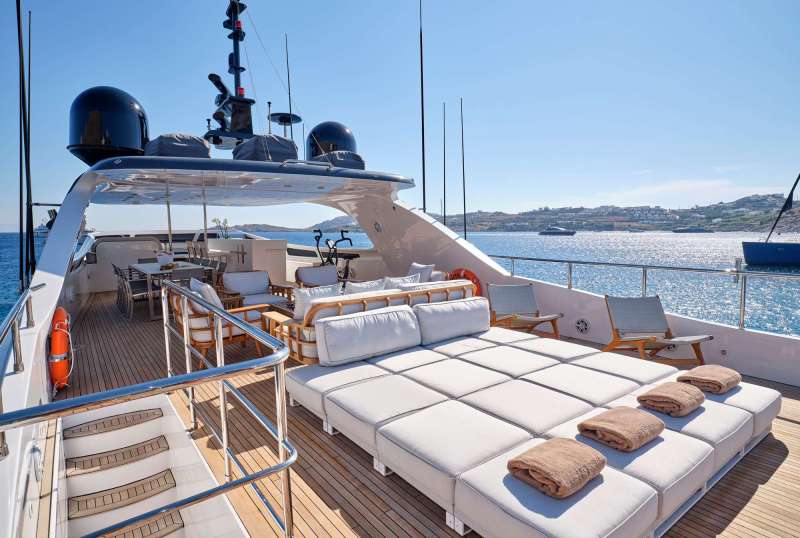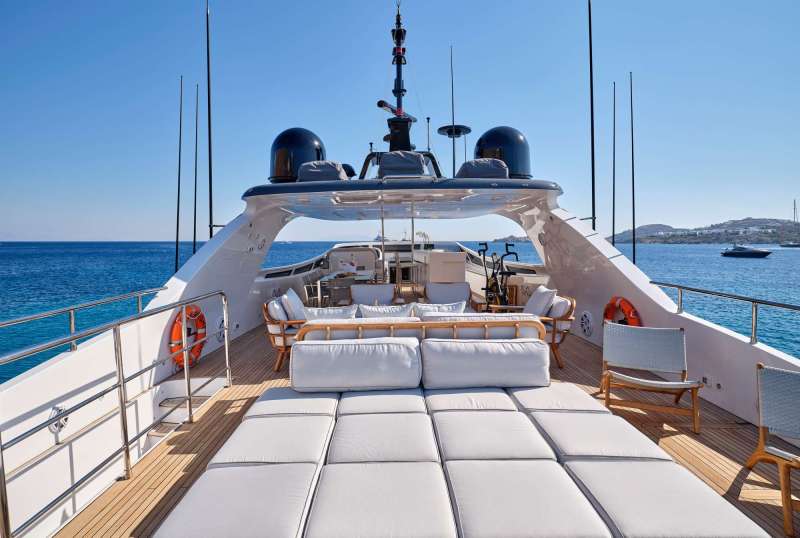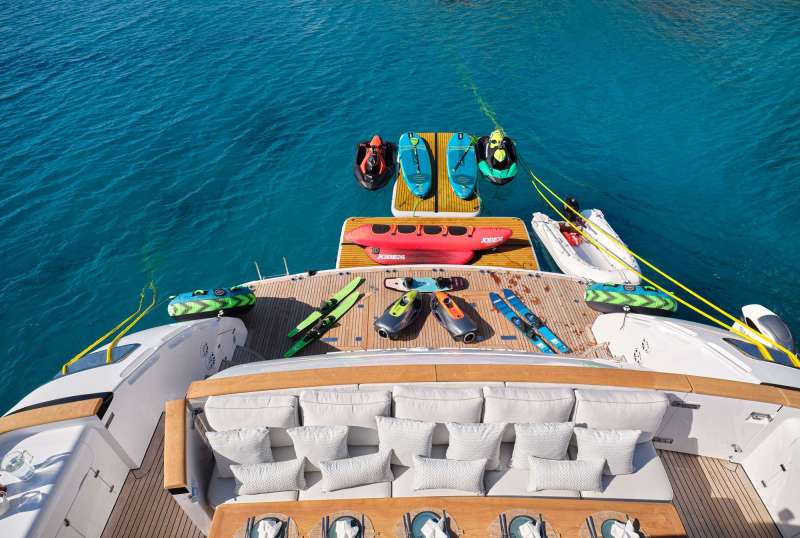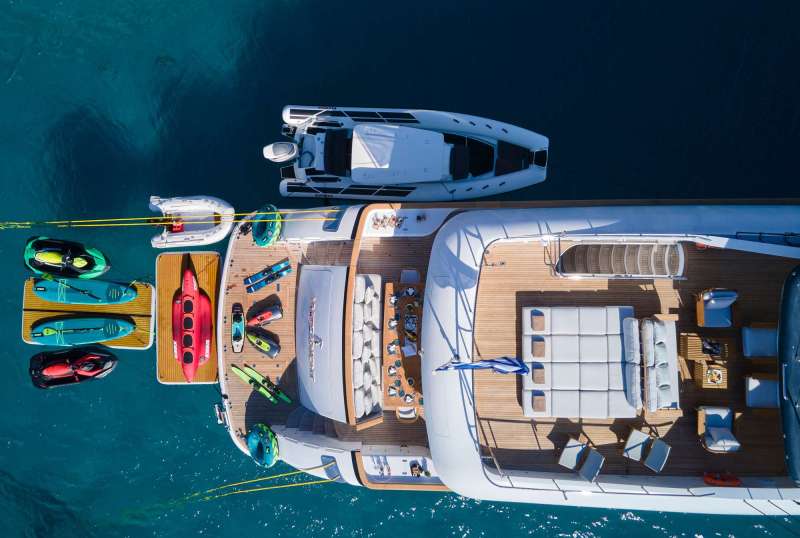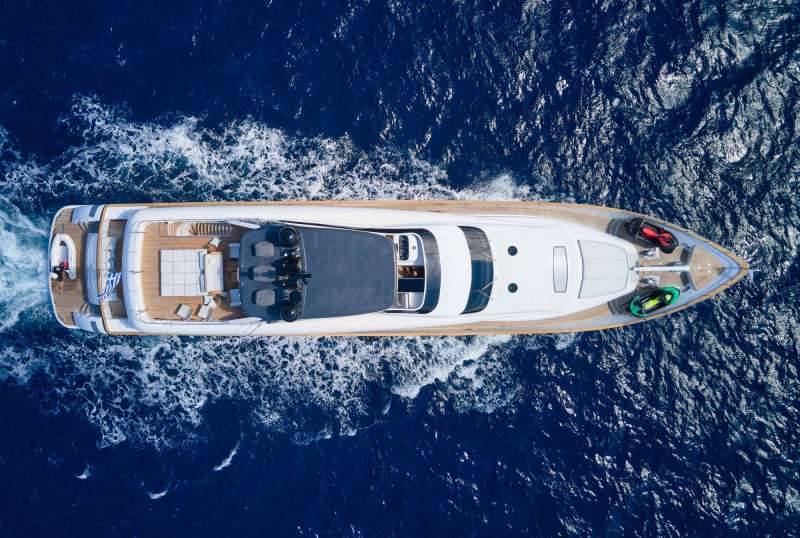 WHITE KNIGHT
From €105,000/week
6 cabins
129 ft
Maiora
12 guests
Refit: 2015
700 Litres/Hr
8. PROJECT STEEL | 112.00 Ft
Project Steel features a super modern design and furniture, as well as impressive, futuristic lighting. The crews are friendly and comforting and you will get the adventure of a lifetime with Captain John's wise choice of ports, safe sailing habits, and knowledge about the secluded underwater places and beaches. You can enjoy birthday parties on board and indulge in unlimited supplies of your favorite beverages.
Toys and Amenities:
It comes equipped with a 70hp 6.2m rib dinghy, a Jet Ski, a SeaBob, Tubes, Kneeboard, Wakeboard, Water skis (adults & kids), SUP, Kayak, Floating mats, fishing gear and snorkelling gear.
The sea bob is a guest favorite as it lets them dive up to 40 meters deep and glide through the water.
Guest Experience:
"This is nothing short of phenomenal. Everything they do is always five star, in service, professionalism and attention to detail. Greece is now our favorite holiday location thanks to Project Steel, Captain and his lovely, lovely crew. From now on a journey of a thousand miles begins with a single step onto Project Steel! Best of luck for the rest of the season from a very grateful family!"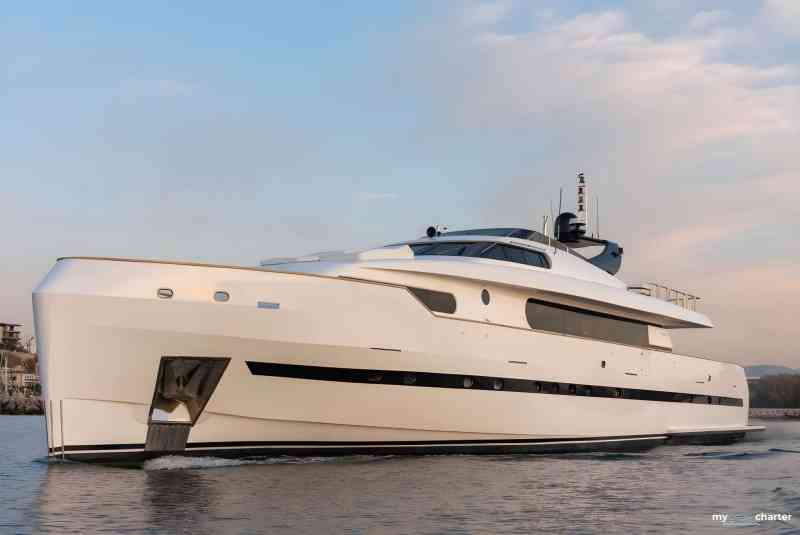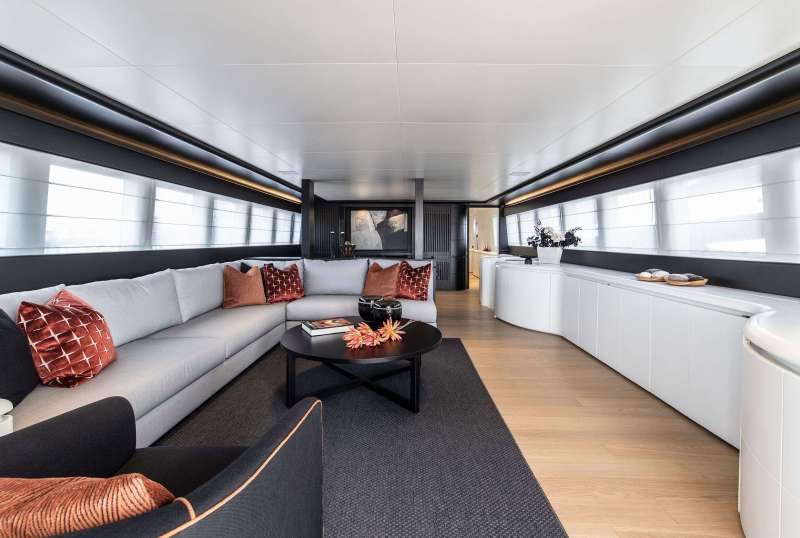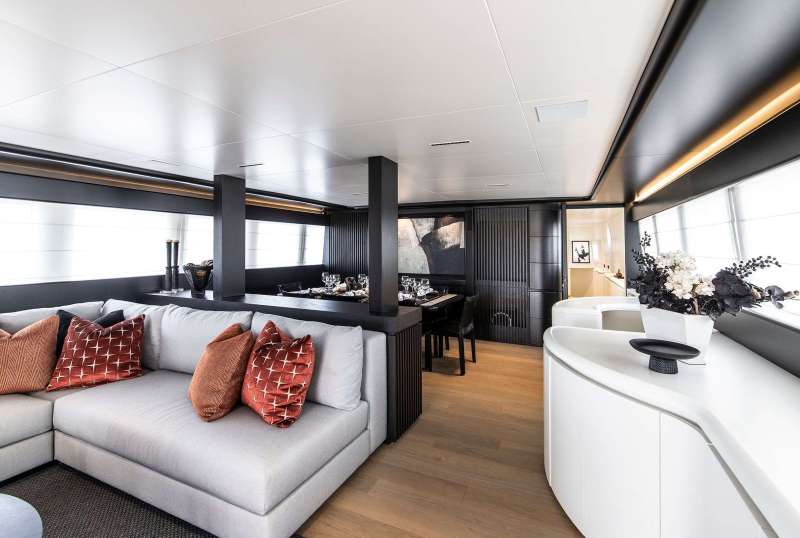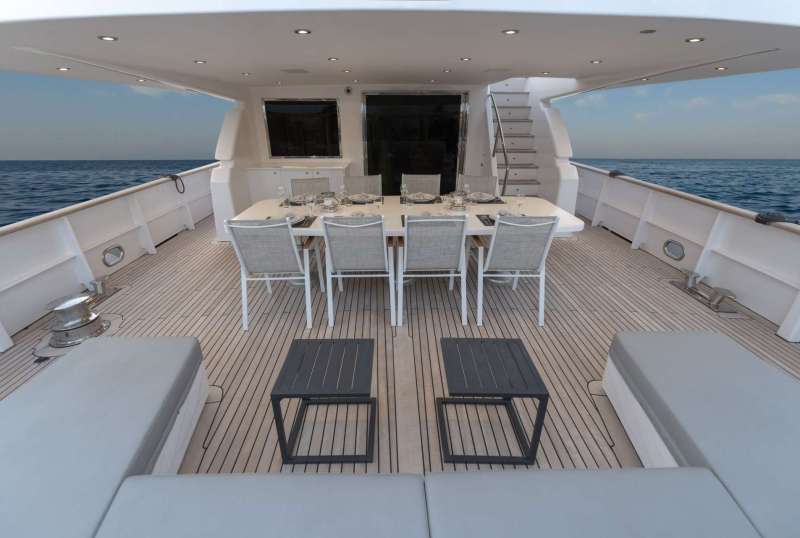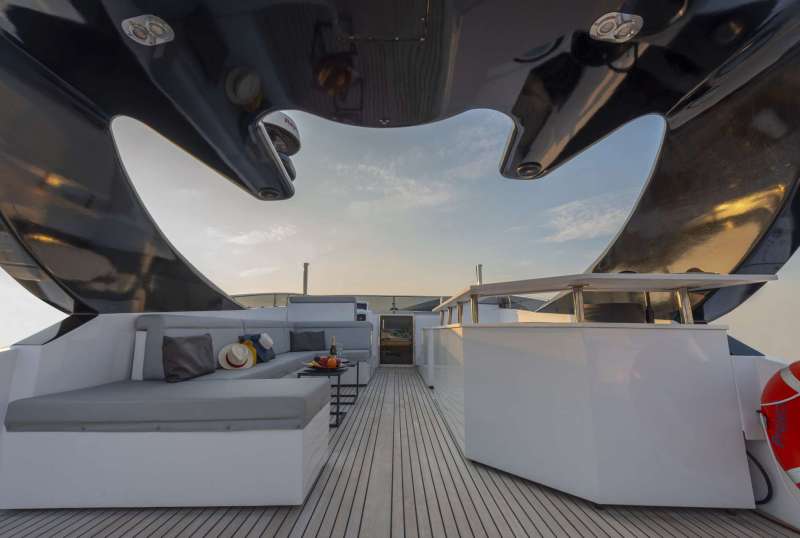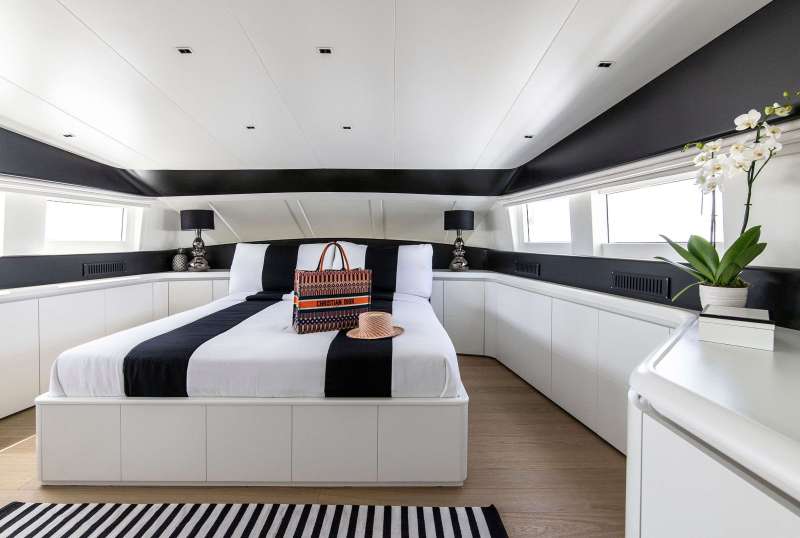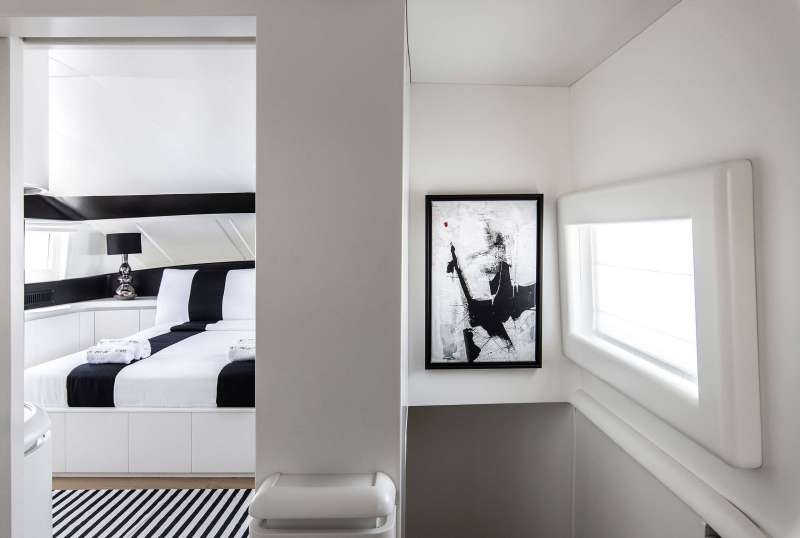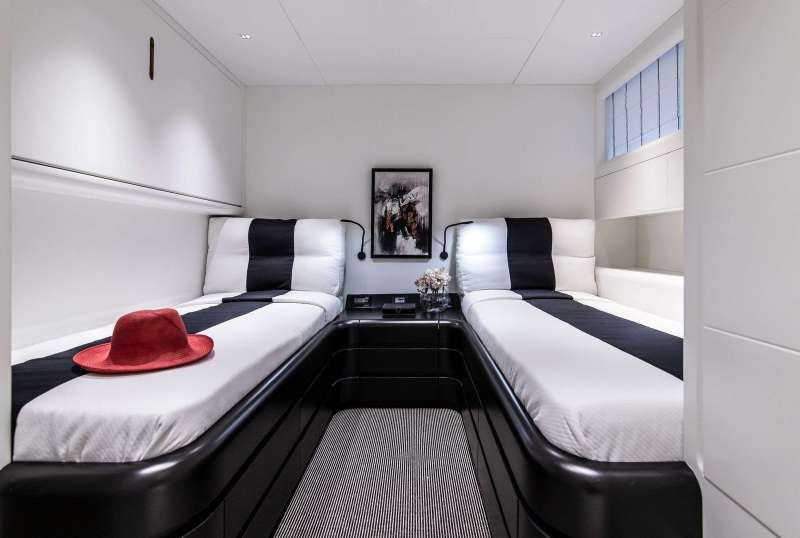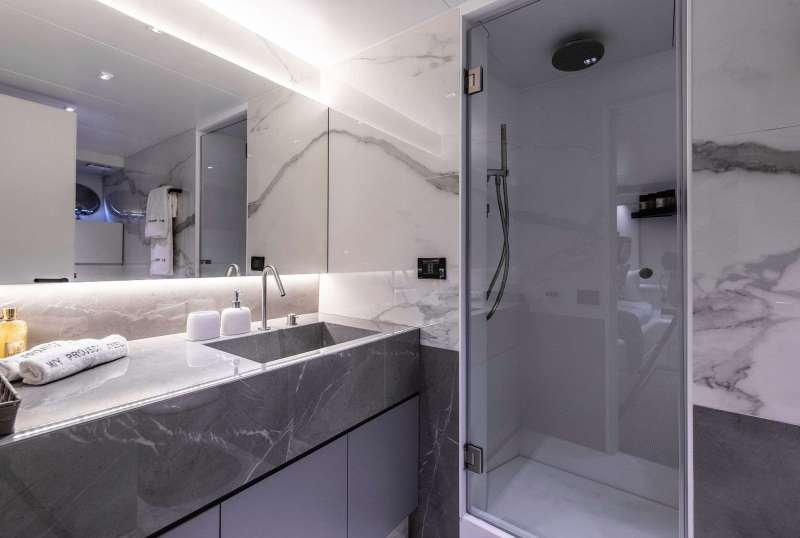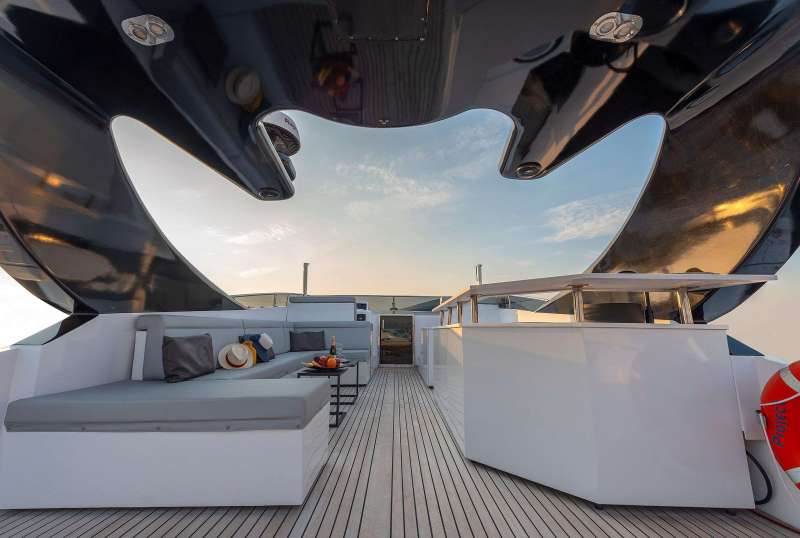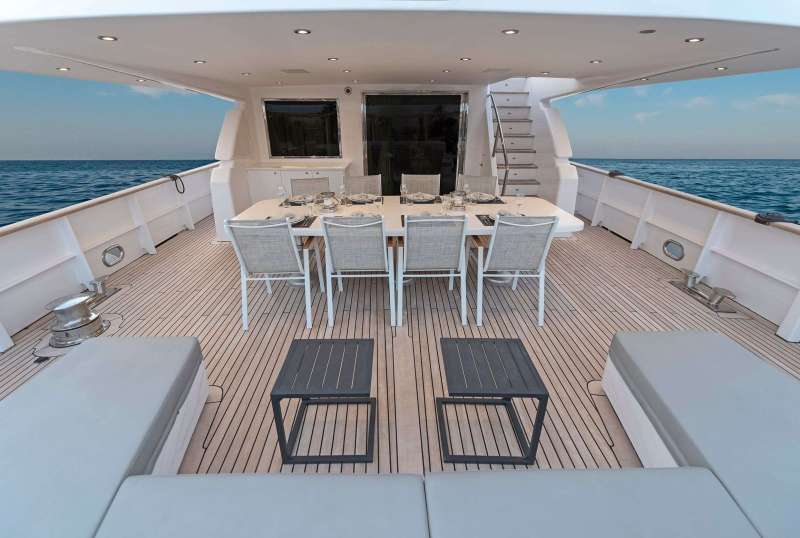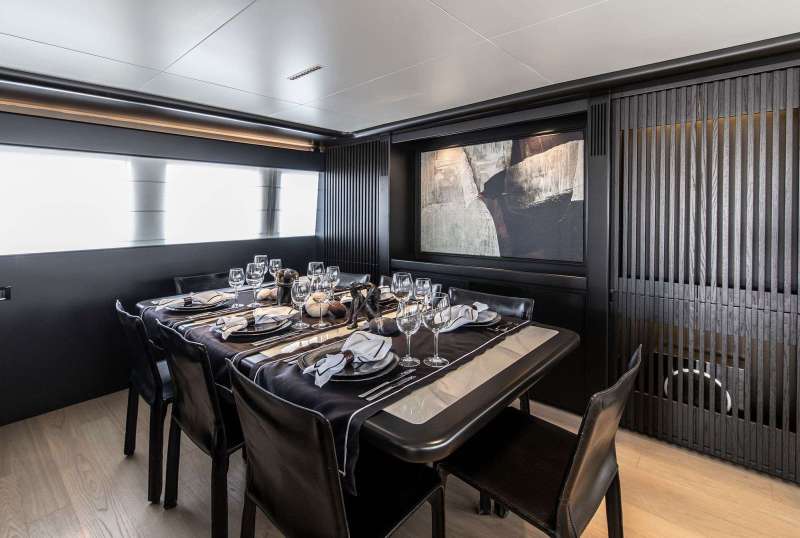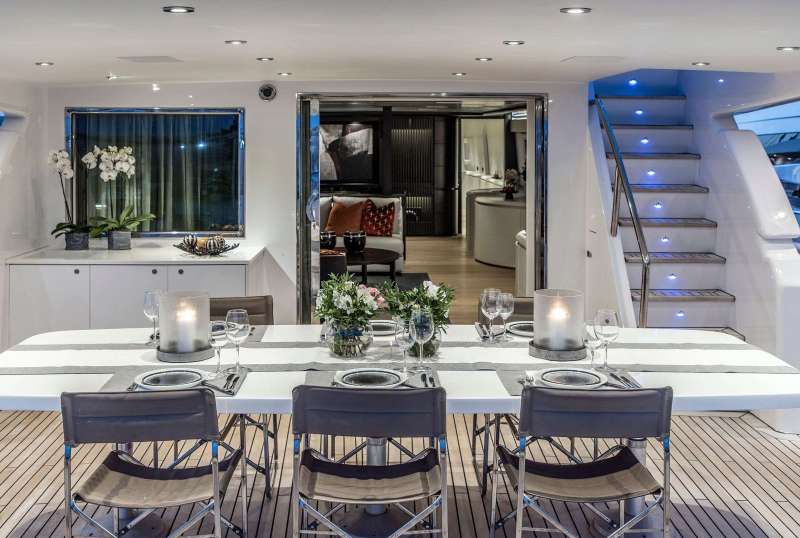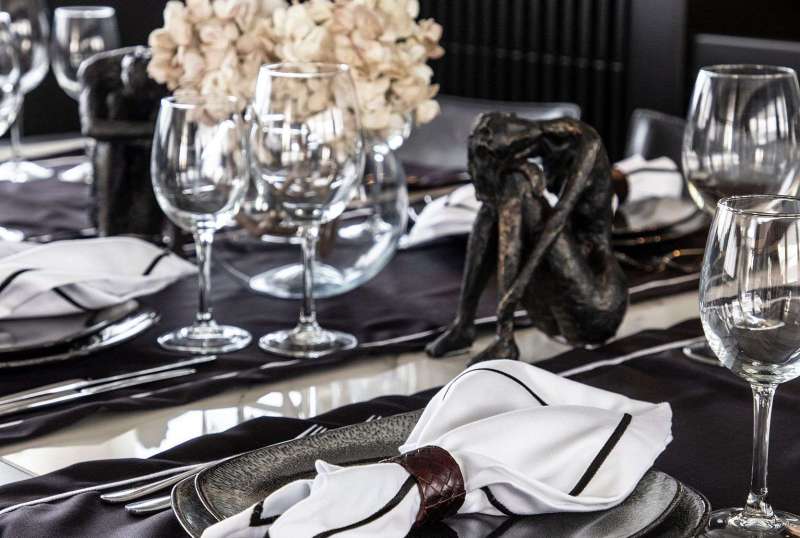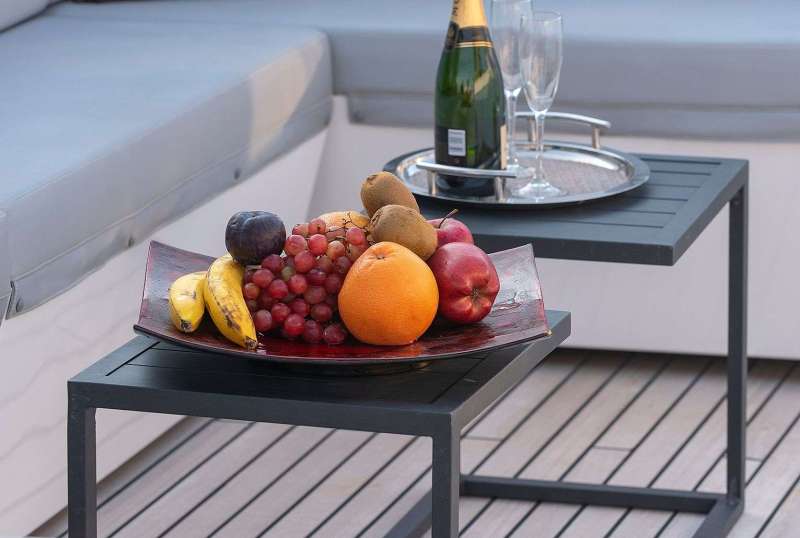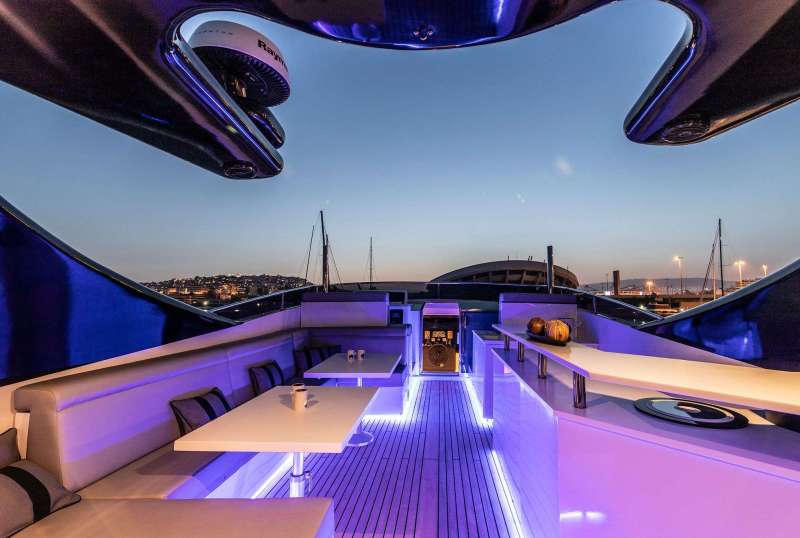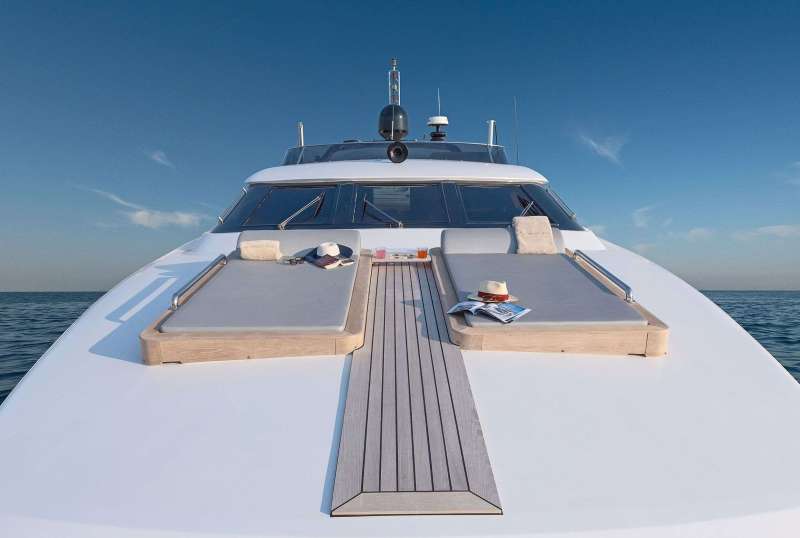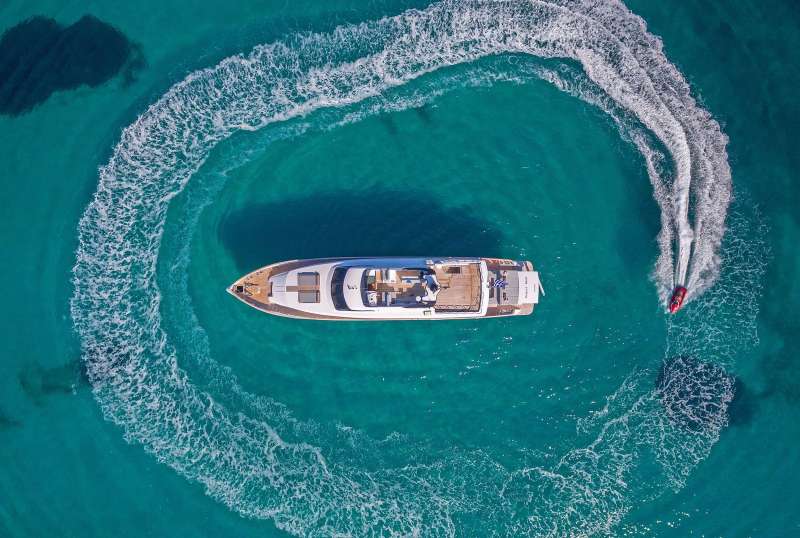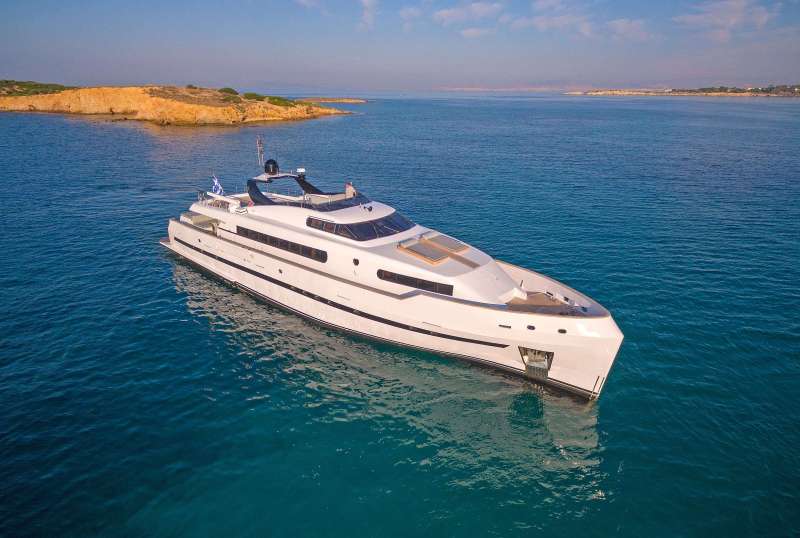 PROJECT STEEL
From €45,000/week
5 cabins
112 ft
Bugari
12 guests
Refit: 2007/2014/2019/2020
130 Litres/Hr
9. PRINCESS L | 111.00 Ft
Princess L has a Master Suite, a VIP Cabin and 2 Twin Cabins with one Pullman berth each and 1 VIP Cabin on the main deck. She features impressive exterior decks for sunbathing and a huge aft deck dining area to enjoy sunny lunches or evening cocktails onboard.
Her amazing crew of six will warmly welcome and take care of the guests onboard, making each stay an unforgettable experience. The staff ensures the guests are comfortable and their requirements are met- parties, unique dishes, babysitting, etc.
Toys and Amenities:
Princess L comes equipped with a dinghy, 2 jet skis, 2 SUPs, waterskis and 2 kayaks.
Guest Experience:
"I've done this trip twice now. I have no words to describe how amazing it was and all because of the crew. Leaving this crew is so hard and if it were up to me, I'd stay here forever. Love you all and thank you so much for everything you've done for me and my family. You guys are the best!!!"
Guest Experience:
"From all of the trips I made with my family, this was the best one! Besides the country, the boat, the landscapes, you guys played a huge part on everything. Tasos, the best captain, your energy is everything! Jani, THE BEST COOK! Your food is AMAZING and you're so kind and loved. Maria, thank you for everything, you are so nice and always willing to help us at anytime. Michael, Mike, Spiro you guys are always in a good humor and so kind to me! I really hope to see you guys soon! Love you."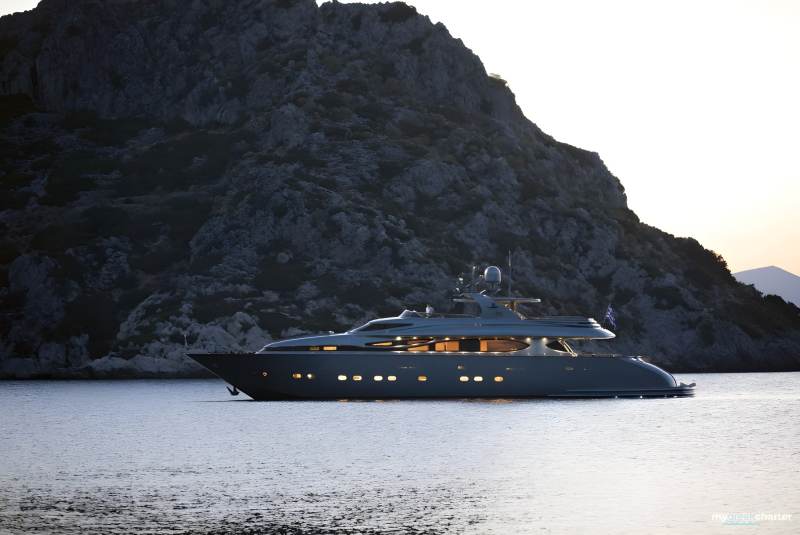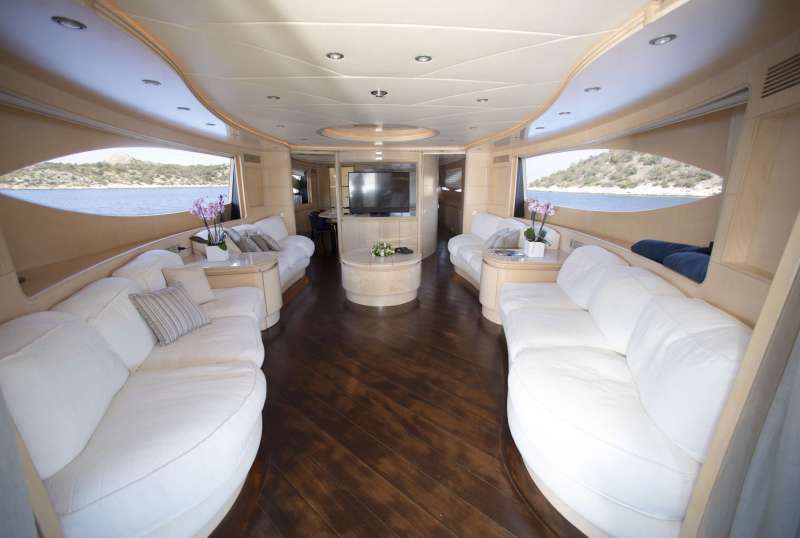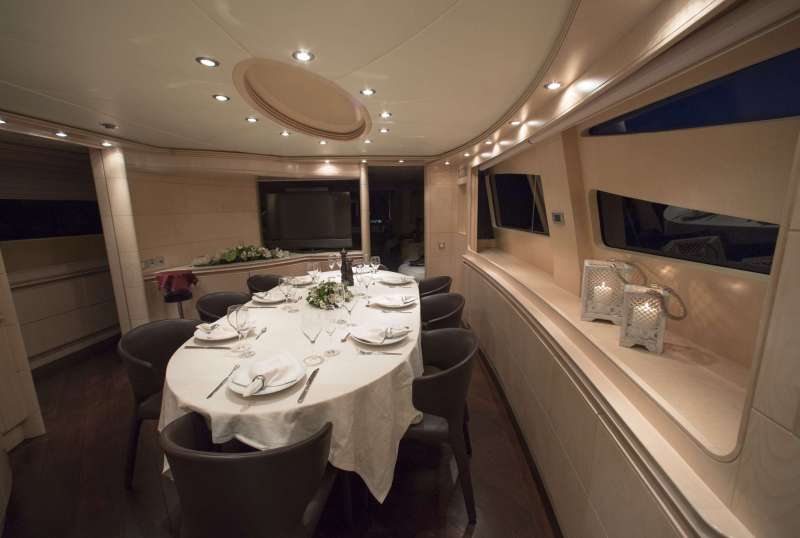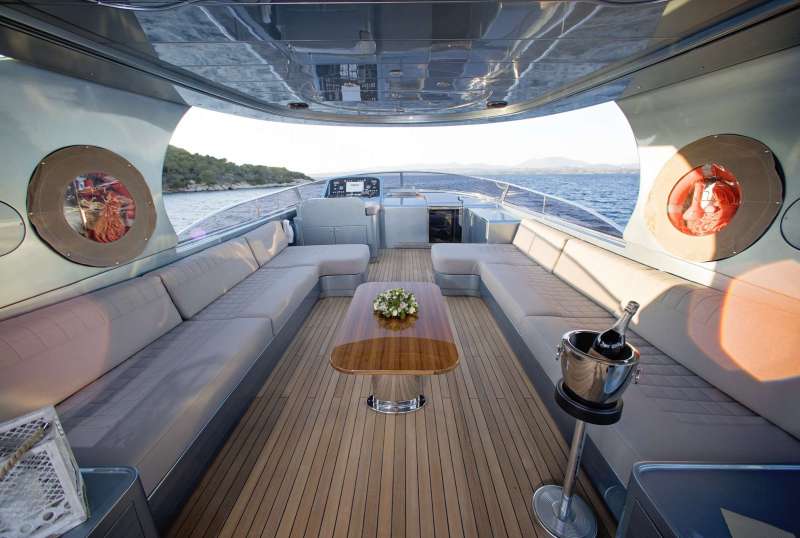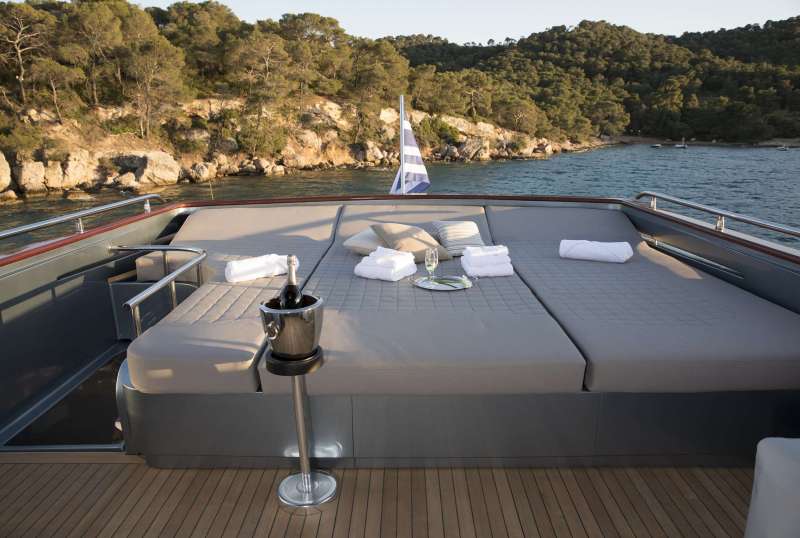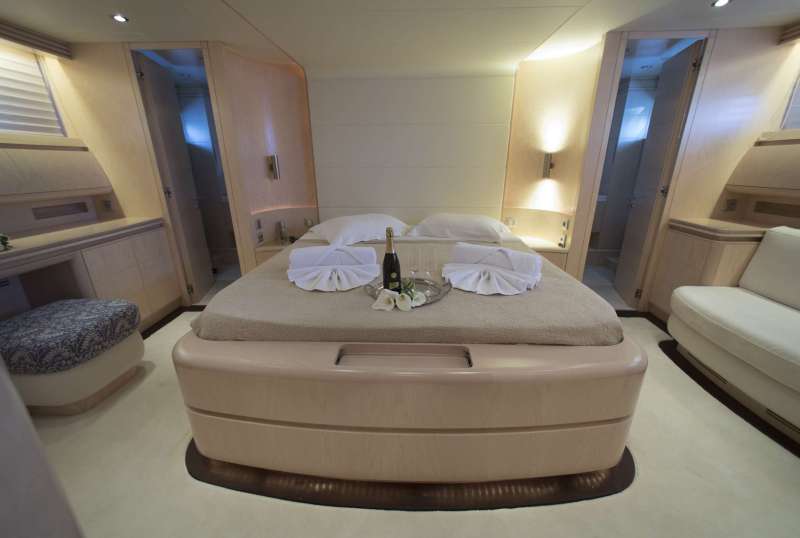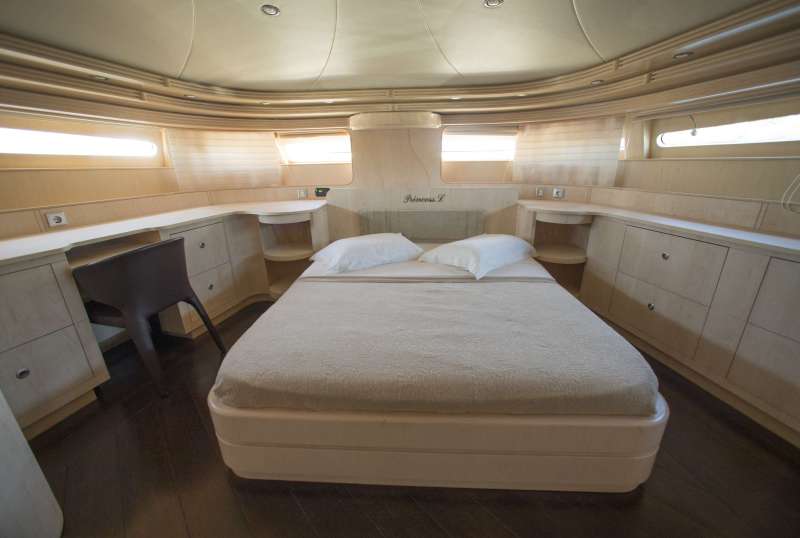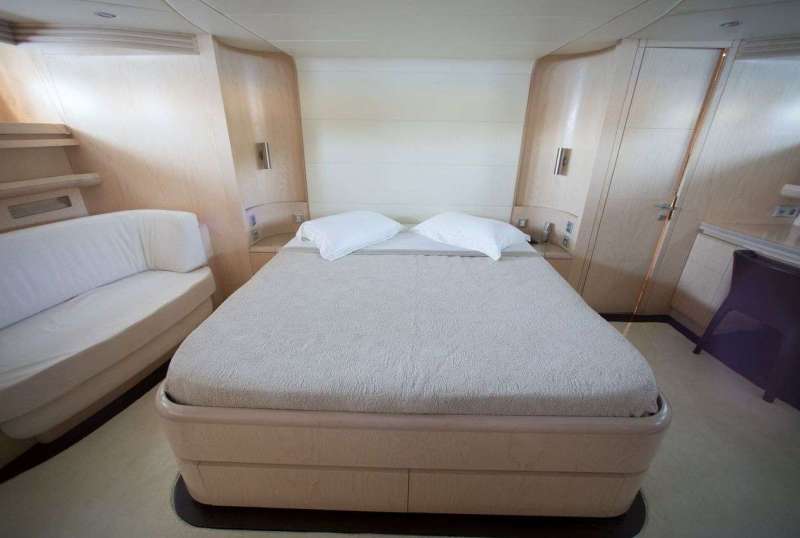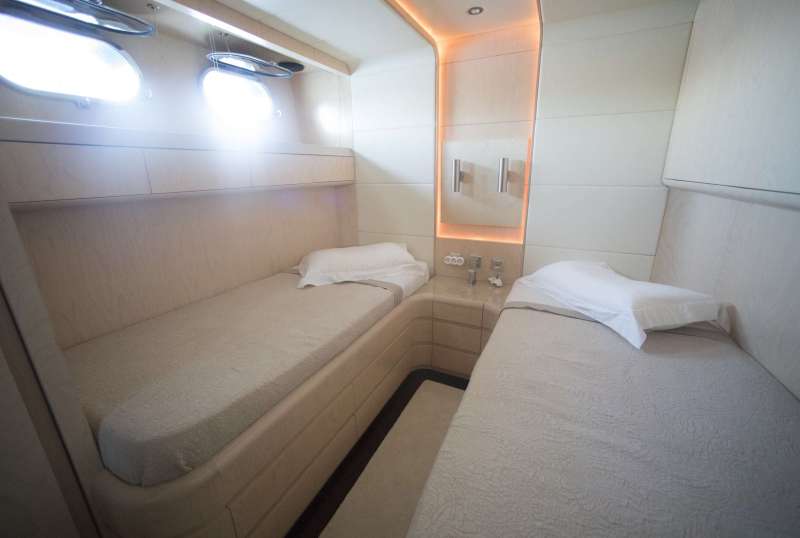 PRINCESS L
From €70,000/week
5 cabins
111 ft
Maiora
12 guests
Refit: 2018
800 Litres/Hr
10. KANDO | 111.00 Ft
KANDO Features 5 deluxe double cabins with modern deluxe en suite bathrooms, an elevator, a large outdoor jacuzzi, and spacious lounging and sunbathing areas to enjoy. It comes equipped with a dinghy as well as numerous water toys. The yacht doesn't have fishing gear, but you can fish with your own equipment. You can try rendezvous diving from the boat.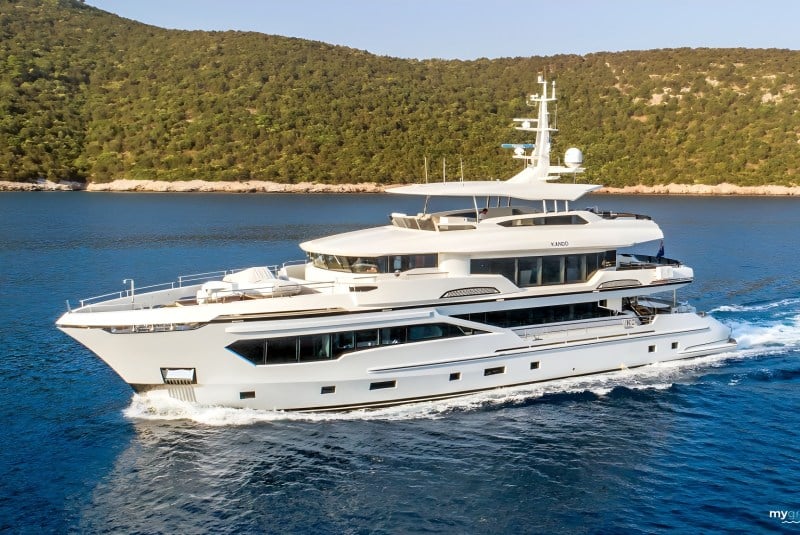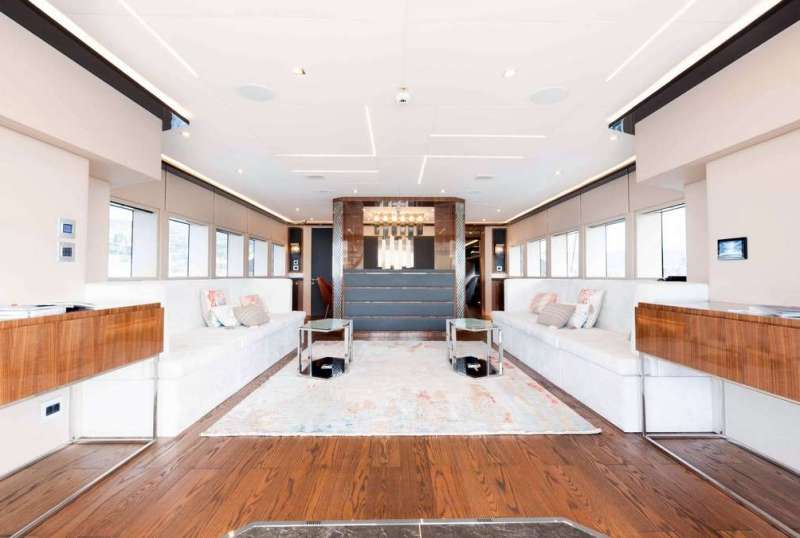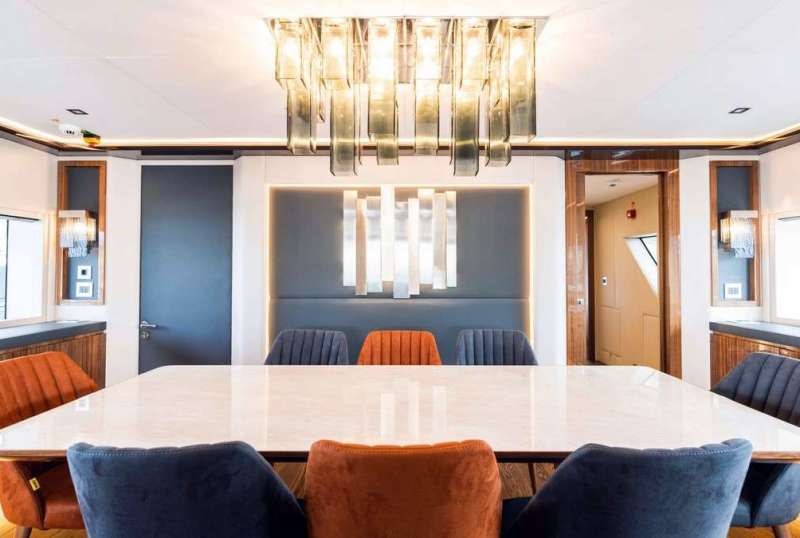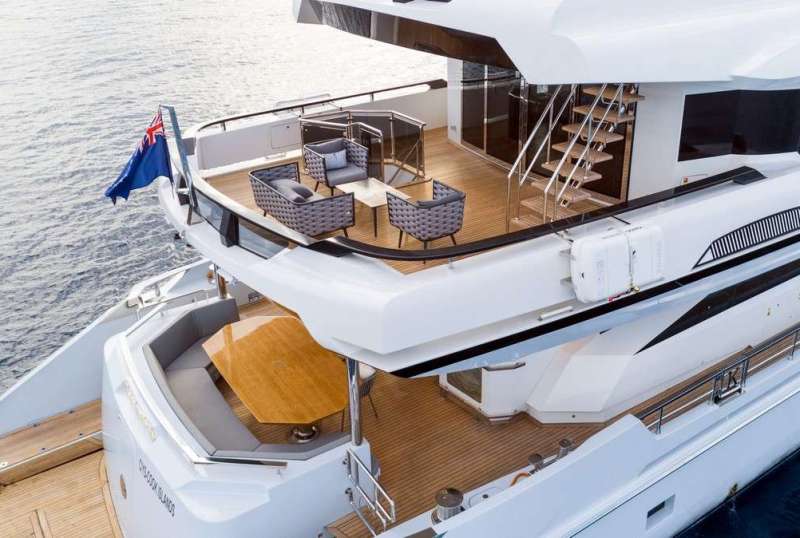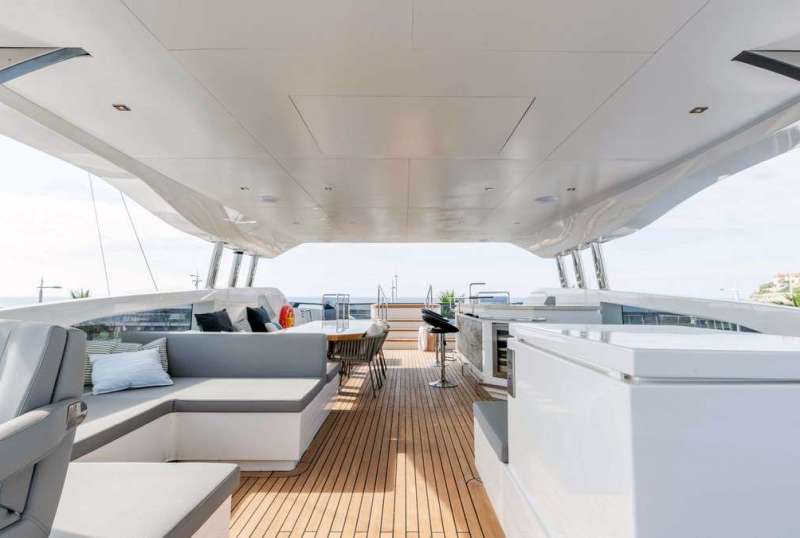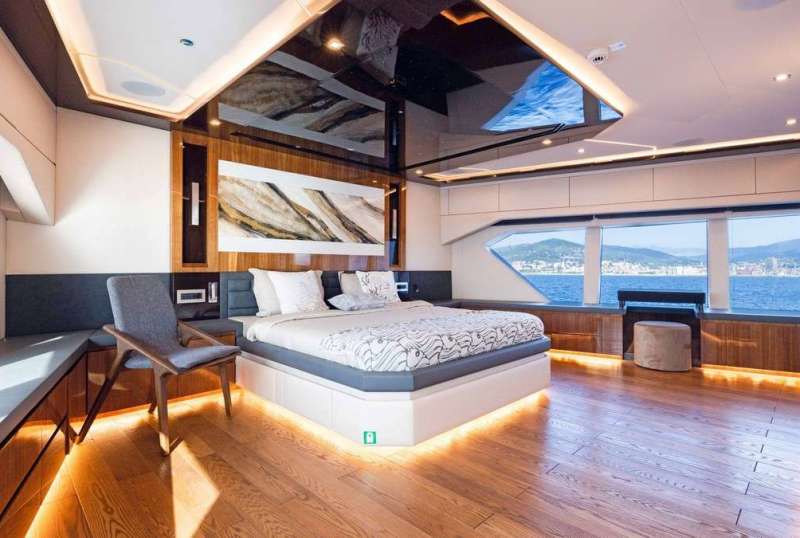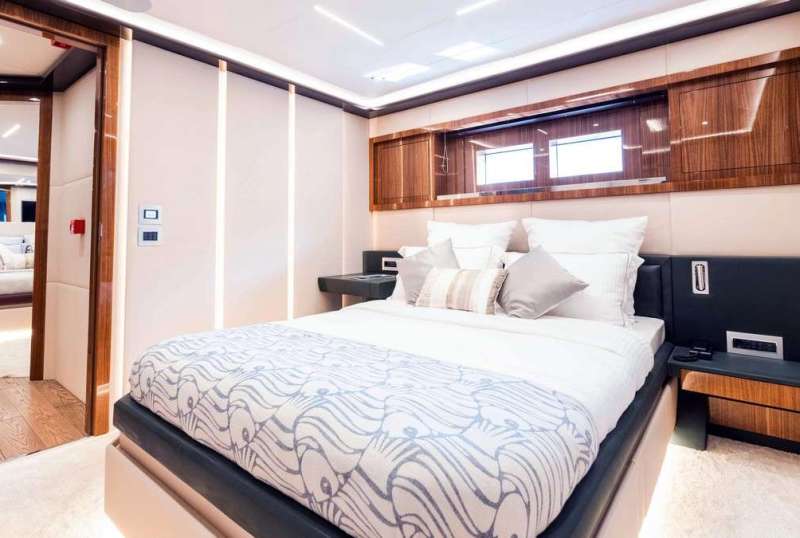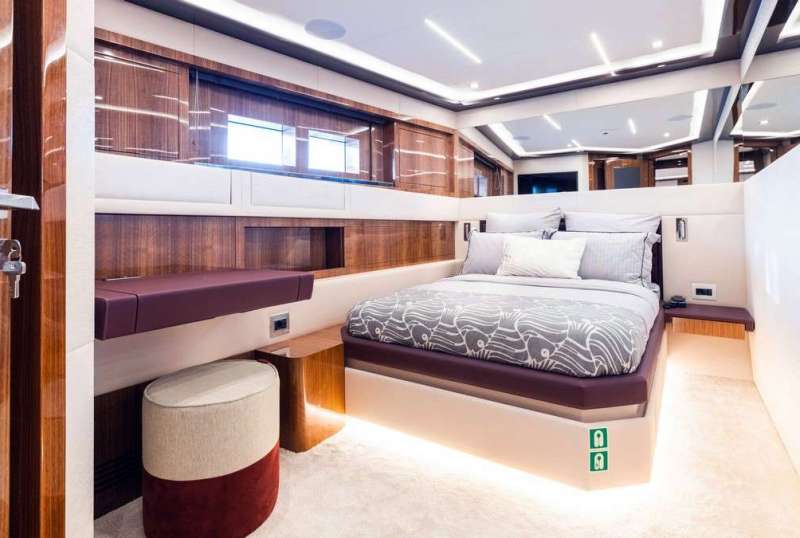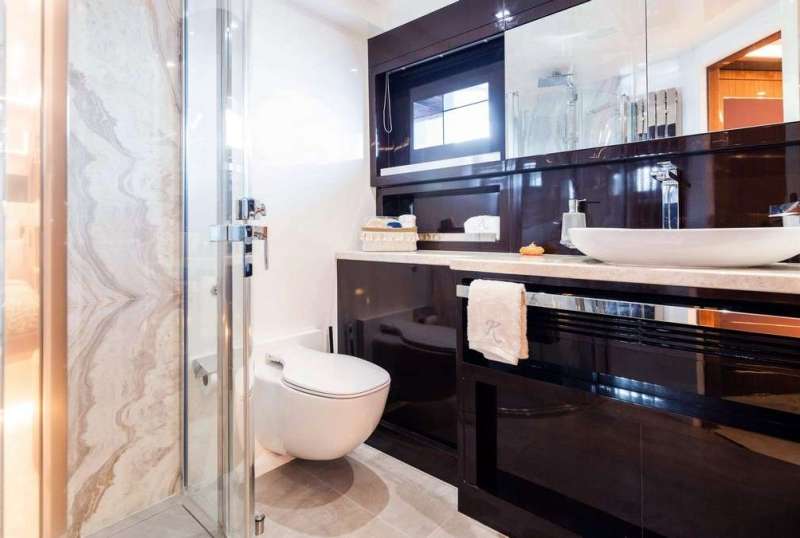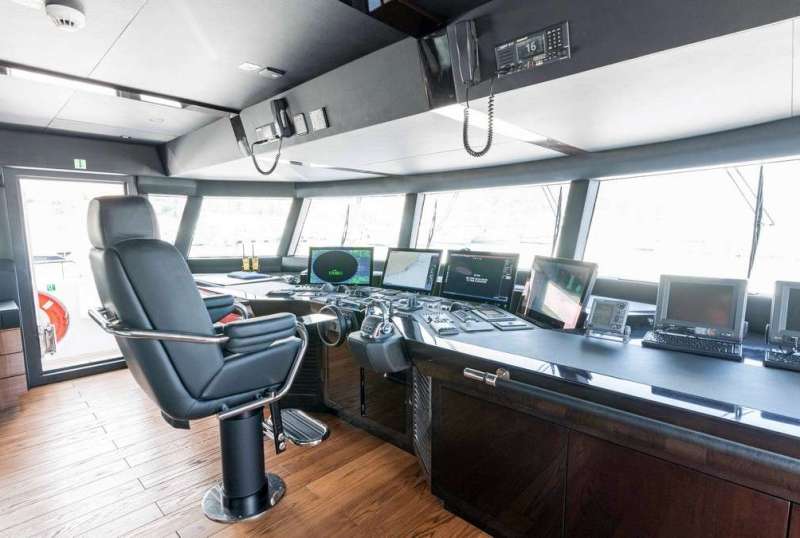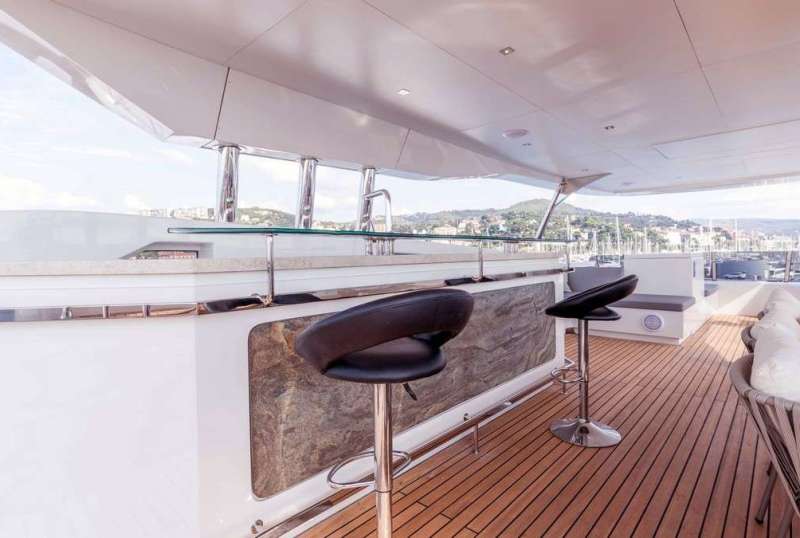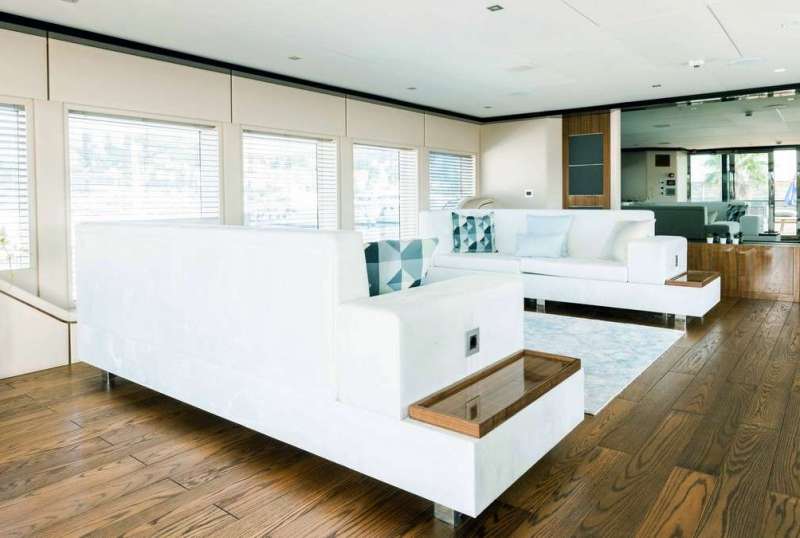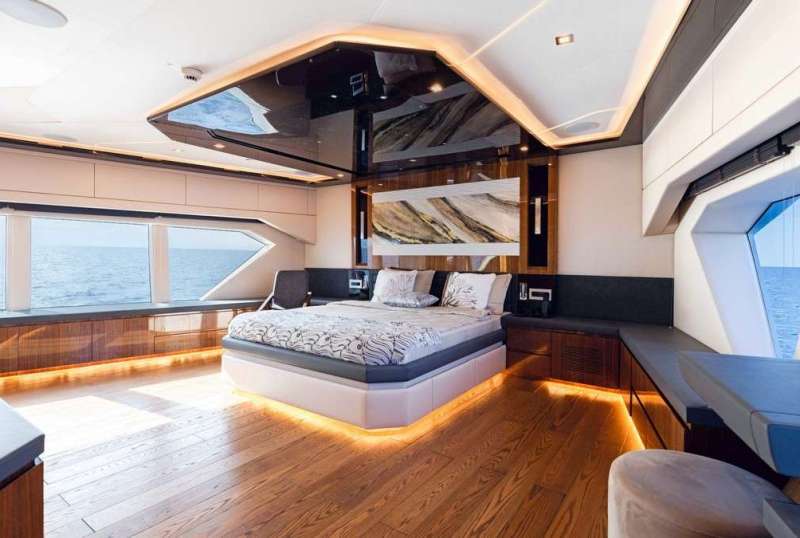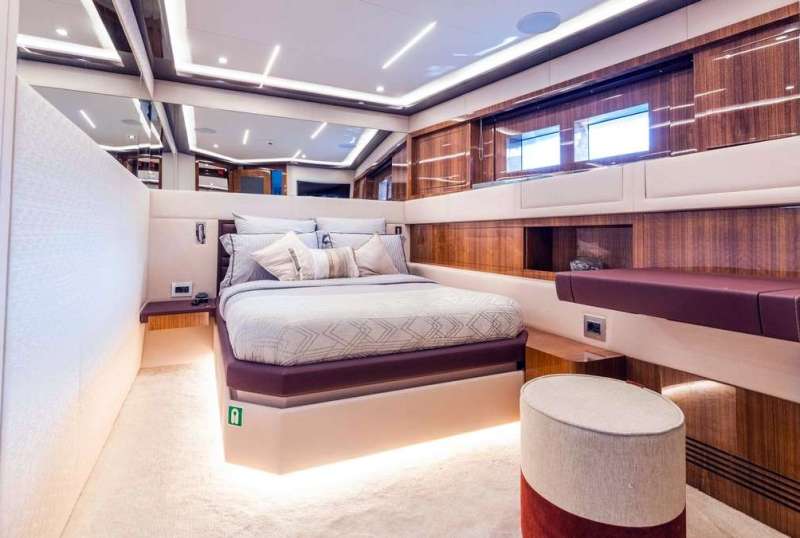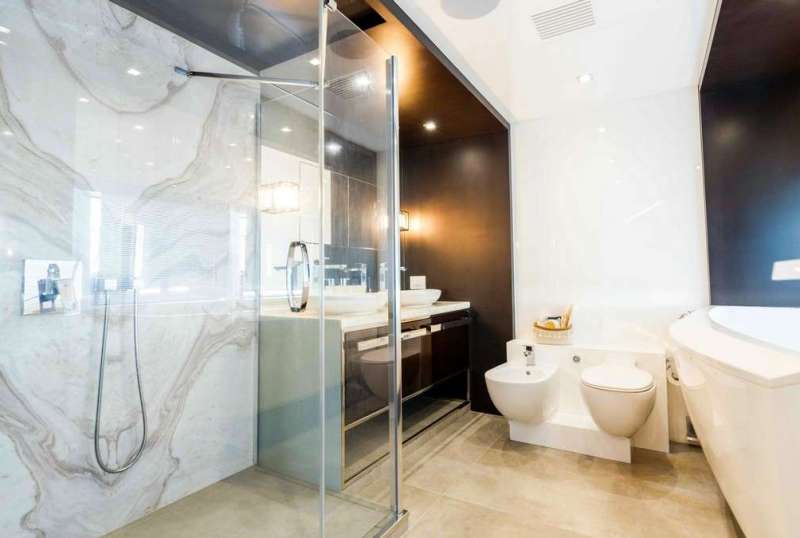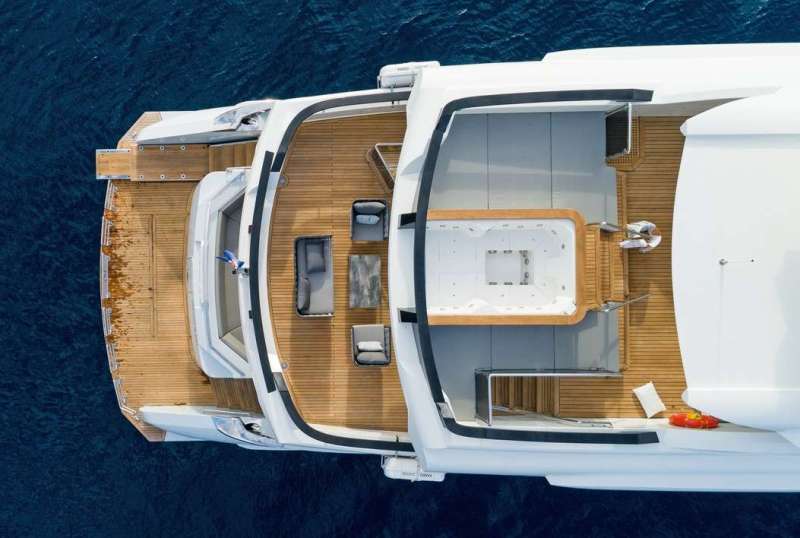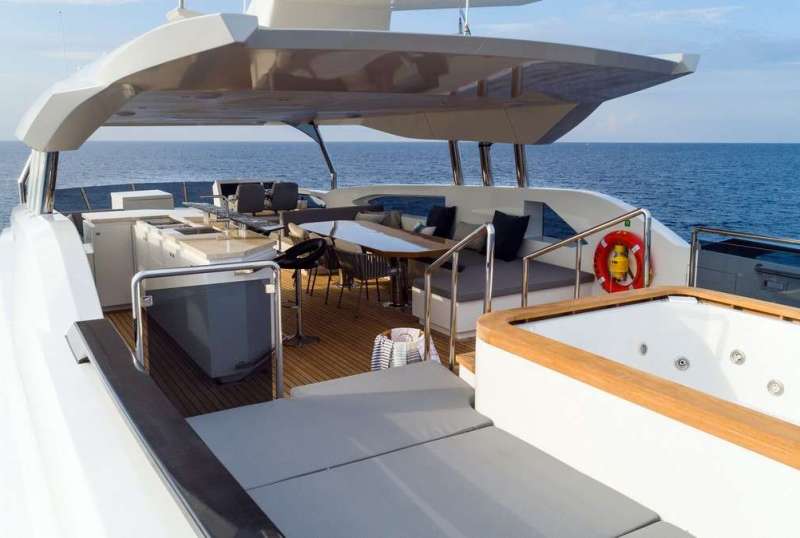 KANDO
From €95,000/week
5 cabins
111 ft
Custom Built Aluminum Cutter
10 guests
Built: 2020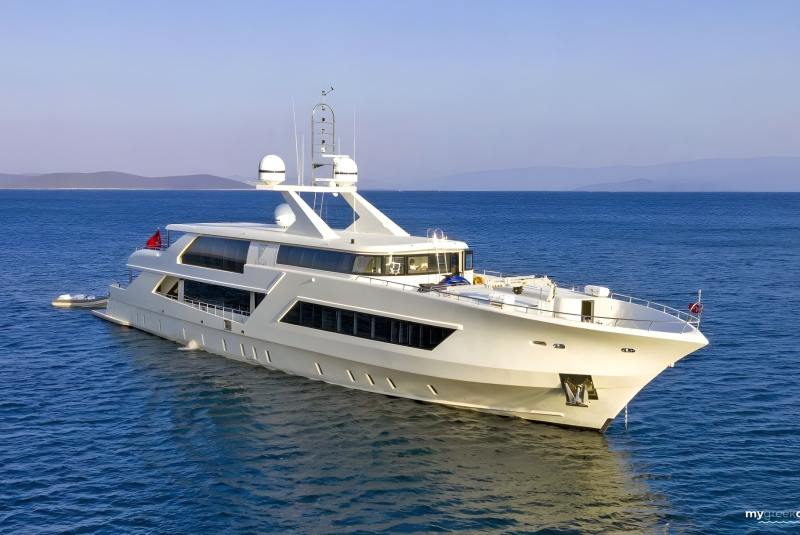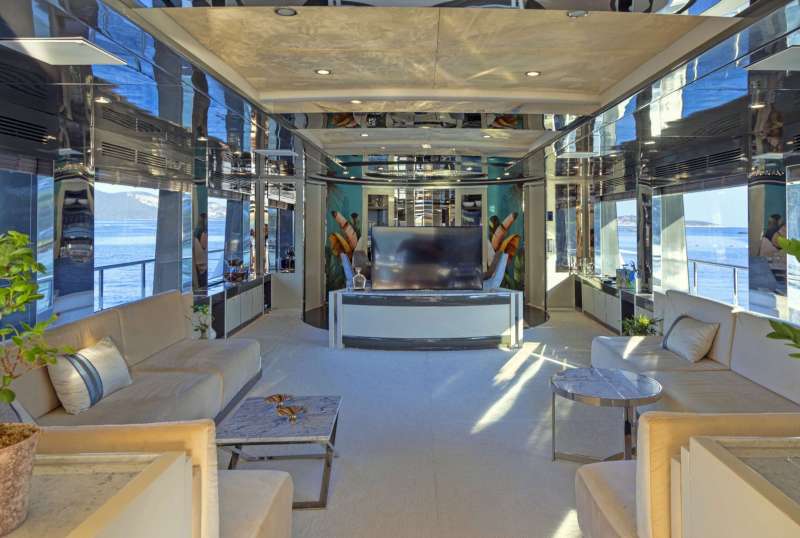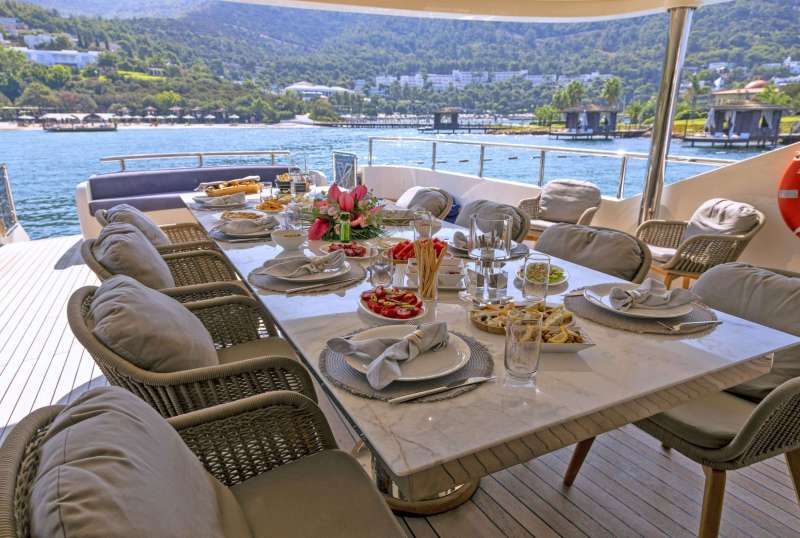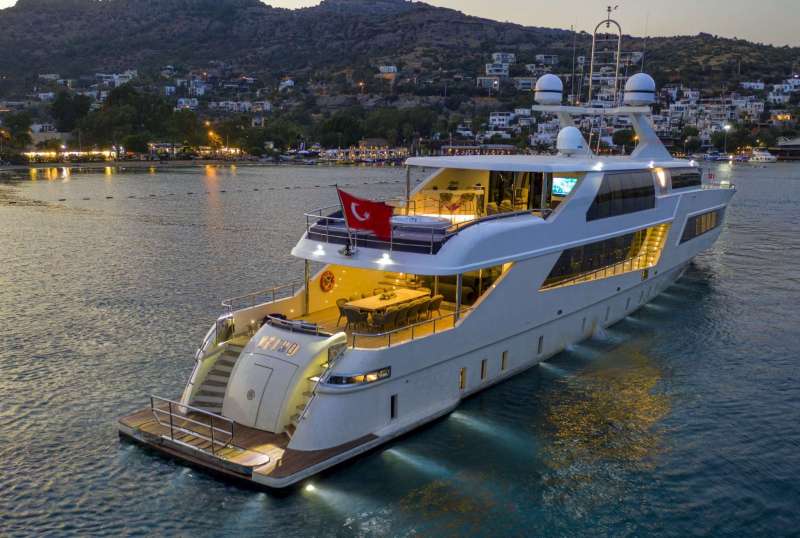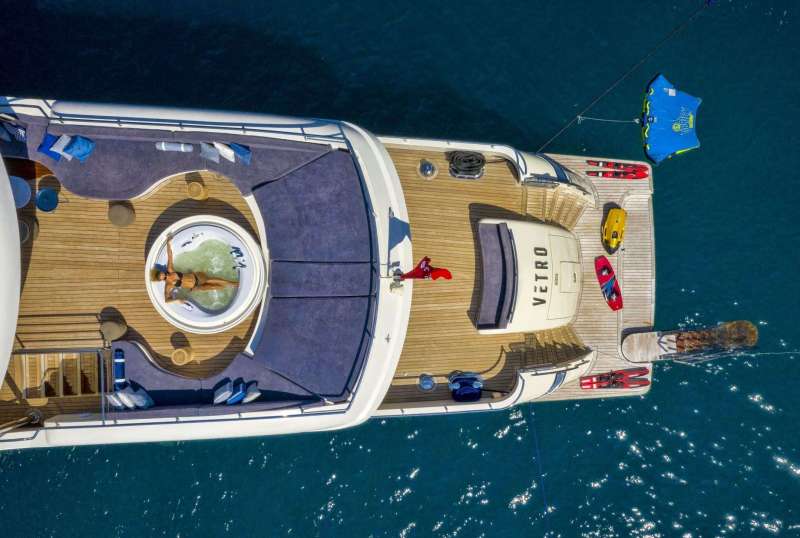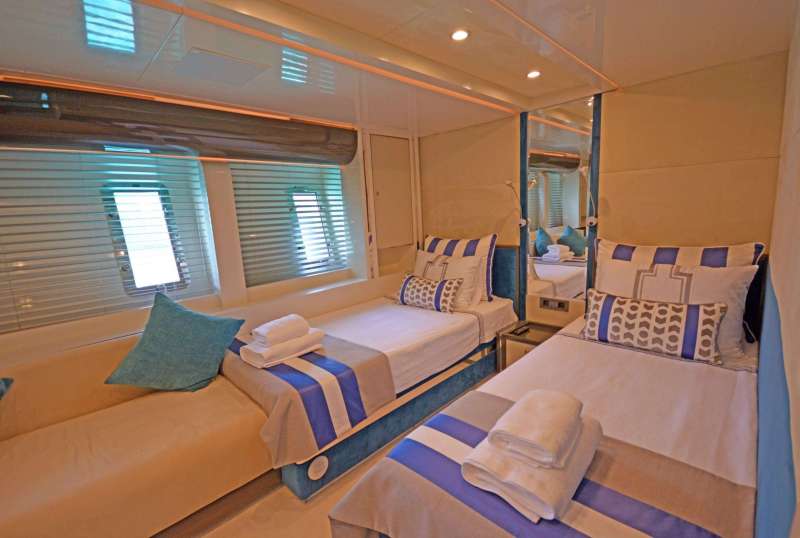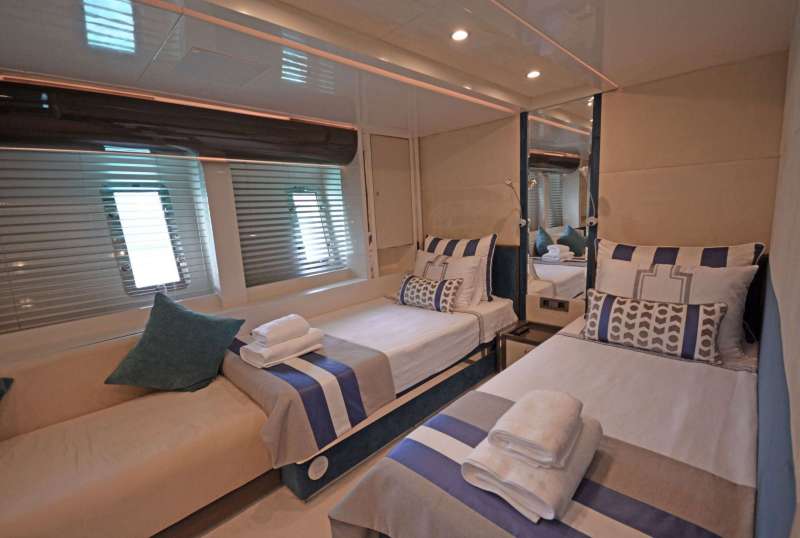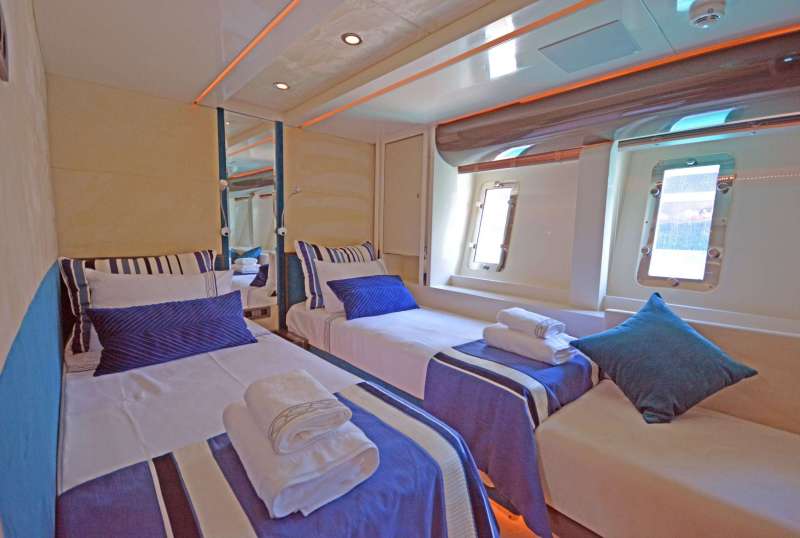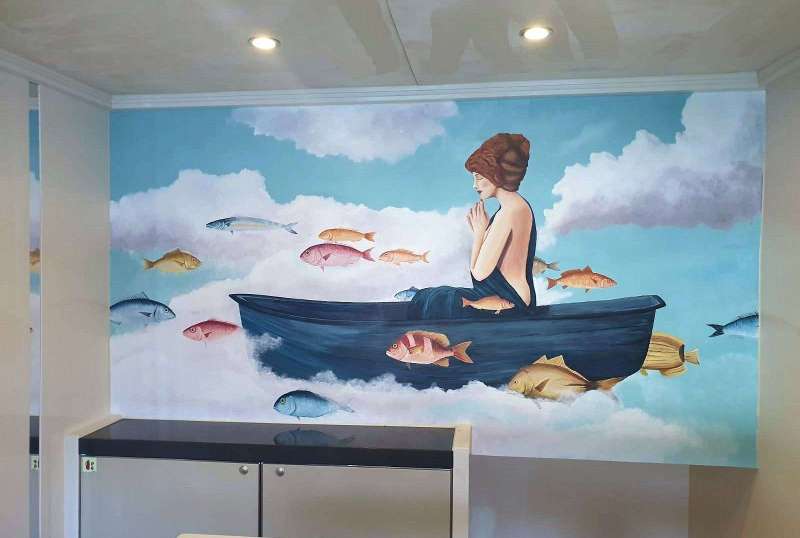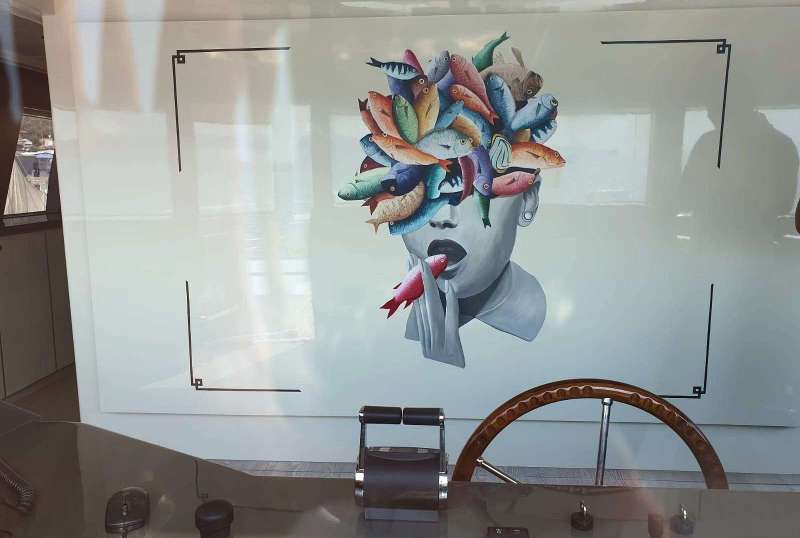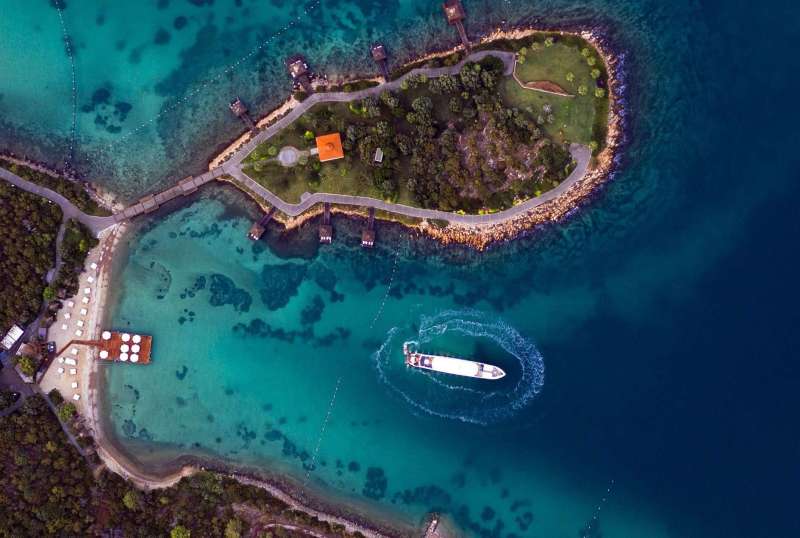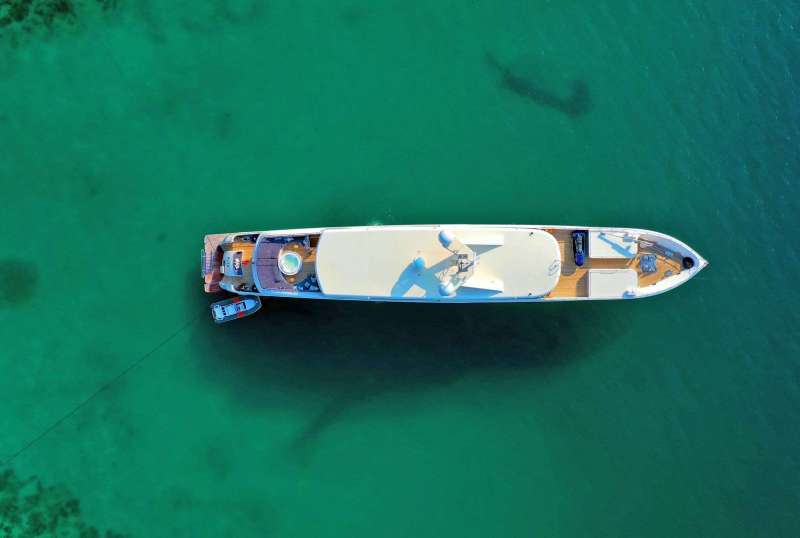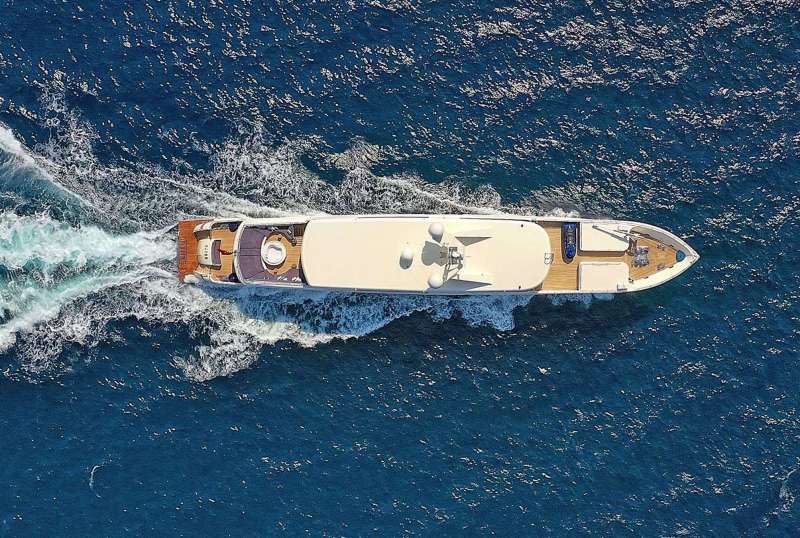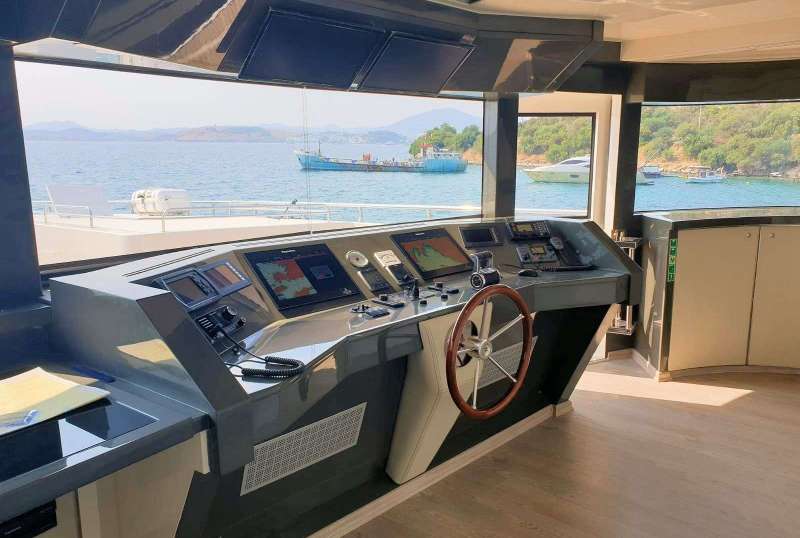 VETRO
From €100,000/week
5 cabins
158 ft
Custom
10 guests
Refit: 2020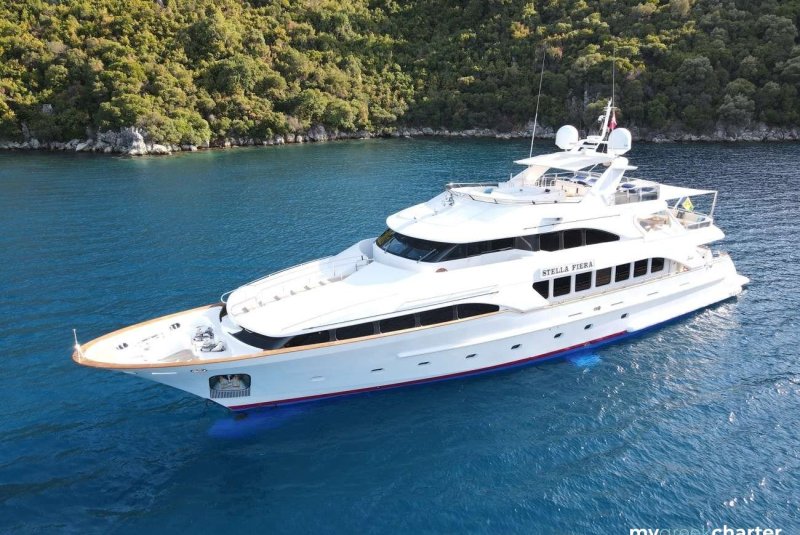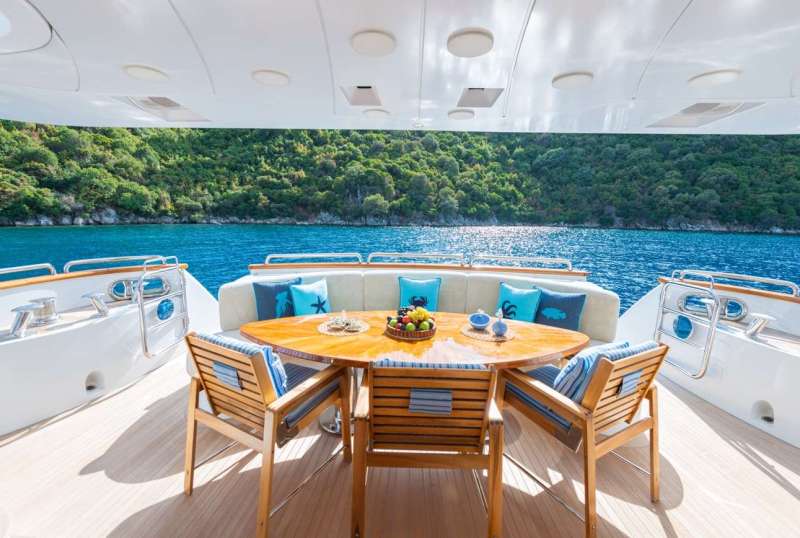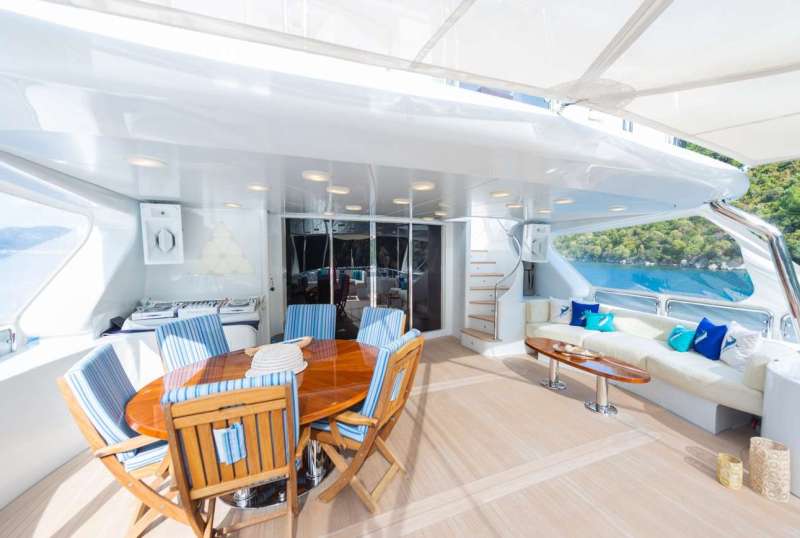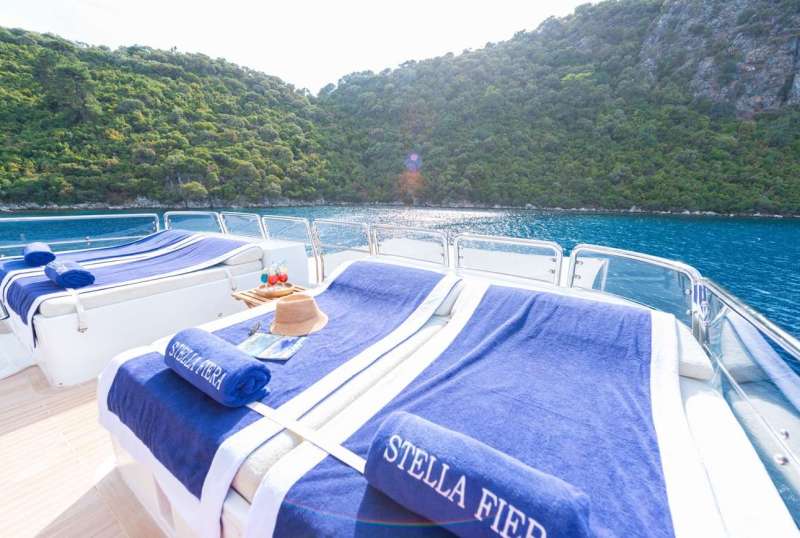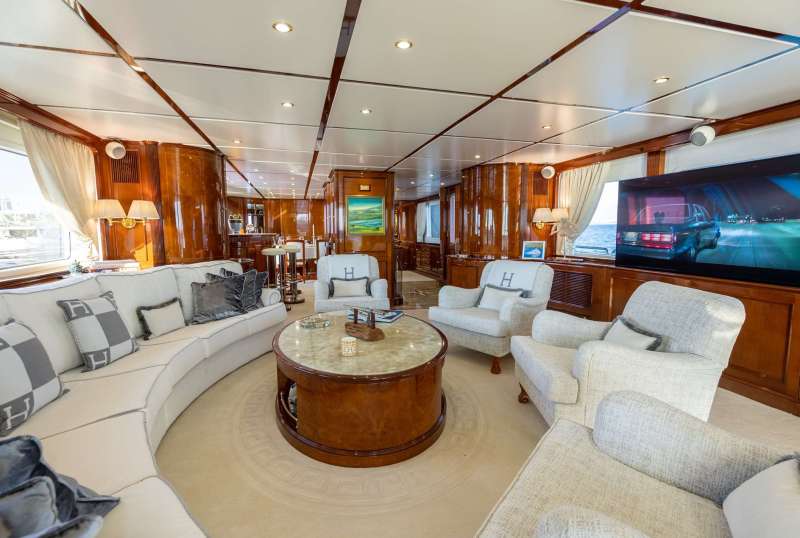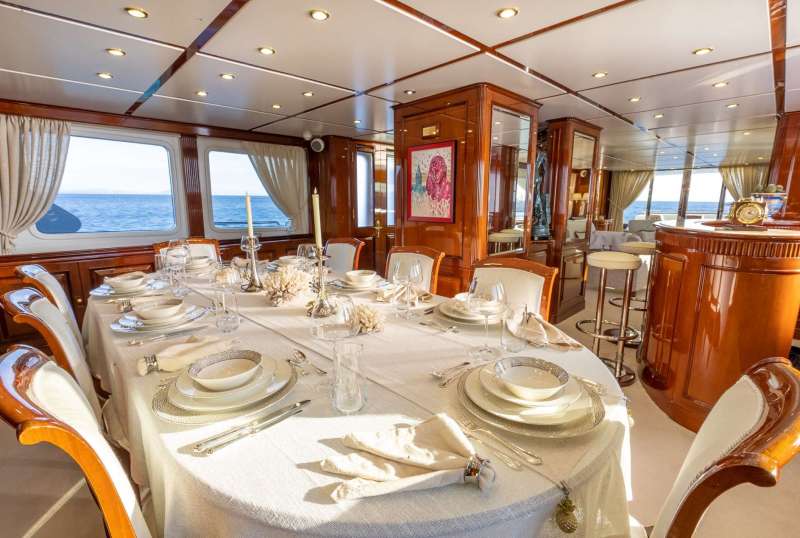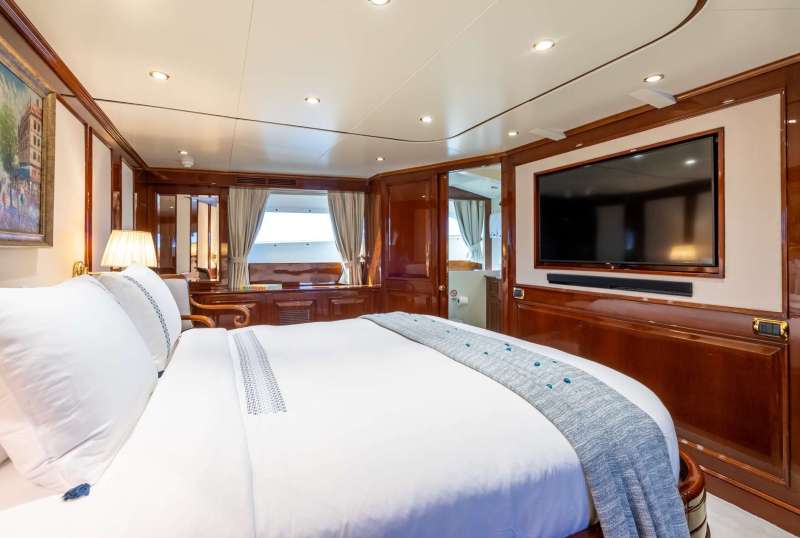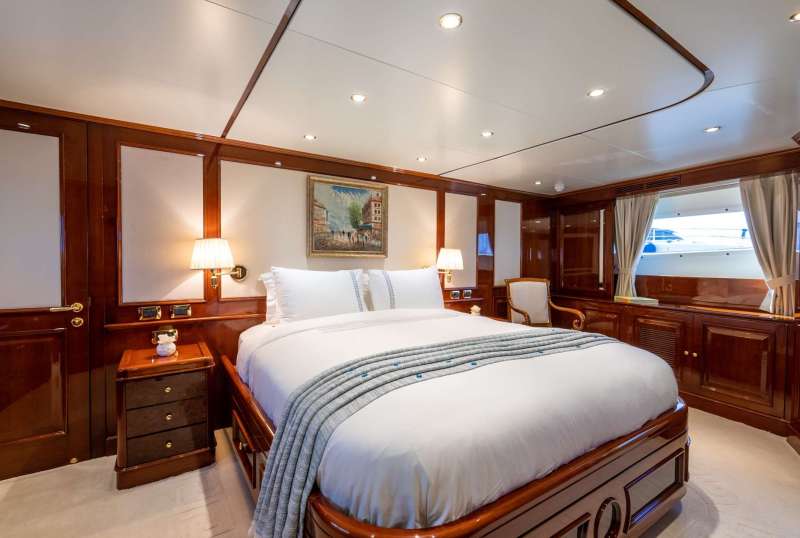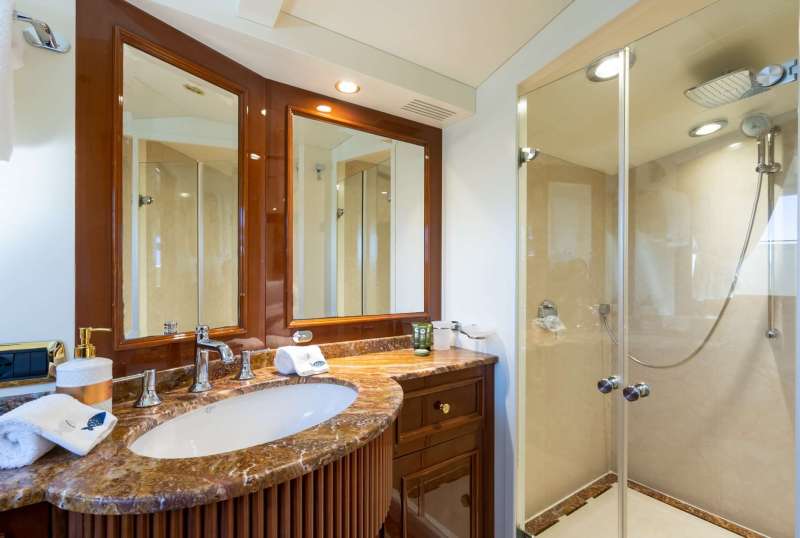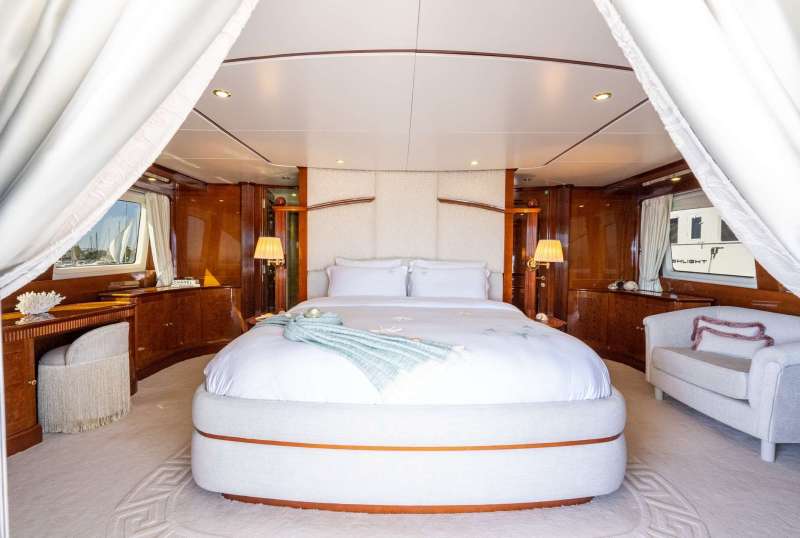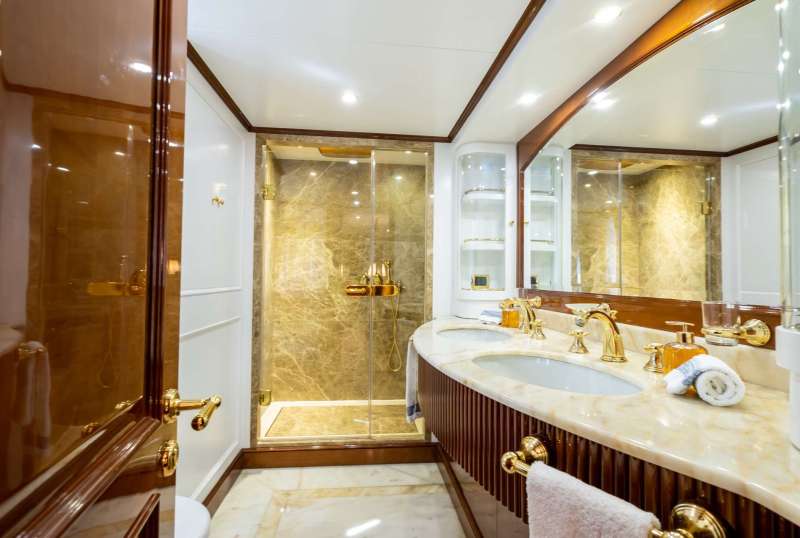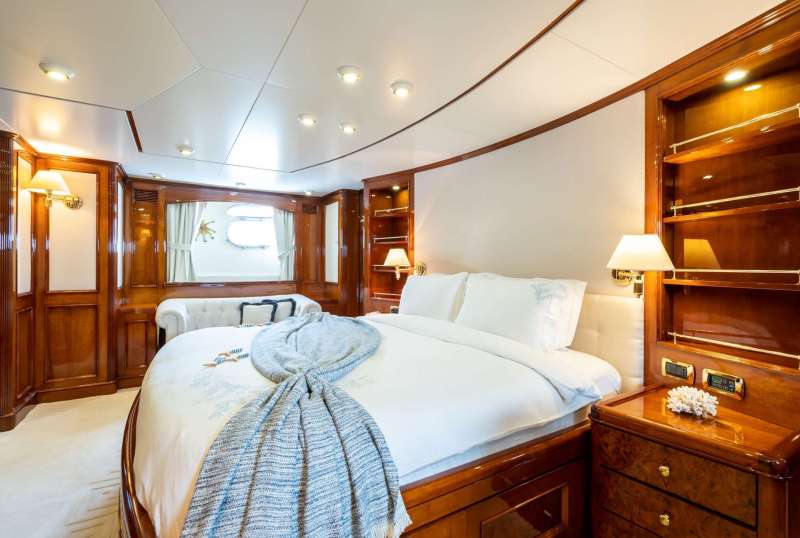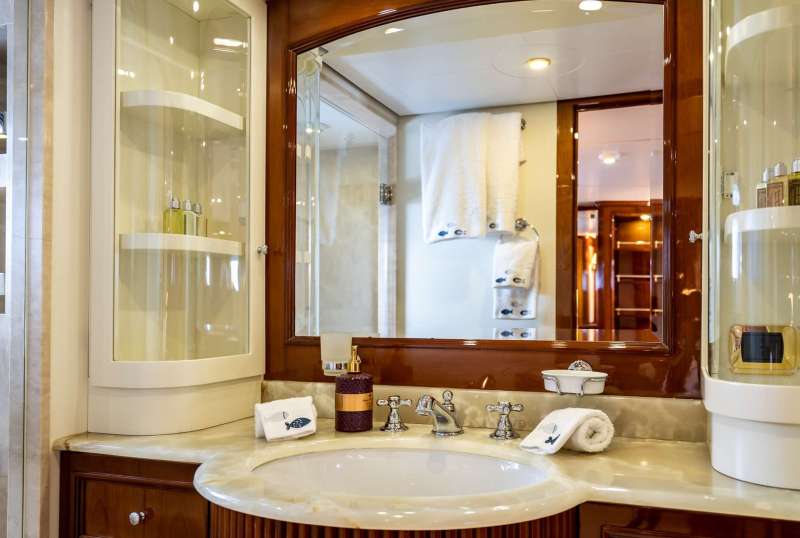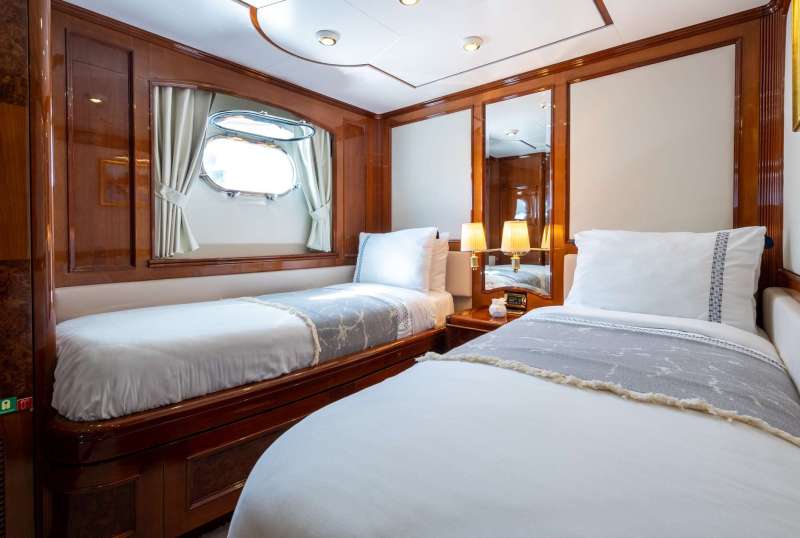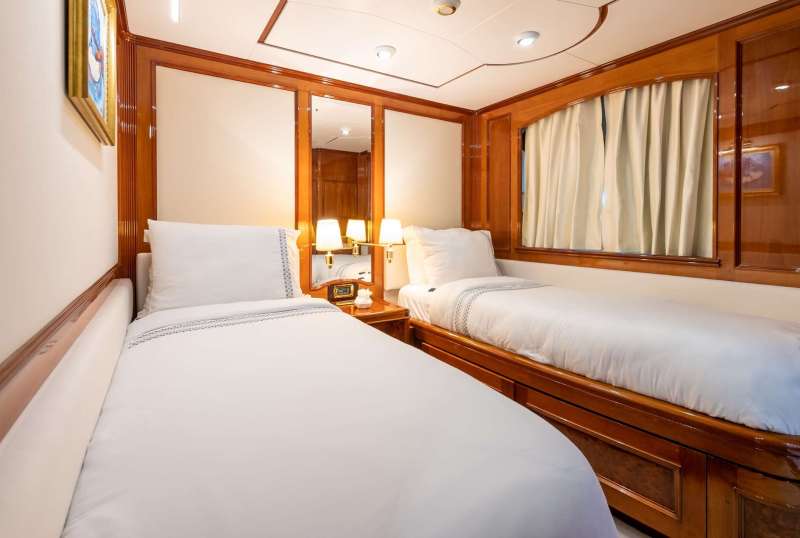 STELLA FIERA
From €100,000/week
5 cabins
119 ft
Benetti
10 guests
Refit: 2021
220 Litres/Hr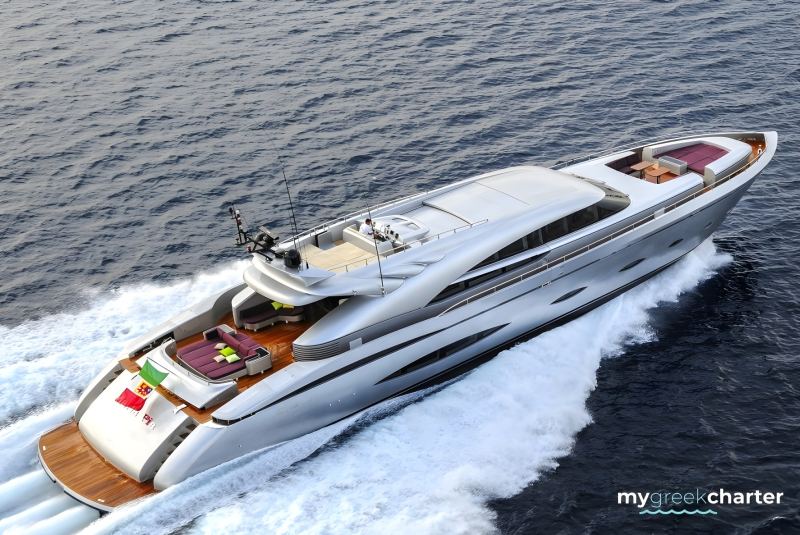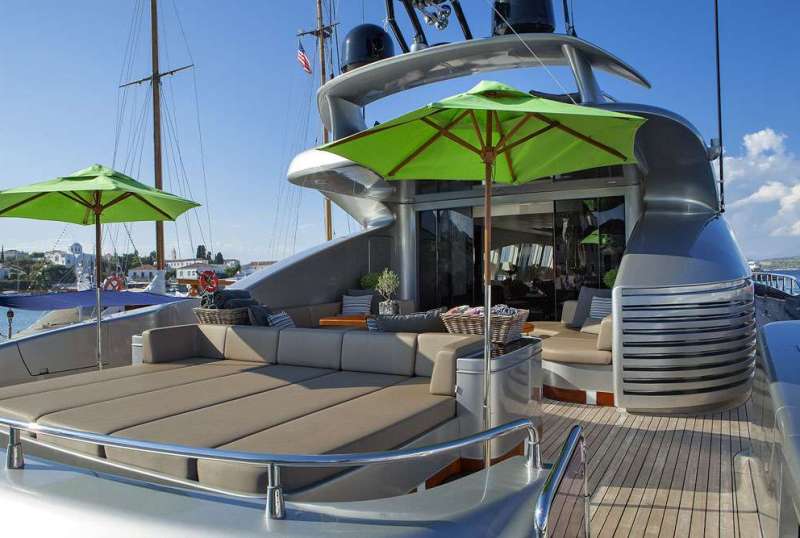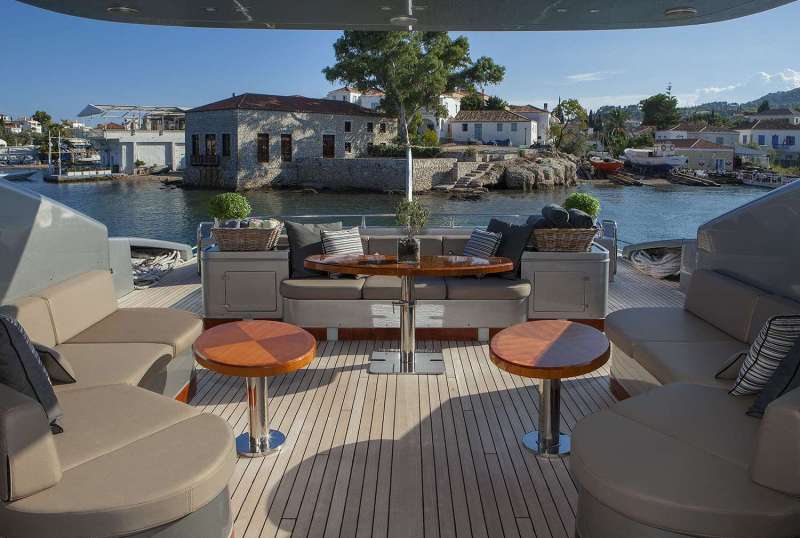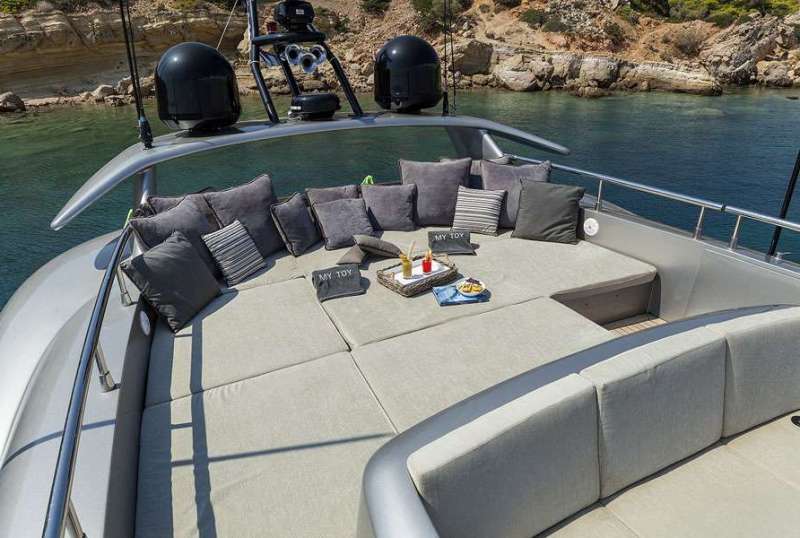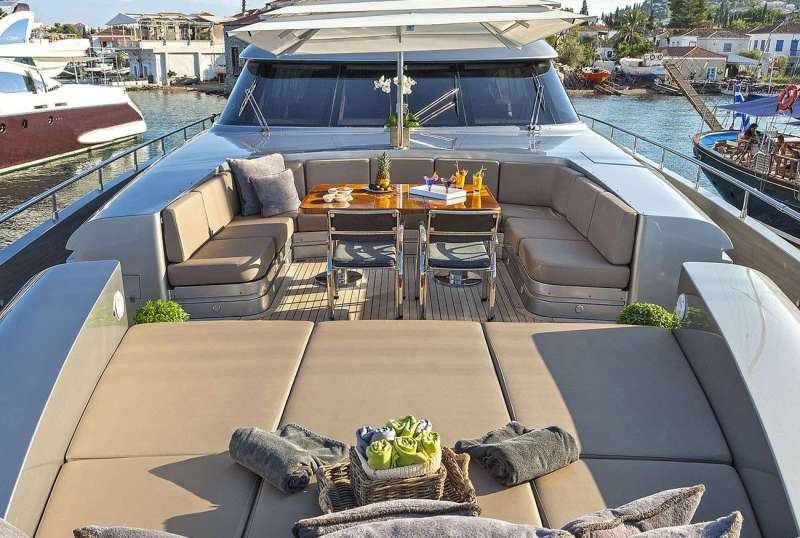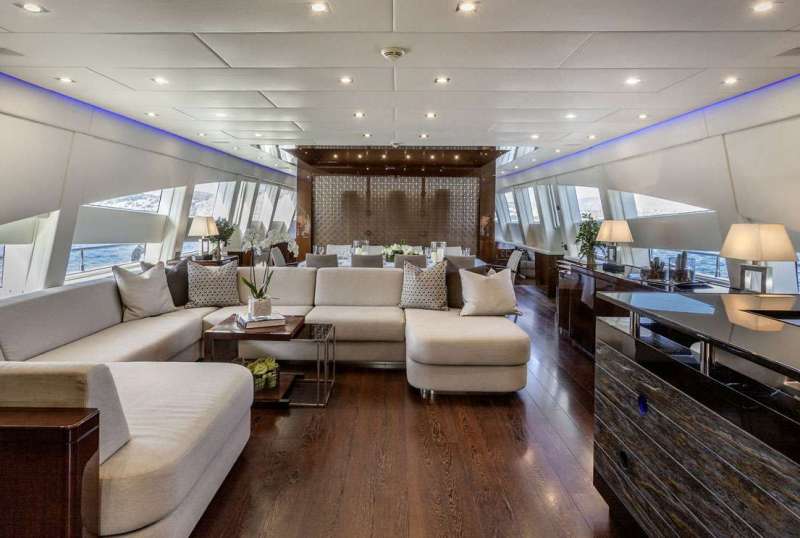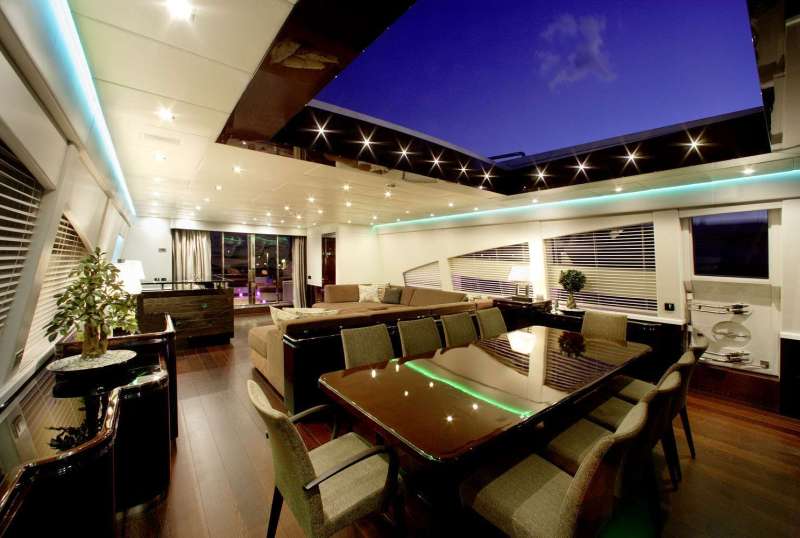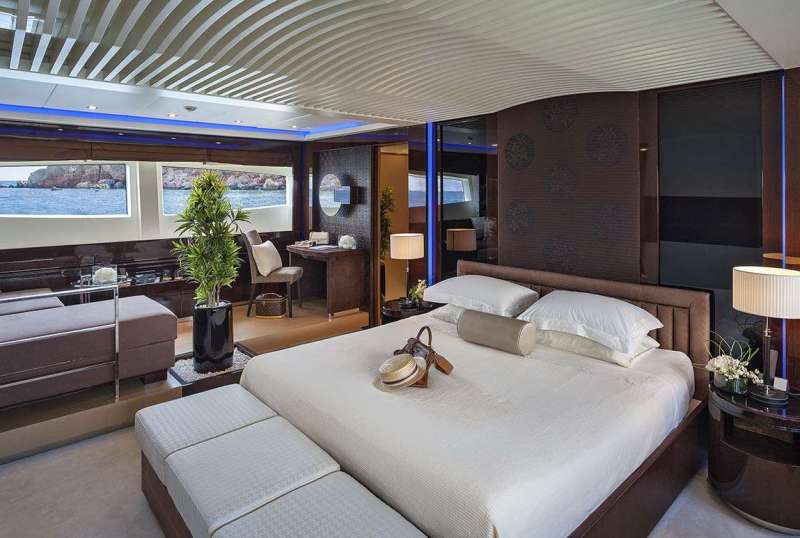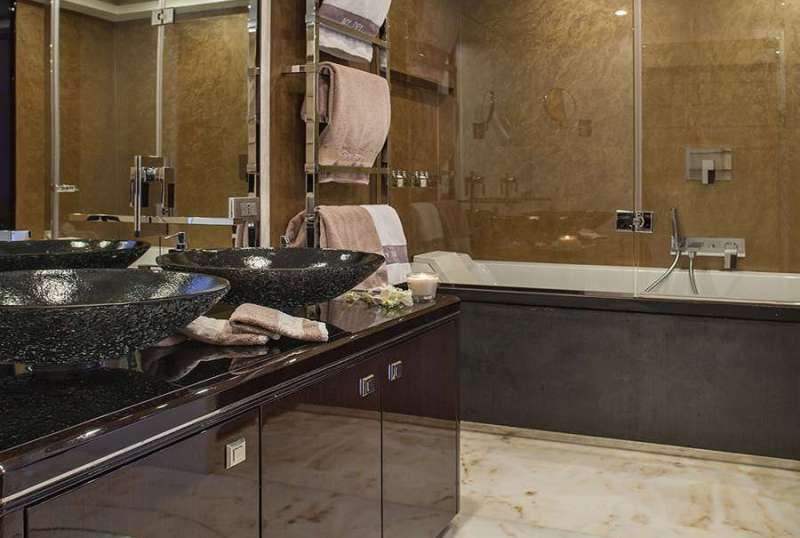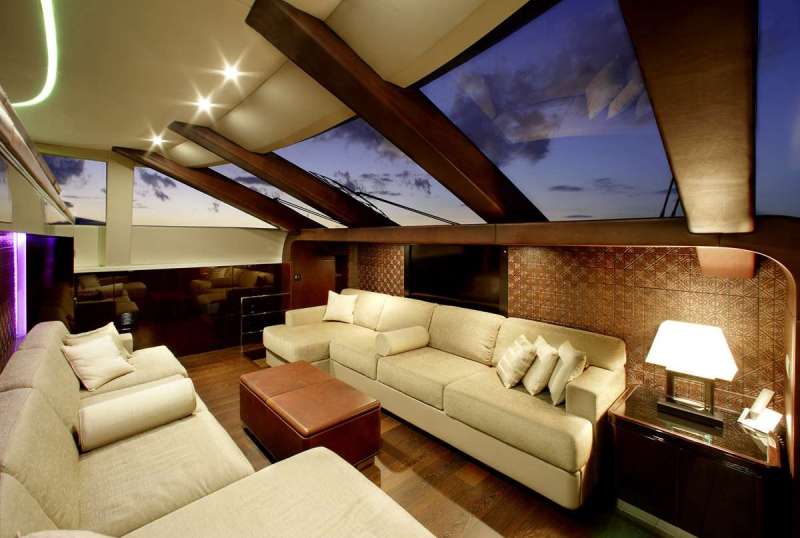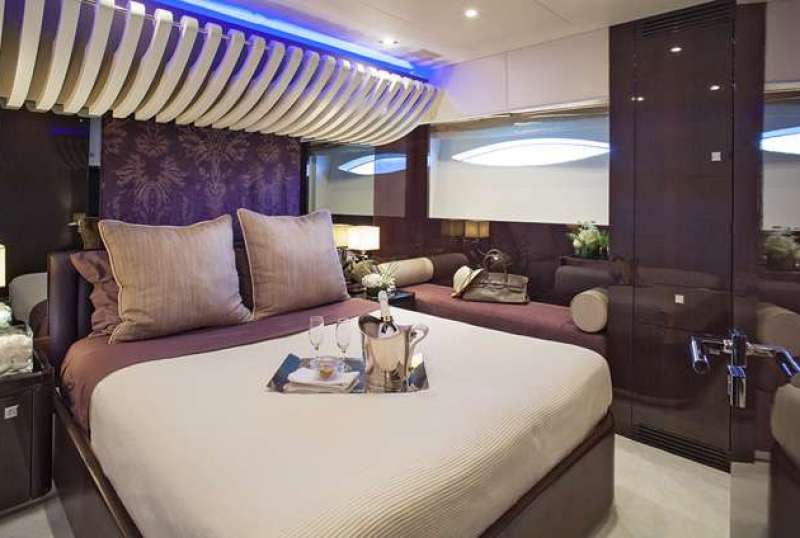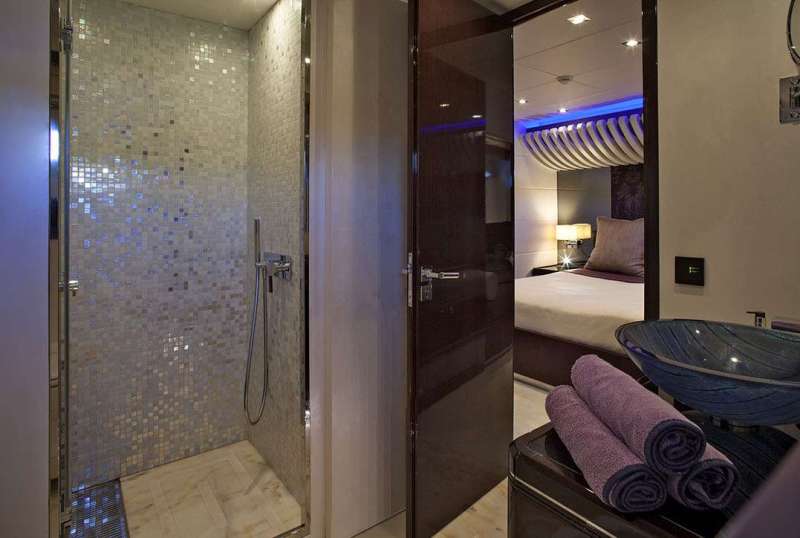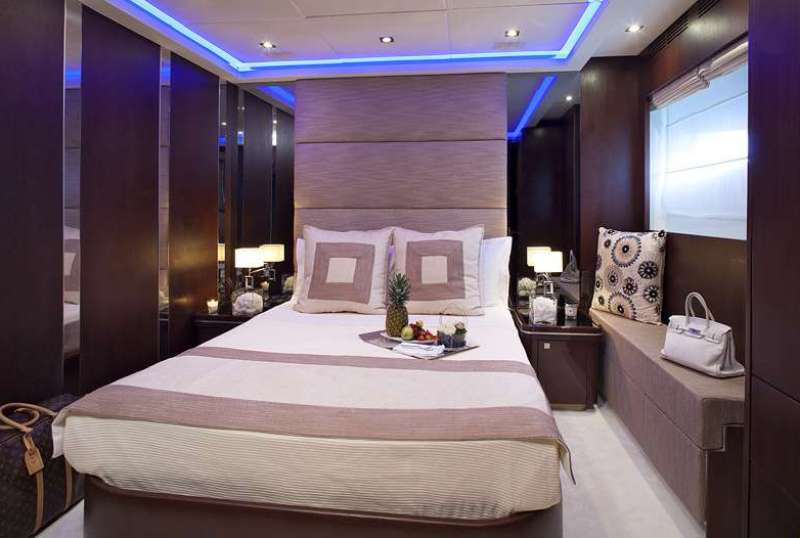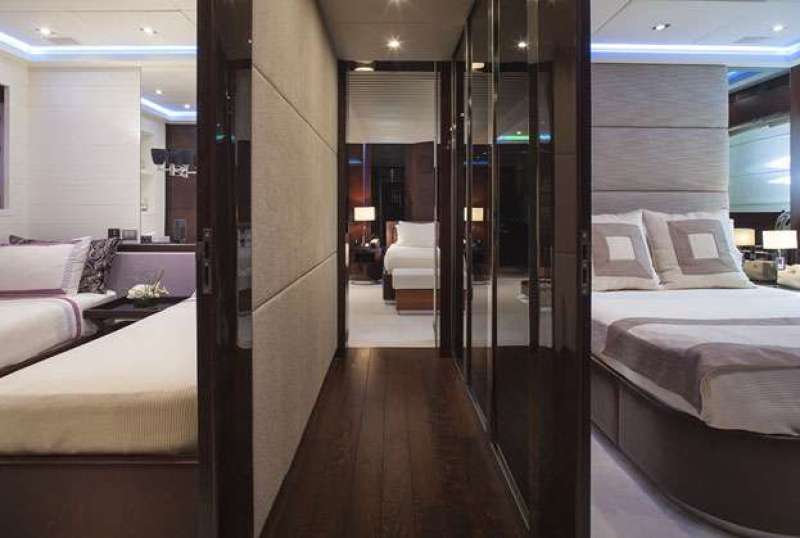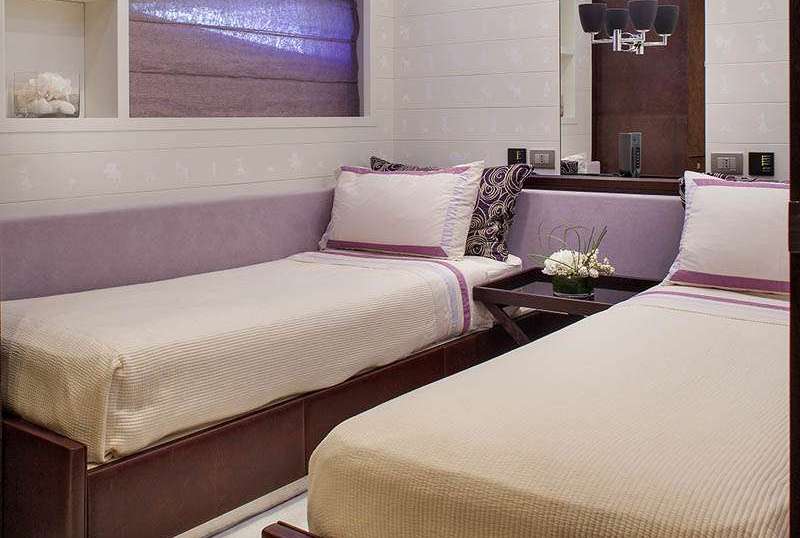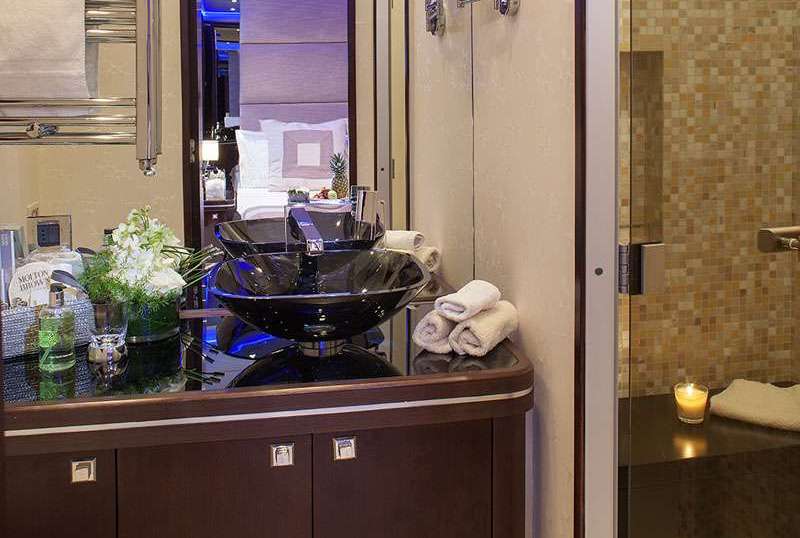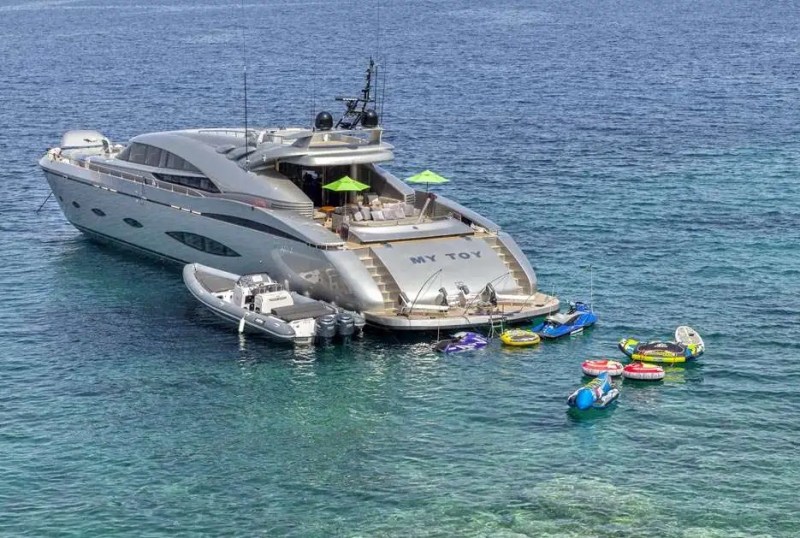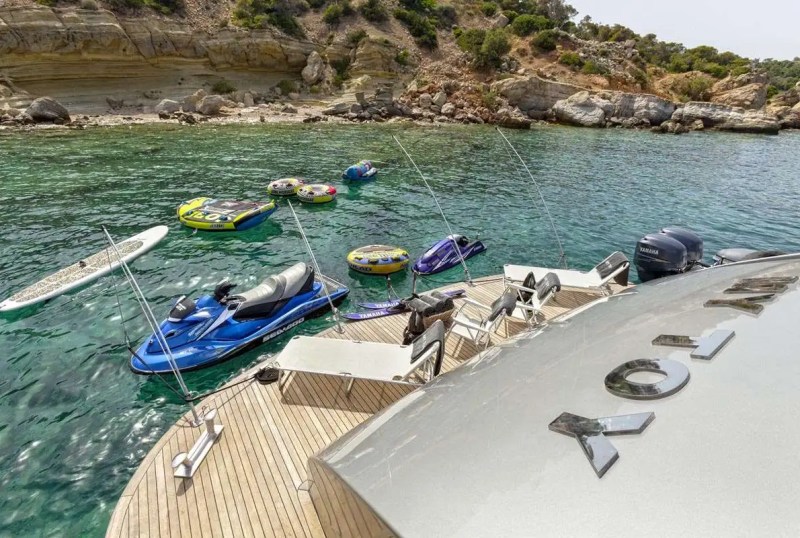 MY TOY
From €100,000/week
5 cabins
140 ft
AB Yachts
10 guests
Refit: 2013
850 Litres/Hr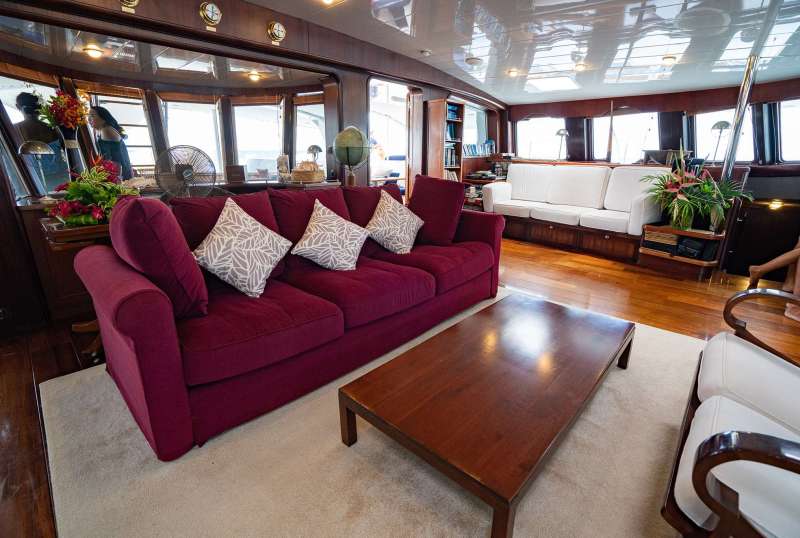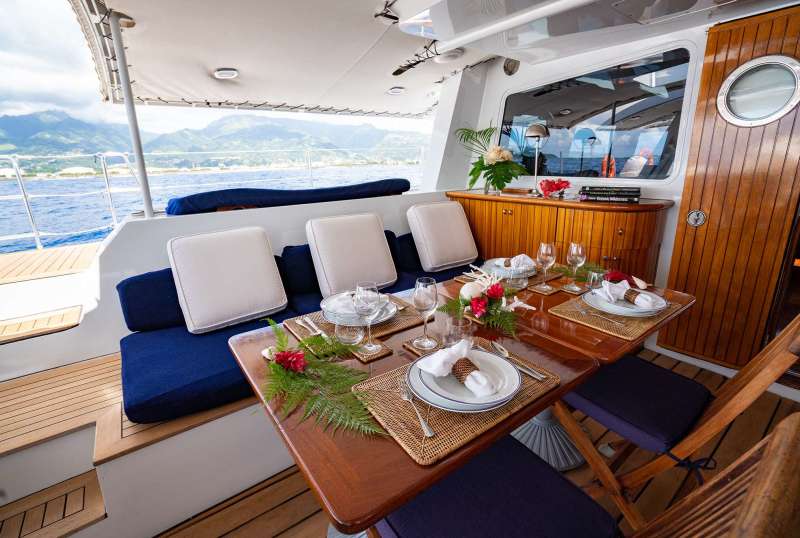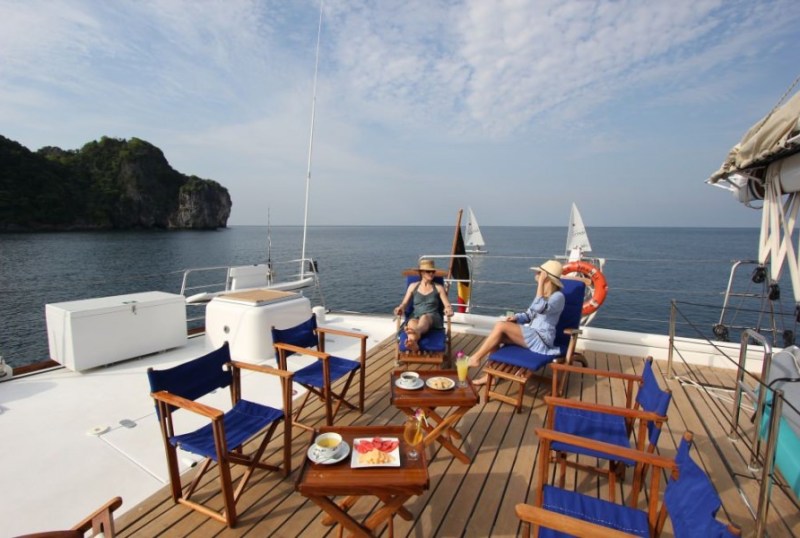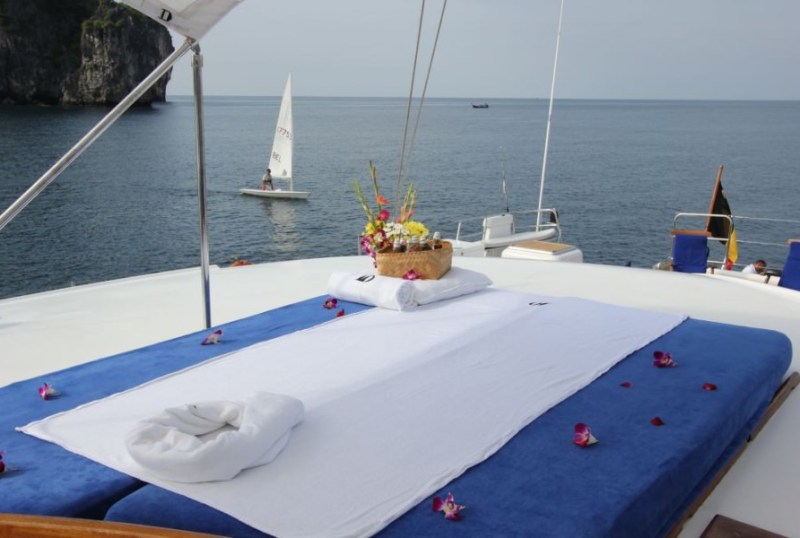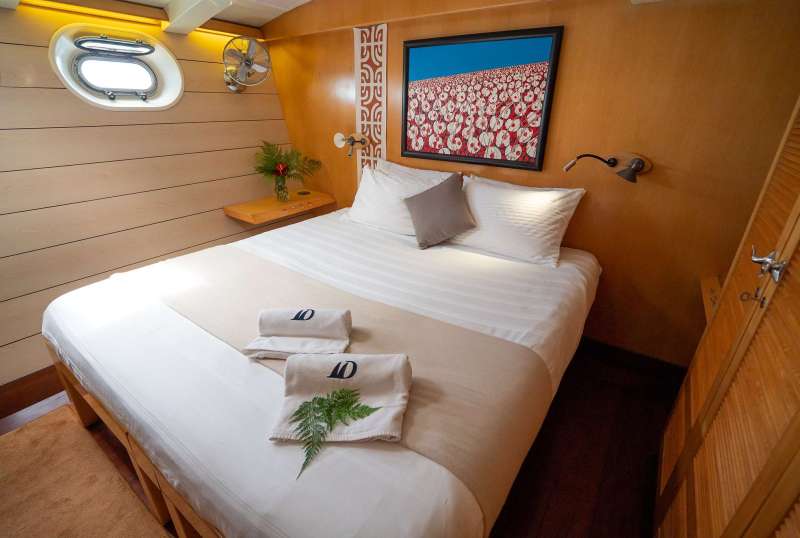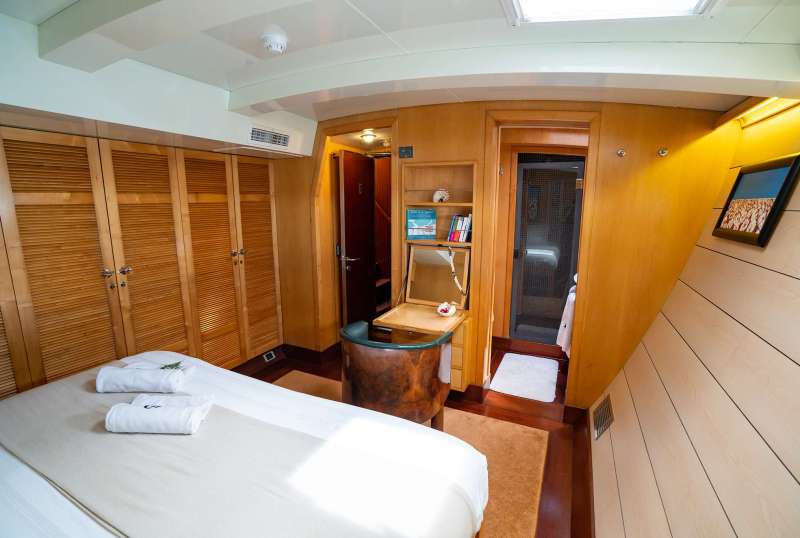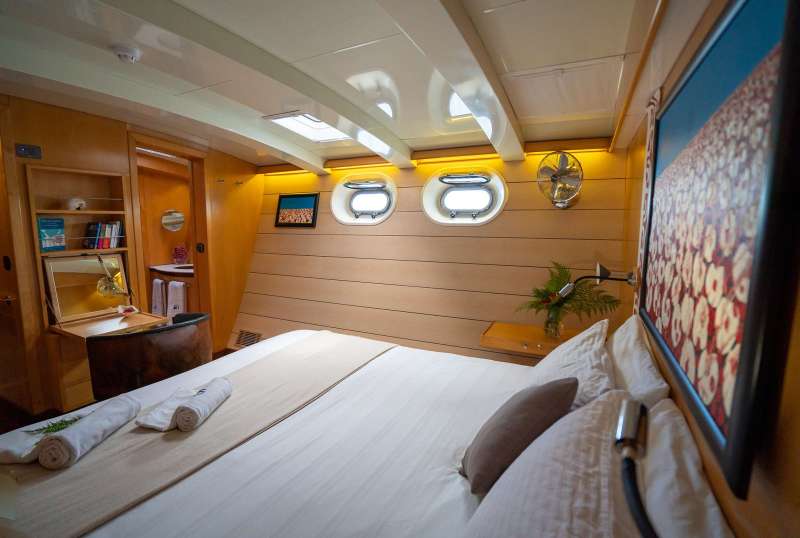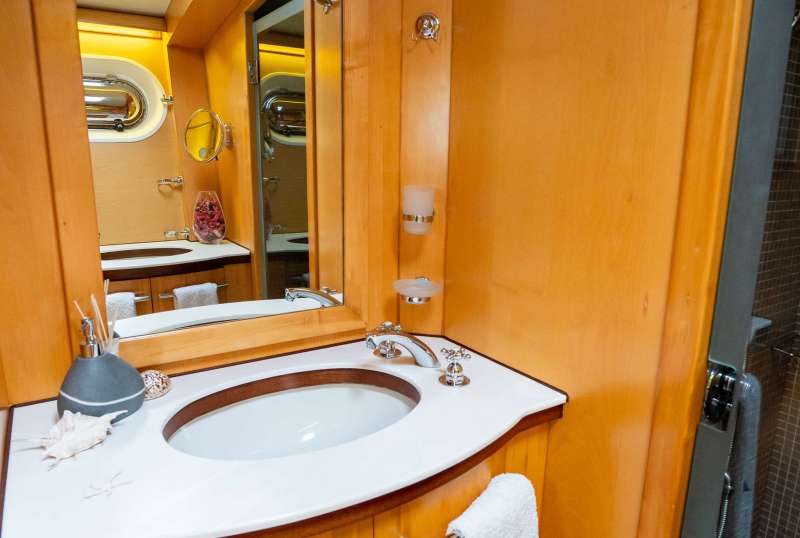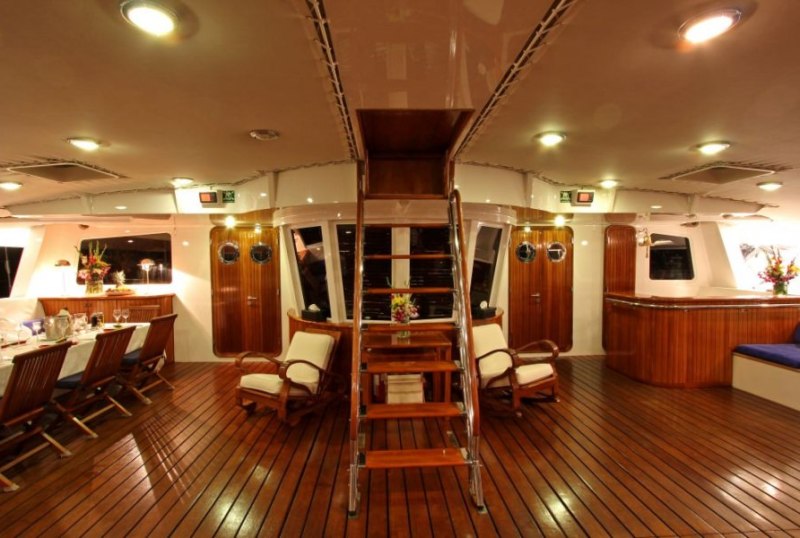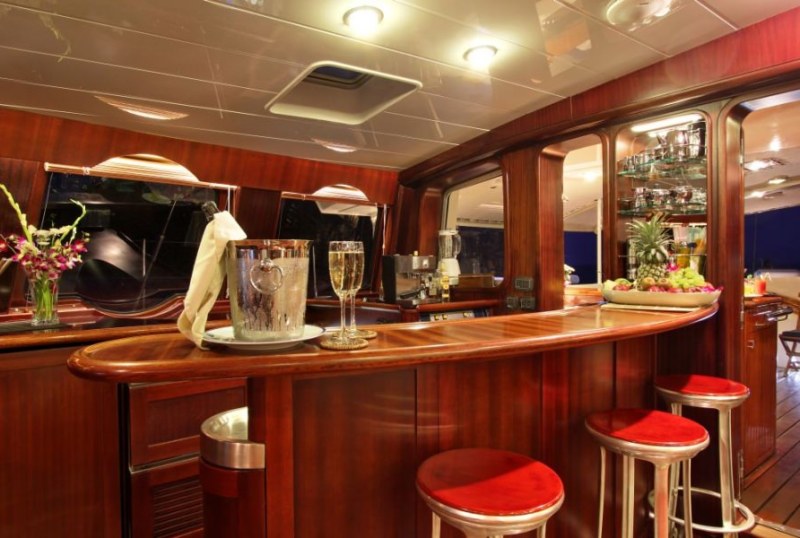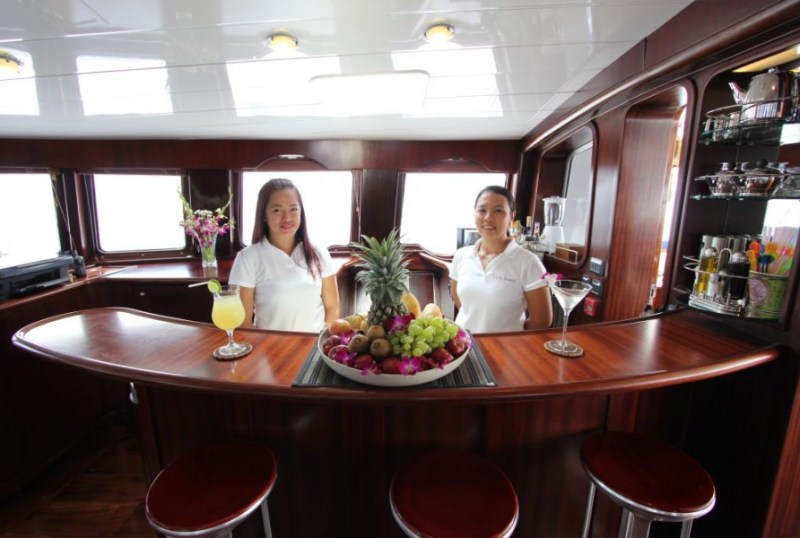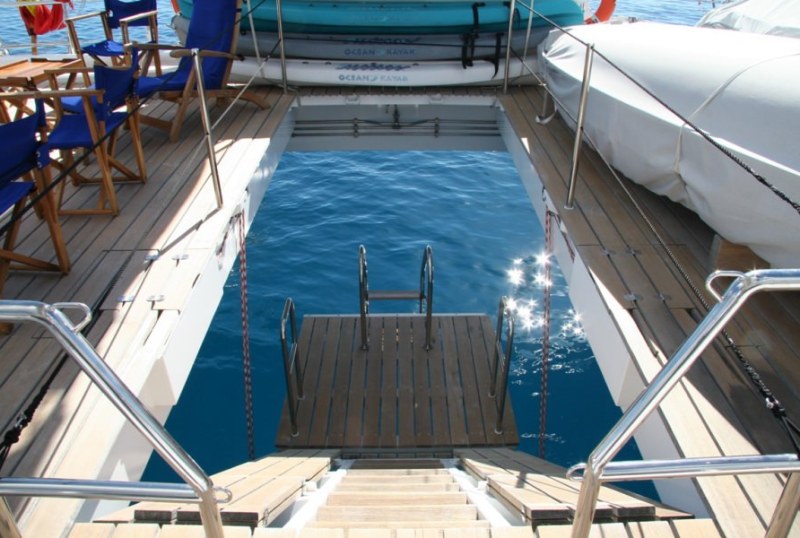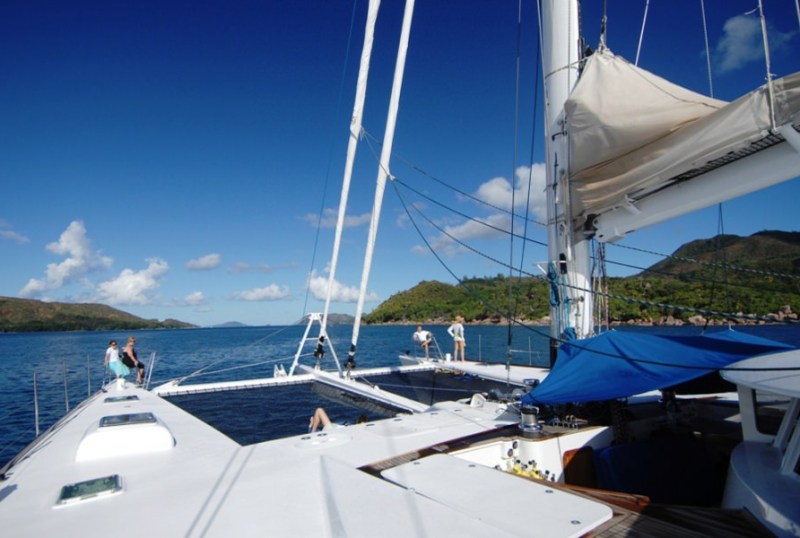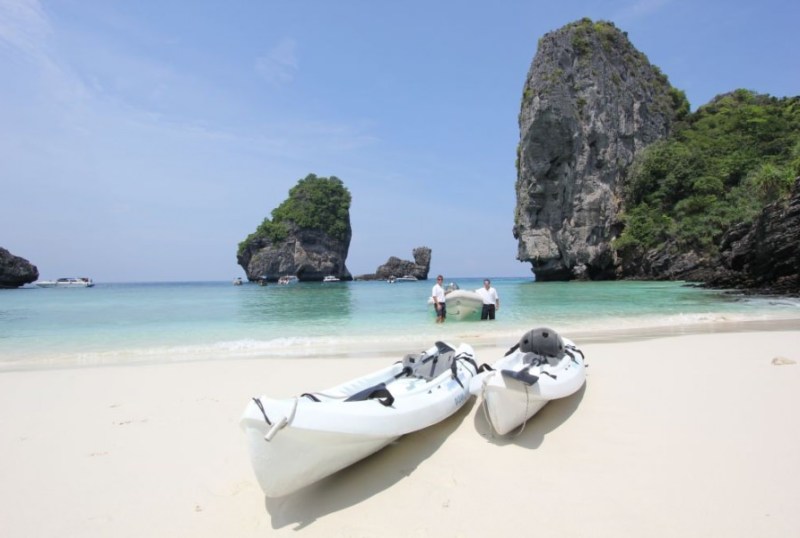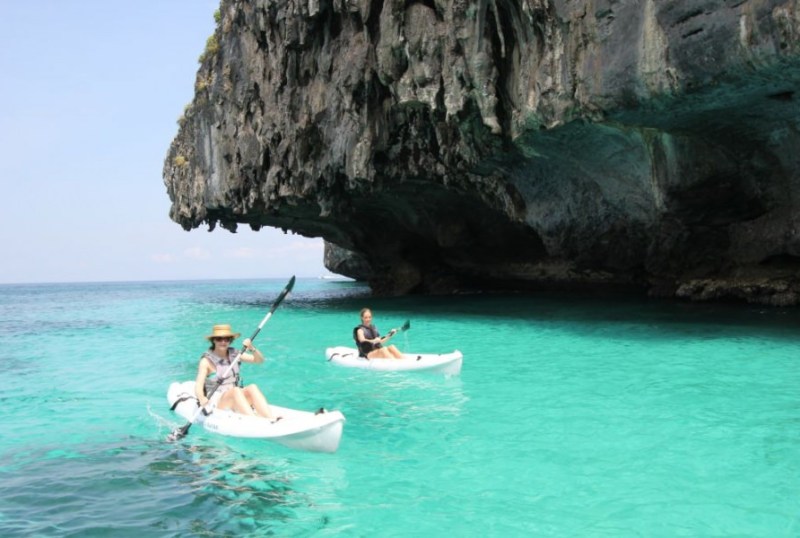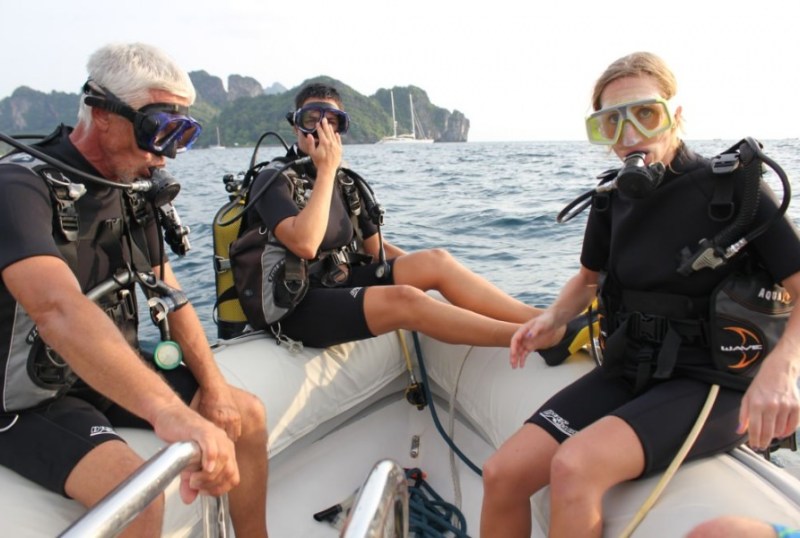 DOUCE FRANCE
From €99,500/week
6 cabins
138 ft
ALU MARINE
12 guests
Refit: 2009 & 2016
60 Litres/Hr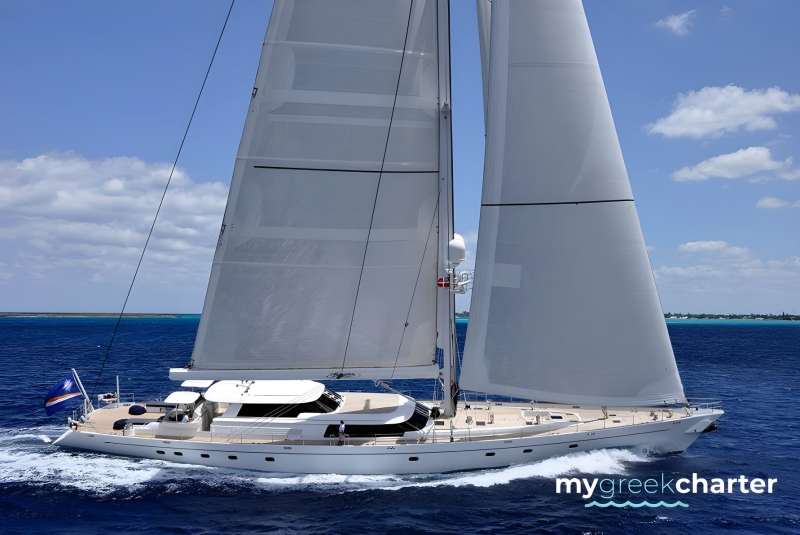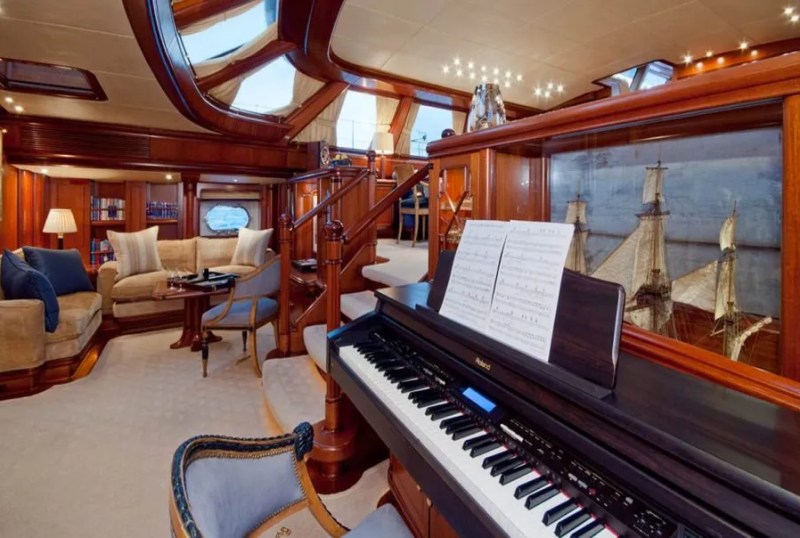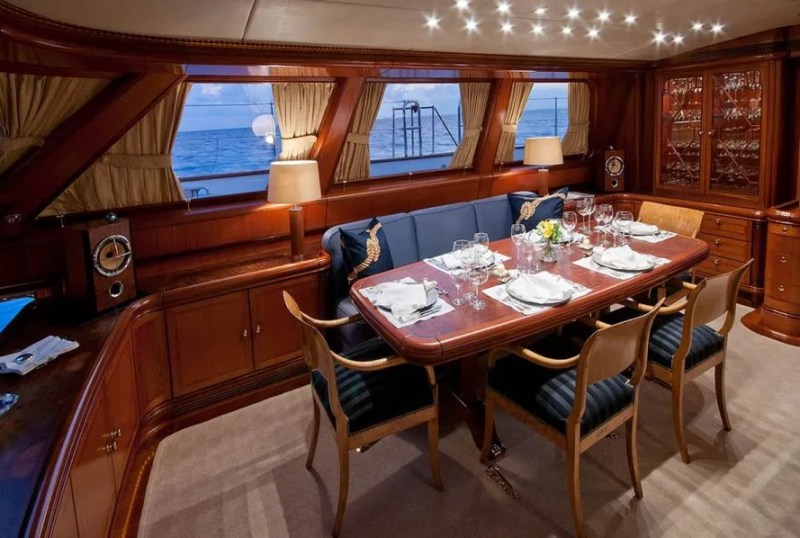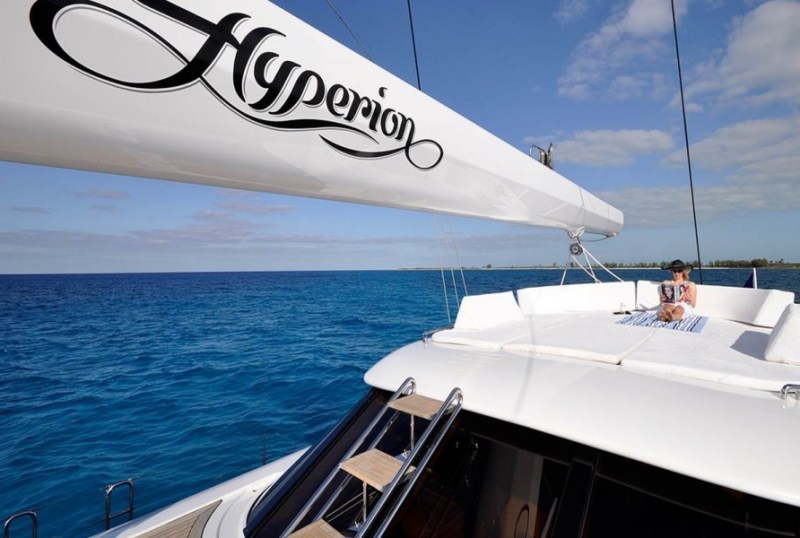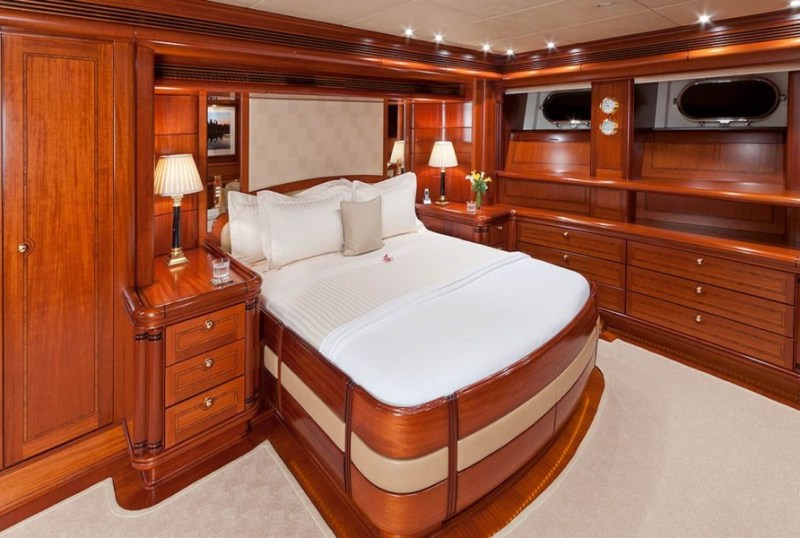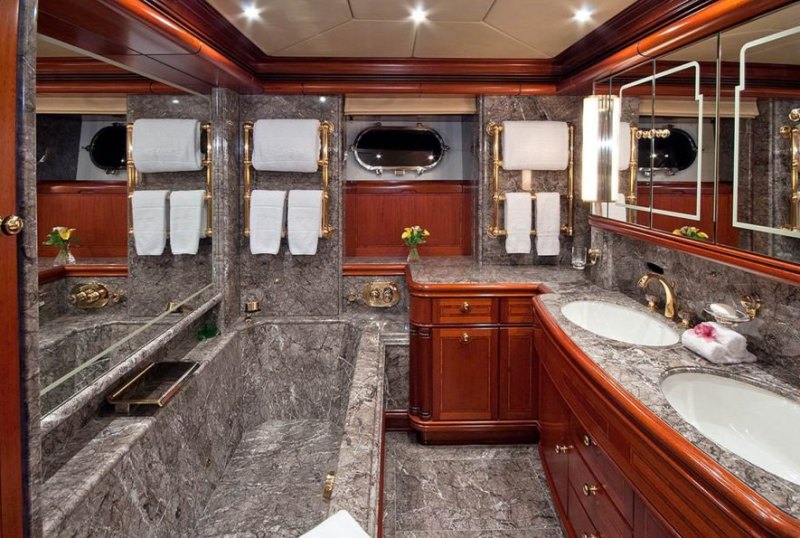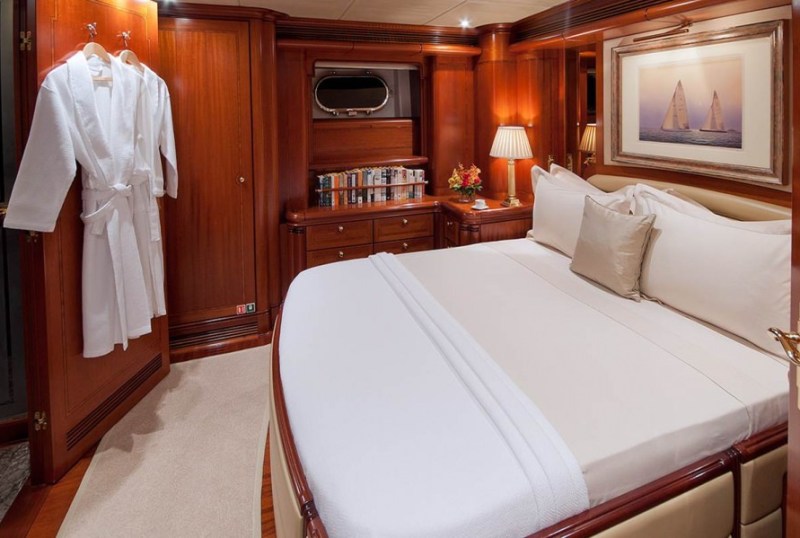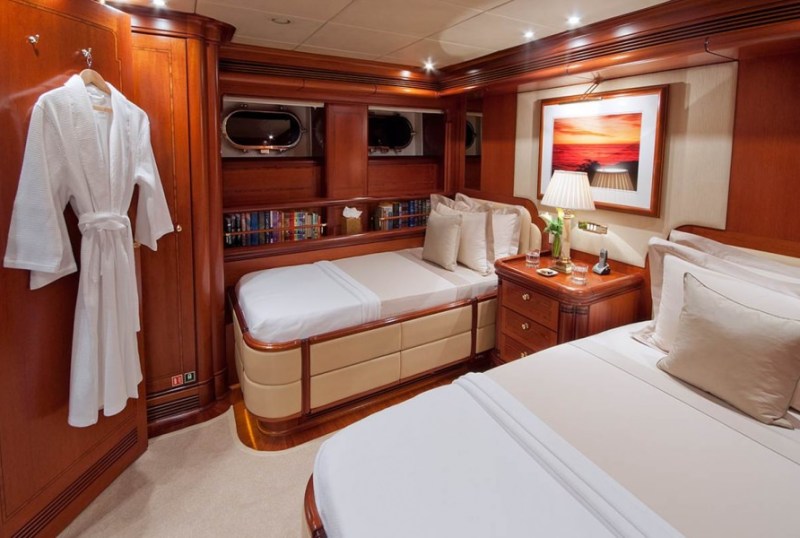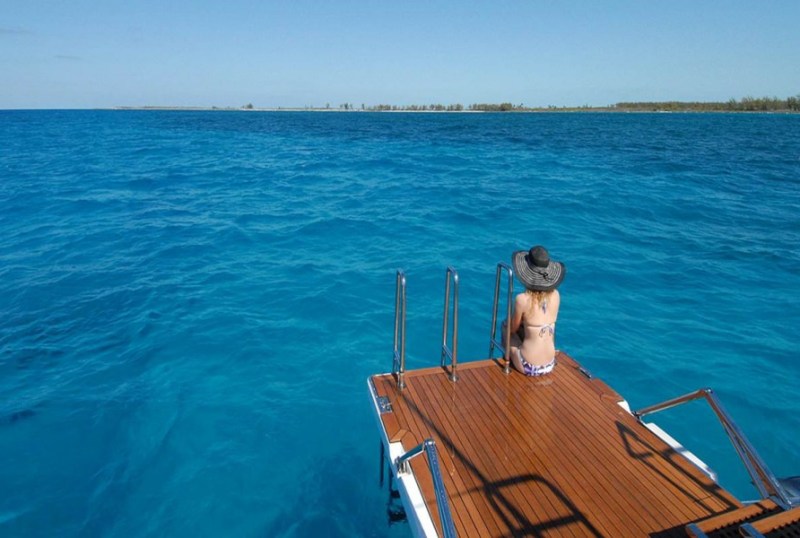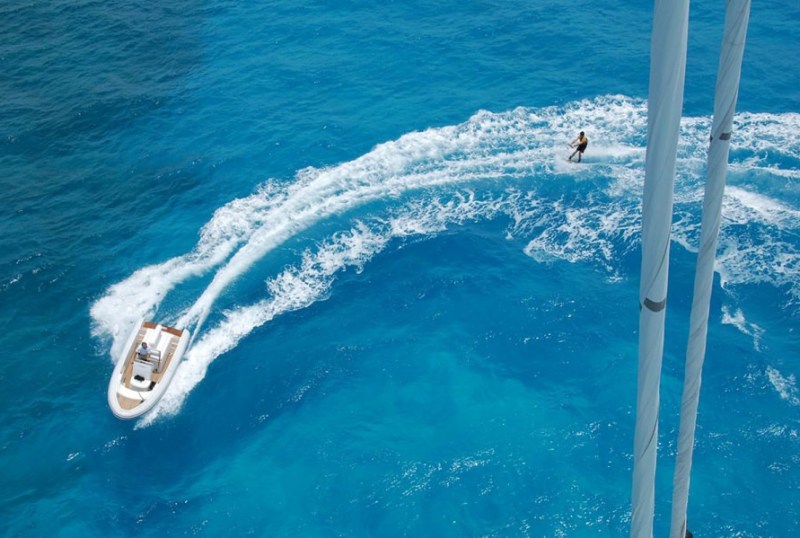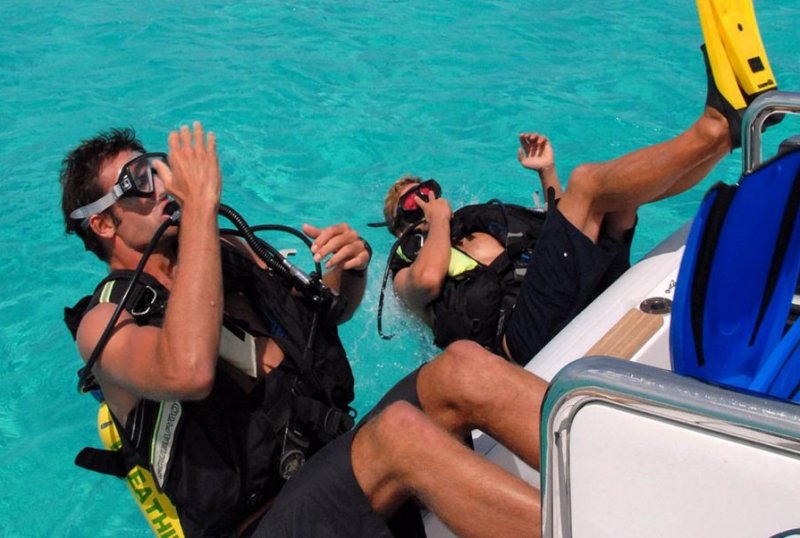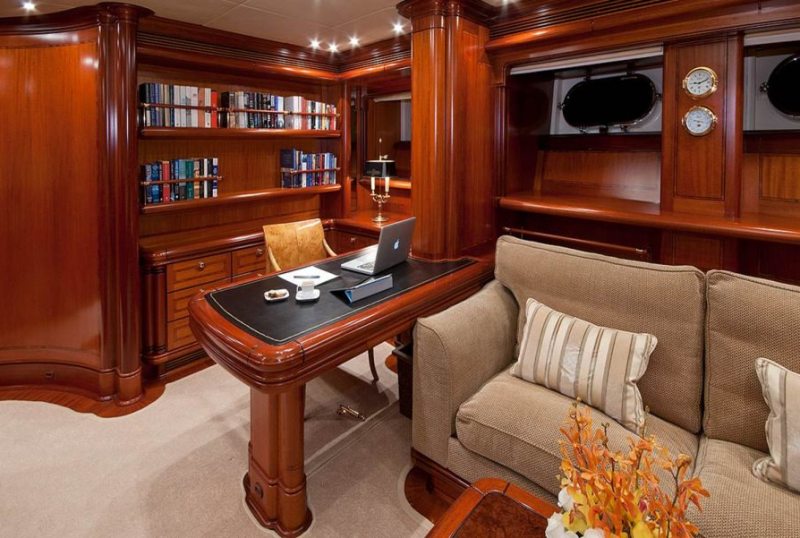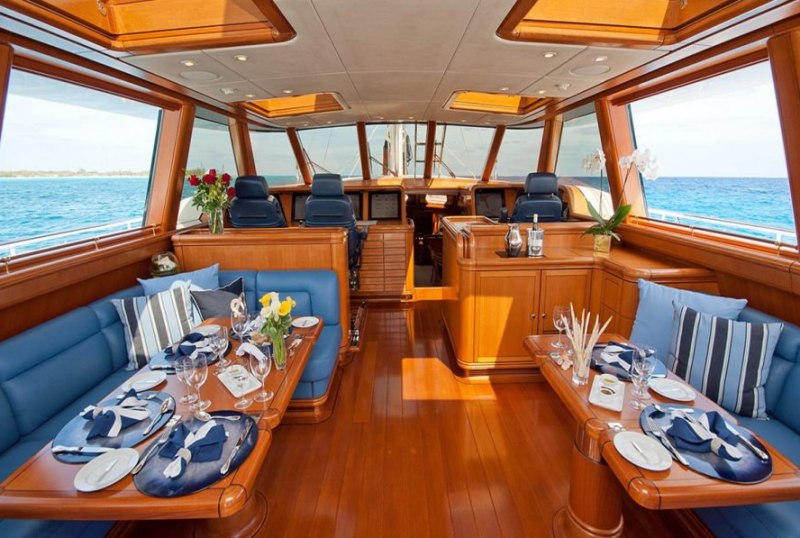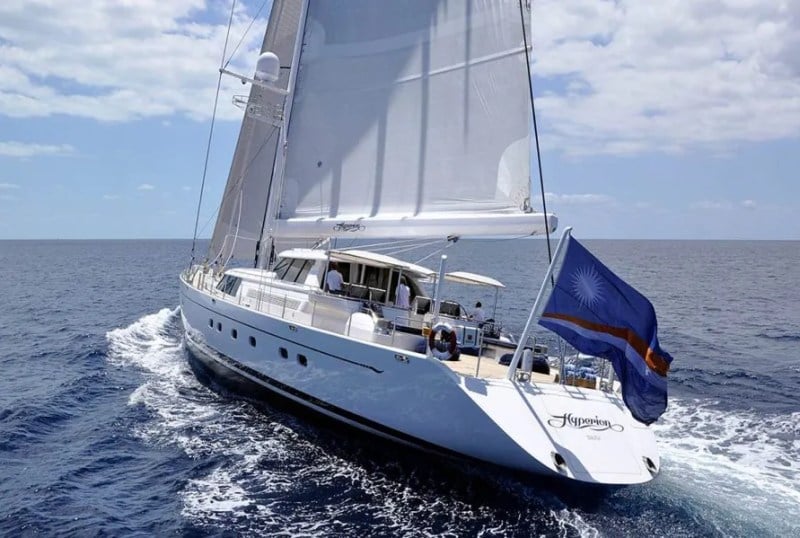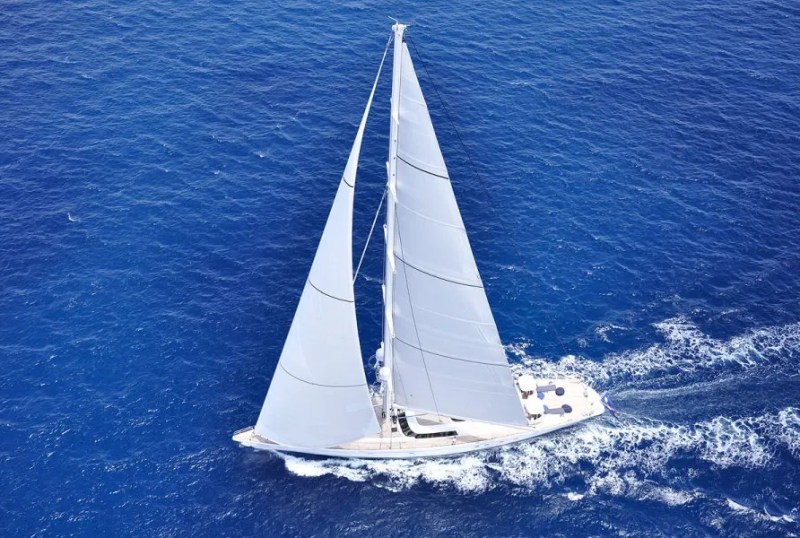 HYPERION
From €98,000/week
3 cabins
155 ft
Royal Huisman
6 guests
Built: 1998
100 Litres/Hr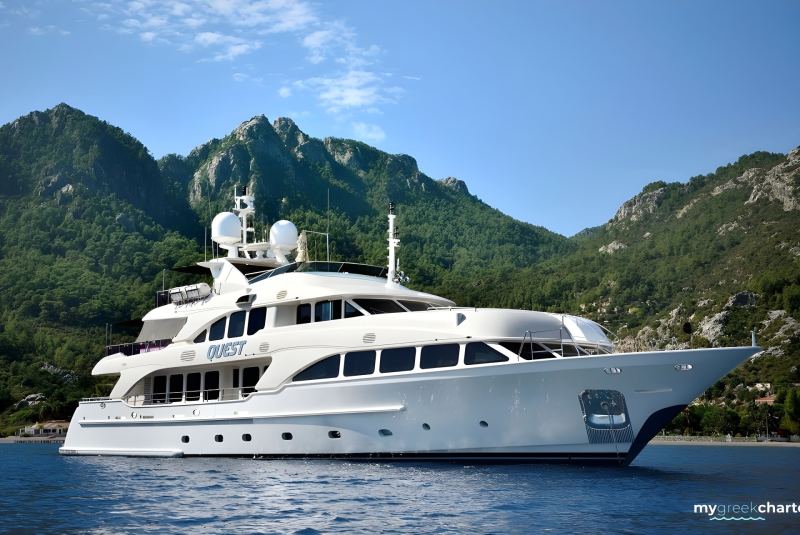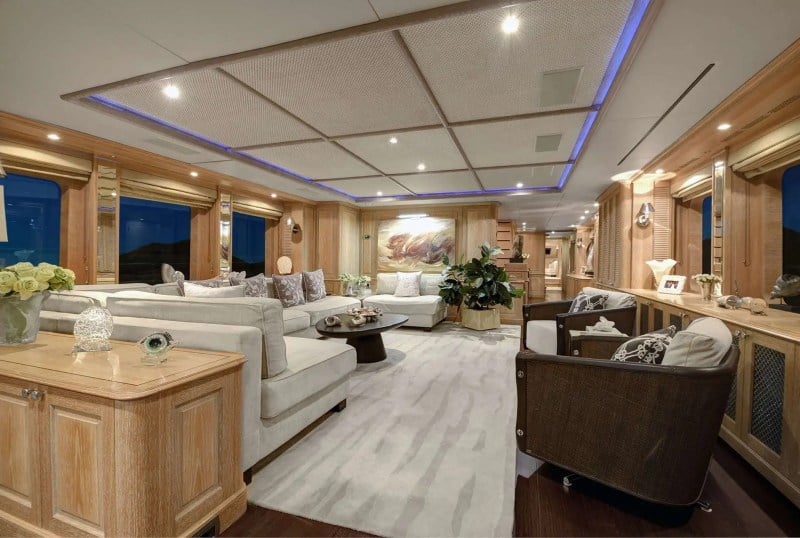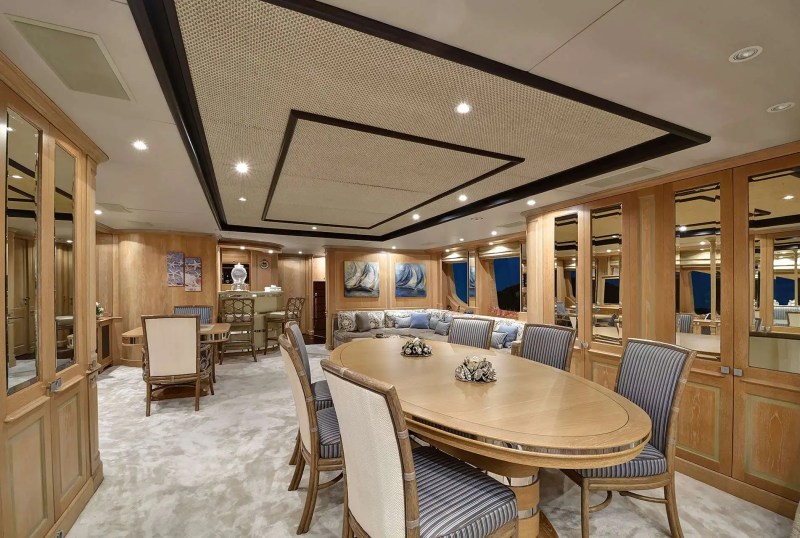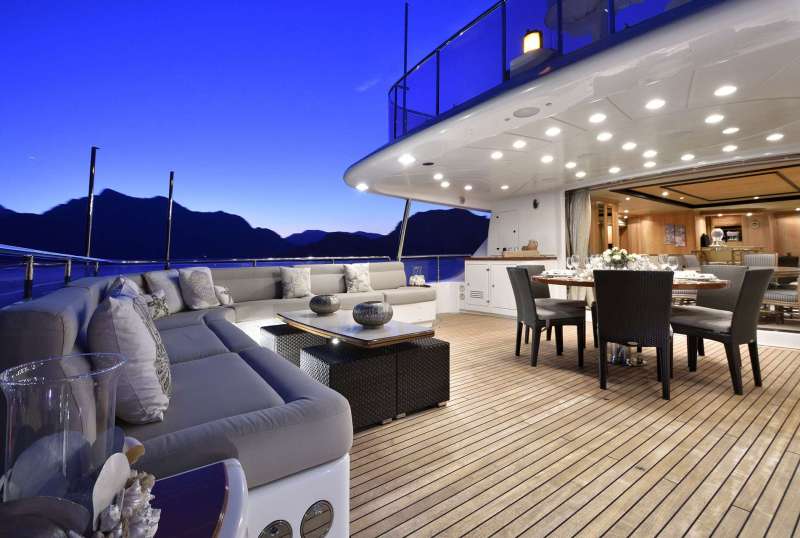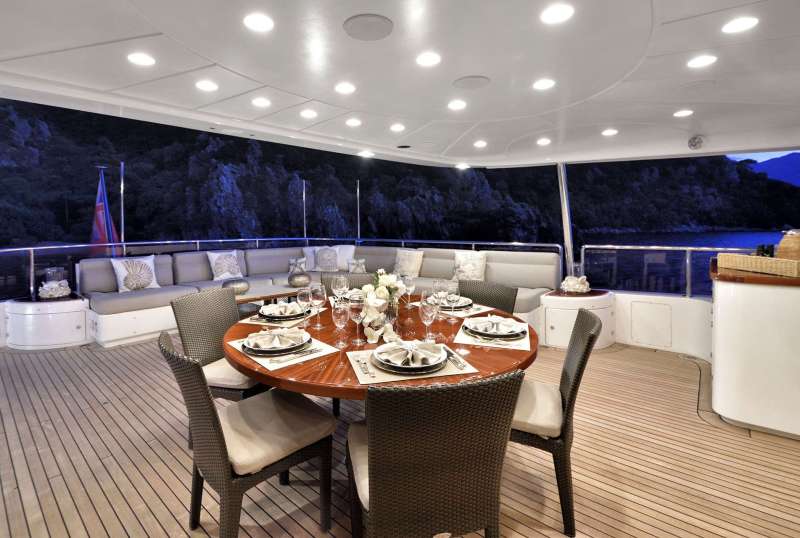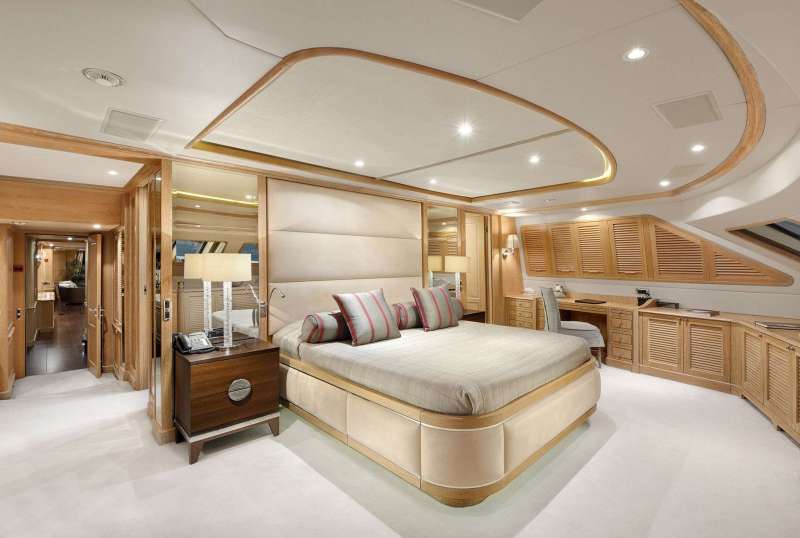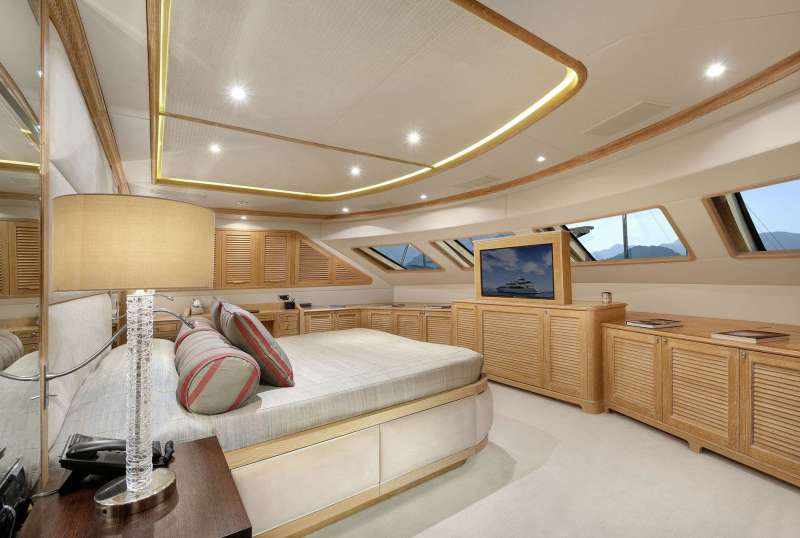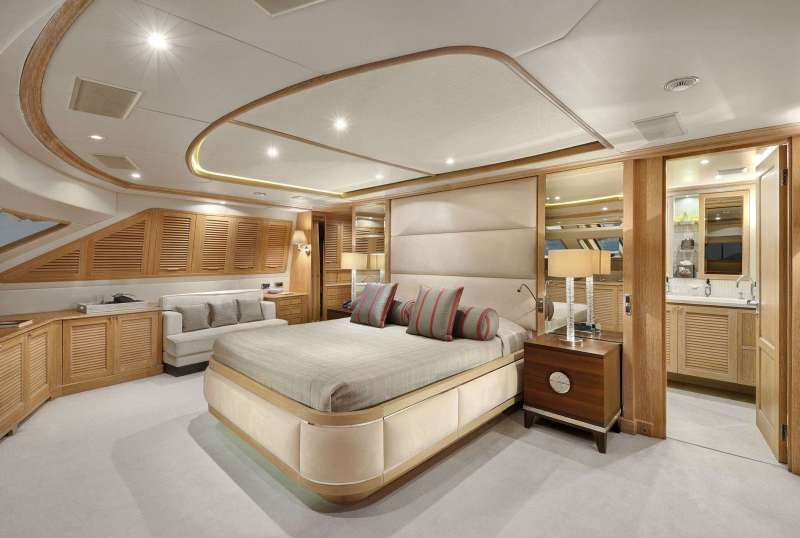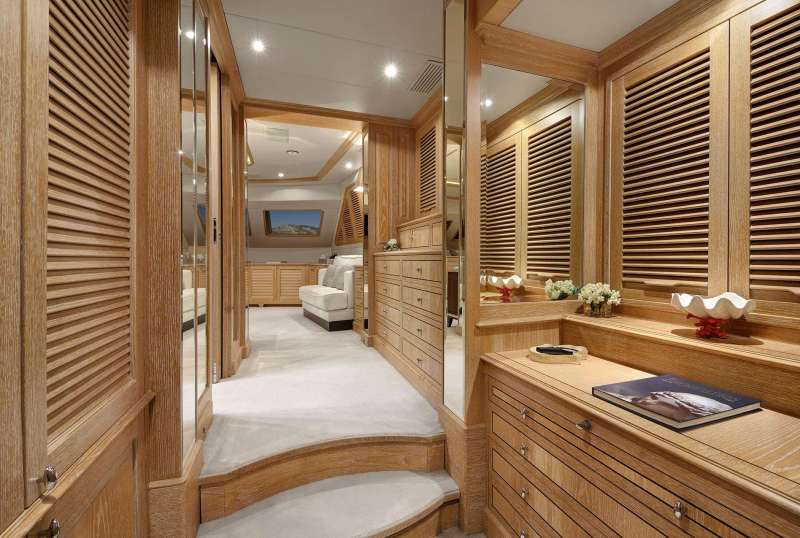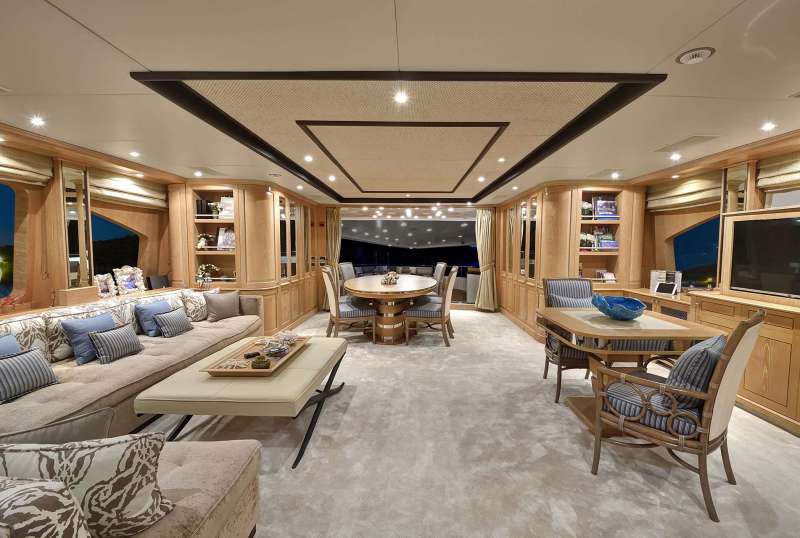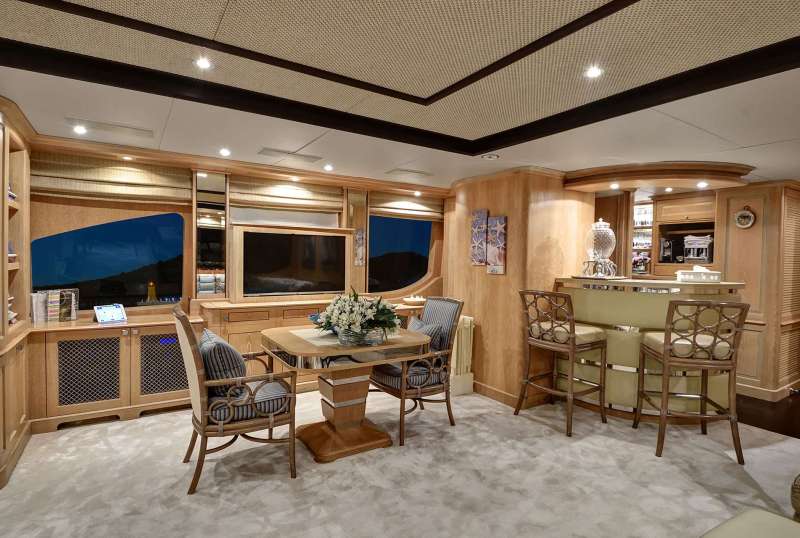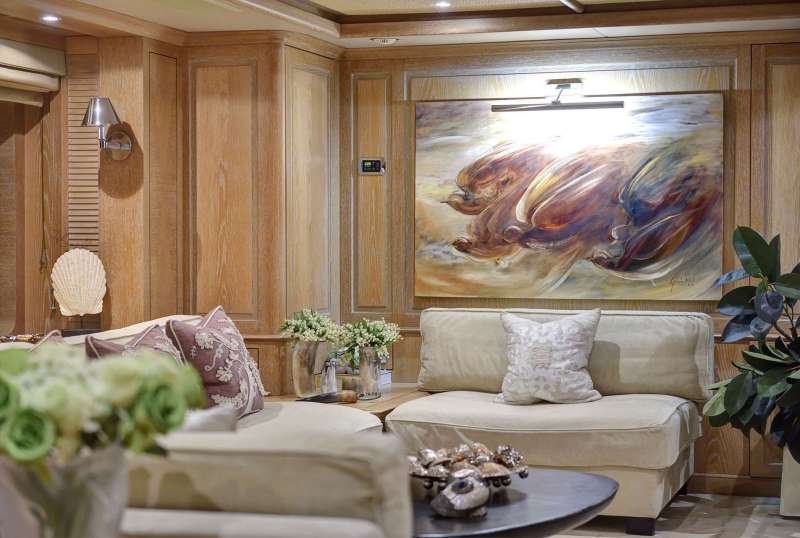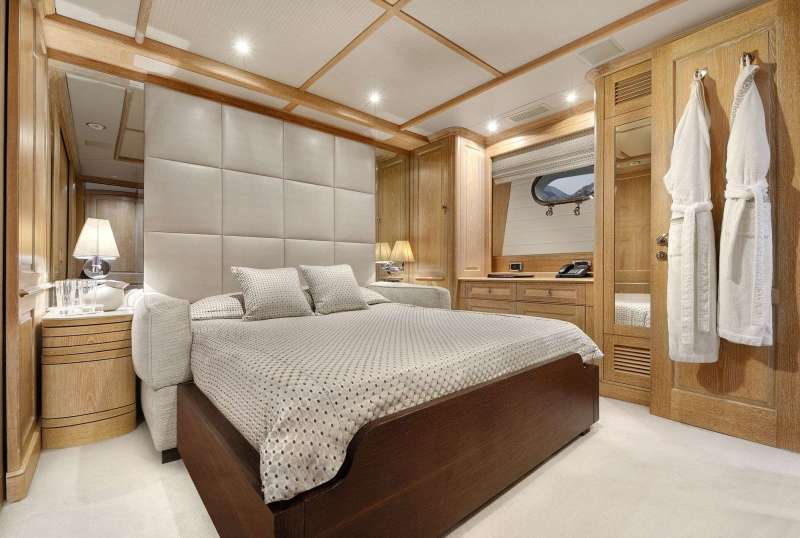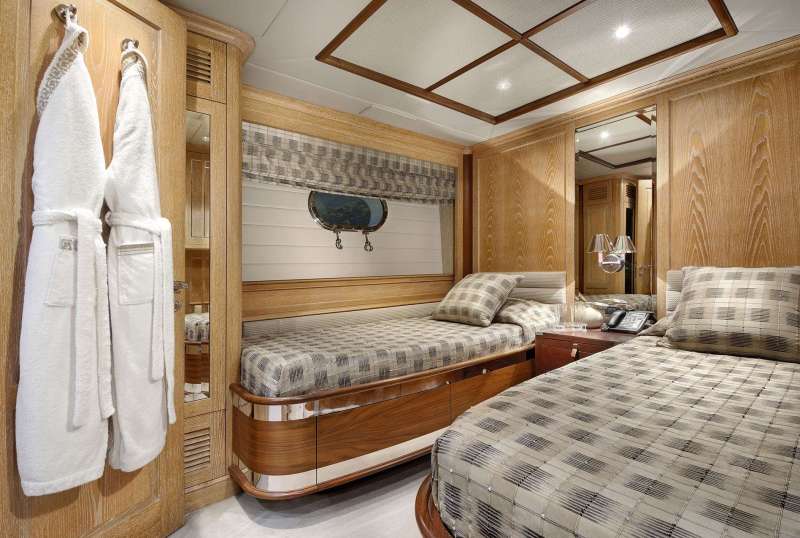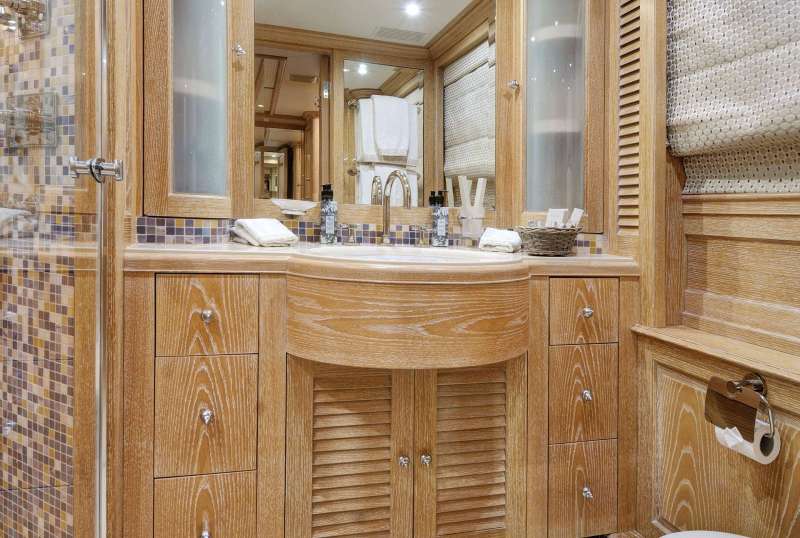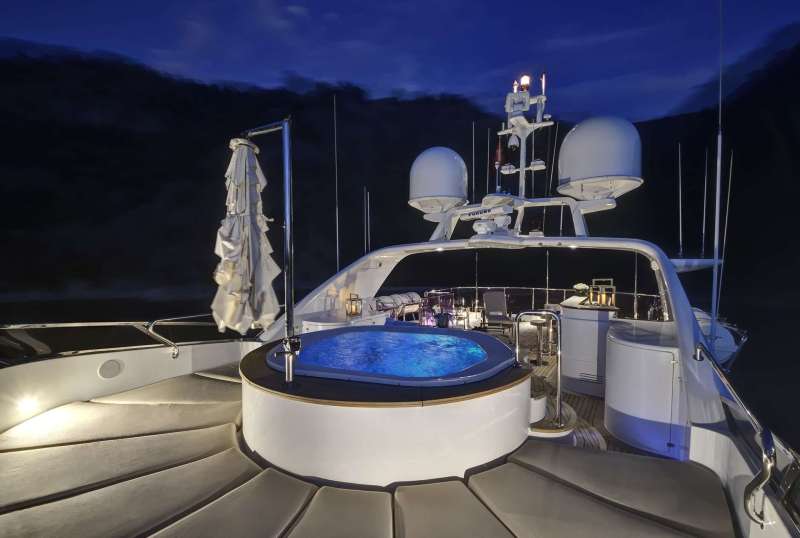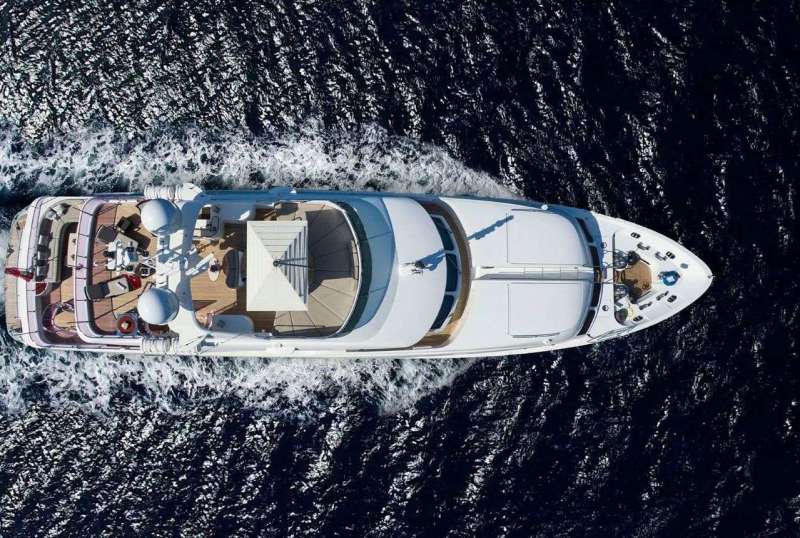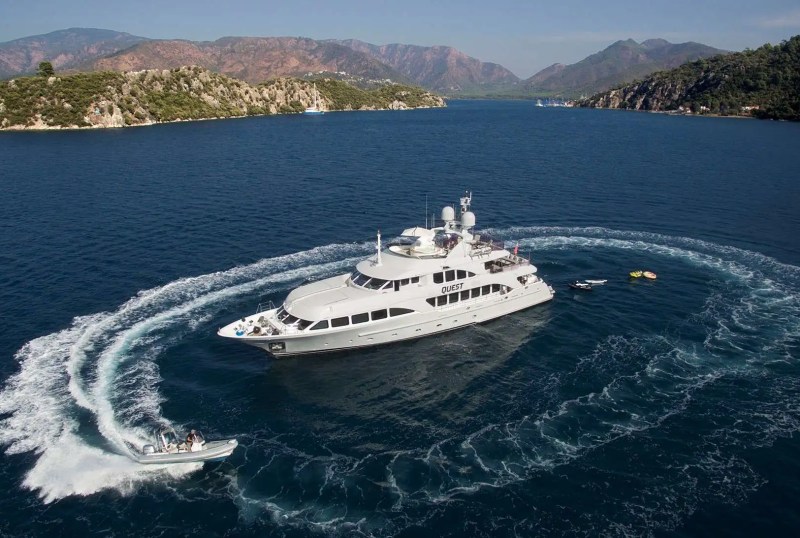 QUEST R
From €95,000/week
5 cabins
121 ft
Benetti
12 guests
Refit: 2018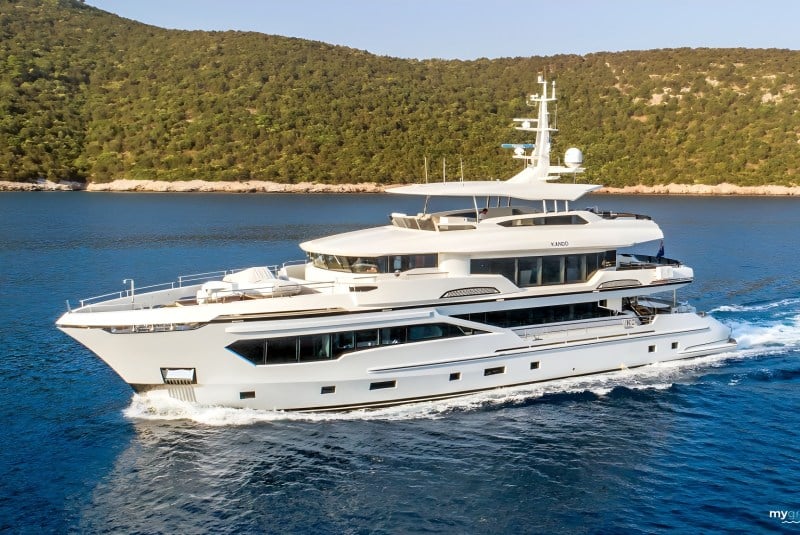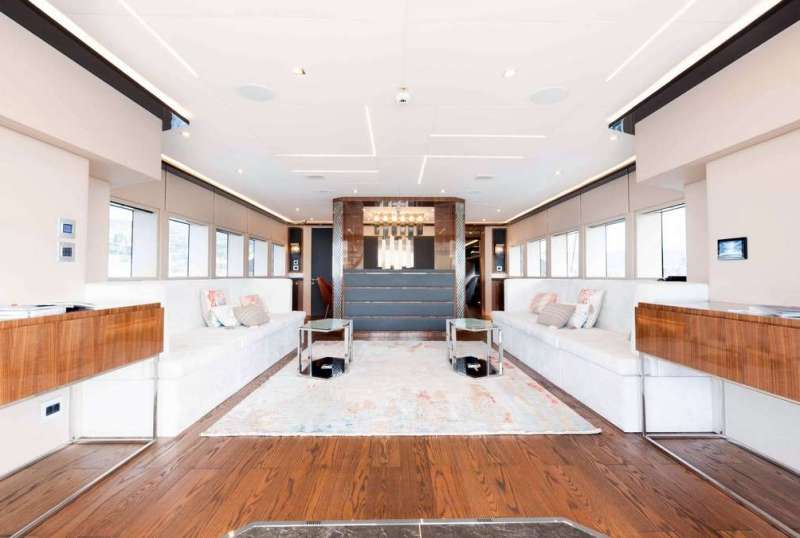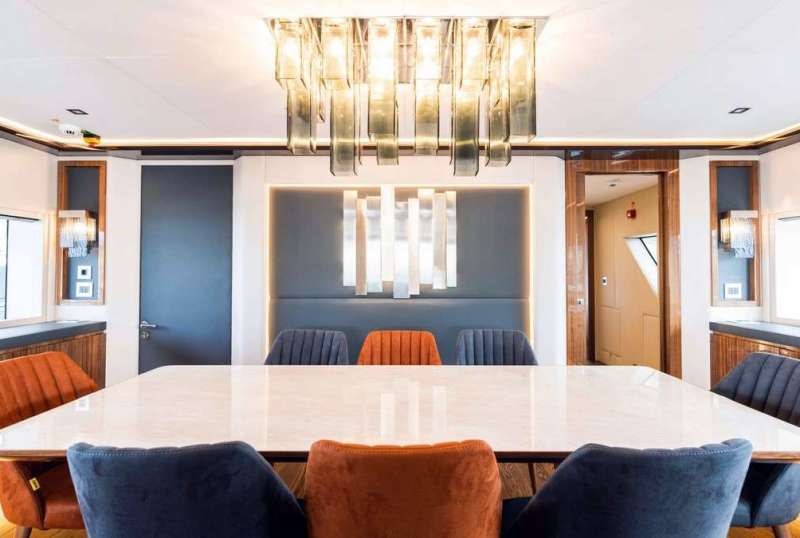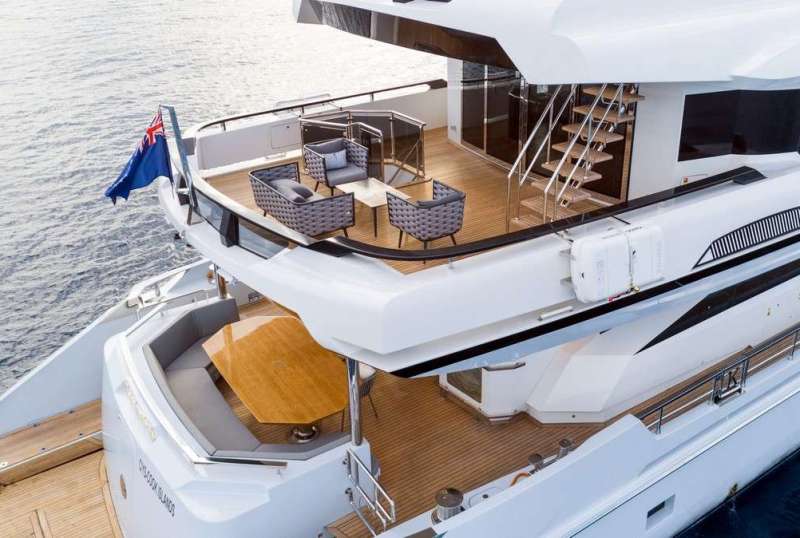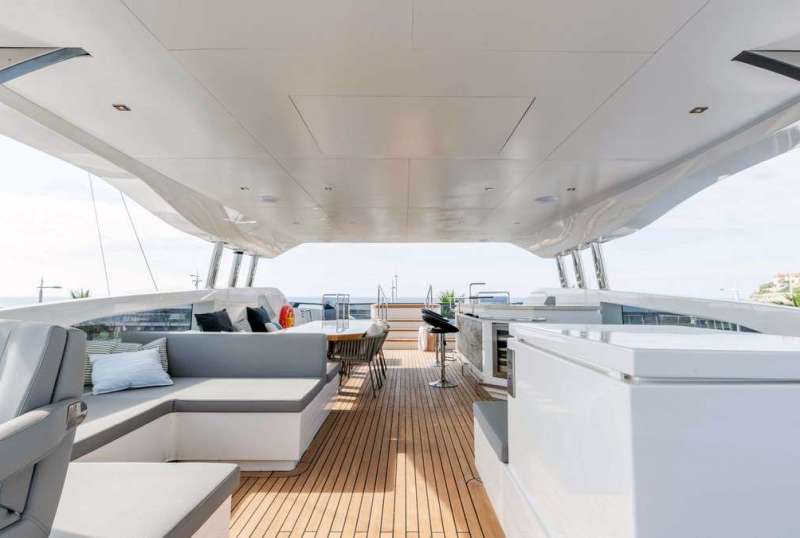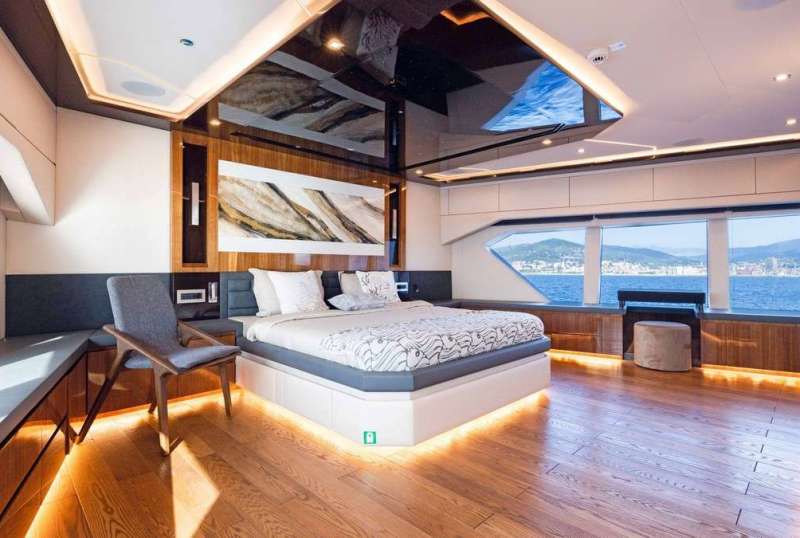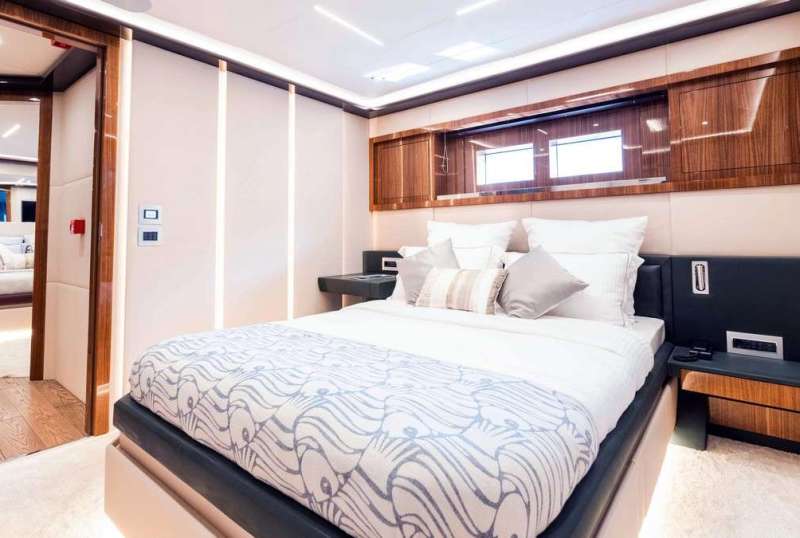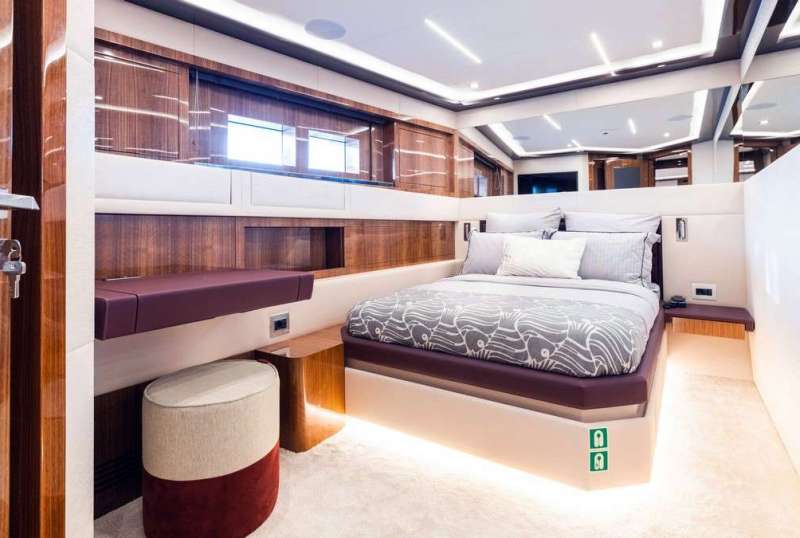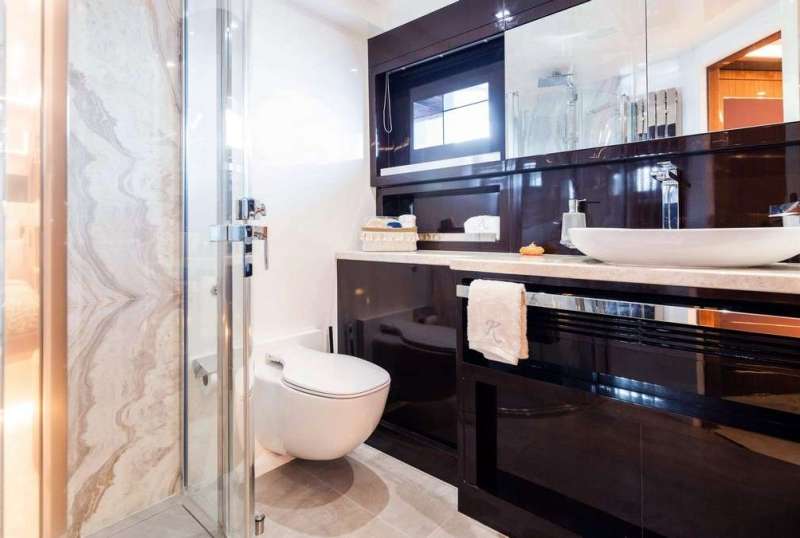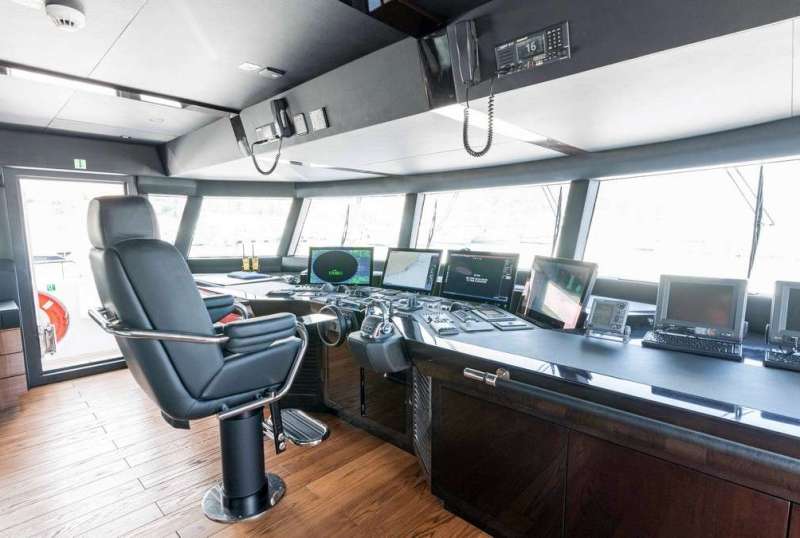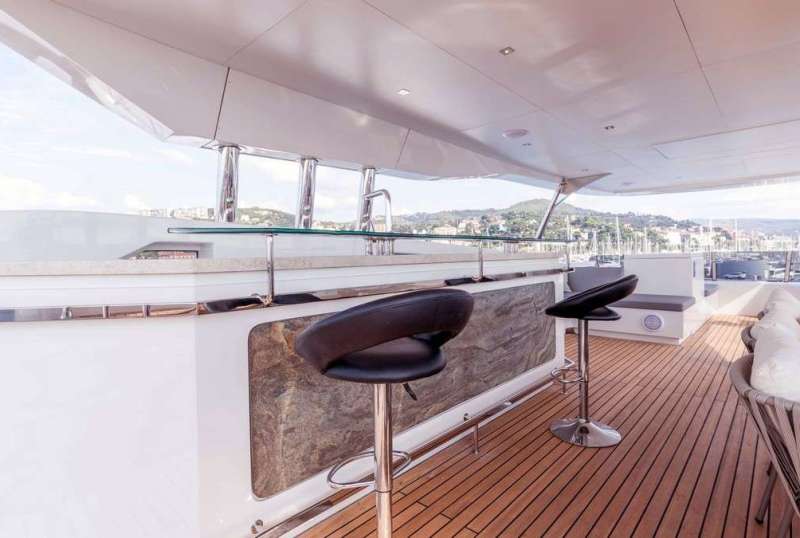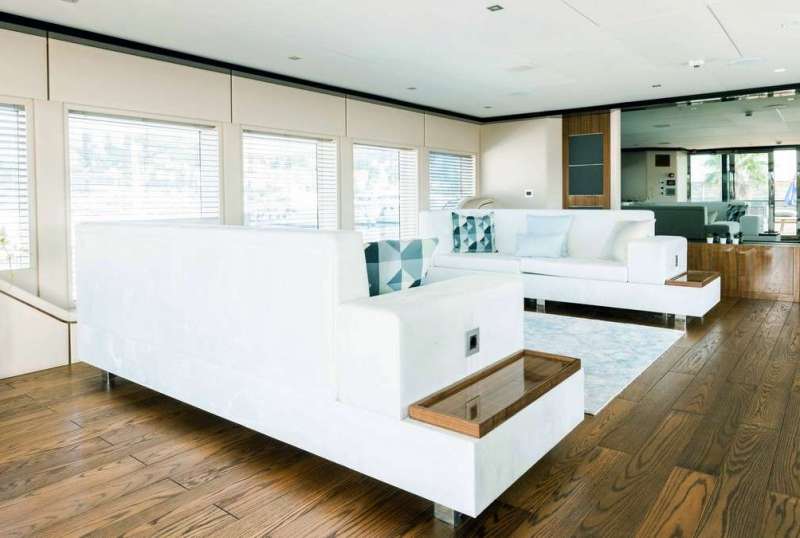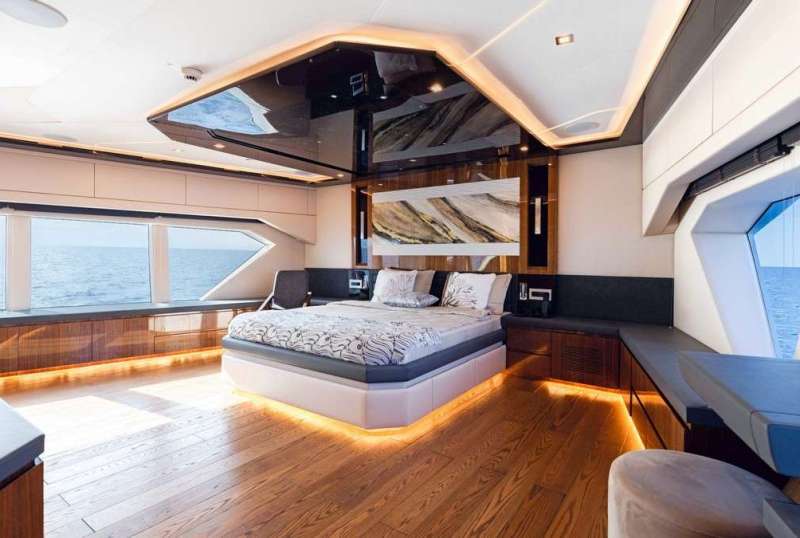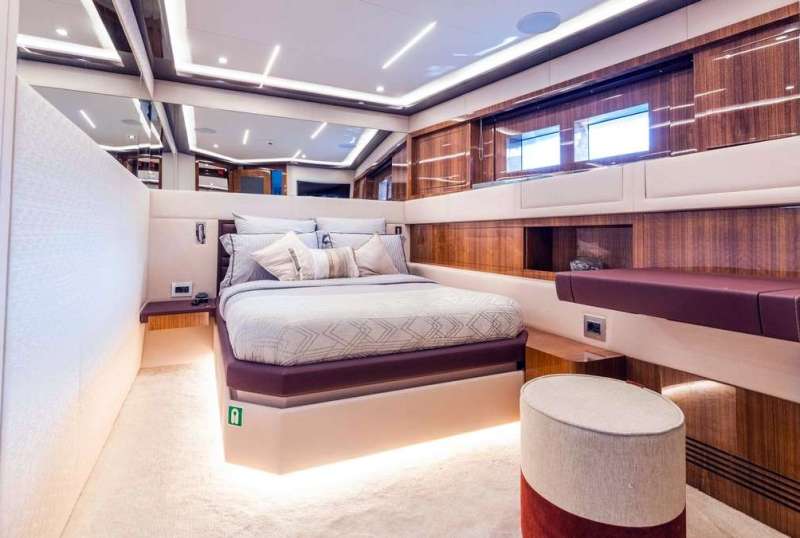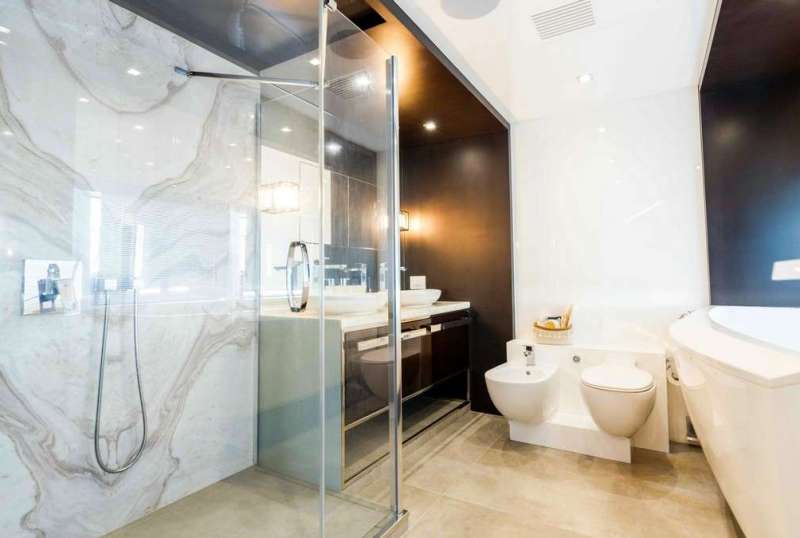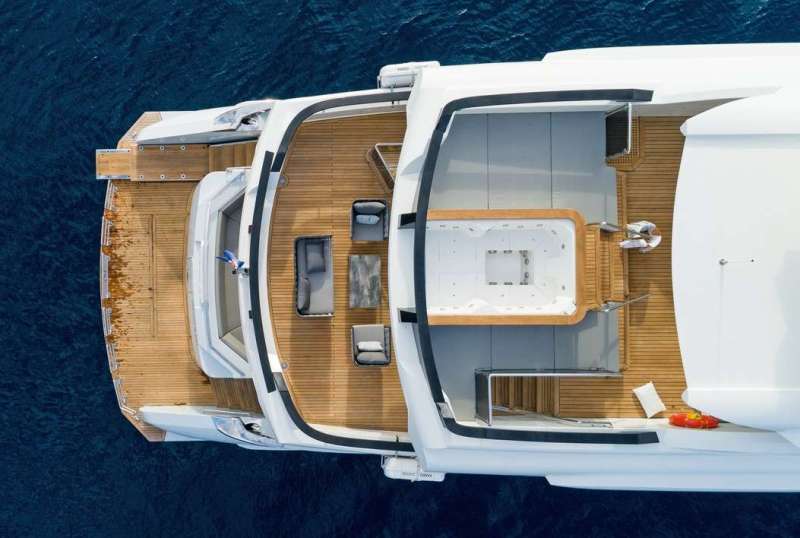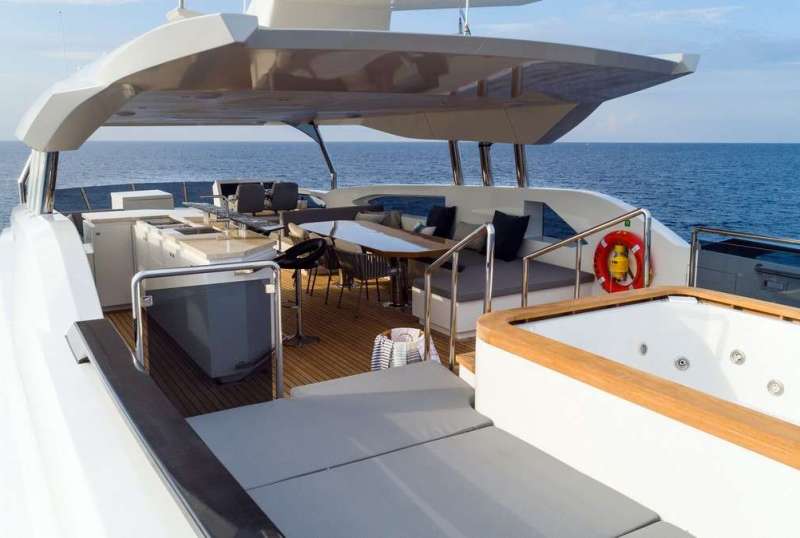 KANDO
From €95,000/week
5 cabins
111 ft
Custom Built Aluminum Cutter
10 guests
Built: 2020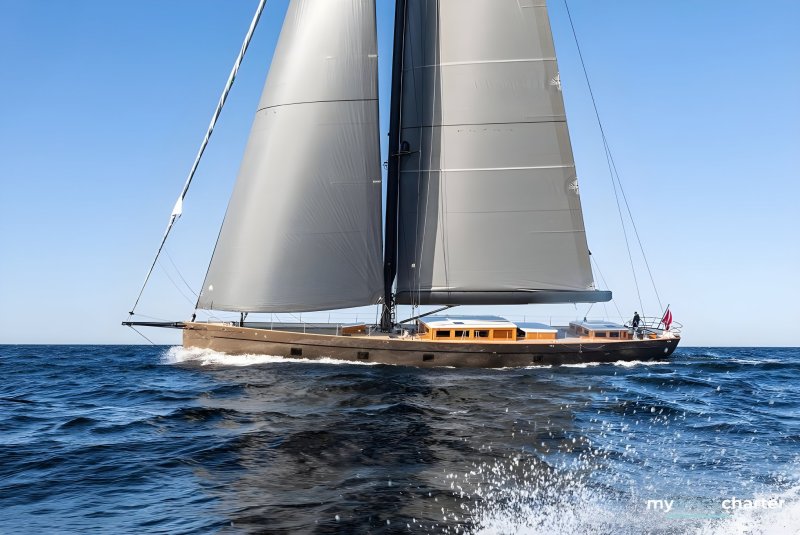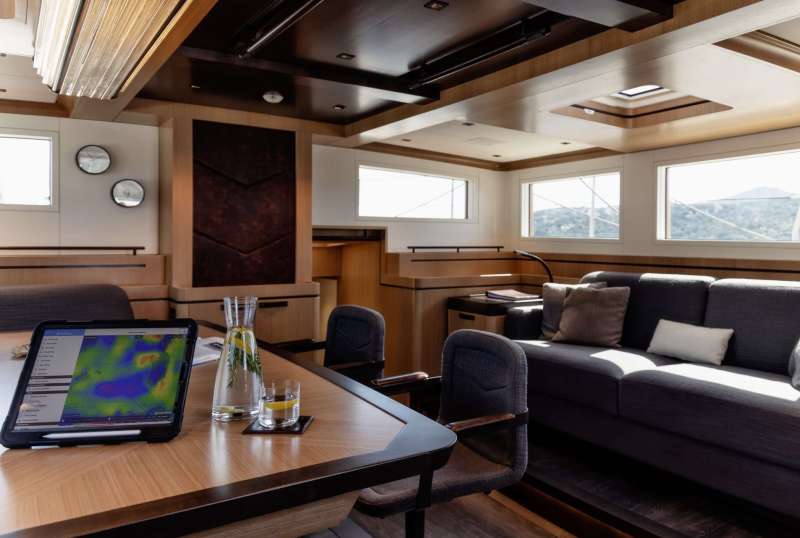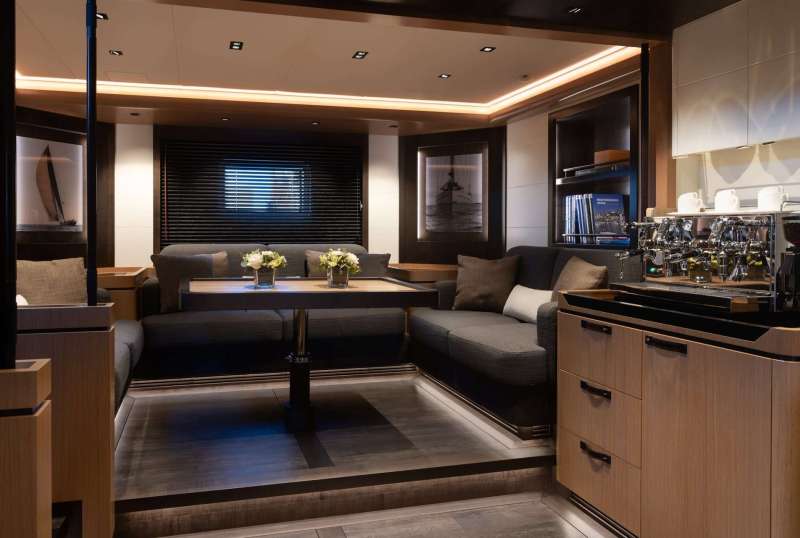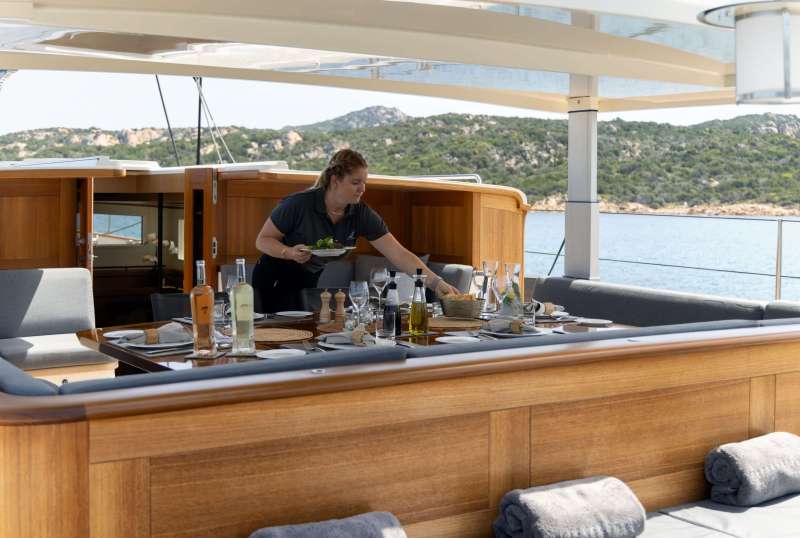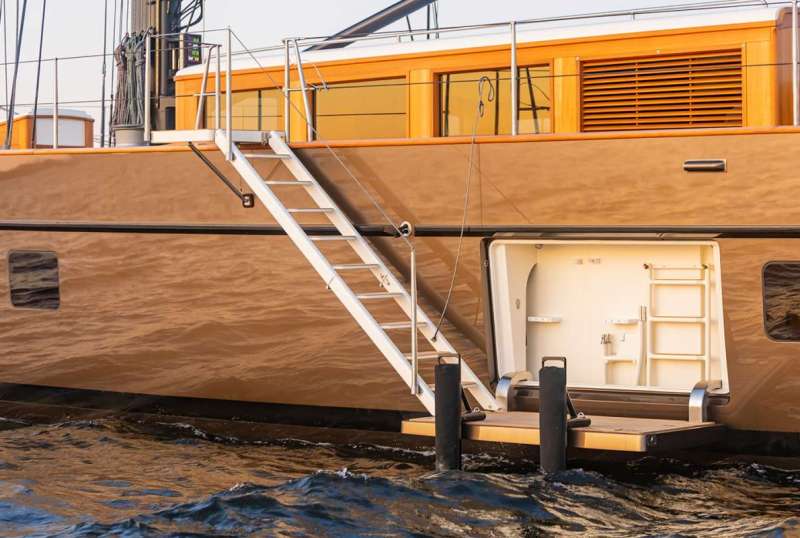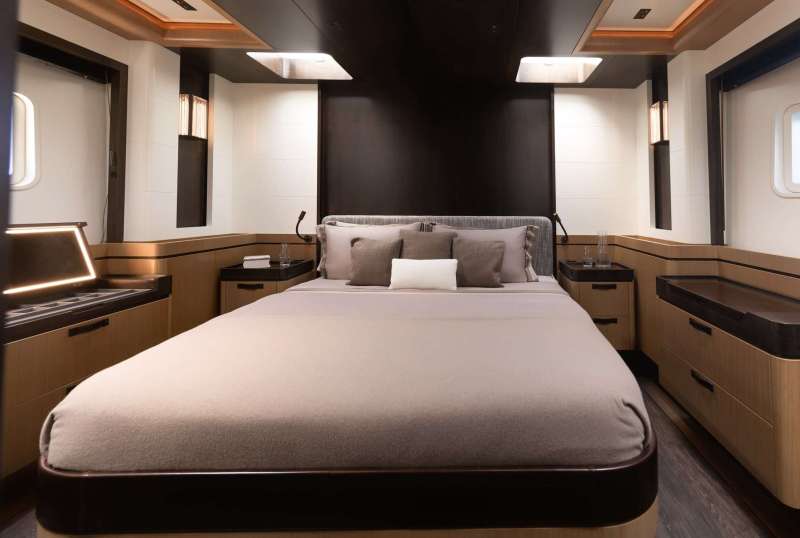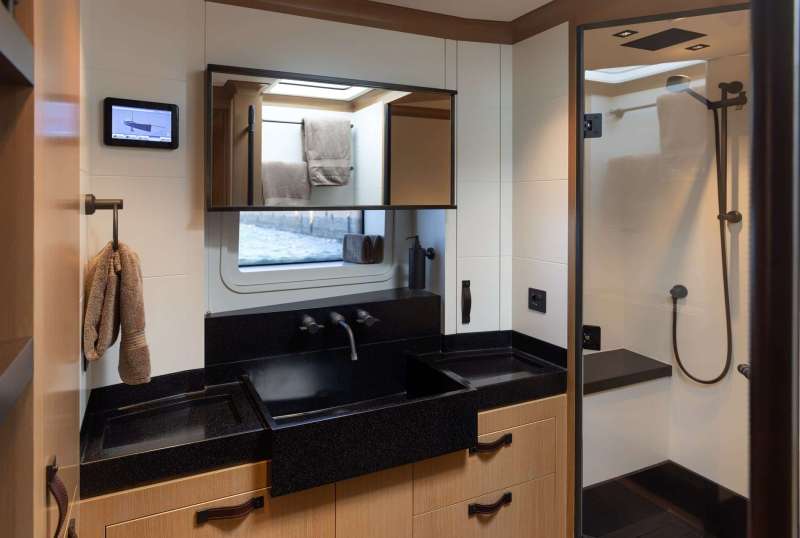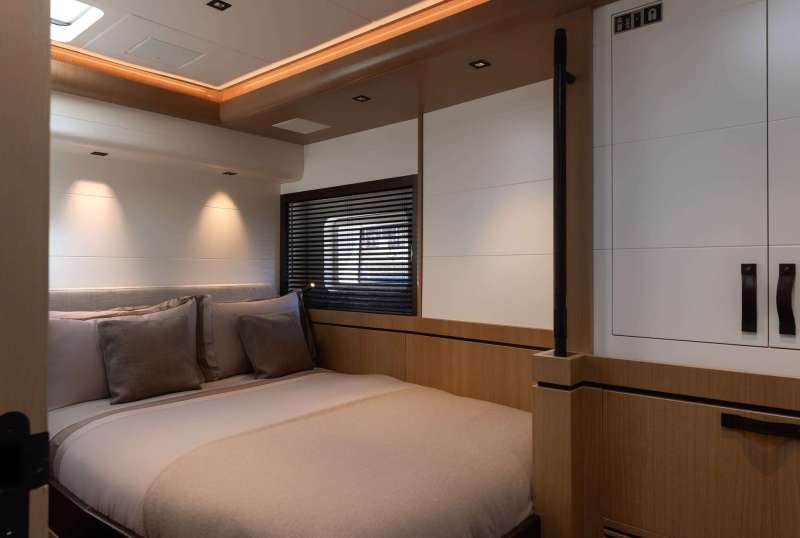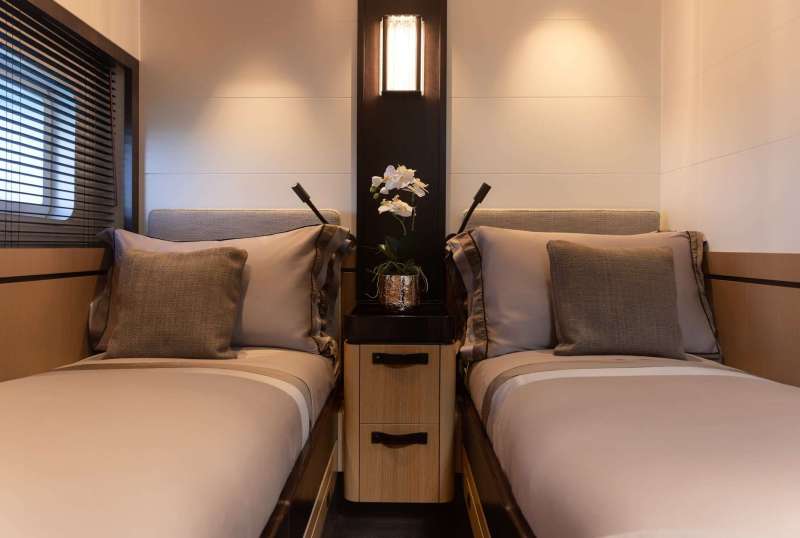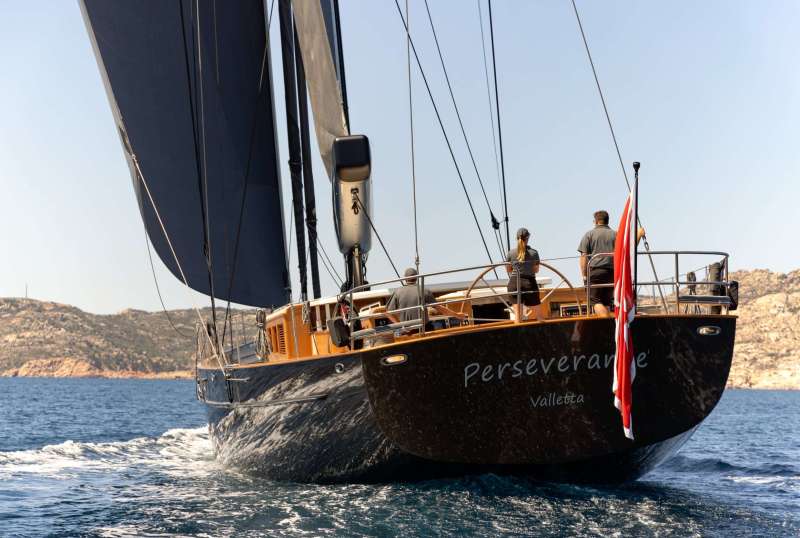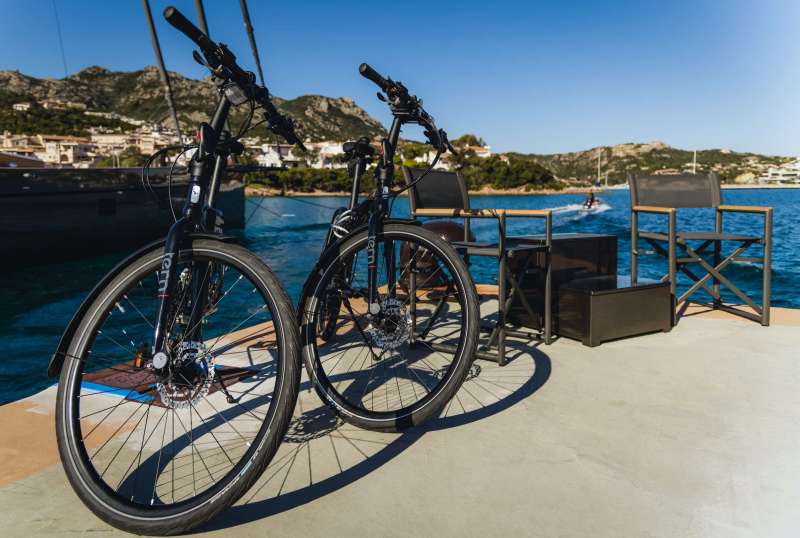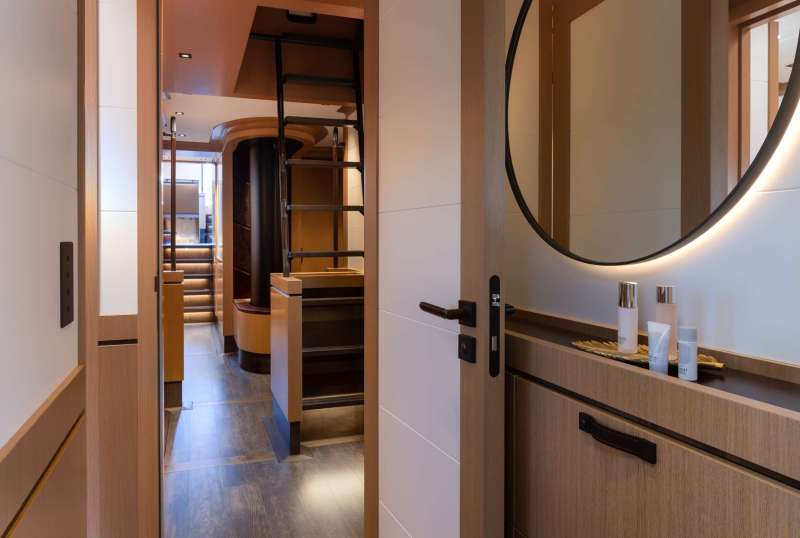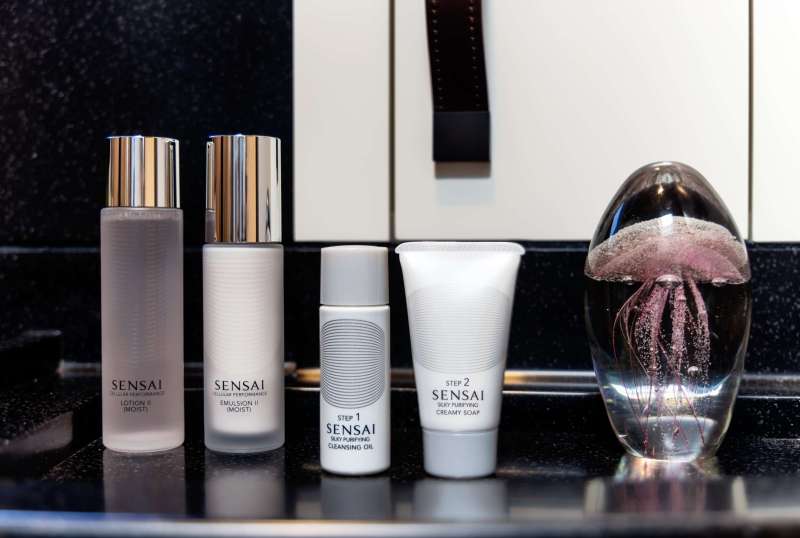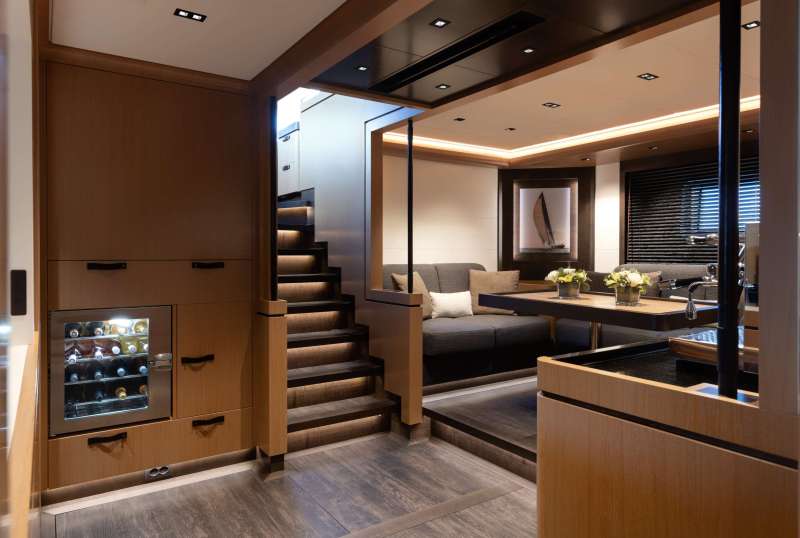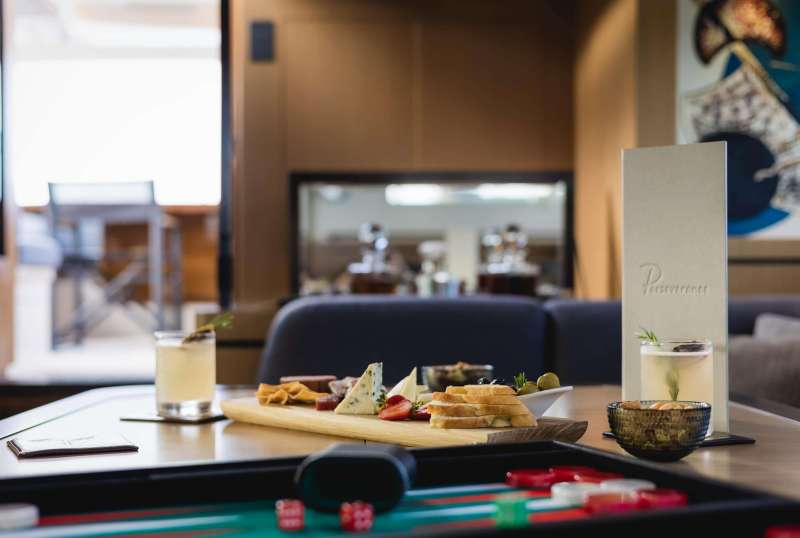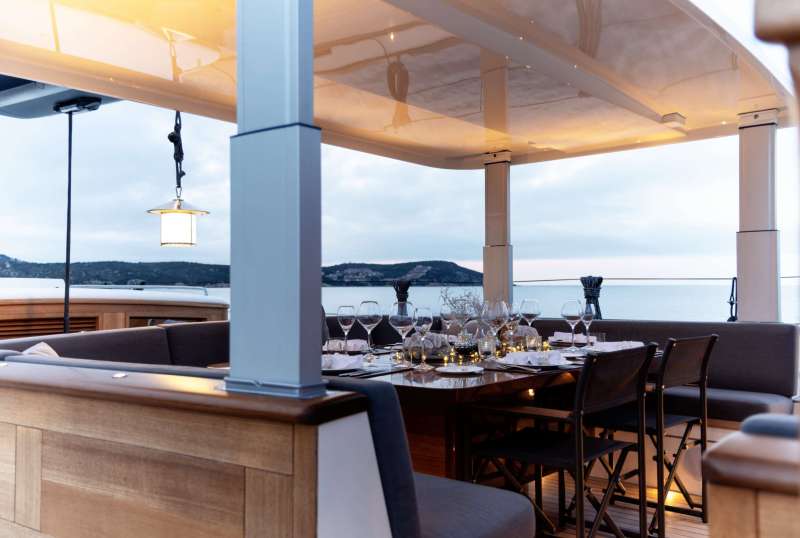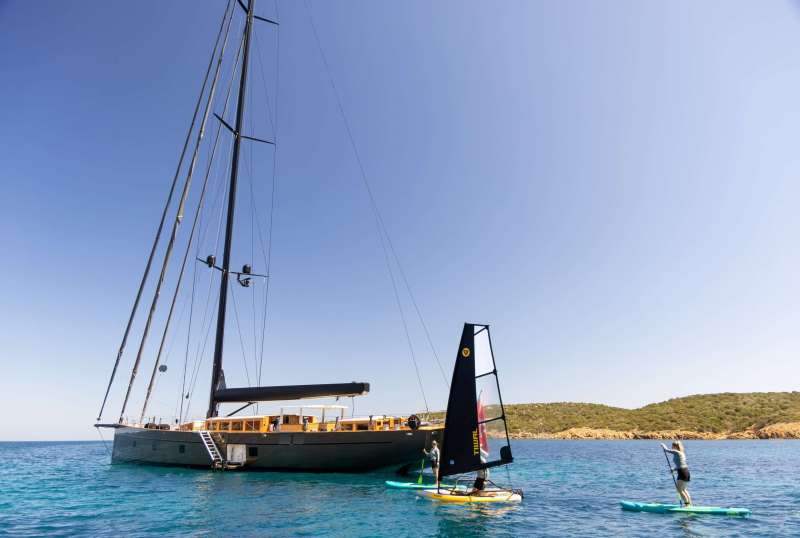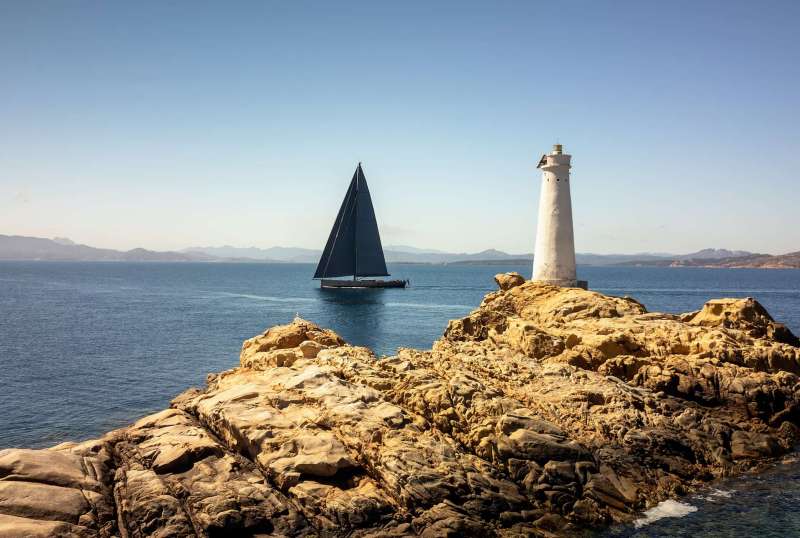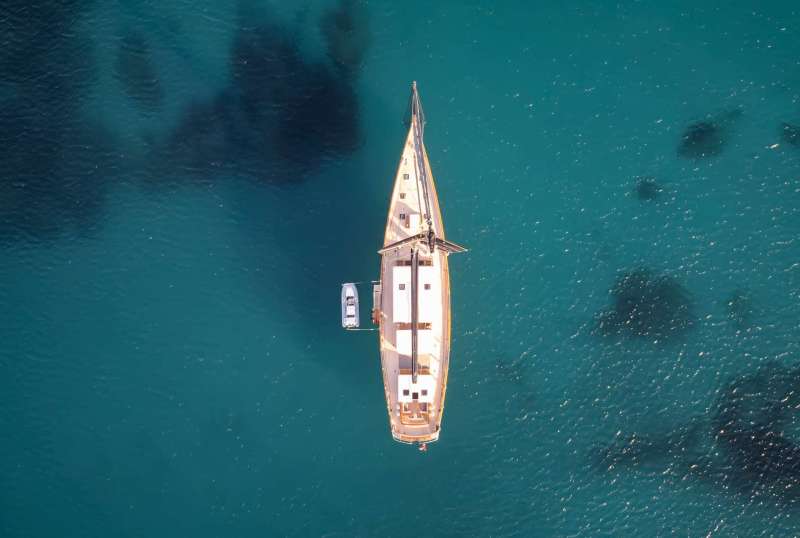 PERSEVERANCE 1
From €95,000/week
4 cabins
129 ft
Baltic
8 guests
Built: 2021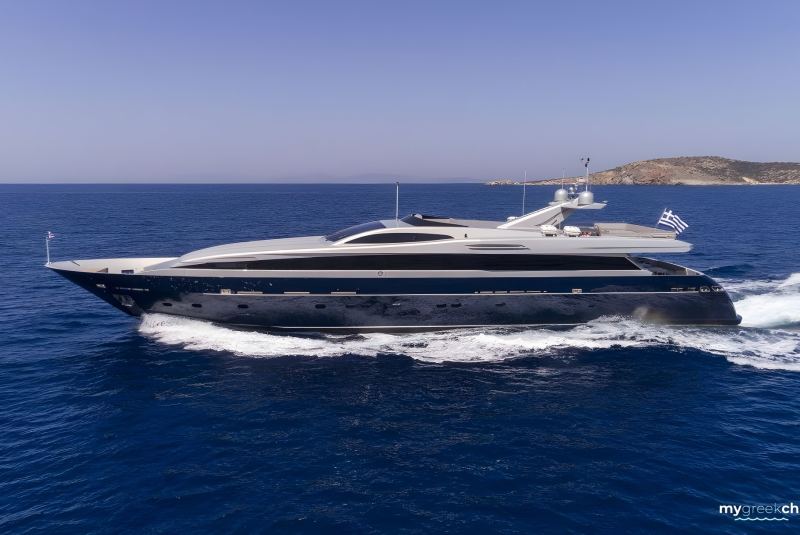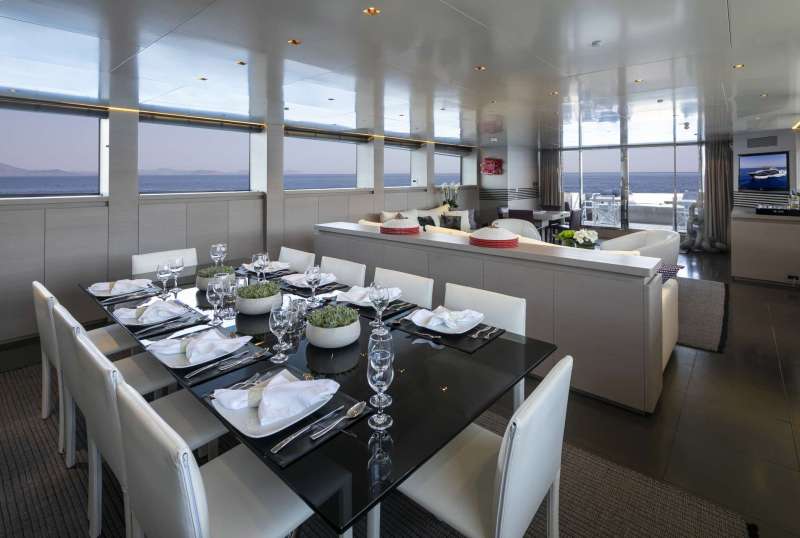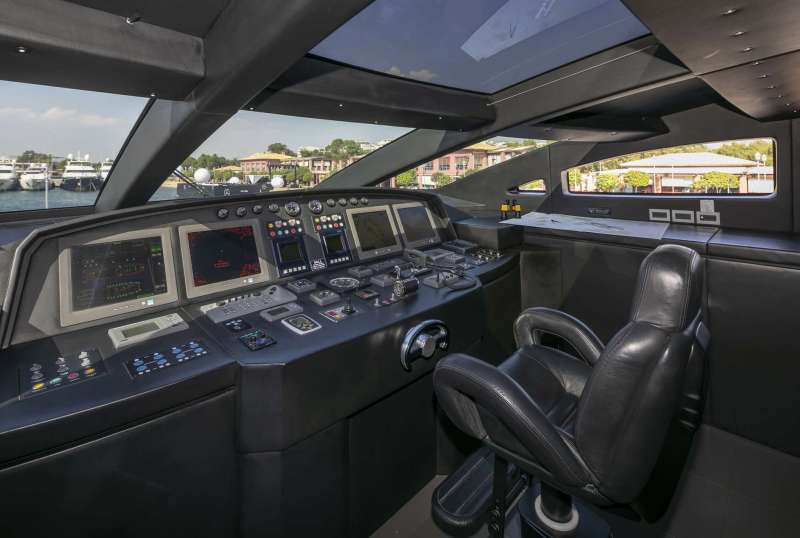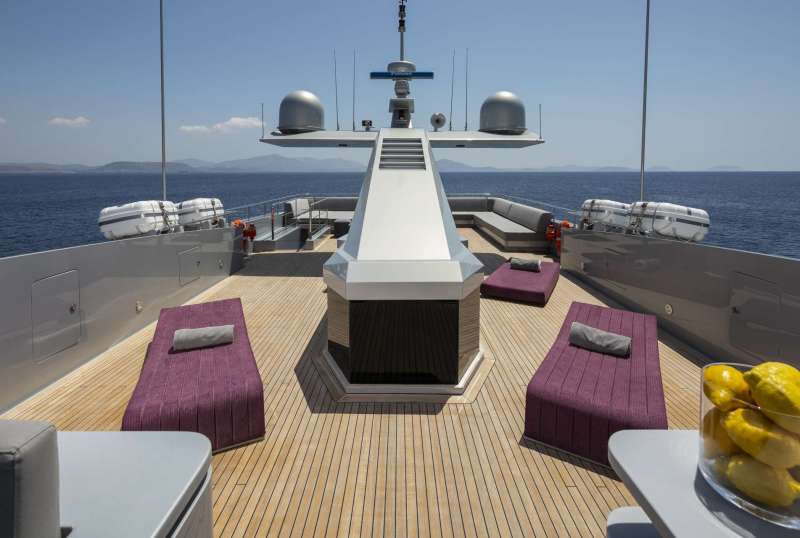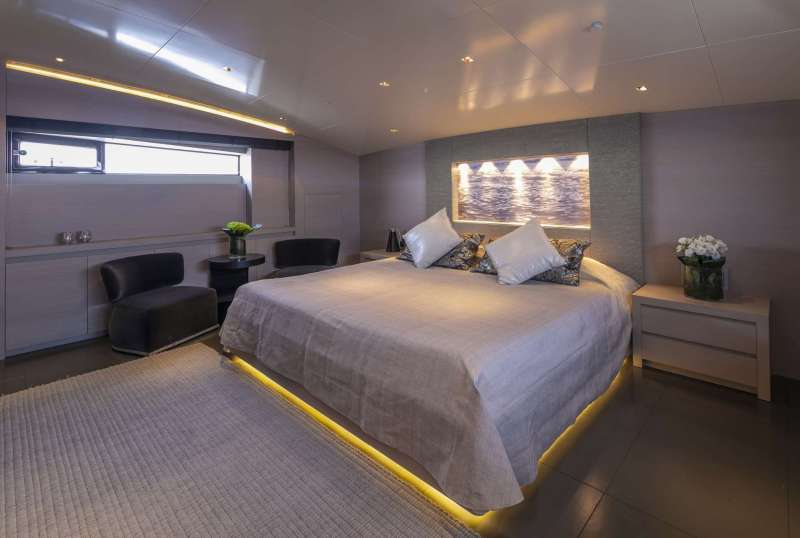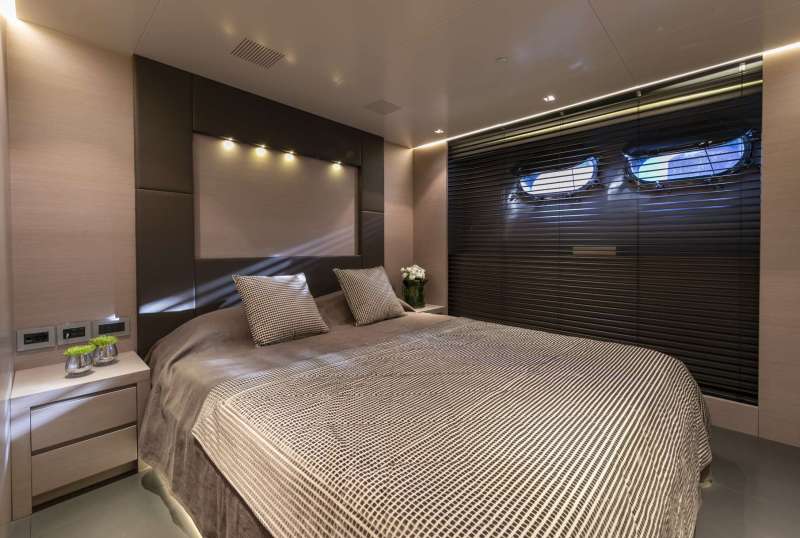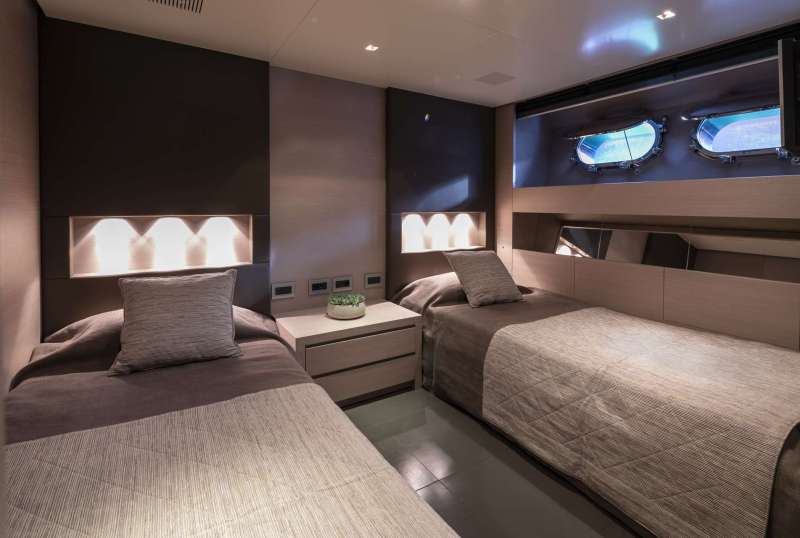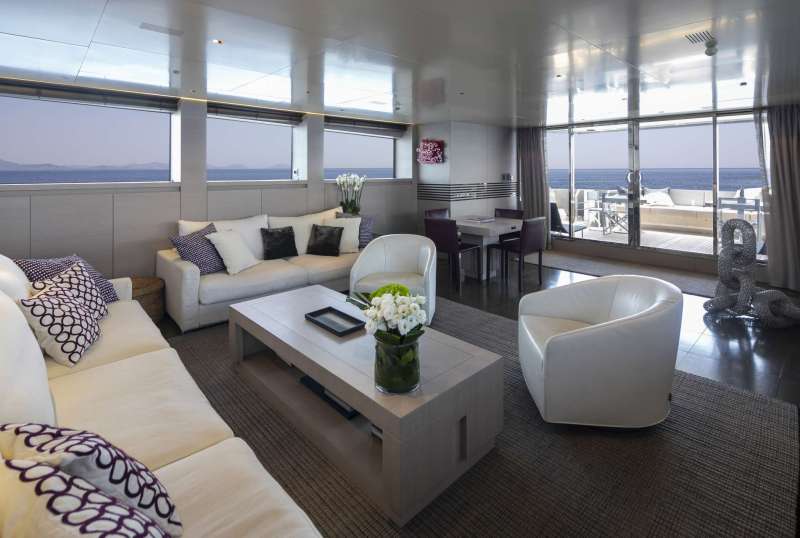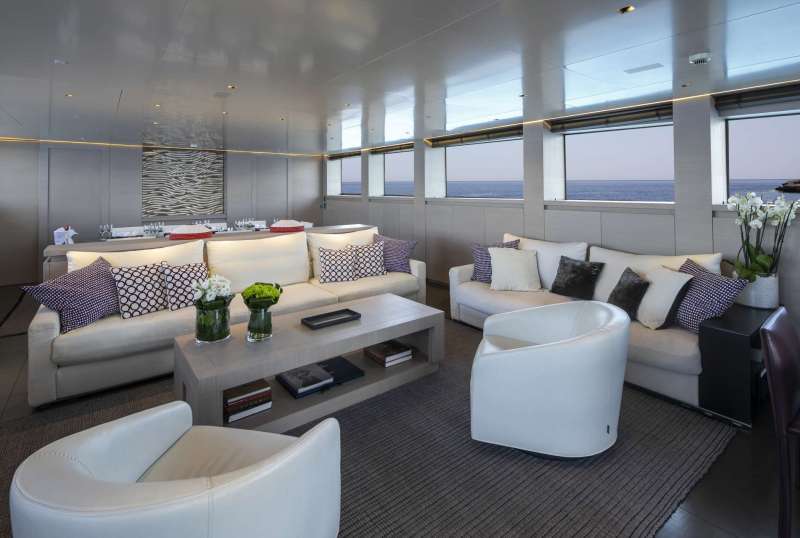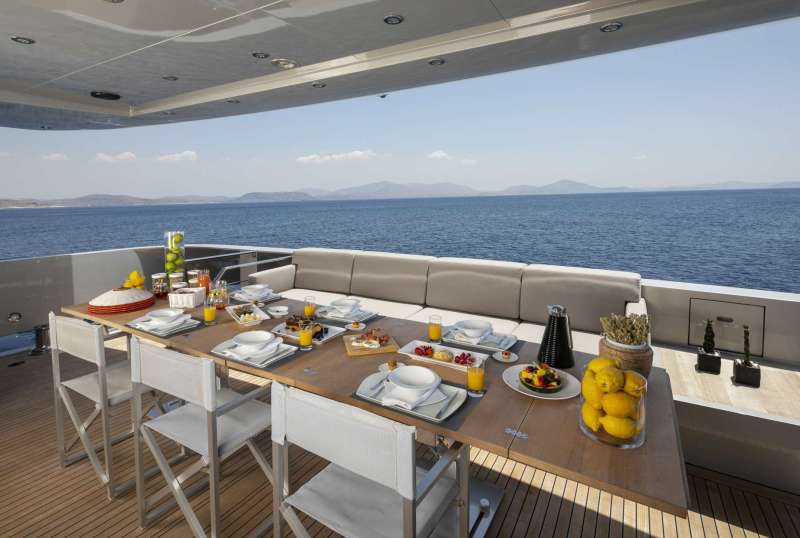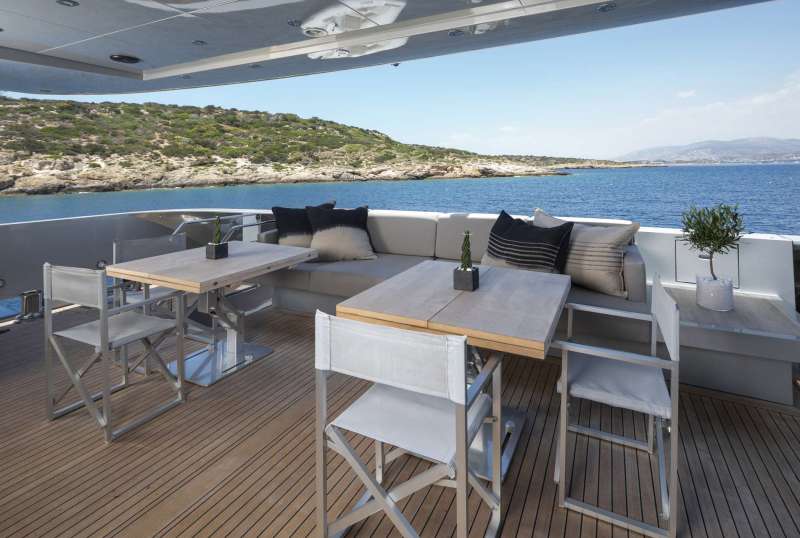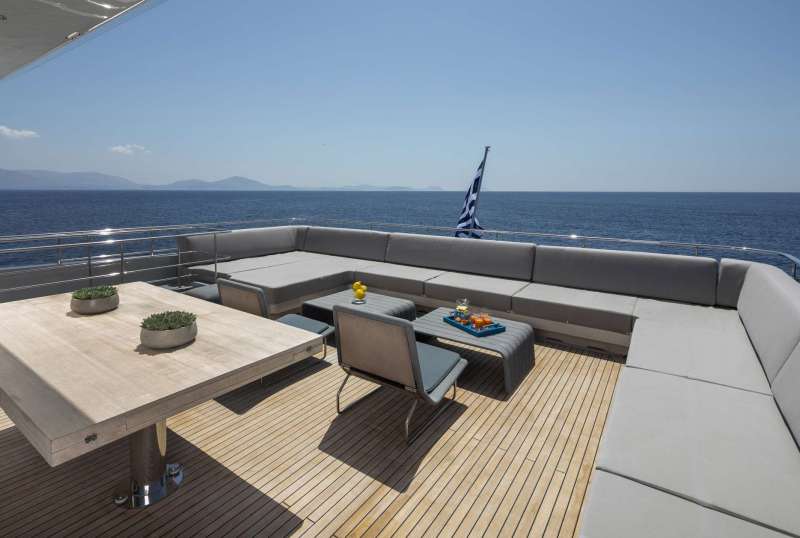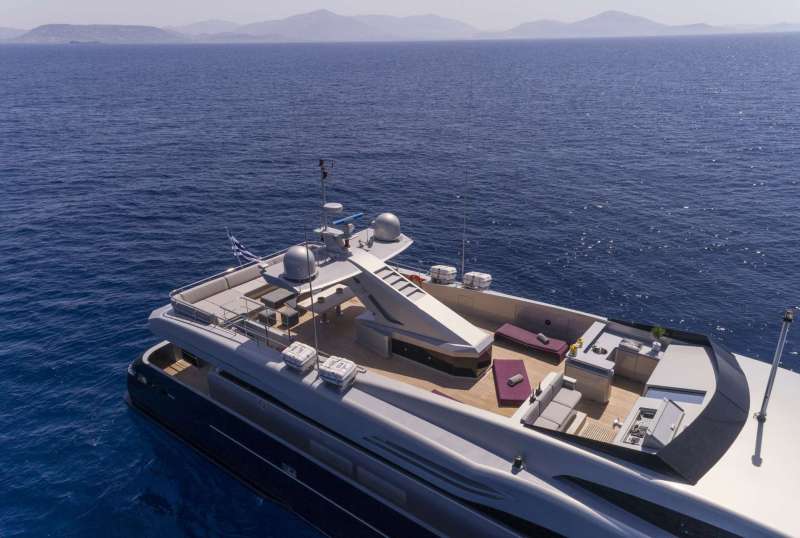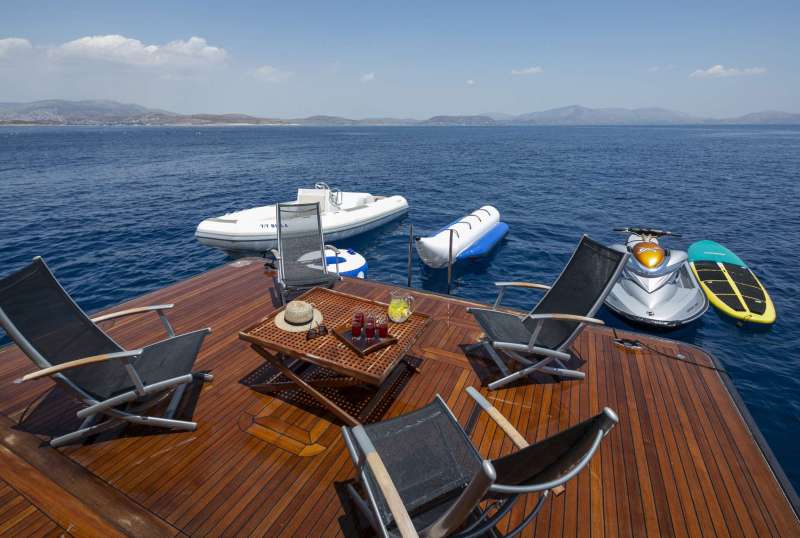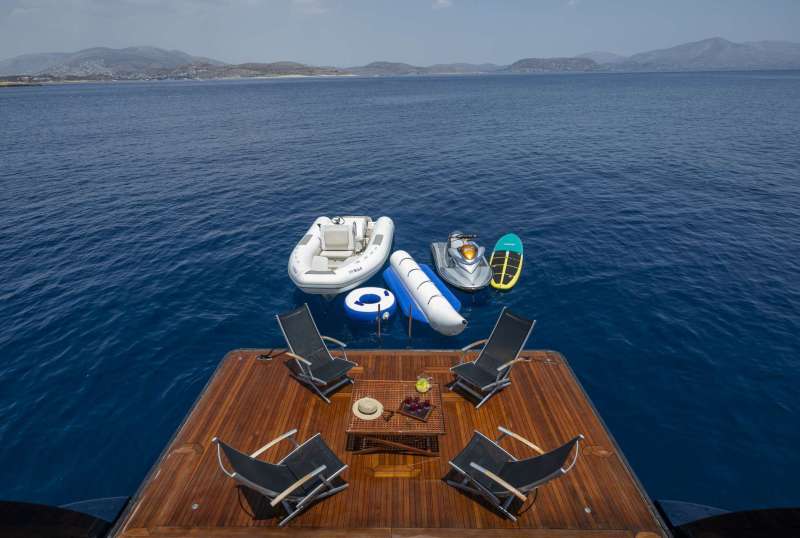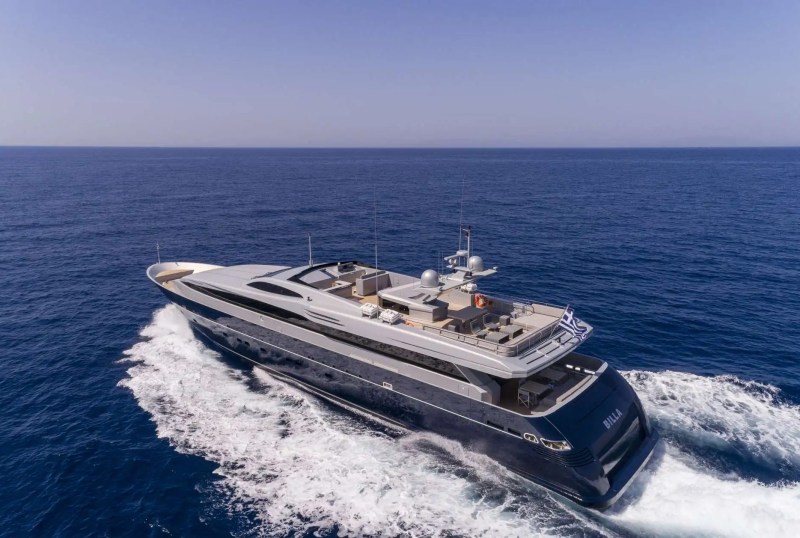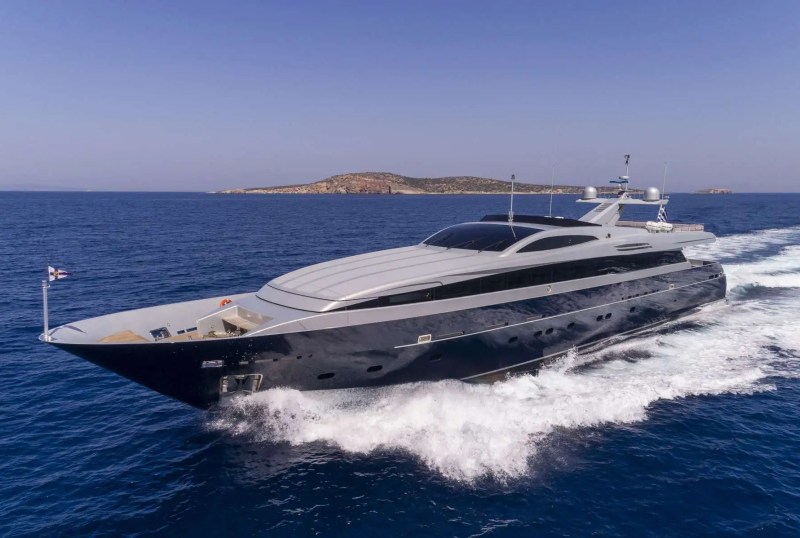 Billa
From €95,000/week
5 cabins
137 ft
Admiral - It
11 guests
Refit: 2022
950 Litres/Hr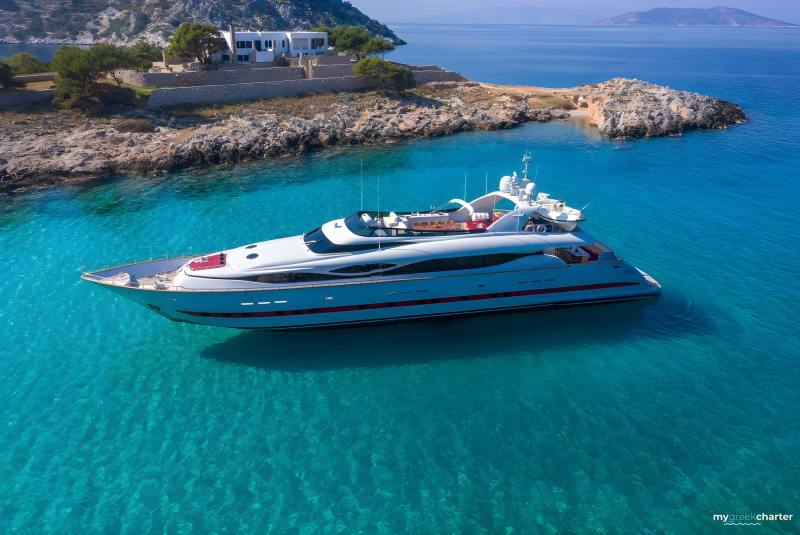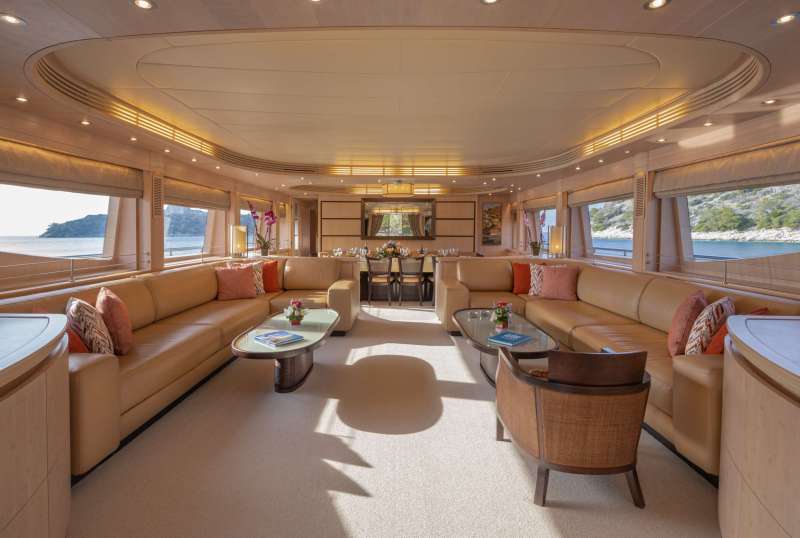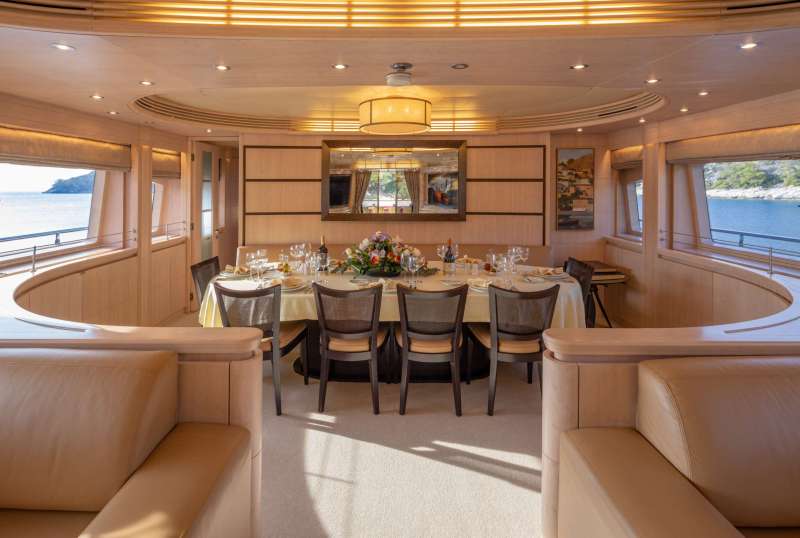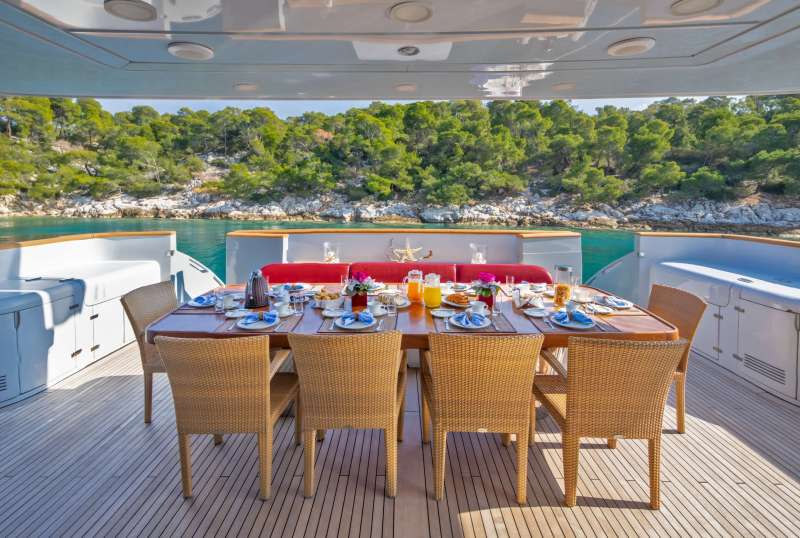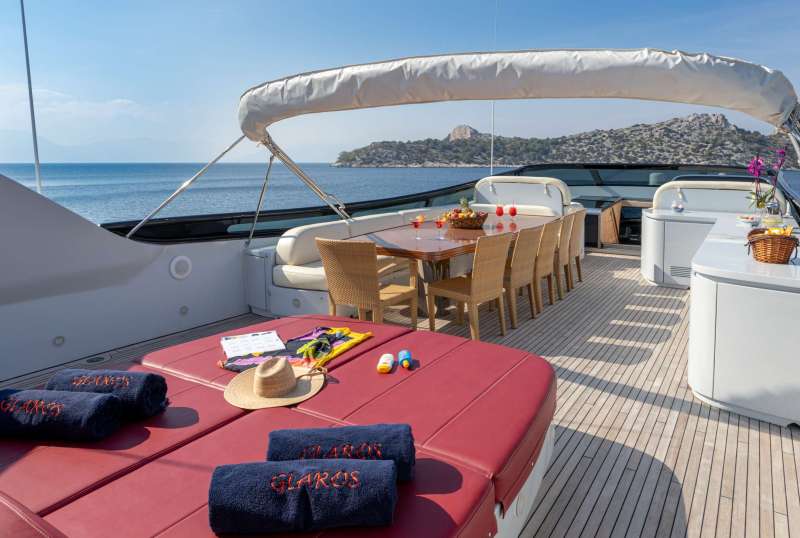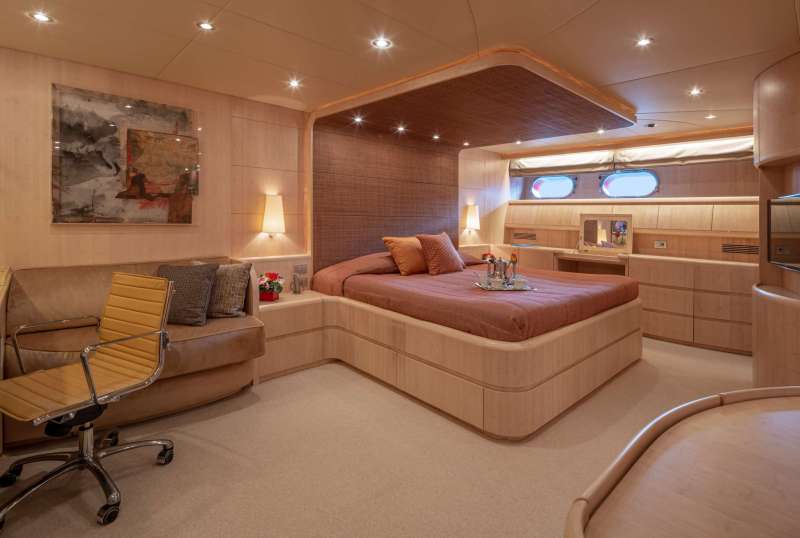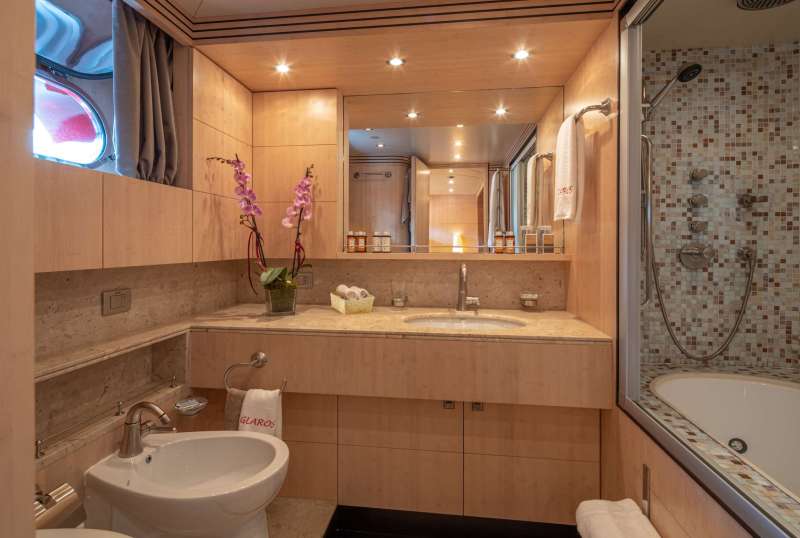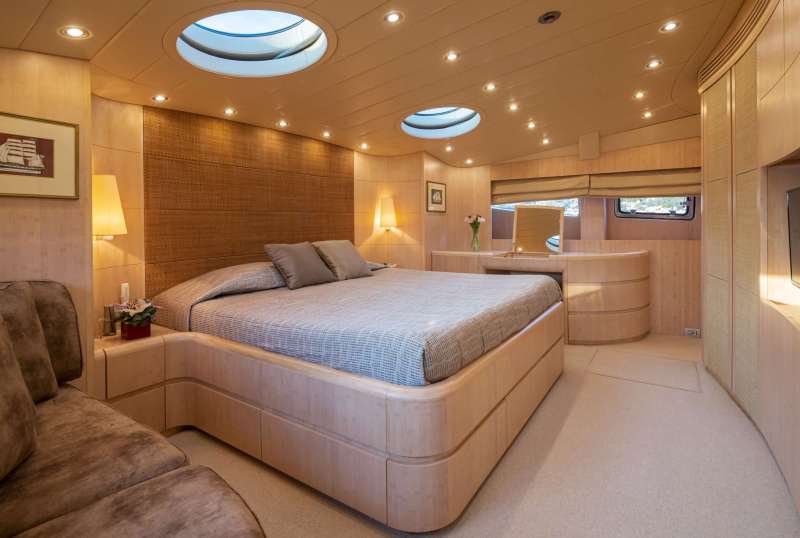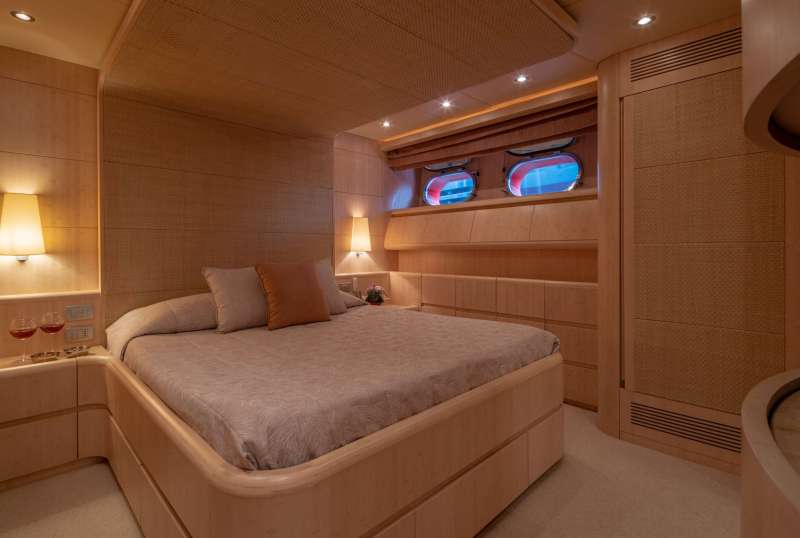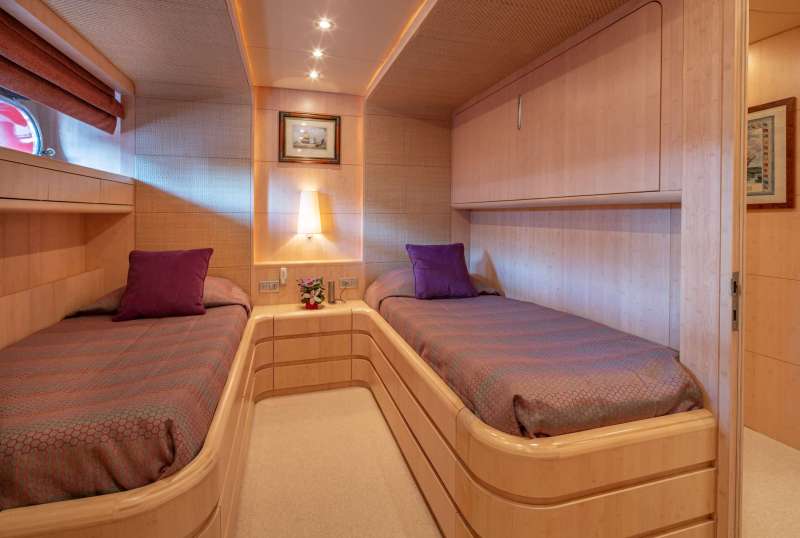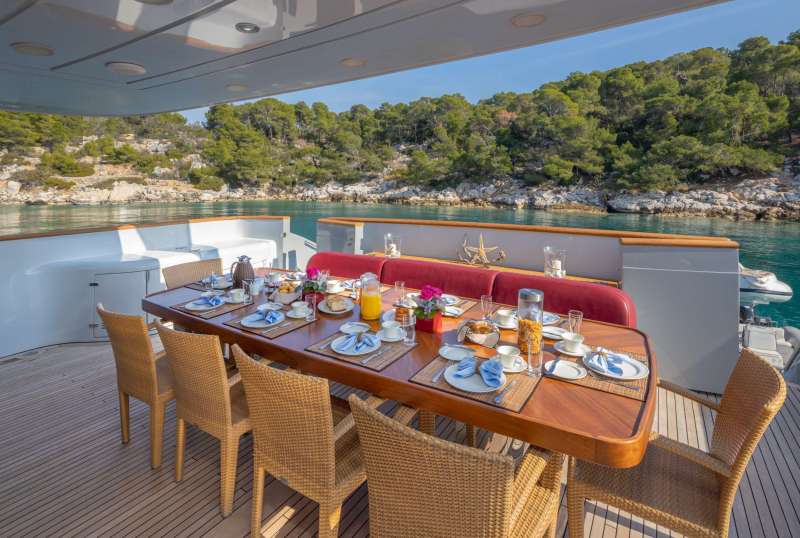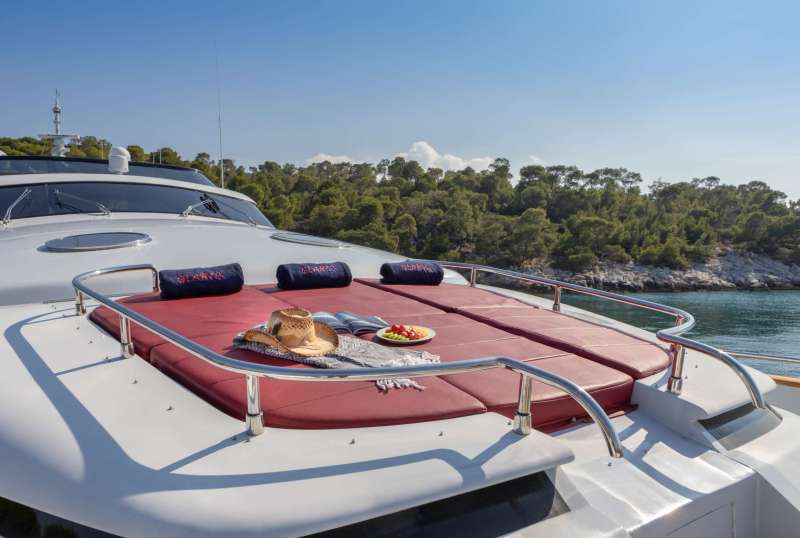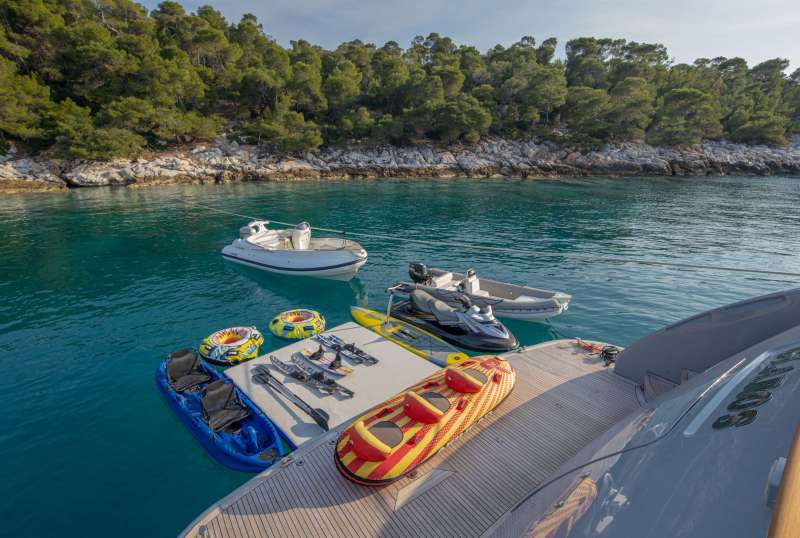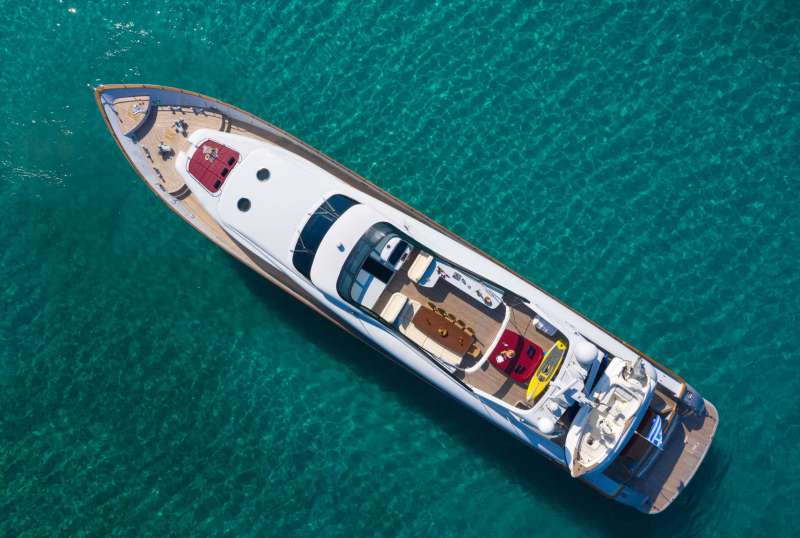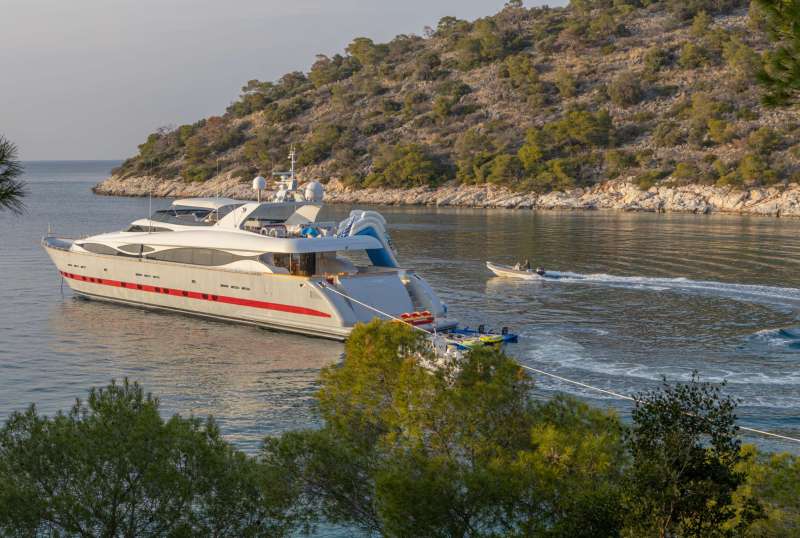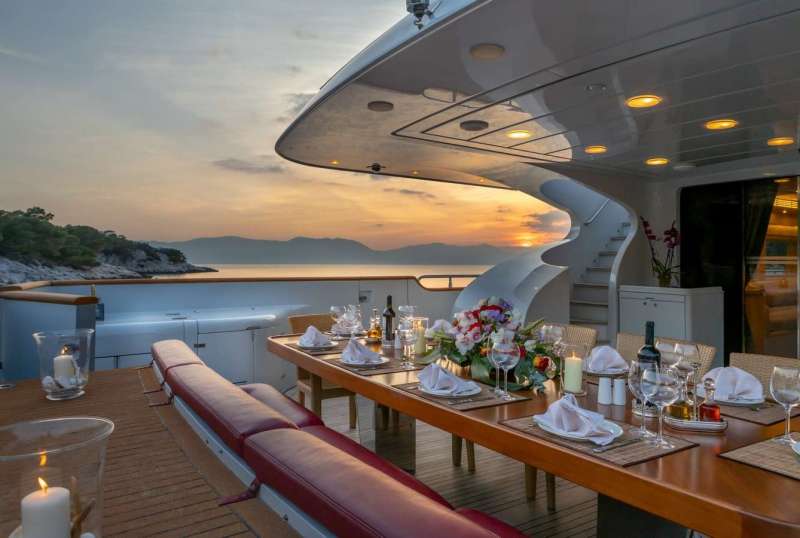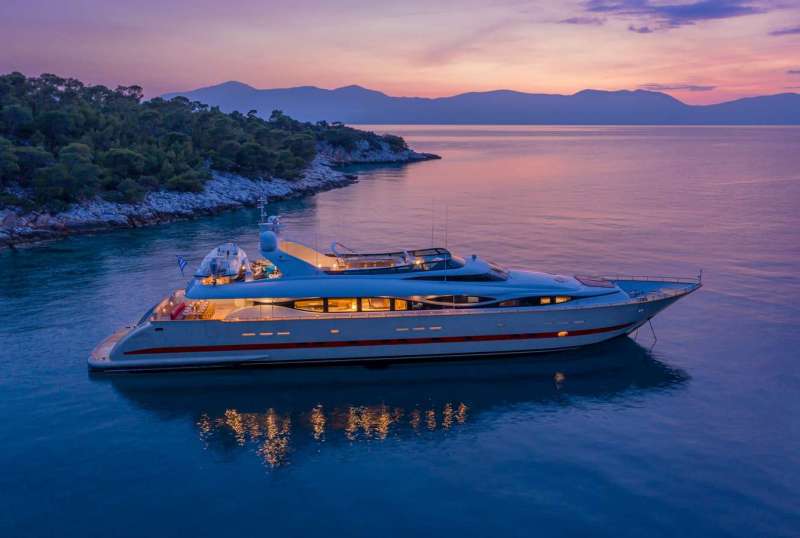 GLAROS
From €95,000/week
6 cabins
132 ft
Maiora
12 guests
Refit: 2019
660 Litres/Hr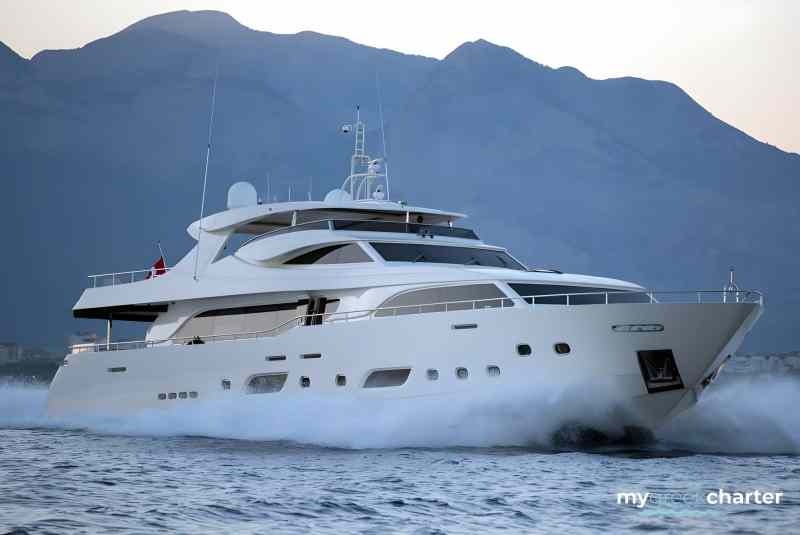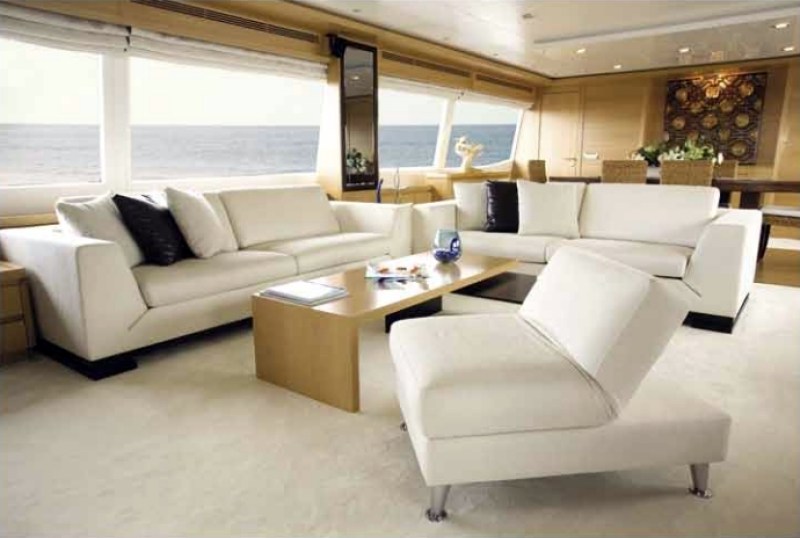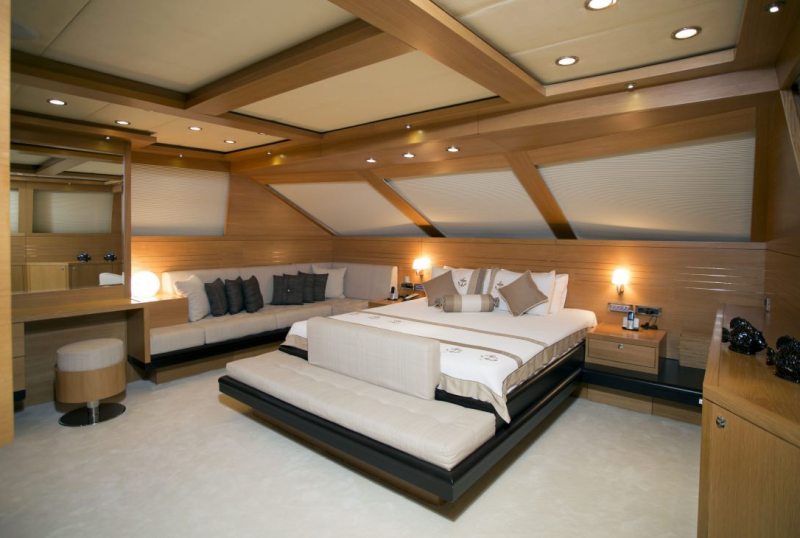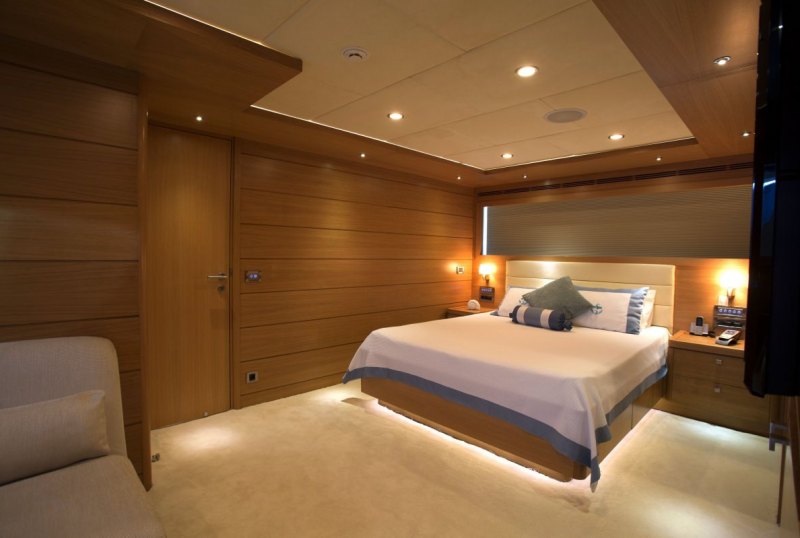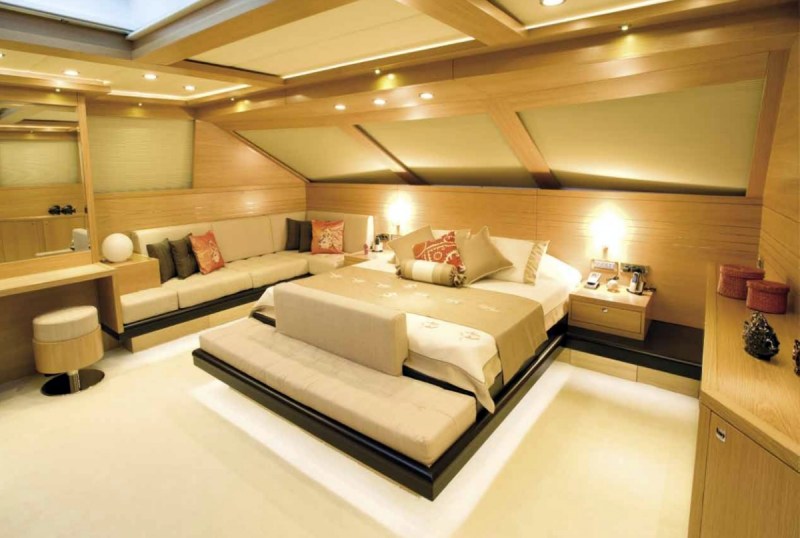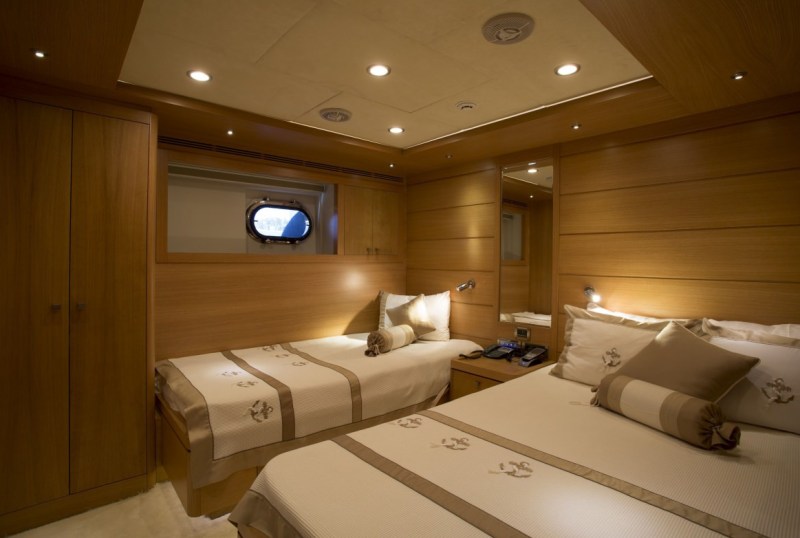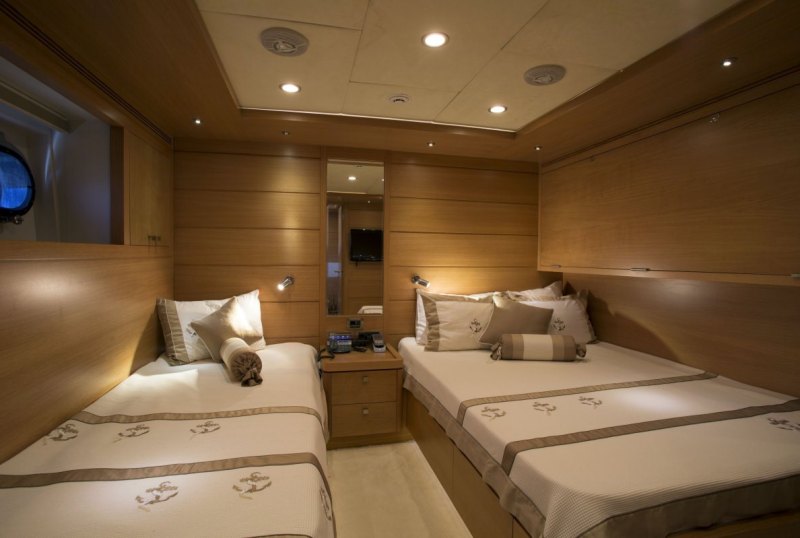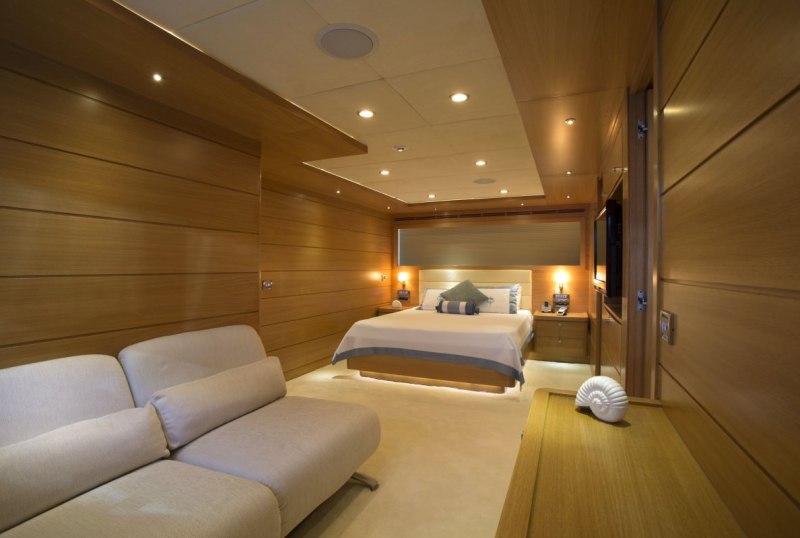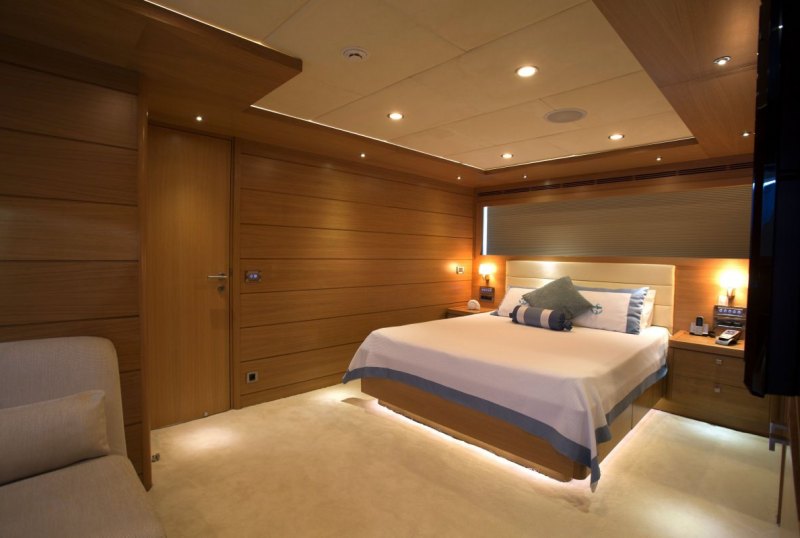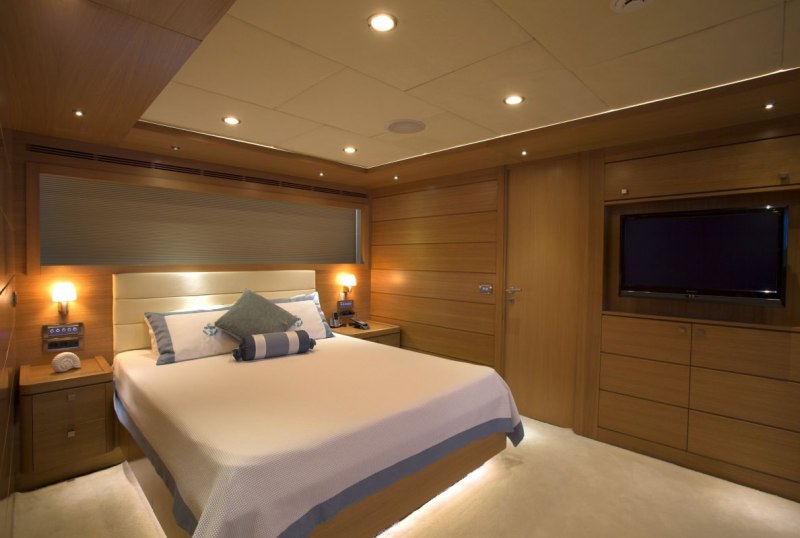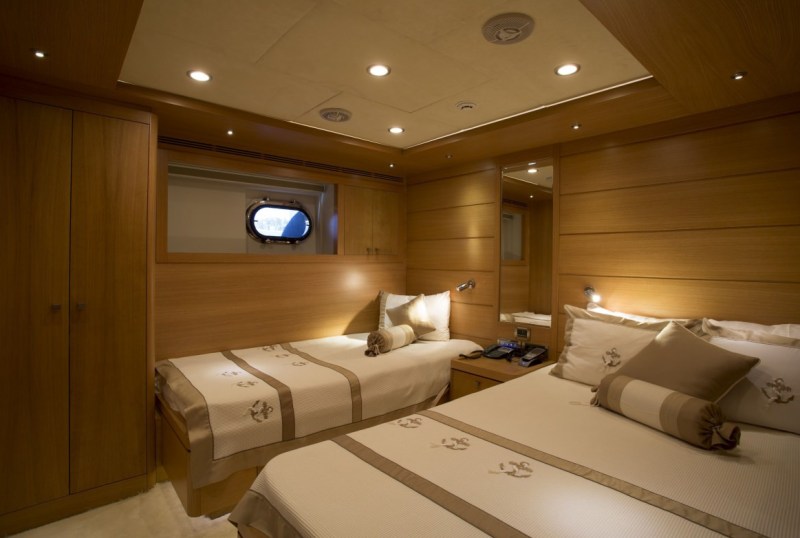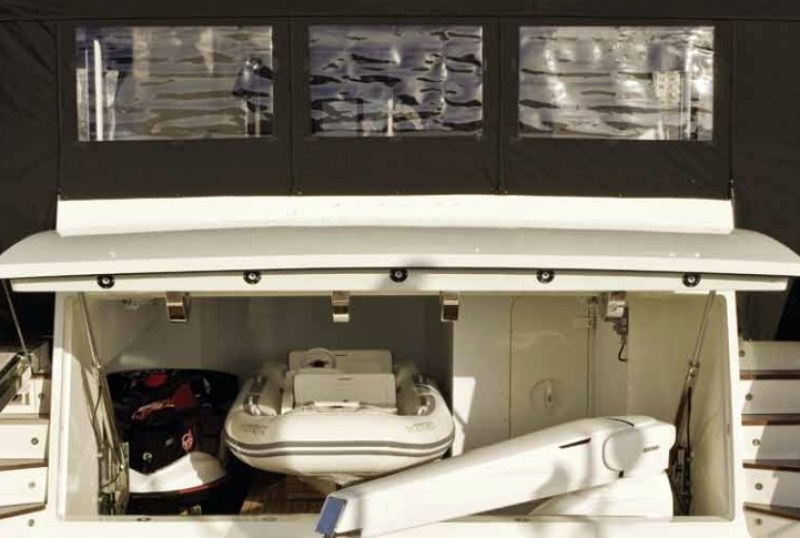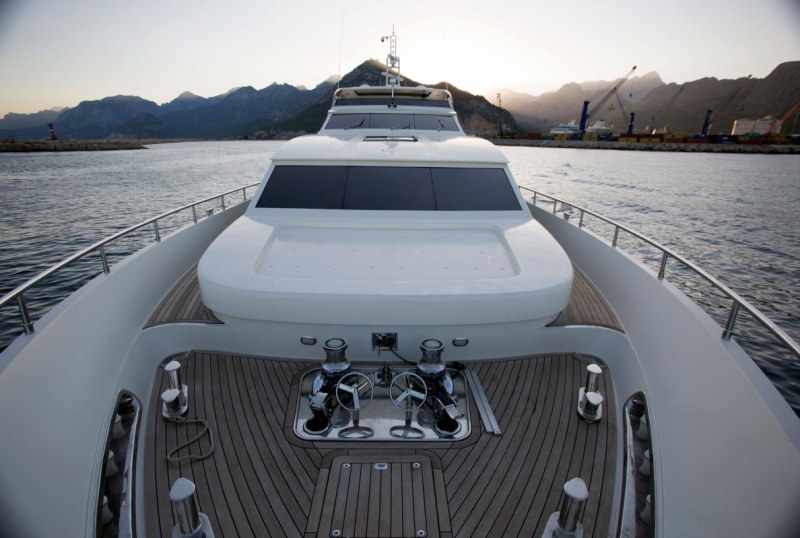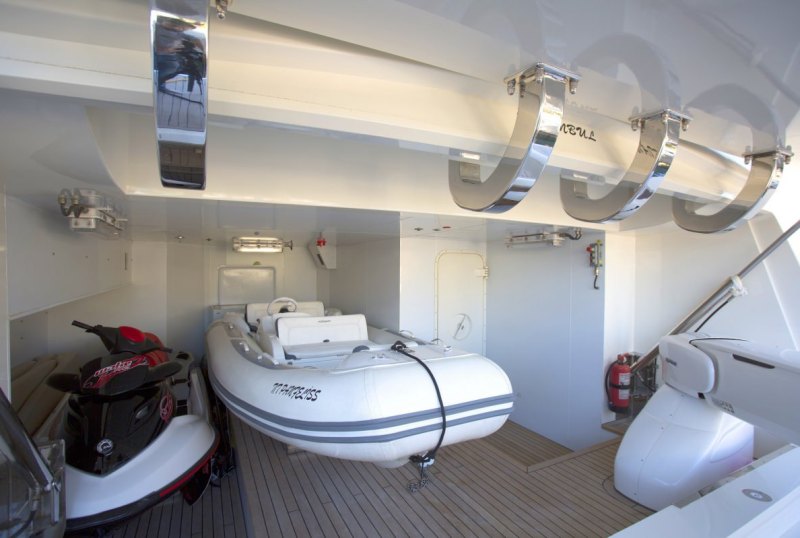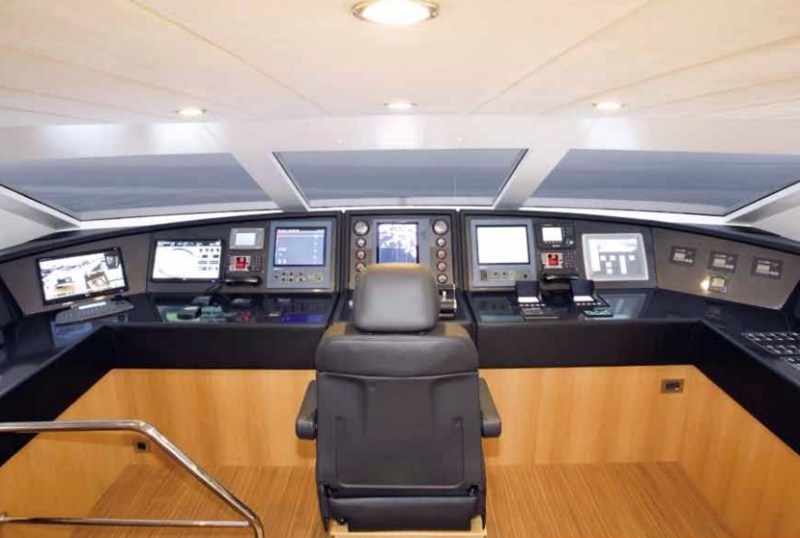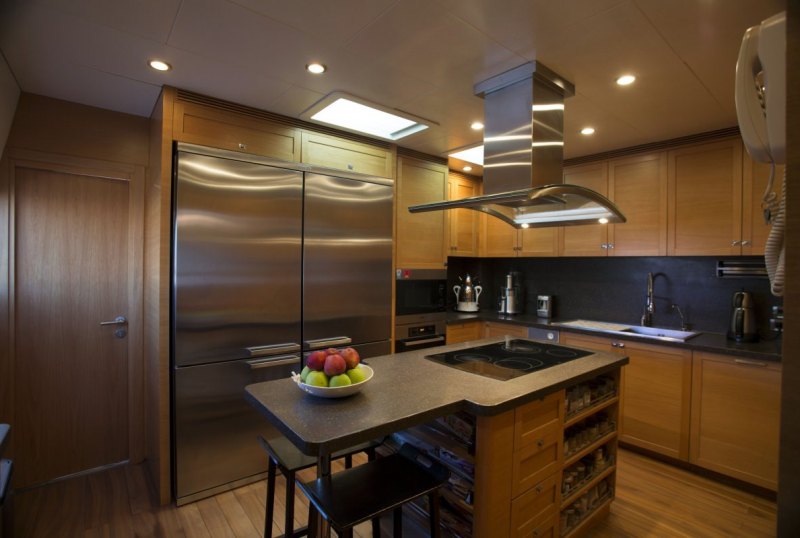 PANFELISS
From €95,000/week
5 cabins
129 ft
Mengi-Yay Tuzla
12 guests
Refit: 2015
600 Litres/Hr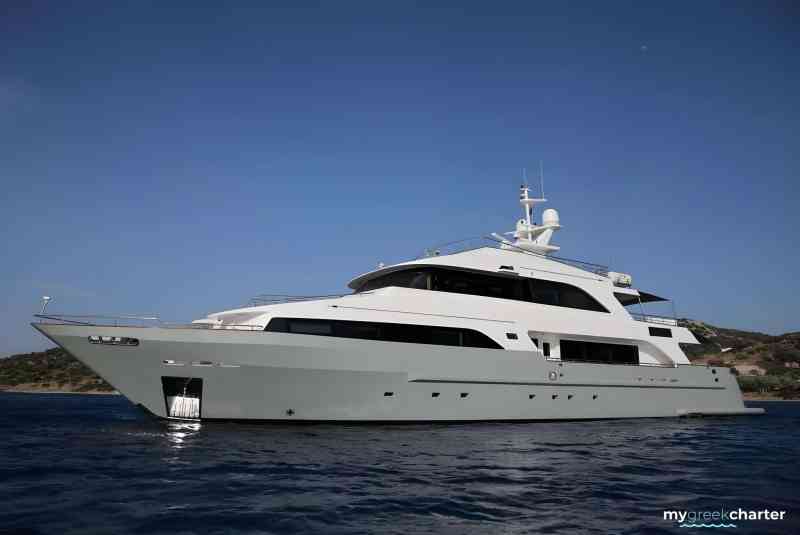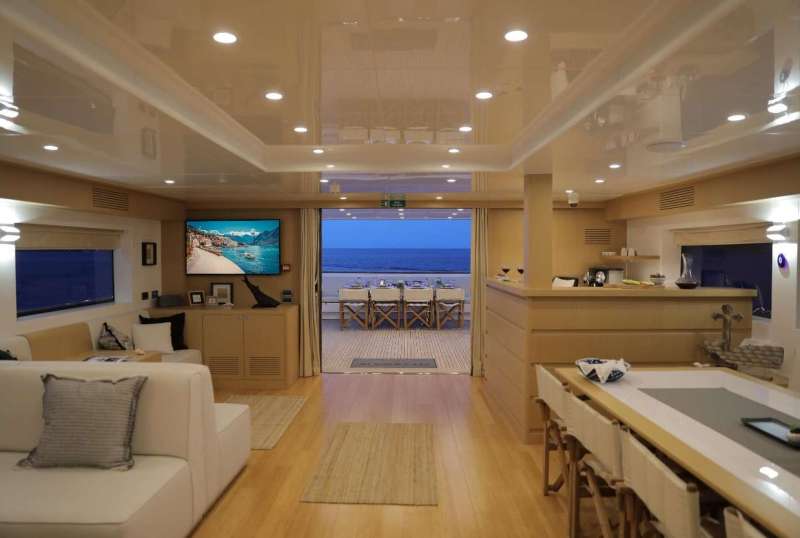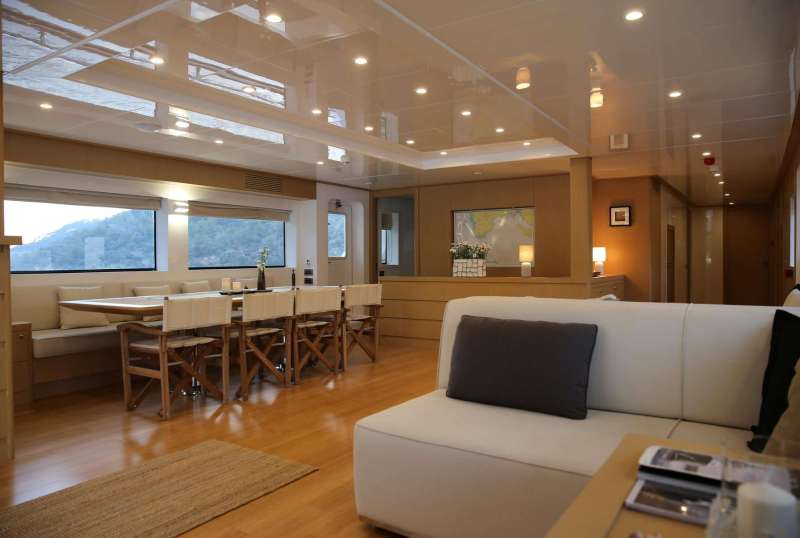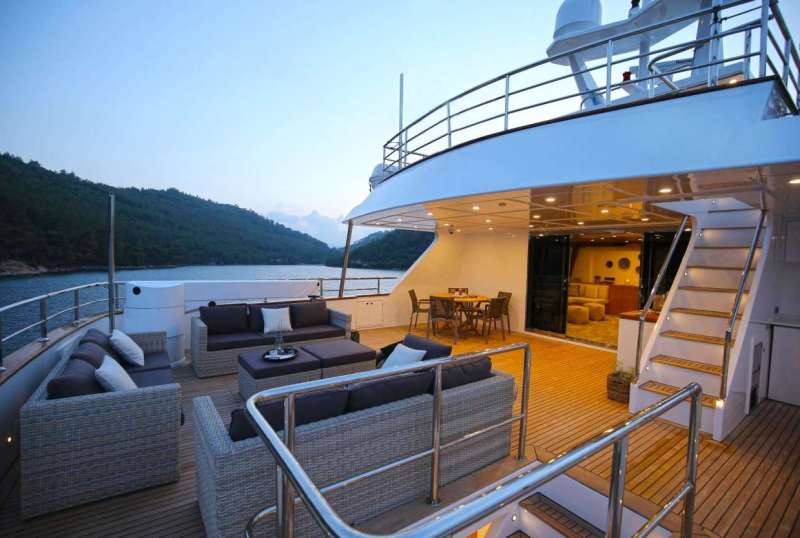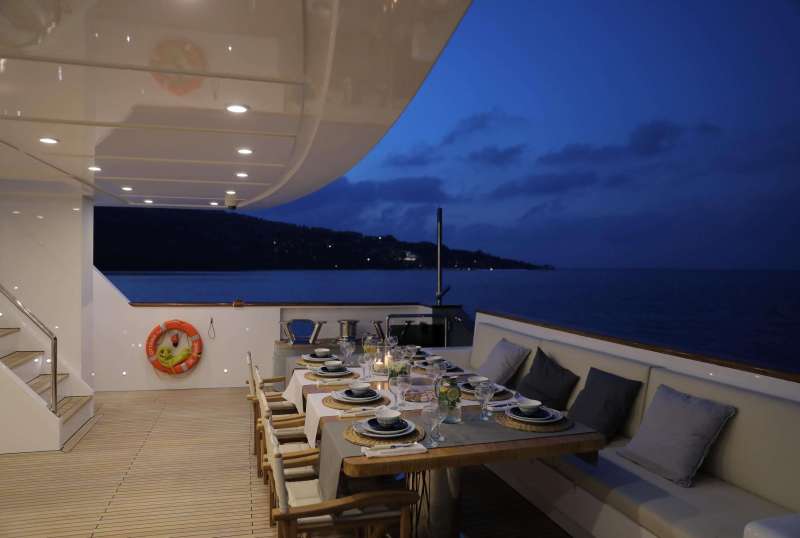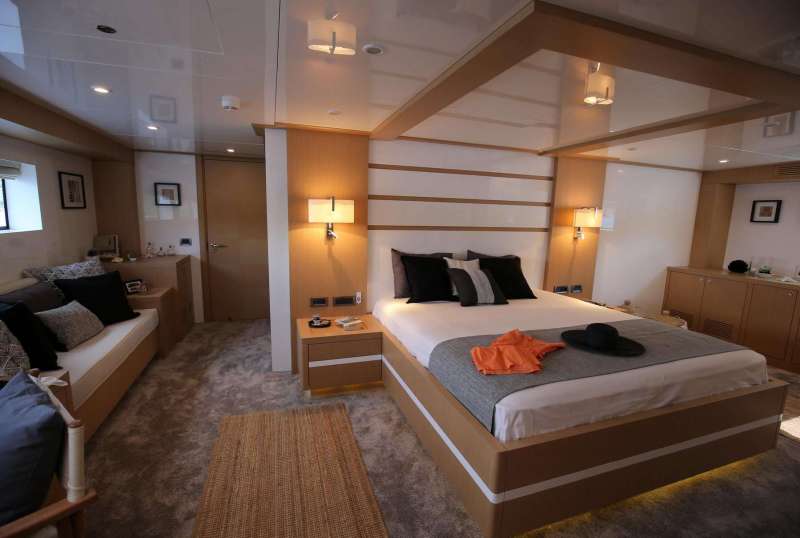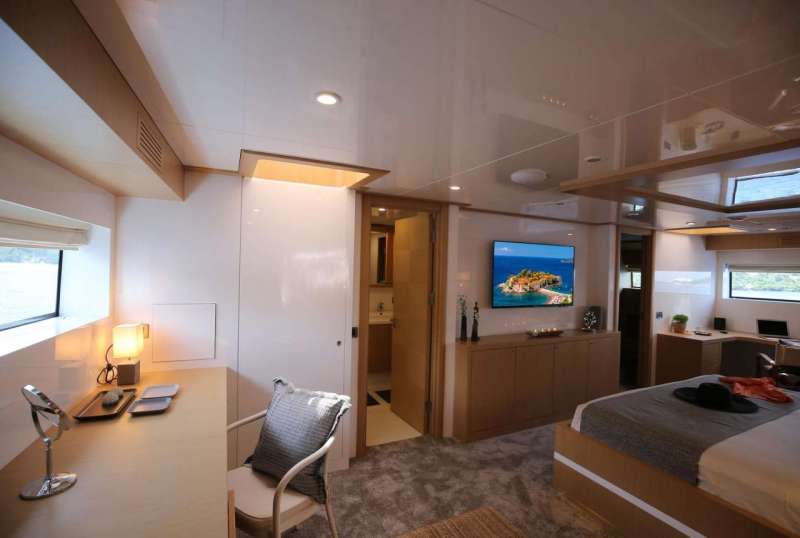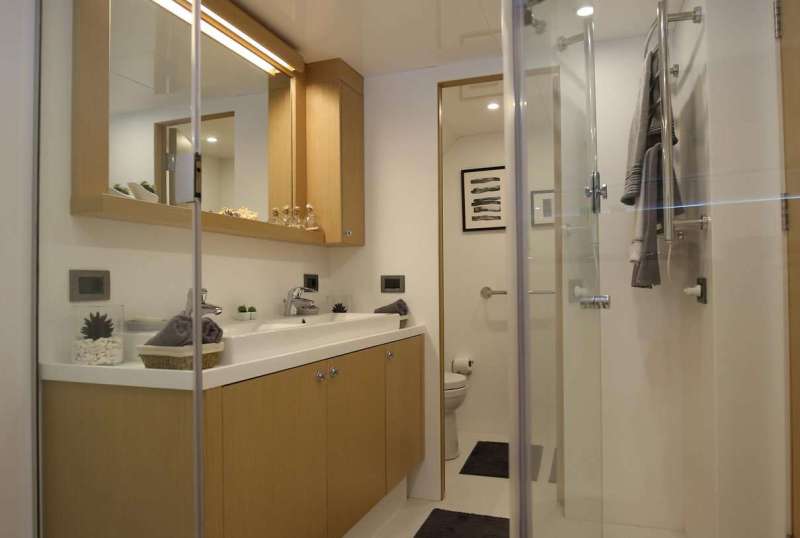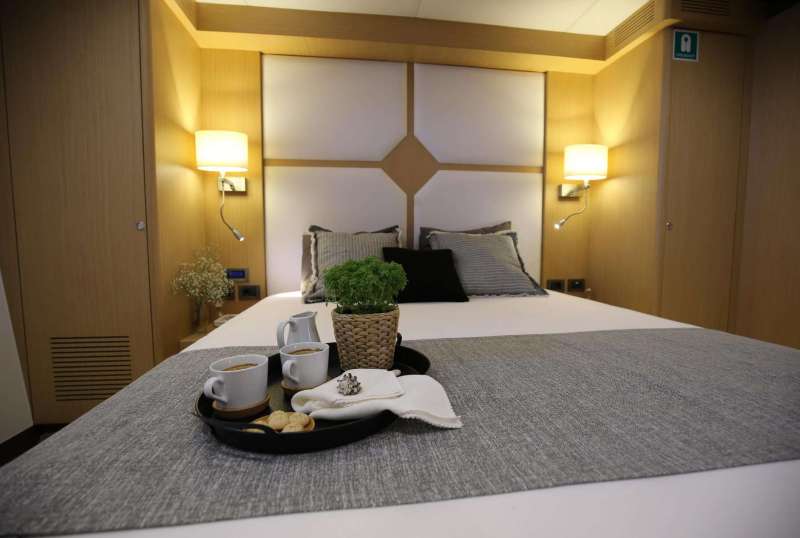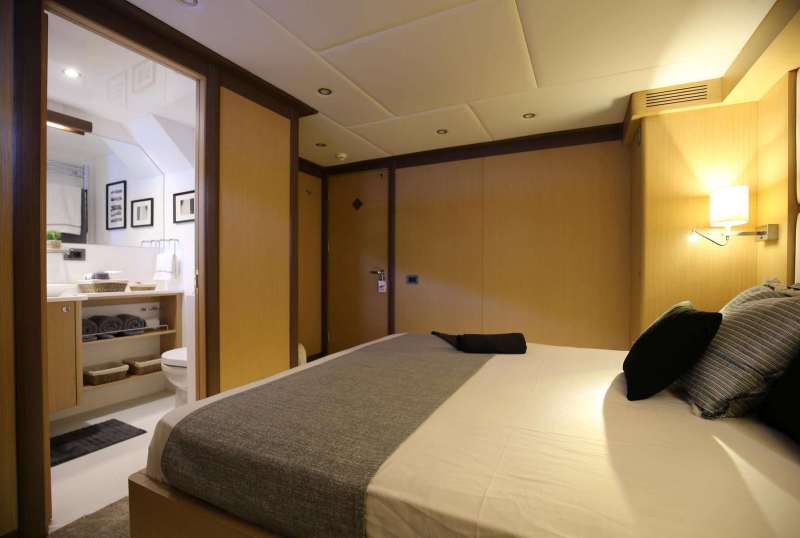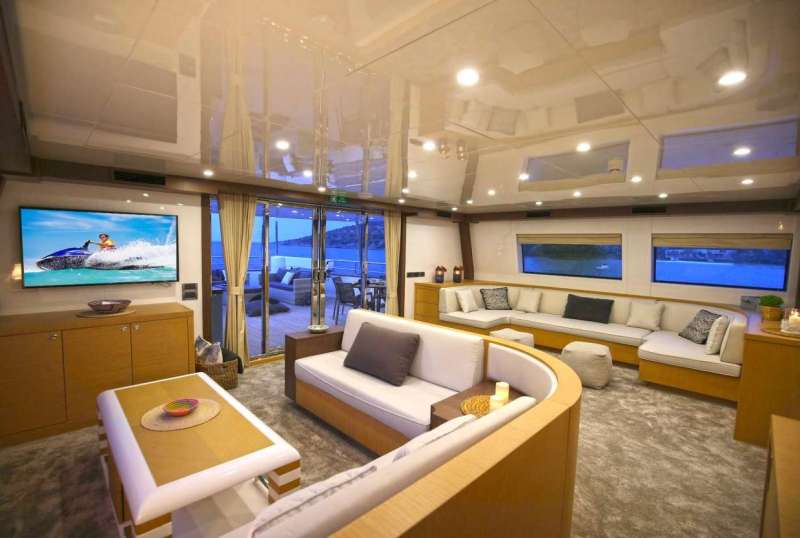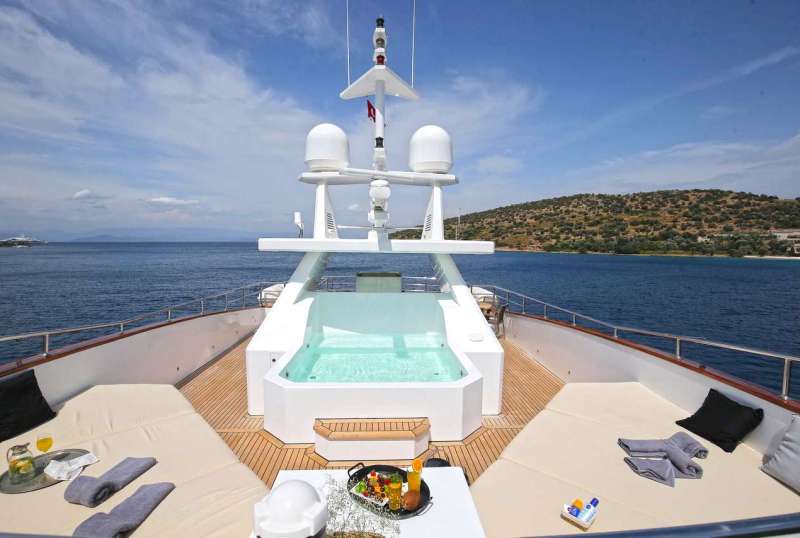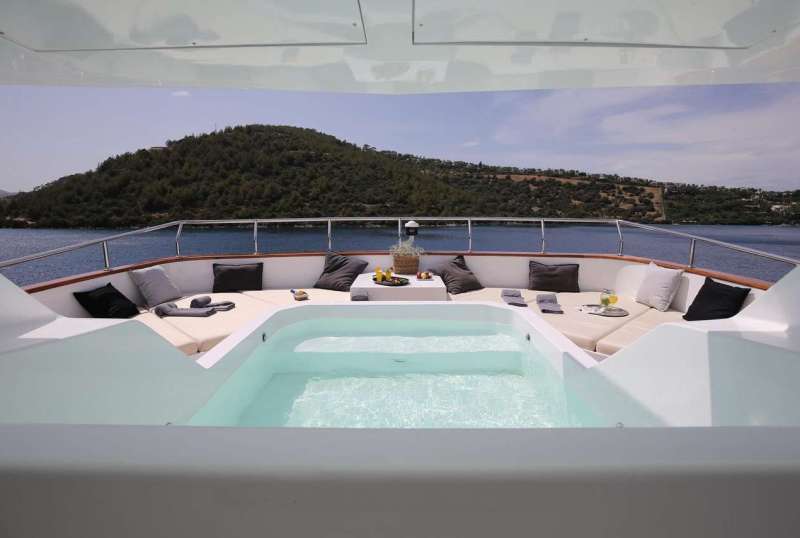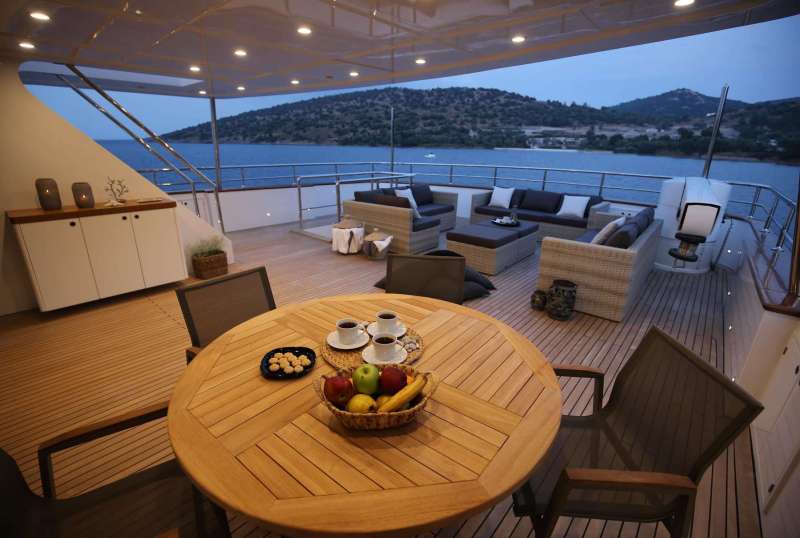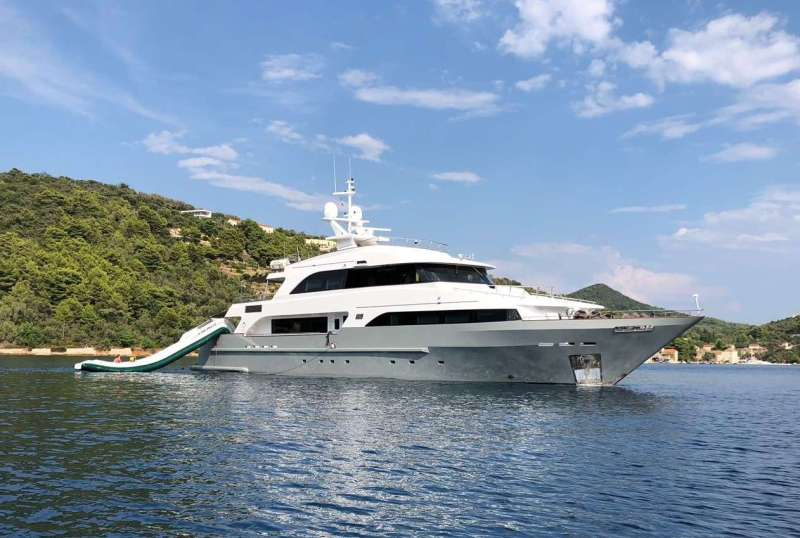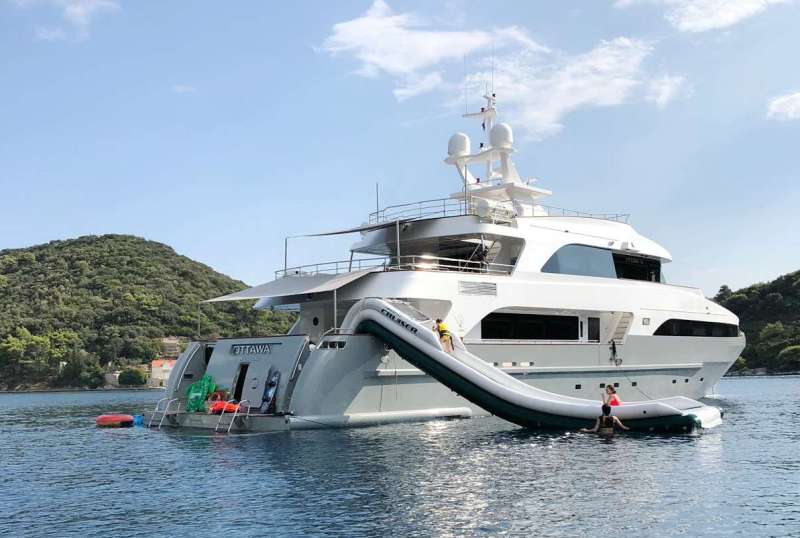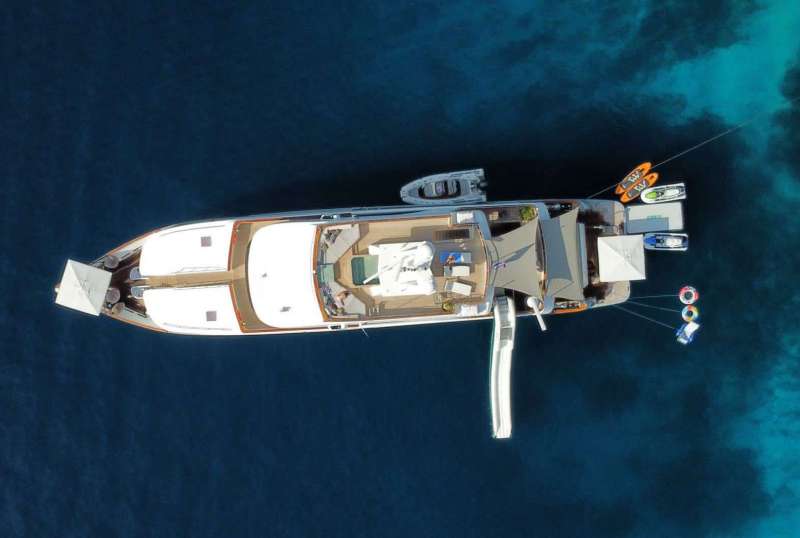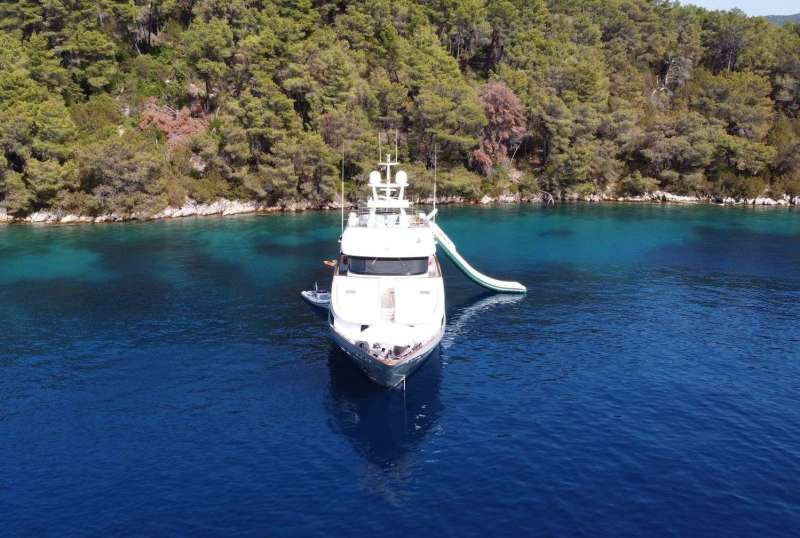 OTTAWA IV
From €95,000/week
5 cabins
127 ft
Custom
12 guests
Built: 2016