You'll notice that the order of the crewed Greek sail charters correlates with the price. We've selected 10 Greek sails across all price ranges and ordered them by their respective cost. That way, you can get a better feel of the individual sail price ranges. Let us know what you think!
10. Matina
Matina is among some of the widest sail yachts with a 30 feet beam and sail area of over 1500 square feet. This 125 feet yacht can accommodate as many as 20 guests in its 8 large staterooms with bath en-suite facilities. With 2 double cabins, 2 triple cabins, and 4 twin cabins, Matina also can house 6 crew members onboard to ensure a luxurious vacation for its guests. The cabins come with air conditioning and onboard wifi facilities. The guests can enjoy a classy dining experience in its salon that is adorned with beautiful woodwork. They can also enjoy an al fresco dining experience in the aft. The main cabin has sun mattresses on top for the guests to sunbathe and relax. It has all modern recreational facilities for guests, such as Windsurfer, Fishing Equipment, Water-Skis and Snorkeling Equipment. Matina promises to provide its guests with a vacation for them to remember for decades.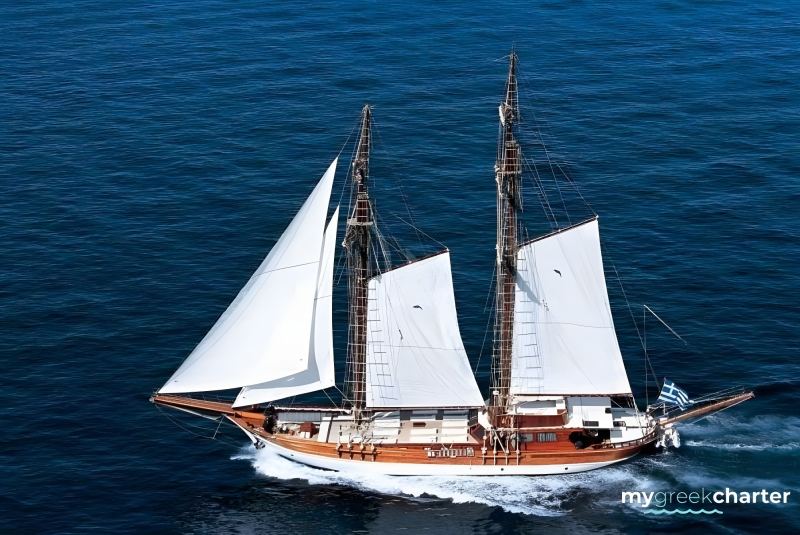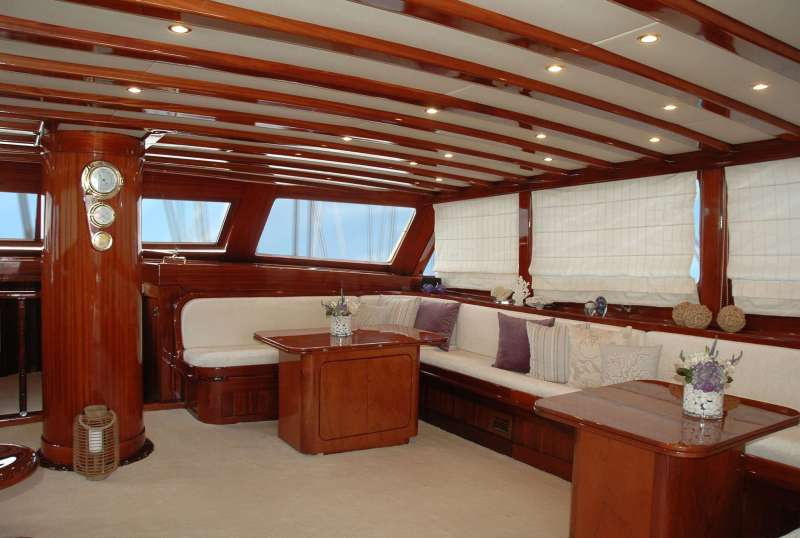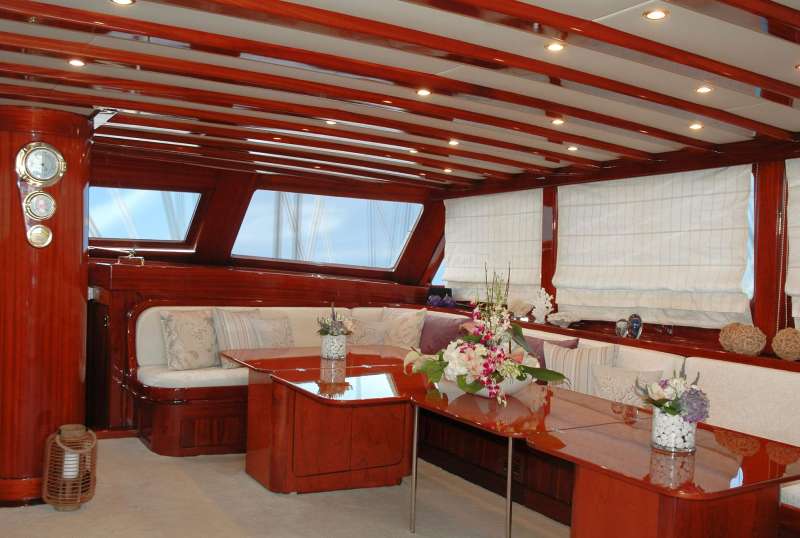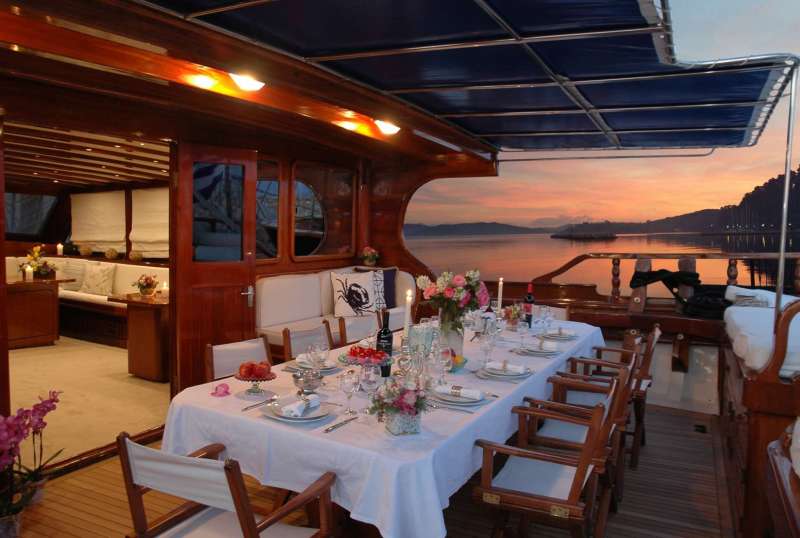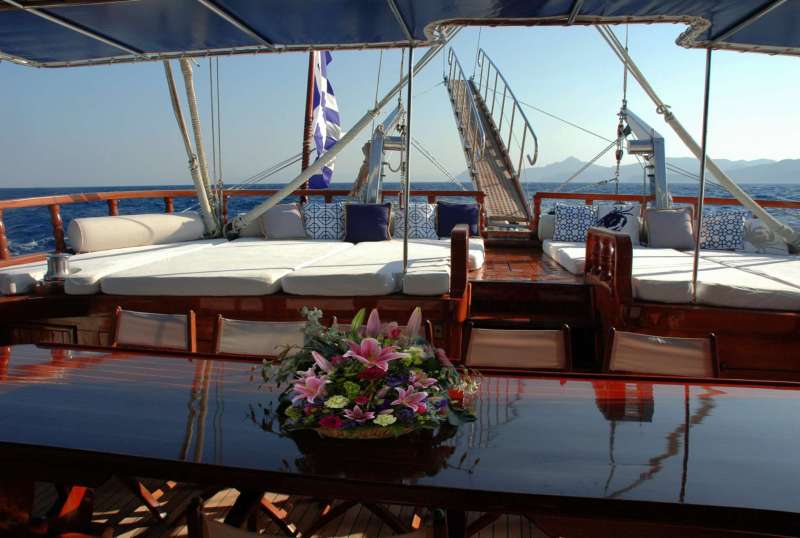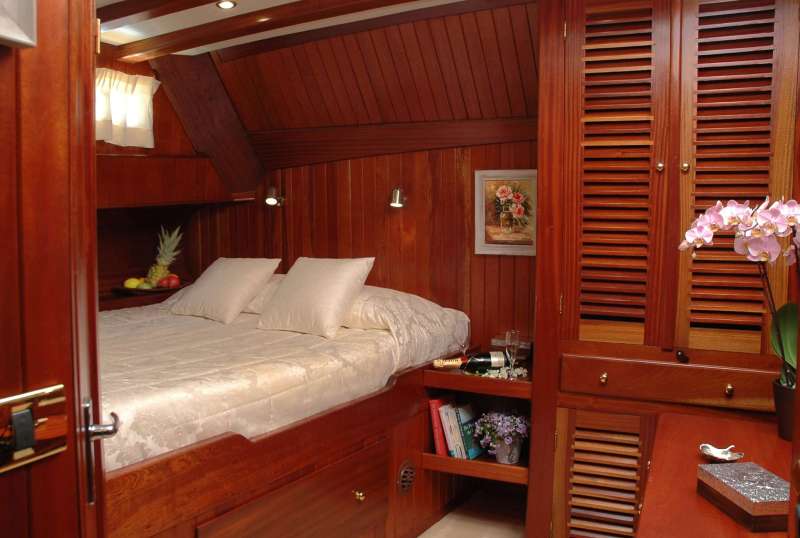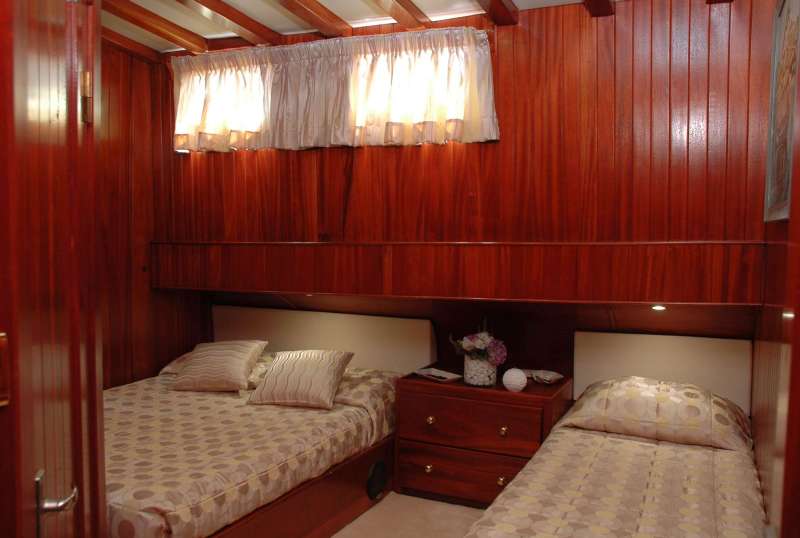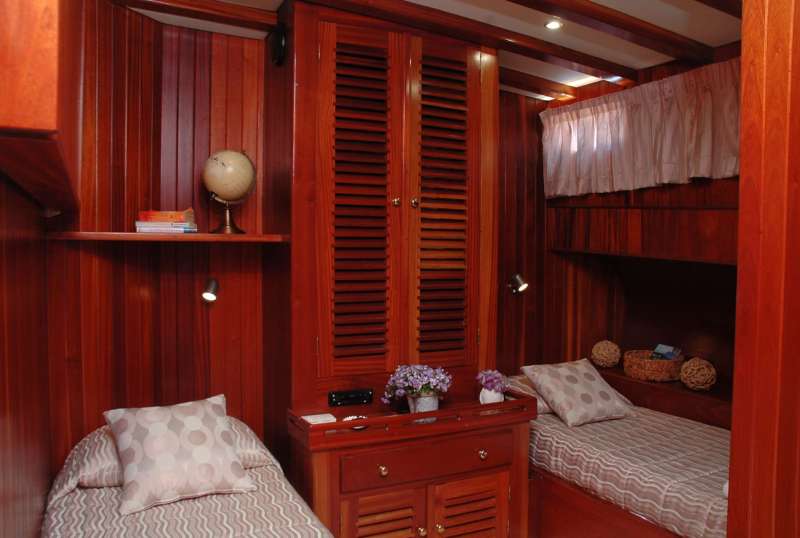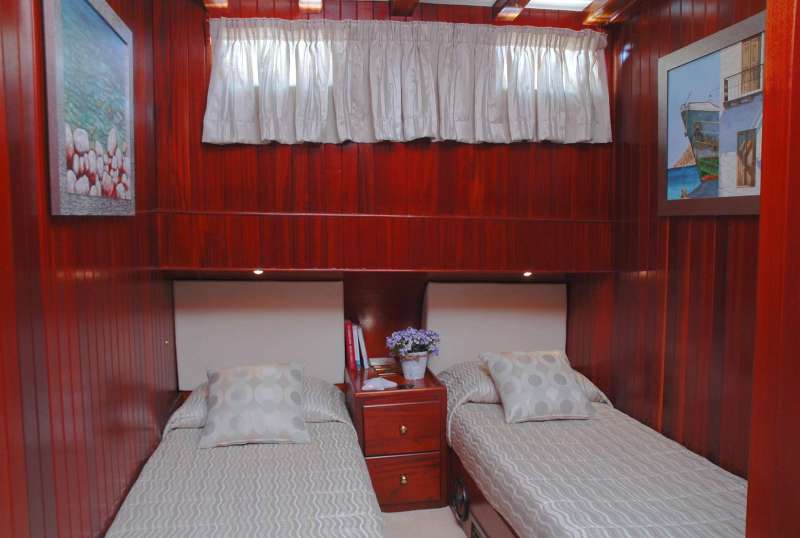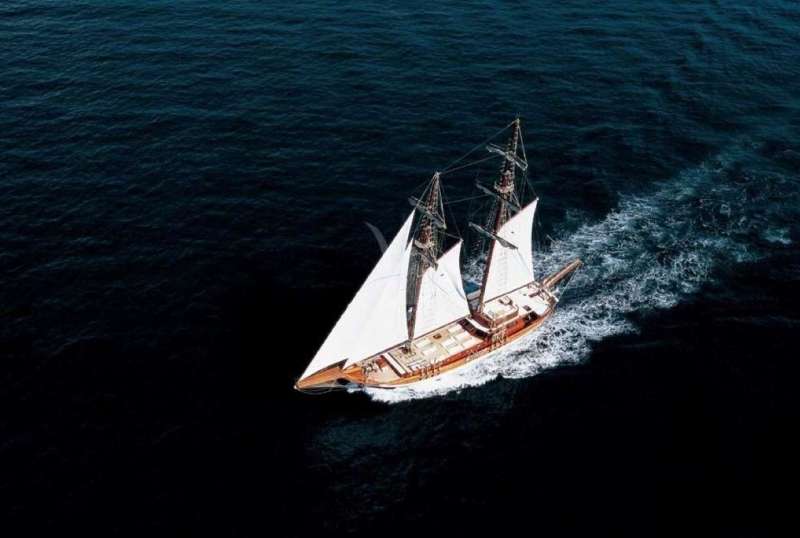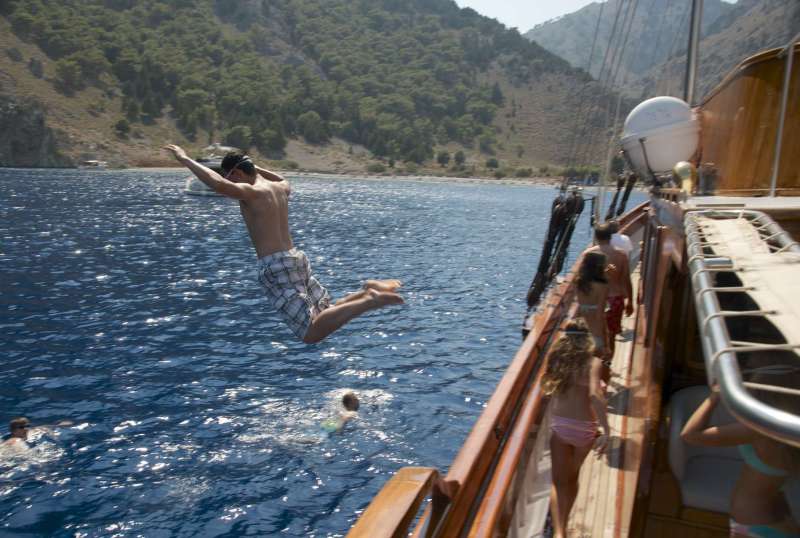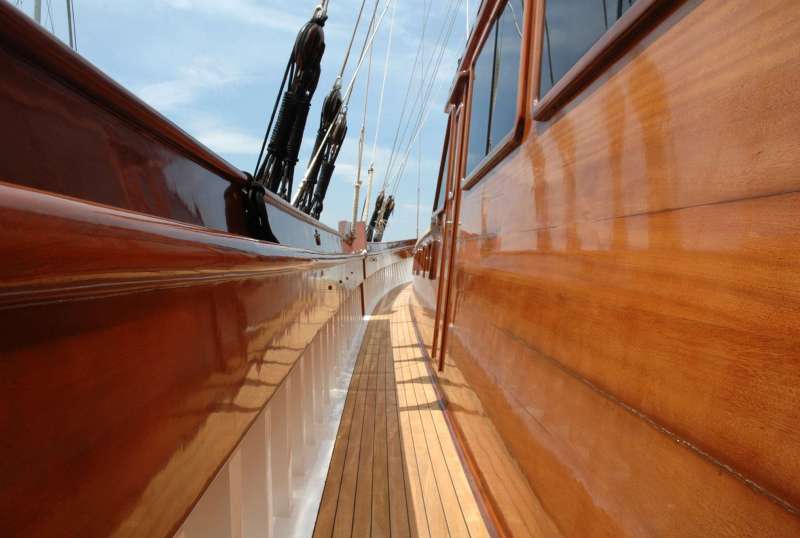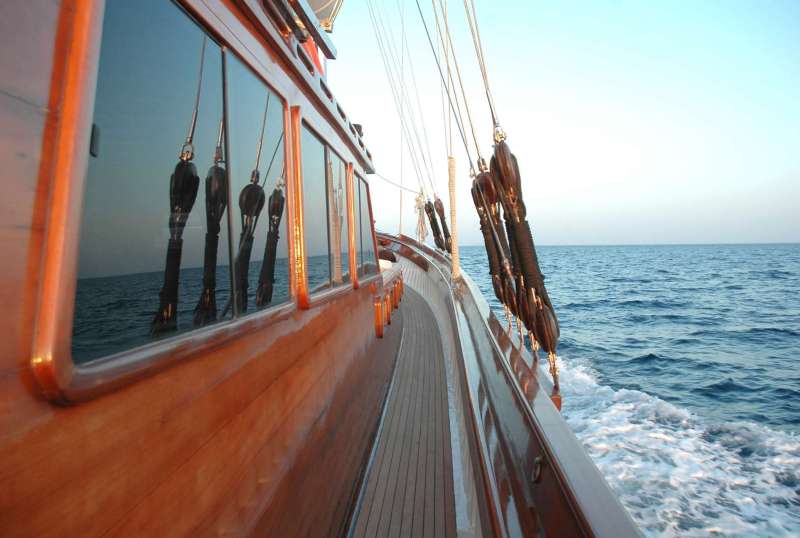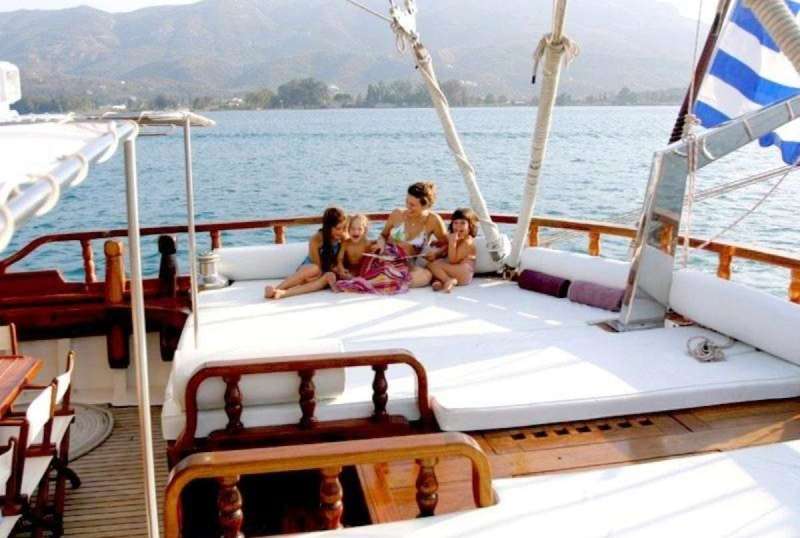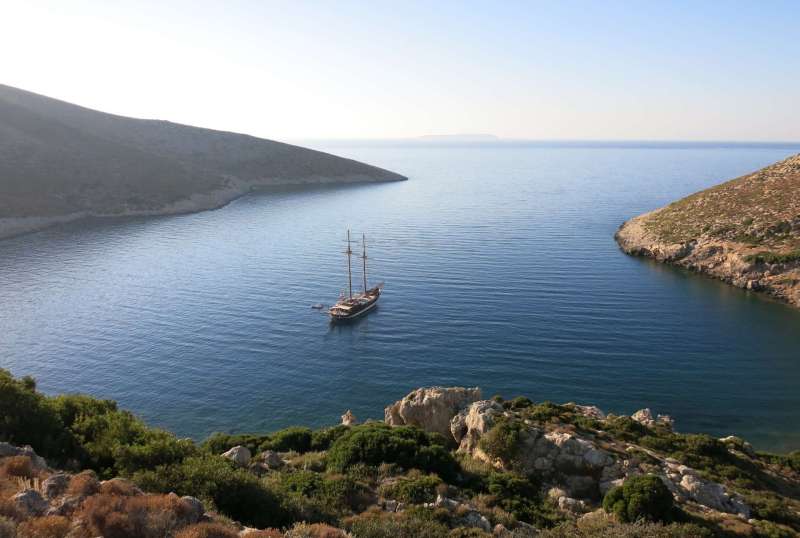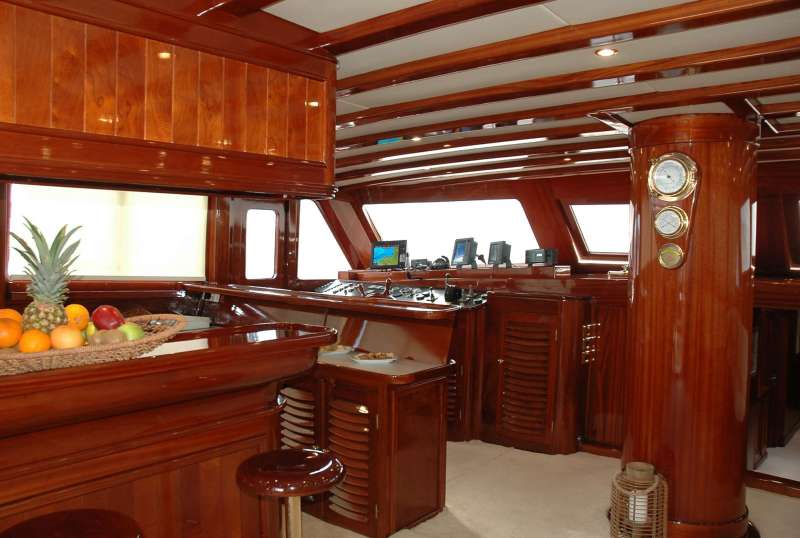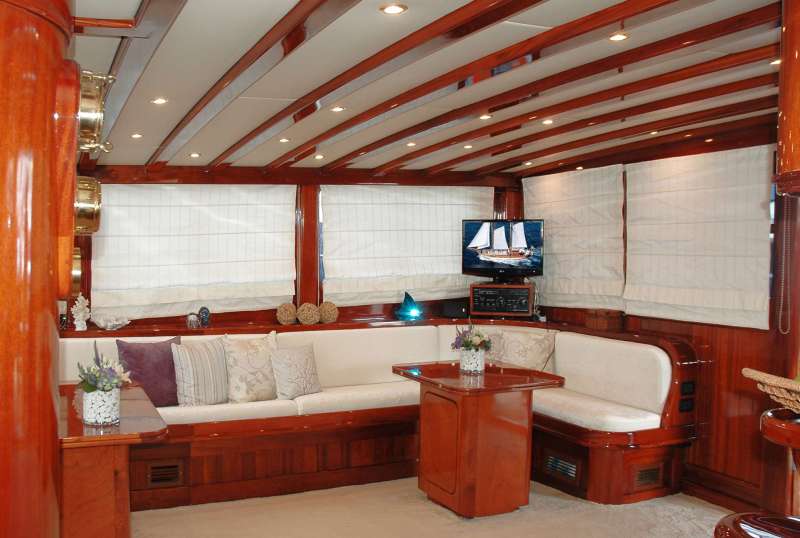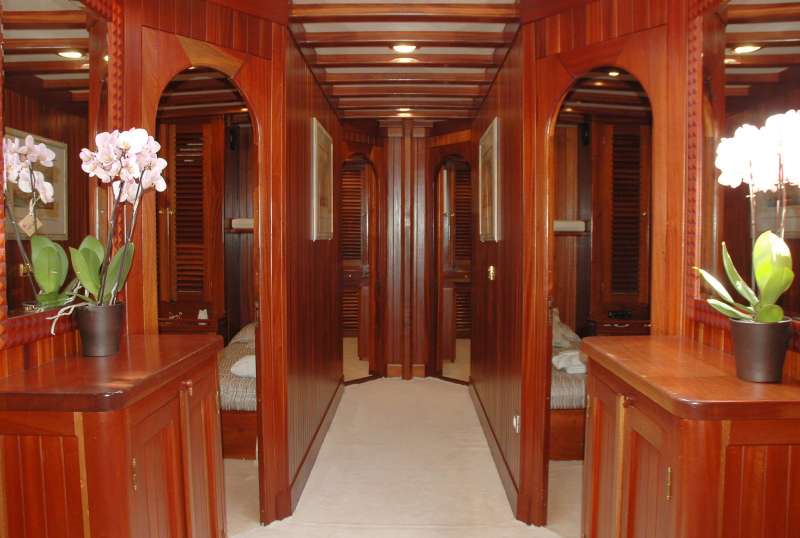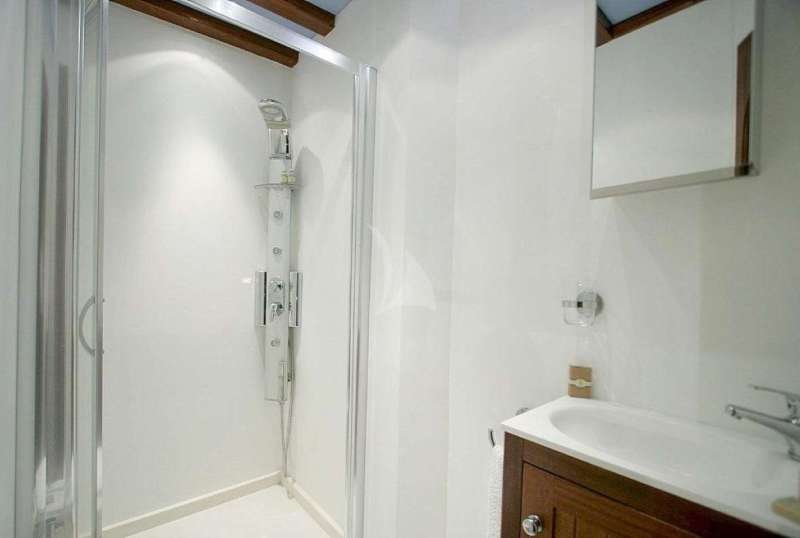 MATINA
From €41,300/week
8 cabins
124 ft
Custom
20 guests
Refit: 2020
140 Litres/Hr
9. Amadeus
Built by the famous Dynamique Yacht shipyard in 1995 and refit in 2014, Amadeus is a luxurious sail yacht that measures 110 feet in length. The yacht can accommodate up to 12 guests in its 5 cabins with en-suite facilities. The 5 cabins include a Master Cabin with a double bed and ample storage space as well as entertainment facilities. It also has 2 double cabins with additional single beds and 2 twin cabins. The yacht was built to provide outstanding sailing performance coupled with superb comfort and luxury. The deck has ample space for relaxation and sunbathing. The outdoor salon features a table for dining, a bar, and barbeque facilities which makes it perfect for an al fresco dining experience. Its recreational equipment includes Waterskis, Windsurfers, Scuba diving equipment, Snorkeling, and fishing equipment. With a pool on the foredeck, which is an exceptional feature for a sailing yacht, Amadeus assures a unique vacation experience for its guests.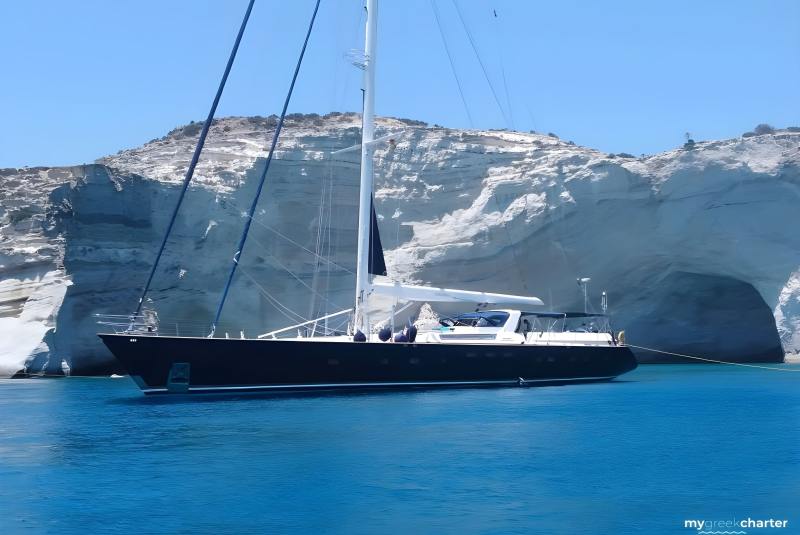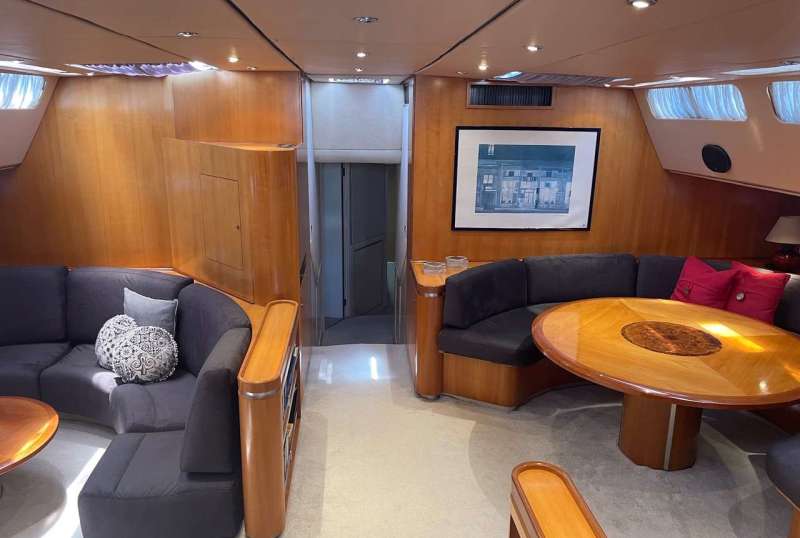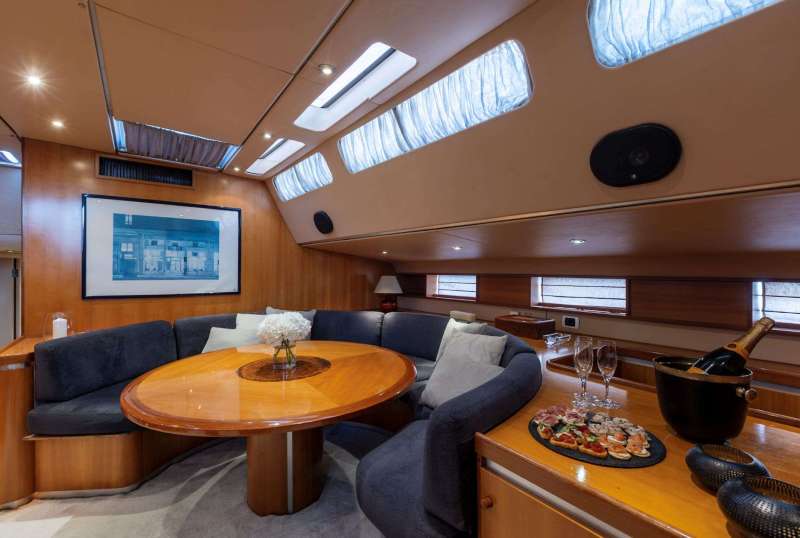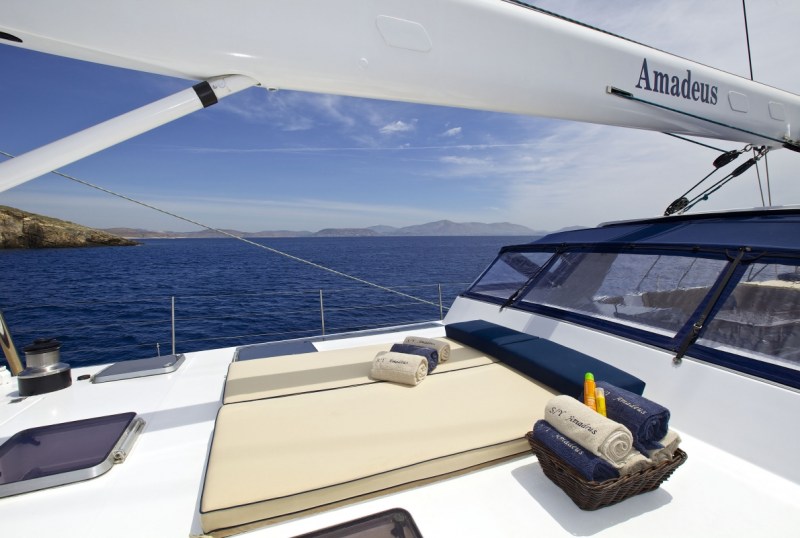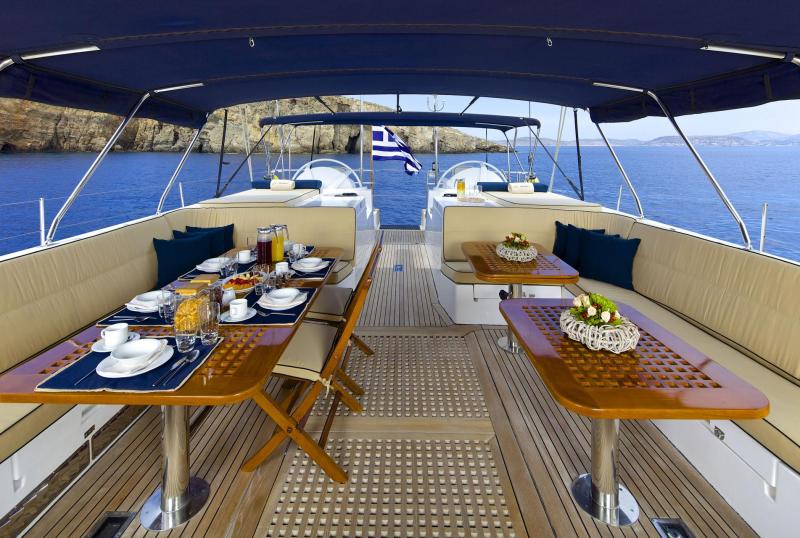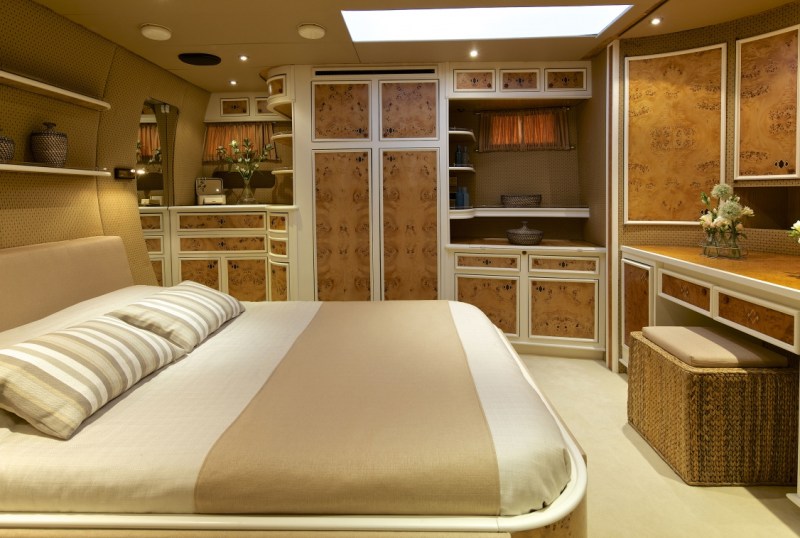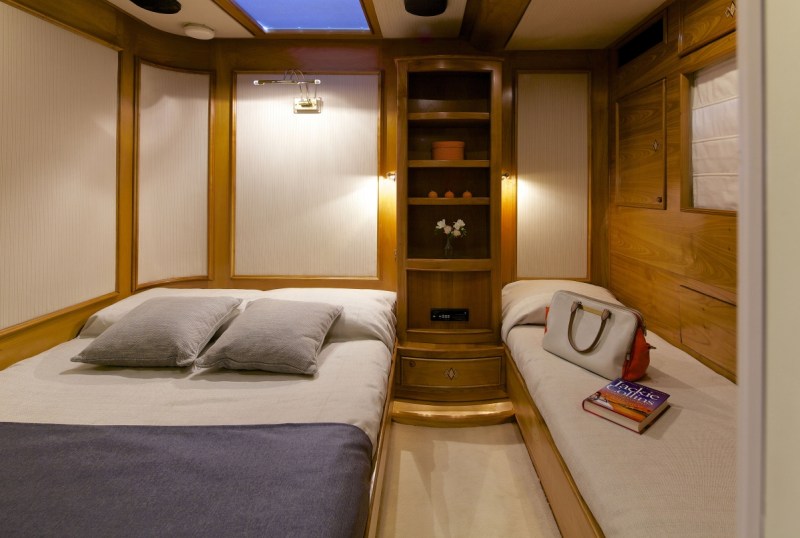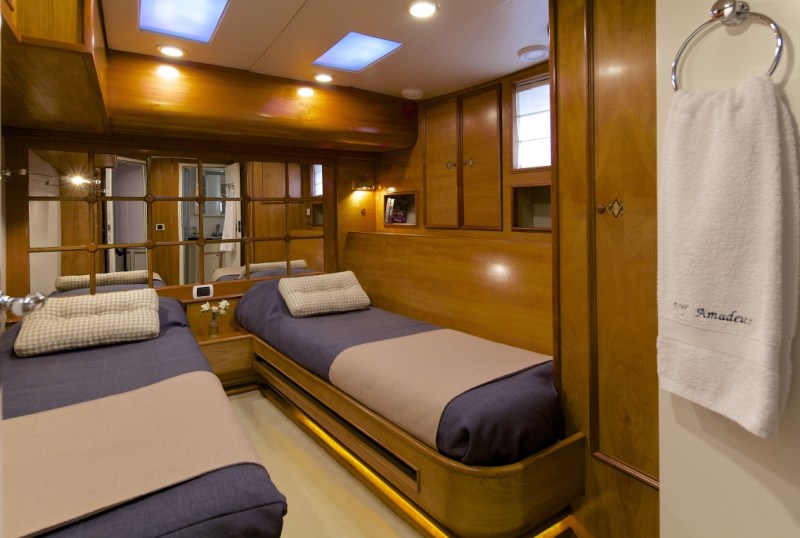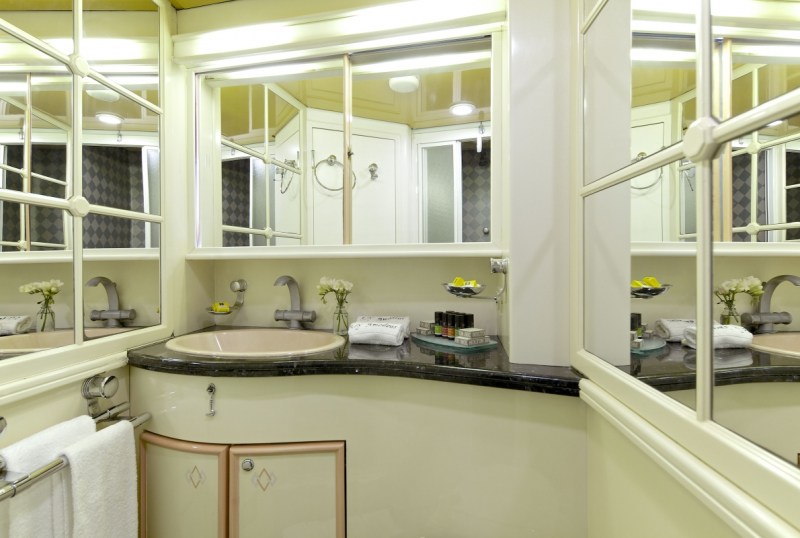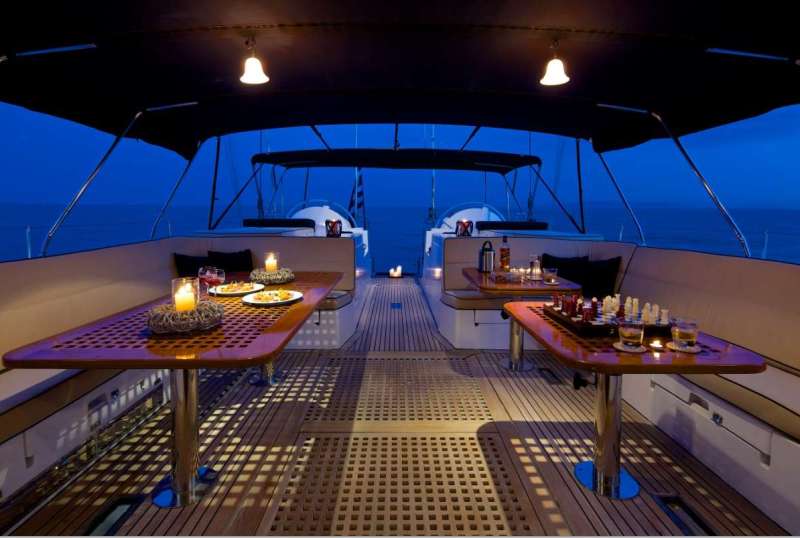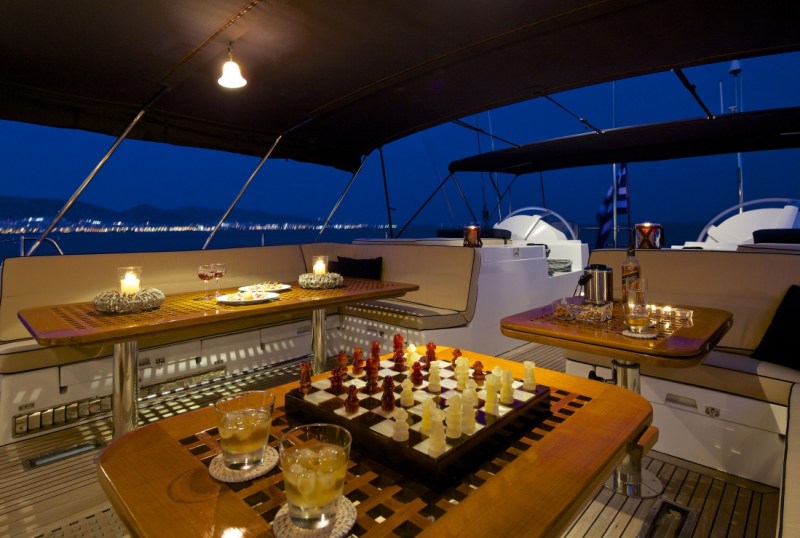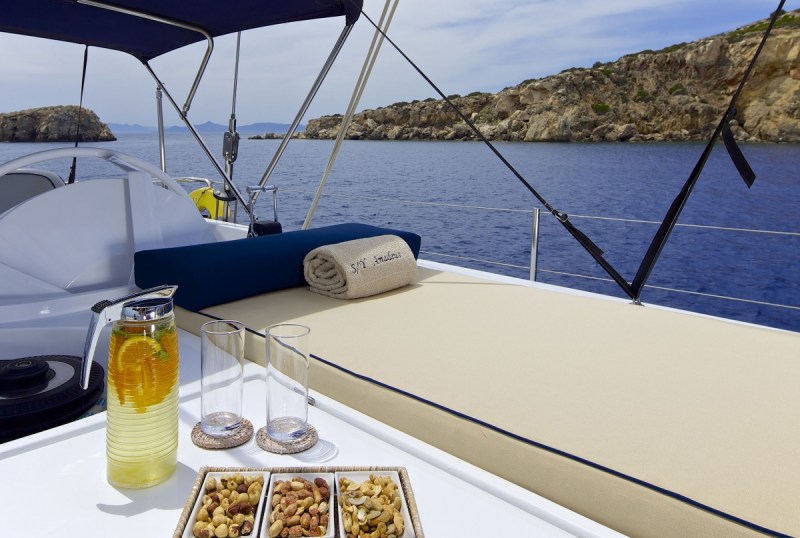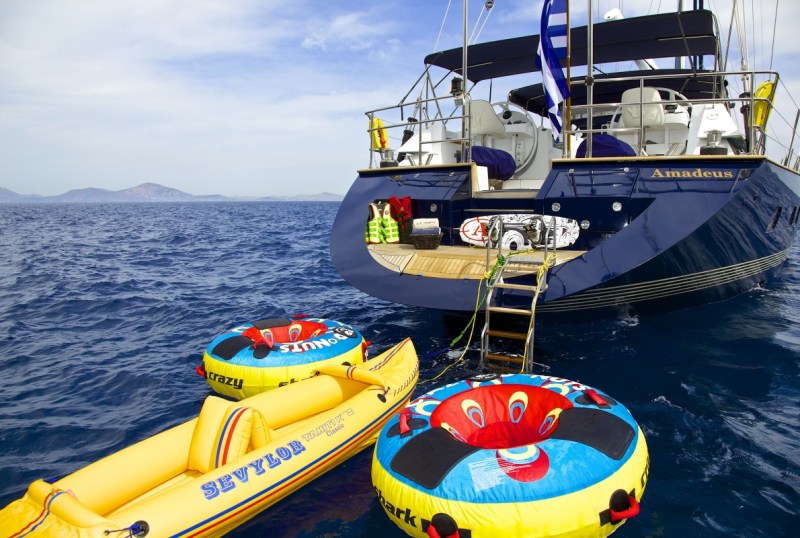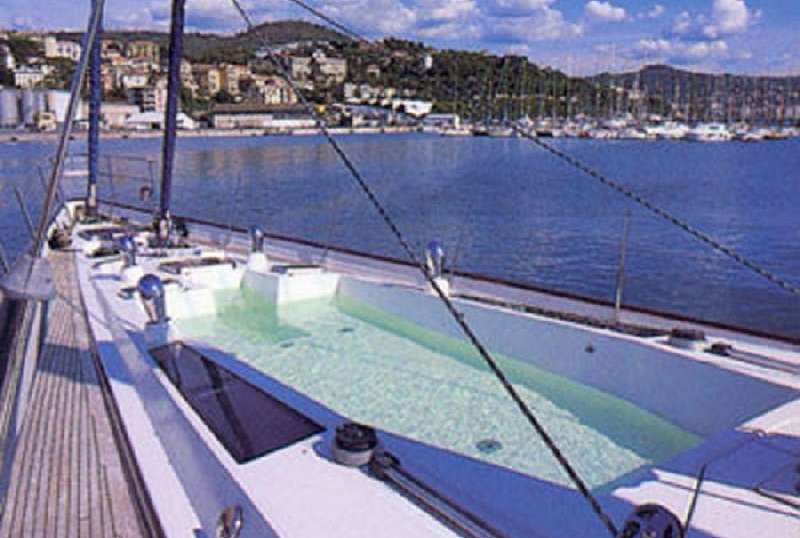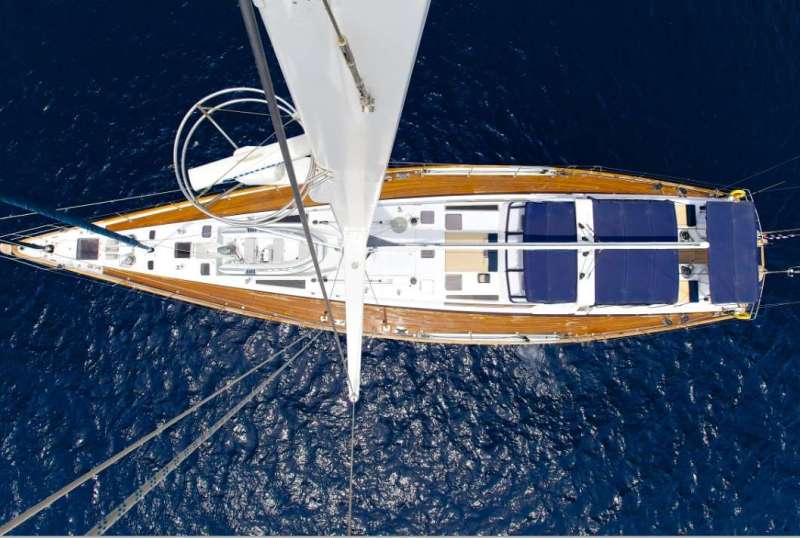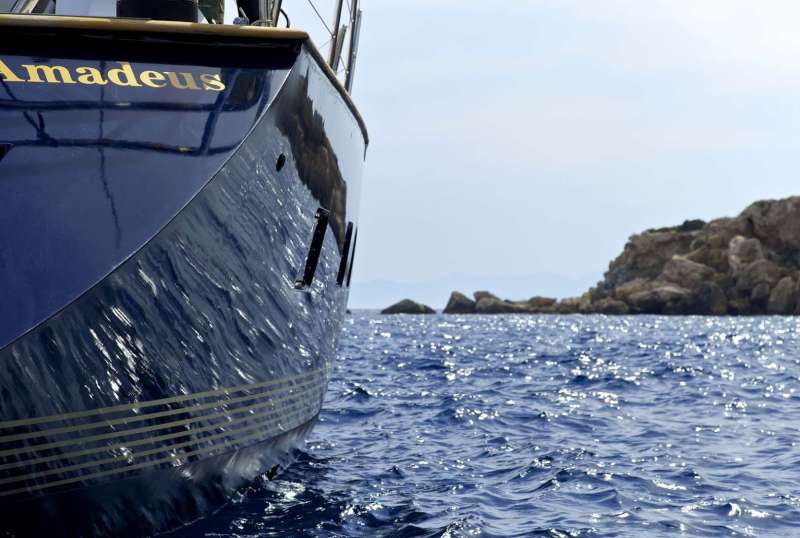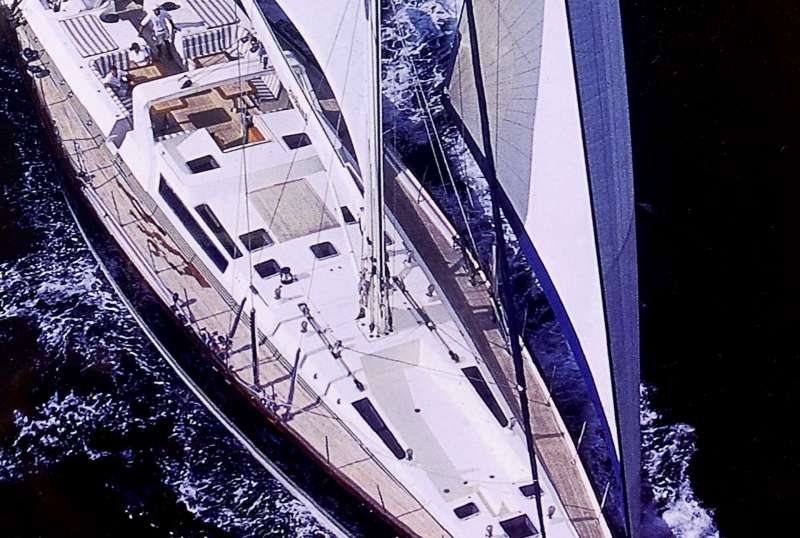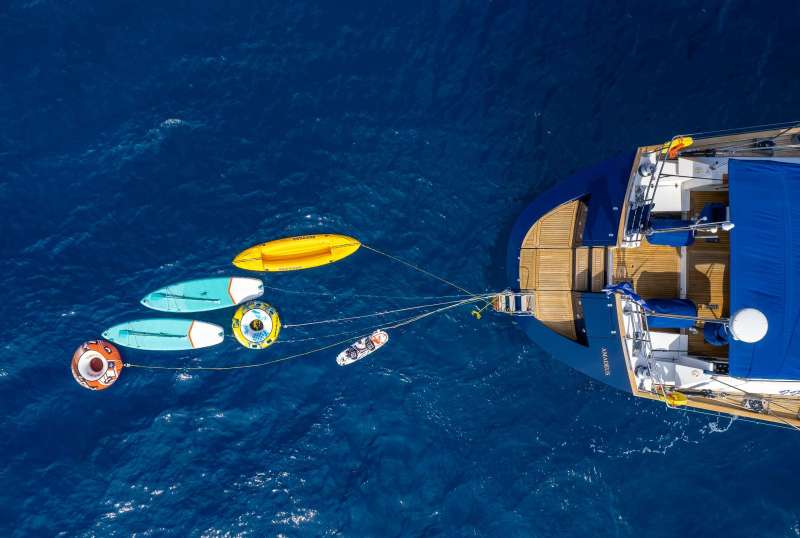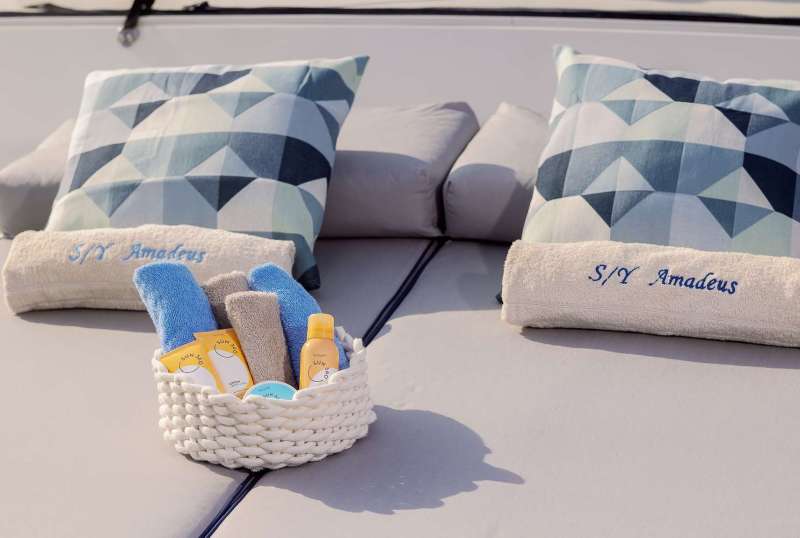 AMADEUS
From €35,000/week
5 cabins
110 ft
Dynamique Ya
12 guests
Refit: 2014/2020
120 Litres/Hr
8. Suheyla Sultan
Suheyla Sultan is an elegant sail yacht that spans 130 feet. It boasts an elegant design inspired by boats of the Ottoman Empire. Built in 1990 and refit in 2009, Suheyla Sultan accommodates 12 guests in 6 double cabins with en-suite facilities. The master cabin has a king size bed, a sofa and ample luxury option that a fully customized yacht charter can have. It spreads across the full beam and is located on the front deck. The remaining cabins also feature a French bed and luxury facilities. There is also a 7th cabin with a single bed. The cabins are all air-conditioned and have onboard wifi facility. This aristocratic yet fun yacht has lots of space for sunbathing and relaxing under the shade. It has an onboard Jacuzzi that guests can enjoy. Other entertainment facilities include diving gear, fishing gears, water-skis, kayak, snorkelling, windsurf, banana and do-nut. If you want a modern vacation disguised in an antique yacht, Suheyla Sultan is your best option.
7. Nomad IV
Nomad IV is an amazing sailing yacht that is among the fastest 100 feet yachts out there. It combines performance with luxury like no other yacht. The yacht is made entirely out of carbon. The yacht has spacious indoors and outdoors for the guests to enjoy. It can accommodate 12 guests in its 5 cabins including one master cabin, 2 double cabins, one twin cabin and one quadruple cabin with two large double beds and two beds. All the cabins come with en-suite baths and air conditioning. It has a large cockpit with 2 tables each capable of sitting 12 guests for lunch or dinner. It has sufficient space for guests to sunbathe and relax. The deck saloon has a 360-degree panoramic setting to enjoy the exquisite view. It has all the sea toys guests require including diving gear, fishing gears, water-skis, kayak, snorkeling and windsurfing. With a state of the art design and unmatched comfort and relaxation choices, Nomad IV is capable to satisfy even the most experienced yachtsmen.
6. Iraklis L
The Iraklis L is a spacious yacht which is perfect for a Greek holiday on the water. I accommodate up to 12 guests in its 6 spacious cabins that include a master cabin, a VIP cabin, two cabins with one double bed and one single bed, one cabin with a double bed and one with a twin bed. All the cabins have en-suite facilities and modern electronics such as TV and stereo audio equipment. The 134 feet Yacht has a vibrant reddish tint in its wood structure that creates a warm feel for the guests. The salon and dining area have open spaces that offer panoramic windows for guests to enjoy the breathtaking views. The deck has a spacious elevated surface for sunbathing. It has a number of recreational facilities that include a sat TV in salon LCD TV in the aft deck and in all cabins and Piano with Karaoke. Water sports options include Windsurf, scuba diving equipment & air compressor which are available on request and free of charge, Waterski, full snorkeling and fishing equipment. If luxury and comfort is your priority, you will definitely love Iraklis L.
5. Germania Nova
One of the more latest Yachts on the list, Germania Nova spans an astounding 182 feet. Built in 2011, Germania Nova can accommodate 10 guests in its 5 cabins that include a master suite and 4 double cabins. It can also house 13 crew onboard to ensure maximum comfort for its guests. All the cabins come with air conditioning and en-suite bath facilities. It features a sophisticated atmosphere through its regal furnishing and spacious lounging arrangement. The deck has an antique feel to it with its woodwork and brass designs. The aft deck has a table area for al fresco dining and plenty of space for sunbathing and sightseeing. It includes a Nautica RIB with 100kW Volvo Z-Drive and RIB rescue boat with 25hp outboard. Communications facilities include Radar, VHF, AIS etc. The main Salon includes a flat-screen TV and audio equipment. Sea sports facilities include Wakeboard, Donut, 2 Skim Boards, Rigid Stand Up Paddleboard, 2 Inflatable StandUp Paddleboards, Kayak, Fishing gear and Snorkeling equipment. The crew of Germania Nova are always vigilant to provide every bit of comfort to its guests.
4. Dwinger
Dwinger is a sailing yacht which has all the advantages a motor yacht has. It has a 50-meter aluminium hull that was custom built by Royal Huisman. Standing at 63 meters, it holds the world record for the largest freestanding mast. It supports two sails which span 1000 square meters. It can accommodate up to 11 guests in 6 rooms including one master cabin, 4 double cabins 1 twin cabin and 1 convertible cabin. All the cabins come with en-suite facilities and air conditioning. Dwinger has an excellent aero rig system which allows maximum space utilization. It is one of the most technologically advanced yachts that support the green energy revolution with its propeller generating 300hp of energy, enough to provide energy throughout the boat. It also has a HI-FOG which is the most advanced fire safety system available. It enables the yacht to have an open kitchen that is a unique feature in itself. Its other amenities include Jetski, Seadoo, Sailing boat, Dingy, Waterskis, Wakeboards, Kitesurfs, Windsurf boards, Scuba dive equipment with an air-recharge station and snorkelling equipment. If you want to see modern technology and comfort intertwine themselves in a Greek backdrop, you must go on a vacation with Dwinger.
3. Heritage
Heritage is an exquisite 148-foot yacht designed by Perini Navi in 2006. The interior layout can house a maximum of 10 guests in 4 rooms that include a master suite and 3 double cabins that include air conditioning and en suite facilities. The Yacht also houses 7 crew members who are always alert to provide the best experience to the guests. It has a displacement hull that gives it a roomy appearance. It has plenty of space on its deck and alt for sunbathing and dining, or just enjoying the scenery. It also has TV and stereo music facilities on deck. Heritage has two tenders that include a 16ft /4.88m Castoldi Jet Tender with 1 x Yanmar 115 HP engine and one 13.12ft /4m Bombard RIB with 1 x Yamaha 15 HP engine. Other amenities include Seadoo GTX Jet-Skis for snorkelling or swimming, Inflatable water toy Hot Dog for 6 people, Kayaks inflatable, Towable Toys monster tube for 2 people, Wake Board, Water-Ski and Snorkeling Equipment. It also provides Jet-Ski On demand provided that booking is done in advance.
Yacht Details Only For Private Inquiries
2. Aresteas
Aresteas is one of the most luxurious sailing yachts out there. With a wood hull and Team deck, this 167.32 feet has the most advanced features that a sail yacht can offer to entertain guests. It can house up to 12 guests in its 6 extravagant cabins that come with air conditioning and en suite facilities. Aresteas has a huge master cabin on its main deck. There are two identical VIP cabins on the lower decks. The lower decks also have a double and two twin cabins with Pullman beds. You know a Yacht oozes luxury and aristocracy when it has an onboard spa and sauna facility. It also has a gym and shower facility. The upper deck lounge leads directly to the flybridge and Jacuzzi. Its tenders and water toys include a Zar Boat 57 Welldeck, 150 HP Yamaha Engine and a Zar Boat ZF2, 50 HP Yamaha Engine, jetskis, diving jets, scuba diving and fishing gear. If you want to experience a wholesome Greek cruising experience, Aresteas is your one-stop solution.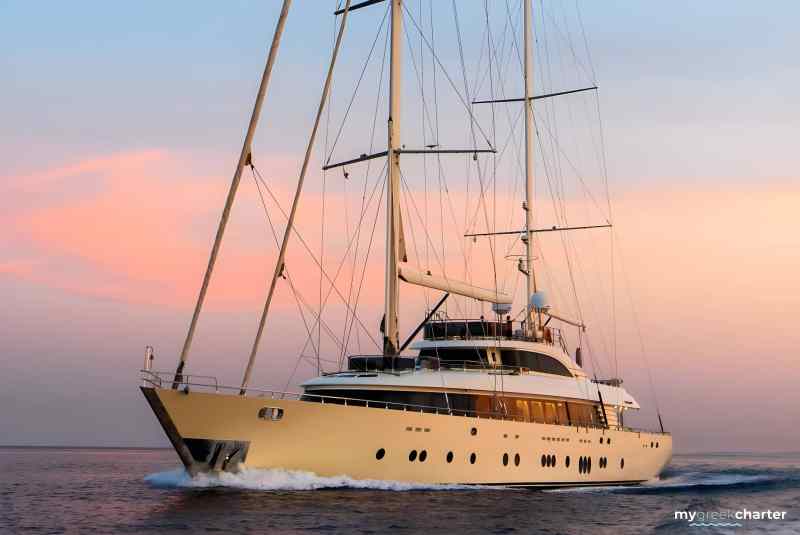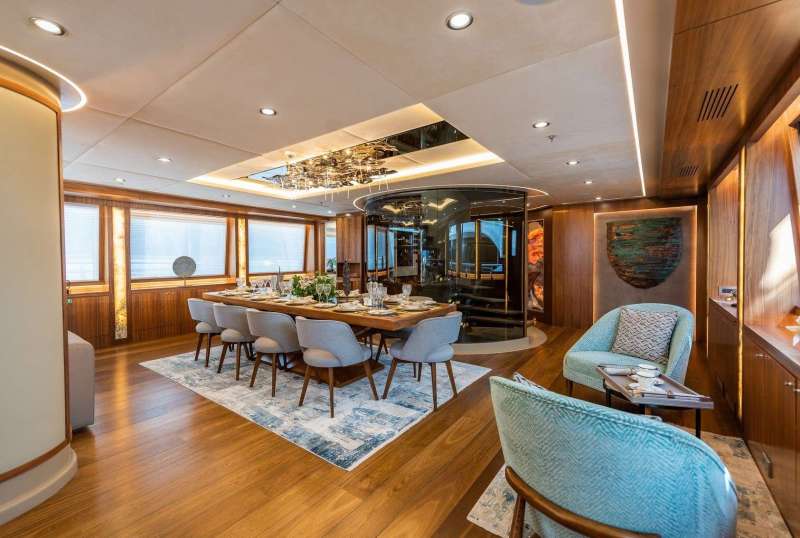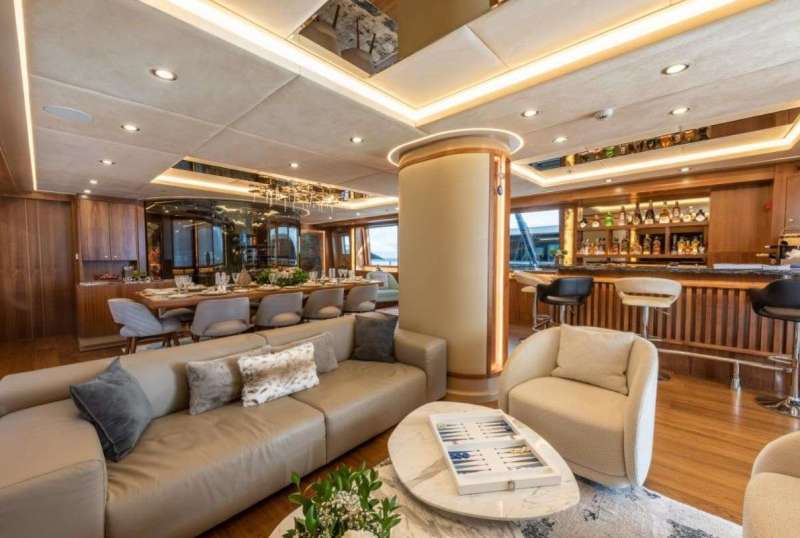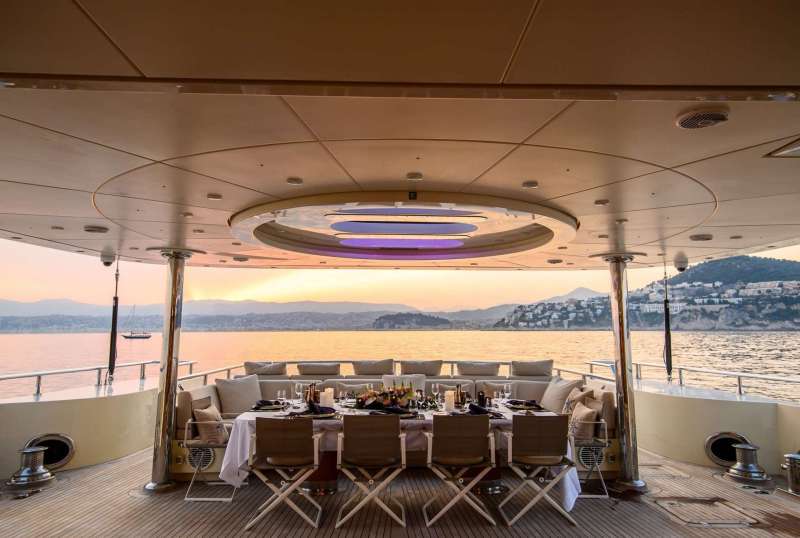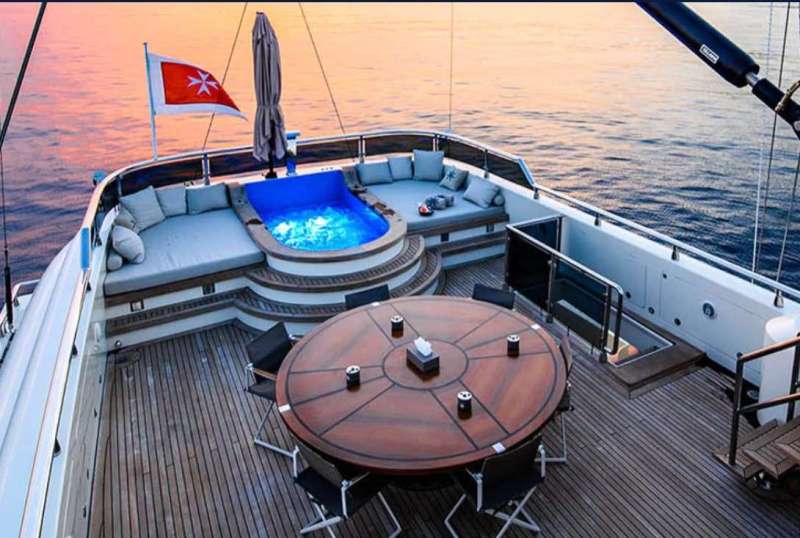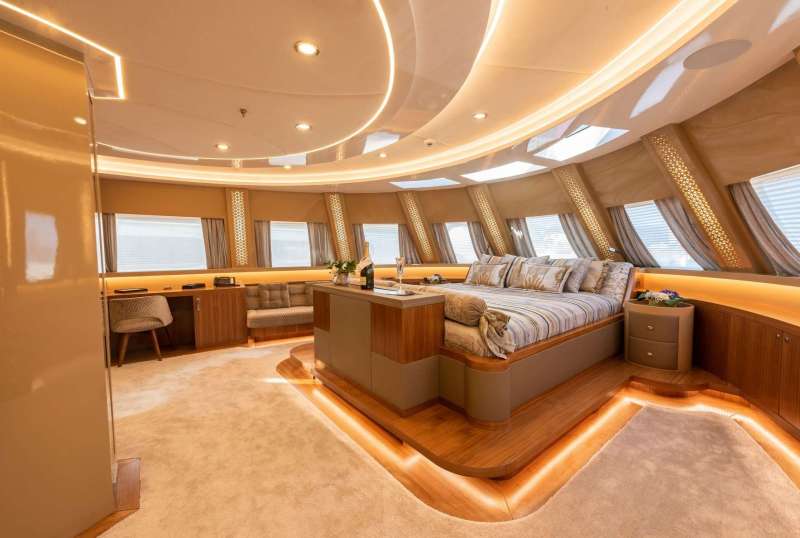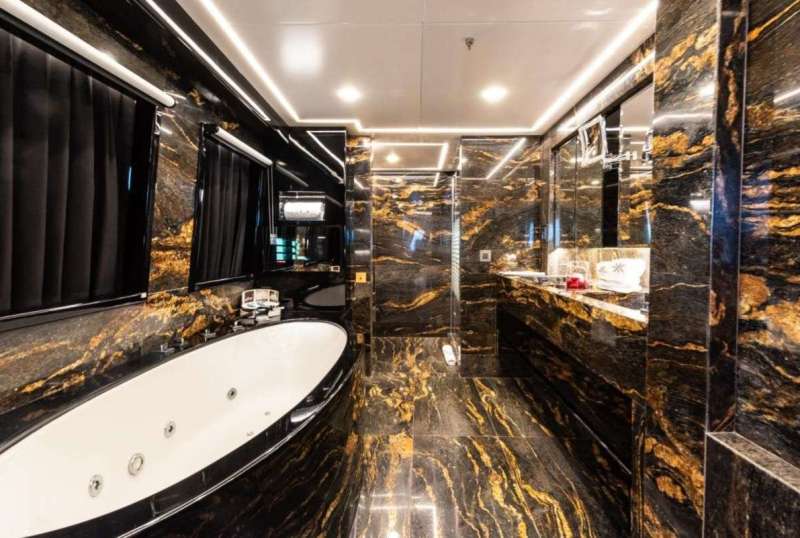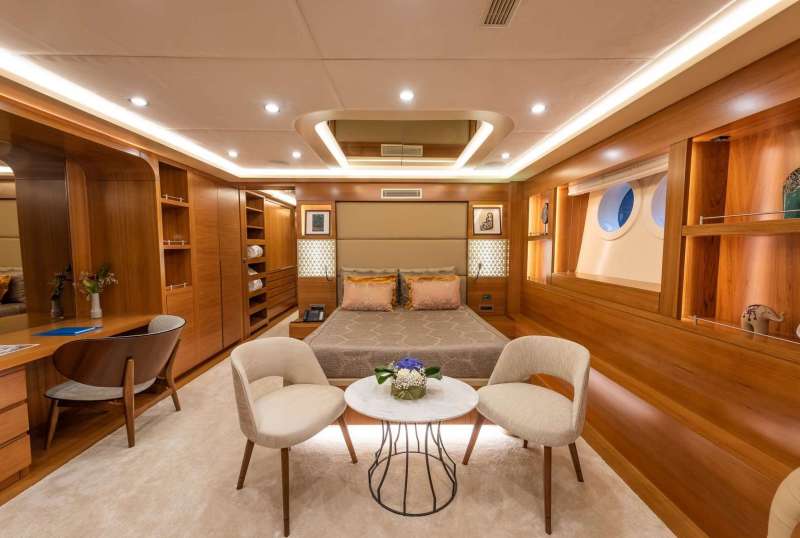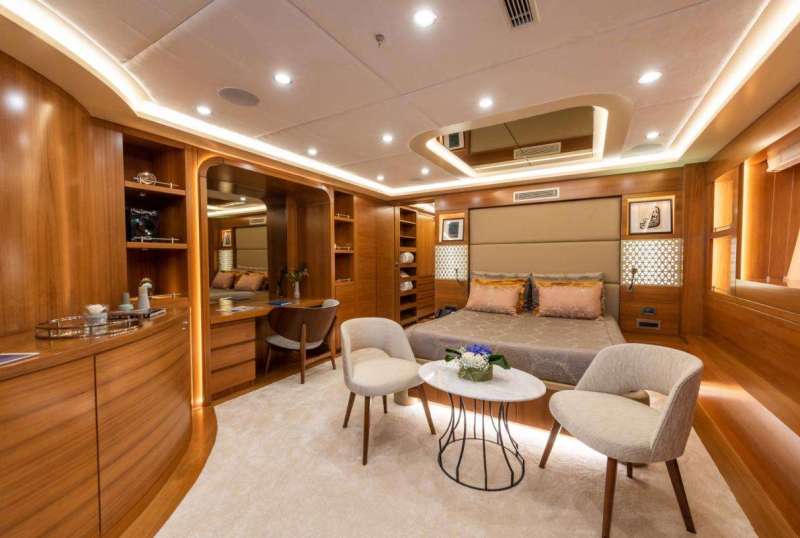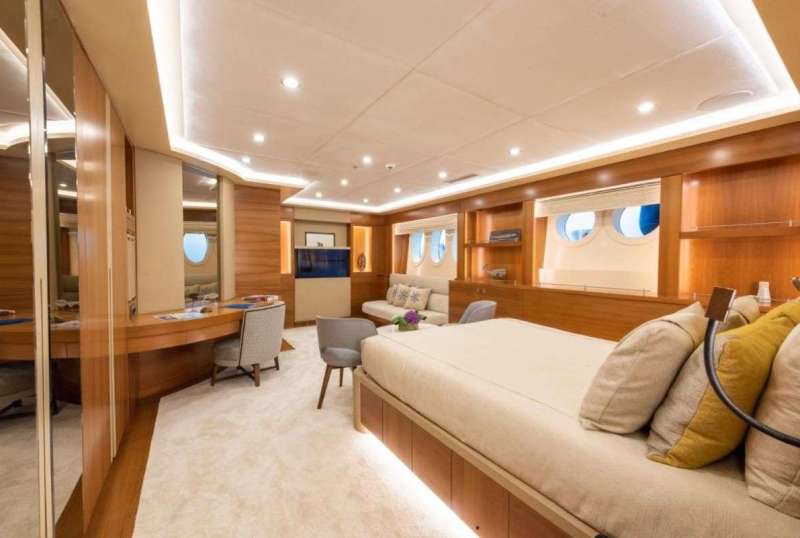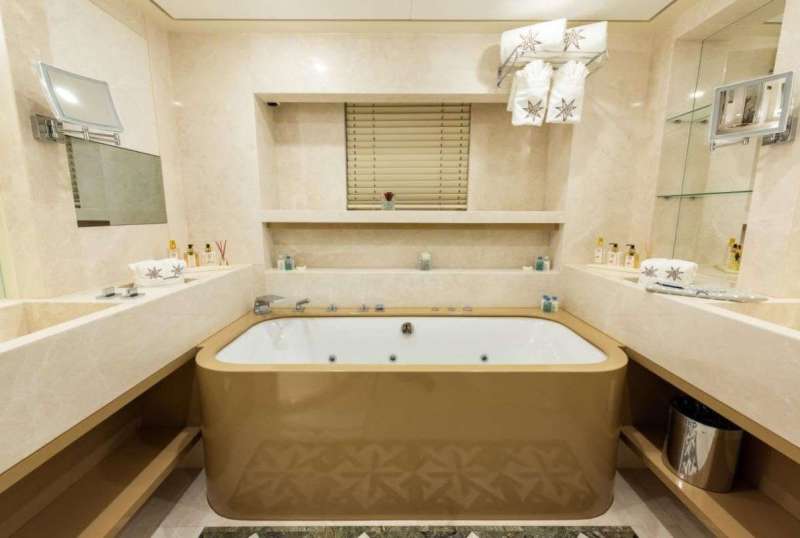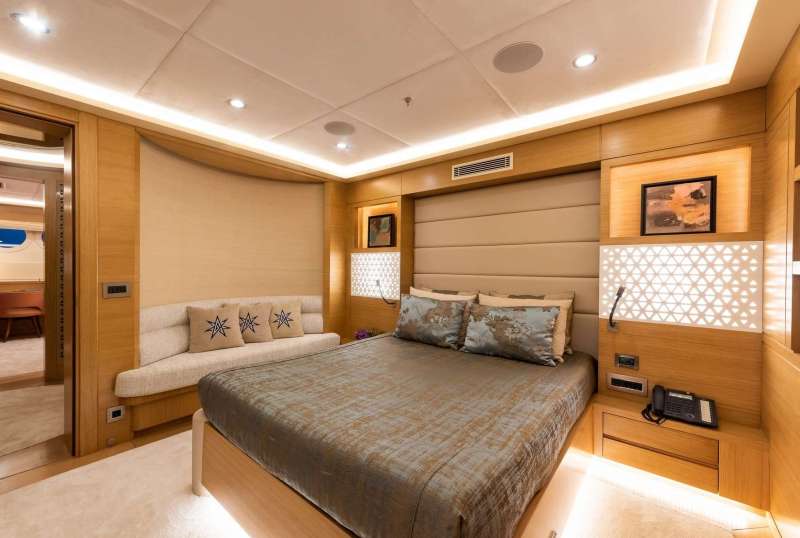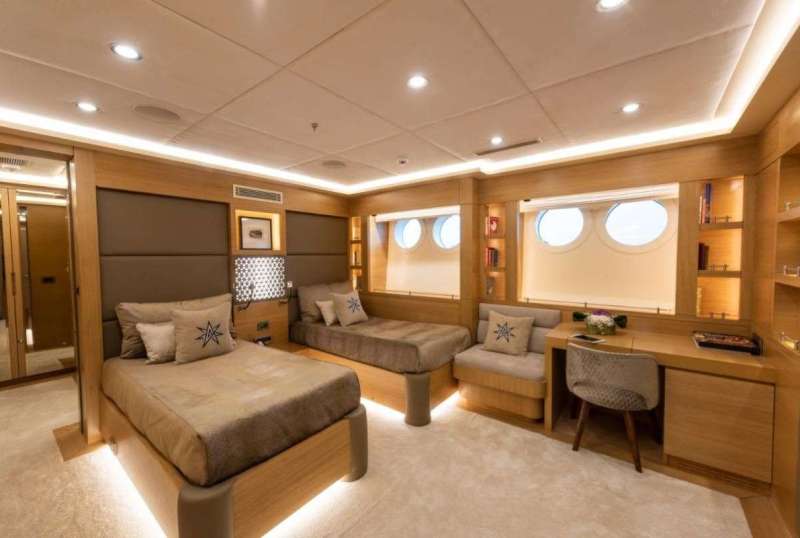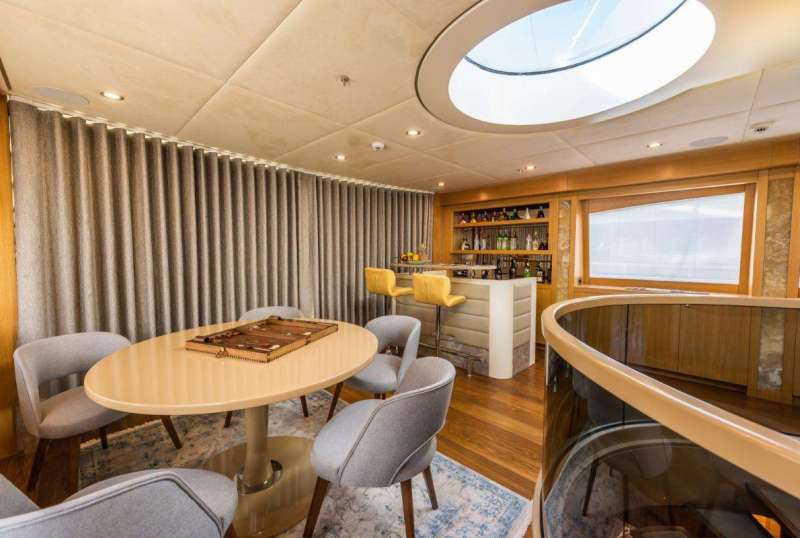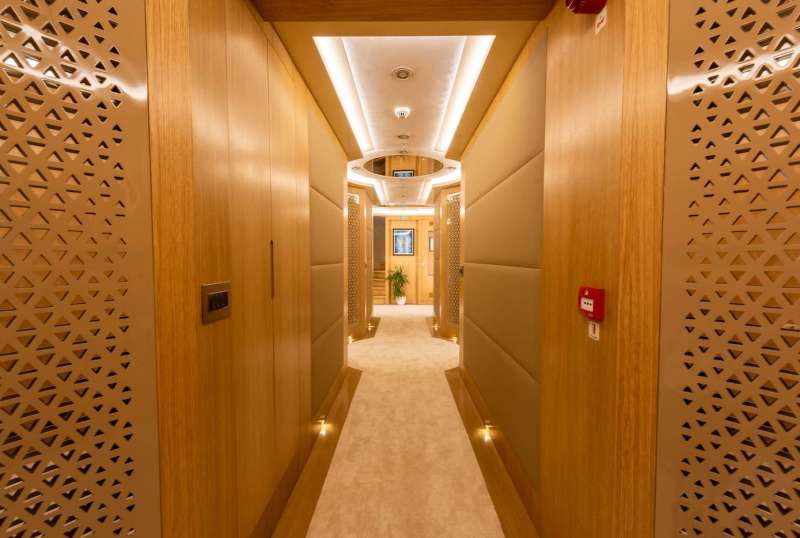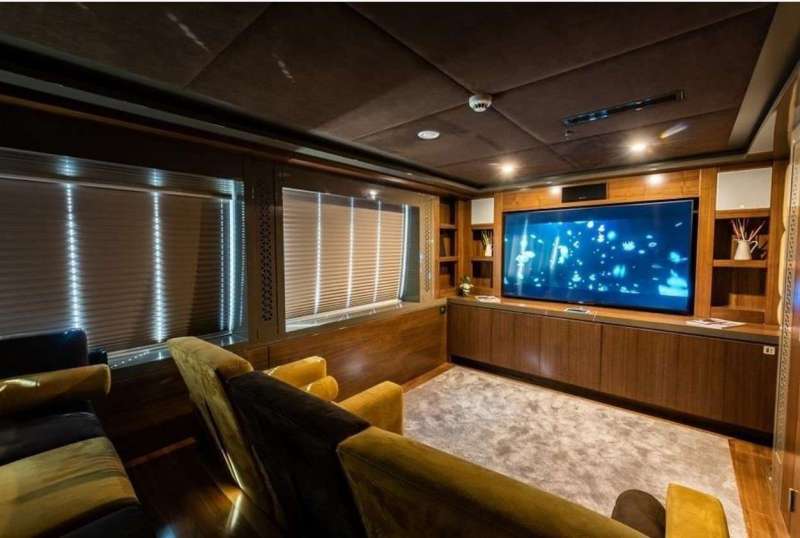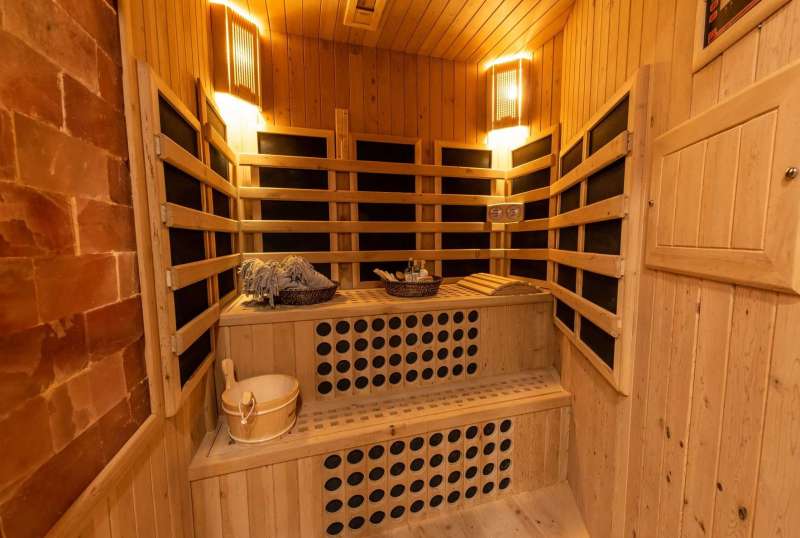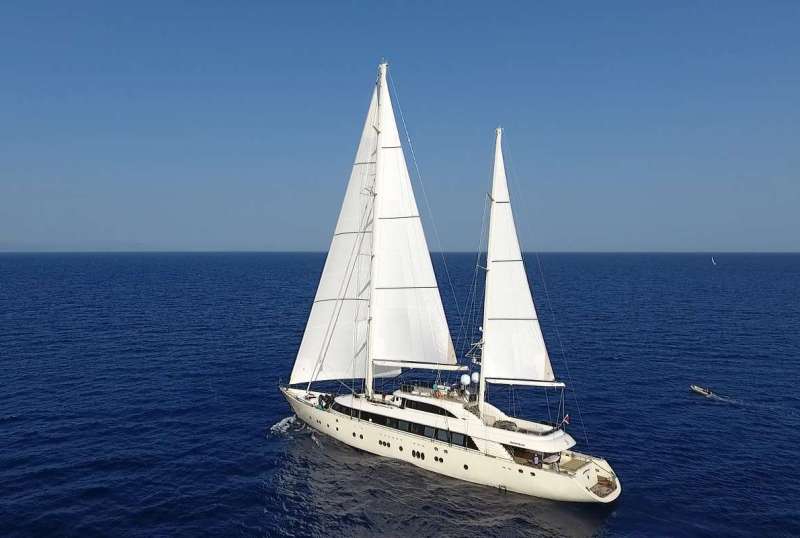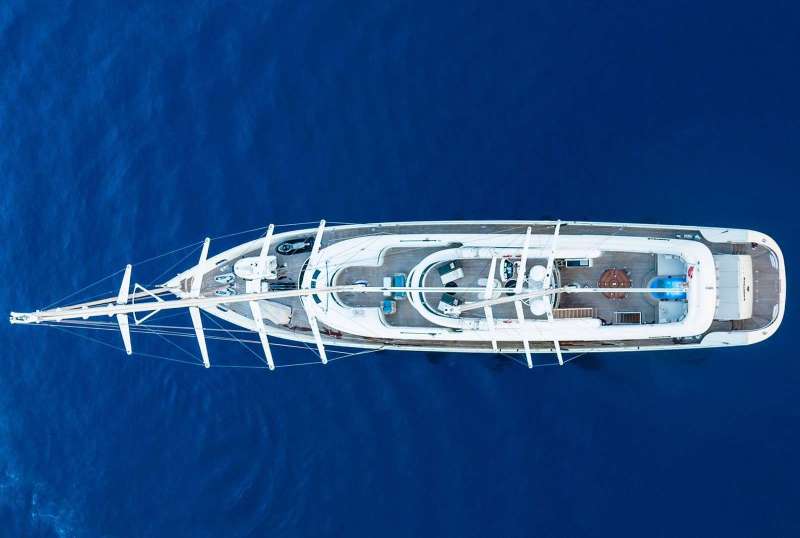 ARESTEAS
From €145,000/week
6 cabins
167 ft
Custom
12 guests
Built: 2017
1. Baracuda Valetta
Baracuda Valetta is another remarkable creation by Perini Navi. It stretches 164 feet and was launched in 2009. The interior layout can accommodate up to 10 guests in 5 staterooms that include a master suite, 2 VIP staterooms and 2 twin cabins. It also carries 8 crew members to provide guests with the most luxurious vacationing experience across the Greek islands. The main suite is a full beam top deck cabin with his and her bathrooms. The main deck appears to be larger than it is as it is designed as a large living area with no partitions. It has a long flybridge and windows that offer a 360-degree panoramic view. Its Tenders and Toys include a Tender 20'/6.10m BSC with 150hp Mercury 3000cc and a Tender Lomac with 30hp engine, Diving equipment, Water Skis, Tubes, Monoski, Banana, Wakeboard, SUP Paddle, Fishing equipment and Snorkeling equipment. If you want to experience luxury in its purest form, Baracuda Valetta is waiting for you.