Why Charter a Motor Yacht in Greece?
These 5 motor yachts are a perfect combination of luxury yachting, authentic Greece experience as well as the Greek cruising. A yacht charter onboard a motor yacht is recommended for simple reasons – the distances are significant and motor yachts can go up to 30 knots, allowing swift navigation between islands. Compared to catamarans, motor yachts are more stable and provide a smoother ride, especially with higher waves.
What areas can I consider for a charter?
Most motor yachts leave from Athens, but delivery can be arrange to pickup in different locations (usually Mykonos, Santorini in the Cyclades). For a charter in the Ionian, the selection of motor yachts is more problematic as the Corinth channel is undergoing multi-year reconstruction, although the authorities are doing their best to keep it open.
The Dodecanese are an option if you're planning to charter for at least for 10 days (distance). The Sporades can be arranged, they are usually sought by more experienced charterers who have done the Saronic, Ionian and Cyclades and are looking to discover even more.
Top 5 Greece motor yachts for under €50,000
Project Steel
This is a perfect motor yacht if you are looking for a more adventurous yacht charter. The Captain and his crew are absolutely perfect and the chef will enchant you with his delicious food. One of the main advantages of this luxury motor yacht is low consumption. at 2€/liter, the 130 liters per hour definitely make a big difference compared to 400l/hour or 600 l/hour yachts, especially for longer distances – for example a Cycladic itinerary including Mykonos or Santorini.
There is a wide choice of watertoys including a Jetski and a powerful tender. Other toys include a Seabob, wakeboard, knee board, tubes and more. The jetski fold in the garage, leaving a lot of room for the sundeck.
The amount of space is quite generous – especially on the aft deck – the table allows all the guests to be seated comfortably with 360 degree access.
Project Steel was rebuilt 2019 (incl. the engine) with a refit in 2020 and it has a new feeling.
Even though the high season price is over EUR 50,000, the savings on the fuel are so considerable that we can't but recommend Project Steel for any charter from Athens – Saronic Gulf or Cyclades.
ALBATOR 2
This bit larger and more luxurious than Albator. The Albator motor yacht has 4 comfortable cabins that really feel as a luxury, full service hotel. The chef boat can prepare unbelievable food (we've tested it) and the crew will do everything to make your charter a perfect yachting vacation. This motor yacht offers almost all kind of water sports: kayak, paddle boars, jet skis, water ski as well as a flyboard, therefore it is perfect if you are looking for some sea adventure. The captain is very friendly and helpful and will suit the vacation to your preferences. Albator is an ideal yacht for adventure as well as luxury relaxation. The sundeck on boasts a jacuzzi and a lot of sun areas to relax with delicious food and refreshing drinks.
Summer Fun
Another yacht with a refit – in 2021, the 101ft Summer Fun has all in it's name – wide selection of watertoys including a jetski. Note the engine is a bit hungrier compared to Project Steel, nevertheless the maximum speed is 29 knots (compared with 13.5kn of Project steel). The yacht is built by the Italian company Admiral, sophisticated design, massive engines.
Elegant and sporty, Summer Fun is a great choice if you're looking for a full Cycladic itinerary as it can hop between the islands swiftly – that is great for groups that are less about cruising and more about actually seeing the islands and spending the time on the water.
Reclining beds (his and her), wardrobe room, convertible sunbed seating – a very stylish and functional.
We recommend Summer Fun for a busy intinerary with focus on packing a lot of action and moving swiftly between locations. The yacht is based in Athens, please inquire to arrange a delivery or pickup in a different location
OBSESION 120
The primary reason to charter Obsesion 120 is quite simple – 120 ft at this price is quite attractive. Definitely a choice if the group prefers more room with more social areas to spread out and enjoy a feeling of a higher class yacht.
The interiors match in the offer of space. The downside is the refit done in 2012. If you can live with that, the good news is that high season is 49,000 EUR/week – there is no increase from low season and it is impossible to find a yacht of these parameters at this price.
The photos don't do the boat justice.
The upside is the crew – the super experienced captain George has profound knowledge of the Greek islands and touch for customer service.
Obsesion 120 is a great boat for a mature group that prefers more space and comfort at the expense of water activities and action, a client that appreciates her specifications of a yacht from a higher price range.
PIOLA
If your group for a motor yacht charter in Greece is 9 or less, we'll definitely recommend Piola. The reason is quite simple – they have a record of nothing but perfect charters – the clients who actually choose her love her. If you check her reviews – it is one of few boats where you can see Greek reviews – being popular with Greek clients is definitely a mark of achievement. The reviews of non-Greek client review around the crew. Don't forget that not all crews are equal and an experienced charterer will pick a crew over a slightly better boat any day of the week.
This unique Ferreti motor yacht offers to you amazing charter experience with Greek wine tasting on board. Management of this beautiful yacht will provide to you on charter within the best quality food and wines from Greece.
The crew of Piola is very professional and also very friendly and kind. Once you are on board you will have the feeling that you are crossed to miracle world where everything is possible.
The crew of this motor yacht is the primary reason why the yacht is so high on the list, sending our clients to Piola is a guarantee of a successful charter. Piola takes up to 9 guests in 4 very comfortable and luxury designed cabins with private heads.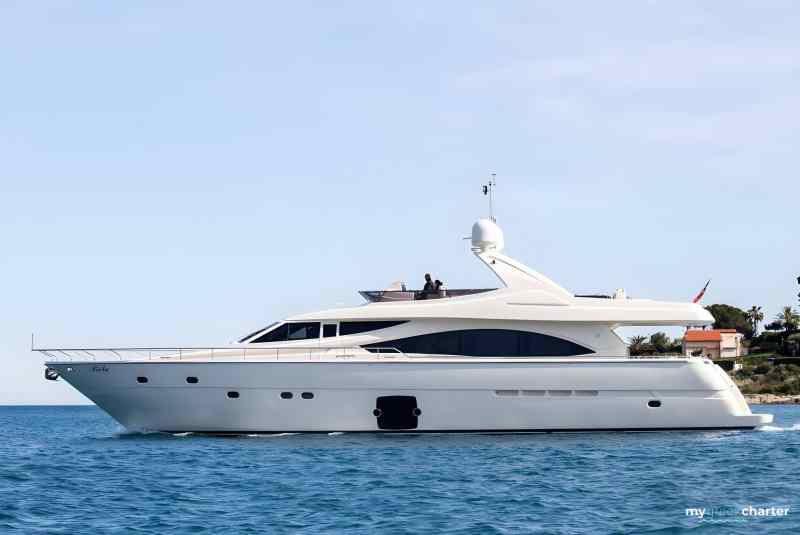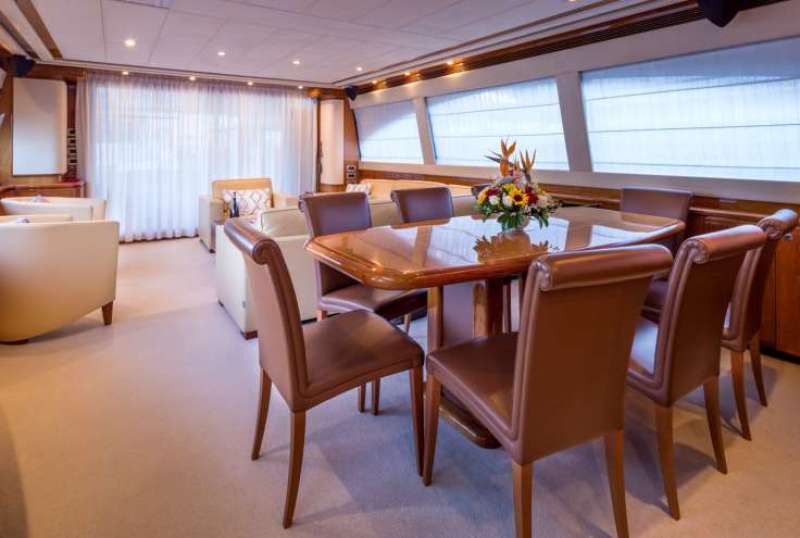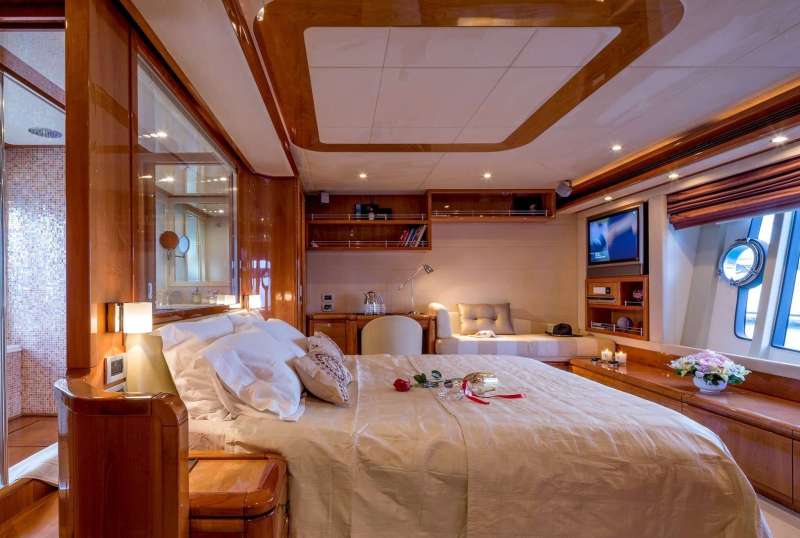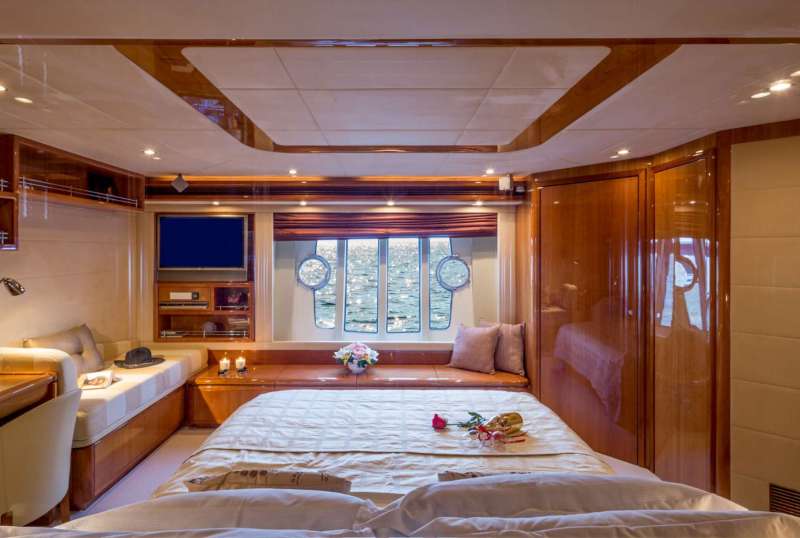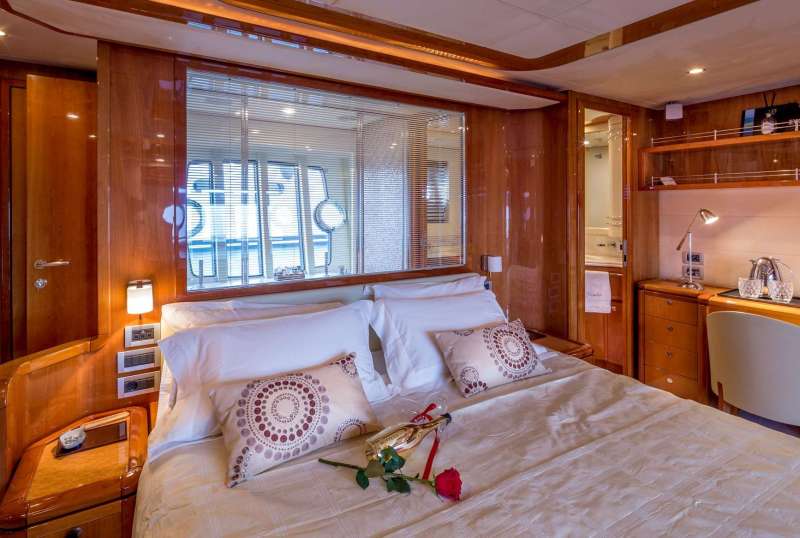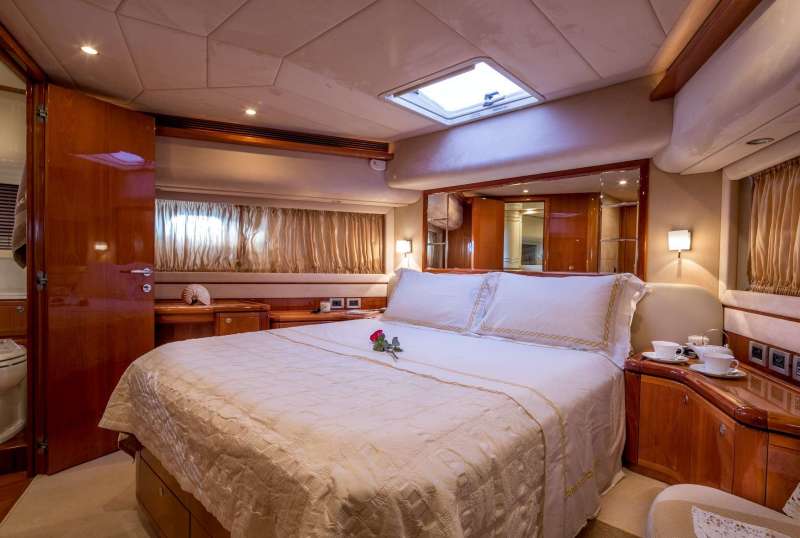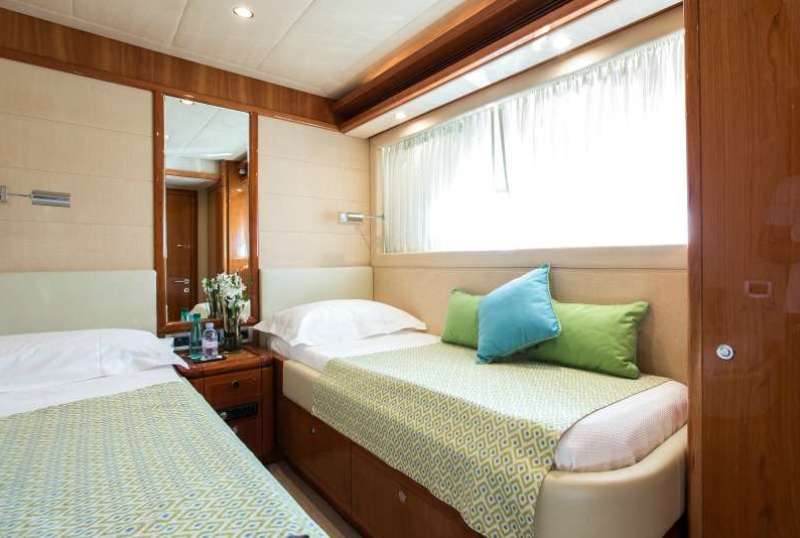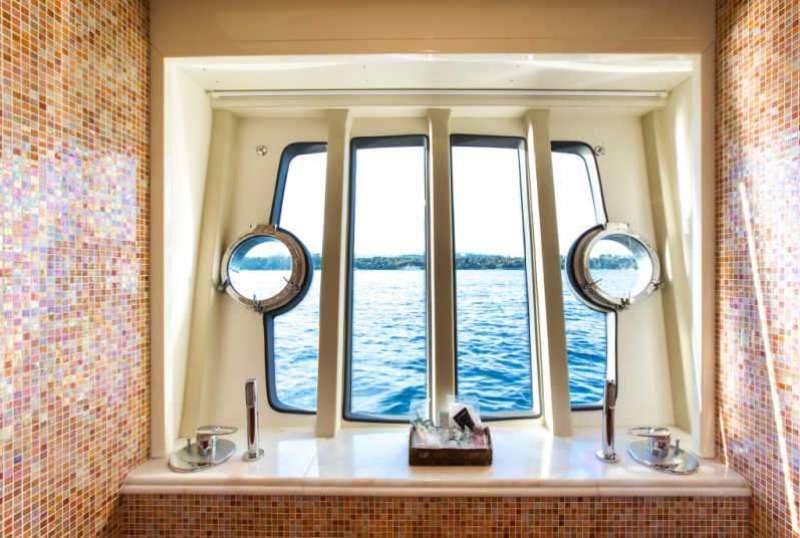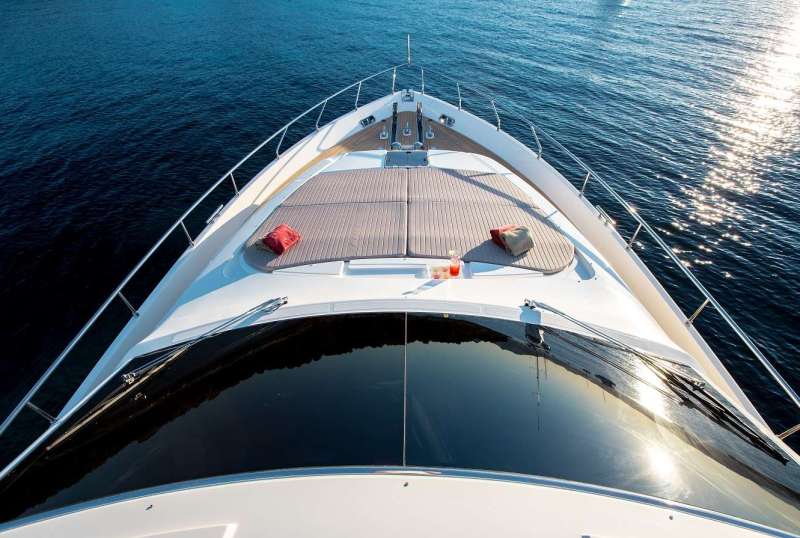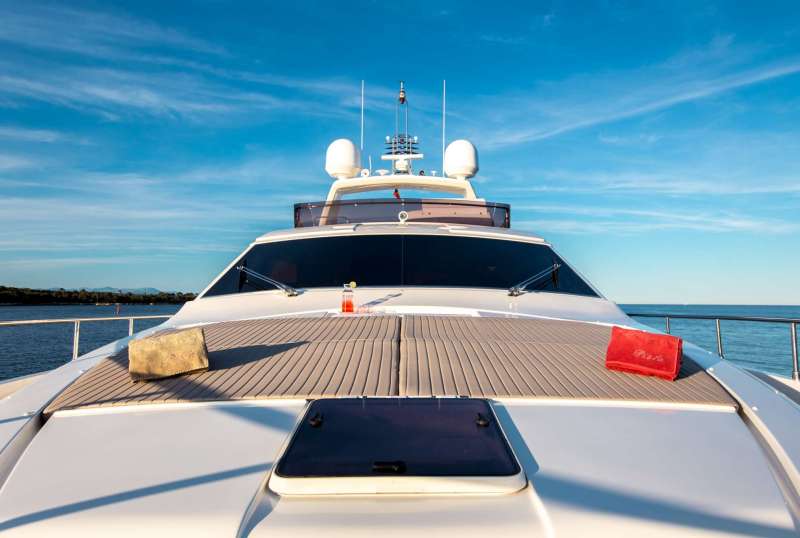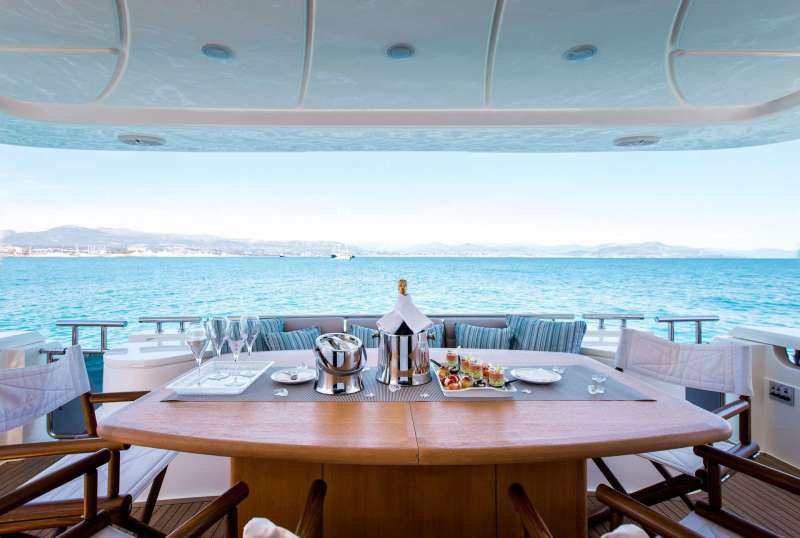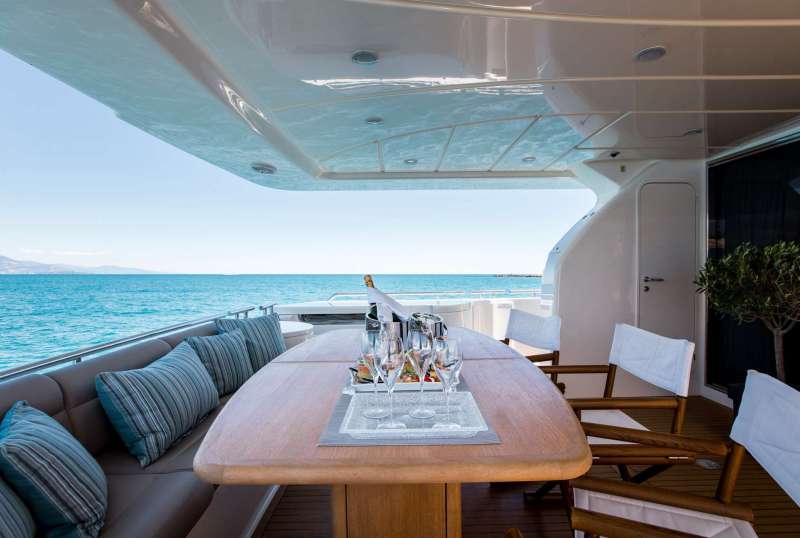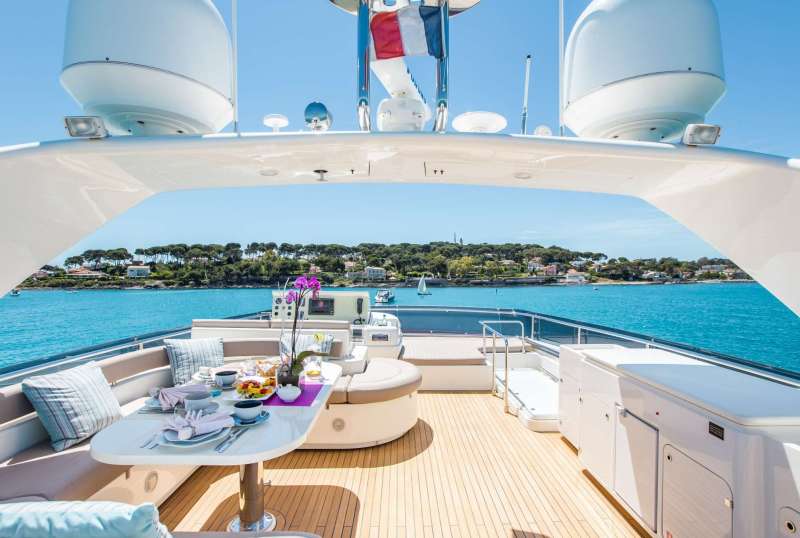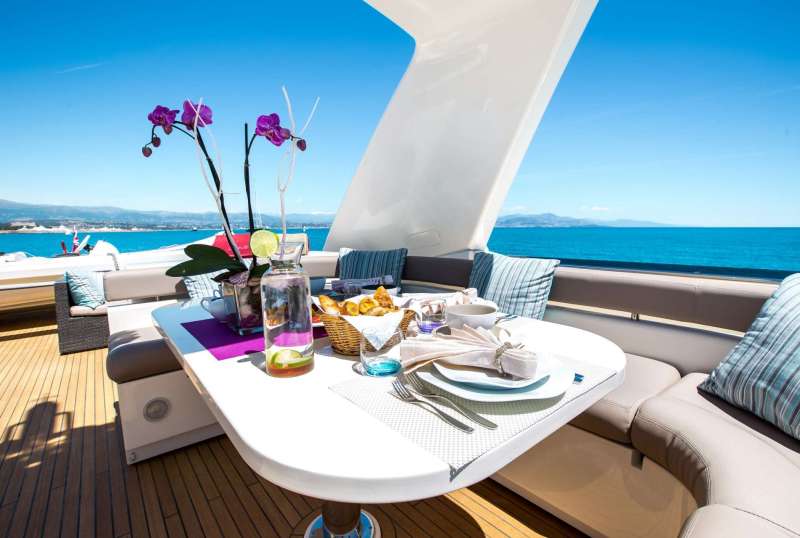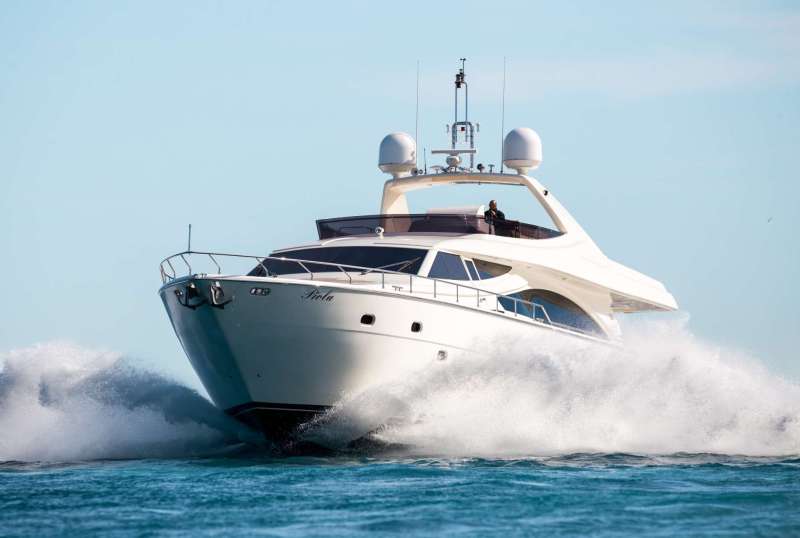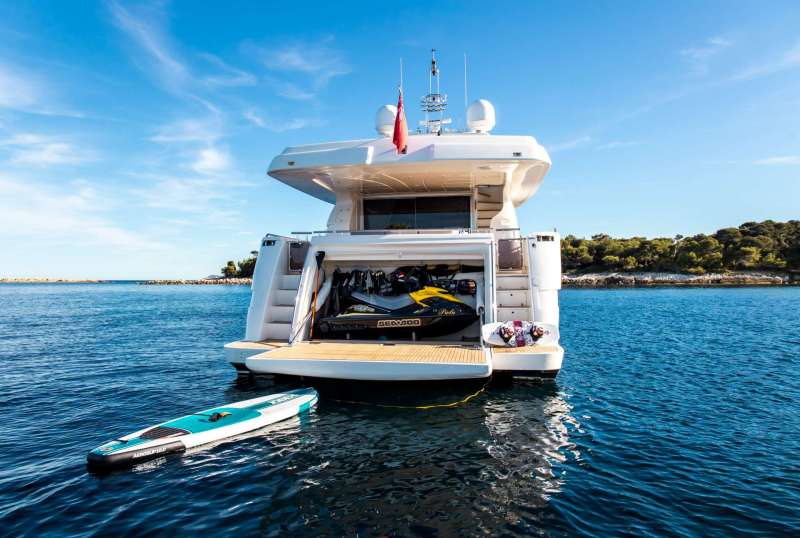 PIOLA
From €34,000/week
4 cabins
82 ft
Ferretti
9 guests
Refit: 2018/2022
500 Litres/Hr