FREESEAS Yacht Description
FREESEAS yacht is a 42.00 ft long sailboat catamaran and spends the summer and winter season in Greece. It was built by Lagoon in 2008. The yacht layout features 4 cabins and accommodates 8 guests. The cabin arrangement is following: 4 queen cabins, 1 single cabin.
The sailboat features 2 x 40 HP "YANMAR" Diesel Motor Engines 13.5 KVA 220V GENERATOR engines and a generator.
Accommodation
4 guest cabins with en-suite facilities
separate skipper cabin
FREESEAS Yacht Details
€9,295 - €10,640
Weekly price low-high season
79 US Gall/Hr
Consumption
FREESEAS yacht charter price

| # of charter days | Base Price | APA (deposit for provisioning, fuel, docking fees, etc) | Taxes: 12%, exceptions available | Total | | Note |
| --- | --- | --- | --- | --- | --- | --- |
| 14 day charter | 18,590€ to 21,280€ | 3,718€ to 6,384€ | 2,231€ to 2,554€ | 24,539€ to 30,218€ | | Discounts outside the main season are common. |
| 7 day charter | 9,295€ to 10,640€ | 1,859€ to 3,192€ | 1,115€ to 1,277€ | 12,269€ to 15,109€ | | Standard charter rate, base for all calculations. |
| 3 day charter | 4,648€ to 5,320€ | 930€ to 1,596€ | 558€ to 638€ | 6,135€ to 7,554€ | | The usual formula is the 7 day charter rate divided by 6, times the number of days (3). Boat policy might differ. 9,295€ / 6 * 3 days = 4,648€ |

All prices are generated by a calculator and serve as a guide for new charterers. Any additional information of the Price Details section has priority over above. Availability is always subject to confirmation. Gratuity not included for it's discretionary character, usually 5%-25% of the Base Price.
Price Details
High season rate: €10,640
Price Terms
Plus Expenses
Features
BBQ: No
AC: Full
Generator: YES
Cruising Speed: 8
Max Speed: 12
Diving Yacht offers Rendezvous Diving only
Communication:
Nautical Charts
Autopilot
Waters Pilot
Binoculars
Barometer
Hand-bearing Compass
Cockpit Compass
Speed Log
VHF
GPS
Parallel Ruler
Wind Instruments
Poltter
Echo Sounder
Divider
Air Compressor:
Not Onboard
Scuba On Board:
Yacht offers Rendezvous Diving only
Crew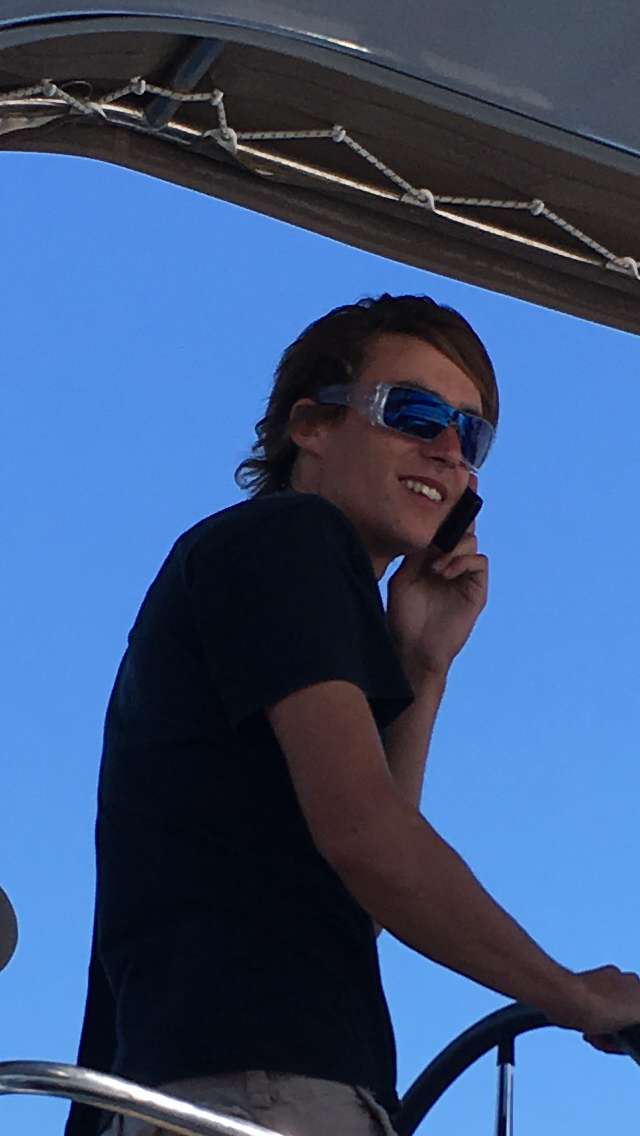 Captain
Chef
Captain: Gregory Mazarakis
Gregory Mazarakis - Captain

Greg was born in 1996 in Athens Greece. His licenses include RYA Yachtmaster offshore sailing, Powerboat level II, Seaman's book and Open water scuba diver PADI. He is a member of the Panhellenic Professional Skipper's Association and has served as special forces paratrooper in the Greek army. Greg has also held 2nd position in the European Optimist Class. He has been working as a skipper from 2015 up until today on various yachts ranging from 40-52 ft. He has also been 2nd skipper Cross Atlantic on the Lagoon 78ft "Double Down".
Reliable, enthusiastic, professional and self motivated. Capable of maintaining good rapport with crew and clients. Additionally acquires a very good knowledge of the Greek waters and their harbors.
A friendly outgoing personality with excellent communicational skills.



Anastasia Kokkou - Hostess/Chef

Anastasia was born and raised in Athens, Greece. She has worked for established yachting companies since 2017 up until today. She has acquired her sailing and speed boat licenses along with safety and first aid lessons. Her love for the sea and cooking is tremendous as she prepares the most delicious meals. She is a natural born cook and loves to sail. She is free spirited, a good hostess who loves to entertain and have always been involved in sports. Anastasia always looks forward to commit in helping plan clients' vacation to meet their needs by offering some of her best home cooked specialties.


Gallery
More Yachts Like FREESEAS
molonstring(4205) "
1949
http://www.centralyachtagent.com/snapins/json-ebrochure.php?idin=1949&uid=2395&user=2395
4
Cat
N
8
Greece
Greece
42.00
24' 7
4' 2
a:35:{s:12:"salon_stereo";s:3:"Yes";s:8:"salon_tv";s:3:"Yes";s:6:"sat_tv";s:0:"";s:17:"multimedia_system";s:0:"";s:4:"nude";s:3:"Inq";s:5:"books";s:2:"10";s:9:"crew_pets";s:2:"No";s:8:"pet_type";s:0:"";s:10:"guest_pets";s:2:"No";s:9:"camcorder";s:2:"No";s:14:"number_dine_in";s:3:"YES";s:11:"water_maker";s:0:"";s:14:"water_capacity";s:5:"92Gal";s:9:"ice_maker";s:1:"0";s:14:"number_of_dvds";s:2:"10";s:13:"number_of_cds";s:2:"30";s:11:"board_games";s:2:"No";s:10:"sun_awning";s:3:"Yes";s:6:"bimini";s:3:"Yes";s:13:"special_diets";s:3:"Yes";s:6:"kosher";s:2:"No";s:3:"bbq";s:2:"No";s:12:"gay_charters";s:3:"Yes";s:17:"yachtNudeCharters";s:3:"Inq";s:10:"hairdryers";s:3:"Yes";s:22:"number_of_port_hatches";s:0:"";s:7:"smoking";s:12:"on deck only";s:11:"crew_smokes";s:2:"No";s:11:"children_ok";s:3:"Yes";s:17:"minimum_child_age";s:3:"ANY";s:9:"generator";s:3:"YES";s:8:"inverter";s:3:"YES";s:8:"voltages";s:4:"220V";s:7:"hammock";s:2:"No";s:10:"windscoops";s:1:"0";}
Full
No
YES
2 x 40 HP "YANMAR" Diesel Motor Engines 13.5 KVA 220V GENERATOR
2008
Lagoon

separate skipper cabin

4 guest cabins with en-suite facilities
USD
$
9295
9295
10640


Greg was born in 1996 in Athens Greece. His licenses include RYA Yachtmaster offshore sailing, Powerboat level II, Seaman's book and Open water scuba diver PADI. He is a member of the Panhellenic Professional Skipper's Association and has served as special forces paratrooper in the Greek army. Greg has also held 2nd position in the European Optimist Class. He has been working as a skipper from 2015 up until today on various yachts ranging from 40-52 ft. He has also been 2nd skipper Cross Atlantic on the Lagoon 78ft "Double Down".
Reliable, enthusiastic, professional and self motivated. Capable of maintaining good rapport with crew and clients. Additionally acquires a very good knowledge of the Greek waters and their harbors.
A friendly outgoing personality with excellent communicational skills.



Anastasia Kokkou - Hostess/Chef

Anastasia was born and raised in Athens, Greece. She has worked for established yachting companies since 2017 up until today. She has acquired her sailing and speed boat licenses along with safety and first aid lessons. Her love for the sea and cooking is tremendous as she prepares the most delicious meals. She is a natural born cook and loves to sail. She is free spirited, a good hostess who loves to entertain and have always been involved in sports. Anastasia always looks forward to commit in helping plan clients' vacation to meet their needs by offering some of her best home cooked specialties.

";s:5:"photo";s:81:"https://www.centralyachtagent.com/yachtadmin/yachtlg/yacht1949/1949brochure44.jpg";s:4:"size";s:1:"2";s:12:"captain_name";s:17:"Gregory Mazarakis";s:14:"captain_nation";s:5:"Greek";s:12:"captain_born";s:4:"1996";s:15:"captain_license";s:14:"RYA Yachmaster";s:18:"captain_yr_sailing";s:2:"16";s:21:"captain_yr_chartering";s:2:"16";s:17:"captain_languages";s:14:"English, Greek";s:9:"crew_name";s:16:"Anastasia Kokkou";s:16:"crew_nationality";s:5:"Greek";s:12:"crew_license";s:35:"Greek coastal skipper's certificate";s:15:"crew_yr_sailing";s:1:"0";s:18:"crew_yr_chartering";s:1:"0";s:7:"crewimg";a:2:{i:1;a:2:{s:3:"url";s:72:"https://www.centralyachtagent.com/yachtadmin/yachtlg/yacht1949/1949crew1";s:4:"desc";s:7:"Captain";}i:2;a:2:{s:3:"url";s:76:"https://www.centralyachtagent.com/yachtadmin/yachtlg/yacht1949/1949crew2.jpg";s:4:"desc";s:4:"Chef";}}}
a:16:{s:4:"info";s:1570:"Gregory Mazarakis - Captain
https://www.centralyachtagent.com/yachtadmin/yachtimg/yacht1949/1949brochure1.jpg
a:5:{i:2;a:2:{s:3:"url";s:81:"https://www.centralyachtagent.com/yachtadmin/yachtimg/yacht1949/1949brochure2.jpg";s:4:"desc";s:0:"";}i:3;a:2:{s:3:"url";s:81:"https://www.centralyachtagent.com/yachtadmin/yachtimg/yacht1949/1949brochure3.jpg";s:4:"desc";s:0:"";}i:4;a:2:{s:3:"url";s:81:"https://www.centralyachtagent.com/yachtadmin/yachtimg/yacht1949/1949brochure4.jpg";s:4:"desc";s:0:"";}i:5;a:2:{s:3:"url";s:81:"https://www.centralyachtagent.com/yachtadmin/yachtimg/yacht1949/1949brochure5.jpg";s:4:"desc";s:0:"";}i:6;a:2:{s:3:"url";s:81:"https://www.centralyachtagent.com/yachtadmin/yachtimg/yacht1949/1949brochure6.jpg";s:4:"desc";s:0:"";}}
<p>Breakfast: Coffee, tea, banana bread, milk with assorted cereal, freshly baked bread with butter and honey.</p> <p>&nbsp;</p> <p>Lunch or dinner: BBQ chicken wings with honey and mustard sauce, wild rice or mashed potatoes.</p> <p>Fresh rocket and spinach salad with pine cones,raisins and pomegranate served in a balsamic sauce.</p> <p>&nbsp;</p> <p>Desserts:Caramel ice cream,panacotta</p>
http://www.cyabrochure.com/ebn/2395/pdhaX/1949/1
http://www.cyabrochure.com/ebn/2395/pdhaX/1949/3
a:24:{s:4:"tube";s:2:"No";s:6:"guests";s:1:"8";s:8:"maxspeed";s:2:"12";s:11:"pref_pickup";N;s:12:"other_pickup";N;s:5:"draft";s:4:"4' 2";s:14:"cruising_speed";s:1:"8";s:7:"helipad";s:2:"No";s:2:"ac";s:4:"Full";s:8:"ac_night";s:3:"Yes";s:5:"built";s:4:"2008";s:10:"turnaround";s:0:"";s:6:"cabins";s:1:"4";s:4:"king";s:0:"";s:5:"queen";s:1:"4";s:6:"double";s:0:"";s:6:"single";s:1:"1";s:4:"twin";s:0:"";s:7:"pullman";s:0:"";s:7:"showers";s:1:"4";s:6:"basins";s:1:"0";s:5:"heads";s:1:"5";s:14:"electric_heads";s:1:"0";s:7:"jacuzzi";s:2:"No";}
a:7:{s:4:"flag";s:6:"Greece";s:8:"homeport";s:6:"Athens";s:13:"resort_course";s:0:"";s:12:"yacht_permit";s:1:"2";s:13:"yacht_license";s:1:"2";s:9:"yacht_mca";s:1:"0";s:15:"yacht_insurance";s:0:"";}
a:22:{s:11:"dinghy_size";s:3:"YES";s:12:"kayaks_1_pax";s:2:"No";s:12:"kayaks_2_pax";s:1:"1";s:9:"dinghy_hp";s:3:"9.9";s:13:"floating_mats";s:2:"No";s:10:"dinghy_pax";s:1:"6";s:13:"swim_platform";s:3:"YES";s:16:"water_skis_adult";s:2:"No";s:15:"boarding_ladder";s:0:"";s:15:"water_skis_kids";s:2:"No";s:14:"sailing_dinghy";s:0:"";s:8:"jet_skis";s:2:"No";s:11:"beach_games";s:2:"No";s:12:"wave_runners";s:2:"No";s:9:"kneeboard";s:2:"No";s:10:"windsurfer";s:2:"No";s:12:"snorkel_gear";s:1:"3";s:17:"underwater_camera";s:2:"No";s:7:"scurfer";s:2:"No";s:16:"underwater_video";s:2:"No";s:10:"wake_board";s:2:"No";s:11:"paddleboard";s:0:"";}
4
1
Yes
Yes
220V
Greece
79
8
12

separate skipper cabin
";s:14:"yachtHighPrice";s:11:"$10,640";s:13:"yachtLowPrice";s:10:"$9,295";s:21:"yachtHighNumericPrice";s:5:"10640";s:20:"yachtLowNumericPrice";s:4:"9295";s:19:"yachtCurrencySymbol";s:5:"$";s:13:"yachtCurrency";s:3:"USD";s:17:"yachtPriceDetails";s:0:"";s:14:"yachtTermsType";s:13:"Plus Expenses";s:17:"yachtTermsTypeNum";s:1:"2";s:11:"yachtVcrDvd";s:3:"Yes";s:16:"yachtSalonStereo";s:3:"Yes";s:11:"yachtNumDvd";s:2:"10";s:11:"yachtNumCds";s:2:"30";s:15:"yachtBoardGames";s:2:"No";s:13:"yachtNumBooks";s:2:"10";s:14:"yachtCamCorder";s:2:"No";s:14:"yachtNumDineIn";s:3:"YES";s:14:"yachtSunAwning";s:3:"Yes";s:12:"yachtHammock";s:2:"No";s:15:"yachtWindScoops";s:1:"0";s:15:"yachtDeckShower";s:3:"Yes";s:11:"yachtBimini";s:3:"Yes";s:17:"yachtSpecialDiets";s:3:"Yes";s:11:"yachtKosher";s:2:"No";s:8:"yachtBBQ";s:2:"No";s:16:"yachtGayCharters";s:3:"Yes";s:17:"yachtNudeCharters";s:3:"Inq";s:14:"yachtHairDryer";s:3:"Yes";s:13:"yachtNumHatch";s:0:"";s:15:"yachtGuestSmoke";s:12:"on deck only";s:13:"yachtGuestPet";s:2:"No";s:20:"yachtChildrenAllowed";s:3:"Yes";s:16:"yachtMinChildAge";s:3:"ANY";s:14:"yachtGenerator";s:3:"YES";s:12:"yachtEngines";s:66:"2 x 40 HP "YANMAR" Diesel Motor Engines 13.5 KVA 220V GENERATOR";s:9:"yachtFuel";s:2:"79";s:13:"yachtInverter";s:3:"YES";s:13:"yachtVoltages";s:4:"220V";s:15:"yachtWaterMaker";s:0:"";s:18:"yachtWaterCapacity";s:5:"92Gal";s:13:"yachtIceMaker";s:1:"0";s:11:"yachtDinghy";s:3:"YES";s:13:"yachtDinghyHp";s:3:"9.9";s:14:"yachtDinghyPax";s:1:"6";s:15:"yachtAdultWSkis";s:2:"No";s:13:"yachtKidsSkis";s:2:"No";s:12:"yachtJetSkis";s:2:"No";s:12:"yachtWaveRun";s:2:"No";s:14:"yachtKneeBoard";s:2:"No";s:18:"yachtStandUpPaddle";s:0:"";s:13:"yachtWindSurf";s:2:"No";s:16:"yachtGearSnorkel";s:1:"3";s:9:"yachtTube";s:2:"No";s:12:"yachtScurfer";s:2:"No";s:14:"yachtWakeBoard";s:2:"No";s:14:"yacht1ManKayak";s:2:"No";s:14:"yacht2ManKayak";s:1:"1";s:11:"yachtSeaBob";s:0:"";s:15:"yachtSeaScooter";s:0:"";s:17:"yachtKiteBoarding";s:0:"";s:24:"yachtKiteBoardingDetails";s:0:"";s:15:"yachtFishPermit";s:0:"";s:14:"yachtFloatMats";s:2:"No";s:17:"yachtSwimPlatform";s:3:"YES";s:19:"yachtBoardingLadder";s:0:"";s:18:"yachtDinghySailing";s:0:"";s:15:"yachtGamesBeach";s:2:"No";s:16:"yachtFishingGear";s:3:"Yes";s:17:"yachtFishGearType";s:0:"";s:16:"yachtNumFishRods";s:0:"";s:18:"yachtUnderWaterCam";s:2:"No";s:20:"yachtUnderWaterVideo";s:2:"No";s:19:"yachtGreenMakeWater";s:0:"";s:21:"yachtGreenReuseBottle";s:0:"";s:15:"yachtGreenOther";s:0:"";s:17:"yachtScubaOnboard";s:35:"Yacht offers Rendezvous Diving only";s:17:"yachtResortCourse";s:0:"";s:15:"yachtFullCourse";s:0:"";s:16:"yachtLicenseInfo";s:1:"-";s:15:"yachtCompressor";s:11:"Not Onboard";s:17:"yachtNumDiveTanks";s:1:"0";s:11:"yachtNumBCS";s:1:"0";s:12:"yachtNumRegs";s:1:"0";s:16:"yachtNumWetSuits";s:1:"0";s:15:"yachtNumWeights";s:1:"0";s:14:"yachtNumDivers";s:1:"0";s:13:"yachtNumDives";s:0:"";s:18:"yachtNumNightDives";s:1:"0";s:18:"yachtNumDiveLights";s:1:"0";s:13:"yachtDiveInfo";s:0:"";s:14:"yachtDiveCosts";s:0:"";s:9:"yachtPic1";s:81:"https://www.centralyachtagent.com/yachtadmin/yachtimg/yacht1949/1949brochure1.jpg";s:10:"yachtDesc1";s:0:"";s:9:"yachtPic2";s:81:"https://www.centralyachtagent.com/yachtadmin/yachtimg/yacht1949/1949brochure2.jpg";s:10:"yachtDesc2";s:0:"";s:9:"yachtPic3";s:81:"https://www.centralyachtagent.com/yachtadmin/yachtimg/yacht1949/1949brochure3.jpg";s:10:"yachtDesc3";s:0:"";s:9:"yachtPic4";s:81:"https://www.centralyachtagent.com/yachtadmin/yachtimg/yacht1949/1949brochure4.jpg";s:10:"yachtDesc4";s:0:"";s:9:"yachtPic5";s:81:"https://www.centralyachtagent.com/yachtadmin/yachtimg/yacht1949/1949brochure5.jpg";s:10:"yachtDesc5";s:0:"";s:9:"yachtPic6";s:81:"https://www.centralyachtagent.com/yachtadmin/yachtimg/yacht1949/1949brochure6.jpg";s:10:"yachtDesc6";s:0:"";s:9:"yachtPic7";s:0:"";s:10:"yachtDesc7";s:0:"";s:9:"yachtPic8";s:0:"";s:10:"yachtDesc8";s:0:"";s:9:"yachtPic9";s:0:"";s:10:"yachtDesc9";s:0:"";s:10:"yachtPic10";s:0:"";s:11:"yachtDesc10";s:0:"";s:10:"yachtPic11";s:0:"";s:11:"yachtDesc11";s:0:"";s:10:"yachtPic12";s:0:"";s:11:"yachtDesc12";s:0:"";s:10:"yachtPic13";s:0:"";s:11:"yachtDesc13";s:0:"";s:10:"yachtPic14";s:0:"";s:11:"yachtDesc14";s:0:"";s:10:"yachtPic15";s:0:"";s:11:"yachtDesc15";s:0:"";s:10:"yachtPic16";s:0:"";s:11:"yachtDesc16";s:0:"";s:10:"yachtPic17";s:0:"";s:11:"yachtDesc17";s:0:"";s:10:"yachtPic18";s:0:"";s:11:"yachtDesc18";s:0:"";s:10:"yachtPic19";s:0:"";s:11:"yachtDesc19";s:0:"";s:11:"yachtLayout";s:0:"";s:18:"yachtFullEbrochure";s:48:"http://www.cyabrochure.com/ebn/2395/pdhaX/1949/3";s:14:"yachtFullRates";s:48:"http://www.cyabrochure.com/ebn/2395/pdhaX/1949/4";s:14:"yachtOtherToys";s:0:"";s:19:"yachtOtherEntertain";s:0:"";s:16:"yachtCommunicate";s:281:"Nautical Charts
Autopilot
Waters Pilot
Binoculars
Barometer
Hand-bearing Compass
Cockpit Compass
Speed Log
VHF
GPS
Parallel Ruler
Wind Instruments
Poltter
Echo Sounder
Divider
";s:15:"yachtSummerArea";s:6:"Greece";s:15:"yachtWinterArea";s:6:"Greece";s:12:"yachtShowers";s:1:"4";s:15:"yachtWashBasins";s:1:"0";s:10:"yachtHeads";s:1:"5";s:18:"yachtElectricHeads";s:1:"0";s:14:"yachtTpInHeads";s:0:"";s:15:"yachtSampleMenu";s:479:"<p>Breakfast: Coffee, tea, banana bread, milk with assorted cereal, freshly baked bread with butter and honey.</p> <p>&nbsp;</p> <p>Lunch or dinner: BBQ chicken wings with honey and mustard sauce, wild rice or mashed potatoes.</p> <p>Fresh rocket and spinach salad with pine cones,raisins and pomegranate served in a balsamic sauce.</p> <p>&nbsp;</p> <p>Desserts:Caramel ice cream,panacotta</p>";s:13:"yachtMenu1Pic";s:0:"";s:13:"yachtMenu2Pic";s:0:"";s:13:"yachtMenu3Pic";s:0:"";s:13:"yachtMenu4Pic";s:0:"";s:13:"yachtMenu5Pic";s:0:"";s:13:"yachtMenu6Pic";s:0:"";s:13:"yachtMenu7Pic";s:0:"";s:13:"yachtMenu8Pic";s:0:"";s:13:"yachtMenu9Pic";s:0:"";s:14:"yachtMenu10Pic";s:0:"";s:9:"yachtCrew";s:1:"2";s:14:"yachtCrewSmoke";s:2:"No";s:13:"yachtCrewPets";s:2:"No";s:16:"yachtCrewPetType";s:0:"";s:16:"yachtCaptainName";s:17:"Gregory Mazarakis";s:18:"yachtCaptainNation";s:5:"Greek";s:16:"yachtCaptainBorn";s:4:"1996";s:15:"yachtCaptainLic";s:14:"RYA Yachmaster";s:18:"yachtCaptainYrSail";s:2:"16";s:19:"yachtCaptainYrChart";s:2:"16";s:16:"yachtCaptainLang";s:14:"English, Greek";s:13:"yachtCrewName";s:16:"Anastasia Kokkou";s:14:"yachtCrewTitle";s:4:"Chef";s:15:"yachtCrewNation";s:5:"Greek";s:15:"yachtCrewYrBorn";s:4:"1988";s:12:"yachtCrewLic";s:35:"Greek coastal skipper's certificate";s:15:"yachtCrewYrSail";s:1:"0";s:16:"yachtCrewYrChart";s:1:"0";s:13:"yachtCrewLang";s:0:"";s:16:"yachtCrewProfile";s:1570:"Gregory Mazarakis - Captain

Greg was born in 1996 in Athens Greece. His licenses include RYA Yachtmaster offshore sailing, Powerboat level II, Seaman's book and Open water scuba diver PADI. He is a member of the Panhellenic Professional Skipper's Association and has served as special forces paratrooper in the Greek army. Greg has also held 2nd position in the European Optimist Class. He has been working as a skipper from 2015 up until today on various yachts ranging from 40-52 ft. He has also been 2nd skipper Cross Atlantic on the Lagoon 78ft "Double Down".
Reliable, enthusiastic, professional and self motivated. Capable of maintaining good rapport with crew and clients. Additionally acquires a very good knowledge of the Greek waters and their harbors.
A friendly outgoing personality with excellent communicational skills.



Anastasia Kokkou - Hostess/Chef

Anastasia was born and raised in Athens, Greece. She has worked for established yachting companies since 2017 up until today. She has acquired her sailing and speed boat licenses along with safety and first aid lessons. Her love for the sea and cooking is tremendous as she prepares the most delicious meals. She is a natural born cook and loves to sail. She is free spirited, a good hostess who loves to entertain and have always been involved in sports. Anastasia always looks forward to commit in helping plan clients' vacation to meet their needs by offering some of her best home cooked specialties.

";s:14:"yachtCrewPhoto";s:81:"https://www.centralyachtagent.com/yachtadmin/yachtlg/yacht1949/1949brochure44.jpg";s:13:"yachtCrew1Pic";s:72:"https://www.centralyachtagent.com/yachtadmin/yachtlg/yacht1949/1949crew1";s:13:"yachtCrew2Pic";s:76:"https://www.centralyachtagent.com/yachtadmin/yachtlg/yacht1949/1949crew2.jpg";s:13:"yachtCrew3Pic";s:0:"";s:13:"yachtCrew4Pic";s:0:"";s:13:"yachtCrew5Pic";s:0:"";s:13:"yachtCrew6Pic";s:0:"";s:13:"yachtCrew7Pic";s:0:"";s:13:"yachtCrew8Pic";s:0:"";s:13:"yachtCrew9Pic";s:0:"";s:14:"yachtCrew10Pic";s:0:"";s:14:"yachtCrew1Name";s:17:"Gregory Mazarakis";s:14:"yachtCrew2Name";s:16:"Anastasia Kokkou";s:14:"yachtCrew3Name";s:0:"";s:14:"yachtCrew4Name";s:0:"";s:14:"yachtCrew5Name";s:0:"";s:14:"yachtCrew6Name";s:0:"";s:14:"yachtCrew7Name";s:0:"";s:14:"yachtCrew8Name";s:0:"";s:14:"yachtCrew9Name";s:0:"";s:15:"yachtCrew10Name";s:0:"";s:15:"yachtCrew1Title";s:7:"Captain";s:15:"yachtCrew2Title";s:4:"Chef";s:15:"yachtCrew3Title";s:0:"";s:15:"yachtCrew4Title";s:0:"";s:15:"yachtCrew5Title";s:0:"";s:15:"yachtCrew6Title";s:0:"";s:15:"yachtCrew7Title";s:0:"";s:15:"yachtCrew8Title";s:0:"";s:15:"yachtCrew9Title";s:0:"";s:16:"yachtCrew10Title";s:0:"";s:9:"yachtFlag";s:6:"Greece";s:13:"yachtHomePort";s:6:"Athens";s:14:"yachtWBasePort";s:0:"";s:8:"yachtRig";s:0:"";s:14:"yachtGrossTons";s:0:"";s:12:"yachtAcNight";s:3:"Yes";s:16:"yachtAcSurCharge";s:3:"TBD";s:9:"yachtTubs";s:1:"0";s:20:"yachtLocationDetails";s:0:"";s:10:"yachtTerms";s:4:"MYBA";s:13:"yachtCaptOnly";s:0:"";s:15:"yachtSpecialCon";s:0:"";s:14:"yachtContracts";s:0:"";s:21:"yachtConsumptionUnits";s:10:"US Gall/Hr";s:10:"yachtRange";s:0:"";s:11:"yachtPermit";s:1:"2";s:12:"yachtLicense";s:1:"2";s:8:"yachtMca";s:1:"0";s:16:"yachtDeepSeaFish";s:0:"";s:10:"yachtSatTv";s:0:"";s:9:"yachtIpod";s:0:"";s:10:"yachtVideo";s:1:"1";s:17:"yachtSailInstruct";s:1:"0";s:13:"yachtInternet";s:0:"";s:16:"yachtCaptainOnly";s:0:"";s:16:"yachtBrokerNotes";s:0:"";s:15:"yachtInsCompany";s:0:"";s:11:"yachtPolicy";s:0:"";s:14:"yachtLiability";s:0:"";s:18:"yachtEffectiveDate";s:0:"";s:17:"yachtContractName";s:0:"";s:18:"yachtCoverageAreas";s:0:"";s:12:"yachtInsFlag";s:0:"";s:16:"yachtInsHomeport";s:0:"";s:11:"yachtRegNum";s:0:"";s:14:"yachtConPhone1";s:0:"";s:14:"yachtConPhone2";s:0:"";s:14:"yachtConPhone3";s:0:"";s:11:"yachtConFax";s:0:"";s:17:"yachtWaveConEmail";s:0:"";s:13:"yachtConOther";s:0:"";s:12:"yachtManager";s:12:"BRAMA YACHTS";s:16:"yachtManagerName";s:14:"Alex Mazarakis";s:17:"yachtManagerPhone";s:14:"+30 2109888202";s:16:"yachtManagerToll";s:0:"";s:17:"yachtManagerEmail";s:20:"[email protected]";}
O:8:"stdClass":290:{s:7:"yachtId";s:4:"1949";s:9:"yachtName";s:8:"FREESEAS";s:17:"yachtPreviousName";s:0:"";s:9:"yachtLogo";s:0:"";s:9:"yachtType";s:3:"Cat";s:11:"yachtLength";s:2:"42";s:13:"yachtPowerCat";s:1:"N";s:8:"sizeFeet";s:8:"42.00 Ft";s:9:"sizeMeter";s:7:"12.80 m";s:9:"yachtBeam";s:5:"24' 7";s:10:"yachtDraft";s:4:"4' 2";s:10:"yachtUnits";s:4:"Feet";s:8:"yachtPax";s:1:"8";s:11:"yachtCabins";s:1:"4";s:9:"yachtKing";s:0:"";s:10:"yachtQueen";s:1:"4";s:17:"yachtSingleCabins";s:1:"1";s:17:"yachtDoubleCabins";s:0:"";s:15:"yachtTwinCabins";s:0:"";s:18:"yachtPullmanCabins";s:0:"";s:10:"yachtRefit";s:0:"";s:12:"yachtHelipad";s:2:"No";s:12:"yachtJacuzzi";s:2:"No";s:8:"yachtGym";s:0:"";s:16:"yachtStabilizers";s:0:"";s:14:"yachtElevators";s:0:"";s:21:"yachtWheelChairAccess";s:0:"";s:7:"yachtAc";s:4:"Full";s:15:"yachtPrefPickUp";s:6:"Athens";s:16:"yachtOtherPickUp";s:21:"Kos, Paros, Santorini";s:15:"yachtTurnAround";s:0:"";s:14:"yachtYearBuilt";s:4:"2008";s:12:"yachtBuilder";s:6:"Lagoon";s:14:"yachtBrokerWeb";s:33:"http://www.viewyacht.com/freeseas";s:12:"yachtUserWeb";s:48:"http://www.cyabrochure.com/ebn/2395/pdhaX/1949/1";s:13:"yachtVideoUrl";s:0:"";s:12:"yachtV360Url";s:0:"";s:16:"yachtCruiseSpeed";s:1:"8";s:13:"yachtMaxSpeed";s:2:"12";s:19:"yachtAccommodations";s:77:"4 guest cabins with en-suite facilities
No
0
12.80 m
79
US Gall/Hr
Plus Expenses
2
BRAMA YACHTS
http://www.cyabrochure.com/ebn/2395/pdhaX/1949/4
Inq
a:3:{s:16:"green_initiative";s:0:"";s:16:"reusable_bottles";s:0:"";s:19:"other_green_efforts";s:0:"";}

Autopilot
Waters Pilot
Binoculars
Barometer
Hand-bearing Compass
Cockpit Compass
Speed Log
VHF
GPS
Parallel Ruler
Wind Instruments
Poltter
Echo Sounder
Divider
";s:11:"full_course";s:0:"";s:14:"air_compressor";s:11:"Not Onboard";s:3:"bcs";s:1:"0";s:11:"weight_sets";s:1:"0";s:16:"number_of_divers";s:1:"0";s:20:"registrations_number";s:1:"0";s:11:"dive_lights";s:1:"0";s:10:"dive_costs";s:0:"";s:14:"scuba_on_board";s:35:"Yacht offers Rendezvous Diving only";}
a:15:{s:5:"tanks";s:1:"0";s:9:"wet_suits";s:1:"0";s:15:"number_of_dives";s:0:"";s:11:"night_dives";s:1:"0";s:9:"dive_info";s:0:"";s:13:"communication";s:281:"Nautical Charts
a:4:{s:12:"fishing_gear";s:3:"Yes";s:17:"fishing_gear_type";s:0:"";s:4:"rods";s:0:"";s:16:"deep_sea_fishing";s:0:"";}
Greece
Greek
Greek
Yacht offers Rendezvous Diving only
1656698049
a:2:{s:7:"updated";i:1656689568;s:5:"links";a:0:{}}